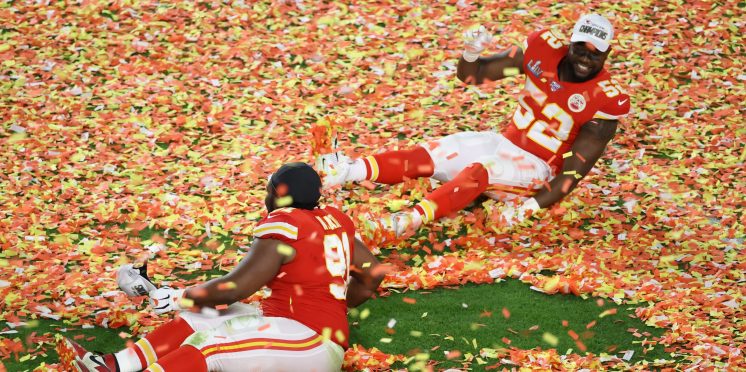 The Chiefs won it all with a run that flipped every script they had
How many times was this exact moment talked about? The moment when Damien Williams turned the corner to put the Chiefs up two scores with just over a minute remaining.
How many different ways was it dreamed up, and how many different combinations of people partook in the dreaming? How many thought about what it would look like when the final seconds ticked away, as they did when Patrick Mahomes launched the ball out of bounds to bring it to 0:00?
How many pounds of meat and cases of beer have been consumed in the legendary Arrowhead Stadium tailgating lots in waiting for this? How many touchdowns did little kids in red-clad jerseys score on playgrounds and youth football fields across Kansas City, all while pretending to be Chiefs scoring touchdowns in the Super Bowl the way Mahomes and Williams did tonight?
How many times did fans dust off an old DVD or tape recording of Super Bowl IV, just wondering if they'd ever see a modern version of a Kansas City Chief lifting the Lombardi Trophy?
Those grainy, black and white videos of Len Dawson can now be replaced by pristine, high definition ones of Mahomes.
All of the questions were finally answered when the Chiefs defeated the San Francisco 49ers 31-20 in Miami to win the Super Bowl for the first time since Hank Stram and Lamar Hunt led the Chiefs to the top of the mountain 50 years ago.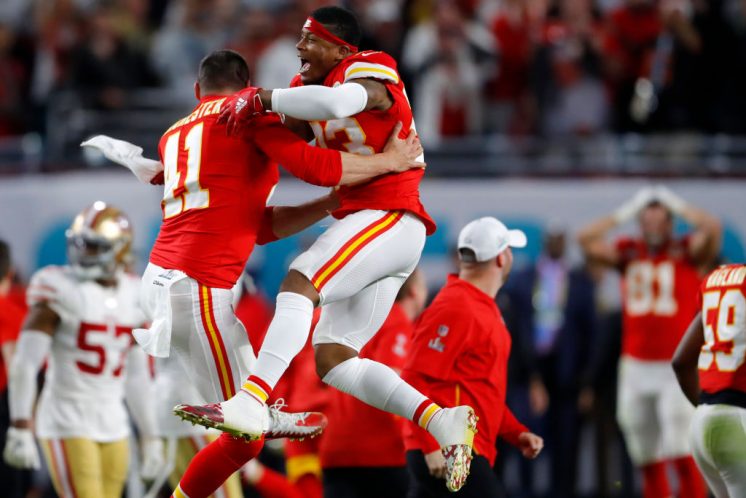 In typical Chiefs fashion, it looked bad. They allowed 17 unanswered points after taking a 10-3 lead. Mahomes threw two extremely uncharacteristic interceptions, including one in the red zone. The possession that started the comeback almost stalled out early when they were stuck facing third-and-15. There were probably a dozen inflection points in this game where it looked like all hope was lost.
Even the touchdown Williams scored to regain the lead for Kansas City had to be reviewed, almost as if the football gods truly couldn't believe this franchise was on the precipice of winning the Super Bowl. They needed to double check if it was really happening.
The Chiefs? Really? The ones from Kansas City who have found every possible way to squander a promising season in the last 50 years? Who haven't won a Super Bowl since before the NFL and AFL had even merged? With Andy Reid at head coach? Can this really be?
Yes, it is.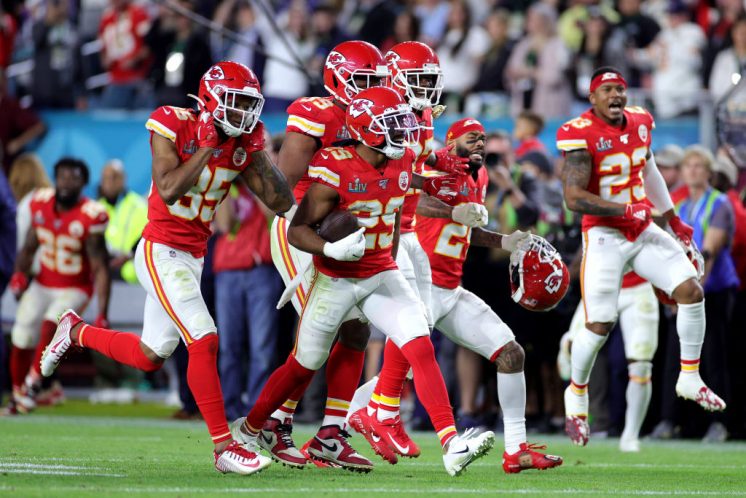 In fact, this playoff run started the day after the 50th anniversary of that Super Bowl victory, the only memory of championship football for generations of fans in Kansas City. It took just three games to erase everything bad that has happened since then.
One of the staples of the playoff failures was the inability to hold onto a big lead. The Chiefs have coughed up two of them in playoff games during the Andy Reid era, a 38-10 lead in 2013 and a 21-3 advantage in 2017. This group of Chiefs flipped that script on its head by overcoming a 24-0 deficit of their own in the divisional round of the playoffs. In fact, they turned it around so dramatically that they became the first team in NFL history to win three games in the same postseason after trailing by double digits in all three.
There was the famous 2003 collapse, where the Chiefs saw a 13-3 season go up in smoke because they were unable to force a single punt in their entire divisional round loss to the Colts. The "No Punt Game" as Chiefs fans not-so-affectionately refer to it is old news.
This time, it was the Chiefs who bowed up on defense when they absolutely had to. After falling behind 20-10 in the fourth quarter, they kept an offense that had been gashing them all night from scoring again. Frank Clark picked up a big sack on fourth down late, and Kendall Fuller sealed it with an interception in the final minute.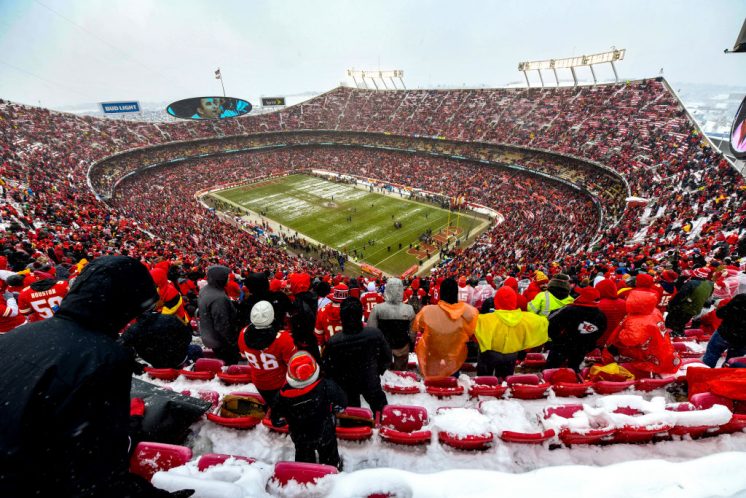 There were the days when the Chiefs just couldn't score in the playoffs. A 17-0 loss in the 1992 wild card round ended one playoff run before it ever got started. Another 13-3 season went by the wayside in 1995, this one by a score of 10-7. Two years later they earned another bye, only to falter on offense and lose the divisional round home game 14-10.
Add in a 23-8 loss in 2006 and a 30-7 one in 2009, and you have a sizeable chunk of Kansas City's playoff disappointment that can be chalked up to an offense that disappeared at the most crucial time.
Mahomes stared at that history and laughed. In seven playoff losses from 1993-2009, the Chiefs scored 85 points. Total. The Chiefs scored 117 points in less than half as many playoff games this year. They scored 21 in just a tick over five minutes to close the game.
Truly, they took the final step on the road to football heaven with the offense. That would've seemed unthinkable during all the years when just getting a first down in the postseason felt like a battle.
The Patriots were in the way twice in the last five years. The Chiefs took care of that one before the playoffs even started. First they went into Gillette Stadium and beat the Patriots in a pivotal December game, and that win proved to be the tiebreaker that gave them the first-round bye that set up this entire postseason.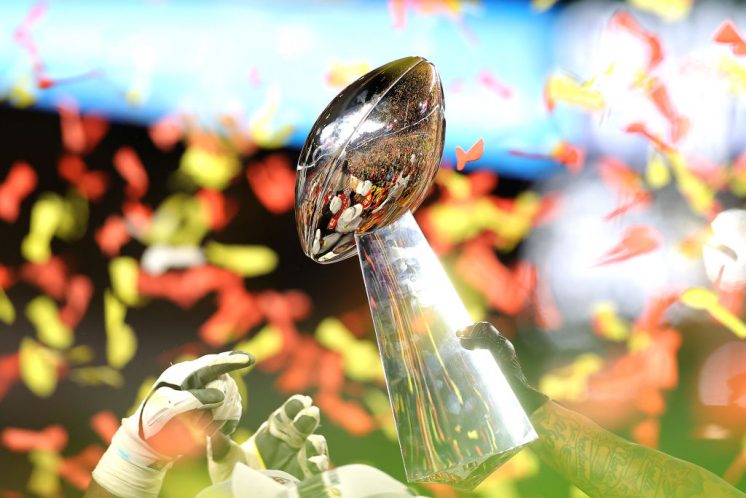 And last but certainly not least, there was Miami. The team who on three separate occasions knocked the Chiefs out of the playoffs on their quest to get back to the Super Bowl.
The first time the Chiefs made it back to the playoffs after their Super Bowl win, the Dolphins beat them in the longest playoff game in NFL history. Over 82 minutes of football that finally ended in what would be the first of many playoff heartbreaks for this franchise on the road back to the big game.
And of course 1990, when the Chiefs had a 16-3 lead over the Dolphins in the fourth quarter. Two Dan Marino touchdowns later, the season was over. And there was 1994, where a 17-10 halftime lead in Miami became a 27-17 loss, as those offensive woes showed up again in a second-half shutout.
The last two of those losses came in the exact same stadium where the Chiefs finally did the thing they were trying to do on those previous excursions to Miami. Hard Rock Stadium (or Joe Robbie Stadium as it was then named) is no longer a house of horrors for this franchise.
In a lot of ways, the time between those losses—and all of these playoff disappointments—ran together. 50 years is a long time, especially when you spend most of it wandering through wilderness the way the Chiefs did.
After winning the Super Bowl they went 21 years without winning a playoff game, had a brief return to relevance by winning three in three years, then went another 21 without winning one.
There wasn't a lot to distinguish one lousy season from another, one underwhelming game from the next. There really wasn't a lot of reason to believe it would ever end.
Those tailgates Kansas City is so famous for and the sense of community they harvested within the fanbase is a lot of what kept people going for so long. It became its own community, in a lot of ways the closest thing professional football had to a college environment.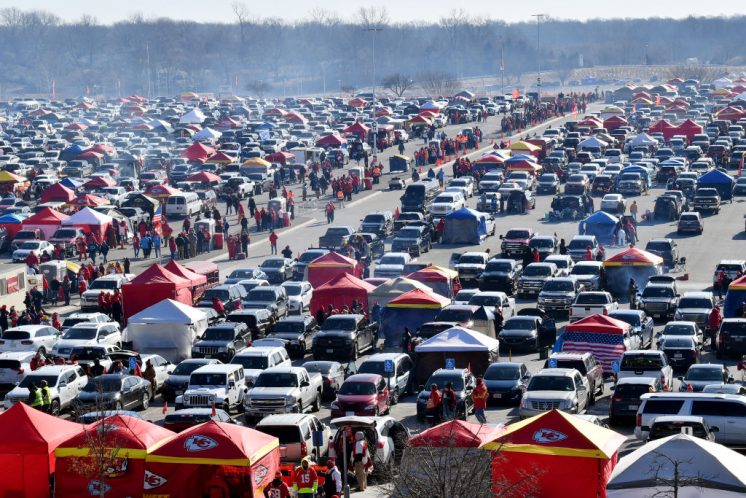 It's hard to justify driving two hours each way to watch a football team on the way to another 6-10 season, but it's easy when you know three of your friends from college are waiting for you in the parking lot with a drink and a new story to tell about life at home. It's not two decades of futile football without seeing a single playoff win, it's two decades of making memories with the people you care about most. It's meeting a total stranger at the game in week 1 and becoming good enough friends to send them a Christmas gift by week 16.
At some point, all of it morphed into the same experience. The tailgates and the games rolled into one, all becoming a piece of the Kansas City football experience. It was perfect that the Chiefs celebrated making it back to the Super Bowl there, as fireworks went off in those lots after the AFC Championship Game.
It was where so many hopes were crushed. The space where people returned to after so many of those defeats. Just last year, a dejected fanbase retreated to those lots after Tom Brady led an overtime drive that snatched the Lamar Hunt Trophy and a trip to the Super Bowl away. And for all the people who wondered silently and aloud "Are we every going to get there?" on that night and so many others, Sunday night's win was a gateway to stop asking those questions and to no longer negatively reflect on those losses.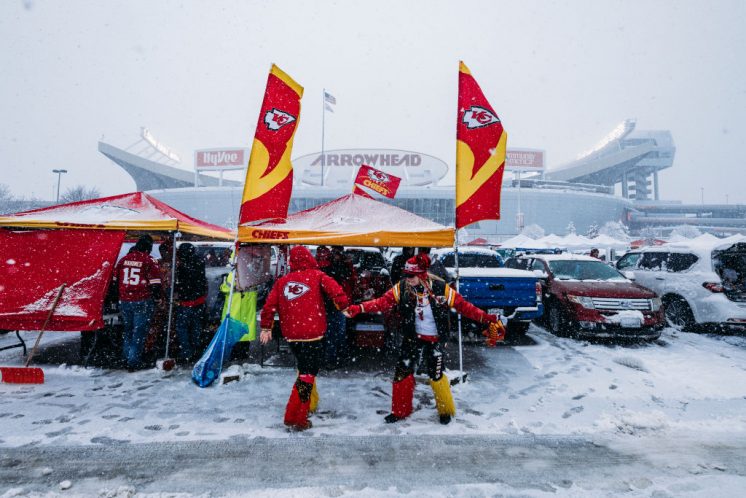 They never have to think about the No Punt Game. They don't have to wonder why the offense almost magically stopped scoring points in seemingly every playoff game during the 90s and 00s. There is no longer any need to question if a 38-10 or 21-3 lead in a playoff game is safe. Long drives out of Arrowhead Stadium on frigid Sunday evenings will no longer be spent doubting if the franchise will ever reach the height of that day in 1970 again.
And most of all, they will never, ever have to wonder what a Super Bowl parade in Kansas City would look like.
---