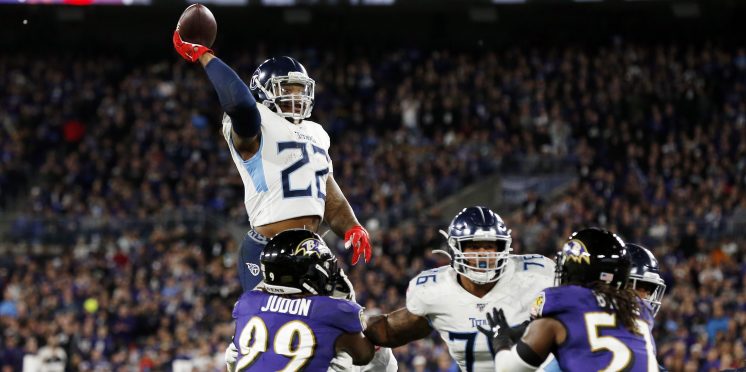 Tennessee's win will lead to many conclusions it shouldn't
The biggest winners on Saturday night were the Tennessee Titans. They pulled off one of the greatest upsets in recent NFL playoff history in knocking out the Baltimore Ravens, and are peaking at the right time in the hunt for their first Super Bowl win in franchise history.
The second biggest winners were the narratives that went with it all.
The manner in which the Titans beat the Ravens—so soundly and so specifically—opened up a ton of possibilities for snap judgements. It doesn't matter what specific judgement is in question, this game lent itself to all of them.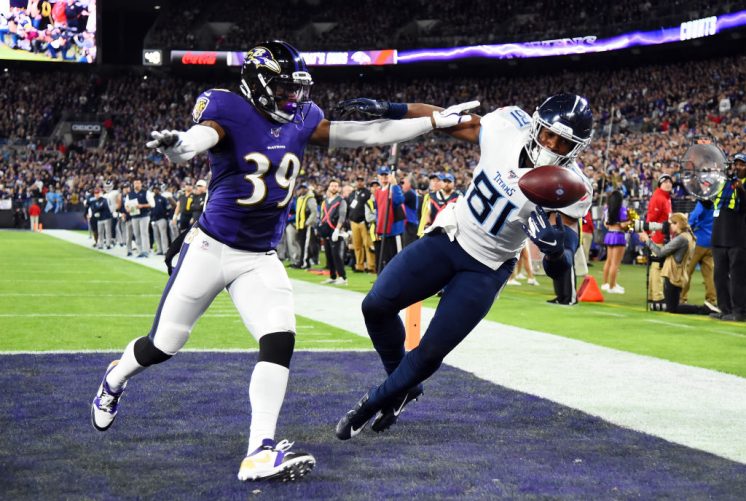 There is the camp staunchly against NFL teams resting players in week 17, believing it can create too much rust. The Ravens did rest everybody in week 17, making it 21 days since the majority of their starters last played football. The Titans jumped out to a 14-0 lead, so it was easy to wonder if John Harbaugh's team had fallen victim to rust.
Ryan Tannehill being 60 minutes away from playing in the Super Bowl after being something of a Miami cast-off when the season started will ignite questions about quarterbacks. About when to give up on underperforming ones, about how to build a winner with one who isn't as gifted. There will be conversations on when the right time to make a quarterback switch is given how much success the Titans have had since benching Marcus Mariota. Everyone struggling at the quarterback position will search for their own Tannehill.
Speaking of Mariota, another way to view this football game (fair or not) is to question him, and wonder if he can be salvaged somewhere else. Can't you just hear the "They were 2-4 in the games he played, now they're 9-3 since. He's just not good enough." takes already?
And when trying to extract this game, it will almost surely be seen as a great win for the No. 6 seeds, and another sign that every team in the tournament in every season has a chance, as if every team just has a Derrick Henry at peak form lying around to plug into the lineup.
Game managers everywhere will question Baltimore's year-long commitment to aggressive football. The Ravens went for it on fourth down more than any other team, and tonight that backfired as they were 0-for-4 in such situations.
Veering towards the more absurd side of these debates will be the topic of quarterbacks in the NFL, and the league's nature in terms of run vs. pass. The Titans have advanced mostly off the back of  Henry's hot streak, and the 49ers ran the ball over 70% of the time today in beating the Vikings.
And last but certainly not least, the most popular as well as most ridiculous of the narratives to come out of this game will be that the Ravens were a fluke, and more specifically that Lamar Jackson's style might not be sustainable.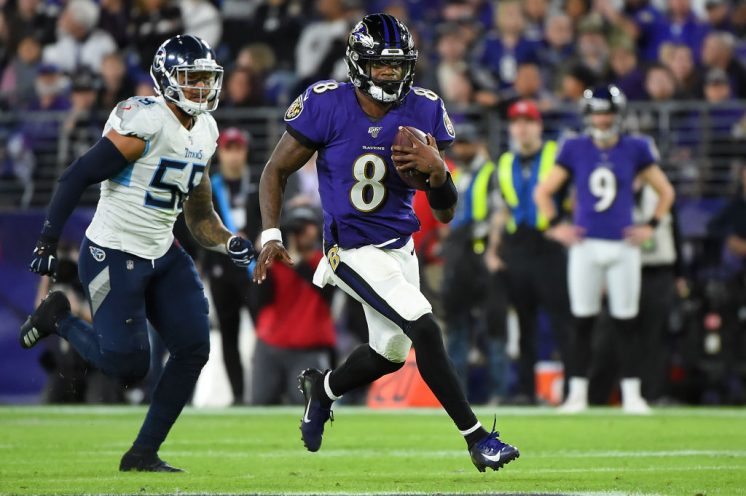 Saturday night in Baltimore was a buffet of controversial football conclusions to debate. Everyone could grab a little bit of whatever they wanted, from roster construction to game management and sustainability.
Some of the conclusions are reasonable and will have rational points made, others are strawman arguments used by people desperate to poke holes and find faults in arguably the brightest young star in the NFL.
But what they all have in common is they were drawn out of 60 minutes of football.
And that's where this football game deserves to live in a vacuum.
To be clear, not every football game deserves to be treated on its own and go without any broader context. There are plenty of instances where what happens in 60 minutes has ripple effects well beyond it. And that's also not saying that this game should be completely devoid of any greater meaning.
But in all of the extreme analyzing of football and everything surrounding it, it's easy to forget that the football itself is what decides the games.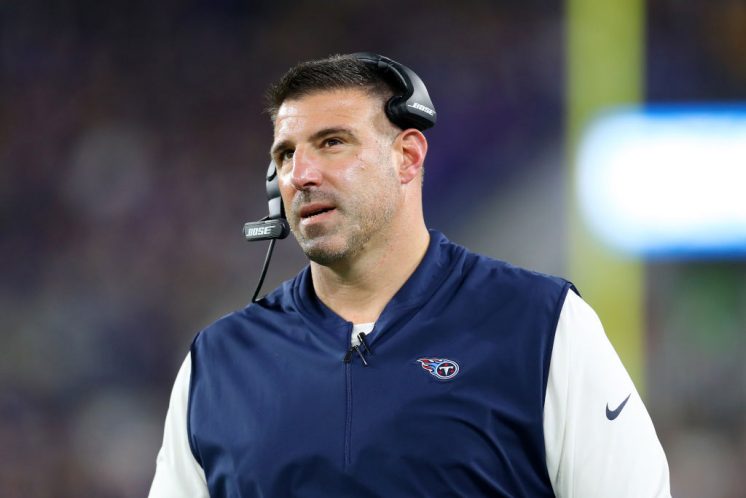 The Ravens turned the ball over three times. Tennessee turned that into 14 points. They were stopped on two fourth-and-1 plays, and Tennessee turned those into 14 more points.
Shaky clock management on the final drive of the first half forced the Ravens to settle for a field goal instead of scoring a touchdown that could have flipped the momentum and brought the score to 14-10. Baltimore also had seven dropped passes.
This result was a combination of the Ravens making a ton of uncharacteristic mistakes and the Titans having the perfect gameplan and execution to scoop up those mistakes.
All of it led to of the craziest final score to box score comparisons of all time. The Ravens outgained the Titans 530-300 and nearly doubled them up in first downs at 29-15, but ended up with just 12 points to show for it.
That's what happens when a team essentially gives away five possessions, as the Ravens did with three turnovers and the two misses on fourth-and-1.
No team is good enough to withstand that. Not even these Ravens.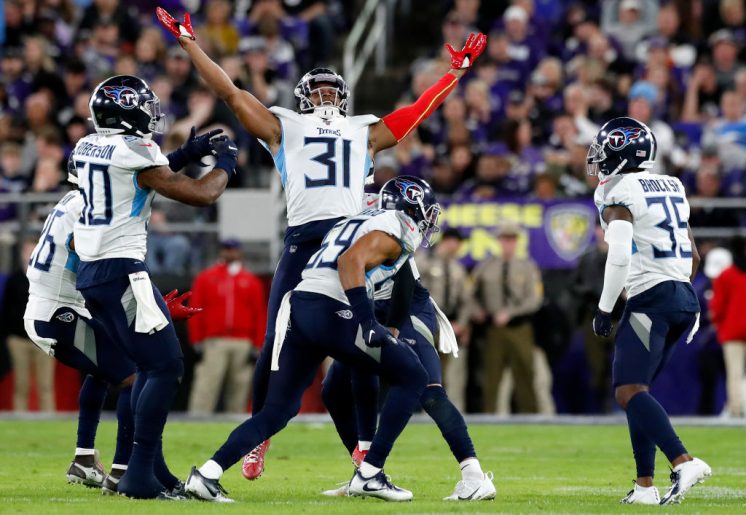 And that's where the story of this game should lie.
Not in everything around it, but rather in the vacuum of what it was. A great performance from the Titans, an extremely disappointing one from the Ravens, and an illustration of just how much turnovers and sudden change moments can flip a football game.
On how the right combination of factors can lead to a memorable and historic night, even if it's not necessarily duplicable for everybody or should exist as a universal rule.
Derrick Henry is on an unbelievable run, but it's still a passing league. Every quarterback situation is a unique case-by-case study that can't just be reduced to the Tannehill/Mariota dynamic. Rest vs. rust will continue on for years to come. And Lamar Jackson having his worst game of the season as his last one doesn't mean his success was a fluke or that his career is somehow unsustainable.
This game was the platonic ideal of what it means to draw conclusions from a one game sample size.
---