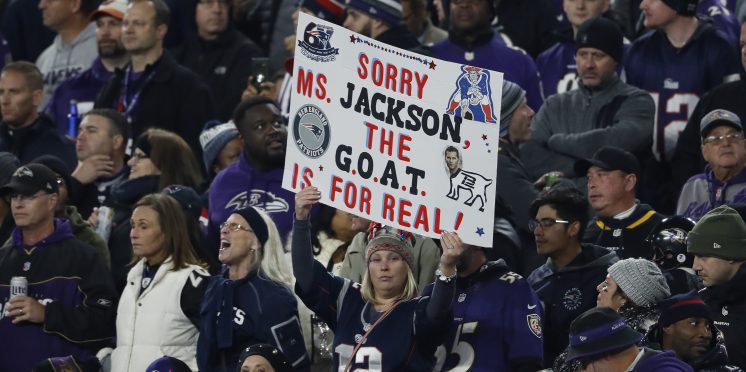 2020 Divisional Round: Roundtable
The elite eight have been set. Every team is now two wins from Miami and three wins from Lombardi.
Divisional Round games are here. And we have plenty to say about them. Ste Hoare gave the games the once-over here, but there's more angles on these games than the Mercedes-Benz Stadium roof, and so once again a roundtable has been assembled to investigate how the pieces might slide into place for the Championship Sunday lineup.
This analogy is as close as the Falcons might get to the postseason in a long time at this rate. Just ask Alan Cole, who is one of our contributors once again along with James Browning and Tyler Arthur. They've all got plenty to say, and so has David Howell, who set the questions in the first place.
Don't forget that the Sunday games are now in the Championship Sunday timeslots, two hours later than last week, so British viewers can expect some more serious late nights. Bat wings ready, it's time for us to swoop in…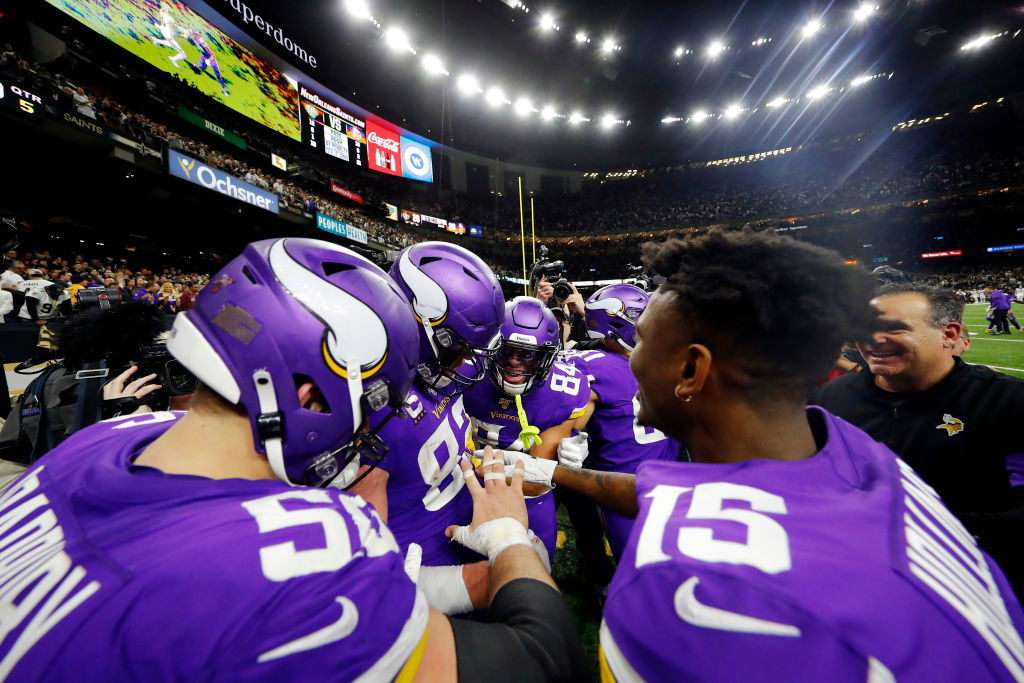 The Vikings are playing a second straight road game, this one two time zones away, on just six days' rest. Could that be telling against a Niners team fresh off a bye?
David: It certainly could be, although the fact they got a de facto week 17 bye from being seed-locked clearly helps to offset that. Speaking of bonus bye weeks, the Niners earning one was even more important than you might think, for one simple reason; as they had a week 4 bye, the Wild Card trip to Philly they were literally inches from facing would've represented their 14th consecutive week of action. Had they made it to the NFC title game via that route, they'd have been the fourth team in as many years to play 16 games without a bye, providing a heck of a case for the 17-game, 19-week schedule that seems to be currently on the table.
Safe to say both teams could've been a lot more battered and bruised than they actually will be. Hopefully that bodes well for the game itself.

Alan: The time between Vikings games isn't as big of a deal as the time off for the 49ers. I've said it before and seen it first hand as a Falcons fan, but Kyle Shanahan with two weeks to prepare an offensive script is the most dangerous head coach in the league. I think back to 2017, where Shanahan used the first-round bye to come up with a plan to hang 36 points on the Legion of Boom, then used the two weeks before the Super Bowl to come up with a plan that should have netted him a Super Bowl title if not for roughly the final 28.3% of the game going very wrong. So to answer your question, I think the 13 days for the 49ers will matter more than the six for the Vikings.
James: This question really comes down to the pros and cons of momentum vs. rest. Will the Vikings be as physically prepared as the Niners, in terms of knocks having healed and stiffened muscles having relaxed? No. However, the Niners have only had practice to get themselves into shape for this one, whilst the Vikings are rolling straight off the back of an underdog win against the Saints. I think the two cancel each other out in that sense; the Niners are fresher, but the Vikings may be a little more rough and ready, and they can use their victory last weekend to spur them on this weekend.

Tyler: I think that every advantage you can gain is in favour of the Niners – unless you like the clichés of momentum and the infamous underdog, no pressure, superpowers – but that won't be the reason they win. They're a better team and the Vikings should be assumed to lose this game unless they step up and overperform. But guess what, they did exactly that last week, and the Saints obliged them by underperforming.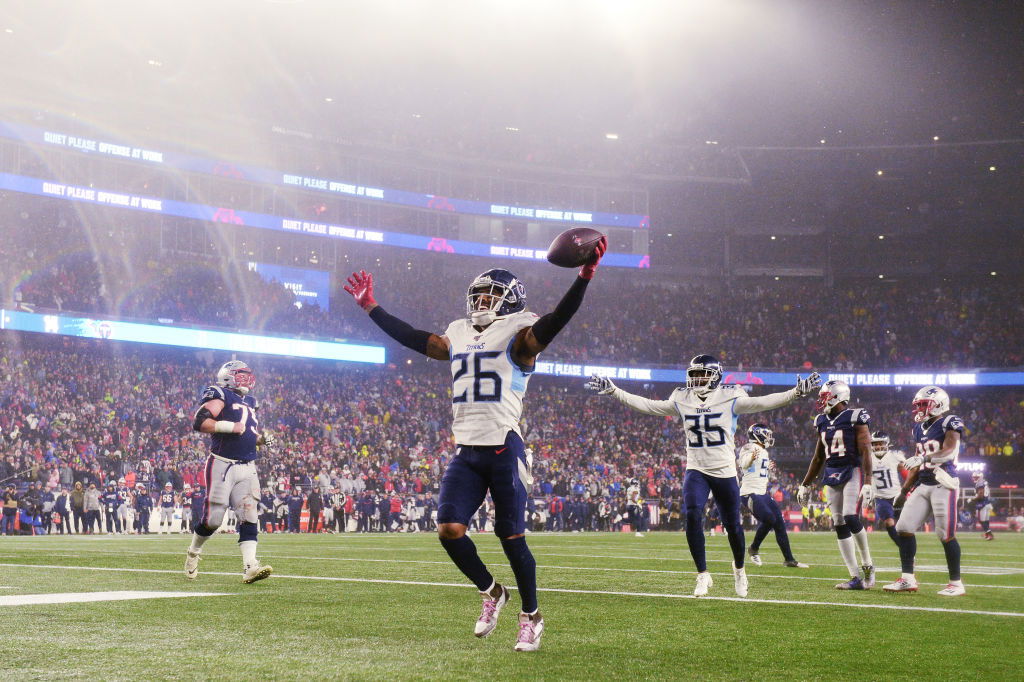 The Titans are fresh from surely their greatest result in 20 years. Does the emotional significance of winning a game that may be remembered forever come back to haunt them in Baltimore?
David: It doesn't matter what emotional state the Titans come into this game. The only way these Ravens lose to them at home is if Lamar Jackson gets hurt or they're too stale from having effectively had a double bye week. I almost wonder if this game even needs to be played, as the Titans just aren't explosive enough to keep up. But I thought they might be blown out by the Patriots, so…

Alan: Emotionally? No. Performance wise? Yes. Tennessee played an A+ game last week, especially on defense as it held the Patriots scoreless in the second half. Derrick Henry had one of his games of the season even by his standards last week with 182 yards on 34 carries. I just don't think Tennessee can match that effort two weeks in a row. They'll be fine emotionally, but I don't think they can't play well enough two weeks in a row to win this game.

James: I think the case for this might have been a stronger one if the win had been a little more flukey – let's say they'd won it off the back of a long TD from AJ Brown after a successful onside kick. In that case, my answer would have been yes. However, I think because their win against New England was simply a cohesive team performance, a victory that came down to having a superior game plan, they'll take confidence from it, rather than overconfidence, this weekend.

Tyler: Similarly to the Niners vs Vikings game… I think that the determination of the winner will be the better team, which is Baltimore. I would say, however, I personally don't think that last week will have a negative impact. You can peak too soon and you can experience an emotional high, then fail, but I don't think that will be the case for Tennessee. I think they will come into this game raring to go, disciplined, and with more momentum than Derrick Henry on a toss left… but I still think they will lose.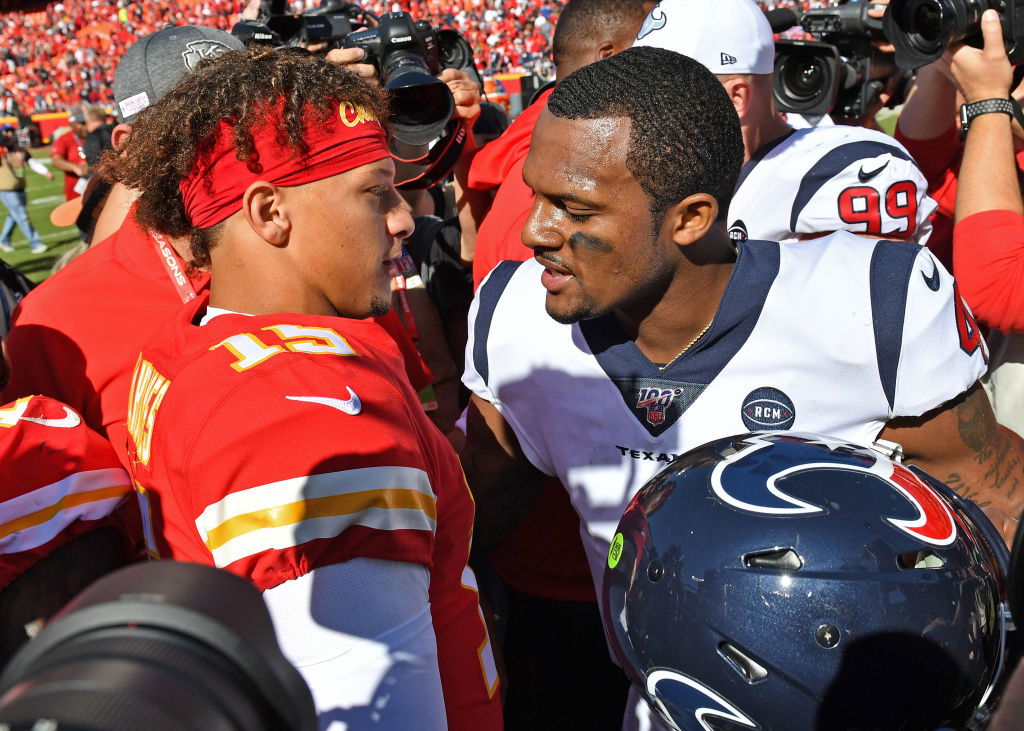 3. Houston-Kansas City is forever going to be considered the Watson-Mahomes matchup, but if it's not the QBs who decide it, who will?
David: Linemen. On both sides of the ball.
If Mahomes and Watson play to a draw in a vacuum—and I think they might—the game comes down to the degree of difficulty they each face from the opposing pass rush. Sure, both could produce a Madden-glitch big play like the game-ender that got Watson and his Texans here in the first place, but even they can (and do) take sacks, or make bad throws under duress. The other difference-makers might be the speed receivers on each team, because you know these two quarterbacks can hit them with the deep shot and change the game in one play. Will we see the lesser-spotted healthy Will Fuller?
Alan: It's not a unique answer, but that entire game changed last week when DeAndre Hopkins got going. Over the first 40 minutes of football, Hopkins had one catch for five yards and the Texans trailed 16-0. Over the final 20 minutes and overtime, Hopkins had five grabs for 85 yards and the Texans outscored the Bills 22-3. This Houston offense goes as the Watson-Hopkins connection goes, and it's going to have to be going all day for the Texans to have a chance on Sunday.

James: I don't want to go with the rather predictable answer of J.J. Watt, so I won't.
Instead, I think the defensive player who could have a big say is Houston cornerback Bradley Roby. He'll be the man tasked with keeping Tyreek Hill under wraps, which could go a long way to keeping the game close. On the other side of the game will be one of my favourite players in the league—Tyrann Mathieu. He had four interceptions in the regular season, and I wouldn't be shocked if he comes up with another this weekend.
Tyler: If not the QBs, the guys trying—bless them—to stop those QBs…
The winning team will be the one whose defense is capable of stopping the opposing QB more. To beat the Chiefs you have to perform incredibly well on defense, it's that simple. You can't out-offense Patrick Mahomes. You can't out-quarterback Patrick Mahomes. You just have to find a way to make things incredibly hard for him, by mixing up your coverages, being aggressive when you need to and changing the target of your double teams and robber assignments often enough that he can't get too used to it.
Unfortunately for Houston, they also have another issue—the fact that their alarm clock doesn't wake them up until the second half. I can see this game being very uncomfortable for them going into the third quarter; they might make a case for themselves late, but it could already be over.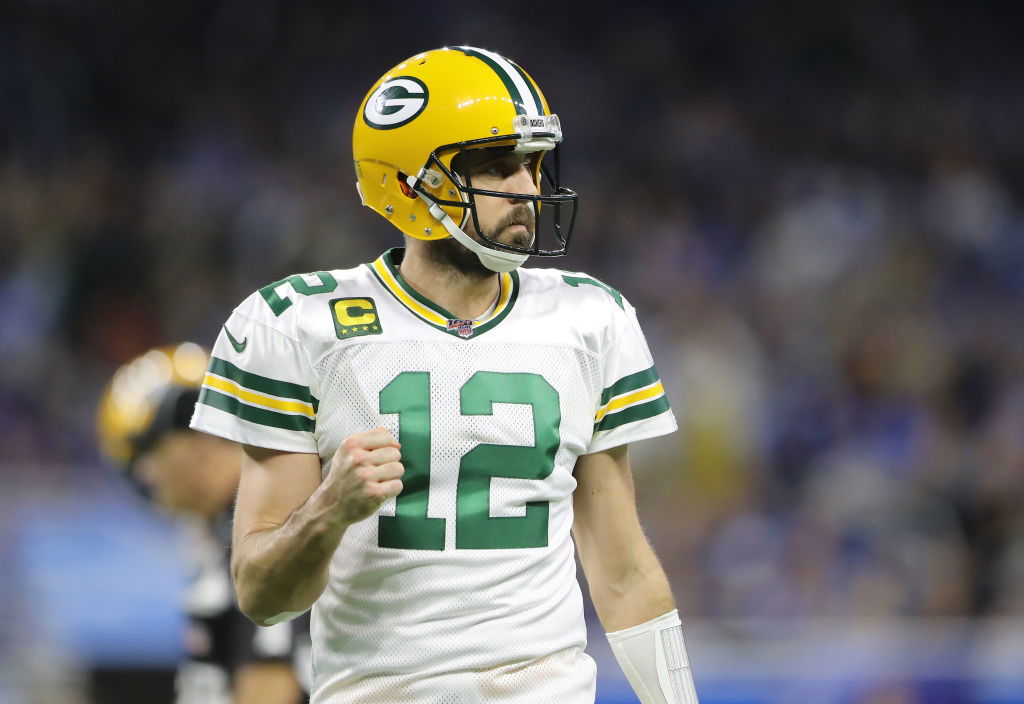 The Packers have gone 13-3 and earned a bye without ever looking like a 13-3 team for 60 minutes at a time. Do they gain anything psychologically from their proven record of winning ugly, or do the Seahawks sense blood?
David: I think the Packers come in with a point to prove; they've surely heard plenty of people saying they shouldn't have had a bye. Well, the team everyone felt worthier just lost in their own building to the runner-up in the Packers' division. The Seahawks might talk the Packers down, but really I don't know how much it matters. No extra motivation is needed in January, everyone will do whatever they can regardless; the main impact psychologically is if players go off the rails a bit playing emotional, and if this game is high-scoring (which I doubt) it will be because of mental errors from messy-headed defenders.
Alan: It's probably a little bit of both. To be honest, I think the Seahawks sense blood against everybody. They've got Pete Carroll at head coach and Russell Wilson at quarterback. Even with all of their offensive issues and injuries, that alone means they're never afraid of anybody. And on the flip side, the Packers have Aaron Rodgers, so they're always feeling like they have a chance in games just because of him. I mean, the only reason they even have a bye is because they engineered a comeback from 17-3 down in Detroit to close the regular season. Both teams go into this game with a ton of swagger given their January pedigrees, so I think the psychological battle is pretty even.

James: As far as the Seahawks are concerned, they'll know that they have to put in a better performance this weekend than they did against Philadelphia, but they'll also know that no game against Green Bay is over until it truly is over. With DK Metcalf coming off the back of a big game, and Tyler Lockett very much capable of having one himself, the Seahawks will be quietly confident that they can come away with a win—especially with Aaron Rodgers not having looked his best lately.
However, Rodgers could flip the switch at any moment and throw that trademark laser deep downfield to change the game in an instant—whether he's been poor in recent weeks or not. It'll be an intriguing contest for sure, and I think home-field advantage is the only thing that separates the two sides right now.

Tyler: This game is the matchup of all matchups in terms of teams that don't look like they should be winning, but they keep doing it. Both of these teams have won a lot of games this year, but neither of them make things easy for themselves.
I personally think the Seahawks are in need of a serious uptick in energy, whether it's because of a big play on offense or an interception off Aaron Rodgers early; they need something to wake them up. Against Philadelphia they looked genuinely lethargic for most of the game, but against Green Bay, on their home field… It's going to be tough.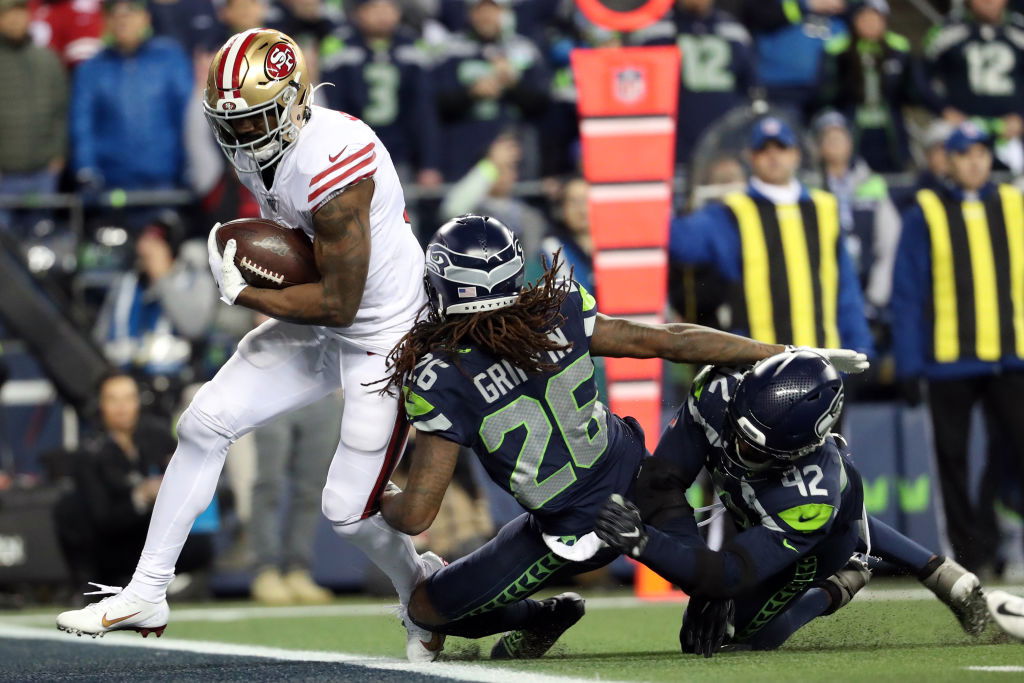 Which player might we look at very differently this time next week after a career-defining performance this weekend?
David: I expect the Ravens to run rampant and trample the Titans, but with Mark Ingram not at full fitness, I'm looking to Justice Hill to lay down the law. The rookie RB has been a near-afterthought for the most part, working behind not only Ingram but Gus Edwards too; however, his explosion and pass-catching skills give him the chance to make a big contribution even as a secondary contributor in this offense and get everyone knowing his name. Also, Jimmy Garoppolo is an obvious shout, maybe even too obvious.

Alan: I struggled with a lot of answers here for a long time, and I think I narrowed it down to Raheem Mostert. He's coming into the playoffs red hot, but the performances have been kind of lost in the sauce in San Francisco's crowded backfield. I think Minnesota's defense will do more than most to keep that passing game under wraps, and their edge rushers have a chance to tee off if the 49ers get in too many obvious passing downs the way the Saints did a week ago. I think Mostert is in for a big day. Allen Lazard is another name I want to briefly highlight as a guy who could have a career-defining performance. Seattle will focus a lot on Davante Adams, and that could open some doors for Lazard.
James: I think I have to go for Kirk Cousins here—he took a huge step in the right direction last weekend, but will that have been for nothing if he can't guide his team past the Niners and into the NFC Championship Game?
At the time of writing, the line is Vikings +7, very similar to the line in the Saints game last weekend. So, let's see if Cousins can prove the bookies (and many others) wrong again this time around.
Tyler: It's Deshaun Watson. Last week we got a taste of 'the closest thing the NFL has ever seen to Michael Jordan' being his game-breaking self, and earning a victory that whether you expected it or not, felt completely unlikely and in my opinion undeserved. But that's what you have to do to be a playoff winner. Tom Brady has made a career of uninspiring wins, late comebacks after starting slow, you name it.
Deshaun Watson has a chance here to step up and show that he genuinely has championship DNA. If he wins this week there will be some very serious talk about the Texans team. Their roster is banged up, their secondary is bad, their offensive line contains at least two writers who feature in this roundtable, and their decision making on both sides of the ball makes me wish I could plug in a controller and fix it… all of that is a recipe for a horrendous team, but not with Deshaun Watson on it. Let's see what you've got, #4.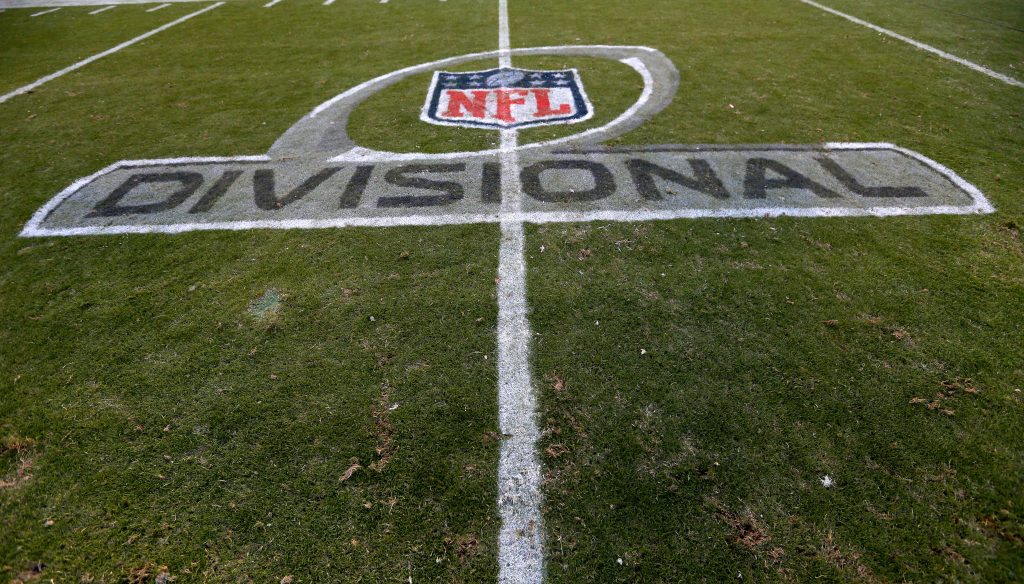 And now, your score predictions...
David: Vikings 16-27 49ers, those four first-round defensive linemen prove telling. Titans 10-27 Ravens, the best team in the NFL prove as much once again. Texans 27-38 Chiefs, both QBs balling out but an under-duress Watson not doing so as reliably. Seahawks 13-17 Packers, I can't trust either offense much right now so I'll back the defense that has the Lambeau crowd assistance.
Alan: San Francisco gets a much tougher game than it bargained for with the No. 1 seed, but will ultimately survive by a score of Vikings 27-31 49ers. I just don't think Tennessee can match the performance from last week, and the end result will be Titans 17-27 Ravens. The first total blowout of the postseason comes at Arrowhead Stadium in the form of Texans 14-38 Chiefs. And finally, a Lambeau Field thriller goes the way of the visitors, as an epic NFC Championship Game is set up with Seahawks 23-20 Packers.
(Alan's Walking the Lines picks are hence Vikings +7, Ravens -9.5, Chiefs -9.5, Seahawks +4.5.)
James: Vikings 27-24 Niners, Titans 20-31 Ravens, Texans 17-31 Chiefs, Seahawks 21-24 Packers.
Tyler: Vikings 13-24 Niners, Titans 20-34 Ravens, Texans 24-30 Chiefs, Seahawks 20-26 Packers.
---