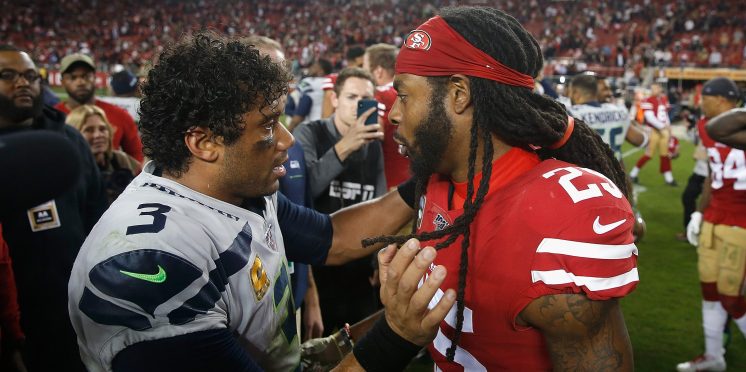 Walking The Lines – Week 17
This is the end, my friend.
I can't believe it, but we have arrived at the final week of the regular season. I didn't really have high expectations when I started making these picks. I have no gambling experience and really don't know all the inner workings of this you have to understand to achieve even a 55% clip, let alone the elusive 60% that the pros reach.
I'm sitting at 51.8% for the season as we head into the final slate. It's not a blazing hot record—definitely not one that would inspire me to drop everything and head to Vegas—but I've hit more than I've missed.
If I can put together a 9-7 week this week I'll be up a tick and break 52% for the season. As long as I can go at least 4-12, I'm guaranteed to finish the season over .500. And I'm closing on a decent little spurt here, sitting at 33-26-5 (55.4%) over the last four weeks. Oh, and for the heck of it, I'm 23-18 (56.1%) on those college picks I started doing once I got bored of talking about every NFL game every week (thanks, Miami), so I guess that's a pretty solid clip too.
A lot of people will tell you not to bet on week 17 NFL games. Too many teams are either playing for nothing or are very injured by this point in the season, and it skews the lines. You're not going to get good odds, and it's impossible to know where the motivations might lie for a team with nothing left to fight for.
But you know what? Gambling on week 17 NFL games looks like fun. So sticking with the philosophy, let's get into this for the final time in 2019.
---
All lines are consensus lines from The Action Network as of Saturday night. Picks are in CAPS.
Last week: 9-6-1
Season: 121-112-7
Note: Picks were written on Friday to ensure the latest possible lines for the College Football Playoff on Saturday. NFL lines were updated on Saturday night to have the latest lines posted for Sunday's NFL games.
---
Here's how we're going to do it this week. I'm just going to quickly knock out all of the NFL games with nothing at stake. Games where either both teams are eliminated, or one team is eliminated and the other is locked into its playoff seed. Then we'll break it up by picking the New Year's Six for college football, and we'll come back to Sunday with more in-depth thoughts on the NFL games that actually count for something towards the playoff picture. Sound good? Here we go.
CHICAGO (-3.5) @ Minnesota
The Bears are eliminated, and the Vikings are locked into the No. 6 seed in the NFC. Minnesota head coach Mike Zimmer sounds like he is going to rest his starters. This opened at Vikings -7 and is out to Bears -3.5, so clearly I'm not alone in not trusting Sean Mannion and Minnesota's backups to win this game.
Atlanta @ TAMPA BAY (PK)
Jameis Winston is two interceptions away from becoming the first quarterback in NFL history to throw 30 touchdowns and 30 interceptions in a season, and the first to throw 30 interceptions period since Vinny Testaverde in 1988. That nugget of history is about the only noteworthy thing about this game. I'll take Tampa to finish the season sweep.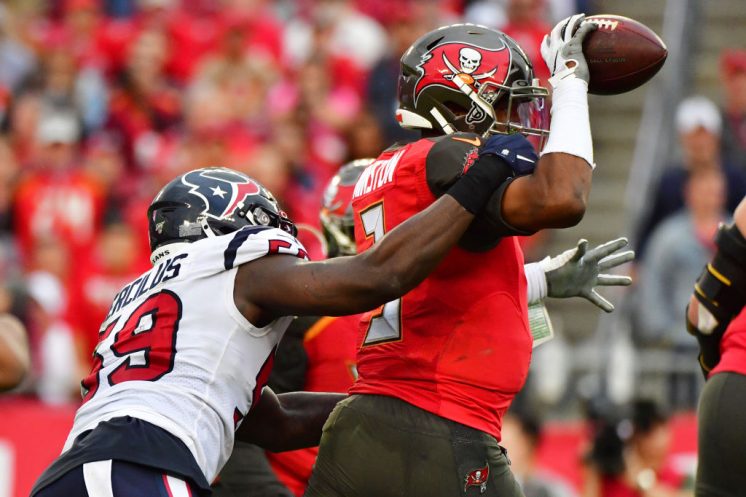 Cleveland @ CINCINNATI (+3)
Nothing on the line in the Battle of Ohio as the Browns were eliminated last week and the Bengals clinched the top pick in the draft. I just think Cleveland is crying out for this season to end after all the turmoil, and they won't show up with much fight. I'd like it better at 3.5, but I'll take the goal with a Bengals team that showed some signs of life last week.
NY Jets @ BUFFALO (-1)
Sean McDermott has already announced he plans to play his Bills starters on Sunday despite being locked into the No. 5 seed. That feels mind-numbingly stupid to me in a spot where there is everything to lose and nothing to gain, but I can't deny that the Bills are better than the Jets with the full arsenal available.
Arizona @ LA RAMS (-6.5)
The injury status of Kyler Murray makes this a fool's errand. The rookie quarterback suffered a hamstring injury in Seattle last Sunday and was limited in practice throughout the week. He's a gametime decision for Sunday, so I'm making this pick with a blindfold on. I think the Rams will want to finish strong and it's possible the Cardinals won't have their quarterback available, so I'll lay the points in a bit of an unusual spot here.
INDIANAPOLIS (-6) @ Jacksonville
Speaking of an unusual spot, this is the epitome of it. The Colts and Jaguars are both eliminated, hence why I have the game here. But the matchup is still playoff relevant. The only way the Raiders can get into the postseason is if they finish in a four-way tie with the Steelers, Titans, and Colts. That scenario involves the Colts winning here, making this an incredibly rare game between two eliminated teams with big playoff implications!
But the Colts and Jaguars have no reason to care about Oakland's playoff fate one way or the other, so on the field this will still be two teams with nothing to play for. And the Jaguars—already losers of six of their last seven—just look very ready for this season to be over with. I'll pick Indianapolis just as the team with more motivation, and we'll see where that leaves us in terms of the postseason.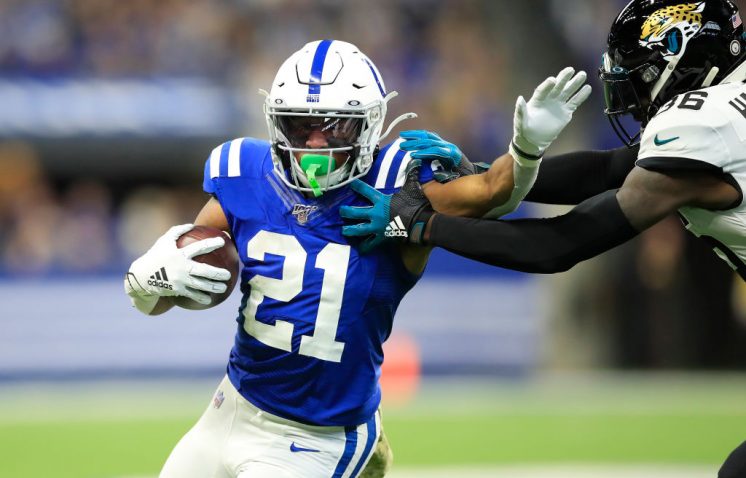 Cotton Bowl: Memphis vs. PENN STATE (-7)
Orange Bowl: Virginia vs. FLORIDA (-14.5)
Rose Bowl: Wisconsin vs. OREGON (+2.5)
Sugar Bowl: Georgia vs. BAYLOR (+5.5)
Peach Bowl: LSU vs. OKLAHOMA (+13.5)
Fiesta Bowl: Ohio State vs. CLEMSON (-2)

LSU wins the first playoff semifinal to move to 14-0 and set up what will essentially be a home national title game at the Superdome. (If 2017 Georgia, 2011 LSU, or 2005 USC are any indication, a home title game might not be such a good thing…) However, I'm taking the points with Oklahoma. I think LSU's much better, but last year Oklahoma fell behind 28-0 in their playoff semifinal against Alabama and still covered the +14 spread with a 45-34 loss. I'm not saying I expect the Tigers to jump on the Sooners with four first-quarter touchdowns, but I could see a similar type of game here.
As for the other semifinal, it's everything you want in a football game. 13-0 Clemson, 13-0 Ohio State, spot in the title game at stake, and Justin Fields vs. Trevor Lawrence. I mean this is as good as it gets. I could talk your ear off for an hour on this game because I'm so excited for it, but I'll keep it short. I'm betting on the Clemson death star to flex its muscle and set up an all-Tigers title game in New Orleans.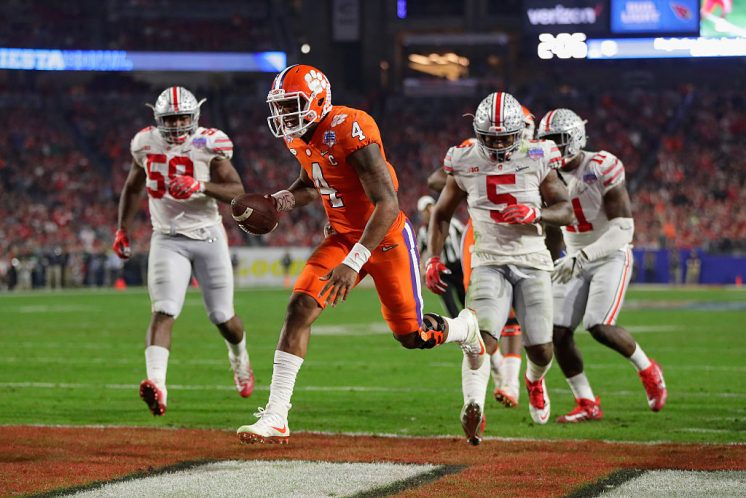 MIAMI (+16.5) @ New England
Well would you look at that, we found an NFL game with stakes! Last week I very boldly claimed that the Patriots were not a full touchdown better than the Bills, to which they responded with a win of exactly one touchdown.
New England will clinch a first-round bye with a win, and they'll get it. But 16 is just a ton of points in the NFL, especially with Ryan Fitzpatrick and his Civil War beard on the other side. Does Gillette Stadium still have those guys in Revolutionary War garb with muskets who fire them after every touchdown? I feel like those guys would have some cool stories to share with Fitzpatrick from back in the day. The Patriots have spent the entire decade destroying everyone and just collectively making people miserable, so it won't surprise me when they win this 38-10. But I'm loading up on the points and taking my shot. Hopefully it doesn't backfire.
NEW ORLEANS (-13.5) @ Carolina
I have a rule in gambling. This is my first time testing it because I just made it up on the spot, but it's one I have a feeling most of you will agree with. If a quarterback throws three interceptions in his NFL debut and his team loses 38-6, don't pick him to cover against a very motivated Drew Brees the following week.
The Panthers have lost seven in a row and have pretty much stopped fighting since Ron Rivera was fired. The Saints are probably the best team in the NFC in terms of talent and form, but they need a win and a loss from either Green Bay or San Francisco to grab a first-round bye (or both to get the top seed).
I'm uncomfortable making the pick because of the number, but I can't in good faith select the Panthers. They're one of two teams in the NFL without a win in the second half of the season, and that's not an accident.
GREEN BAY (-12.5) @ Detroit
And here we see the other team in the league without a win since the midway point of the year. And another game where the team on the other side is 12-3 and looking to score a bye with a win.
I spent a few minutes trying to come up with a reason to pick Detroit just because I hate numbers this big, but I honestly came up with nothing. This is the worst team in the NFL, bar none. I honestly think I could put them on a neutral field against the Bengals and Cincinnati would find a way to win it.
The Packers are really good, the Lions are really bad, and sometimes it's just that simple.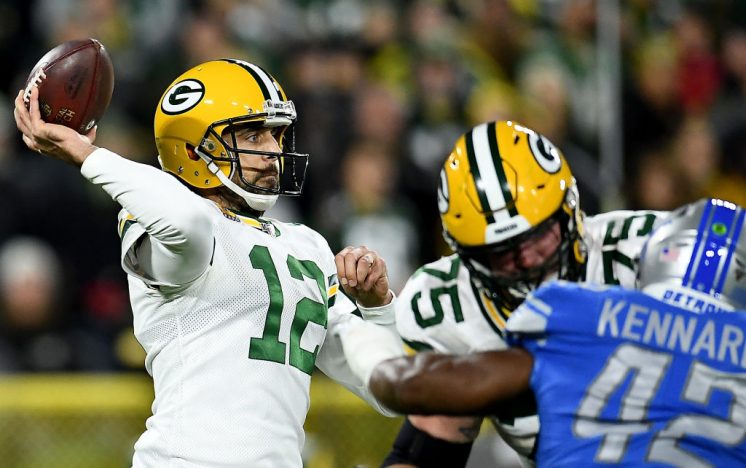 LA Chargers @ KANSAS CITY (-9.5)
You're probably mad at me by now, and you have every right to be. You're here to be entertained, and there's nothing entertaining about a guy just picking all the favorites to beat the bad teams. But what am I supposed to do?
I would need this spread to get into double digits before I thought about trying to grab the points. Ironically this spread sits at nine—one point for each of Philip Rivers' children and half of one for every interception he's thrown this season—and that's not enough for me.
The Chiefs were in a very similar position last season at home in week 17 against a division rival with nothing to play for, and they blasted the Raiders 35-3. They'll dominate this game and move to an unbelievable 27-3 against AFC West opponents over the last five seasons.
This division over the last half-decade has basically been like if 5'3" Muggsy Bogues, 5'5" Earl Boykins, and 5'9" Spud Webb all tried to shoot up layup after layup, but 7'6" Yao Ming was effortlessly swatting all of them away at the rim. It hasn't been fun, unless you have the really tall guy who blocks 27 out of 30 shots.
Philadelphia @ NY GIANTS (+3.5)
We start the late window in New York, where the Eagles can clinch the NFC East if they beat Eli Manning in what will be his final game with the Giants.
How great of a story would the Giants winning be? Eli Manning probably mastered the concept of struggling for long periods of time before peaking right when he needed it the most. He has had a very up and down career and failed to win a playoff game in all but two of his seasons, but he won a Super Bowl in both of those years. He beat Tom Brady in two Super Bowls, both times after largely average regular seasons.
And now here we are again. He has been bad for most of the season. The Giants have been out of the playoff race for a long time. But here comes one final "Super Bowl" with a chance to stick a dagger in the hearts of Philly.
I have reasons beyond the perfect narrative, but I think there's a good chance he pulls it off. The Eagles are still extremely injured at the skill positions, and now you can add Zach Ertz and his broken ribs to the mix.
I'm not trying to make the Giants out as great, but they can put up points. Saquon Barkley, Sterling Shephard, and Golden Tate can make enough plays to keep this interesting. There's also a 70% chance of rain on Sunday, and that could turn this into a really ugly, low-scoring game that favors the points. I'll ride with Eli one final time to at least make the Eagles seriously sweat.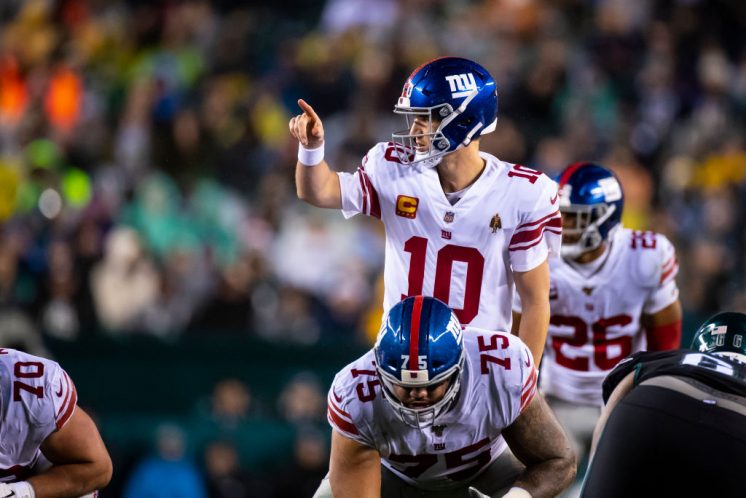 WASHINGTON (+12.5) @ Dallas
If the Eagles lose in East Rutherford, the Cowboys will be waiting to scoop up the NFC East at 8-8.
Case Keenum will be doing the honors under center for Washington, and I actually think that helps them in a weird way. I don't know if he's as good as Haskins, but he's been waiting around for a while now and will be ready to let loose. He was a solid 16-for-22 passing with 158 yards and a touchdown in relief of Haskins last week against the Giants, including a game-tying touchdown drive that looked like a disaster in the race for Chase before Washington picked up the clutch loss in overtime.
I have a sneaky feeling he's going to come out firing in this one. This is something of an audition game for him as he's set to hit free agency, even if it's just as a backup on a contending team next year. New York and Washington both winning on Sunday would probably be the most objectively hilarious moment of the entire season. I'm not sure if all of that will come off, but I like Keenum to at least keep his team in the game.
Oakland @ DENVER (-3)
Alright, here's where it gets really fun. Oakland, Tennessee, and Pittsburgh are the three teams still fighting for the final playoff spot in the AFC, and the three will play simultaneously in the late window. So how can the Raiders pull off the most impossible playoff backdoor I've ever seen? It's going to take a lot. This is directly from the NFL's press release:
Oakland clinches a playoff berth with:
1. OAK win + PIT loss + TEN loss + IND win + OAK clinches strength-of-victory tiebreaker over PIT*
*OAK clinches strength-of-victory tiebreaker over PIT if ONE of the following teams win or tie: CHI, DET, LAC OR NE
So they need a ton of help. They need three specific games to fall their way, then a fourth game out of another group of four to break right. And of course, all of it has to go with a win in their own game at Mile High.
And as you can tell by the pick, I don't think that's happening. I don't think last week's win at the Chargers that kept hope alive says anywhere near as much about them as it does about how far gone the Chargers are. This is still the same Oakland team that blew the last game at the Coliseum against Jacksonville (boy, wouldn't that win be a nice one to have right about now?) and is 1-4 in the last five.
It sounds crazy when you're matching up a 6-9 team against one in the same division fighting for a playoff spot, but I think the Broncos might be the better football team here. The oddsmakers tell me it's close with just the standard three points for the home team attached to the Broncos. Give me Denver to officially bring an end to the Oakland Raiders, both for this season and forever.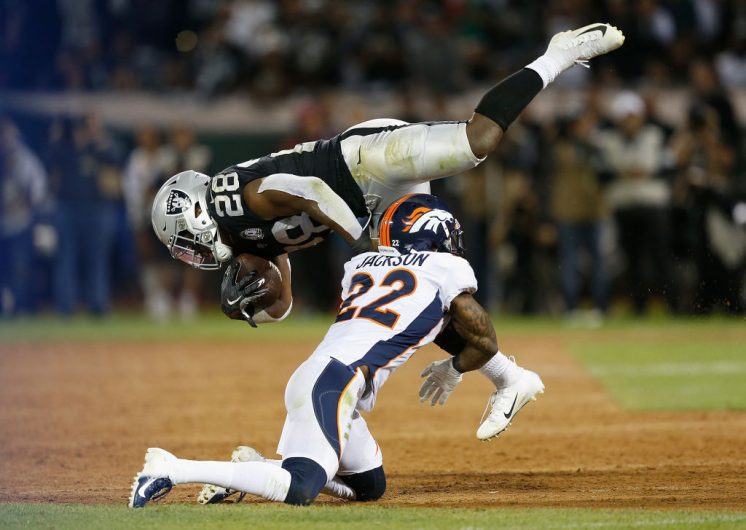 TENNESSEE (-6) @ Houston
It's pretty cut and dry for the Titans. Win and they're in.
They don't need any help the way the Raiders do as long as they win the game themselves. If they lose, they could still backdoor in, but that would require Pittsburgh and Indianapolis to both lose. Of course the Raiders need Indianapolis to win, meaning both the Colts and Jaguars will be playing for somebody in that game.
But my colleague David Howell made a very astute observation about this game in his latest power rankings that impacts the other side of this game. The Texans are already in the playoffs, and the only way they can improve their seed is if the Chiefs lose. The problem is the Chiefs game will start at 1, and the Texans will play at 4:25.
As David said, it's entirely possible that while they are in the locker room getting ready for this game, the Texans will learn that the Chiefs beat the Chargers and that they no longer have anything to play for.
It almost works like a parlay. I'm betting on the Chiefs to win, the Texans to learn they have nothing to play for, O'Brien to pull Deshaun Watson and company out of the game, and the Titans to win. If the first part of the parlay is messed up, the second part probably will be too.
I'm either setting myself up for two wins or two losses here, but I'm picking the Titans to cover and clinch a playoff spot here.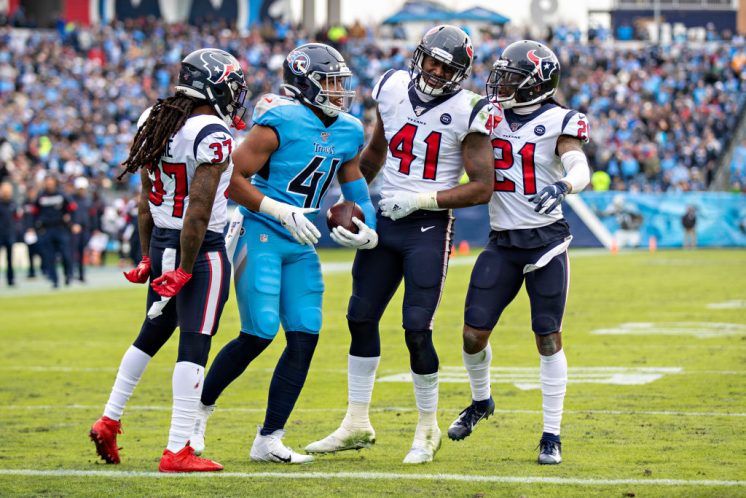 Pittsburgh @ BALTIMORE (+1.5)
The Steelers have by far the most complicated scenarios of anybody involved here. Again, I quote the official release because I'm not smart enough to explain all of these scenarios myself:
Pittsburgh clinches a playoff berth with:
1. PIT win + TEN loss or tie OR
2. PIT tie + TEN loss OR
3. TEN loss + IND win + OAK loss or tie OR
4. TEN loss + IND win + PIT ties OAK in strength-of-victory tiebreaker*
*PIT ties OAK in strength-of-victory tiebreaker if ALL of the following teams win: MIN, GB, KC AND MIA
Alright, let's unpack this. Obviously, all four scenarios involve the Titans losing. If Tennessee beats Houston, there's nothing the Steelers can do to make it in. But if the Texans rise up and win that, all kinds of possibilities are open. The Steelers could win (or tie) and get in, or they could lose and get help from Indianapolis and Denver. They could even have the Colts win but not the Broncos and hit the quadruple on the SOV tiebreaker.
It's nuts. Meanwhile, the Ravens have clinched the top seed in the AFC and John Harbaugh has made no bones about what his plans are. Lamar Jackson, Mark Ingram, Marshal Yanda, Earl Thomas III, Mark Ingram and Brandon Williams will all be resting on Sunday. The Ravens are leaving nothing to chance in a game they don't need, and rightfully so.
So the question becomes: Can these Steelers beat a Baltimore B team with the season on the line?
I'm saying no. I have no faith in Devlin Hodges and this Pittsburgh offense to move the football enough. I believe 17 points will win this game, but I don't think the Steelers can get there without a defensive score. Similar to Keenum for the other beltway team, I think Robert Griffin III has been waiting all year for this chance, and he's going to do just enough to win this game.
I actually don't think it would be the worst thing for Baltimore to lose this game. Tennessee is a much bigger threat to them in a possible playoff matchup than Pittsburgh would be, so the Steelers sliding in might be a good thing for them.
Then again, the way they're playing with Lamar Jackson, does it really matter who's in their path?
San Francisco @ SEATTLE (+3.5)
This is the 256th and final game of the 2019 NFL season, and I think the league might've saved the best for last. The first matchup between the 49ers and Seahawks was the game of the season, as the Seahawks won 27-24 on a walk-off field goal in overtime after a thrilling four hours of football.
Now they meet again in Seattle with everything on the line. The winner takes the NFC West title. If the 49ers win they clinch the top seed in the NFC playoffs. If they lose, they drop from the No. 1 seed to No. 5. If the Seahawks win they can get a bye, or even the No. 1 seed with help elsewhere. And if they lose, they will drop to No. 5. It's two rivals playing with everything on the line as the final game of the 2010s decade.
And it's so perfect that it's these two.
In my mind, this was the defining matchup of the 2010s in the NFL. This rivalry reached a height very few do in professional sports in the early 2010s. Those teams were mirror images of each other, from Russell Wilson and Colin Kaepernick under center to their two ferocious defenses. Even the rivalry between the coaches was awesome with Jim Harbaugh and Pete Carroll.
That 2013 NFC Championship Game between the two was the football game of the decade in my opinion. One of those football games where you could feel the intensity through the screen, and it came down to the final play with Richard Sherman tipping the game-winning touchdown. And the post-game speech? That was the stuff of legends.
YouTube: Richard Sherman rips Michael Crabtree in Erin Andrews interview
And just to add fuel to the fire, Marshawn Lynch is back. I have serious doubts about if running a 33-year-old who might not be in football shape into the teeth of the 49ers' defensive line is a good idea with this much at stake, but it is top notch from an entertainment perspective. And the fact that one of the biggest lighting rods of this rivalry from early in the decade is back for one more round is just perfect.
As for the pick, there are two reasons I like Seattle. First of all, I'm catching more than a field goal with with Russell Wilson at home. He always gets up for these big games, and that's a ton of value.
And the second reason comes from the public. This game opened as a pick'em and has gone out heavily in favor of the 49ers. 70% of the tickets are on San Francisco. The casinos aren't all in business because the 70% favorites always win.
Give me Seattle and the points to close out the regular season.
---