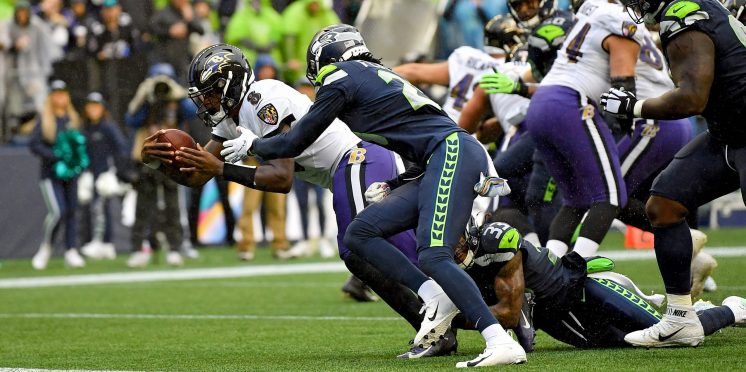 NFL Power Rankings: 2019, Week 16
And so this is Christmas. And what have I done? Produced another set of NFL power rankings that I'm destined to write in haste and regret at leisure. This week there is one team I am particularly looking at thinking I was wrong about them before and might now be wrong about differently.
1. Baltimore Ravens last week: 1
It's not the Ravens. It is absolutely, categorically not the Ravens. The most complete team in the NFL with daylight second, they are now the strongest Christmas Day favourites to lift the Lombardi Trophy I can remember in a long time. Two separate analytical models already give them around a 40% chance of winning it all—and remember, that's despite still needing to beat three playoff teams to do that! The implication is they have a better than 70-30 shot in each of those games—probably a bit more for the first two that will be at home. Put it this way—their Divisional Round opponent will be about as much of an underdog as the Chargers are going into Arrowhead this Sunday. More on which later.
2. New Orleans Saints last week: 2
It was a rough ride, but they came through over the Titans and still have a chance to get a bye. The problem is that while they are probably just about the best team in the NFC, it's close and they most likely won't even have a bye with how things are set up now. Brutal.
3. San Francisco 49ers last week: 5
Everything is falling into place for the road to Miami to run through the Denimdrome. They got the huge win on short rest while on tilt from the previous week's disastrous game (for the winner, too) and now have their seeding fate in their own hands against banged-up opposition. Jimmy Garoppolo's Saturday night clutchness against the Rams could be a great sign of things to come in January. Robbie Gould's, too.
4. Kansas City Chiefs last week: 4
So they'll beat the Chargers at home to clinch the #3 seed, presumably. It'll be tough for them to win the AFC, but Mahomes can do Mahomes things any time that make it possible to dream. That game actually matters a lot, because the Chiefs win means the Texans will be locked into the #4 seed. The NFL, in their infinite wisdom, did not schedule these games at the same time. They can't afford to be making such mistakes. Nor can the Chiefs defense, to bring this back on topic.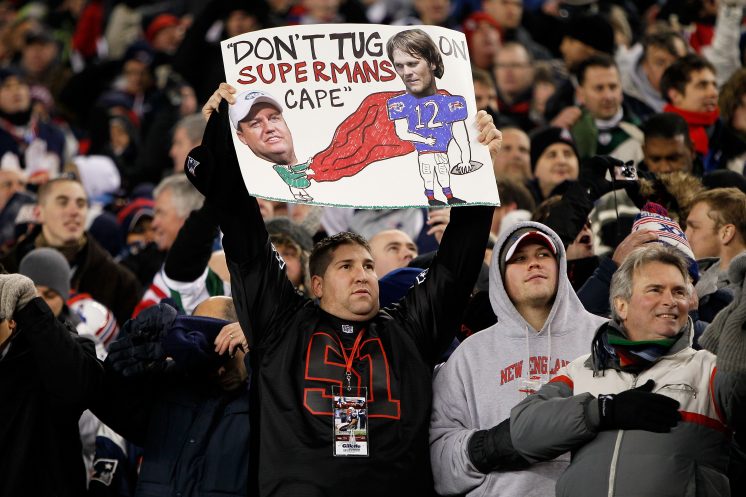 5. New England Patriots last week: 6
The last time this team didn't have a first-round bye, Gordon Brown was Prime Minister and the original Meadowlands Stadium still existed. If (when) the Patriots beat the Dolphins at home, they will have secured one of the top two AFC seeds in every season in the 2010s… and they've won the last eight of their subsequent Divisional Round home games! The last time the AFC Championship Game did not involve the Patriots, Bruno Mars topped the British charts with "Grenade," the Bills were playing an annual game in Toronto, Sean McVay was an assistant tight ends coach in Washington, and LeBron James had not yet won a ring. Why mention all this? To show just how long this dynasty has been going, and how much history anyone will have to overcome to beat them. I would be terrified to play
this team in January even in this clearly non-vintage guise.
6. Green Bay Packers last week: 8
Now that's how you take advantage of a scheduling smash spot, getting to play Kirk Cousins on the road on a Monday night. Unbelievably, the Packers are one defeat of the Lions (!) away from a first-round bye. Is it time to take this team more seriously as a contender? I can't go all-in on this team, but a presumptive 13-3 record means I can't go all-out on them either, if that makes sense. It probably doesn't. But neither does the Packers having fewer losses than the Dolphins have wins.
7. Houston Texans last week: 9
I remain perpetually confused by this team. Their defense played rather better than their offense against the inexplicably-hot Buccaneers; in fact, this was only the fourth time all year that betting the under on a Tampa Bay game would've cashed! They now face what should be a meaningless game for them against a Titans team for whom it's win-and-in. What a mess. Do they risk injury in the name of divisional pride and competitive integrity?
8. Minnesota Vikings last week: 7
Your season is still alive! You can rest everyone this week, and there are no playoff games on Monday night!
9. Seattle Seahawks last week: 3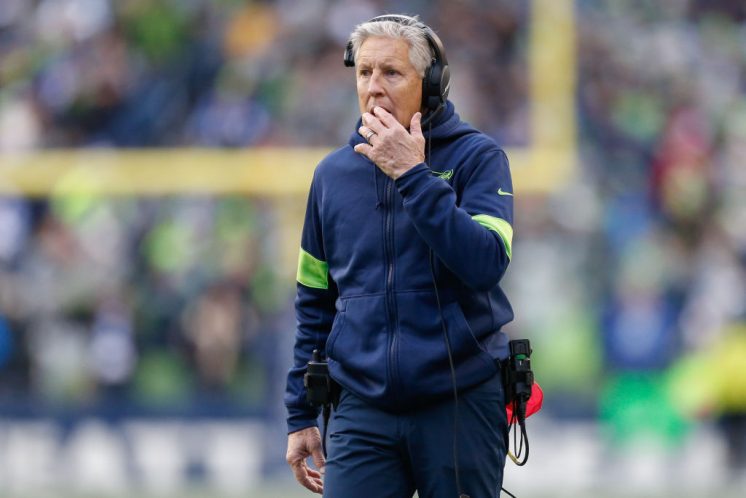 First the Niners, now the Seahawks have had their inexplicable loss. (NBC are grateful it was that order, allowing them to be certain that the division would come down to their meeting at C-Link for that game to be flexed to primetime with enough time to promote it during the Week 16 SNF.) But this one feels different, because the Seahawks are completely beaten up and now basically don't have a backfield. Their response to this? Send for an unretiring Marshawn Lynch. If you missed that news, you did not misread that sentence. Marshawn Lynch is now on the Seahawks active roster. I know this rivalry brings back fond early-2010s memories, but this is too far.
10. Buffalo Bills last week: 10
They did exactly as expected in Foxboro—leaving with a hard-fought one-possession loss. Chances are they will go to Houston next weekend and the same thing will happen.
11. Tennessee Titans last week: 11
12. Pittsburgh Steelers last week: 13
So let's clarify the absurdity of this AFC playoff situation. The Titans have a win-and-in game against a Texans team that will probably find out in the locker room that they have nothing to play for. If they lose, the Steelers can get in themselves if they beat a Ravens team who already know they have nothing to play for and have announced they will be sitting numerous starters. And if both of those teams (and the Jaguars) lose, the Raiders can backdoor the playoffs, which would seem like a thoroughly undeserved reward… except the path to getting there runs through at least one and maybe two teams losing to backups and thus demonstrating they're just as unworthy of January football. What a mess.
13. Philadelphia Eagles last week: 16
Speaking of mess, here's the NFC East! The beat-up Eagles avoided embarrassment when it mattered the most, and so we can finally look forward to some Carson Wentz January action. Presumably.
14. Los Angeles Rams last week: 17
You played the Niners close. Below-average teams don't do that (or shouldn't, at least). But that's no consolation; the fact of the matter is that you went all-in with a losing hand. There is a genuine chance the pick the Jaguars will receive in 2021 will be very high indeed.
15. Dallas Cowboys last week: 12
You can still make the playoffs! You just proved you didn't deserve to, though. Remember when Dak Prescott was considered a Pro Bowl snub?
16. Arizona Cardinals last week: 19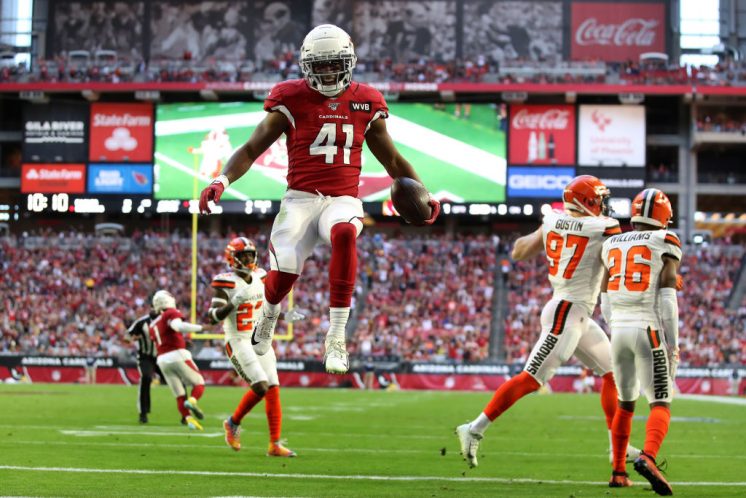 Kenyan Drake outside of Miami is an absolute revelation, isn't he? Ever since he left South Beach, he's dragged the Cardinals to relevance and his fantasy owners to championships; he may not be as dominant on the field as his namesake is in the charts, but his nonstop production has made his team look awfully nice. But for what? Two straight late-season victories that might take them out of draft position to take the player that will elevate the roster into contention for trophies. Congratulations.
17. Chicago Bears last week: 14
Welcome back, Mitchell Trubatsky! His ineptitude came out at night again, and the Bears pulled a rerun of everything bad about their team before (up to and including a double doink!) without any of the 2018 redeeming features that facilitated an inexplicable, unrepeatable 12-4 season.
18. Tampa Bay Buccaneers last week: 15
Back down to earth but still looking surprisingly competent. This team is going to be an exciting mystery box again next year, but how much bad do they have to take with the undoubted good in this offense? The Bucs should once again be awesome for fantasy football in 2020. Real football? I have my doubts.
19. Indianapolis Colts last week: 18
I suspect that if the Colts and Bucs played each other to end the season it'd be a good game. Both teams are, in their own way, pretty weird and hard to evaluate even after a full season.
20. Atlanta Falcons last week: 22
Enjoy your spot in the top 20 this week. You won't be spending too much time there next year if this run of Pyrrhic victories means you retain Dan Quinn…
21. Oakland Raiders last week: 23
At the third and final attempt, the Raiders come away from the shoebox with a win. Imagine this team actually in the playoffs. I can't. Josh Jacobs might be a danger on a cold January day in KC I guess?
22. Los Angeles Chargers last week: 21
There we go. Get that tank rolling! Say goodbye to the shoebox, and say hello from next year to a stadium whose naming rights belong to a company who didn't exist yet the last time you won the AFC West. You did not misread this sentence.
23. Cleveland Browns last week: 24
At least you got close enough to Lamar Jackson for him to need to Madden-glitch his way to a TD pass that one time? This counts as improvement for you.
24. Carolina Panthers last week: 20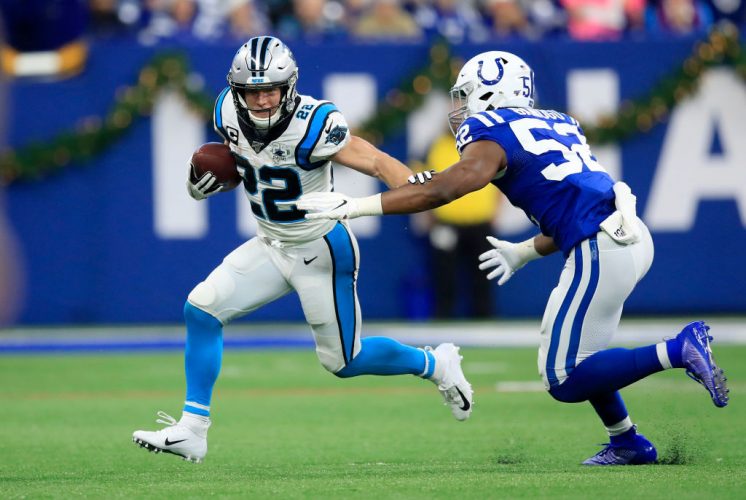 Fellow mock draft writers! You now have permission to add the Panthers to the list of teams who are strong contenders to take a quarterback in the first round! The only thing this team has been good for this year besides Christian McCaffrey's fantasy dominance is this:
Head coach @RiverboatRonHC sporting the new shirt getting ready for @Panthers trip to London tonight. Pretty cool shirt. @wbtradio pic.twitter.com/OqBD90KOUZ

— Brett Jensen (@Brett_Jensen) October 9, 2019
25. Denver Broncos last week: 26
Please beat the Raiders so we don't have to think about ridiculous backdoor playoff scenarios. That's it. That's the comment I have on this team.
26. Jacksonville Jaguars last week: 24
Remember when this team was a contender? It could happen again soon! All it will take is moving on from Tom Coughlin and getting four top-20 picks in the next two years! Pro tip: try getting someone other than Dave Caldwell to spend these ones.
27. New York Jets last week: 29
28. New York Giants last week: 27
Jets Giants
. 🤝🏽
Blowing up their own tanks
29. Miami Dolphins last week: 28
The season in microcosm; you tried so hard to get the clutch losses to move up the draft order, and you couldn't even succeed at your mission of failure.
30. Detroit Lions last week: 30
Remember that blown lead against the Cardinals on opening Sunday? That's currently the reason you're picking third and not fifth. We knew we'd look back on that and see it as a potential turning point for the season. We didn't realise it'd be this fondly. But maybe we should have done. The Detroit tank factory never goes away, it just sometimes gets shut down by union strikes.
31. Cincinnati Bengals last week: 31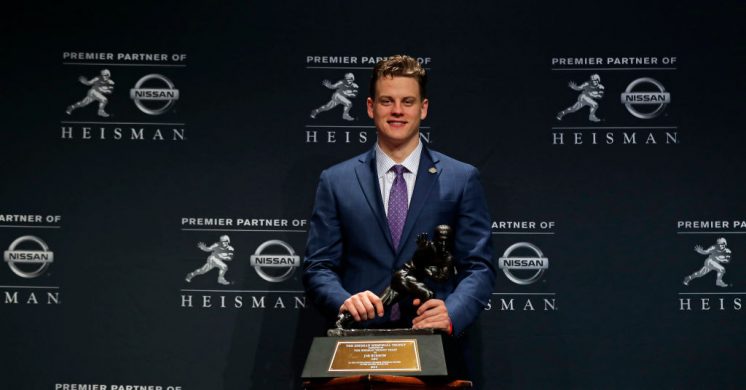 You did it! You've got Joe Burrow with a week to spare! Congratulations on winning the Tank Bowl Championship Series!
YouTube: Nick Berry – Every Loser Wins
32. Washington last week: 32
One more loss to secure the second pick. One more loss to exponentially increase the chances Chase Young stays in school. Free Trent Williams.
---