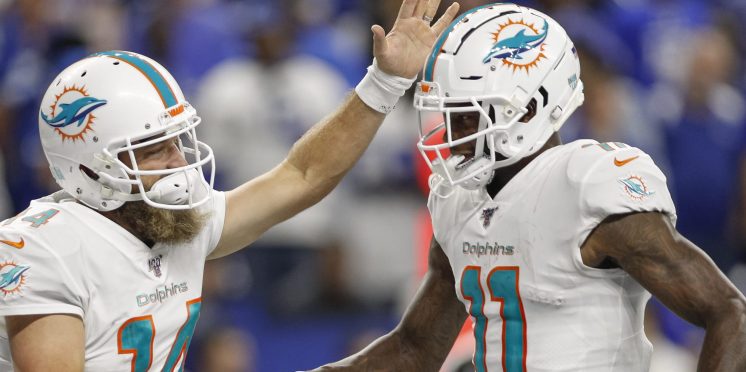 Fantasy Football Primer – Week 15 2019
If you're reading this, you are probably in the semi-finals of your fantasy football league. There's just two weeks to go, and this is the week that puts you in the position that everybody wants to be in. The final is a head to head, anything-can-happen matchup of two teams with it all on the line – and you want to get there. For the penultimate time, as the season comes to a close, let's take a look at some of the possible start/sits are for the week, and what you need to keep an eye on before the Sunday slate starts. Don't forget the number one rule: do not lose because you tried to get fancy – remember what got you this far. Good luck.
Week 15 Starts of the Week
#Dolphinwatch – Throughout the year I have been on #Dolphinwatch within my starts of the week section of the primer, and it's essentially been a shoutout to whoever is lucky enough to play against Miami. This week we're switching it up. It's time for the beautiful and counter-intuitive finale that fantasy football is all about – bad teams or unappreciated players winning people fantasy championships. We're in the playoffs and Ryan Fitzpatrick is a start of the week, alongside his favourite teammate Devante Parker. The benefit to these two is that you don't just have to throw them in for upside down the stretch, they've actually been doing great for fantasy in the run-up to the playoffs too. The matchup this week is great, as they head to face the Giants, which adds to their already solid floor and in-built upside due to their big-play potential. The Giants passing defense is not good – they sure as hell have a chance at a couple of turnovers because of Fitzmagic and his gunslinging ways, though – and I expect both Parker and Fitzpatrick to be on a whole lot of winning playoff lineups when this season comes to an end. One quick caveat, make sure that Parker is playing, because he is currently recovering from a concussion, but I do expect him to play.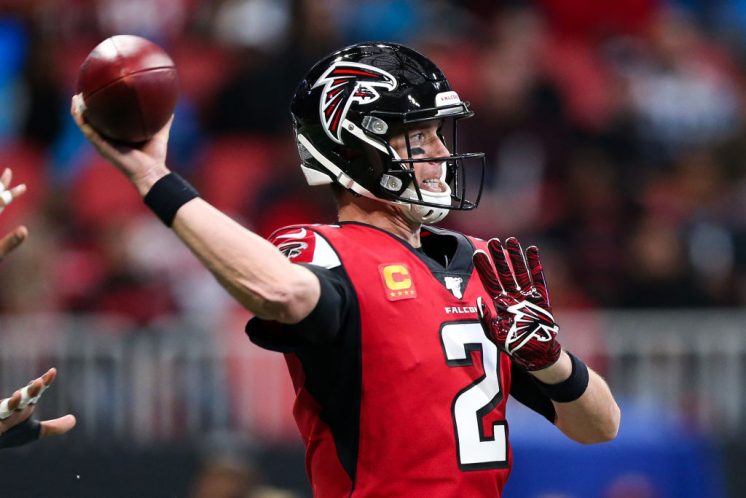 Matt Ryan – This start recommendation feels more like a don't sit recommendation. It feels tough, but I am willing to play Matt Ryan this week. Yes, he's against the San Francisco 49ers on the road, but they're banged up and they don't have to win the game to put up 20+ fantasy points. The main threat to Ryan, in my opinion, is losing Calvin Ridley – and the floor for Ryan isn't as high as some of the safer guys, because of the team around him – but if you've been living and dying by Matt Ryan, I completely understand starting him this week. I'd start him over the likes of Mitch Trubisky or Derek Carr or Eli/Danny Dimes. If you have someone like Fitzmagic or Tannehill as your 'backup' I'd be happy to go that way, but don't reach too far and bench Ryan for someone who's no safer than he is and with less ability. Also, if you do have one spot in your lineup where you can slide in a bit off upside, Russel Gage is a good option to try and capitalise on the exit of Ridley to IR.
Josh Jacobs or DeAndre Washington – Josh Jacobs is a star, and people know that now. Last week the rookie running back took a week off, to mend up his injured shoulder. During his absence, DeAndre Washington stepped up to the plate without any hesitation and put up a great fantasy week resulting in 18.6 fantasy points (all points are in Half PPR). He finished the game with 53 yards and a TD on the ground, as well as an impressive six receptions for a further 43 yards – for context, Jacobs is only averaging 2 targets a game. Yeah, targets. Jacobs is a more talented player than Washington, but he's good enough to get it done on the ground, and he was actually more involved in the passing game than the rookie is. The matchup is amazing too, which is why I have no problem either way. The Jaguars are seriously struggling to stop the run – not to say they're great against the pass, for the record – and the Oakland offense wants to pound the rock. And, for the sake of the narrative, this is the last game that will ever be played at the Oakland Coliseum – the silver and black are looking to finish in a way that represents the spirit of the team, they're going to run the ball, and they're going to hit Jacksonville in the face until they score and then start again. I love whoever starts this week.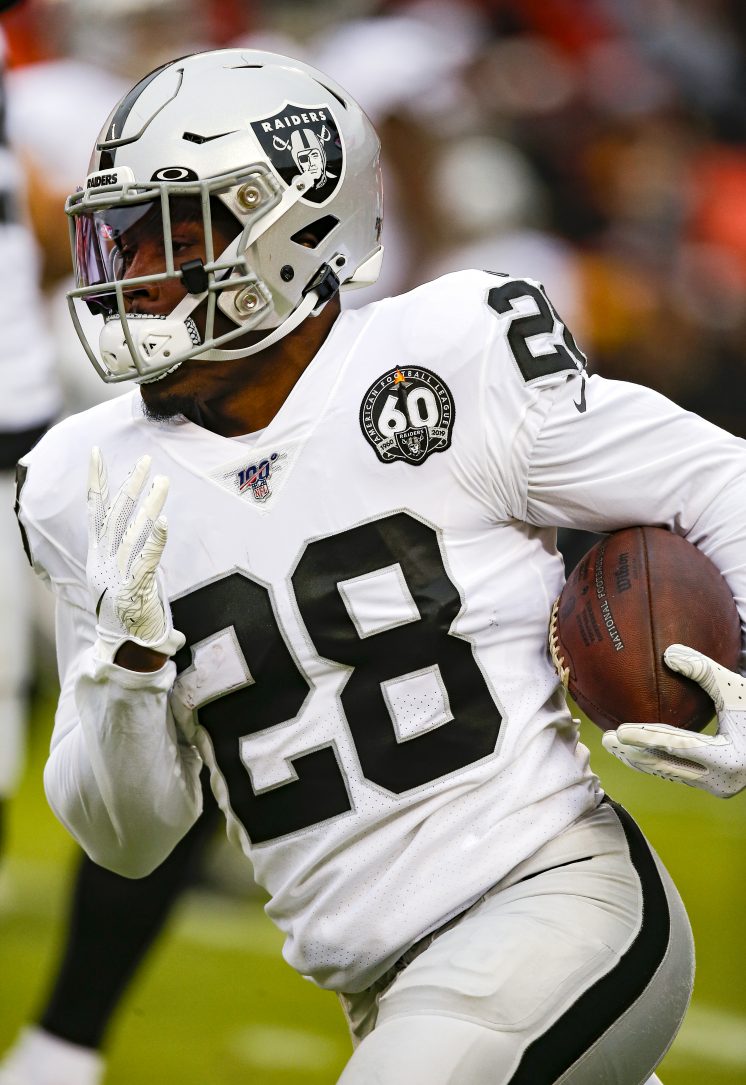 Week 15 Sits of the Week
Adam Thielen – Exactly as I've been saying up to now – although you might not need this advice if you're in the playoffs – I am not playing Adam Thielen on his first game back. That game is supposedly going to be this week, and the coaches are under the impression that he will be ready to go, but if you've made it to the semi-final, I'd advise you to stick with what has got you there if possible, because Thielen has literally zero floor, and the matchup isn't even good.
Tyler Boyd – When Andy Dalton returned to the Cincinnati Bengals offense, I was excited, and I believed that it would, above all else, re-invigorate Tyler Boyd. An incredibly talented receiver who suffered from a dead offense in the absence of the ginger dynamo under centre, now Boyd is back and people who picked him up or traded for him when people were disappointed will be very happy. But – sorry, I know it's frustrating – this week, I'm pumping the breaks if I can. This week "we're on to Cincinnati". The we being the New England Patriots. Whether they do it by illegal means or not, the Patriots are more than likely to absolutely walk over the Bengals, and their pass defense is incredible. I wish that they had a better matchup, but I'm going to do whatever I can to try and avoid putting my playoff hopes off the back of Cincinnati being able to do something when New England come to town.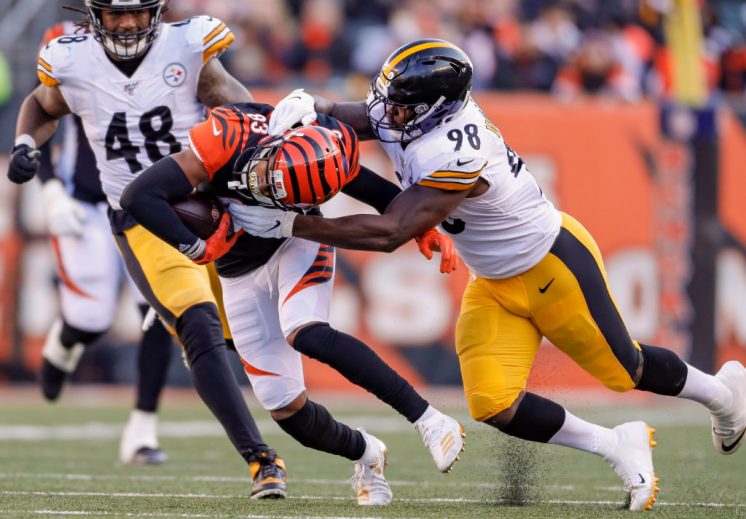 Devonta Freeman – We spoke about how the San Francisco defense has lost a few players in the defense, and I offered the advice not to bench Matt Ryan unless you have a good replacement for him, but now it's time to go the other way on that offense. Devonta Freeman had a nice, solid game last week – scoring 17.4 points – and showed that he's capable of being efficient and finding the end zone. This week however, he is going from the 32nd ranked defense against fantasy running backs, and he's switching that matchup for the 2nd defense against fantasy running backs. That is what scares me. The injuries that the Niners have suffered are more likely to downgrade them against the pass than the run and I think that, if I'm being honest, Devonta Freeman is not a talented enough player to make up for a negative matchup with his offensive line against a good front-seven. If you've made it this far, you've probably not been exactly relying on Freeman, and this week I don't like the matchup at all. The ceiling is limited, and the floor is very low, especially in Half PPR or standard scoring formats.
Danny Amendola – Don't do it. I understand why you might, but don't. It's Golladay or nothing when Jones is injured. Golladay has a huge ceiling every week, but literally everyone else on the roster has next-to-none, and the floor is even worse.
What to watch
Josh Jacobs – The number one player to watch without a doubt is Josh Jacobs of the Oakland Raiders. The running back and Offensive Rookie of the Year frontrunner is working back through his shoulder injury and is hoping to play on Sunday in the last game in Oakland. I can't express enough – you need to start whoever is the starting RB for this Raiders home finale.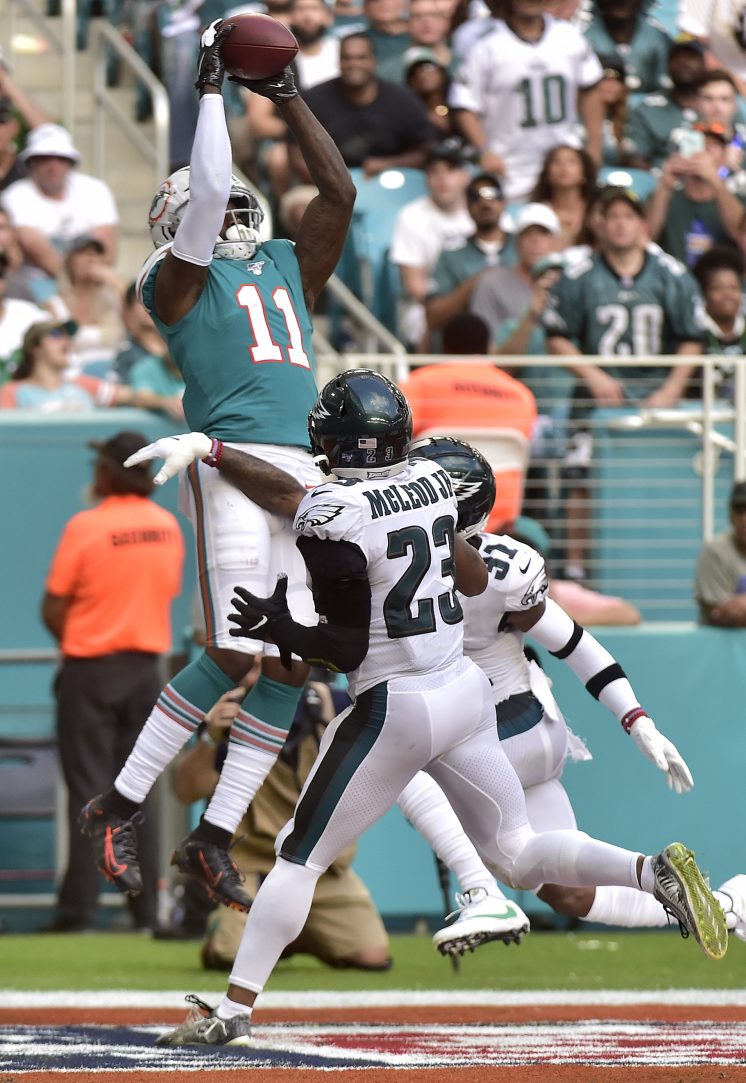 Devante Parker – One of the most important players to keep an eye on right now is Dolphins breakout wide receiver Devante Parker, who is currently returning from a concussion. On Friday he practiced for the first time without a non-contact jersey that he'd been wearing for most of the week. He should play, but you have to keep an eye on anything like this down the stretch like this.
Gerald Everett (Tyler Higbee) – This might not relevant to the average person who is in a semi-final, but if you aren't running with a particularly good tight end, Tyler Higbee is actually quite a good sneaky start this week. If Gerald Everett misses this game, you could genuinely plug Higbee in and see what happened. I'm sure some people were too scared to start Mark Andrews on Thursday, or maybe they have Greg Olsen or someone like that where they're solid but you might need to pivot, Higbee is an option with a rare amount of upside for a player who would realistically be free to pick up in Week 15.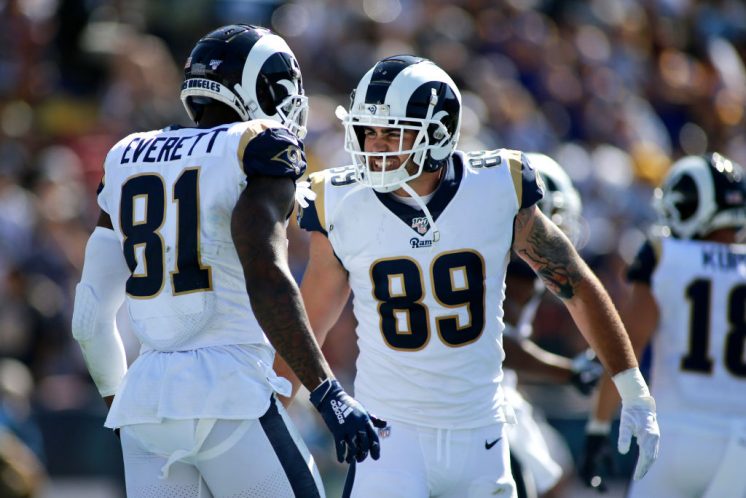 Will Fuller – One that's reserved for if you're up against a god-squad and you just need some explosive upside, you could at least consider Will Fuller, who is apparently going to be healthy and starting again from this week. This game is one of two incredibly important matchups between Houston and the Titans as we get down the stretch, so they're going to put their best foot forward, and if he's healthy, he's got an infinite ceiling, as we've seen this year. It's risky, but the upside is massive.
Davante Adams – You'd have to have an incredibly good team to have him on your lineup in the playoffs, but Davante Adams was downgraded to limited this week. It shouldn't be an issue, but you can't afford to miss anything on a week like this.
---