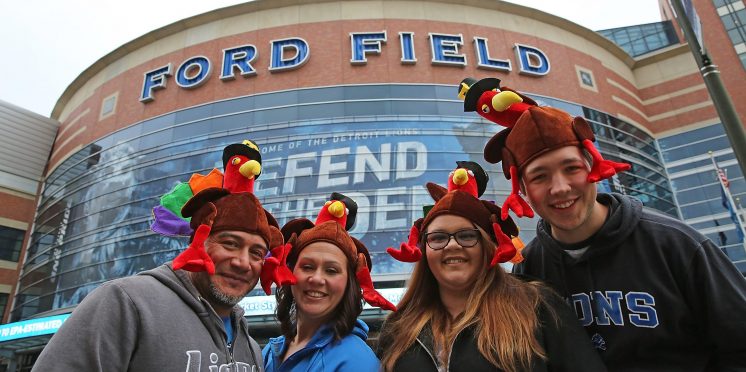 Walking The Lines – Week 13
Welcome to the Thanksgiving edition of Walking The Lines. Because I care about you, and clearly I can't help you with the picks as I posted another losing week last week, I am going to offer my many guides to Thanksgiving, starting with the unwritten rules of your Turkey Bowl.
You're not Lamar Jackson. That spin move you're thinking about won't be a success.
You're not Bill Belichick. No need to aggressively coach your entire family.
You're not Jerry Jones. There's no reason to look out a window from the highest floor of your house while wearing a suit and watching the game.
Zone defense is probably your best option. Unless you are a family of entirely athletes or a family without any athletes, your defenders could be in trouble in a few spots with mismatches. And generally speaking, it's easier for receivers to get open in a game that will probably feature little to no pass rush. Just stick to zone and let everyone control one part of the backyard.
Keep the playbook simple. Bubble screens, slants, and posts are your friend. That flea-flicker you and your cousin practiced won't go as well in the game.
Get the ball to the fastest member of your family as much as possible. There's a good chance the rest of your family is slow and can't tackle them.
Designate a referee. Turkey Bowls without referees are how relationships get broken.
However, there is no instant replay in the backyard. If your dad happens to tackle you before the ball gets there, it's not pass interference. It's good, character-building parenting. Don't go full Sean Payton on your family. Nobody likes a crybaby.
If you need overtime, college rules, not NFL rules. Don't settle something this important on a coin flip.
No matter what you're doing, it's better than the Cincinnati Bengals.
Next, the guide for spending Thanksgiving Day itself with your family:
Stake out a spot in the living room for before and after eating at the table. I know you think of the table as the main spot of the day, but you will spend the majority of your day in some kind of living room. You have to decide if you want to sit in good view of the television for football, or more on the outside to talk to people. Like real estate, it's all about location, location, location.
Eat as early as possible, because you want to fall asleep during the late game. Nobody needs to be awake to see what the Saints are going to do to the Falcons.
Sides are more value for money to fill up your stomach than turkey will be.
There are no winners to Thanksgiving debates. Seriously, everybody loses.
I know this seems like a perfect chance to get into a food fight with that relative you always quarrel with, but it's not worth it. Don't waste the food. Settle this like adults: With a spirited game of rock, paper, scissors.
It's a good idea to save some leftovers for Friday and Saturday college football.
If you are doing leftovers, save a little bit of everything so you can make yourself another mini-plate on Friday or Saturday instead of having just one thing to eat a second time.
Choose who you sit next to at the table wisely, because if you go around the table saying what you're thankful for, you want to be able to one-up the person who goes before you.
If you're planning on Black Friday shopping, you should make a gameplan at some point on Thanksgiving night after you eat.
And finally, the guide for how to spend Thanksgiving by yourself:
Just because others you know are with their families, it doesn't mean they are having more fun than you.
Don't let people shame you about this. They don't know your situations or circumstances.
If your family adds extra stress to your life, don't feel bad about passing on them and being alone.
Don't watch too much of the Bears/Lions game, because the FDA doesn't usually allow that much bad football in one sitting, and you might need someone to drive you to the hospital.
Eat whatever you want. There are no other people's food opinions to care about.
If you don't feel like cooking, you are allowed to treat it like a normal day. There is no legal obligation to make this your biggest meal of the year.
If you do choose to make it your biggest meal of the year, make sure you have a good fridge and/or freezer, because you will probably have a ton of leftovers.
You are saving a lot of money on traveling by being alone, so congratulations to you. Go spend that on something nice.
Remember we're all just doing our best here with life. You included.
With that 28-point guide to Thanksgiving spread out over three sections now delivered to you, it's time to make some picks.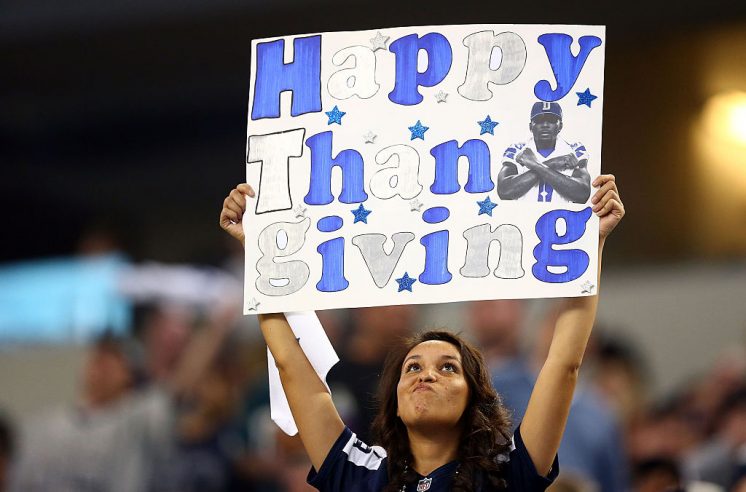 ---
All lines are consensus lines from The Action Network as of Wednesday night. Picks are in CAPS.
Last week: 6-8
Season: 88-86-2
---
CHICAGO (-4.5) @ Detroit
We're giving an assist to David Howell for the opening line here, because in casual conversation about this game, he came up with a better opening line than I ever could.
"The incredible might of the American poultry industry, and then the grocery industry, has assembled through the last few months, all leading up to this one moment: Providing America with the tryptophan it needs for David Blough vs Mitchell Trubisky."
There's something kind of perfect about the only NFC team to never play in a Super Bowl getting a guaranteed spot on Thanksgiving every year. It's almost like a consolation prize the league gives them for six decades of futility.
But good feelings aside, I have never seen an NFL team openly quit harder than these Lions. I kind of had a feeling they were on the verge of this when the team traded locker room favorite Quandre Diggs to Seattle out of the blue.
They are 1-4 since trading Diggs, with losses to Mitch Trubisky in Chicago and a horrendous Washington team mixed in there. Nobody should be losing to this Washington team, but the Lions managed to do it last week.
Detroit has flat out given up. They know the writing is on the wall for these coaches, and the same can probably be said for general manager Bob Quinn. Now they are on third-string quarterback David Blough. I watched him play some college games at Purdue, but I'm still not entirely convinced he's a real human being.
And there's one more note to keep an eye on for this game. The Lions are beyond ghastly when it comes to defending kick returns. They have allowed 1,001 kick return yards this season. The next closest team in the league is the 49ers…at just 743. The Bears employ kickoff return specialist Cordarrelle Patterson, a man with over 600 kick return yards by himself this season and seven career kick return touchdowns.
I expect special teams to be an ex-factor in this game. And for another bonus note, the Lions are 1-10 against the spread in Thanksgiving games where they went in as the underdog since 2004. Make it 1-11 as the Bears cover the 4.5.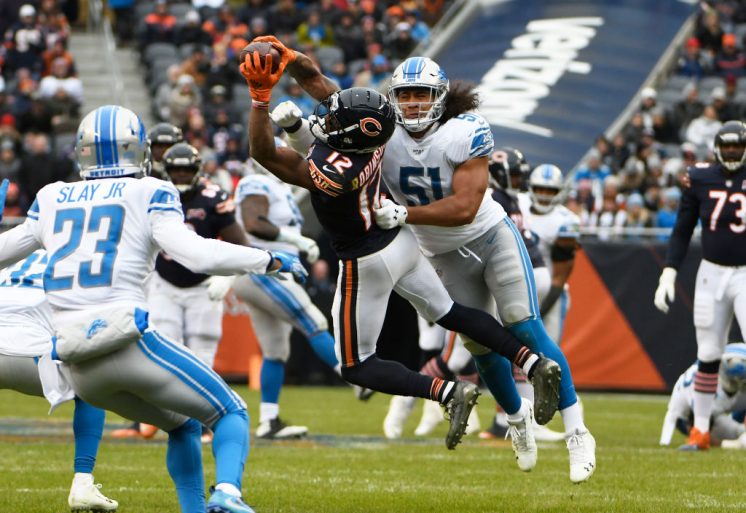 BUFFALO (+6.5) @ Dallas
It's time to fully dive into Jason Garrett's breathtakingly bad decision last Sunday in Foxboro.
The Cowboys were in the game against the Patriots. They clearly weren't playing their best football, but they were down a touchdown on the road against one of the league's elite in the most miserable football weather imaginable.
They moved the ball into the red zone with under seven minutes to play. And on fourth-and-7 from the New England 11, Garrett elected to kick a field goal.
It was breathtaking. Almost surreal to watch. This man really decided to go from needing one touchdown to needing one touchdown, while giving Tom Brady the football back in the process. I've been watching football online for a long time, and very rarely do you get a general consensus on a big decision. There are many takes from many smart people, and there is usually discourse.
There was none here. Garrett made one of the worst coaching decisions any of us have ever seen, and everyone agreed.
There's nothing flashy about the Bills, but they grind it out most of the time. They're 8-3 for a reason, and have a tough defense that should keep this game low scoring. They've only lost one game this year by more than a possession, and are usually good to make the game ugly.
Plus, I have some math on my side. The Bills are also the only team in the league who have covered in every road game so far this season. Give me Buffalo with almost a full touchdown.
NEW ORLEANS (-7) @ Atlanta
I say all the time that Saints-Falcons is the most college football-like rivalry the NFL has to offer, and this game basically confirms it. College football teams who are not in the same conference will often play home-and-homes with each other, a chance for two schools who don't usually get to play each other to meet twice—once at each stadium—to split revenues.
For example, LSU and Texas can't play in conference games, so they organized a series to play in 2019 in Austin and next season in Baton Rouge. Oregon and Ohio State are starting one next year for 2020 and 2021. Notre Dame and Georgia just finished one played across 2017 and 2019.
Well, last season the Saints hosted the Falcons on Thanksgiving. It was the first time the rivalry had ever been played on Thanksgiving, and it was a big deal for it to get national attention like this. I have absolutely nothing to confirm this, but I firmly believe the Falcons specifically asked the NFL for a return game in Atlanta on Thanksgiving.
"If they get to play us at their place on Thanksgiving, we should get to host them," Arthur Blank cries. "This is college football, and we need our end of the home-and-home."
Again, I have no evidence to support this, but I'm choosing to believe it went down this way because it would truly affirm the reputation this rivalry has as being the pettiest in the league. Neither side can hold anything over the other, and both sides will go to any length to make sure of that.
Of course the Saints win and cover though.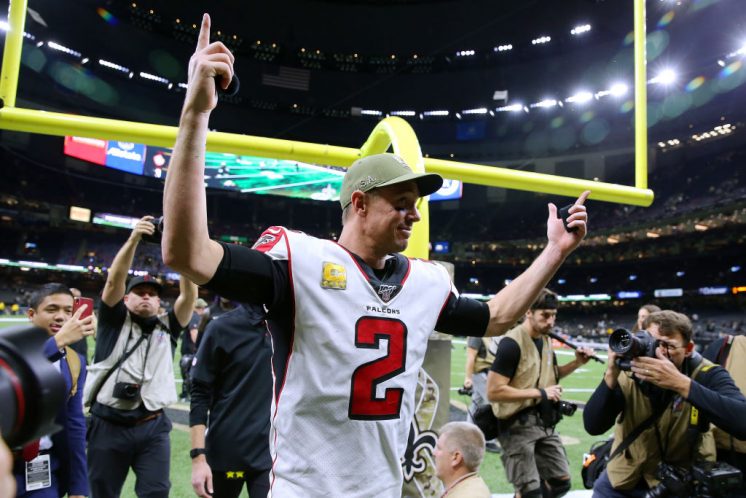 NY JETS (-3) @ Cincinnati
If the Bengals are getting a win, this would be the spot for it. They're at home, with Andy Dalton back under center, and against a Jets team coming off an emotional high after thrashing the Raiders last week. I just refuse to pick them until I see it happen.
It's kind of fitting that what will undoubtedly be the final stint for Dalton in Cincinnati starts against the Jets, because the Dalton era was launched by a home loss to the Jets. When the Bengals lost at home to Mark Sanchez and the Jets in the 2009 playoffs, it was the beginning of the end for Carson Palmer in Cincinnati. It led to them drafting Dalton, and going into a whole new era of playoff futility.
To be honest, I don't really know what to make of this game. It will serve as a milestone though, as this game will be the first of many dead rubber December games in the 2019 NFL season. It's all about 2020 for the Jets and Bengals. I guess I'll lay the field goal in a game I don't have many other thoughts on.
Philadelphia @ MIAMI (+10)
The Eagles will be taking part in a time-honored tradition here, the one where the people who are having a rough go of things just jet away to Miami for a weekend to clear their head and try to get things on track.
The NFL really couldn't have put this game in a better spot for them. Like LeBron James that one time, they will be taking their talents to South Beach in the hopes of rebounding from yet another ugly loss to right the ship.
But Jason Peters and Lane Johnson both missed practice on Wednesday, and Zach Ertz also appeared on the injury report. This team is heading to Miami injured and completely low on confidence.
I know the Dolphins are nothing special right now, but you're giving me a full touchdown and a field goal? Yeah, I'll put that in my back pocket for this one. Have the Eagles shown anything to suggest they can win a road game by double digits? Welcome to Miami, where the Eagles will not be partying in the city where the heat is on.
TENNESSEE (+2.5) @ Indianapolis
Outside of the rematch in Pittsburgh, this is probably the most intriguing game of the week. There are a ton of very interesting angles on this suddenly very important game for the AFC playoff picture, but first I need to acknowledge one of the crazier streaks in the NFL.
This will be the final meeting of the decade between the Titans and Colts, and frankly that's a massive blessing for the former. Indianapolis is 16-3 against Tennessee in the 2010s, and 8-1 at home. Is there anything in your life you do with as much consistency as the Colts have against the Titans? Even the most basic functions?
I'm sure four out of every 19 times you brush your teeth, you might miss a spot. Not every single cup of coffee you make is going to come out the best. You take the wrong route somewhere at least a few times when you drive. I know the Colts have had great quarterback play in this decade while the Titans have had, um, less than that, but it's still one of the quirkiest stats the NFL has to offer. It's even more impressive that it comes in the AFC South, a division that has been very topsy-turvy this entire decade.
I can't believe I'm saying this in the year 2019…but I can't get in the way of the Ryan Tannehill train right now? He's just too hot, Derrick Henry is on another planet, and the Colts are still very banged up even after the mini-bye.
You know how Pinocchio's nose grows every time he lies? That's the question marks around Marcus Mariota's future every time the Titans win these days. I'll take Tennessee to win outright and make that question mark a little bigger.
Washington @ CAROLINA (-10)
I don't care about this game. Neither should you. Thank goodness we don't have to watch them on Thanksgiving anymore. Free Trent Williams.
Here are some fun college picks in a week featuring a ton of rivalries and five (!) ranked matchups.
No. 1 OHIO STATE (-9) @ No. 13 Michigan
No. 5 Alabama @ No. 15 AUBURN (+3.5)
No. 12 WISCONSIN (-2.5) @ No. 8 Minnesota
No. 7 Oklahoma @ No. 21 OKLAHOMA STATE (+13)
No. 18 CINCINNATI (+11.5) @ No. 19 Memphis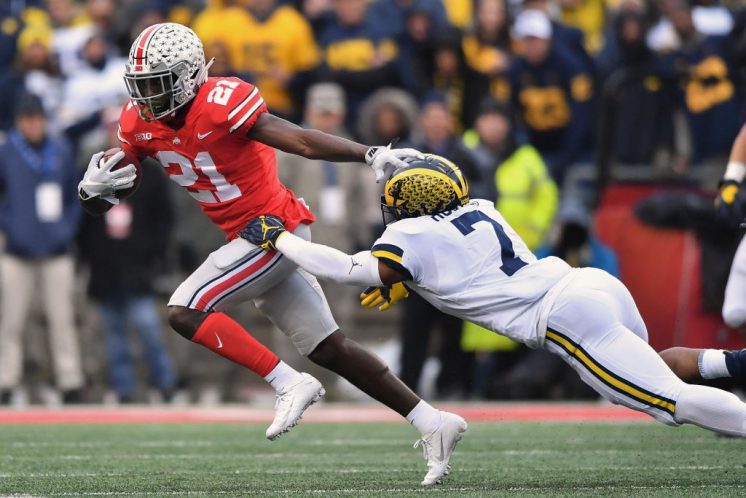 GREEN BAY (-6.5) @ NY Giants
I'm going to take the bait here because I'm an idiot, but really? 6.5? I get it, the Packers got embarrassed last week by the 49ers and really do look like they have big issues for the first time all season. And yes, they are playing the second half of a road back-to-back on opposite ends of the country. I'm not arguing any of those points.
But the Giants have lost seven consecutive games. Average margin of defeat in those games? 13.5 points. This is a really, really bad football team.
It's been all downhill since they broke the golden rule of football. Never go on a boat trip to Miami the week you have to play a game in Wisconsin in January. Those weather styles do not mix and will just create problems, much like Daniel Jones and NFL defenses.
This is the first time the Packers and Giants have met since that playoff game where Green Bay wrecked New York 38-13 and sent them into a three-year (and counting) tailspin. It really does all trace back to that one day at Lambeau Field. We never know it as it's happening, but it's pretty clear looking back where the Giants jumped the shark as a franchise.
Expect Green Bay to add more misery to a franchise more than accustomed to it by now on Sunday.
CLEVELAND (-2) @ Pittsburgh
The football in this game is what it is. The always volatile Browns against the third-string quarterback Steelers. Everything else at Heinz Field is going to be the thing to watch.
How do the referees officiate a situation like this? Will they issue warnings to both sides before kickoff like you sometimes see in baseball? What kind of day will it be for Pittsburgh security and police? Will Browns and Steelers fans be able to keep it mostly civil given the underlying context of the game? What about the teams? Both sides are still dealing with suspensions from what happened two weeks ago, and those memories are still very fresh.
It was originally slated to be a 4:25 kickoff, but it was moved up to 1:00 for television reasons. I wonder if at least part of that stemmed from the Steelers asking the NFL for an early kickoff, giving fans on both sides less time to get drunk before kickoff and having a chance to get the stadium mostly cleared out before the darkness rolled in.
I really don't know what to expect. Given the nature of what happened and how quick the turnaround game is, it's one of the most unique situations in recent NFL history. No final score would surprise me here, but I guess I'll just pick the team playing with a starting quarterback.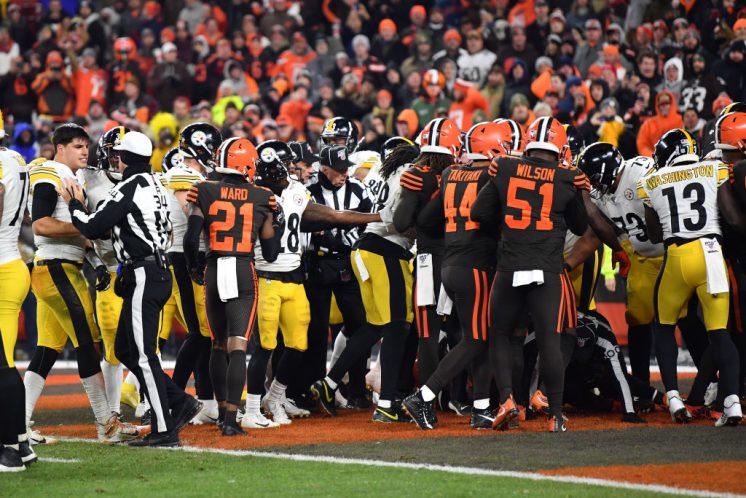 TAMPA BAY (-1) @ Jacksonville
Sure, why not?
SAN FRANCISCO (+6) @ Baltimore
The game of the year here. 10-1 San Francisco traveling to 9-2 Baltimore.  The best defensive front in football vs. the hottest offense in the league.
The 49ers are the first 10-1 team to be an underdog since 2007, when the Packers went into Dallas as an underdog against the Cowboys. Green Bay actually lost that game by 10, failing to cover the spread. So maybe history isn't on my side here, but I am actually going to take the points here.
I mean, at some point the Ravens have to be a real NFL team, right? Like they can still be the best team in football without being this dominant. Beating the Texans 41-7 and Rams 45-6 in back-to-back weeks isn't what normal NFL teams do. That's what all-time teams do.
They're coming home on a short week from a West Coast trip to take on the best defense they've faced all year. I can see them winning it, but I'll take six points here with the best team in the NFC right now.
Let's not forget, the 49ers dusted the Packers in primetime as well last week. This game has all the same hype as last season's epic Chiefs-Rams showdown. Hopefully it delivers the same way.
LA Rams @ ARIZONA (+3)
Speaking of that Monday Night Football game, what the heck has happened to the Rams? The ghost of Jeff Fisher has returned to haunt them as they look back to their 2016 selves a little bit. Jared Goff went the entire month of November without a touchdown, adding his own entry to the many internet challenges going around for the month with #NoScoreNovember. He won't quite get into a relationship with the touchdown pass, as he spent the month trying to friend zone the end zone.
Everything about this team is just broken right now. Sean McVay looks like a guy who had all of his powers sucked away by a supervillain at the start of a movie to be used for evil, and he can't seem to call any of the right plays as his team sputters to the outside of the playoff picture.
The only good news for him is that he's not even close to the most dysfunctional football team in LA right now. Shoutout the Chargers. And USC as they close in on locking down Clay Helton as a reward for his marvelous (?) 8-4 season. And UCLA, as they have a chance to become the first Pac-12 team ever to finish with a winning record in conference play and still fail to reach bowl eligibility this Saturday.
Football in Los Angeles really is a dystopian society right now, with everybody running around not knowing what to do. The team still leading the NFL's ATS standings at 7-3-1 will win this one outright.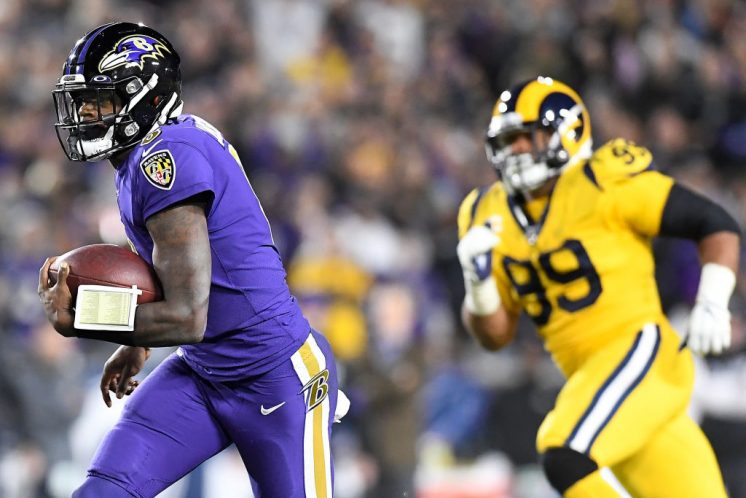 LA Chargers @ DENVER (+3)
From one broken Los Angeles team favored by a field goal to another. A lot of what I said in the last section can be transferred here. Mile High has been a house of horrors for the Bolts, who are just 2-6 in their last eight trips to Denver.
Denver wins a really ugly, low-scoring game with a really stupid score none of us will pay attention to. Prepare for a 14-8 or 17-12 final or something ridiculous along those lines.
Oakland @ KANSAS CITY (-10)
When the book is written about the 2019 season, I think the most crucial injury nobody thought would be so crucial at the time will be Karl Joseph's. It has just killed Oakland's secondary.
The nearby Golden State Warriors are currently 4-15, which is ironic because Patrick Mahomes is probably going to pass for 415 yards on this beat-up secondary the Raiders are currently deploying. It's almost not even fair, really.
A healthy Oakland secondary allowed Mahomes to throw for 443 yards and four touchdowns in their week two meeting back in Oakland. But at Arrowhead? With a couple of Madden regens at safety?
Close your eyes and type three numbers into your calculator. Those three numbers could be Mahomes' final passing yards tally.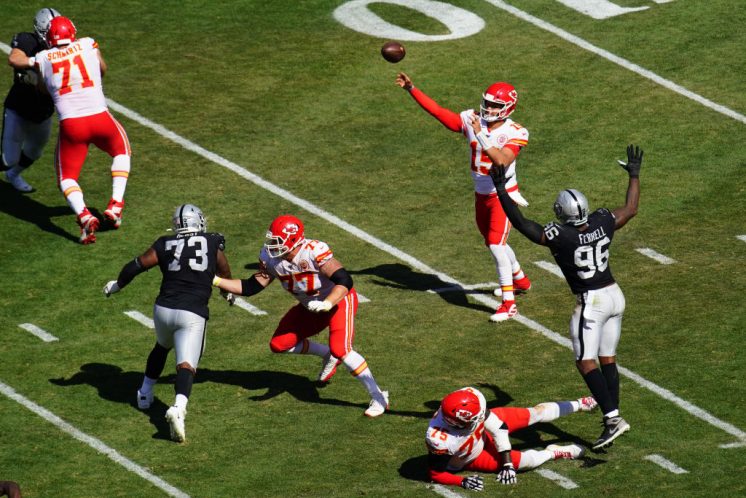 NEW ENGLAND (-3) @ Houston
I'm going to call my shot here and say this is the week Tom Brady and the offense finally get things moving a little bit. They've been due for a breakout game for a while. This is a spot where indoors, against a team who struggles to rush the passer, I think Brady will have a time of time and great conditions to kind of get himself back in a little bit of a groove. Look for a sneaky big game for Julian Edelman to be a part of that.
Plus, this is New England's first trip to NRG Stadium since Super Bowl LI. Brady throws for 328 yards and the Patriots grind out a difficult 34-28 win over the Texans in what should be a shootout, tossing Houston out of contention for a bye and forcing them to chip their way back into the playoff picture before getting blocked out by someone else in the AFC.
Minnesota @ SEATTLE (-3)
A few weeks ago I wrote about money games for Kirk Cousins, and how he has four make-or-break games for the end of the 2019 season that will go a very long way towards determining if the contract was a success or not.
He passed the first test with flying colors as he was very impressive in a road win at Dallas. Here comes round two, and it's going to be another very stiff test against the Seahawks. I'm expecting another great game, but no way am I betting against Russell Wilson in primetime after what I saw him do last time he played on Monday Night Football.
I'll take the Hawks to close out the week by grabbing their tenth win of the season, giving them the NFC West lead if the Niners can't take down Baltimore.
---