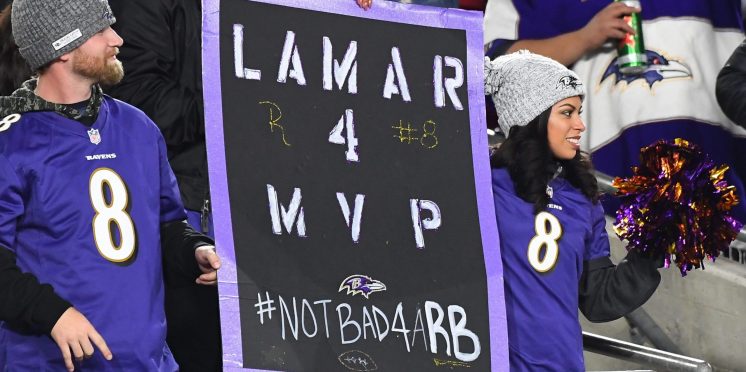 NFL Power Rankings: 2019, Week 12
As the season draws towards the business end and we prepare to pore over tiebreak permutations and mess with the ESPN Playoff Machine, the state of how the teams stack up against each other is simultaneously more and less clear than ever. More clear, because the sample size for 2019 keeps growing and also because the state of the divisional and conference races is clearing up. Less clear, because just when you think you know who's hot and who's not, the NFL throws up a game or three that tells you, in no uncertain terms, you were wrong.
1. Baltimore Ravens last week: 2
Have you got used to the Ravens-as-offensive-juggernaut era yet? Nope? Neither have I to be honest, and certainly not at the levels of these last two weeks. Lamar Jackson did not lead a non-touchdown drive all game. On the road against Aaron Donald.
2. San Francisco 49ers last week: 3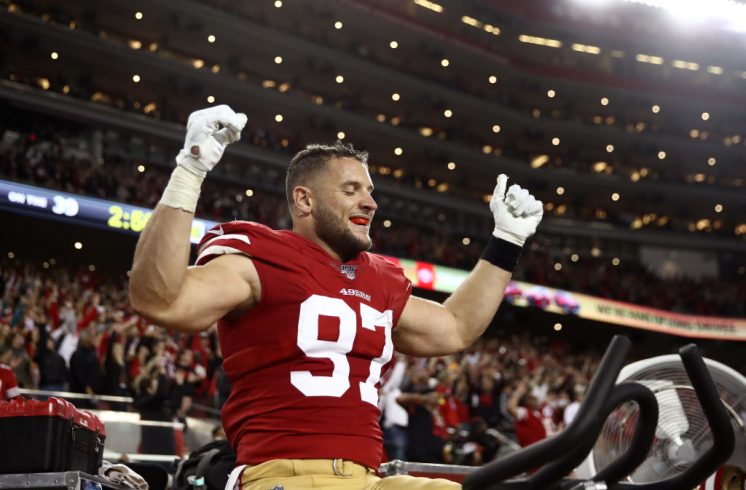 Poor Niners, getting their own blowout win under the primetime spotlight and having it frankly overshadowed. Still, this team is legit, and it begins with an utterly dominant defensive line, looking every bit as good as "four first-round picks" says it should be. The return on investment has finally arrived, and the catalyst was the biggest investment of the lot, second overall pick Nick Bosa. For the second time in the last four years, a Bosa brother was talked of as the presumptive first overall pick, fell below a QB or two, and promptly proved he probably shouldn't have. The Niners go to Baltimore next week. Get the popcorn ready.
3. Seattle Seahawks last week: 1
Not that the Seahawks got any worse, mind. They were shafted out of an evening game and into a 10am PT kickoff in Philadelphia not because their own game was bad for NBC, but because the Packers-Niners game would have been condemned to TV oblivion any other way. Their defense got it done in making Carson Wentz look like the QB we all thought was a major reach pick as the second overall selection in 2016. They just didn't win in a blowout like the Niners and Ravens did. Side note: both of the Seahawks' losses this year have come at home. This makes almost no sense. Double side note: Week 15's tentative SNF game is Vikings-Chargers. The Seahawks have a 10am PT road game (@ Panthers) that week. To use the phrase of the moment, could there be a little quid pro quo with the previous flex move here?
4. New England Patriots last week: 4
Same story here as the Ravens but in reverse. The Patriots used to be a team that won because of Tom Brady; now they're a team that win in spite of him. Either way, they're the Patriots, so they win.
5. New Orleans Saints last week: 5
There is a case for bumping them down after they needed a little bit of luck to prevail over the Panthers, but I won't go there yet. A(nother) loss to Tanklanta and that's a different story.
6. Minnesota Vikings last week: 7
They make a move up ahead of their divisional rivals whilst not even having to play this week. You like that?!?
7. Kansas City Chiefs last week: 8
Iconic quarterback plus defensive question marks equals spot on the second tier of the NFL power rankings. Moving up on bye because another team that fit that description got blown out while they rested.
8. Green Bay Packers last week: 6
Here is that other team. "But haven't they had a decent defense?" I hear you ask. Well, not against the Niners; remember when those Packers-Niners epics earlier in the decade kept going against the Packers because Colin Kaepernick's legs had permanent residency in the heads of the entire defense? The same thing happened with the RBs in this one, as Garoppolo mercilessly exploited the green team with play fakes.
9. Houston Texans last week: 11
Congratulations in advance on winning the AFC South! Next game: vs Buffalo, Saturday 4th January, 3:40pm CT (TV: ESPN). Book it.
10. Dallas Cowboys last week: 10
They don't change positions because they did about what I expected against New England—maybe a bit more given they were on the road in nasty conditions—by losing a one-possession game. Say what you will about not going for it on that fourth down, maybe the problem was not taking a short gain on the prior two plays explicitly thinking of the situation as four-down territory?
11. Philadelphia Eagles last week: 9
The question marks over this team used to be all defensive. They're all offensive now, as Carson Wentz has cooled off just as the secondary has learned to cover people. Either way, whoever wins the NFC East's bald man combfight will rekindle the debate over playoff seeding when they are at home to a 12-4 (if not better) 5 seed.
12. Tennessee Titans last week: 16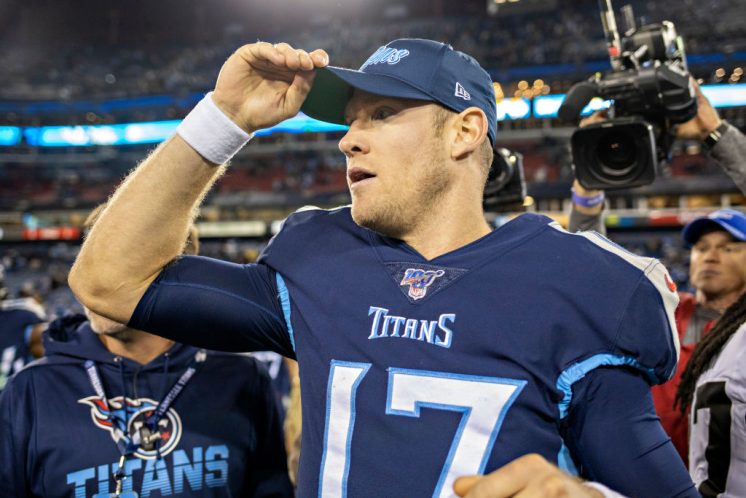 Is this too much? It possibly is. But I lost trust in the middle tier of the NFL this week, and the Titans were an incandescent exception with the way Derrick Henry destroyed the Jaguars. Ryan Tannehill is 4-1 as a starting QB now, putting the Titans low-key in position to ruin my comment three spots ago… and also confirming that his departure from Miami was at least in part because he wasn't trusted to be a tank driver any more than he was a Super Bowl winner. Does he start in Week 1 of 2020? He has to, surely?
13. Carolina Panthers last week: 15
Maybe, if their kicker hadn't chosen such a bad time to whiff, this team would have been ahead of Tennessee (and perhaps Philadelphia). Actually, these two teams might be sneakily similar, both showing a pulse with a backup QB with more than a little help from top-tier RB play. The Panthers do have less of a pulse, which is why I can justify putting them below Tennessee.
14. Indianapolis Colts last week: 13
Brutal loss for their playoff hopes, but it wasn't a brutal performance to lose by three on the road. The closeness of that ending also allowed for one of the most entertaining final plays in recent memory, the Texans embracing the spirit of #NFL100 by harking back to the days when QBs tended to double as punters.
15. Buffalo Bills last week: 14
Just another day of the Bills feeding on a weak opponent to improve the league's most flattering win-loss record. Considering that this team has only made the playoffs once this century, and that in a year where they were trying not to, leaving them feeling the need to make two trades up for a massively divisive QB prospect? I won't complain about this team (and fanbase) getting that kind of break. Maybe they might even provide a degree of entertainment in the postseason this time?
16. Oakland Raiders last week: 12
Remember when I said I lost trust in the middle tier of the NFL this week? This was Exhibit A. A 34-3 loss at TankLife Stadium is unforgivable. 2018 Gruden is back, baby!
17. Arizona Cardinals last week: 18
Another residual bye-week bump. Kyler Murray's impressed enough that the merciless abandonment of Josh Rosen might start to look not just successful, but a template. Washington to do the same with Haskins, anyone?!?
18. Pittsburgh Steelers last week: 17
This team improved at quarterback by swapping out Mason Rudolph for Madden regen Devlin Hodges, a man who sparked an autocorrect on his first name on the tablet I'm using to type this due to laptop problems. Also not booting up: JuJu Smith-Schuster.
19. Chicago Bears last week: 22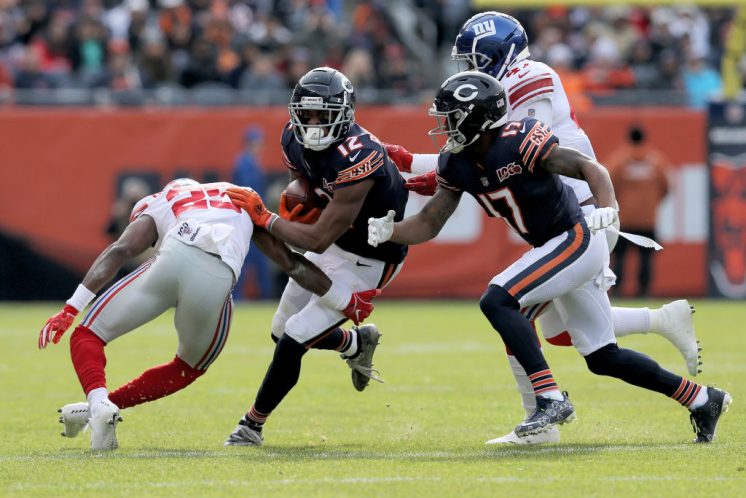 Is that an offense I see before me? Yes, it is, and his name is Allen Robinson.
20. Los Angeles Chargers last week: 20
Did anyone other than Keenan Allen and Austin Ekeler fantasy owners even know this team weren't playing this week? (Yes. Mike Williams, Melvin Gordon, and Hunter Henry fantasy owners.)
21. Detroit Lions last week: 19
Matt Stafford may be done for the year, now Jeff Driskel has a hamstring injury, and the Lions became the first visiting team since last October (!) to leave FedEx Field with a loss. There is not enough tryptophan in the world to make Bears-Lions watchable.
22. Cleveland Browns last week: 23
Dream Team '19, AFC Edition.
23. Los Angeles Rams last week: 21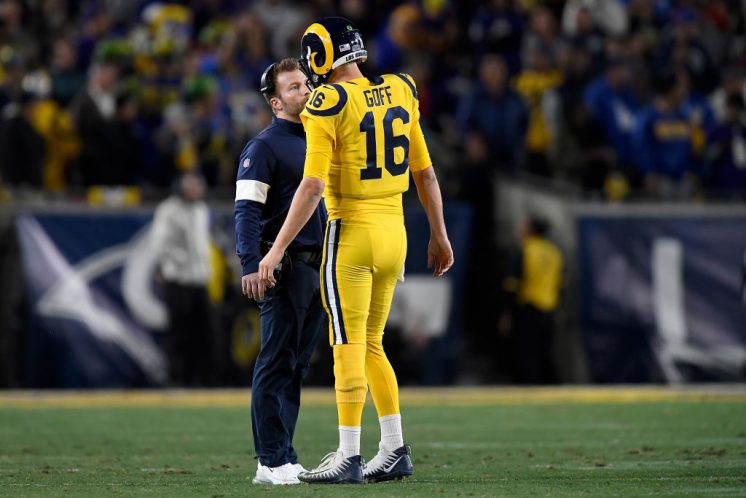 Dream Team '19, NFC Edition. They now get a rested Cardinals on a short week. Imagine saying eight months ago—or even eight weeks ago—that the Rams would be underdogs for that one.
24. Tampa Bay Buccaneers last week: 25
Chris Godwin may have been a fantasy hipster darling for ages, but surely not even his staunchest advocates could've imagined him being one of the top two WRs in all of fantasy (he's either #1 or #2 depending on format)? Between him and Mike Evans, the Bucs have to be the best landing spot for a rookie quarterback. Now, if they can find anything on the other side of the ball…
25. New York Jets last week: 29
The Jets have now scored 30 or more points in three straight games for the first time since the Bush administration. In other words, they went an entire decade without such a run. In this NFL scoring environment. Let that sink in. Still, congrats for finally doing it, and you have to go up after a statement win like that. Shame it hurts you in the long term.
26. Jacksonville Jaguars last week: 27
Speaking of draft position, the Jags have that going for them, as their side of the Jalen Ramsey trade is looking full-on robbery at this point. It's something.
27. Denver Broncos last week: 26
There's nothing to say about the Broncos really, so let's circle back to their opponents and congratulate Frank Gore on his brain-boggling career, as he now has the third-highest rushing total in NFL history with the yards he tacked on against Denver on Sunday. Next stop Canton.
28. Atlanta Falcons last week: 24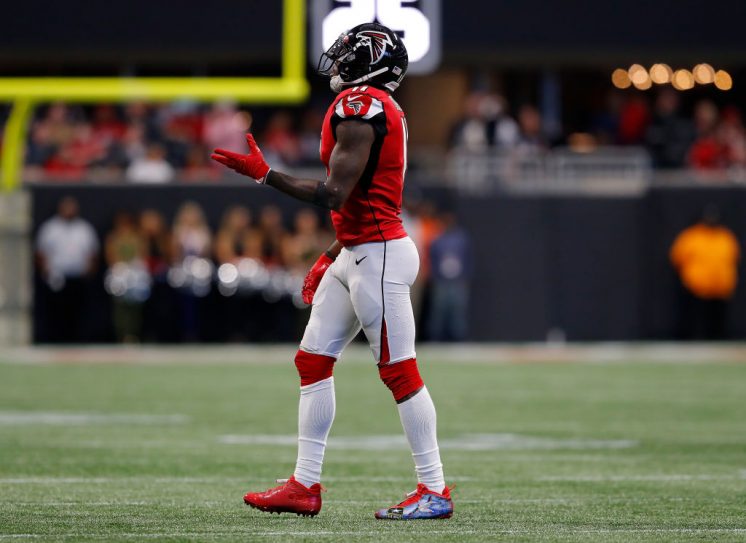 Retailers across central Georgia are looking forward to better-than-expected sales when they start their "Black Friday" trade on Thursday evening. In New Orleans, they might struggle to sell those $283 televisions until later.
29. Miami Dolphins last week: 28
They came away with the clutch loss in the Factory of Sadness, but it might be too little, too late for the #FishTank. Fortunately, they might get Tua anyway. Unfortunately, it'll be as damaged goods.
30. New York Giants last week: 30
You know this team has it bad when they're so jealous of the Cowboys that they say they'd hire Jason Garrett if he became available. When Bill Cowher was asked which position the Cowboys were weak in on the CBS pregame show on Sunday, his response was "head coach."
31. Washington last week: 32
They may not truly be the worst team in football now, but they remain eternally the worst franchise, and their inability to lose to the Lions has put plenty more top prospects in danger of having to play for them. Free Trent Williams.
32. Cincinnati Bengals last week: 31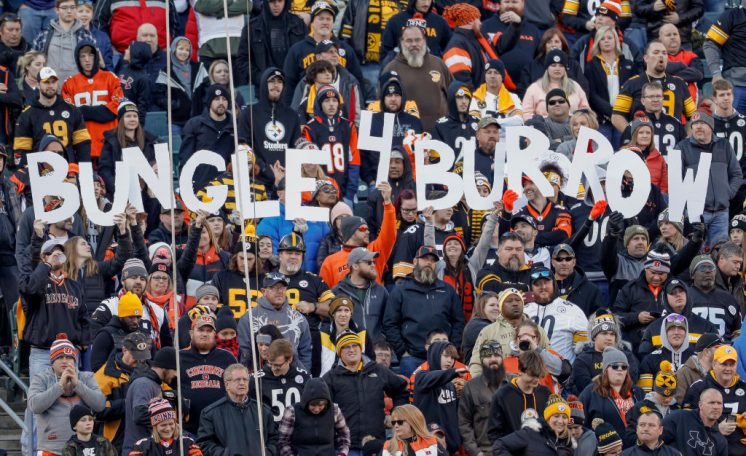 Finally the Bengals are #32. And they're so securely locked into Joe Burrow that they've benched Ryan Finley in the name of chasing 1-15.
---