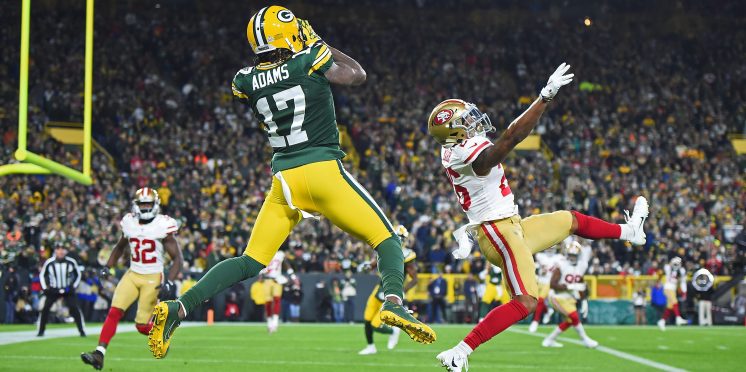 Walking The Lines – Week 12
In case it wasn't already extremely obvious, we have officially reached high-leverage football. We are more than halfway through the month of November, this is the last week of bye weeks, and we've even already had a team mathematically eliminated from playoff contention!
Sorry, Bengals. They became the fastest team to be officially eliminated since… the Bengals, in 2002. The bright side for the Bengals is the disastrous season yielded them the first pick in the 2003 draft, which they used to draft Heisman Trophy winner Carson Palmer. His career with the Bengals wasn't a disaster, but ultimately he never raised the franchise to the level you would hope for out of a top overall draft pick.
Now here we are 17 years later, and they're tanking for another (likely) Heisman-winning quarterback to kickstart the franchise. Joe Burrow is probably going to go from being a Bayou Bengal to a Cincinnati Bengal, where he will try to kickstart a franchise in desperate need of some ignition.
Time really is a flat circle in the NFL.
Speaking of time being a flat circle, we are back where we started with the picks! Remember those three consecutive .500 weeks I had to start the season? I had another one last week at 7-7, and I'm still doing just enough to keep my head above water on the season.
Can I finally create some breathing room between myself and the elusive .500 line before we hit the holidays? It's time to see what week 12 has to offer.
---
All lines are consensus lines from The Action Network as of Wednesday night. Picks are in CAPS.
Last week: 7-7
Season: 82-78-2
---
Indianapolis @ HOUSTON (-3.5)
I am going to read you a list of names, and I want you to tell me what this list is.
Denico Autry
Parris Campbell
Anthony Castonzo
Mo Alie-Cox
Pierre Desir
Eric Ebron
Clayton Geathers
T.Y. Hilton
Justin Houston
Marlon Mack
George Odum
Jabaal Sheard
Shakial Taylor
Jordan Wilkins
Khari Willis
Rock Ya-Sin
OK, what is it? If you guessed the graduating class of a small high school, you are wrong. If you guessed the entire population of a small rural town, you would also be incorrect.
Those names are all members of the Indianapolis Colts who were on their Wednesday injury report. That is 16 players with something ailing them, and only three of them participated in the team's final practice of the week on Tuesday.
Better call Hawkeye, Trapper, Klinger, Radar, and the rest of 4077, because the Colts are bringing a M*A*S*H* unit into NRG Stadium on Thursday Night. I'll lay the points with the healthy Texans.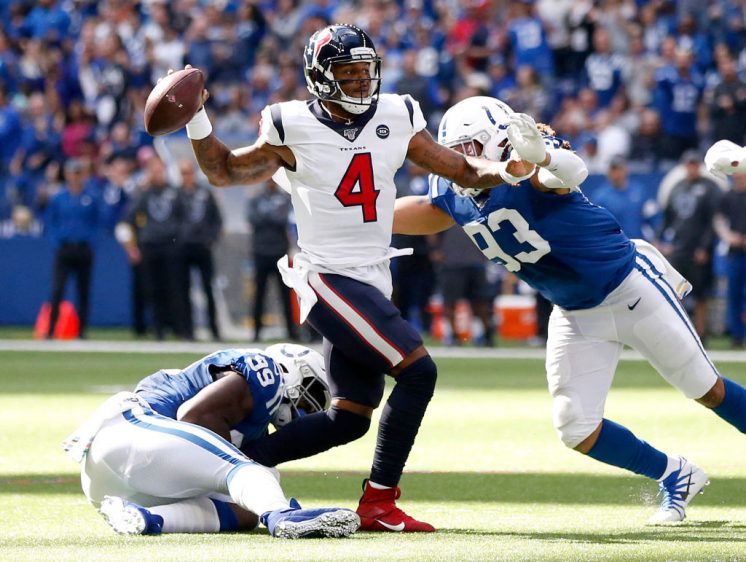 Tampa Bay @ ATLANTA (-4.5)
As always, the Atlanta Falcons are on a full-scale rampage to destroy themselves and destroy their fans in the process. After starting the season 1-7 and finally looking like they were going to secure a top-five draft pick, they have inexplicably won in back-to-back weeks to ruin that. Nothing can get in the way of this total psychological warfare on their fanbase, not even a powerful tank that left Tampa and followed the approximately 798 Waffle Houses that dot I-75 up to Atlanta.
The Falcons have won five consecutive meetings with the Bucs. Matt Ryan is 15-7 against them in his career, including 8-3 at home. Tampa is a league-worst 2-8 against the spread this season, and Jameis Winston is turning the ball over at the rate of, well, Jameis Winston. And if all of those numbers aren't enough for you, this is a spot where losing would be better for the Falcons, so they are destined to win. That's just how it works.
NY GIANTS (+6) @ Chicago
When I think of Duke vs. North Carolina, epic college basketball match-ups and players come into my head. From Michael Jordan and Vince Carter to Grant Hill and Christian Laettner, this rivalry has produced some basketball legends. On the football side it will give us, uh, Daniel Jones vs. Mitch Trubisky on Sunday.
They actually did meet in a college game back in 2016, with Jones' Blue Devils sneaking past Trubisky's Tar Heels 28-27. The game was decided when Trubisky threw an interception on North Carolina's final drive with just over a minute to play.
Sound familiar?
It should, because three years later Trubisky is still throwing interceptions and costing his team games. Once again, time is a flat circle. The Giants are coming off a bye last week, which I can only assume was Roger Goodell deciding that the universe should not have to be subjected to watching them play football every week.
Unfortunately, they can't have 17 bye weeks, so we have to watch them play football again. Or at least know they are playing football, because I can't imagine anyone actually wanting to watch Jones and Trubisky play football.
I'm taking the Giants here, because a 3-0 final score either way would result in a cover for them. It just seems safe to take the side with 3-0 on it in this game.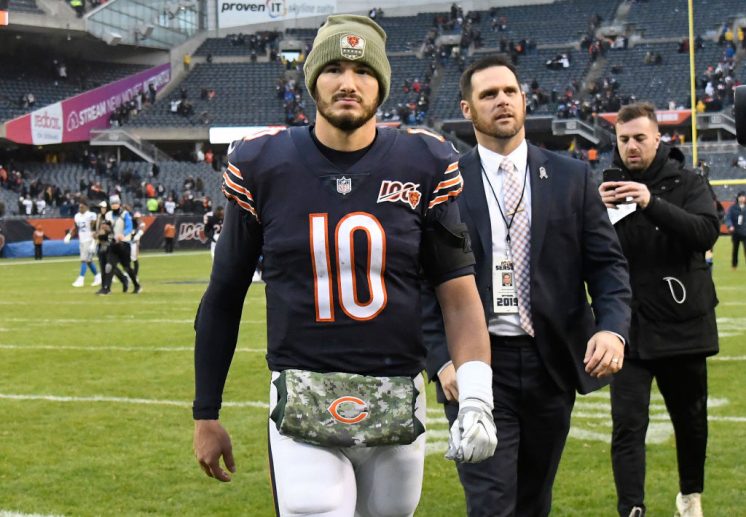 MIAMI (+10.5) @ Cleveland
So here we have my first chance to discuss the Myles Garrett incident, and frankly I'm not sure what else to say other than what everyone else has already said. It was one of the worst things we've ever seen on an NFL field. It was repulsive, and so were the takes that followed it.
I'm not a lawyer, so I can't get into possible criminal charges for assault. I'm not a doctor, so I can't get into the possible medical impacts the incident could've had if the helmet had made contact with Mason Rudolph in a different way.
But I am a football writer, so I am qualified to talk about how I think this is going to destroy the Browns. They started the year 2-6, and recovered with a pair of home wins to pull back to 4-6. They have one of the easiest schedules in the league the rest of the way, starting with Miami on Sunday with a pair of games against the winless Bengals also mixed in. This locker room should be rallying together to make a playoff push right now.
Instead they're in tatters after their best defensive player got himself suspended for the rest of the season. Baker Mayfield called it inexcusable, and he is correct. Freddie Kitchens says his team is not out of control, and this is wildly incorrect. Kitchens seems like a classic case of a coach who called some good plays last season when the bar was astronomically low in the aftermath of Hue Jackson, and is now way over his head with any moniker of expectations for the team.
He doesn't know what he's doing, and he certainly doesn't have any control over his players. It's not a coincidence that the Browns have 822 penalty yards this season while no other team in the league is even over 780. This team has playoff-caliber talent and nowhere near playoff-caliber coaching.
It might not matter this week with the lowly Dolphins in town, but this team can't get to the playoffs as currently constructed with Kitchens running the show like this. Cleveland should win Sunday, but I'll take 10.5 points with Ryan Fitzpatrick against a broken defense.
SEATTLE (+1.5) @ Philadelphia
It's fitting that Rocky comes from Philadelphia, because I'm about to use a boxing term here.
I'm throwing in the towel on my preseason Eagles pick.
I can't fight it anymore. This is not a championship-level team. The offense just hasn't come together the way I was expecting it to, and the drops from the WR corps are have gone from a slight problem to a borderline disaster. They might still make the playoffs due to the NFC East being the worst division in football, but they won't do anything when they get there.
This is me formally admitting I was wrong. Take it and enjoy it, it's only happened *checks record* 78 other times this year.
A team who is on a championship level right now is Seattle. They won the game of the year in Santa Clara last time out, and have had two weeks to heal their wounds from that slugfest. What I really like about this Seattle team is the different ways they can beat you. Need a bit of a shootout? They beat Tampa 40-34 and Cleveland 32-28. Something more on the defensive side? 21-20 over Cincinnati and 27-10 in Arizona.
To go back to the boxing theme, styles make fights. And Seattle can fight you with any style. They're way too hot to pick against right now to pick against, let alone pick against them when they're getting points.
Plus in a bizarre series note, the Seahawks are 6-1 in their last seven against the Eagles, and the Seahawks are undefeated (3-0) all-time at Lincoln Financial Field. You have to go back to September of 1989—when Pete Carroll was a defensive backs coach in Minnesota and Russell Wilson was the coach of his crib as a 10-month-old baby—to find the last time Seattle lost in Philadelphia.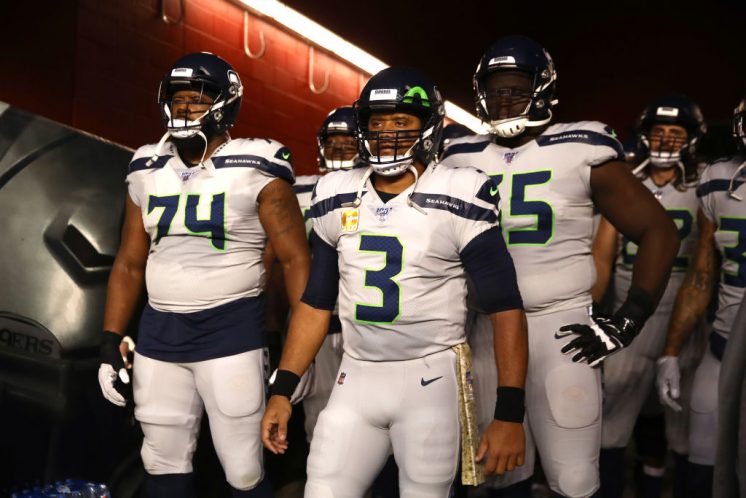 Carolina @ NEW ORLEANS (-9.5)
What do Dennis Green and Styx have in common? Both of them described the current state of the Carolina Panthers with famous quotes.
Green had his famous "They are who we thought they were" rant, and Styx of course said "The jig is up" in Renegade.
I know Renegade is the Steelers' song and "they" were the Bears, but both quotes apply more to Carolina in this case so we're just going to roll with it.
These Panthers are who we thought they were when Cam Newton went down. The Kyle Allen renaissance was fun for a little bit, but it's pretty obvious what this team is now after the Falcons walked into Bank of America Stadium and took a tire iron to their playoff hopes last week. They're 1-3 in their last four, and two of the losses were by over 25 points. There's no shame in not making the playoffs with a backup quarterback playing 14 out of 16 games in a year where the NFC looks loaded, but that's not much consolation to a team who looked to have a legitimate shot a month ago.
I'm usually a big believer in up/down situations and teams getting back to the mean, but I don't think the Panthers have the horses on offense to keep up in the Superdome. If they do, it'll require their best defensive effort of the season to go with it. They just need too much to happen to overcome that talent gap, and I don't see it all coming together.
OAKLAND (-3) @ NY Jets
This will always be the hot dog rivalry to me. If you don't know what I'm talking about, please enjoy Mark Sanchez eating a hot dog on the sideline in the middle of a game against the Raiders back in 2009.
YouTube: Mark Sanchez eats a hot dog on the sidelines
To be fair to Sanchez, the Jets won this game 38-0, so maybe he didn't really need to be focusing so much on Oakland's defense as much as making sure he distributed that packet of mustard evenly throughout the entire hot dog.
My main question is though, why did this trend stop? When did we collectively decide to stop eating food on the sideline in the middle of games? Also, why do we remember Sanchez for the butt fumble, and not this act of brilliance?
I'm laying down a new rule. If you're the starting quarterback, and your team wins the game by 38 points, I think you have every right to indulge a little bit after throwing the ball so well all day. Apparently Sanchez only threw for 143 yards that day, but it could've been 286 if he had devoured a second hot dog.
In fact, the entire team can eat during the game if you win by 38. We'll just make it a buffet.
If the Raiders are up by 38 on Sunday, why shouldn't Derek Carr come out with a slice of pizza? Who's to say Josh Jacobs can't have a nice steak and lobster on the bench? Would it really be such a crime if Hunter Renfrow came out with a sandwich at the two-minute warning?
Bring back players eating food on the sideline. Mark Sanchez started a movement a decade ago and then gave up on it before it ever got off the ground.
I've got you, Mark. The Raiders might not win this by enough to be eating hot dogs, but they should win it by at least a field goal.
Denver @ BUFFALO (-4)
I have to admit, I'm starting to feel bad. This has been an extremely chalky, run-of-the-mill picks column this week. Usually I'm good for a few surprising picks, but none of the lines are really opening the door for it. This can't be very fun to read right now, but I'm not sure what else to do.
The Broncos have a chance at pulling an upset here after a strong performance in Minnesota last week, and probably should've had one more chance to win it with an untimed down after an egregious pass interference on Noah Fant went uncalled.
By the way, why isn't Fanta sponsoring him yet? The name works, the Broncos wear orange, it all checks out. Make it happen!
I'd like to pick them here, but they're only getting four. With seven or eight, I'd take a stab here. But at four, I have to just go with the much better team and trust them to cover the number.
DETROIT (-3.5) @ Washington
Rinse and repeat here. The Lions have quit on Matt Patricia and could lose to Washington. But I can't feel confident picking Washington with only 3.5 points. At a touchdown I'd be all over this, but I have to just stick with the chalk. Hopefully we get some more fun chants from the crowd Sunday at FedEx Field. Maybe a "free Trent Williams" one this time?
Twitter: "Sell the team! Sell the team!" https://t.co/0oM1vdHtdx (@jimbrady)
With Washington looking like a college team, here's a college pick.
No. 8 PENN STATE (+18) @ No. 2 Ohio State
Only one matchup between two ranked teams this weekend in college football, but it's a huge one with College Football Playoff implications. It's also part two of the Ohio vs. Pennsylvania series, as the Steelers and Browns will finish it out with part three next week. Hopefully this one has less violence than the last one.
Ohio State wins, but I'm taking the points. Penn State will hang around a little, and I see something like a 35-20 or 41-24 Ohio State win.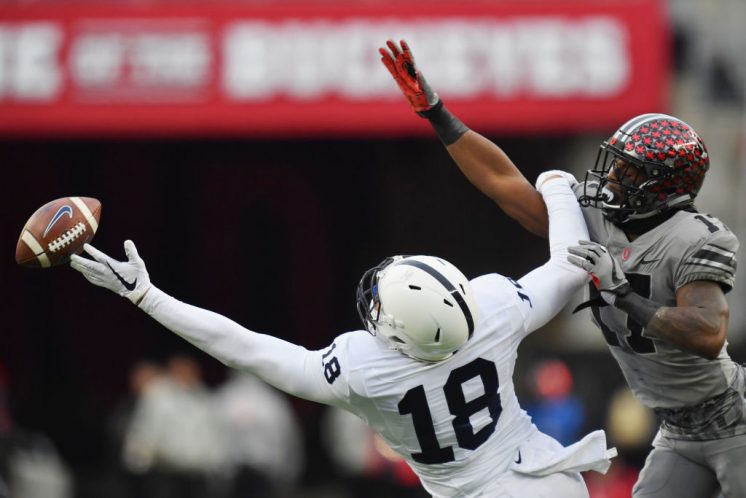 PITTSBURGH (-6.5) @ Cincinnati
Wait, sorry, this is the second installment of Pennsylvania vs. Ohio. Or third? I guess that's up to you. Either way, this game is going to feature a struggling young quarterback who really shouldn't be starting, and Ryan Finley will be playing as well.
To be honest, I already know how this script plays out, so let me go ahead and unfurl it for you. Paul Brown Stadium is mostly black and gold with terrible towels swirling. The Bengals fans in the stadium decide they would rather spend the game riding up and down that escalator over and over instead of watching the actual football, so it's basically a home game for Pittsburgh.
Somewhere in the process the Bengals as a franchise die, but the Steelers pretend to keep them alive for the rest of the game. After all, they need this win, and Goodell probably wouldn't be thrilled if he found out they beat a dead football team.
Mason Rudolph throws a couple of picks to make Cincinnati's defense appear alive, but Finley can't take advantage of them. It goes into halftime like 13-3 Steelers, but nobody is happy. The Bengals score out of halftime thanks to a Pittsburgh mistake, but the PAT hits the upright. Pittsburgh survives another bad Rudolph game to kick two more field goals and win 19-9. The game ends with Finley getting sacked by T.J. Watt and literally buried into the turf as Cincinnati moves one step closer to their tank prize from Louisiana.
I call it: Weekend at Burrow's.
Jacksonville @ TENNESSEE (-3)
Yes, these teams are allowed to meet outside the least valuable Thursday Night Football slot. Who knew? And as always, it's two AFC South teams on the treadmill of mediocrity meeting, trying to see who can run slightly faster before inevitably face-planting on the machine and slowly sliding off of it like a guy on a sled when there's not quite enough snow to get full traction.
It's a big game. If the Jaguars win, they can fool their fanbase into making a late run at a playoff spot before crashing down, and if the Titans win they can fool their fanbase into making a late run at a playoff spot before crashing down. The Spiderman meme energy is strong with this game, as it usually is in this division.
I guess I'll lay the points with the team playing at home off a bye week over the one who got throttled last week.
Sure, why not?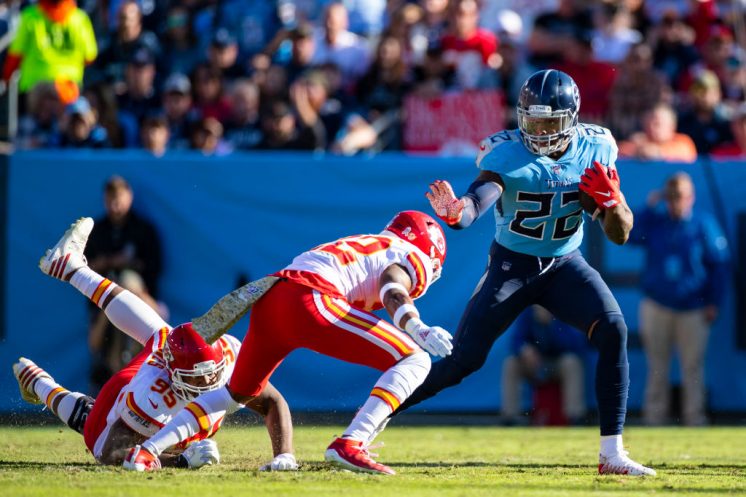 DALLAS (+6.5) @ New England
I liked this more with its opening number at Dallas +7, but apparently so did everyone else. Still, it's decent value here for this matchup of the team America used to hate for being too good and the team America currently hates for being too good.
It wasn't so long ago that the Patriots were plucky underdogs with no history of success and the Cowboys were the evil empire destroying the league. Imagine telling Jerry Jones in 1995 that the New England Patriots would win six Super Bowls before his team even made it back to Championship Sunday again.
I would love to know where the average NFL fan stands on this game. You're rooting for a meteor to hit Gillette Stadium, right? If you can't get that, you're rooting for a tie where both teams miss two field goals in overtime, right? That, or you're hoping for some scenario where you can see both teams lose.
Like the Patriots score the game-winning touchdown on the final play, but it gets overturned for some reason and the Cowboys end up winning. Short of the NFL actually giving both teams a loss, that might be the move for the neutral fans in this game.
As for what I think will happen, the Patriots' run defense has gone softer than one of Bill Belichick's hoodies the last few weeks. Nick Chubb ran for 131 yards in Cleveland's loss in Foxboro. The Ravens gashed them for 210 on the ground. And even the Eagles, with a banged up running back stable that forced them to play Madden regen "Boston Scott," picked up 81 yards on them.
What do the Cowboys do well, and in fact pride themselves on? That's right. Zeke Elliott ground and pound behind the most expensive offensive line in football. They might lose, but I'll put 6.5 points in my back pocket and ride with the Cowboys here.
Pun intended. Let's go.
GREEN BAY (+3) @ San Francisco
I'm fascinated by this game for a multitude of reasons, but mainly the head coaches. How do they call these games? Can Matt LaFleur scheme around his struggling offensive line that will have to somehow block Nick Bosa and company enough to give Aaron Rodgers a chance to shine? Can Kyle Shanahan figure out a way to get Jimmy Garoppolo a little settled down after two rollercoaster weeks against Seattle and Arizona?
And what about the game management? And by that, I mean has Kyle Shanahan learned how to do it yet? Did he take a crash course like "How not to blow the game without even playing in it 101" since that Seattle game? If he did, I would like a copy of that so I could fax it to the majority of the league's coaches.
And maybe a time machine, because he could've used it sometime around February 4th, 2017.
At the end of the day, I'm taking Aaron Rodgers with a field goal. He's just a better bet in these big games than almost anyone, but especially Jimmy G. off another multi-interception performance.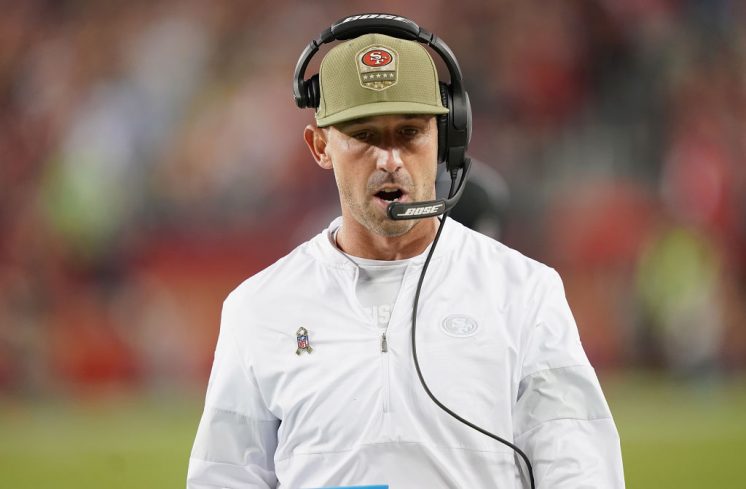 BALTIMORE (-3) @ LA Rams
This scares me, because it's another spot where the Rams have their backs to the wall. Even at 6-4, they still need to find a way to muster up a 4-2 finish. Considering the rest of the schedule after Baltimore features Seattle, a road back-to-back in Dallas and Santa Clara, and a pair of games against the tricky Cardinals? Needing to go 3-2 in those five games is a much different task than needing to go 4-1.
It's a huge order beating Lamar Jackson, but it's what the situation demands. It's a home primetime game against a red-hot quarterback with their season (basically) on the line. I think whatever LA's best game is, they're going to play it right here.
Unfortunately for them, I know what Baltimore's best game looks like, and that's not a train you want to step in front of right now. They win the game, delight the people of Jacksonville in the process, and maybe push Sean McVay to the brink of an early offseason.
---