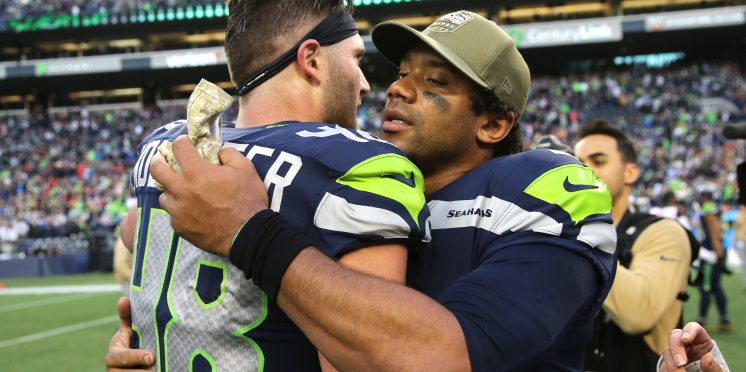 NFL Power Rankings: 2019, Week 11
The countdown to the playoffs has begun, the week numbers are now being typed as numbers rather than words, and still we don't know with any confidence how to sort teams into a coherent set of NFL power rankings.
Because maybe the most exciting thing about the NFL is that anyone can beat anyone, so you can't confidently sort teams out like that. Let's pretend we can, though. Let the hubris begin for another week!
1. Seattle Seahawks last week: 1 
2. Baltimore Ravens last week: 3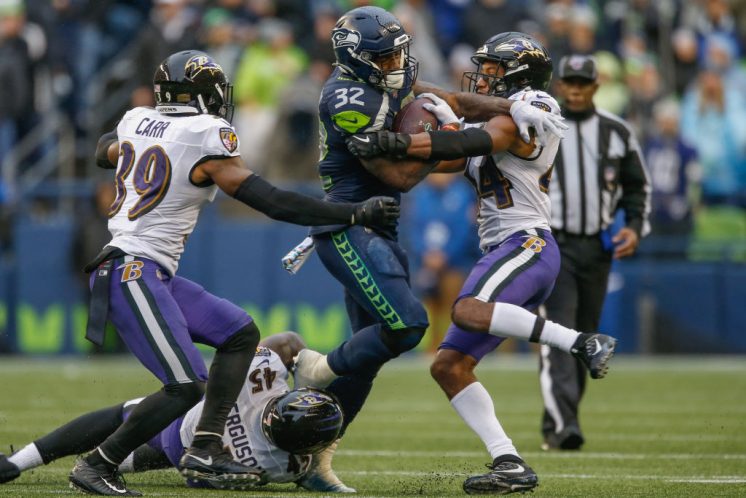 The tentative new best in each conference. Armed with mobile QBs who were underappreciated at the time with too much focus on what they weren't and not enough on what they were, they are getting it done by being able to beat opponents by air or ground, and by threatening either on any play. Throw in defenses that are starting to resemble the feared units these teams have had earlier in the decade, and you have a potential Super Bowl matchup that would be fantastic to watch. When the two teams met in a rain-soaked Seattle, it was fun. To see them in what should be a perfectly-dry Miami Aquarium (if they can clear out all the water from the broken #FishTank) with everything on the line? Even more fun.
3. San Francisco 49ers last week: 2
4. New England Patriots last week: 4

The one-time best in each conference. Armed with QBs schooled in the Belichick Way, they are getting it done by being lightning-quick in the pass game and forcing their opponents into the same thing with dominant defensive line play. Throw in ready-made storylines of Shanahan redemption and Brady facing the man he was meant to pass the torch to during the Obama administration, and you have another potential Super Bowl matchup that could be fantastic to watch.
5. New Orleans Saints last week: 5.28
OK, you can have a real ranking back now. Not putting you above the Patriots after they won and you still have fresh memories of losing to Tanklanta, but credit to you for getting your cravings dealt with at the Crabsnatcher Bakery.
6. Green Bay Packers last week: 7 
7. Minnesota Vikings last week: 6
The fact the Vikings could dig such a deep hole against the Broncos and their Madden-regen QB is why they fall below the resting Packers; the fact they got out of that hole is why they're still this high. My preseason prediction that the NFC North would have no teams better than 9-7 is an all-time whiff I will continue to laugh at for years.
8. Kansas City Chiefs last week: 9
Shaky to put them up here when they were genuinely threatened (and often outplayed) by the Chargers, but they did escape with the win from a potential trap, a divisional game with bonus neutral-site higher-than-Denver shenanigans.
9. Philadelphia Eagles last week: 10
10. Dallas Cowboys last week: 11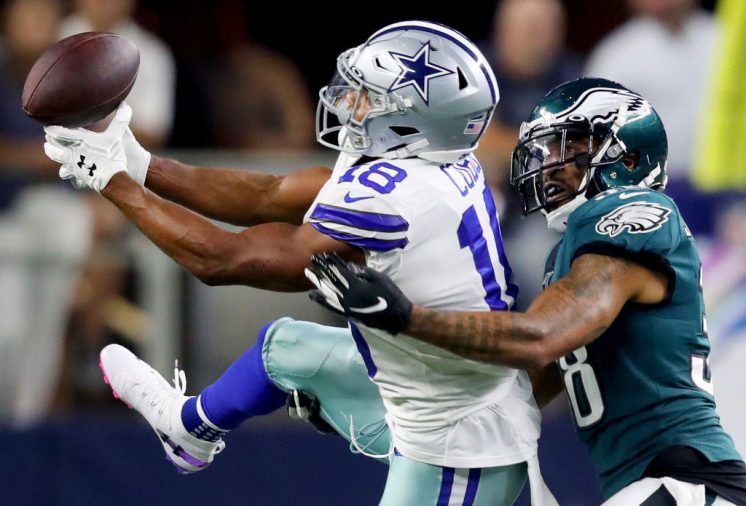 The third epic divisional battle in the NFC, this one more dramatic because the loser won't be playing in January at all. I can't really separate them at the moment; the Eagles gave the Patriots a scare mostly through defensive playmaking before losing on what turned out to be a trick-play TD, and if the Pats went to Jerryworld that same kind of game would leave me utterly unsurprised. As it happens, Cowboys-Pats is happening this week in Foxboro, and will definitely be a yardstick game in the NFL's most-followed division.
11. Houston Texans last week: 8

To lose to Lamar Jackson is fine, expected even. But like that?
12. Oakland Raiders last week: 12
I still can't get over the fact we live in a universe where Jon Gruden's Raiders are actually a legitimate playoff contender. Granted, this being the AFC, "legitimate playoff contender" means "team with a legitimate chance to lose to an elderly man or give up 200 rushing yards to a QB," but the rebuild is well and truly on pace. Fun fact: the player from the MAC with the most NFL sacks this year is not Khalil Mack, but Raiders rookie Maxx Crosby, a player who did not cost two first-round picks and the GDP of a small country.
13. Indianapolis Colts last week: 15

Ah, there's nothing like bouncing back from a brutal beating by delivering one right back to a divisional rival. They'd better fire up DJ Khaled, because this Thursday night they need another one.
14. Buffalo Bills last week: 17
I genuinely wondered if you might lose to a Dolphins team whose season has lost its sense of purpose (or should that be "purpoise?"), so you get a bit of a bump for very much not losing to them. Congratulations in advance on playing a better game in defeat in Wild Card weekend than you did two years ago. Yes, I know that's seven weeks in the future. But that slice of future looks borderline inevitable already.
15. Carolina Panthers last week: 13

You had a really bad day at the office against the Falcons, but the worst mistake you made was not allowing a walk-in on the two-point conversion to let the Falcons go up 28-3. That score has magic powers! We even saw Baylor blow a 28-3 lead less than 24 hours earlier! Those who do not learn from history are doomed to, in this case, not repeat it.
16. Tennessee Titans last week: 16

I'm almost waiting to bump you back down again when you return post-bye. Losing at home to the Jags will definitely do it, so you might want to avoid that.
17. Pittsburgh Steelers last week: 14

The less said about their game the better. The NBA and MLB draft classes of the 2030s will be appreciably stronger because of the parents who watched that game and vowed that their athletic sons would never play football.
18. Arizona Cardinals last week: 23

You were probably too low last week, so have a compensatory overcorrection for being on the edge of glory against the Niners in the Denimdrome. You may not be one of the best teams in the NFL, but Kyler Murray is making sure you're one of the most fun.
19. Detroit Lions last week: 19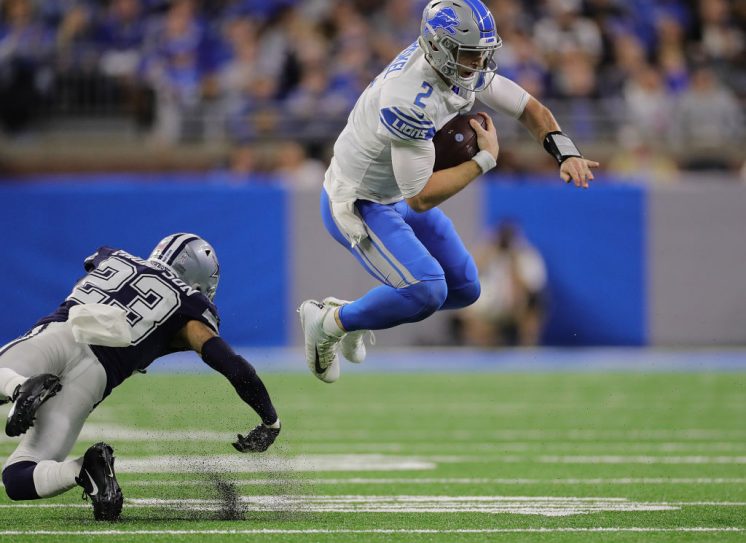 Speaking of teams with rushing QBs… the Lions?!? No, I don't get it either. But Jeff Driskel has been doing a curiously entertaining job. If his brief was "prove that an anonymous white man who isn't politically outspoken can play like Colin Kaepernick as well," he's done a fine job. It's the most interesting story of a(nother) lost Lions season at this point.
20. Los Angeles Chargers last week: 21
Of course, non-anonymous white men can be politically outspoken in the NFL sometimes. Like Philip Rivers, a man who once endorsed Rick Santorum for President because of his "support for traditional marriage." Nobody makes #HotTakes about if he's too outspoken to be worthy of a job in the NFL, presumably because he's quieter about them, but also surely because of what they are. (Remember Tebowmania?) In any case, there's one thing progressive about Rivers, and that's his decline as an NFL quarterback.
21. Los Angeles Rams last week: 20
22. Chicago Bears last week: 18
These two teams gave up a total of four first-round picks to take two not-quarterbacks, and in doing so may have tipped the interconference balance of power firmly towards the AFC if the three to come are used as well as the first (Josh Jacobs).
23. Cleveland Browns last week: 22

Then again, this AFC team also lit a first-rounder on fire to take a not-quarterback, and a disruptive character at that. Not that his character is what anyone's talking about now, after a night where the Browns simultaneously ended their season and worsened their draft position. On the same night. Only the Browns could do that.
24. Atlanta Falcons last week: 26

This has been a brutal season for the Falcons, and it keeps getting worse even as the team gets inexplicably better. Between this second consecutive divisional upset road win and the Tua Tagovailoa injury, the Falcons are now almost a mortal lock to miss out on Chase Young.
25. Tampa Bay Buccaneers last week: 24

Bruce Arians is no Bill Belichick, but he's acquiring Belichick-grade fantasy troll status. First he pumps up Peyton Barber before suddenly deciding Ronald Jones could (and should) play football, now he starts going against his entire career and actually uses a tight end in his offense… only for it to be Cameron Brate and not O.J. Howard. I mention all this because fantasy is the only thing these Bucs are good for right now.
26. Denver Broncos last week: 30

Seriously, how did the Broncos go 20-0 up in Minnesota? Did Mike Tomlin get the Vikings coaching job for a day or something?
27. Jacksonville Jaguars last week: 25
When you get hammered by a team that didn't get a week off when you did? To the point of turning a two-point conversion in garbage time into the lesser-spotted pick-two? You might be bad.
28. Miami Dolphins last week: 27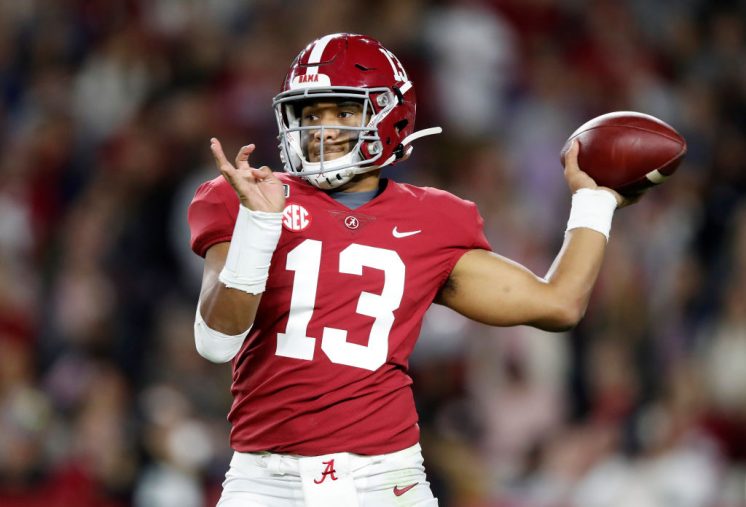 What if Tua ends up being drafted in the middle of the first round – not necessarily in 2020, even – by the Dolphins? It's a thought. Let's hope we can even get to the point of having that conversation properly in a few months' time, because right now that is not a given after his horrific injury on Saturday. A reminder that this is the risk every NCAA player assumes for payment in usually-meaningless study.
29. New York Jets last week: 29
30. New York Giants last week: 28

I guess the Jets move up for getting a win over any NFL team, even the one they actually played.
31. Cincinnati Bengals last week: 31
Another excellent week for the Bengals, getting the coveted respectable loss and watching Joe Burrow continue to light up collegiate defenses. At this point you can almost start printing Bengals jerseys with his name on it.
32. Washington last week: 32

If there's a string of top-of-the-draft underclassman talent who decide to stay in school this year, this team might be why. Free Trent Williams.
---