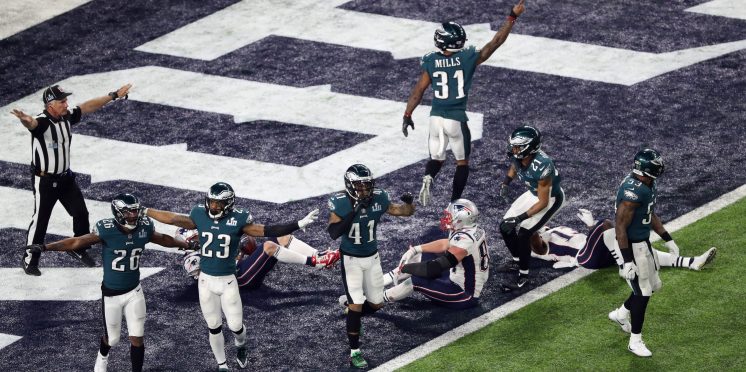 Walking The Lines – Week 11
We have officially jumped the shark.
A second consecutive losing week means these picks are starting to resemble what I thought they would at the start of the season. I know I'm still over .500 on the season, but the chaos of the league has started to take over, and I'm basically just a guy flailing around trying to stay afloat.
I'm 11-14-2 over the last two weeks, and probably lucky to have salvaged that record with a few tight games that went in my favor.
We have finally run up against the point of demarcation where these picks stop holding any real weight for football value and just become me making my best (usually incorrect) attempt.
To be fair, if you were actually hoping this rinky-dink picks column from this tiny corner of the internet was going to win you money, then maybe your own judgment is the problem here. I said in the first line of the first week that this would be the worst picks column on the internet.
We're in a tailspin and there's no end in sight as some more challenging point spreads are staring at me this week. Can I stop the bleeding?
No. I'm telling you now the answer is no. I will not stop the bleeding. There is a lot of blood still to be spilled over the final seven weeks of picks.
But you're here for picks anyway, so I'll at least try to keep you entertained with those as I continue to take a tire iron to my once-proud season record.
---
All lines are consensus lines from The Action Network as of Wednesday night. Picks are in CAPS.
Last week: 5-7-1
Season: 75-71-2
---
PITTSBURGH (+3) @ Cleveland
It was nice of Yogi Berra to join us for the first pick of the week. Last week the Browns were favored by this same spread against the Bills, and it looked fishy to me. This is a Cleveland team wildly underachieving, and the Bills entered the game 6-2. Now here we are, and the still underachieving Browns are giving a field goal to an AFC playoff contender traveling to FirstEnergy Stadium.
But ignoring what happened last week in the Factory of Sadness, there are two sets of numbers here that sway this game for me.
The first set is the one I've been using all year for these picks. The underdog is 8-2 against the spread this season on Thursday Night Football, and on a three-game winning streak. Drilling down a little further, the underdog is 6-1 in divisional games, and road underdogs in divisional games are 3-0 against the number. The Steelers check the boxes for the trendlines this season, so that's the first part.
The second part is something much funnier. Well, if you're a Steelers fan. You might want to skip down to the Steelers-Browns picture below this pick if you're a Cleveland fan. This is about to get painful.
The Steelers are 32-4-1 against the Browns since 2001. I am going to repeat that, because it needs to be repeated. 32 wins, four losses, one tie for the Steelers against the Browns since 2001. Mike Tomlin is 20-3-1 against Cleveland since taking over in Pittsburgh, and 8-3-1 in Cleveland. Ben Roethlisberger is tied for the all-time lead in wins at FirstEnergy Stadium. That's Pittsburgh Steelers quarterback Ben Roethlisberger who is tied for the all-time lead in wins at Cleveland's stadium.
FOX is trying to hype this up as a primetime rivalry game. And it is! In the same manner that the hammer and the nail have a rivalry, and there was a huge rivalry between the United States men's basketball team and Angola's at the 1992 Summer Olympics.
I'm not saying the Steelers are going to win this game 116-48, but the most one-sided rivalry in the league should stay in Pittsburgh's favor here.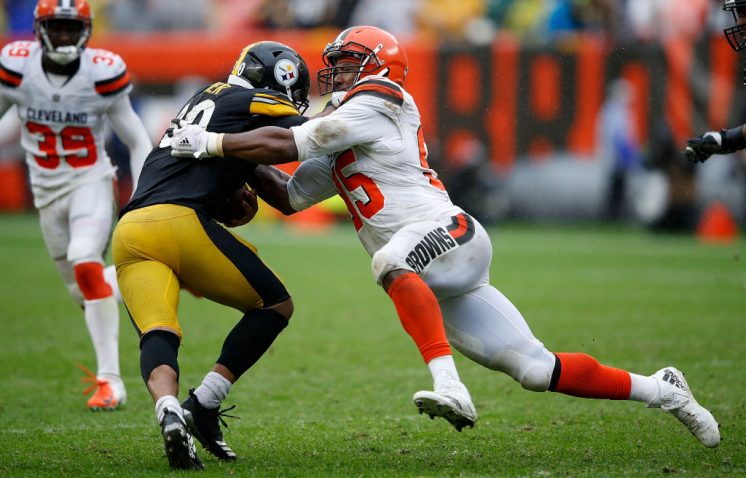 DALLAS (-3) @ Detroit
Here we see one of the big disadvantages of doing the picks on Wednesdays in order to squeeze it in for Thursday Night Football as opposed to waiting for Friday or Saturday. As of this moment, we don't know if Matthew Stafford will be under center for the Lions. He missed his first game since 2010 last Sunday with a back injury, and did not participate in practice on Wednesday.
All I can do is work off of what I know and expect, and I expect the Lions to start Jeff Driskel for a second consecutive week. Driskel is just the latest in a long line of Louisiana Tech quarterbacks to reach the NFL, a tradition that started with Terry Bradshaw and has gone on to, uh, Luke McCown?
But Driskel is no Bradshaw. He's not even a McCown. Do you know how much you have to struggle to lose to Mitch Trubisky? And not because the Bears dominated the game on defense or did it on the ground; Trubisky straight up outplayed Driskel at Soldier Field last Sunday.
I know the Lions are a perpetually dumb franchise. You have to be a special type of terrible at decision-making to be this bad for this long. But there is literally no benefit to playing Stafford the rest of the season. There is nothing to gain and everything to lose in terms of Stafford's long-term health and the potential top-five draft pick.
I'm hinging my pick on the Lions showing the slightest shred of competence by starting Driskel. It's risky, but I think it just might work.
Jacksonville @ INDIANAPOLIS (-2.5)
Probably the toughest pick of the week here. More variables than an algebra worksheet.
The obvious ones are the quarterbacks. Jacoby Brissett practiced on Wednesday, but there hasn't been an official word on if he's going to play Sunday. If he doesn't play, toss this out the window and pick Jacksonville. The Colts proved they could snatch defeat from the jaws of victory against anybody with Brian Hoyer playing when they lost to Miami at home last Sunday.
And on the Jacksonville side, Nick Foles is going to attempt to play his first full game of the season. He went 5-for-8 passing for 75 yards in week one before breaking his clavicle. What does he look like? Can he be the guy Jacksonville hoped he would be when they signed him? Will he be slow out of the box?
The other variable is Adam Vinatieri and the curious nature of this spread. The line was Colts -3.5 when this opened, but the number has been taken down to 2.5. Vinatieri has missed five field goals and six extra points this season, including another crucial PAT last week that proved to be very costly in a 16-12 defeat.
And like a compulsive gambler, the Colts keep playing Russian Roulette with their season by not finding another kicker. Actually, the Colts probably wouldn't mind being on the other end of Vinatieri with a gun right now, as the bullets would all sail well wide of the target and do no damage to anybody other than the mob boss who was just sure Vinatieri could get the job done this time.
This time it will be different, he says. There's no way the greatest kicker of all time can miss another kick, he thinks.
Trust me, a lifelong Falcons fan is here to tell you he can, in fact, miss another one. This pit does get deeper. It can always get worse, as much as the Colts simply refuse to accept that.
I have a horrible feeling this pick is going to come down a Vinatieri kick with the number now sitting at 2.5, but I'm going to lay the points with the better team in a game I have no read on.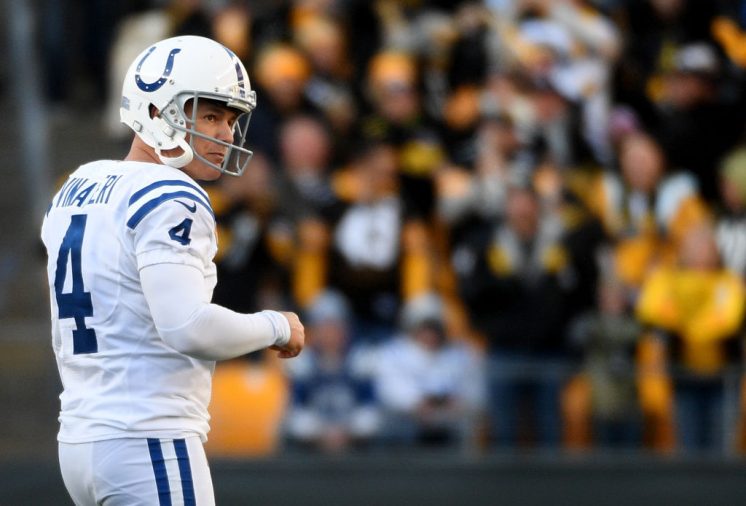 Denver @ MINNESOTA (-10.5)
Last week I wrote about Kirk Cousins was playing his first money game of the season. Minnesota beat Dallas 28-24, and he earned the money with a solid performance.
This is a Monopoly money game. It's not even the most important football game involving a team from the state of Minnesota this weekend thanks to the college team in the city sitting at 9-0 for the first time since 1904.
Speaking of 1904, the Gophers finished that season undefeated, then declared themselves national champs 108 years later thanks to a computer formula that retroactively said they were the best team. It's one of the many delightful (or enraging) quirks of college football, that for more than 80% of its history there was no set championship game, and either writers or computers determined its champion.
Want to claim a championship from a century ago? Nobody can stop you! There's not a human being alive who can say you weren't the best team in 1904. The world is your oyster when it comes to claiming championships you didn't really win.
I say all of that to say the Vikings should take a page from the Gophers' playbook if they win Sunday. The best team in Vikings history was the 1998 squad, a team that went 15-1. But they were upset in the NFC Championship Game, and missed out on a chance at facing the Broncos in the Super Bowl.
Now 21 years later they're facing Denver, and in honor of the city's college team being in the National Championship hunt, the Vikings should retroactively claim a Super Bowl if they beat the Broncos Sunday. Raise the banner. Print some T-shirts. Dump a metric ton of confetti onto the field. Go find Randy Moss and have a parade.
Oh, that's not how this works? You're telling me the Broncos still get to keep that Lombardi?
Well, this game just went from 0 to 100 back to 0 real quick. Vikings cover the 10.5 in a standard win against Brandon Allen, but won't claim a Super Bowl in the process. I don't think. They are pretty desperate for one though…
HOUSTON (+5) @ Baltimore
Speaking of college football champions, a team who won a real one without just claiming it was Clemson in 2016. Their quarterback was Deshaun Watson, and one of Clemson's defining wins that season was a 42-36 thriller over Lamar Jackson and the Louisville Cardinals.
It was one of the best college football games of the decade. Lamar and Deshaun combined for 601 yards and six touchdowns through the air, and added 253 yards and two touchdowns on the ground.
If you've never heard of this game, I'm going to do you a favor and drop the extended highlights here. Come back to me in about eight minutes.
YouTube: Louisville vs. Clemson Extended Football Highlights (2016)
OK? We good? I know, I can't believe that last fourth down play! Just not enough awareness of where the sticks were.
Anyway, this game should be a shootout, so taking the points is scary. A 45-38 or 37-31 Baltimore win covers the spread. My real betting tip for this one is that the over/under is set at 49, and you should smash the over. Even a 27-24 game will be a winner for you. As for the spread, I'm just hoping Houston's defense that usually stops the run very well can make Baltimore's offense one-dimensional enough to keep this within five.
Of course, you actually have to stop Lamar Jackson in the air, which is no small feat. Apparently he's not a wide receiver and can actually throw the ball downfield. Who knew?
Literally everyone. We all knew Lamar was capable of this, and now we're going to see it again in another big game. The only question is if he can do it a little better than Deshaun.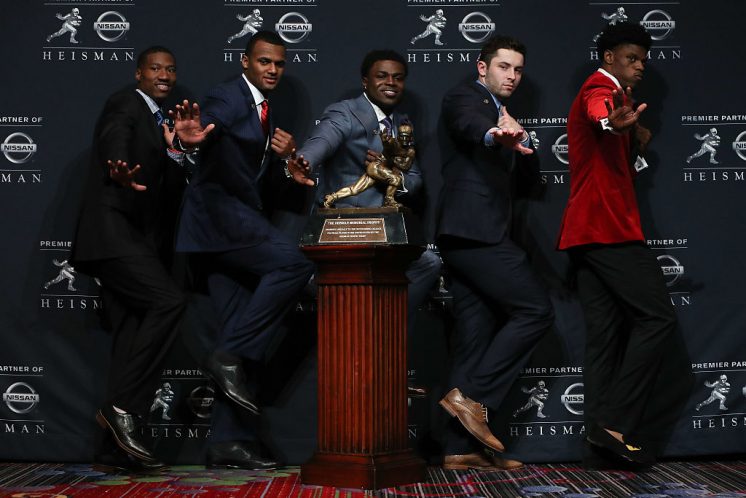 NY JETS (+1.5) @ Washington
The Jets will fly into their first winning streak of the season by winning (losing) this clash of teams well on their way to the upper echelon of the draft board. Free Trent Williams.
No. 23 Navy @ No. 16 NOTRE DAME (-7)
No. 4 Georgia @ No. 12 AUBURN (+2.5)
No. 8 MINNESOTA (+3) @ No. 20 Iowa
No. 10 Oklahoma @ No. 13 BAYLOR (+10)
Four ranked matchups this week, some of them with big playoff implications. I'll start with the only one that doesn't. The line in South Bend opened at Navy +10, and I would've been all over a triple-option team getting two possessions in a game that will see fewer of them than a standard one. But apparently, so was the rest of the public, and those rascals moved the spread down to one score. That's too rich for my blood, and I think Notre Dame will survive with a cover here.
Minnesota and Baylor are both in interesting spots. I'm taking both with the points, although I think both are on danger alert. Many top-ten teams have seen potential championship seasons die at Kinnick Stadium, including recent examples like 2008 Penn State, 2016 Michigan, and 2017 Ohio State. Baylor could lose to Oklahoma in the toughest game on their schedule, but by double digits? At home? Nah. I'll take the points in a game with 70+ total points.
Then there's Georgia-Auburn. Contrary to the popular belief that the Deep South's Oldest Rivalries are alcohol vs. smart decision-making and "hey y'all, watch this!" vs. expensive surgery bills, the Bulldogs and Tigers have been playing since 1892. I actually think Auburn pulls the upset here. They might have the best defense in the country, and Georgia's coming into the game a little banged up on the offensive line. I'll take the Tigers to wear down Georgia and end their playoff hopes at Jordan-Hare.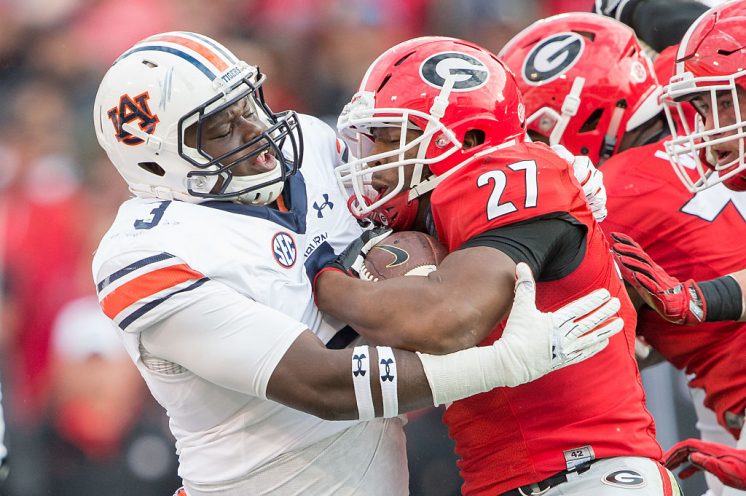 Atlanta @ CAROLINA (-5.5)
Wow, this line is down to 5.5 after opening with Carolina laying a full touchdown. I haven't seen this much of an overcorrection since the Falcons paid a running back huge money as a knee-jerk reaction to not running the ball down the stretch of Super Bowl LI.
I get it. The Falcons went to New Orleans and dropped one on the Saints. It was their most impressive performance of the season by a mile, and people are reacting to it by betting on it to be duplicated.
And that right there is why the buildings in Vegas are so tall.
Does a one-week renaissance really mean the Falcons can stop the run? They were 29th in the league against the run before the New Orleans game. Even with that dominant effort up front, they are still 20th. And the Panthers have Christian McCaffrey, who eats defenses like this for breakfast.
While we're on the subject, this game serves as the South's Breakfast Biscuit Bowl, as it's Chick-fil-A vs. Bojangles. The winner of this game gets 328 biscuits from the other city's establishment according to the legally binding and rarely discussed fine print of the NFL's rulebook, which also might be the number of rushing yards McCaffrey finishes the game with.
Unfortunately for Chick-fil-A, they're not open on Sunday. Bojangles wins by default as the Panthers cover 5.5. The Falcons played their best game of the season last week. They already peaked, and will now head back down the other side of the mountain along with these picks. It's Bo time!
NEW ORLEANS (-5.5) @ Tampa Bay
I just think the Buccaneers are going to be in the wrong place at the wrong time. The Saints have a point to prove after last week's humiliation, and they'll want to run it up on the team currently ranked dead last in scoring defense. They've developed a very noticeable pattern in situations like this over the last decade.
In 2011, the Saints lost 26-20 to a Tampa team that would finish the season 4-12 in what was a really tough offensive performance. They came back the next week and knocked the Colts into outer space by a historic 62-7 score. After a humiliating 25-point loss to the Giants in 2012, they came back the next week and blasted Tampa 41-0.
The Saints had their highest-scoring game of the season in 2013 in a 49-17 victory over the Cowboys. The week before? A 26-20 loss to the 8-8 Jets. They responded to a 24-23 loss in Detroit by hanging 44 on the Packers in 2014. They only game of their 2015 season without a touchdown was followed by a 38-point outburst against the undefeated Panthers.
And in more recent times, they rebounded from a 16-11 loss to Tampa with 48 points in Arizona in 2016.
The lesson here is the Saints usually follow bad offensive performances with great ones. And against Tampa Bay's awful defense, this is a spot where a score in the 40s or 50s could be on the table.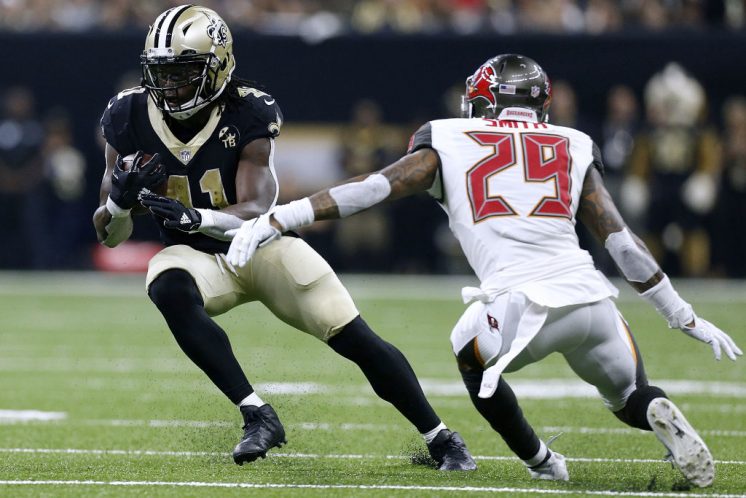 Buffalo @ MIAMI (+6)
I think it's time to accept the Dolphins are not tanking, and they certainly aren't the league's worst team when Ryan Fitzpatrick is playing. To be honest, they might not even be in the bottom five.
Since Fitzpatrick supplanted Josh Rosen as the starter in week six, the Dolphins are 2-2, and they were within three points in the fourth quarter of both losses. I'm not going as far as saying they're a good team, but they have certainly looked much more like a 6-10 team as of late. I realize that's the worst thing you can possibly say about a team in their position, but they brought this on themselves by playing Fitzpatrick.
And in that vein, this just seems like a perfect AFC East game where both teams lose. The Bills need to win to get some momentum back for their playoff push. The Dolphins need to lose to salvage their tanking effort so this season will be worthwhile.
It's the perfect AFC East self-sabotage. Everybody loses as the other three teams in the division continue this two-decade game of falling all over themselves to catch up to the Patriots.
Have you ever seen that game show in Japan where contestants have to climb up slippery stairs? And they just spend multiple minutes sliding all over each other while never actually making any progress? That's the AFC East outside Foxboro.
YouTube: Japanese Slippery Stairs Game Show
ARIZONA (+11) @ San Francisco
Let me get this straight. The Cardinals have the best record against the spread in the entire league at 7-3. They are 4-1 against the spread on the road. The 49ers are on a short week after their most emotional, physical game of the year. The 49ers are still extremely banged up at the skill positions, as George Kittle and Emmanuel Sanders were both kept out of practice Wednesday. The Cardinals played the 49ers very tough in their first meeting, a 28-25 San Francisco win.
And the Cardinals are getting 11?
Sign me up for that. I think San Francisco wins outright, but I'll take Kyler Murray to hang around with 11 points.
Usually when I sound this sure about a pick it backfires, so we're all set up for a 42-17 drubbing here.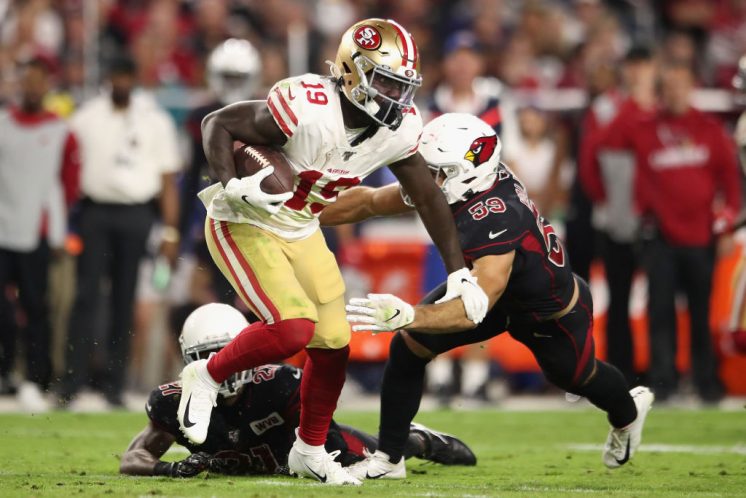 New England @ PHILADELPHIA (+3.5)
I already explained in the intro that these picks have already jumped the shark, so you shouldn't be surprised to see a few bold selections in here.
I just kind of have a feeling about this one. The Ravens proved you can run on this New England defense, and I think Philadelphia's stable of backs will be ready to let loose a little bit after a bye. It's going to be a cold day on Sunday in Philadelphia, and there's even a chance of rain to further complicate things.
I know it has been a running joke on these picks this year, but I am STILL the most stubborn person you know. I still believe in the Eagles as a contender in the NFC. That front four is still dangerous, and they can cause problems for any offense on their day. New England included. I am the worst cockroach you know when it comes to believing in the 2019 Eagles. My belief will not die, even if it maybe should have by now.
I'd say I hope Sunday doesn't kill it, but who am I kidding? I'll be right back here next week, dutifully telling you the Eagles are better than their 5-5 record while rattling off a bunch of stats to indicate how dangerous they could be if they just make it into January.
At least Eagles fans can spend all Sunday staring at that banner from the last time they faced New England.
Cincinnati @ OAKLAND (-10.5)
I would like this spot for almost any team with a pulse. The Raiders had some brutal injury luck this week, and are in prime position for an emotional letdown after a huge win over the Chargers.
Fortunately for them, they got the one team in the league completely devoid of a pulse. And a win.
This team is everything we thought the Dolphins would be a month ago, except maybe worse. They are just smashing everything in their path on the tank war path, and I see no reason to suggest they can't make it out of Oakland 0-10. Bengals fans will be counting their magic number to get the top pick, the first time in years Cincinnati fans will be counting a magic number thanks to the extreme futility of the Reds.
Now the Bengals will come to the ballpark where the Reds won their last World Series and probably score less than a baseball team as they close in on their choice of Joe Burrow or Tua Tagovailoa. It's the circle of life.
Chicago @ LA RAMS (-6.5)
I'll keep it short. The Rams are 5-4 in a year where it looks like 10-6 will be the baseline to grab a playoff spot in the NFC. That means they need to go at least 5-2 in their final seven. They still have to play Baltimore, Seattle, Dallas, and San Francisco. Even if you salvage 2-2 out of those four tough games, you have to win every other game to have a shot at the postseason.
This is one of those other ones. The Rams are at home against Mitch Trubisky. They can't lose this one if you want any realistic shot at the postseason. Make no mistake about it, their backs are firmly against the wall. I'm not crazy about the offense right now, but then again, look at the Bears. They'd probably kill for the Rams' extremely inconsistent and at times awful offense. There's no way I can pick against the Rams in this spot.
Just to illustrate how crucial this one is, FiveThirtyEight's projections drop the Rams' playoff chances to 8% if they lose to the Bears.
Get it done, Los Angeles.
KANSAS CITY (-3.5) vs. LA Chargers (in Mexico City)
All I want out of this game is for Michael Badgley to use the especially thin air in Mexico City to drill a 65-yard field goal. He's hit from 59 without altitude, so it's possible.
The juxtaposition of the league's longest ever field goal belonging to the Chargers of all teams is just perfect. It has to be a Charger. The jokes write themselves.
Oh, and this is a nice trial run for the Chargers playing in another country's capital city as they possibly prepare to make it a more permanent thing in the future. But they can escape San Diego, they can escape Los Angeles, they can even escape the country. There's one thing they can't run from, and I don't mean the other 31 fanbases taking over their stadium.
Patrick Mahomes.
(Although the Chargers would move out of the AFC West if they moved to London…)
He's coming to Mexico City after he didn't get the chance to last season, and he's going to put on a show as the Chiefs will grab a key win in the playoff race.
---