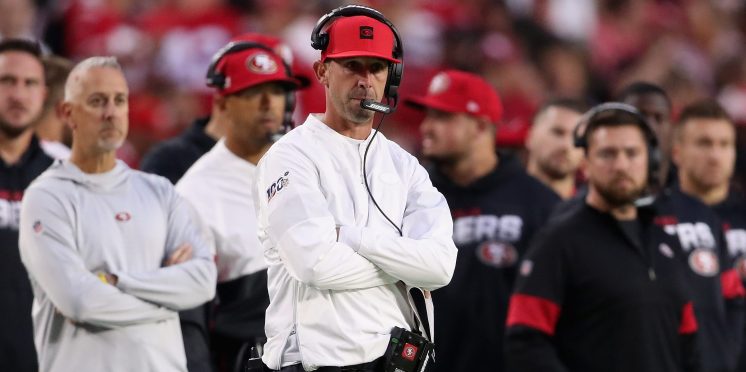 Garoppolo, Shanahan have to be ready for thin NFC margins
In case you forgot, the Seattle Seahawks are still the Seattle Seahawks.
They have had issues with the playcalling of both coordinators, some shaky line play and plenty of close shaves en route to an 8-2 record. But one way or another, they are half a game out of the top seed in the NFC heading into their bye.
They're in that position after outlasting the 49ers 27-24 in overtime to end San Francisco's bid at an undefeated season. The game made it even more obvious that Russell Wilson is still vintage Russell Wilson with the game on the line, and Pete Carroll is still the perfect coach to get his team up for a big game.
It was a different story on the other side.
Kyle Shanahan looked like a head coach who was coaching high leverage football games for the first time in his life. And Jimmy Garoppolo looked like a quarterback playing in them for the first time in his career when the heat was turned up.
That could be a problem, because if there's anything we learned about the NFC playoff picture on Monday night, it's that the margins for error are a lot smaller than we thought.
Coming into the night, the 49ers were 8-0 and clearly the most impressive team in the conference. Now the canyon has closed to the point where there's reasonable doubt about that.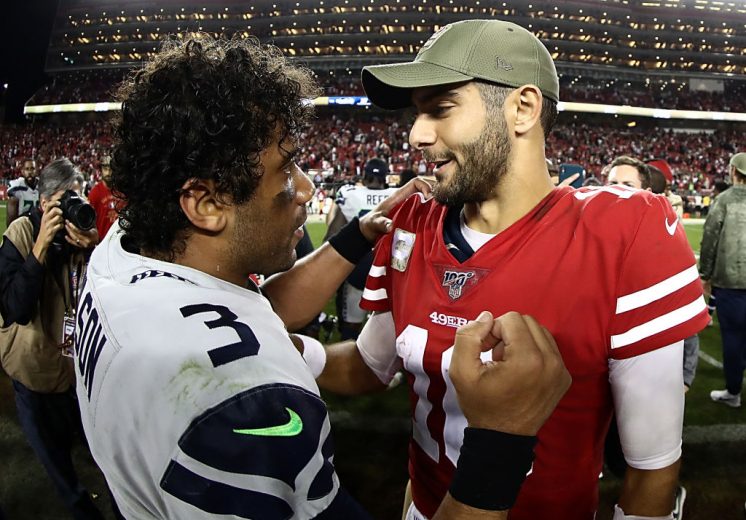 The Packers are lurking at 8-2, and they will travel to San Francisco in week 12. The 7-2 Saints dropped a clunker on Sunday, but are still very dangerous. They will also host the 49ers in week 14. Mixed in between will be a week 13 cross-conference, cross-country showdown against the 7-2 Ravens. And of course, the 49ers will have their rematch against the Seahawks in a season finale that could have huge playoff implications for both.
Monday may have been the first time the 49ers found themselves in a heavyweight fight against one of the league's other elite teams, but it certainly won't be the last. There are big battles ahead for San Francisco.
And Garoppolo struggled a lot against a great defense in Monday's loss. After some early trial-and-error that saw the Seahawks fall behind 10-0, the Seahawks started to force Garoppolo to make plays.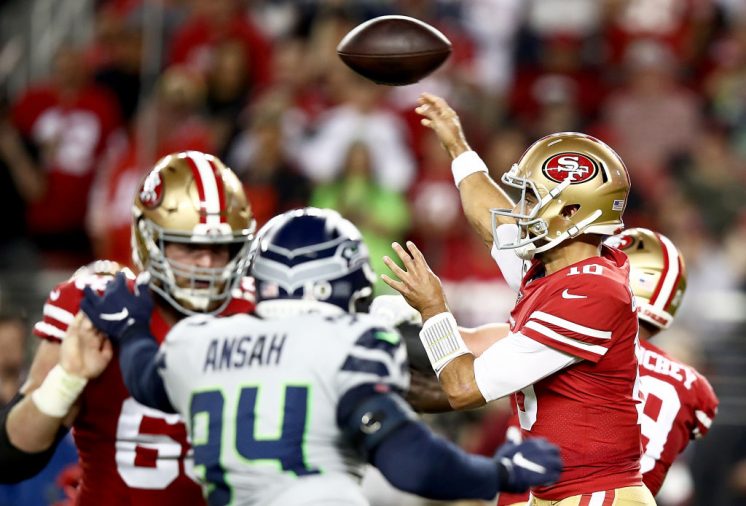 Some drops from his banged-up receiving corps hurt, but it was one wobbly throw after another for Garoppolo. A parade of poor decisions, some of which came back to bite him.
He turned the ball over three times, including an egregious interception that saw him miss a wide open Kendrick Bourne. He made an ugly fourth-and-2 throw that killed San Francisco's first drive of the second half when he had Deebo Samuel open in a little space. And he threw two very dangerous passes with the 49ers trailing 24-21 on the final possession of regulation, as K.J. Wright and Bobby Wagner both missed great chances for game-ending interceptions.
It continued in overtime, as he was 1-for-5 passing in the extra session.
It was like a boxer realizing he's in a fight for the first time after a couple months of controlling the opposition. He managed to land enough punches to keep the game close, but there was a deer in headlights look from Garoppolo for a lot of the night. The type of look you get when you're facing a great defense for the first time all season. The kind of look Jadeveon Clowney feasted on all night.
And in the big picture, the kind of look Cameron Jordan and the rest of the Saints' front seven might be excited to run into four weeks from now in the Superdome. Or an expression Minnesota's ferocious defensive line might be able to tee off on if they cross paths in January.
Then there's Shanahan, who had his biggest flaw tested for one of the first times all season.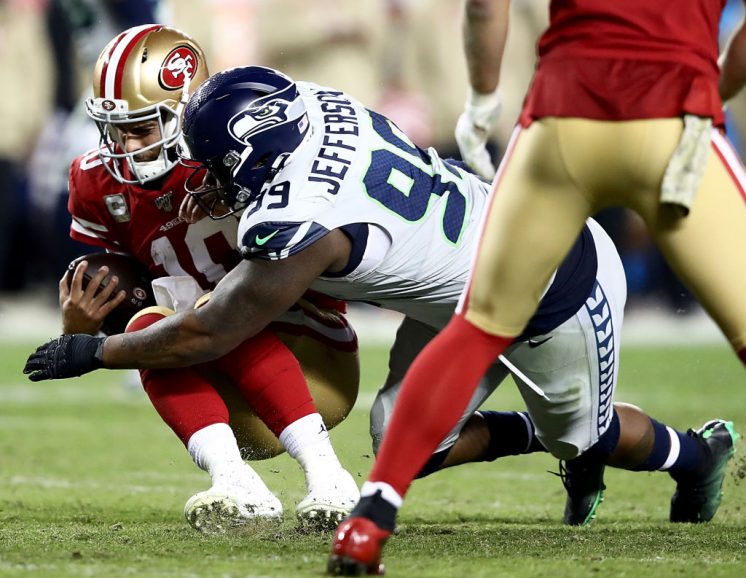 There are a lot of things Shanahan does well, and he played a huge role in the 49ers getting off to their best start since 1990. Suggesting he is a net negative or even a problem is a major overreaction.
But late-game decision making has always been his biggest shortcoming. Very dubious late-game playcalling in Super Bowl 51 played a huge role in costing the Atlanta Falcons their first Lombardi. He admitted himself that he blew it in a post-game interview.
Then on the final drive, his decision-making made things a lot more difficult than it had to be for his offense as they drove for a game-tying field goal.
He had two opportunities to use his one remaining timeout and save precious second for the offense after they crossed into Seattle territory, but elected to hold on to it both times before finally spending it with 18 seconds. In a situation where getting as many plays off is obviously the most important thing, San Francisco got five snaps off in 1:09, and the fifth one was a spike.
You could even argue the 49ers should've had more time to work with after Shanahan elected not to use one of his three timeouts with 2:32 left on Seattle's final possession of regulation, allowing the Seahawks to burn 32 seconds going into the two-minute warning before a second-and-6 play.
It was two separate instances of gross clock mismanagement, but the worst was yet to come.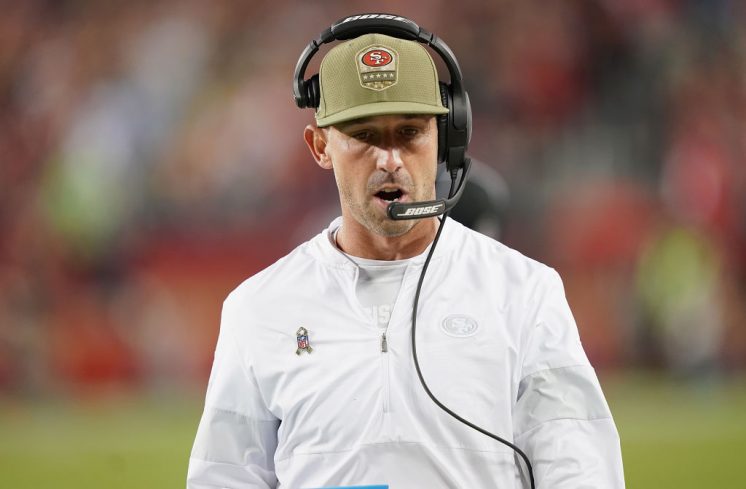 The 49ers drove down to the Seattle 29 with 3:10 remaining in overtime. Shanahan's decision was either going for it on fourth-and-inches or trusting a kicker they signed in free agency earlier in the week to hit his fourth field goal of the night to win the game.
Maybe you could argue Shanahan was right to trust his kicker, but for a guy who fancies himself an offensive mastermind, he showed a disturbing lack of confidence in his offense to grind out a yard and continue the drive.
Did he not trust his offensive line? Did he not think he had a play that could pick up the first down? Or did he really think the 47-yard field goal was a better option than trying to get a few inches?
It doesn't matter. None of those three are good answers.
Just like how Garoppolo has to prepare for the best stretch of defenses he will face all season, Shanahan has to prepare to make more of these types of decisions. In winning their first eight games by an average of 16.6 points, Shanahan could stay in his wheelhouse. Specifically, calling plays for his potent offense to rack up the points. But the schedule would indicate there are much closer games on the horizon.
And that means there will be more 50/50 decisions to make. Judgment calls for Shanahan that could decide games. Situations where the game will demand his very best playcalling late in the fourth quarter, and where he will have to outwit a tough mind on the other side the way he had to against Carroll Monday.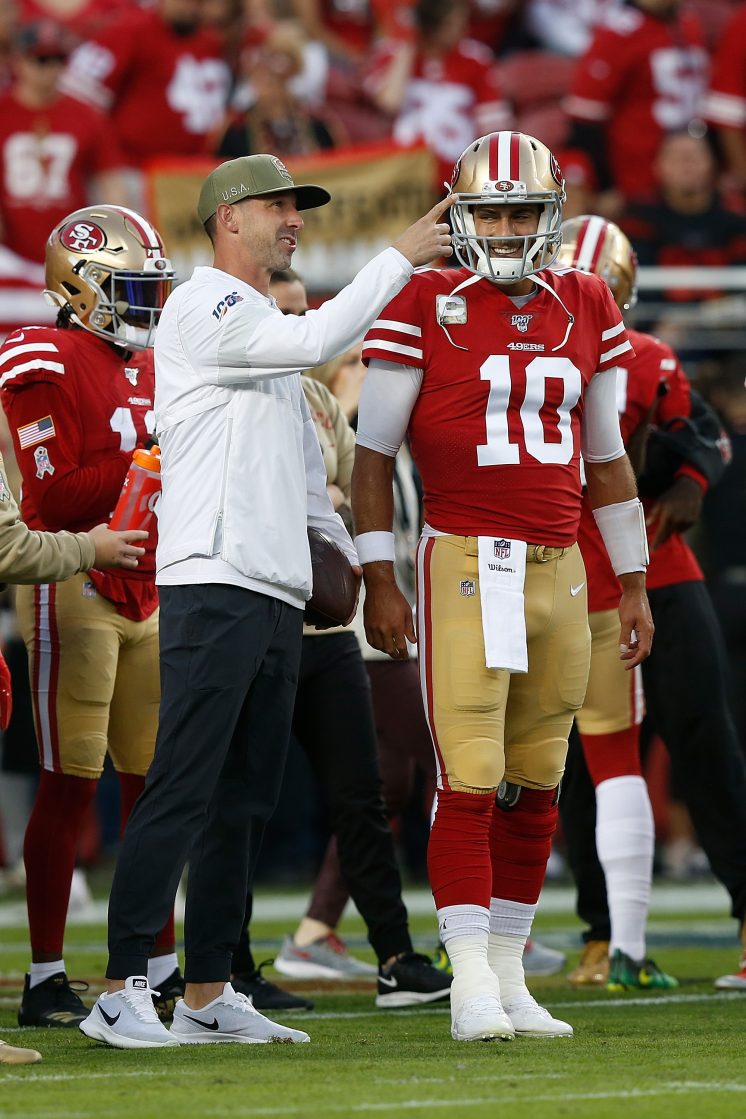 There is still a case to be made that the 49ers are better than their Super Bowl-contending counterparts. That based on talent, they are still the best team in football. But this is a very tight NFC playoff picture, one where 0.5 games is the current difference between the 49ers getting the No. 1 seed or dropping down to a wild card spot.
The margin for error is going to be very thin.
Now it's up to Garoppolo and Shanahan to prove they can win within those margins.
---