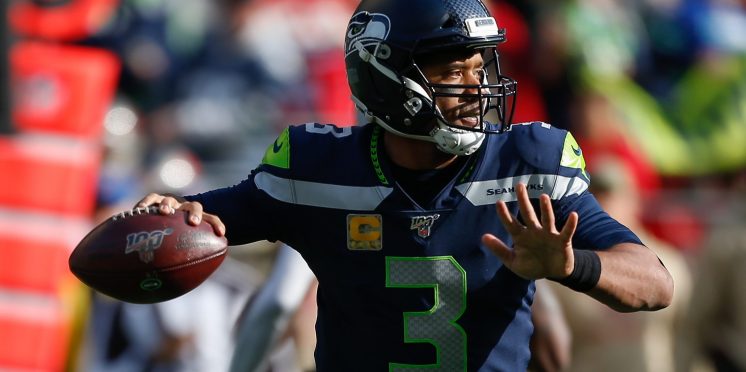 Fantasy Football Primer – Week 10 2019
Another week of the 2019 fantasy football season is in the books, and it's time to take a look back at who did well, who didn't and then look ahead to this weekend's games. Week 10 is one with bye weeks galore, so every decision is more important than ever, especially as we move on towards the fantasy playoffs.
All scoring references in this article are for half-PPR formats.
Week 9 Standouts 
Russell Wilson – One of the MVP frontrunners in the league – and fantasy, too. Russell Wilson had a frankly remarkable game this week against the Tampa Bay Buccaneers in a pure, unadulterated shootout, which ended 40-34 in favour of his Seahawks. He threw for 378 yards and five touchdowns for a huge fantasy performance of 39.2 fantasy points. His huge success also meant his receivers could reap the rewards…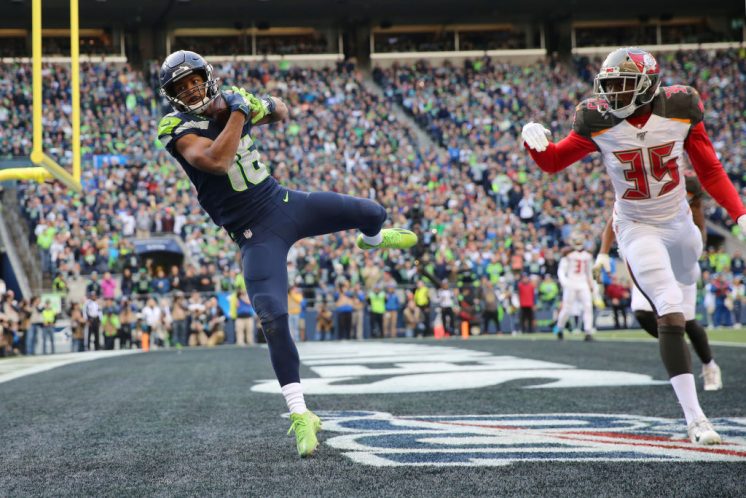 Tyler Lockett, D.K. Metcalf and Jacob Hollister – When Wilson is on fire like he is, everybody around him has a pretty good chance of having a good week too. Jacob Hollister is a player who may have been started in a fantasy lineup like once, ever, but this week he was the TE3, finding the endzone twice on his way to a 17.7-point week. Even more impressively, the two wide receivers also both had big days. In fact, Tyler Lockett and D.K. Metcalf ranked first and third in WR points for the week, as they shared the majority of Wilson's yardage and the remaining touchdowns. Lockett's 13 receptions turned into 152 yards and two touchdowns for the top spot, while rookie Metcalf put up 123 yards and the other receiving score, making him the WR3.
Mike Evans – The man who split those two, with the second-best receiver performance of the week was Mike Evans, on the other side of that same shootout. Evans brought in 12 receptions for 180 yards and a score, for 30 fantasy points. Although it might not feel like it after some tough sledding early on, the Bucs' star receiver is actually the top-scoring wide receiver for the year so far. These blowup games can be legitimately matchup-winning, and Week 9 was no different.
Kenyan Drake – I could give a shoutout to Christian McCaffrey literally every single week, and once again he was the RB1 on the week (36.1 points), but the RB2 is someone who definitely deserves some props. Fresh after being traded, the latest addition to the Arizona Cardinals, Kenyan Drake, came out and put up a big performance, on Thursday Night Football. Drake rushed for 110 yards and a TD, while also earning 52 yards through the air. He also got a two-point conversion for the final cherry on the cake, ending with a very impressive 26.2 fantasy points in his Arizona debut.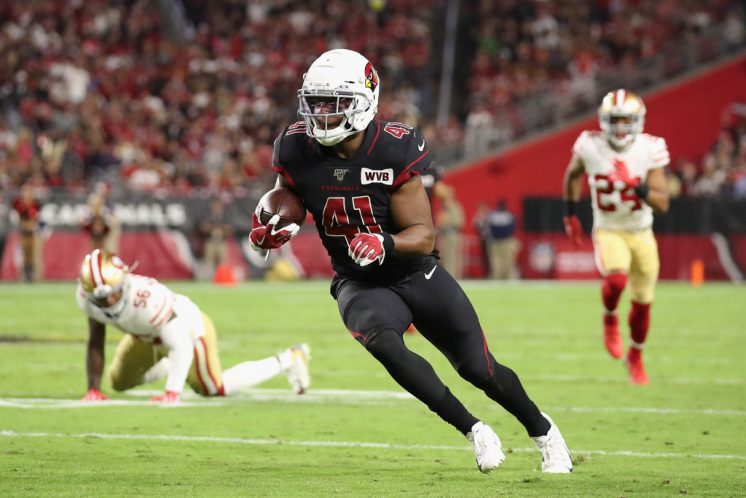 Melvin Gordon – Yeah, really. Finally, Melvin Gordon actually had a good week in fantasy. He rushed for 80 yards and was able to score two touchdowns, while also contributing 29 more yards through the air. On paper, Gordon definitely made a big return to fantasy relevance with his 24.4 fantasy points, but he also looked much better on the field, and made some nice plays including an athletic hurdle over a safety.
Week 9 Let Downs
Adam Thielen – This one sucked. I got hit by this one myself, starting Adam Thielen as soon as he was active. He was indeed available to play, but he didn't feel good on his hamstring and left the game with a goose egg. I don't usually go for a let down solely based on injuries, but the big fat 0 hurt.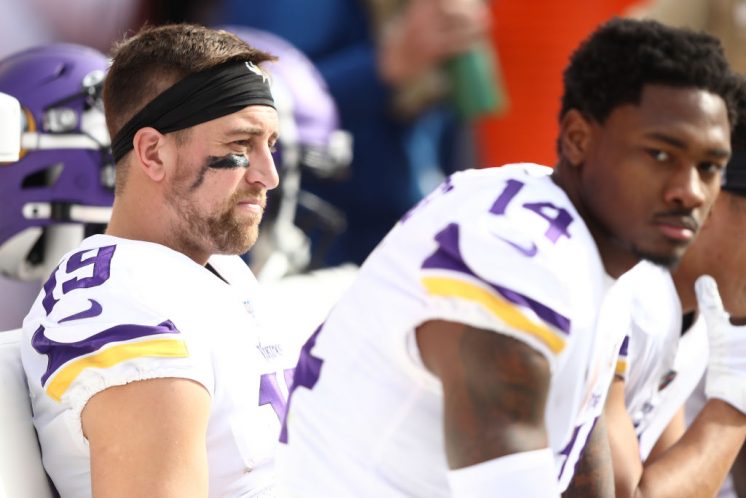 Stefon Diggs – Even though his teammate left with the injury, somehow Stefon Diggs had near enough as bad of a game. In a season-low performance, he was able to catch just one of his four targets and gained only four yards, good for just 2.1 points. While you would usually think that Thielen's absence would benefit Diggs, it clearly didn't this time, leading to an awful fantasy outing.
Aaron Jones – Someone else who actually played a full game on their way to letting fantasy owners down, Aaron Jones had a very disappointing game to follow up his huge performance in Week 8. He rushed for just 30 yards and caught just one ball for a single negative yard. After what he did in their last game, it was incredibly surprising to see him so uninvolved, especially in the passing game, and his 3.4 fantasy points were not even close to what his owners would be hoping for.
JuJu Smith-Schuster – One of the most frustrating draft picks in all of fantasy this year, Steelers wide receiver JuJu Smith-Schuster had yet another awful game, finishing with just 16 yards, and 3.1 fantasy points. After stepping up for a solid week against Miami, he returned to his disappointing norm and once again let down the people who picked him up in the first couple of rounds.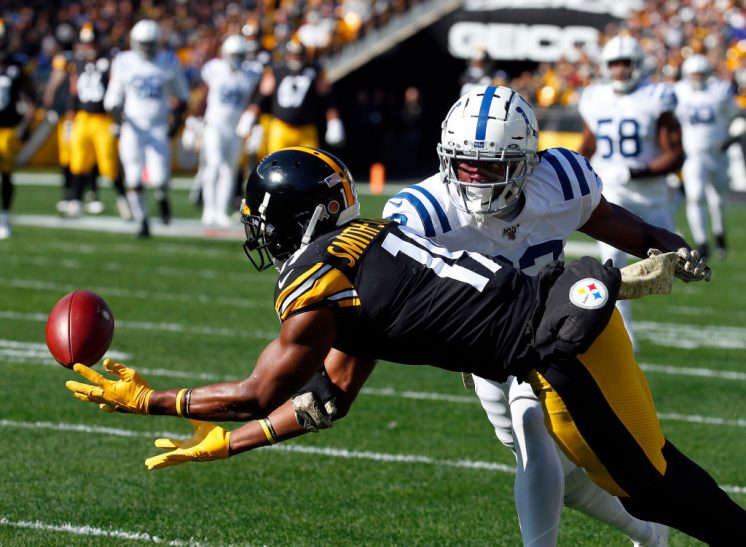 Mark Andrews – A fantasy favourite going into the year, tight end Mark Andrews has been hit or miss this year, and this week was a miss. The tough matchup didn't slow down the Ravens' Lamar Jackson and co., however Andrews didn't play much of a role in the dethroning of the undefeated Patriots. Andrews finished the game with just 21 yards, and 3.1 fantasy points. His second-worst finish of the season. The TE position has been so tough over the last year and a half, and the Baltimore starter was one who people hoped would actually be reliable, but after a strong start he has had a few weeks where he's done next to nothing, even in games where his team puts up points.
Week 10 Starts of the Week
Jaylen Samuels – James Conner has been ruled out of Sunday's game. That means it's time to start Jaylen Samuels again. Last week he rushed eight times and added 13 receptions on 13 targets. In half- or full PPR, Samuels is an instant fantasy start when he's the lead running back, and this weekend we can go back to the well in Conner's absence.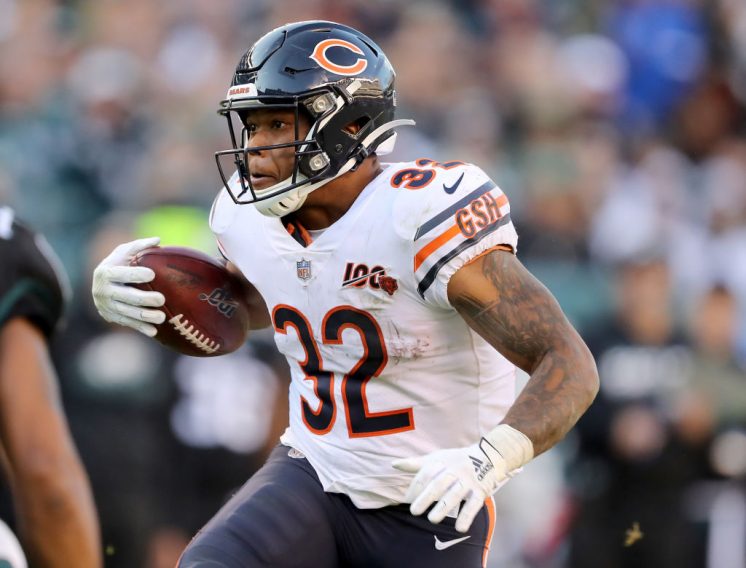 David Montgomery – One of the most hyped players in the preseason, and undoubtedly one of the most exciting rookies, David Montgomery has struggled to put up fantasy production in his first year. The reason for this is primarily a mixture of his usage and the general disappointment of the team as a whole. For Montgomery to succeed, he needs to be in the red zone, and he needs to get volume. Going into Week 8, his best week was just 14 points, which isn't going to cut it. The last two weeks, however, have been a huge turnaround. The breakout came with two straight weeks over 20 points, and last time it came against the very stout Philadelphia run-D. This weekend he is facing Detroit at home, giving him a great chance to keep it up.
Marquise Brown – After exploding out of the gate, Marquise 'Hollywood' Brown was bobbing up and down either side of decent fantasy weeks and then had a short absence due to injury, but now he's back and it is time to see him in a good matchup. I am excited to run him out against the Cincinnati defense this week. His athleticism naturally creates big play potential, and he has the ability to work the shorter and intermediate areas of the field, then earn yardage after the catch. His ceiling is huge, and during the bye-week craziness you can't overstate that. He's currently listed as questionable with his lingering ankle injury, but he's expected to play and I think he will have a good game.
David Johnson – There are some trust issues in the Cardinals coaching staff for fantasy football players. People got burned when Kliff Kingsbury trolled us all and David Johnson was declared to be the starter, and then he 'started' for about three snaps… Now, however it seems that Johnson is returning to the lineup, fully healthy – apparently. This time, though, Johnson himself is confirming that he is ready to roll. Against Tampa Bay this week the running game seems an unattractive fantasy asset, because their run-D is so good, however DJ's versatility makes this less of an issue, and they even might put him out wide to fully make use of him against a defense that is much stronger up front than in the secondary.
Week 10 Sits of the Week
Joe Mixon – It's a real shame, this one, but I think you need to sit Joe Mixon this week (and basically every week honestly). If you drafted him it was with one of your first two picks, and you have been painfully disappointed in the production. You may even have basically forced yourself to start him, in hope that one of these days his talent will prevail, no matter how bad the offensive line is. If you did that, you will have been happy twice all year, once in Week 3, and then once in Week 8, his last game. While he got over 15 fantasy points in London, the two games before that he combined for less than 12, so you just can't trust the production. While I do understand the feeling that you want to run him out there, this week's matchup against Baltimore feels like one where the Bengals need to try and throw the ball more than they run it, and the Ravens front seven could dominate against the poor offensive line play that has killed Mixon's fantasy year.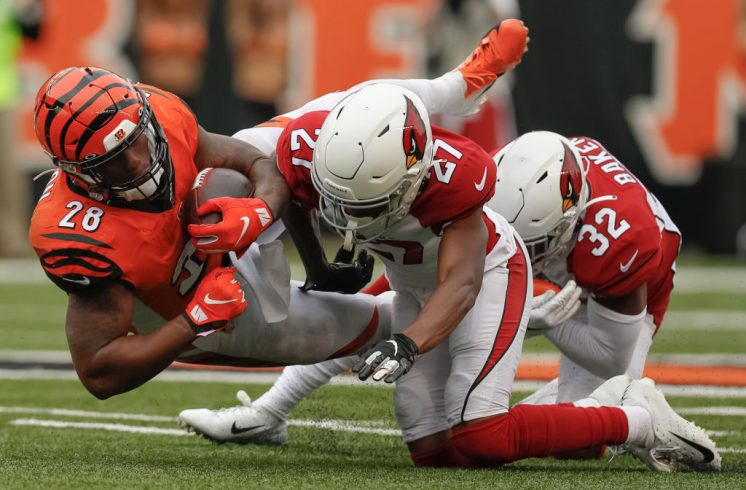 Eric Ebron – I completely understand not doing this, so take this with the caveat of a simple fact – if he's your best guy, play him. This Eric Ebron sit recommendation is targeted for people who have a couple of TE options and are deciding if they want to play Ebron just because he is against Miami. As I already said, this is one where you have to decide based on your roster, but Ebron has been incredibly uninspiring this year, and you don't want to bench a better tight end for him. If for example you have Gerald Everett or one of Chris Herndon or Jonnu Smith (assuming that they are starting) I'd start them over a disappointing Ebron.
Kareem Hunt – I know that it's difficult to ignore how good Kareem Hunt is, both at football and in fantasy, but I'll remind you of this – Hunt hasn't played a live game of football for just under a year. Obviously, talent doesn't disappear overnight, but it's safe to say even if he stepped into a workload this weekend, he wouldn't be his old self, and then there's the issue of that workload. Now, Hunt plays for a team with a superstar running back ahead of him and I don't expect him to be relevant for fantasy this week whatsoever. If you've held on to him, you're probably excited he's back, but be patient, and give it a week. If somehow Hunt gets a solid role in the offense alongside Nick Chubb, fair enough, give him a go in Week 11.
What to watch
Chris Herndon – The return is imminent ladies and gentlemen. In the TE-deprived landscape of this season, someone with the ability to produce for fantasy on the level that Chris Herndon is capable of is very valuable. His suspension ended weeks ago, but he hasn't played due to injury. This weekend, according to Adam Gase he looks like he should be ready to get involved on Sunday. Sam Darnold loves Herndon, so as soon as he's fit and playing, he is a startable TE with top-ten rest-of-season upside.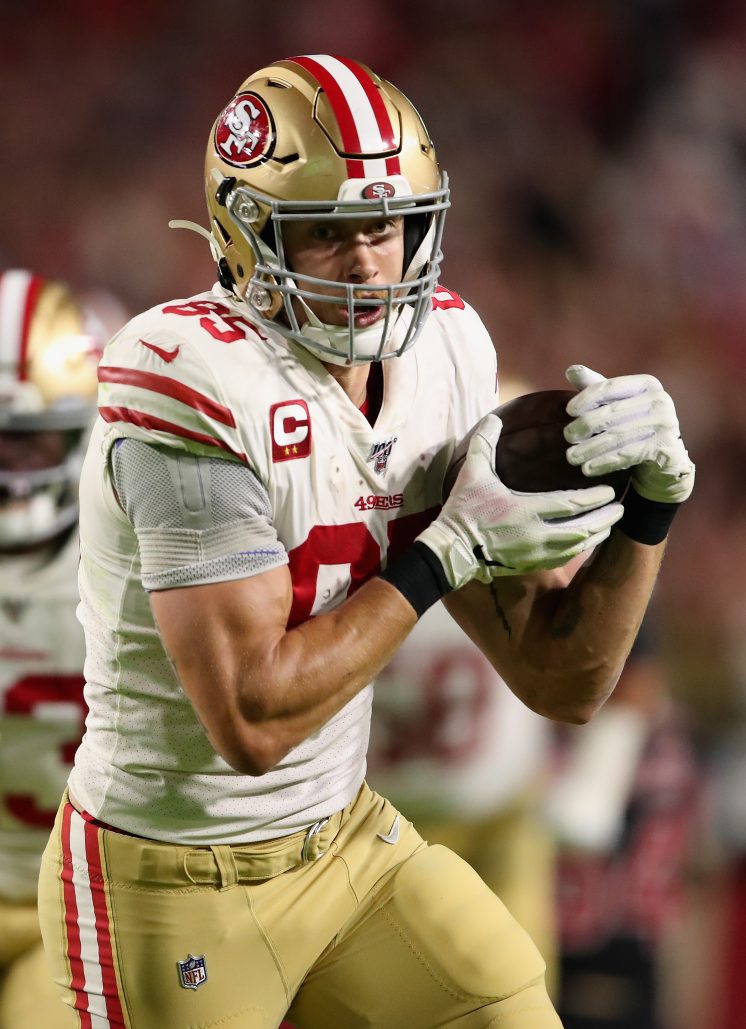 George Kittle – Another tight end to keep an eye on is George Kittle, but this is a tough one. Kittle is banged up and it's not clear yet if he will be playing, after not practising on Friday. Here's the issue, though – he's playing on Monday Night Football. My advice is to have a look at the reports about Kittle until Sunday, and then if there isn't much clarity, get another tight end. In the matchup against the Seahawks, you'd have to rely on Jacob Hollister as your last-minute switch if you planned on waiting it out for Kittle.
JuJu Smith-Schuster – Conner was ruled out after Friday practice, and he was accompanied by another late addition to the injury report in the form of star wide receiver JuJu Smith-Schuster, as he was listed as questionable. Now, being questionable isn't the biggest issue of itself, but being added to the report on a Friday is not ideal, and makes the chances of missing the game higher. Smith-Schuster has apparently re-aggravated his previous toe injury, and so you'll need to keep an eye on his status this Sunday.
Jacoby Brissett – This one probably only matters if you're the Jacoby Brissett owner, because Brian Hoyer probably isn't most people's preference for a fantasy QB, but Jacoby Brissett is considered to be a game-time decision. If he plays then he is going to be a decent option due to his matchup against Miami, but there is one difficulty. Being a game-time decision for a late kickoff means that you can't see if he's going to play until after the early games have already kicked off. I'd advise only waiting to see if Brissett is playing if your other option at QB either actually is Hoyer, or is also playing late.
Amari Cooper – This is becoming a theme at this point. Yet another injured fantasy relevant player who is playing in a late game, Amari Cooper is questionable ahead of the Sunday Night Football matchup with Minnesota. The Cowboys star receiver is expected to play, so you shouldn't get burned, but once again the timing of the game makes it far from ideal in terms of any last-minute tweaks.
Patrick Mahomes – He's back. Theoretically there's nothing to watch, as he's practiced all week and should be fine, but just in case, keep an eye out on Sunday afternoon.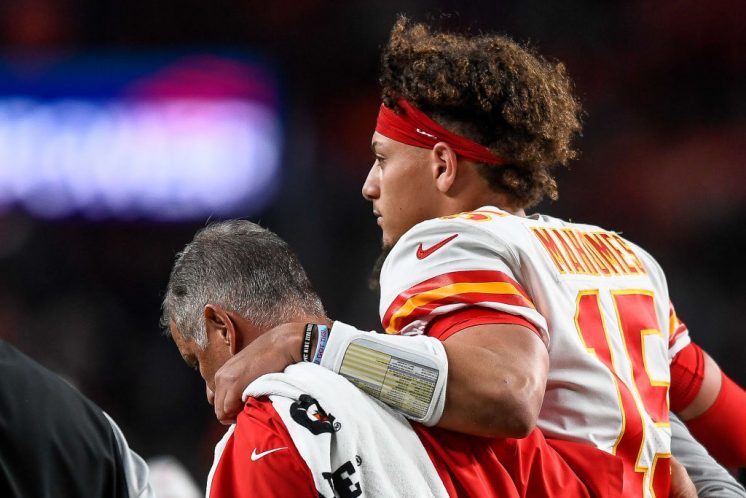 ---