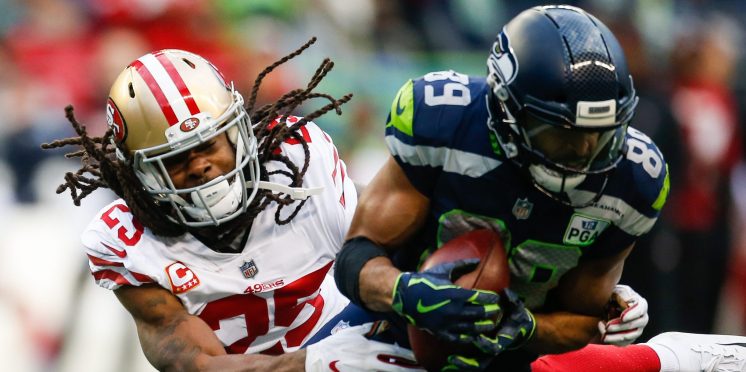 Walking The Lines – Week Ten
You see something new every week.
Last week, for the first time in half a season of picking games against Wednesday night spreads that definitely don't move or somehow compromise themselves in any way at all, I had a push. Yes, there will be a third column in the record books for the rest of the season. Enthralling.
The elusive "1" in the third column comes from Seattle, where the Seahawks beat the Buccaneers 40-34 in overtime in a game where they were favored by six. Of course, that was a game where I picked the Bucs with the six and the game was only in overtime because Jason Myers missed a potential game-winning field goal as time expired, so I was probably unlucky to get the push.
And if you subscribe to the Frank Reich theory on overtime game management that anything—including a loss—is better than a tie, then last week was a serious shot to the gut of this picks column. No comment on if Reich still held that line of thought when the game he lost instead of tying very nearly kept his team out of the playoffs last year, but we can imagine his ideas on game management are updated and efficient.
Or you can do the 1983 Tom Osborne, and very literally throw away a surefire National Championship for your Nebraska Cornhuskers because you just can't stand the idea of tying your bowl game. Kick the PAT, take the tie, keep the top ranking secure as two of the three teams directly behind you lost, and go win a ring. Or go for two because you hate ties, and lose your No. 1 ranking when the pass falls incomplete.
Then there's Donavan McNabb, who gave us the most objectively hilarious way to handle a tie after his Eagles finished tied with the Bengals at the end of overtime in a 2008 game.
"I've never been a part of a tie. I never even knew that was in the rule book," McNabb said in the AP's game recap. "It's part of the rules, and we have to go with it. I was looking forward to getting the opportunity to get out there and try to drive to win the game. But unfortunately, with the rules, we settled with a tie."
It's always good when someone at the top of their profession doesn't know one of the basic rules of said profession. I love the idea that McNabb just went to the sideline, fully expecting the teams to switch sides of the field and keep playing. How long did it take him to realize the game was over? Did he go over to Andy Reid with the intent of talking strategy, and Reid had to go like "Hey buddy, the game is finished." or did McNabb eventually catch on to what was happening?
And last but not least, is there a scenario where McNabb gets back to the locker room, pulls out his stylish new iPhone 3G, and just sits there googling the NFL's overtime rules? A "who knew?" moment of self-realization about learning a new rule from a sport he had been playing for a decade.
What new will we learn about in this week's picks? It's time to open up the week 10 mystery box and see what ingredients we have to work with.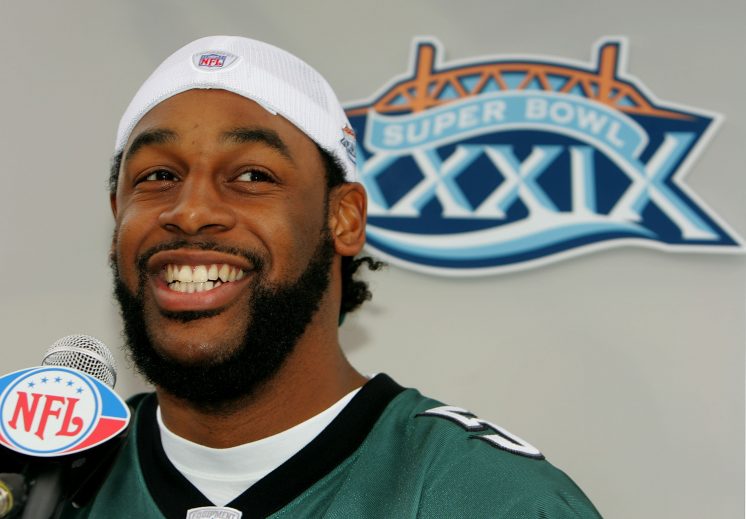 ---
All lines are consensus lines from The Action Network as of Wednesday night. Picks are in CAPS.
Last week: 6-7-1
Season: 70-64-1
---
LA Chargers @ OAKLAND (+1)
Last week I talked about Matt Nagy and the epidemic of cowardly coaching, so I have to give Anthony Lynn a shout out here for turning in the coaching flex of the season last week.
His Chargers led the Green Bay Packers 19-3 early in the fourth quarter. Los Angeles had dominated what was basically a road game in their own stadium to unbelievable proportions so far, but this was still a two-possession game with Aaron Rodgers on the other sideline. Lynn's team got to fourth-and-goal at the 2, and he wisely sent the field goal unit out there to make it a three-possession game with a chip shot.
Michael Badgley hit the field goal (congratulations, Chargers! I think you found a kicker!), but a Packer defender jumped offsides. Instead of taking the points, he sent his offense back out there. It was an unbelievable power move from Lynn to encapsulate the scope of just how dominant the Chargers were.
"My team's better than yours. You can't stop us. I am going to take away crucial points from my own team just to show how much we're dominating you. I'm going to give you an extra opportunity to get back in the game just for the sake of it, because I know you're not strong enough to take advantage of it."
It was incredible, awe-inspiring coaching from a league that severely lacks it.
But it's also part of why I think the Raiders win Thursday. The Chargers played as well as any team can play in a football game there. That wasn't just their best performance of the season, it might've been the best performance from any team in the whole league this season.
They outgained Green Bay by 258 yards, and that includes 100 garbage time yards the Packers had in the fourth quarter after falling behind 26-3. For comparison, when the now 8-0 49ers met the now 0-8 Bengals earlier in the year, San Francisco only outgained Cincinnati by 255 yards. Even the Patriots could only get to +195 over the very openly tanking Dolphins with Josh Rosen still playing.
That was a level of domination you almost never see at the NFL level, even in matchups between the polar extremes of teams. The Chargers can't possibly sustain that two weeks in a row, and they'll regress to the mean with a loss in Oakland.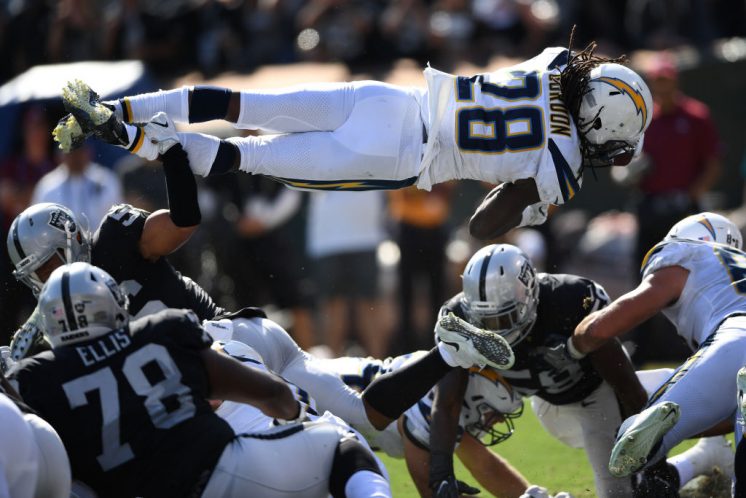 BALTIMORE (-10) @ Cincinnati
I actually love the Bengals in this spot. I just don't have the guts to take them.
It's a huge emotional comedown for Baltimore. They go from the entire world watching them against Tom Brady and the Patriots on Sunday Night Football to a grey day at Paul Brown Stadium against the 0-8 Bengals. Cincinnati finally made a quarterback switch to Ryan Finley, meaning the Ravens will have to contend with a wild card they have no film on.
It's also Cincinnati coming off a bye week, and the Bengals have not been terrible against the spread this year at 3-5. Cincinnati has historically been a tough spot for the Ravens, as the franchise is 7-15 there all time and 1-6 in their last seven. All of the signs point to this being a spirited Cincinnati loss where they keep it within 10.
I just can't do it. I can't pull the trigger. I do not have the guts to pick the 0-8 Bengals to cover against this Baltimore team. I spent all last week getting on coaches who make cowardly punting the decisions, and I don't even have the guts to pick the team I want to. Ironic.
Now, before I get to my next pick, I would like to take you on a photographic journey through the years.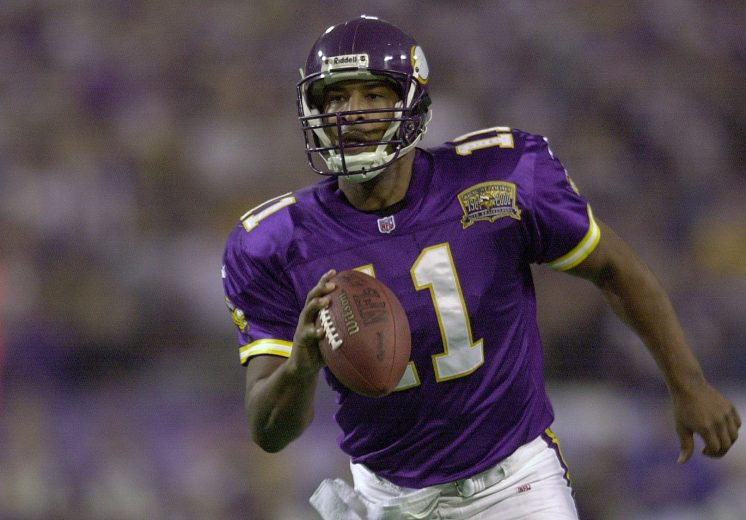 This is Daunte Culpepper. In 2000, he quarterbacked the Vikings to the Divisional Round of the playoffs. They met the New Orleans Saints, who were coming off their first playoff win after 33 seasons of trying. Well done! They went to Minnesota for round two, and got popped by Culpepper. He threw for 241 yards to Randy Moss and Cris Carter alone, a disastrous day for New Orleans' corners. But that would not be the worst day for a New Orleans corner in Minneapolis, more on that later.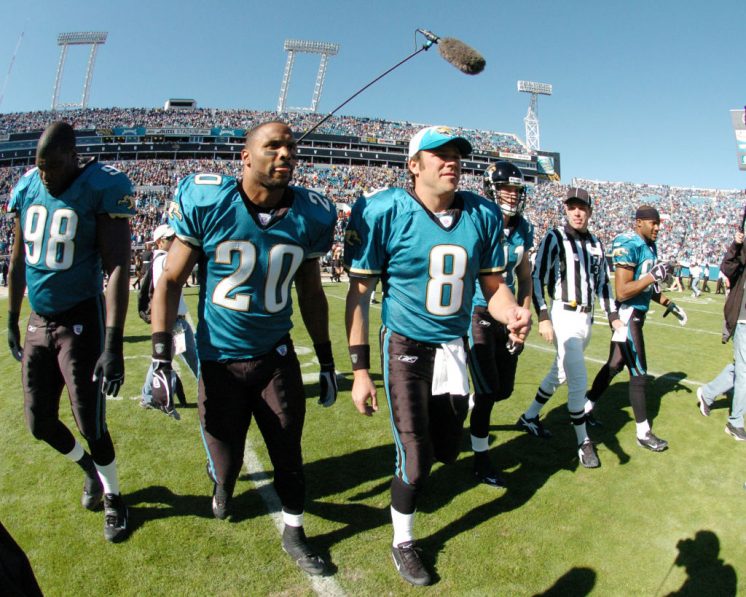 Ahhh, the River City Relay. The Saints completed the most impressive lateral play in NFL history to pull to within 20-19 in a must-win game in Jacksonville, only for John Carney to shank the extra point and eliminate them from playoff contention. Tough break.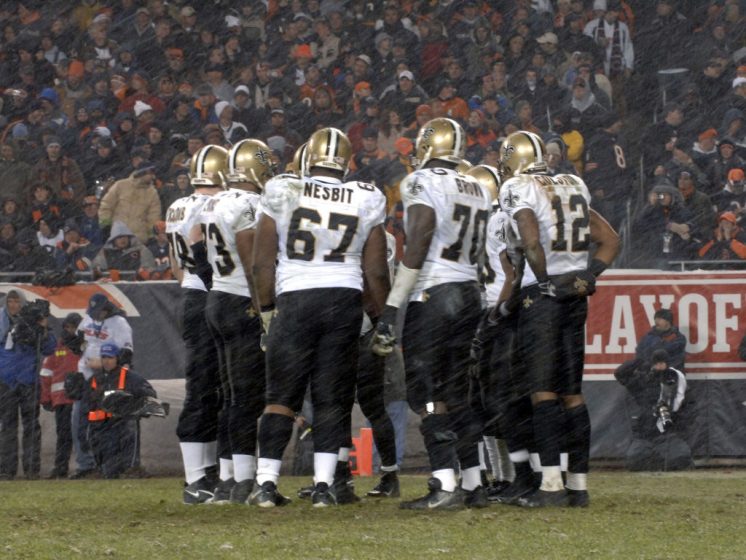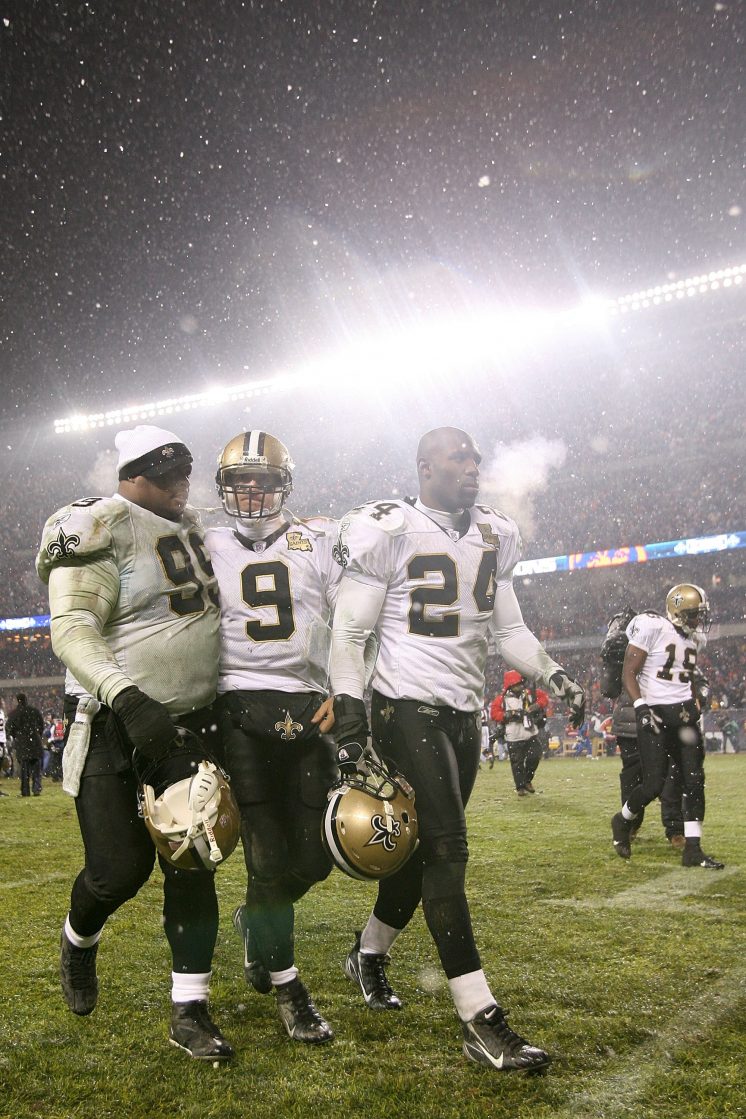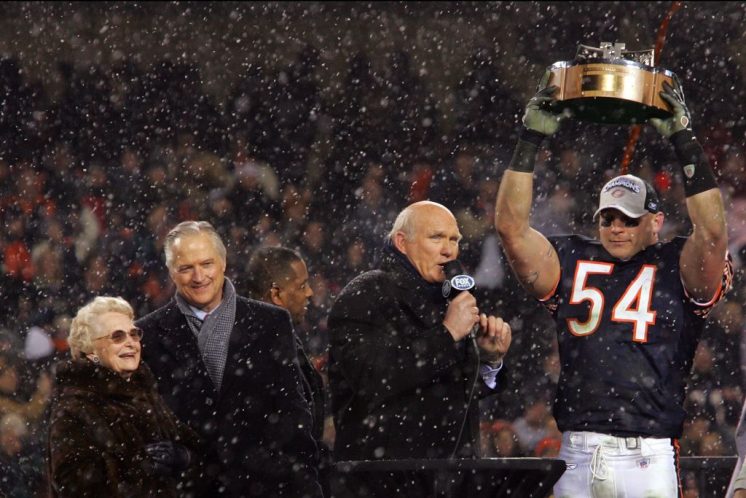 Alright, here we are. Your first NFC Championship Game in franchise history. Soldier Field, Chicago. You are one win over Rex Grossman away from the Super Bowl. This is it.
Nah, the Bears pumped you 39-14 instead. You fell behind 16-0 and clawed it back to 16-14, only for Drew Brees to crack under the pressure and committ an intentional grounding penalty in his own end zone to give Chicago a safety. You were outscored 21-0 from there.
NFC TITLE GAME INTENTIONAL GROUNDING SAFETIES LEADERBOARD:
Drew Brees – 1
The rest of the quarterbacks, because who would do something like that – 0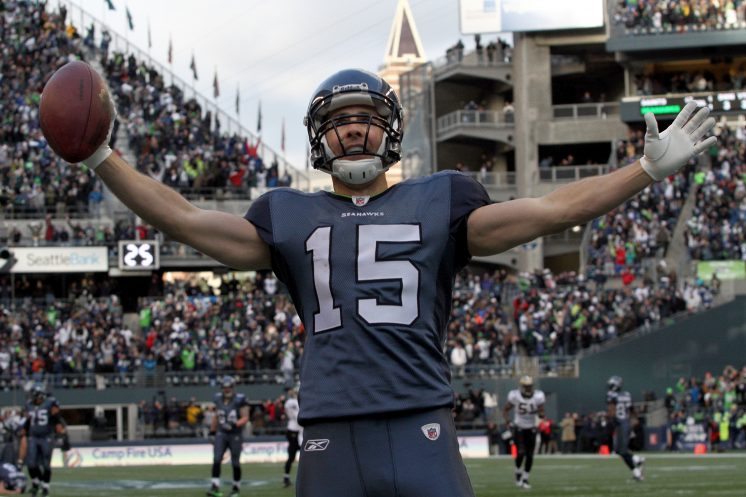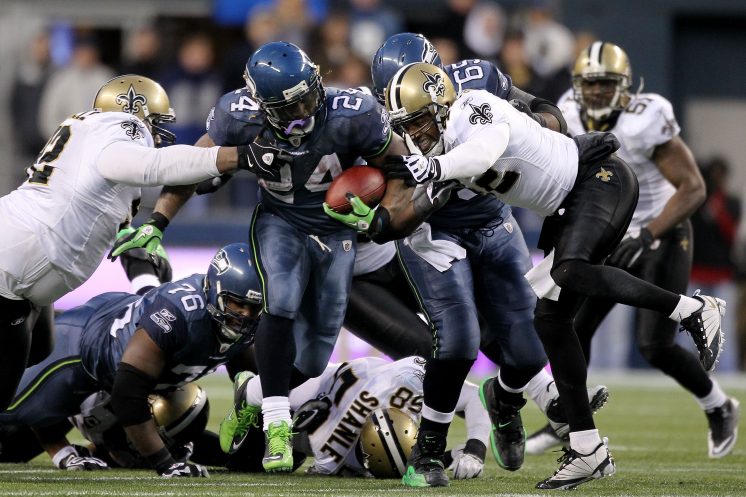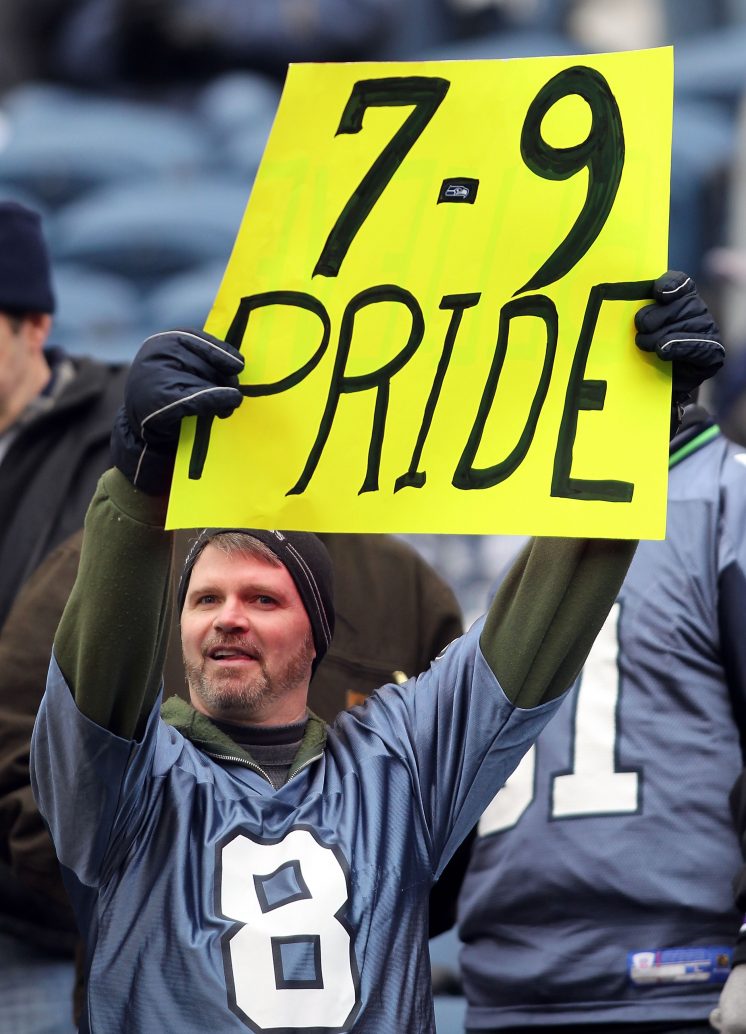 Alright, so you backdoored to a Super Bowl win while riding a defensive coordinator and head coach who reasonably could have had some criminal charges brought on them for promoting head and neck violence in a collision sport just as the league was becoming more aware of the dangers of concussions and CTE.
Thought we wouldn't notice you endangering other people's lives with bounties, did ya?
Anyway, you go 12-4 the next year with a prime shot to repeat. The NFL's joke of a playoff format sends you to Seattle, where the 7-9, division-winning, Matt Hassleback having, Clipboard Jesus backuping, Beast Quaking Seahawks were waiting.
These putrid Seahawks who failed to reach 25 points in 12 out of 16 games hung 41 on you. Marshawn Lynch had a run so good it registered an earthquake and became its own Wikipedia page. Y'all got wiki'd by a former Bills running back who ate skittles during games.
I mean, 7-9? You lost to a 7-9 team in the playoffs? Really?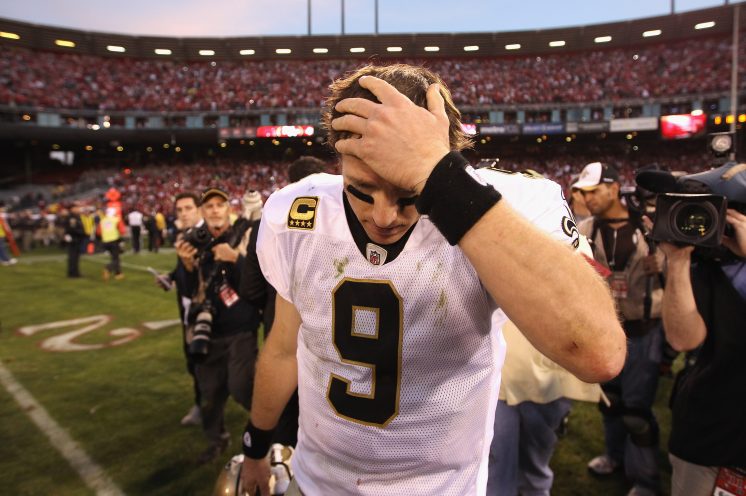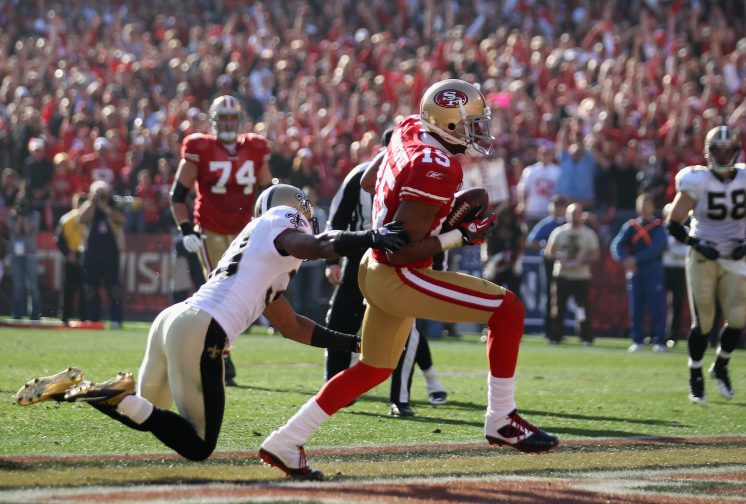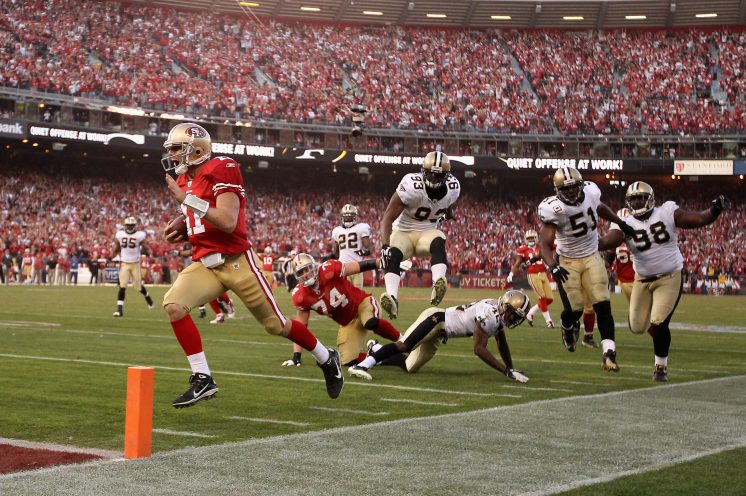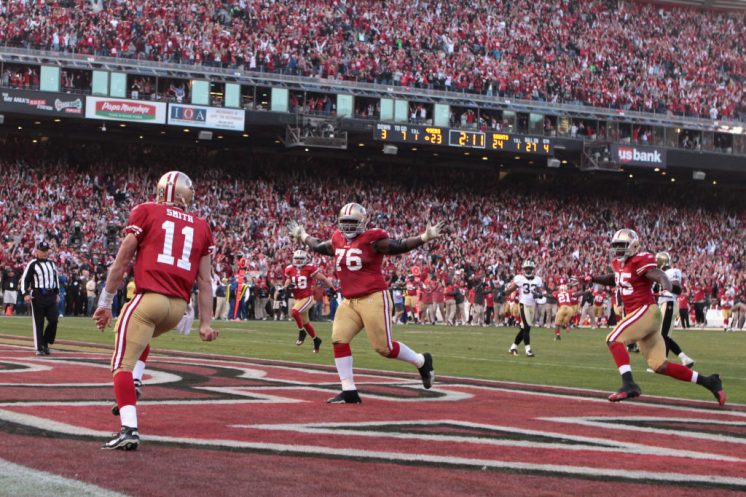 Losing to a 7-9 team is one thing. But you came back 12 months later and let Alex Smith gash you to the tune of 327 total yards and four touchdowns. One of them was even rushing. You let the slowest man in America burn you for a rushing touchdown! You took a 24-23 lead, lost it 29-23, regained it 32-29, then lost it again 36-32, all in the space of 3:53 of game time.
Do you understand what it takes to blow two leads to Alex Smith in the final four minutes of a playoff game? He did more on those two drives than his entire time in Kansas City, and it came against you.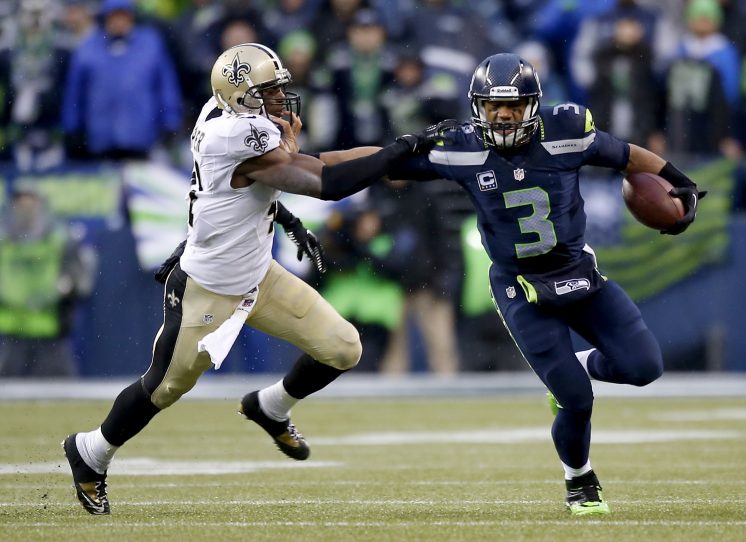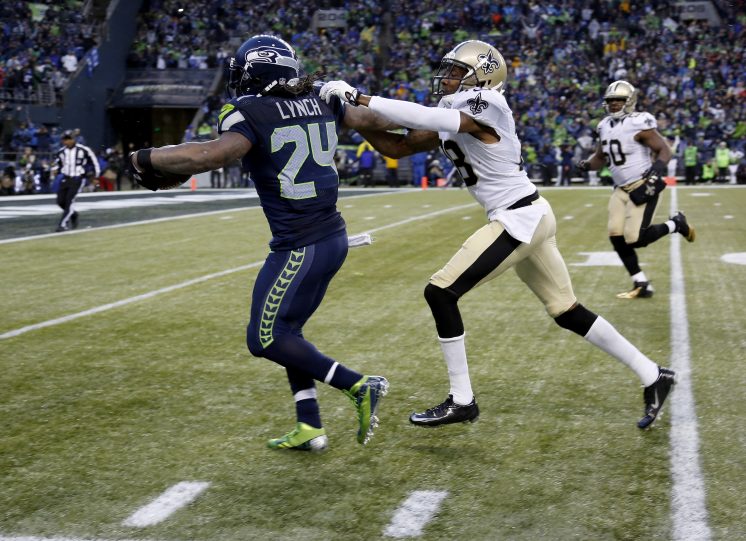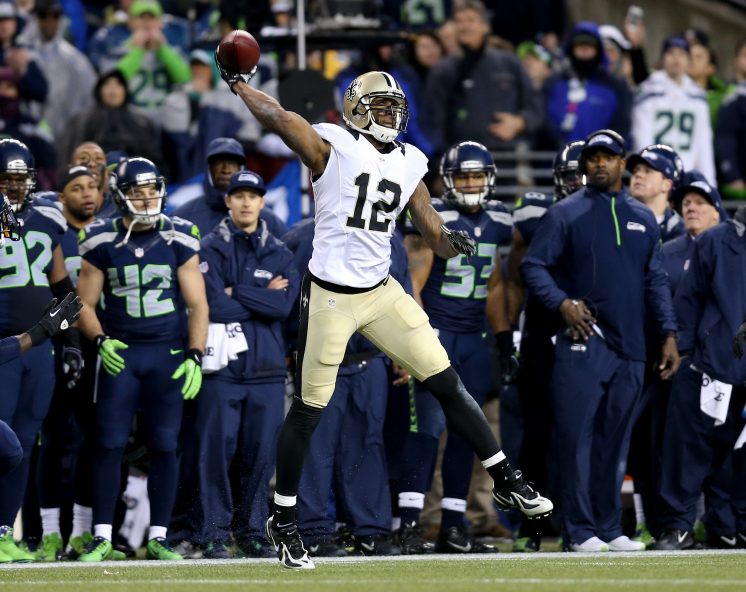 You returned to Seattle for another playoff game two years later hoping to exorcise some demons, but you just created more of them. Shoutout to Marques Colston for the worst lateral in the history of organized football. It traveled more than 10 yards forward and resulted in a game-losing penalty. Two birds with one stone.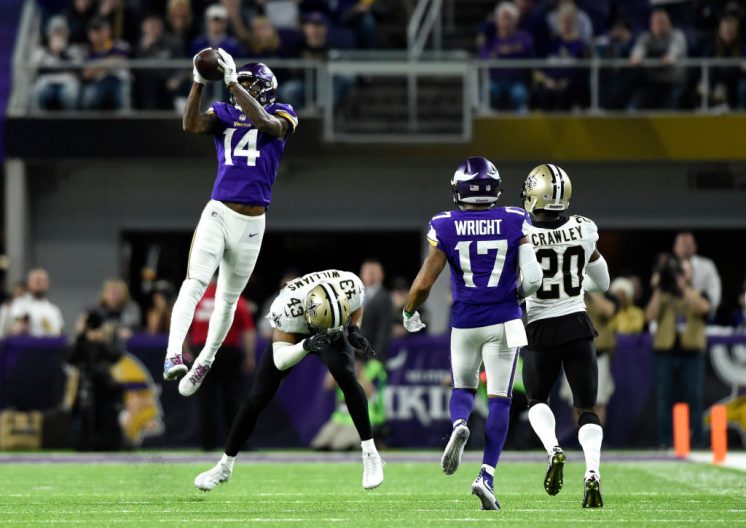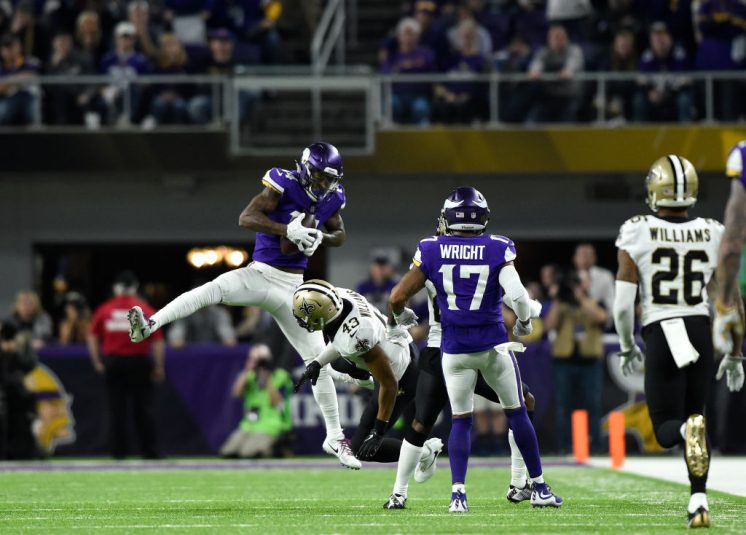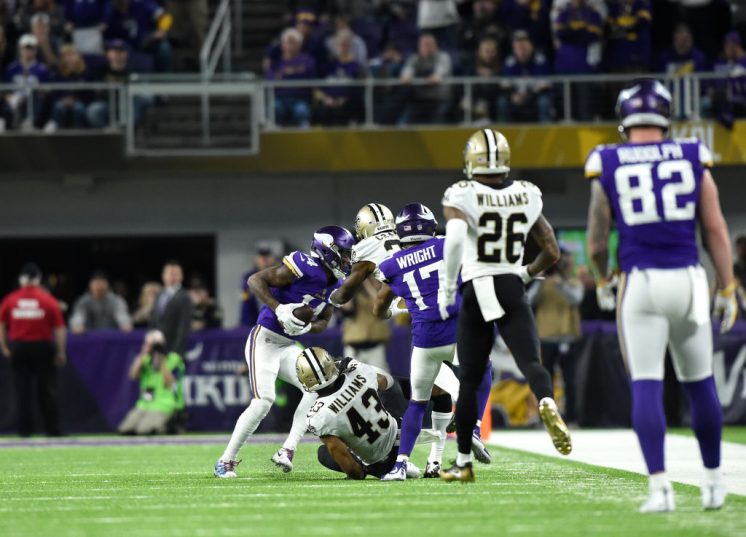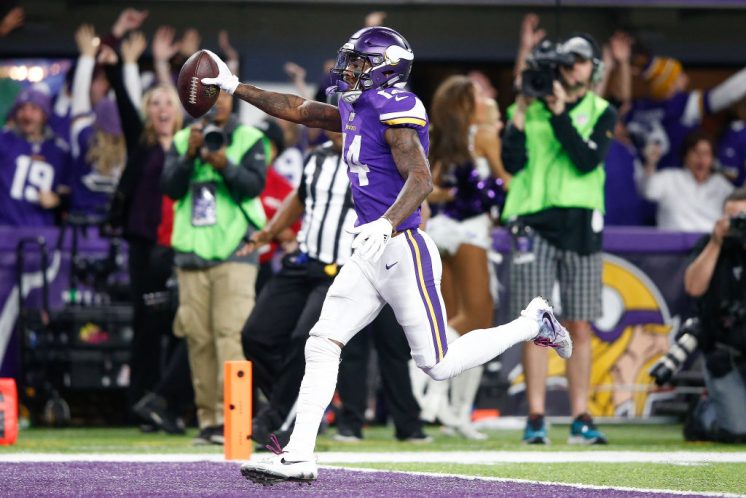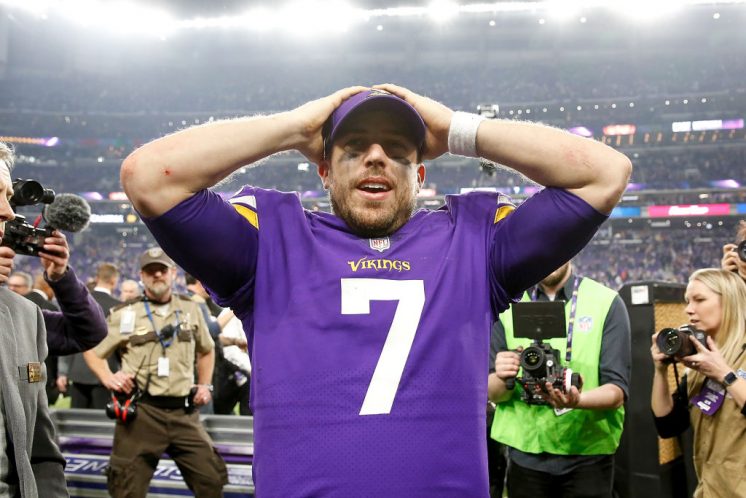 "Keenum…steps into it…pass is CAUGHT!! DIGGS!!!! SIDELINE!!!! TOUCHDOWN!!!!!! UNBELIEVABLE!!!!! VIKINGS WIN IT!!!!!!!!"
Bless you, Joe Buck. The perfect call for the perfect moment.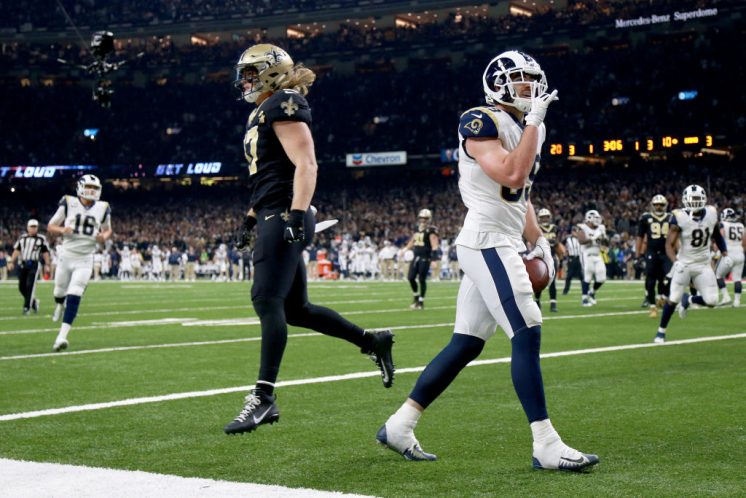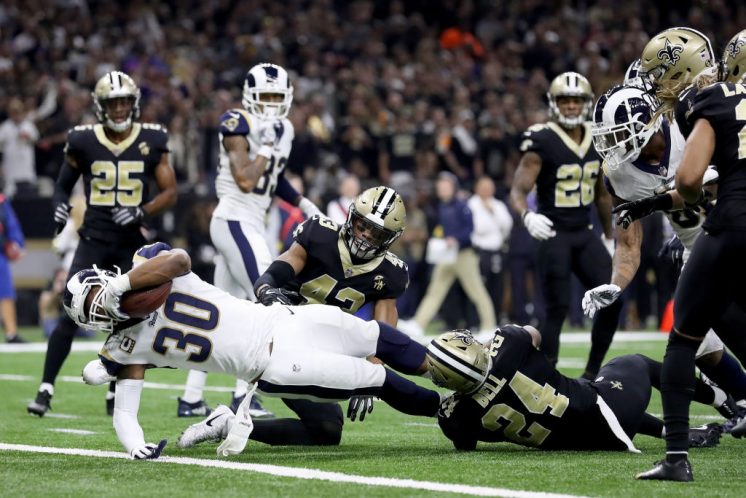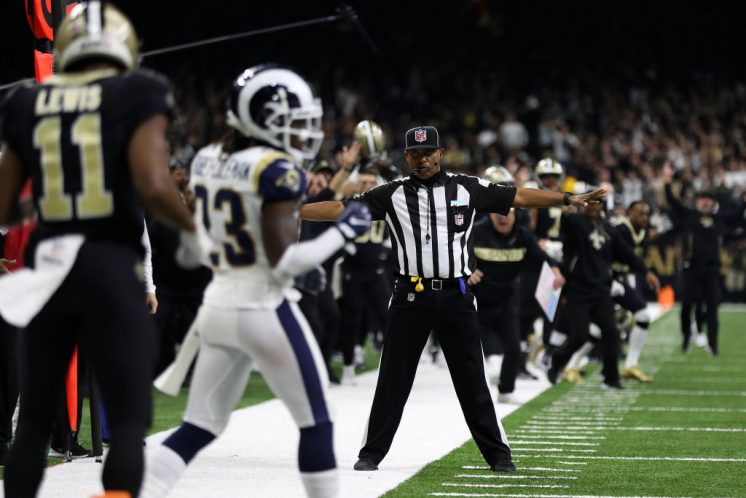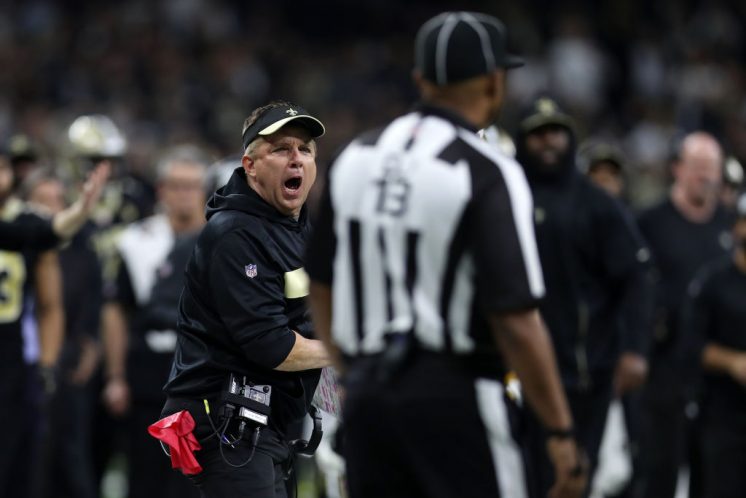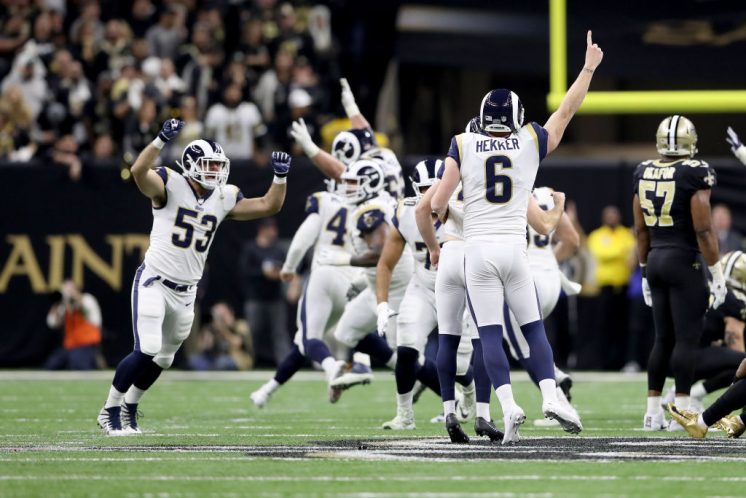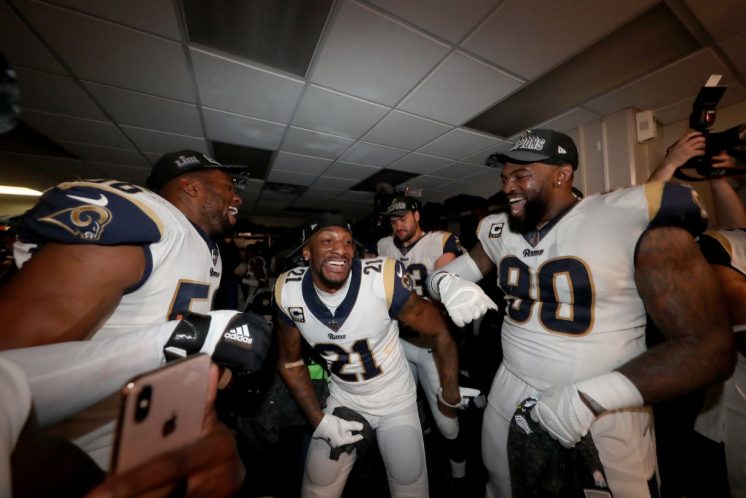 The refs didn't blow it, Brees did with an overtime interception and a lackluster second half. Blaming the referees and subsequently shaming the NFL into changing a completely fine pass interference rule is a great illustration of how little shame your franchise has.
Instead of handling losing a great game to a great team in overtime like adults, your entire fanbase had the collective reaction of a five-year-old who spilled some milk, and it has made dozens of NFL games worse this season. There have been 52 pass interference reviews in the league this season, and only five of them have been overturned. That's 9.6%, also known as 90.4% of reviews being meaningless wastes of time directly caused by you.
The rule wasn't broken. It just happened to break you.
Atlanta @ NEW ORLEANS (-13)
Yeah, I'm laying the points with the Saints against Atlanta as they continue to barrel towards Chase Young in a high speed tank.
But I put together a slow line of every painful Saints memory in franchise history to get to the pick. A line of photos New Orleans fans would've had to scroll through to get to see the pick, so who's really winning here?
BUFFALO (+3) @ Cleveland
We're one week too late on this spread, because it belongs on Halloween. It's by far the scariest number of the year. It's just too good to be true. Like, impossibly good.
Buffalo—currently sitting at 6-2 off what was finally a good offensive performance against Washington—getting a full field goal (!) against the 2-6 Browns who are breaking apart faster than Baker Mayfield's facial hair.
There's no logical explanation for this, and I won't try to find one. It gets even crazier when you factor in nagging injuries to Greedy Williams and Denzel Ward in Cleveland's secondary, and remember the Browns are 2-6 against the spread this season.
At 3.5, this would be a lock to take Buffalo. At 2.5, I'd take the Browns purely out of fear of how weird the number is. Sitting right on the field goal line, I have no idea what to do. I'll take the team whose locker room is not fighting itself as a tiebreaker of sorts.
Generally speaking though there are no winners when Cleveland and Buffalo meet. Everyone is cold, there's a frozen lake nearby, and the football sadness of the fans per capita is higher among these two fanbases than any other matchup in the league, so this seems like a perfect game to not yield a winner for my picks and produce another push.
NY GIANTS (-2.5) "@" NY Jets
New York has a great long tradition of intra-city rivalries. Their baseball history is legendary, as there have been 14 World Series matching up two squads from New York. You can't tell the story of the history of the sport without the epic battles the Dodgers and Giants had—especially in the 40s and 50s—and how those battles usually led to the winner meeting the Yankees in the World Series.
There's a healthy hockey history between the three teams. The three teams have met 15 times in playoff series, and it's very well split. The Rangers are 7-7 against the Devils and Islanders, the Devils are 3-4 vs. the other two, and the Islanders are 5-4. These are solid rivalries. The Knicks and Nets have also met three times in the playoffs. Even New York's two MLS clubs have developed a hatred in the Hudson River Derby.
The Giants vs. Jets rivalry is just…not a rivalry.
I'm sure there's hatred in the stands between the fanbases and this is probably MetLife Stadium police's least favorite game of the year—not every week can be all fun and games as you chase a cat—but this is not a rivalry. They share a city and a stadium so it feels like one, but there is no active hatred between the Giants and Jets themselves. Heck, they just executed a trade with each other before the deadline as Leonard Williams went from the green half of the city to the blue.
It's just impossible to get excited about this as any more than a slightly magnified regular season game between two bad teams that will settle a few office bets in New York. And even if it was a rivalry, it's extremely one-sided. The Giants have won four Super Bowls since the Jets last played in one, and they've won five of the last six head-to-head matchups.
Speaking of one-sided things, the Jets lost a game that wasn't even as close as the score suggested in Miami of all places last week, and I can't pick them to beat anyone after that. When you lose to the worst team in football, what else is there to say? Giants cover, for one.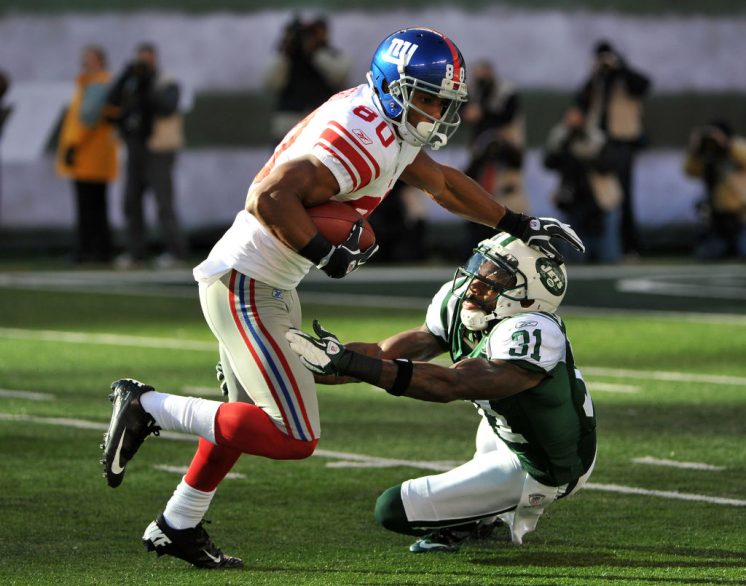 KANSAS CITY (-5.5) @ Tennessee
The Chiefs proved they could play with a quality team without Patrick Mahomes when they narrowly lost to Green Bay, and then they proved they could beat one without him when they outlasted Minnesota. They showed a ton of grit to get that win in a game where a few tough breaks went against them.
I was wrong about this team. That defense really stepped up against Dalvin Cook, and their own running game finally started to get the legs moving. Kansas City ran for 147 yards on 18 carries last week, a staggering 8.2 yards per carry. I know those numbers are heavily skewed by Damien Williams' 91-yard touchdown run, but don't let one fact get in the way of that solid point I was making. It's a point that moves perfectly with the Titans allowing 146 yards on the ground to Christian McCaffrey last week, and I would like it to continue.
Plus in terms of random stats that are interesting, home teams are 2-7 in Titans-Chiefs games since the Houston Oilers moved to Nashville. It means nothing, but it'll be 2-8 after Sunday.
ARIZONA (+4.5) @ Tampa Bay
Normally I would say a morning kickoff spot would impact the Cardinals here, but they've won two such trips this season with a respectable loss in Baltimore and a semi-competitive game (for three quarters) in New Orleans tossed in. Whatever Kliff Kingsbury's secret sauce to deal with these trips is, it's working.
There's a little bit of intrigue here with two former Heisman Trophy winners and two former No. 1 overall picks squaring off. It's something of a time capsule. We all remember what we expected Jameis Winston to be four years ago, we see what he is now, and we want to know what Kyler Murray will be in another four years.
I can't answer that question, but I think he'll be better than Winston on Sunday. I'll take Arizona off a mini-bye with the points to at least keep this one tight, although I would not be shocked to see them win it outright.
DETROIT (+2.5) @ Chicago
The Lions needed to beat Oakland last week to stay afloat. The game came down to one fourth-and-goal at the 1 with Detroit trailing by a touchdown. And on the most important play of their season, they took both Marvin Jones and Kenny Golladay out of the game. On purpose. The Bears drafted Mitch Trubisky. On purpose.
Neither of you deserve my attention, so I won't give it to you.
No. 18 IOWA (+9.5) @ No. 13 Wisconsin
No. 4 PENN STATE (-7) @ No. 17 Minnesota
No. 2 LSU (+6.5) @ No. 3 Alabama
Oh hey, some games that deserve my attention. Iowa's defense is good enough to keep Wisconsin within double-digits, although I don't trust the Hawkeyes to win that golden farm animal thing these two state universities of the heartland play for. Kirk Ferentz has to finish every season 8-4 and in the Outback Bowl no matter what, and this is a big loss on the road to Tampa.
Minnesota's a fake 8-0; they've won five games against backup quarterbacks. Penn State will smoke them like 45-17 or something really stupid and unfun like that. Believe me, I want the scenario where the Minnesota Golden Gophers crash the College Football Playoff. They show up to Atlanta or Glendale 13-0 like Santa Claus with all of the Big "Ten" trophies they've collected in the season. Just Goldy Gopher with a brass pig and some broken chair bits alongside a victory bell and an axe all in a giant red sack.
But like the NFL team in their town, they'll fall apart in a big game against a Pennsylvania rival. And the loss will ruin my dream of a six-foot tall Gopher in a santa suit strutting around the biggest football games of the year with a bunch of goofy trophies that look more like the clearance shelf at your local Bass Pro Shops than sporting prizes.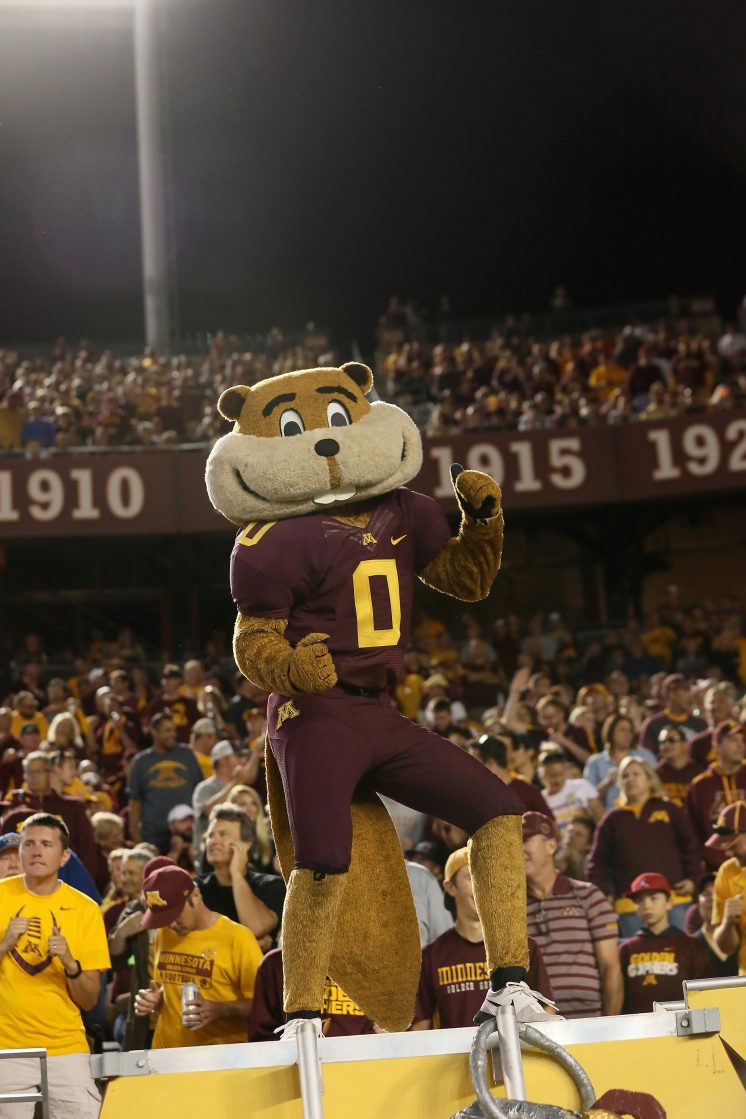 Then there's LSU-Bama. Sit back and enjoy the fun. It's a premium game with future NFL talent all over the field. The two quarterbacks in this game could be the top two picks in the next draft, so Dolphins and Bengals fans will be watching for sure. Alabama receiver Jerry Jeudy and LSU safety Grant Delpit both figure to be top-ten picks as well.
I'll take the Tigers with the 6.5 because I enjoy Ed Orgeron's majestic Cajun accent and think there's only a field goal in this game in either direction, but I'd lean towards Alabama winning it outright.
MIAMI (+10.5) @ Indianapolis
The original purpose of the college picks was to provide some form of entertainment in the usually boring Miami section, but dammit, the Dolphins keep giving me reasons to pick them.
They're finally on the board with a win, and they have been within three points in the fourth quarter in four consecutive contests. If anything, they're unlucky to only have one win. Or lucky, because they are veering dangerously close to completely derailing their tank in a year where the race looks tighter than ever. I could genuinely see them winning this game outright against the staggering Colts, but if nothing else Fitzpatrick should have enough to keep them within 10.5.
It's the most Dolphins thing ever. They finally made a full commitment to tearing the whole thing down to the bone and starting over, only for their new coach to start ruining everything by playing Ryan Fitzpatrick. It's like the guy who wants to learn a new language spending years practicing and trying to improve, getting offered a free trip to that country to keep learning, and then not getting on the plane because he's comfortable at home.
Don't be that guy. Don't be the Dolphins.
LA RAMS (-3.5) @ Pittsburgh
It's the Rams' first visit to Pittsburgh since they were the St. Louis Rams, which still feels like it was a mirage. The Super Bowl title they won in St. Louis is right up there with Marlins winning the World Series (twice!) and Hurricanes winning a Stanley Cup as "Oh yeah, THEY won a championship" on the list of major sports winners you forgot that one time you took a Sporcle quiz on it.
A lot has changed in those eight years, including the Rams now being good. Off a bye week and with some new life after a two-game winning streak, they cover the number at Heinz Field.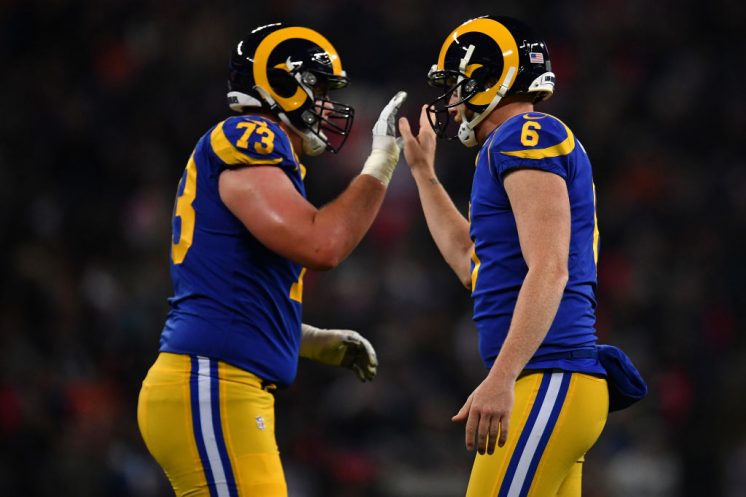 Carolina @ GREEN BAY (-5.5)
Remember 37 years ago when I started this by article talking about how good the Chargers were last week? The Packers were on the other end of that beatdown. Now they're coming home against a team who let Ryan Tannehill carve them up for 331 passing yards and a touchdown last week.
Now they get an angry Aaron Rodgers. McCaffrey will do what he can to control the clock and keep the offense off the field, but I'm expecting the Packers to get right at home and put up a big number against Kyle Allen and the Panthers.
Minnesota @ DALLAS (-3)
I'm going to use this term a lot down the stretch for Minnesota, so get used to it. Ready?
This is a money game for Kirk Cousins. The Vikings didn't give him the biggest deal for a free agent quarterback in NFL history to beat bad teams and flounder against good ones, especially when it's with a defense like the one they have. Nobody's applauding you for going 8-7-1 like he did in year one of three.
We've hit the turn in year two, which means we're just a shade over halfway through the contract. So far, it's hard to call it anything other than a disappointment. But here's the thing about that. Everything is still in front of him.
Guess what, Kirk? You want to prove you're that guy? That the money is there for good reason? Go steal the NFC North. Go put yourself in position for a bye if the Saints or Niners drop a couple games. Go win a playoff game. Hell, go win playoff games, plural. It starts by going and beating another NFC contender on the road in primetime here.
The Vikings have seven games remaining. They'll probably need 4-3 to get in the playoffs, and at least 5-2 or 6-1 to have a shot at the division. Four of those seven games are in primetime. Three of those four are on the road.
This is why you're here, Kirk. It's on you now.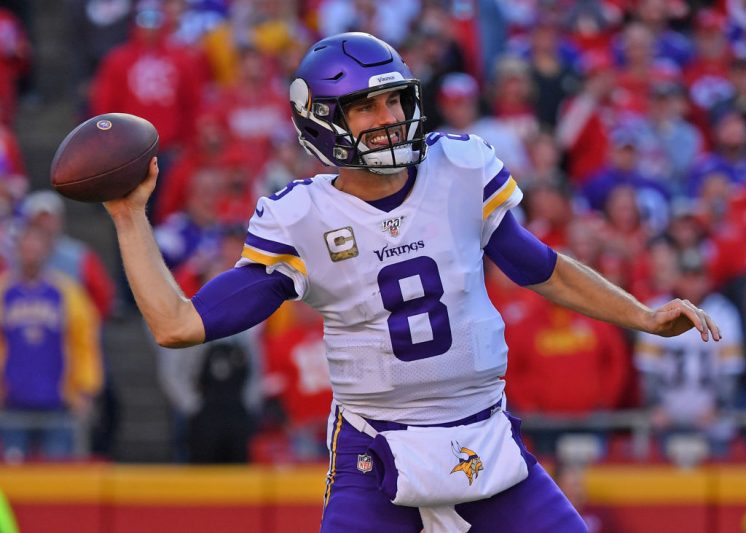 Seattle @ SAN FRANCISCO (-6)
This is just amazing for the NFL. My colleague David Howell pointed out in his power rankings that this game marked the renewal of the 21st century's best rivalry, and he hit the nail on the head.
It's hard to overstate how good those Seahawks-49ers games were in the early 2010s. They mirrored each other so much, right down to the head coaches who had a rivalry streaming back to their college days. Every single time they met, it was theater. That NFC Championship Game was some of the most gripping football I've ever seen. Richard Sherman's interview after it remains arguably the single most iconic post-game moment in recent NFL history.
Now we're back! The Seahawks are 7-2, needing to win this to avoid falling three behind the 8-0 Niners for first place (and maybe the top seed). It's Russell Wilson playing at maybe the highest level of his career against a brutal San Francisco defense.
Here's what separates it for me. Kyle Shanahan is one of the only guys who has Pete Carroll's number. His Falcons hung 21 in a quarter on his defense in a 2016 regular season game, leading to sideline fighting. Then they put 36 on them in the playoff rematch. Even last year, a 3-10 San Francisco team with Nick Mullens beat Seattle. I'll take Shanahan to keep it rolling here and basically lock up the division.
---