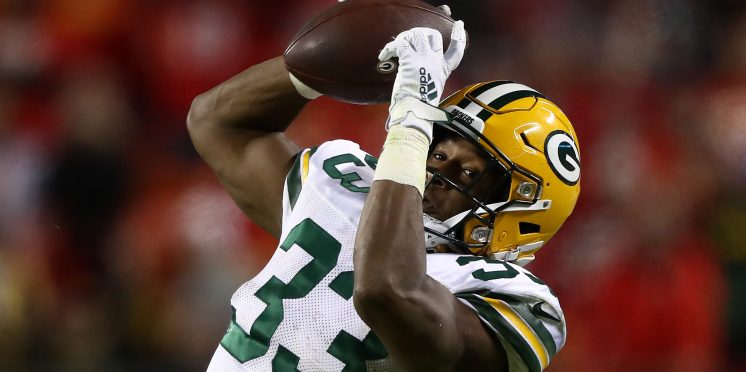 Fantasy Football Primer – Week 9 2019
Are we going to have just one week this year where nothing ridiculous happens in fantasy? Like, just one time this year, could we have a week where Odell Beckham is good, and the Patriots defense only puts up 8 fantasy points? Once again, we witnessed a week of football that was unpredictable and exciting, and it's time to see who did what and most importantly look ahead to next week's games and see if we can predict who will do something crazy next.
Week 8 Standouts
Aaron Jones – What. Just. Happened? Aaron Jones, a running back for the Green Bay Packers had frankly the most unlikely game of the week on Sunday Night Football. His unique effort also resulted in the highest scoring fantasy performance of the week with 38.1 fantasy points (all points given for Half PPR). His rushing line? 13 attempts for 67 yards and didn't score… Not great. His receiving line? 7 receptions (on 8 targets) for 159 yards and 2 Touchdowns. What? 7/159/2 receiving for a running back – who isn't even considered a receiving back. This was one of the craziest performances we'll see all year, from Jones but also just in general, and his QB Aaron Rodgers also had a good fantasy week with 27.1 points of his own.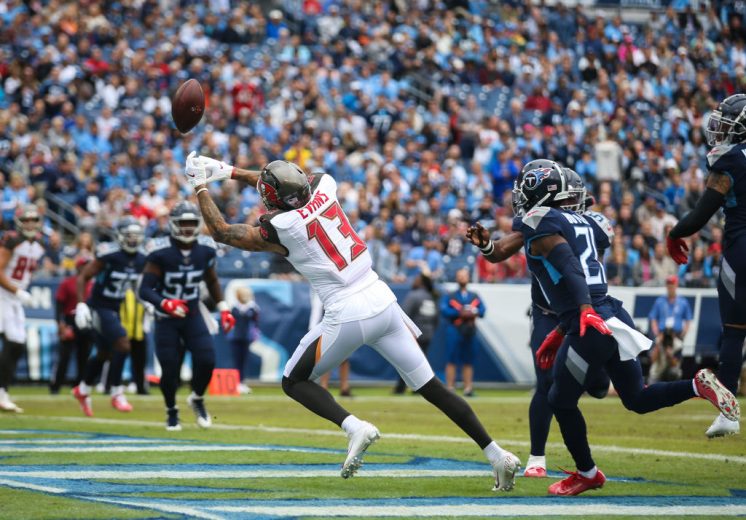 Mike Evans – The second highest scorer on the week actually is a wide receiver, in the form of Mike Evans of the Tampa Bay Buccaneers. Evans has had a very much up and down first-half had an up week against the Titans, putting up one of his biggest games so far. Evans' 198 receiving yards and 2 touchdowns came off the back off 11 receptions and he ended up with 37.3 fantasy points. Owners of Chris Godwin and Mike Evans have had a very interesting relationship this year but this time it was number 13 who came out on top.
Tevin Coleman – I'm going to start by telling you Tevin Coleman's stat line. 105 rushing yards and 3 rushing touchdowns, along with a further 13 yards and another score through the air. 128 yards and 4 TD's. 36.8 fantasy points. Now I'm going to tell you how many times he touched the ball? 13. Five of his touches came in the red zone, to be fair, but still – he put up 37 points on 13 touches. That efficiency is absurd and his huge week will have made anybody who trusted him going up against a respected Carolina front-seven very happy.
Latavius Murray and Drew Brees – Drew Brees returned this week, which obviously made fantasy owners happy – whether you own Brees himself or anybody else in the offense – however, Alvin Kamara stayed sidelined. That meant that the high-power offense was back, but with very capable backup Latavius Murray taking the featured role. As usual, he made the most of it, and delivered once again. Murray put up 36.8 fantasy points and – contrary to the aforementioned Coleman – had a huge workload. Murray rushed 21 times for 102 yards and a TD while also pulling in 9 receptions for 55 more yards and another score. 30 touches is a big number for any running back, but the fact that Murray can do it from the second spot in the depth chart is truly impressive. Brees' return was equally remarkable, putting up 24.9 fantasy points himself with 373 yards and 3 TD's with just one interception.
Week 8 Let Downs
Derrick Henry – Did you read my article this week? If so, thank you, but did you take my advice on this one? One of those players you want to start every week 'just in case', Derrick Henry did very little, as I suggested he would in last week's primer. The Tampa Bay Buccaneers run defense needs some respect, it is genuinely brilliant. They clamped up Henry and limited him to just 6.8 fantasy points, which he acquired by rushing for 75 yards (actually genuinely good for an RB against Tampa) and no score with a single catch for 8 yards, as well as a lost fumble which didn't help.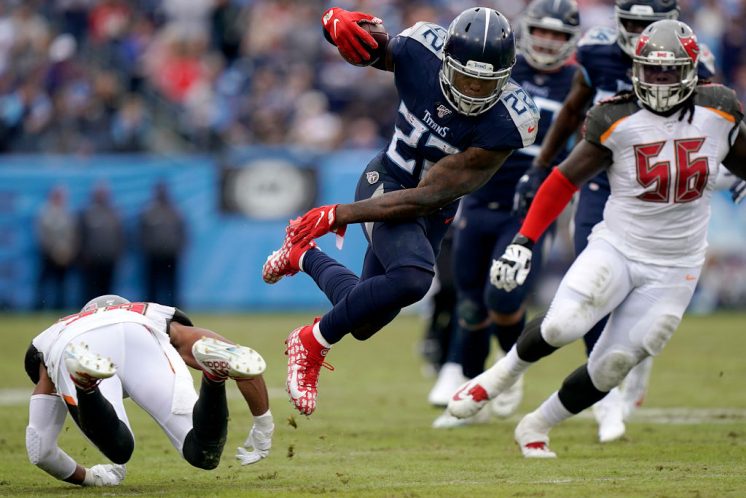 Marquez Valdes-Scantling – This one will have really frustrated fantasy owners. One week after his big game against the Raiders, Marquez Valdes-Scantling put up only 0.9 fantasy points, with just 4 yards on a single catch. As we already mentioned, Aaron Jones blew up against the Chiefs, and Head Coach Matt LaFleur clearly identified a weakness to exploit, and so MVS just didn't need to do anything for Green Bay to win. This is even more worrying for owners of Valdes-Scantling, because Davante Adams will be back soon – we aren't yet sure exactly when – and that could downgrade his role even more.
Kenny Stills – One performance I predicted much more from this week was that of Kenny Stills who was one of my starts of the week last time, and a staple of my DFS lineups. With an upgraded position in the depth chart and a good matchup against Oakland, he only produced 22 yards on 3 receptions, good for just 3.7 fantasy points. Stills is a big-play waiting to happen kind of guy, which is why I liked him for the week, and so his lack of such plays (his longest reception being 13 yards). If he makes a splash play, all of a sudden he won't be a let down, but the simple fact is that this time he didn't.
Week 9 Sits of the Week
Miles Sanders – It's been pretty frustrating owning Miles Sanders this season, to say the least, and now we finally got his breakout week! Sweet, it's Sanders time now, right? Not quite. This week, the Eagles go up against the Chicago Bears, which according to most fantasy platforms is a pretty decent thing, but this week I don't think that it's going to be so easy. The Bears are still the Bears, even if they've had a slight drop in their fantasy rankings against the RB. On top of this, Sanders is banged up – he should play – but still. It's important not to chase the points too much here, and I don't think that he'll be able to repeat his 20+ point performance again this week. Unfortunately, his bye comes in Week 10, and then he faces New England, so this sit doesn't feel good, but I'd lean towards another option if I have one.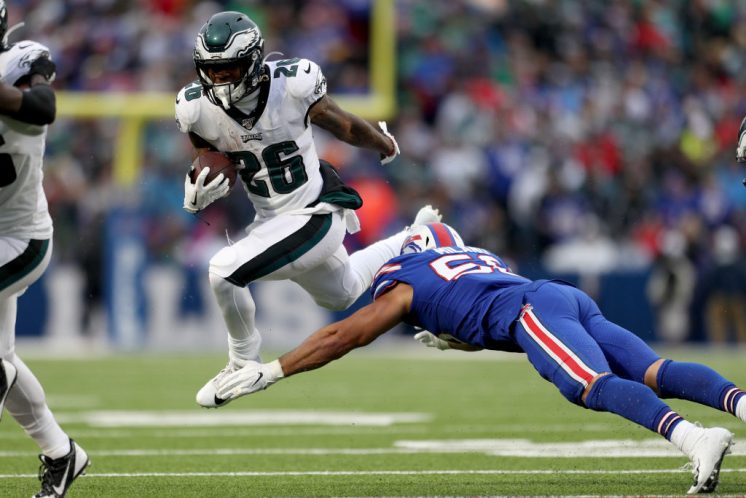 David Montgomery – Tell me if this sounds familiar. A rookie running back who had their big breakout game last week and who now plays a game in Philadelphia. Correct, it's Miles Sanders. Well, it's also David Montgomery. Yes, Montgomery finally blew up and had a game with over 20 points, but now he's facing the Eagles defense, which is stout against the run and bad against the pass, so it's time to give the young HB a week off, and you can chuck him in your lineup again when he has a better matchup.
Philip Rivers – When you're going to the waiver wire and looking for players, QB is one of the most important positions, and streaming them is essential for many players on a weekly basis. There are some players who feel like they shouldn't be there. This week, it is very possible that Philip Rivers is sat there for you to pick up. This week, he is facing a very good Green Bay passing defense, and the Chargers offense hasn't been doing much recently – ever since Melvin Gordon came back, amusingly enough. While Rivers has some form of upside just in the talent that's around him – if Keenan Allen and crew turn up as they can, then Rivers can have a good week – I see a much better option in someone like Derek Carr, Matthew Stafford, or Sam Darnold.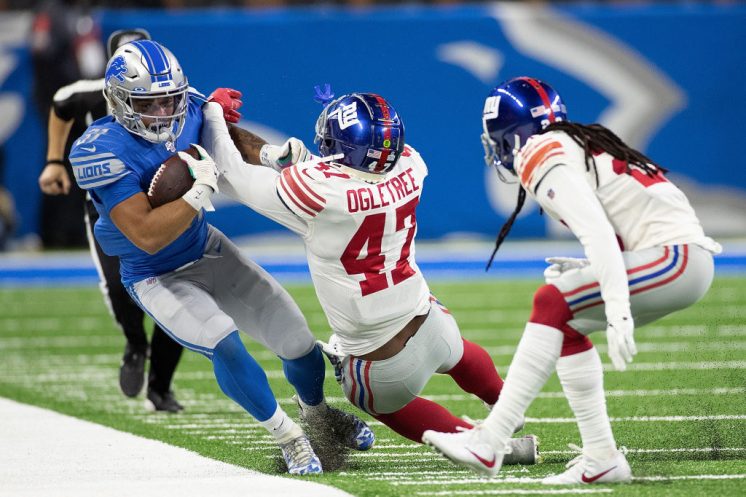 Lions running backs – Last week we all got excited for Ty Johnson and it didn't go very well. The Lions decided they wanted to give 12 carries to Tra Carson, instead. The only reason that Johnson was hyped is because people assumed that he would slot into a primary role in the absence of Kerryon Johnson. This week's sit of the week isn't Ty Johnson though, it's the whole backfield. The Oakland run defense is criminally underrated, and will funnel things through the air, and the committee that the Lions have forged has taken all the possible production out of the running back group, and now it's just not worth starting any of them.
What to watch
Chris Herndon – Out of all the positions in fantasy, particularly this year, the one that is hardest to replace / find is the tight end position. This means that when a player like Chris Herndon is available – a player who is talented and has a definite position in the top 10 at his position but who isn't playing – it's a great idea to pick him up. One thing, though, it's Week 9 now and he hasn't played a game yet. Since his suspension he hasn't been healthy, so if you stashed him when he was about to come back, he's probably been sat on your bench for like a month now. Hopefully, this week he will return in the plus-plus matchup and repay your patience.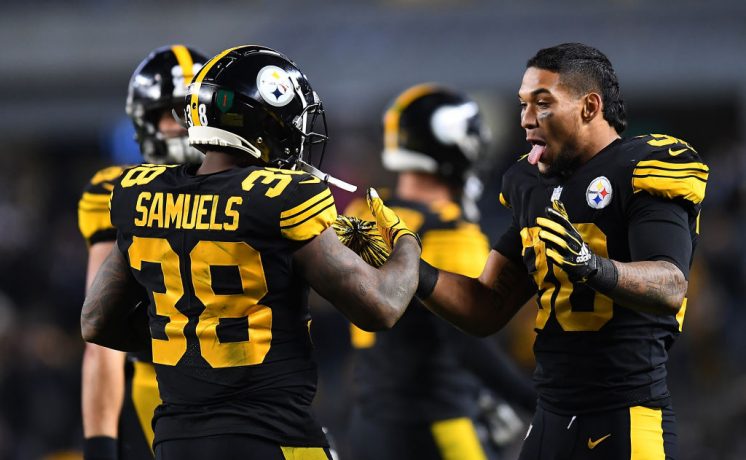 James Conner / Jaylen Samuels – This week, one of the best things to watch is the situation in Pittsburgh. With James Conner banged up and Benny Snell also sidelined, this weekend's matchup in Indianapolis could end up being an every-snap situation for Jaylen Samuels. Samuels has proven in the past that he is more than capable in both the passing and running game, and if he gets a full-on workhorse volume, even for just one game, he will be a worthy start. I'd get him into my starting lineup instantly if Conner doesn't play.
Davante Adams – Another player who has asked for patience is Davante Adams. After being picked in the top five picks in most drafts, he had a fairly average start to the season, and then got injured. Now, he's looking likely to return, but you need to make sure you confirm he's active before you get him back in your lineup. Matchups don't matter, your lineup doesn't matter, he should be starting for you if he's starting for Green Bay, so keep an eye on it.
Adam Thielen – Vikings superstar wide receiver Adam Thielen is expected to be playing on Sunday, but you'll need to keep an eye on him, because he is going to walk straight back into his volume and he's going to be an every-week starter again.
T.Y Hilton – A player famous for performing when still banged up, T.Y Hilton is no stranger to getting limited work and then playing on the weekend, but this week you need to make some alternative arrangements as back up, because he actually got downgraded from limited to DNP on Thursday. So keep an eye when it comes to Sunday, and if he isn't playing, or is a late decision, you'll need to slot someone else in.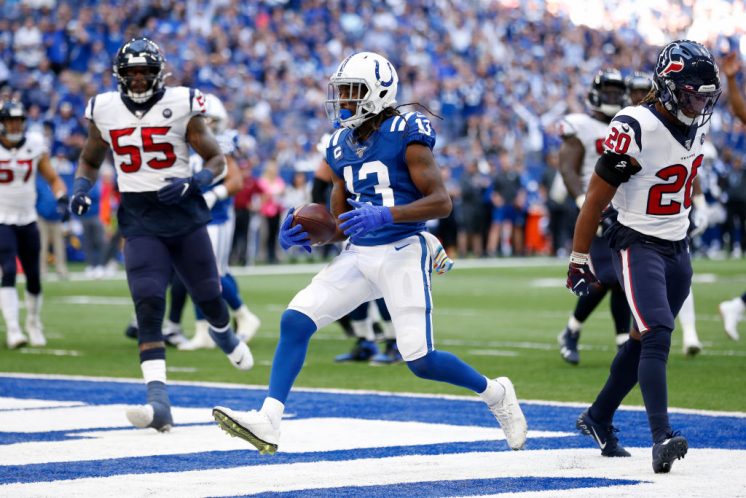 The Chargers offense [during the game] – After replacing their offensive coordinator, and promoting Shane Steichen, we will have to see if what has in the past been a high-powered offense returns to its potential. The pieces are there, but they've been struggling and that applies in terms of both fantasy and real-life football. If Steichen can get the O going again, the Chargers fantasy options that have been lacklustre will be back in your starting lineup again in no time.
---