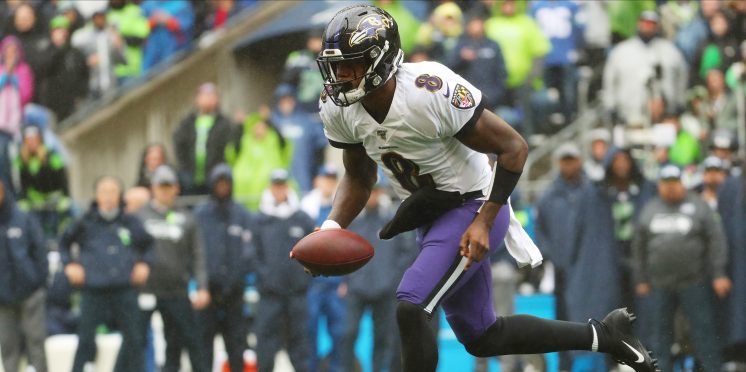 Walking The Lines – Week Nine
It was a dark and stormy night…
…not really. The weather outside as I write this is perfectly fine. But it's Halloween week, which means I am legally obligated to start out my story with some spooky hook that makes you believe some horror is on the way. In reality, things are going pretty well here.
Last week was my best week of the season with a 9-6 record. My desperation Philly pick went off like gang(ghost?)busters. 49ers -5.5 proved to be a masterstroke. Hell, I even went 3-0 on my college plays. And all that included a couple of tough beats with the Giants grabbing a backdoor cover in Detroit and yet another bit of overeager refereeing that denied Tampa Bay a touchdown that would have seen them cover in Tennessee.
Then again, I got the luckiest beat of the century in London when the Bengals had the cruelest backdoor cover of the season chalked off the board by the referees as Auden Tate's touchdown was taken off the board with four seconds remaining. I'm just imagining how furious Bengals +13.5 backers would have been when that completely meaningless review denied them a win.
Last week's games proved again that the universe is going to do what it wants. Football gambling is out of our hands, but so is a lot of what happens around us. You have to do what you can, and see where the chips fall. The universe stole games from me in Detroit and Nashville, then dropped a big fat gift into my hands over in London.
Do I feel bad accepting that gift? Absolutely not. The same way you shouldn't feel bad about slowly eating Halloween candy you bought over the weekend, or deciding not to go to your friend's Halloween party because you want to stay at home eating said candy you "bought for the kids" while watching a movie.
Yeah, I see you. You're not slick. Buying candy four days in advance to "be prepared" is the oldest trick in the book. But it's a trick I respect, because candy is good and you shouldn't have to give it away to strangers and their children because the date on the calendar tells you to.
So settle in with some more candy, and let's see if I can pull off consecutive winning weeks for the first time this season here.
---
All lines are consensus lines from The Action Network as of Wednesday night. Picks are in CAPS.
Last week: 9-6
Season: 64-57
---
BYE WEEK (-3) @ Atlanta
To be honest, I'm not really sure why the Falcons are only getting a field goal here. They're going to need way more than that to keep up with the challenge bye week presents on offense, as the Falcons are planning on celebrating Halloween by letting a team of ghosts pick up 328 yards of total offense on them. On the other side, bye week's entire team has zero solo sacks this season, just two fewer than Atlanta's starting defensive ends Vic Beasley and Takk McKinley have combined for through eight games. I just can't pick the Falcons to beat anyone right now—bye week included—so I'll lay the field goal.
San Francisco @ ARIZONA (+10)
Call it some weird Halloween intuition playing tricks on my mind, but I like this spot for the Cardinals. There's a decent chance I'm setting myself up for a very ugly 0-1 start to the week, but at least let me build a case for this before totally laughing at me.
First of all, it's Thursday's game. Underdogs are 6-2 against the spread on Thursday Night Football this season, and the outright winners have been a 4-4 split between the favorites and underdogs. It's a short week, and that doesn't bode well for big numbers.
The 49ers also played about as close to a perfect football game as you can play last week in a 51-13 win over the Panthers. That kind of effort is really tough to bring two weeks in a row, especially in a game where you know you're a much better team and might be sleepwalking a little. On the flip side, the Cardinals were thoroughly dominated in New Orleans to the tune of getting more than doubled up in yards at 510-237, and it's tough to be that bad two weeks in a row.
It's a divisional game, it's a short week, and both teams are due to move back towards the mean a little after playing at both extremes last week. Like many people who make questionable decisions on Halloween night, I have a feeling I'm going to wake up on November 1st confused and full of regret. But in the same vein as those decisions, it seems like a good idea at the time I'm making it. Give me Kyler Murray and 10 points to get the weekend started right.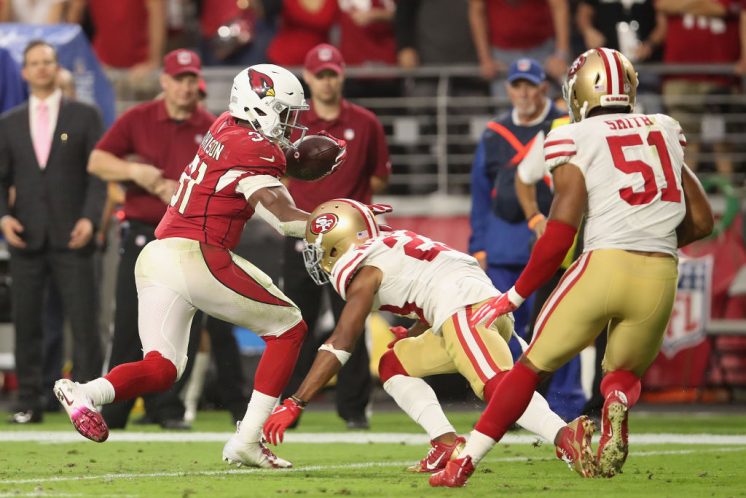 Jacksonville vs. HOUSTON (-1.5) (in London)
For the final time this year, we're going to tee it up in London. And speaking of something finally happening, the Texans are playing in London! Houston and Green Bay were the only teams in the league who haven't played in London yet, and you can at least explain half of that away as the Packers being a team in an ultra-small market who can't afford to give up a home game. I have no idea what took the Texans so long, but they're finally making the trip over.
Mainly, I just want to use this section to give a big shoutout to DeShaun Watson. He has been one of the most entertaining players in the league since he was a rookie, but he did something you will never see again last week. The dude got kicked in the face in the middle of a play, had his eye fairly severely injured, and still threw the game-winning touchdown.
He was kicked in the face! In the middle of the play! Forget about football, that's some kung-fu fighting level stuff right there. That cat was fast as lightning as he sunk the Raiders. Now he heads to London looking to do the same to the Jaguars and pick up an important divisional win.
If he does it, it'll be without J.J. Watt though, who suffered a season-ending pec tear last week. That's probably a big reason the line is so close, as well as the fact that these two played a 13-12 thriller at NRG Stadium back in week two. It's tough, but I'll take the Texans with the number being a little lower than it should.
Chicago @ PHILADELPHIA (-5)
Nothing complicated here, I can't pick Mitch Trubisky to cover a spread on the road against a good defense. I do want to talk about an epidemic in coaching though, and one Matt Nagy fell victim to last week.
His Bears were trailing 17-16 in the final minute last week at home against the Chargers, and they had the ball in field goal range with 41 seconds and a timeout. Instead of—you know—trying to make things a little easier for his kicker who had already missed a field goal earlier in the game, Nagy decided to take a knee and just kill the clock.
He got exactly what he deserved when Eddy Piñeiro missed the game-winning kick and dropped the Bears to 3-4. The epidemic here is with football coaches who are just way too conservative. I look at Oregon head coach Mario Cristobal last week on the college side, who decided to punt from his opponent's 34 with a 34-28 lead late in the fourth quarter instead of trying a long field goal or going for it. I look at LSU's Ed Orgeron, who punted from the Auburn 33 earlier in the day.
I could probably do this every week. The Athletic's Nicole Auerbach does a column every week about the coaching decisions that defined the college football Saturday that was. It really is crazy how many coaches play not to lose instead of to win, and the latest example of it was Nagy last week with a true exercise in cowardly coaching.
Luckily for him though, the game won't be close enough for it to matter this week. Philly rolls.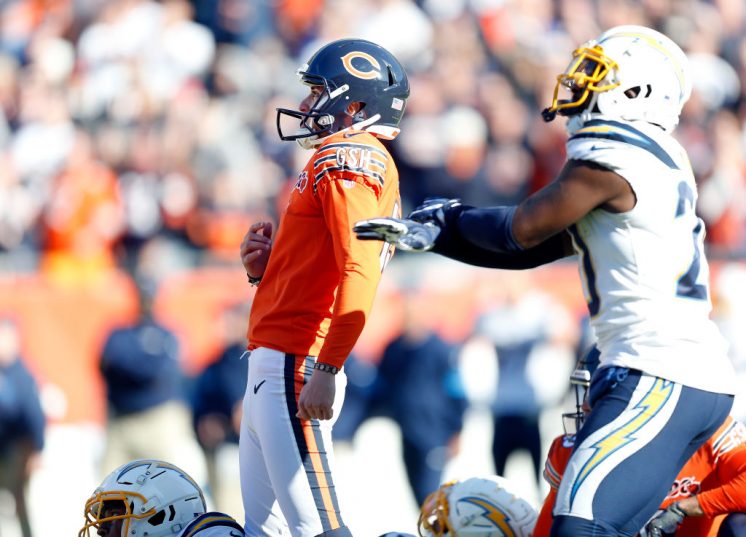 MINNESOTA (+2.5) @ Kansas City
I think it's time to entertain the possibility that the Vikings are good. Not NFC good, or good for a team with Cousins at QB, just flat out good. If they can grab this game and improve to 7-2 with a road win at Arrowhead, it will no longer even be up for debate.
Meanwhile the Chiefs looked alright with Matt Moore under center last week, but ultimately lost because they allowed Aaron Jones to go for 226 total yards on 20 touches with a pair of touchdowns.
It really is bizarre. I can't remember seeing a team like these Chiefs. So much talent, such an obvious path to greatness, and one very obvious flaw is holding them back. It's not even like it's their whole defense or that they can't stop anyone on an opposing team's offense, it's just the running backs.
They're the closest thing the league has to Superman, except with the most obvious kryptonite ever. If you can find any success running the ball, you have a chance to beat the Chiefs. The only teams in the league with more rushing yards allowed per game are the two winless ones in Miami and Cincinnati.
Unfortunately for the Chiefs, the Vikings are bringing a 5'10″, 200-pound block of kryptonite to Kansas City in the form of Dalvin Cook. How does that work at airports? Do you have to check kryptonite in a bag? Can you just get it through security? Is there a certain limit to what you can take on a plane?
I don't know. Anyway, Cook will run wild against a defense that can't stop even average running backs, let alone a very good one. Vikings win it outright.
WASHINGTON (+9.5) @ Buffalo
There were many ripple effects of the Washington Nationals winning their first World Series in franchise history. But the biggest winners here might be the football team in the city. Or, in Landover. Close enough. Nobody is paying attention to the fact that this tire fire of a franchise is having a truly miserable season even by the lofty standards of awfulness they have set for themselves over the last two decades.
This is usually the time of year where everyone in D.C. is raging at Dan Snyder and just how pathetic the franchise is, but this time they were all watching baseball. It's the ultimate distraction, but now that's gone. So for those of you in D.C. just now tuning into football, let me catch you up on what you've missed through the first half of the season:
Your team is still an embarrassment. You're 1-7, and have failed to score a touchdown in eight of your last 12 halves of football. No, that's a real stat. You've gone an entire half without a touchdown eight times in the last six games. You lost by 21 points to Daniel Jones and the Giants. You've already been humiliated twice in primetime. You were shut out at home as well.
You know what, y'all might just want to slide on through to basketball and hockey. I hear that Alex Ovechkin guy is pretty good.
But if you are planning to watch this game Sunday, I think your team will keep it within 10. The Bills were exposed last week by the Eagles, and have already failed to cover the spread at home against both winless teams. They're 1-3 on the year overall at home against the number. Make it 1-4 with another ugly win here.
INDIANAPOLIS (-1) @ Pittsburgh
Last week's nail biting win over the Broncos gave the Colts seven one-possession outcomes in seven games to start the season. You could justify their record being pretty much anything right now, but to their credit, they've managed to bring it to 5-2.
But I think this is the week they break through and win a game by more than a touchdown. The 3-4 record for Pittsburgh really does look fraudulent now that the Chargers have shown their true colors. I think a lot of people are getting lost in the record here.
The Steelers are still quarterbacked by Mason Rudolph. Mason Rudolph is not good at football. This team should be in the class with some of the worst in the league, but yinzer devil magic has somehow kept them afloat near .500. The Colts come to Heinz Field and pop the balloon this week in a double-digit win.
At least the Steelers still have their first roun-oh. Pittsburghers might want to take my above advice and start focusing on hockey. I hear that Sidney Crosby guy is pretty good…
Tennessee @ CAROLINA (-3.5)
What a brutally confusing game here. The battle of the backup quarterbacks and the battle of the middling teams in South divisions. It's also the 2015 Heisman Trophy bowl, as we will once and for all settle the Derrick Henry vs. Christian McCaffrey debate. Right, that's how this works? The guy with the better NFL career retroactively gets the Heisman, and if he's bad in the league he has to give it back?
Just ask Tim Tebow. And Sam Bradford. Johnny Manziel, Jason White and Danny Wuerffel would like a word. Reggie Bush gave back his Heisman too, but that's another discussion for another day I would like to have with Pete Carroll.
McCaffrey's Panthers looked like a college team last week in their demolition in San Francisco. This Carolina team isn't even bad, and that's the type of loss you rarely see in the NFL. It was just a perfect storm of things going wrong, to the point where it was Carolina's heaviest defeat since a 41-0 loss to the Falcons in 2002. Kyle Allen was six last time his football team suffered a loss quite like that.
This is a prime bounceback spot, and frankly it has to be. Allen has done well to steady the ship in Cam Newton's stead, but this is a season where it already looks like 10-6 will be what it takes for a wild card in the NFC. There's a world of difference between Newton arriving back to a 5-3 team in good shape, or returning to a 4-4 squad knowing he'll need to go at least 6-2 down the stretch to have a shot at January.
I'll take the Panthers to protect home turf against Ryan Tannehill. You can almost surely pack it in for 2019 if they can't.
NY JETS (-3) @ Miami
I just don't care about this game. Can we do something more fun?
No. 15 SMU (+5.5) @ No. 24 Memphis
No. 6 FLORIDA (+6.5) vs. No. 8 Georgia (in Jacksonville)
Yeah, this is fun. SMU and Memphis are everything good about college football. We spend so much time just staring at the playoff picture like trained dogs, we forget there are 130 teams who are out there in the rest of the world. If you're around on Saturday night, watch SMU and Memphis. It's not a Power Five game, but it may as well be. It's two ranked teams, in a charged up atmosphere, that should be very high scoring. What's not to love?
And the other ranked matchup this week? My goodness. It's the World's Largest Outdoor Cocktail Party, also known as the largest collection of rednecks on the planet this side of a NASCAR race. Any type of alcohol you can conceive of will be consumed and/or mixed with another type of alcohol you can conceive of on Saturday in Jacksonville.
Oh, and then they're going to play a football game with SEC East, Playoff, and maybe National Championship implications. I'll take a very live Florida defense against a Georgia offense struggling to find an identity to win this game outright, but at least keep it within a touchdown if they fall short.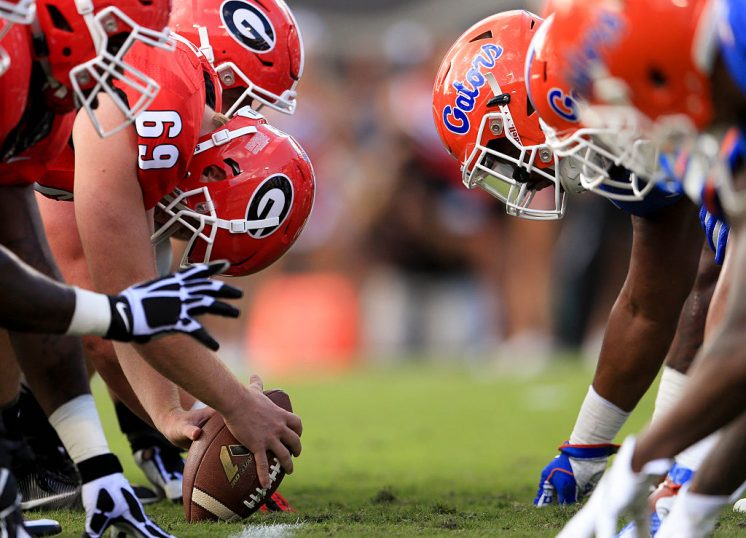 TAMPA BAY (+6) @ Seattle
The entire game is going to come down to Brian Schottenheimer's willingness to adapt. His lifelong mission to run the football 75 times a game took another step forward last week, as Seattle only attempted 20 passes all day an Atlanta secondary among the league's worst.
It takes a seriously impressive amount of stubbornness to have Russell Wilson at your disposal against Atlanta's defense and decide to only throw the ball five times a quarter on average because you're that committed to your own ways. #EstablishTheRun is not just a football strategy for our friend Brian. It's a life mission. It's his passion, his obsession. Nothing will stand in his way of turning football back to the stone age.
The problem is, this is the one game where he should just let it fly. The Buccaneers have the best run defense in the league by a comfortable margin. Carolina's Christian McCaffrey has carried the football 103 times for 667 yards seven touchdowns in all of his games against teams not named Tampa this season. That's 6.47 yards per carry. In his two games against Tampa? 68 yards on 38 carries, one touchdown. All the way down to 1.79 yards per carry.
They had similar success against New Orleans star Alvin Kamara, who had just 62 rushing yards all day, and Todd Gurley only had 16 (!) rushing yards against the Bucs. Tampa Bay doesn't care who you are. You're not running the football on them.
On the other hand, you and your college roommate could go out on the field and find success in the air. You haven't seen each other in a decade, but you still exchange Christmas cards and have enough chemistry to complete a few slants and posts. In fact, the Bucs allowed a 20-yard completion as I was typing this. They're 31st in the league against the pass, behind even Miami and Cincinnati.
Let's be very clear. If Schottenheimer actually decides to think outside the box and throw the ball, Seattle wins this game 41-17. Russell Wilson could put up career numbers against this secondary if his offensive coordinator will let him. Unfortunately, I've seen enough of Seattle to know that there are a ton of second-and-10 power runs and third-and-4 draw plays coming.
There's some serious irony in Seattle being held back by not throwing it enough. There's also some serious value with Tampa +6 as Seattle figures to spend one series after another playing right into their hands.
Detroit @ OAKLAND (-2)
So the Lions got the win they needed last week to save their season. Good for them. Warms my heart, that Matt Patricia. Now we move into the battle of fraudulent quarterbacks who went to Bulldog schools, as Georgia's Matt Stafford faces Fresno State's Derek Carr. And we're finally back in the Oakland Coliseum, where the Raiders haven't played in approximately 78 years.
Seriously, the Washington Nationals had never won a playoff series in franchise history last time there was a football game at the Coliseum. Now they're world champs. It was a bizarre bit of NFL scheduling, but the Raiders actually came out of this incredibly long road stretch relatively unscathed at 3-4.
Now there's something to play for. The "survive the first half and dominate the second half" plan they had back an August with their frontloaded schedule challenges is 50% complete. 9-7 might be good enough to grab an AFC wild card, and they might have enough in the tank with a soft schedule to squeeze out a 6-3 finish. They still have a pair of contests with the lowly Chargers, home dates with Cincinnati, Tennessee, and Jacksonville, as well as road games against the Jets and Broncos.
Jon Gruden – NFL Playoff coach might be something you have to prepare yourself for in the year 2020. What a way to ring in the new decade. They'll come home to a charged up environment and drop the Lions to set up what could be a big finish.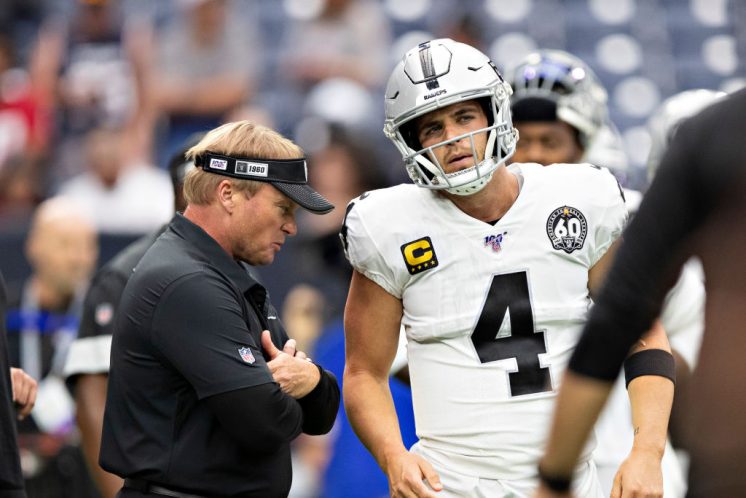 CLEVELAND (-3) @ Denver
Joe Flacco is injured with a herniated disk in his neck. He might not be able to turn anywhere, but the Broncos have at quarterback by announcing Brandon Allen as the starter. So what do we know about this man?
Good news, Denver fans. He's the best quarterback in the history of an SEC school!
OK, the SEC school in question is perennial bottom-feeder Arkansas. And the history is not so much of the school, but rather his own family. He did put up better numbers than his younger brother, who joined the Razorbacks after he left Fayetteville.
But still, there is no denying that he is the best Allen brother to play quarterback for Arkansas. Apparently they're just handing out NFL starts to anyone these days, so I'm not surprised this credential was enough for Allen to earn the job Sunday against the Browns.
It's a good spot for a Cleveland defense waiting to tee off on someone. The over/under on number of times Garrett Bolles will be called for holding Myles Garrett has been set at 3.5. Buckle up, Brandon. This is going to be a rough NFL debut for you. At least you're better than your brother, and that should be helpful table banter for when you're on the practice squad by Thanksgiving.
GREEN BAY (-3.5) @ LA Chargers
Nothing complicated or funny here. One team is very good, the other is very not, and the number is barely more than a field goal. Go Pack Go.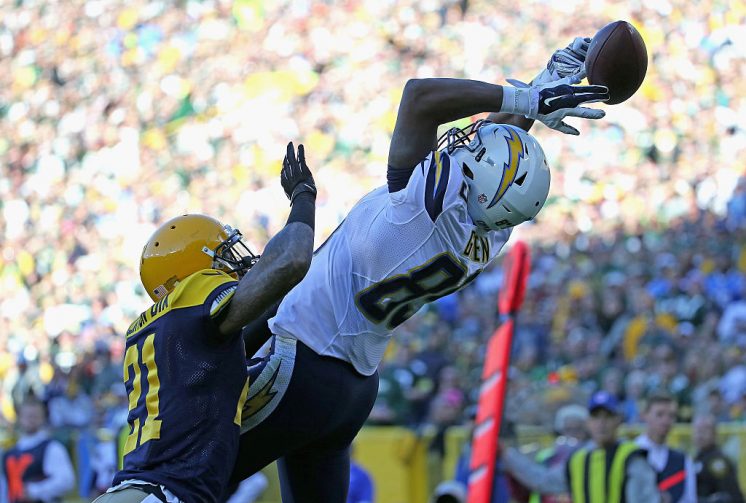 NEW ENGLAND (-3.5) @ Baltimore
Goodness, I'm so excited to watch this game. I can barely contain it through the keyboard. It's Lamar Jackson getting a crack at a Bill Belichick defense for the first time in his career. It's Belichick having to scheme and gameplan against one of the league's most exciting players for the first time. It will be on Sunday Night Football, finally a game truly worthy of the primetime designation. And as if this game needed any extra juice, it has plenty of playoff significance as the Ravens are firmly in the hunt for a first-round bye.
Can we just make the whole plane out of this game? Move the Ravens to the AFC East so they can play twice a year? I just need more of this. To quote Barney Gumble, just hook it right into my veins. I'm taking the Patriots because I haven't seen a reason not to yet, but I'm really just excited for the football.
From Cincinnati vs. Pittsburgh to Kansas City vs. Denver, we've all watched enough awful primetime football this season to last a lifetime. We've earned this game. Enjoy the hell out of it, and hopefully it lives up to the hype.
DALLAS (-7) @ NY Giants
Oh, yeah. Back to reality pretty fast here. We can have one night of fun primetime football, then we return to the doldrums of boring NFC East football. I already saw the Cowboys dispatch the Giants once this year. I'll take them to do the double and extend their winning streak over New York to half a dozen.
---