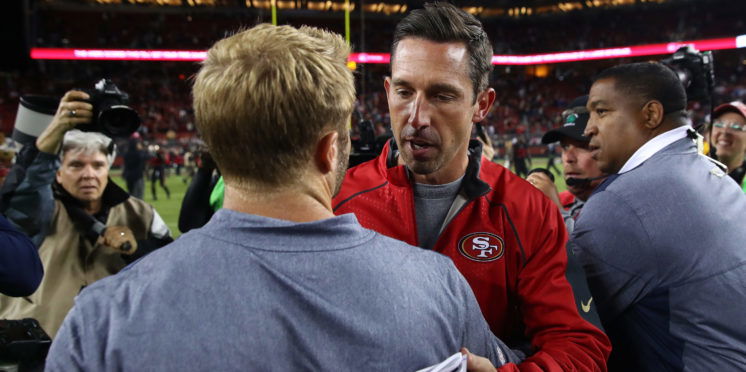 Walking The Lines – Week Six
Well, it had to happen eventually. For the first time this season here on Walking The Lines, I finished a week below .500. To be honest, I'm amazed it took this long. I was expecting to have that milestone out of the way by the late window of the first Sunday, not in week five.
My 7-8 week five wasn't a total disaster, but it definitely wasn't the momentum I was looking to carry forward after a 9-6 mark in week four. The only thing left to do now is pick myself up, dust myself off, and try to get back on track with the 14 games this week.
I also deeply envy all of you reading this right now. I am writing this on Tuesday night (with a few Wednesday night line updates as necessary), and the piece is scheduled to hit your screens on Thursday morning. Between those two marks will be game five of the NLDS, where my Atlanta Braves will be looking to win their first playoff series since the week between Tom Brady's second and third career NFL game. Seriously.
So if you're reading this, you already know what happened, I don't know what is going to happen, and I am jealous of your all-seeing, all-knowing power. It's times like this where being Marty McFly and having a time machine would be useful. Although to be fair, I could just use Biff's sports almanac and never get another spread pick wrong if all mythical Back to The Future items are in play.
If I go 14-0 this week, you'll know something is up. Great Scott! I've rambled for a while, and I think it's time to make some picks.
---
All lines are consensus lines from The Action Network as of Wednesday night. Picks are in CAPS.
Last week: 7-8
Season: 40-38
---
NY Giants @ NEW ENGLAND (-17)
Normally I would make a college pick in the Miami Dolphins section, but we have a very special Miami game this week that I actually want to dissect a little bit, so the de facto worst game of the week gets the honor. Hat tip to David Howell for the idea of moving the college segment around this week. This game will not be competitive, it shouldn't be in primetime, and I don't have to explain why I'm picking the Patriots.
This is the best week of the college football season so far, with a ton of compelling games making up an amazing slate, so I'll just offer you a few quick hits here before we get to the meat of the picks. Consider this the nice bread on your sandwich.
No. 6 Oklahoma vs. No. 11 TEXAS (+11) (in Dallas)

No. 1 ALABAMA (-16.5) @ No. 24 Texas A&M
No. 10 PENN STATE (-3.5) @ No. 17 Iowa
No. 7 FLORIDA (+13.5) @ No. 5 LSU
Four ranked vs. ranked matchups on the same day? And all with different kickoff times? This is as fun a Saturday as you'll find in the regular season, at least on paper. I'm going with two underdogs and two favorites. Just sit back, relax, and enjoy the football feast. Now, onto Sunday…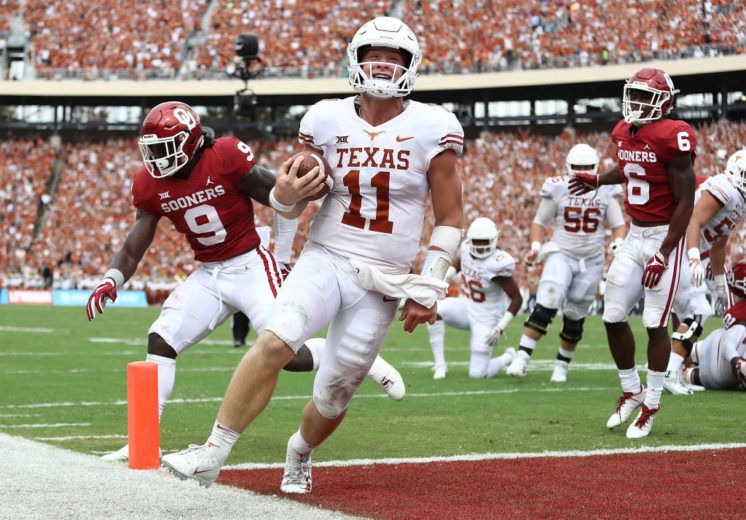 CAROLINA (-2.5) vs. Tampa Bay (in London)
…where the action is going to start bright and early, as our first early morning kickoff of the season and first divisional rematch of the season will both be taking place across the pond. Last time we saw these two teams play, the Buccaneers beat the Panthers and a clearly injured Cam Newton 20-14 in Charlotte to drop Carolina to 0-2. A lot of people, myself included, wrote the Panthers off at 0-2 with an injured quarterback.
Kyle Allen has made all of us look like fools by ripping off three consecutive wins, and now he will face the team who pressed him into action to start with. I am getting some serious "My name is Inigo Montoya. You killed my starting quarterback, prepare to die" vibes from Allen here.
London games are usually a coin flip because of the travel involved and the very abnormal week of game prep, and we saw that play out again last week with the Raiders upsetting the Bears. The familiarity between these two teams, and the very close earlier matchup, only heightens how tight this game looks. I'm going with Allen and the hot hand here only laying 2.5 points, but I could easily see a way for Tampa to ruin that.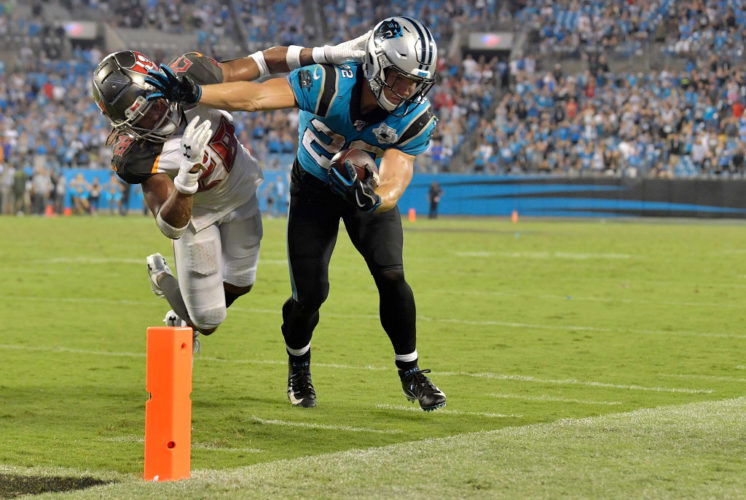 Houston @ KANSAS CITY (-4.5)
If you've been keeping up with these picks, I'm the captain of the "Chiefs are a little bit overrated and have an obvious flaw" train. Two weeks in a row their opponent has gone with the same game plan, and two weeks in a row the Chiefs should have lost. They survived the first time against Detroit, but were not so lucky against Indianapolis.
The point is, the Chiefs have been exposed a little bit. But I'm sorry, this number is way too low. It opened at 8.5, and the public has pushed it down like a person in a hurry pushing a door with a "pull here" sign on it.
A lot of people are giving Houston credit for a big 53-32 win over Atlanta, but what they forget is that the Falcons are not a functional NFL defense. I watch high school football every week, and I see defenses with better coordination and communication than the Falcons. Not to knock the Texans, but I can't say they're fixed because of one win over one of the worst teams in football.
Plus they play in the AFC South, which means they're legally obligated to straddle the .500 mark all season. I'm not saying it's going to be easy for the Chiefs, but this number is too small for a game at Arrowhead Stadium.
SEATTLE (-1.5) @ Cleveland
It's been a while since we've had a line like this, so allow me to clear my throat for a second to get back in the swing of things.
OK? We good?
HOW is this only at 1.5? Seriously, it looks way too good to be true. The Seahawks are 4-1 and coming off of a win over the Rams with extra time to prepare off a mini-bye, and the Browns are on a short week after an awful 31-3 loss in San Francisco. Sorry, Santa Clara. I forgot how awful the Silicon Valley stadium situation is there. In the amount of time it has taken you to read this article so far, people on the freeway out there have only moved 0.2 miles in traffic.
I would love to hear any of your theories for why this game is basically a pick' em. I will accept anything from Baker Mayfield hacking the sportsbook and setting the number to people still drinking the Kool-Aid on all that Browns hype from August. Choose your theory carefully.
The Seahawks are a better football team and have four extra days of rest. I was expecting this number to be at least four or five points higher. I know this is too good to be true, but give me Russell Wilson and the Hawks.
Cincinnati @ BALTIMORE (-11.5)
If you were wondering just how bad the Bengals really are, the answer is real bad. Real, real bad. Losing to Arizona at home bad. Not even sure why they are still playing football bad.
Choose your superlative. This team is beyond horrific, and they are avoiding attention for how bad they are because there are two teams even worse. Again, more on that later. But if you're picking an 0-5 team to cover the number on the road against Baltimore, especially in a game where the Ravens need to get their footing back, you're crazier than the people still paying money to watch the Bengals.
Don't be that crazy. Pick Baltimore, and goodness stay away from Paul Brown Stadium at any cost this year. It's not safe to get that close to a fully functioning tank rolling at top speed.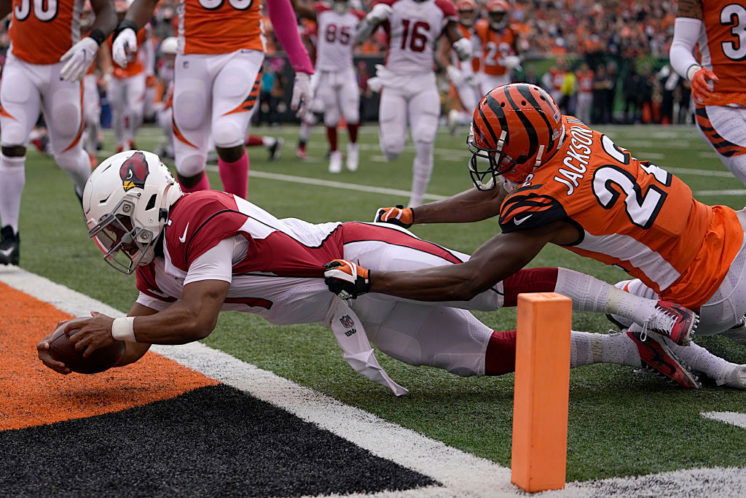 NEW ORLEANS (+1) @ Jacksonville
Alright, we're back to me showing a bad play in Saints history to introduce their pick. I present to you… the River City Relay.
YouTube: John Carney Misses extra point
It's truly art. In a must-win game late in December to stay alive in the playoff race, the Saints pulled off an improbable lateral play trailing by seven as time expired. It's one of the most impressive plays in NFL history for sure.
Then a shanked extra point made it irrelevant.
If you have 13 spare minutes and want to see a full breakdown of the mathematical odds and permutations of both of these events happening in succession, I highly recommend this from Jon Bois.
Everything Bois does is amazing, and I believe he is probably the most creative person working in sports media right now. But this one is especially good, and it's very topical with the Saints visiting Jacksonville for just the second time since that day in 2003.
YouTube: PRETTY GOOD, S2 E1: "NO!!!!!!"
As for the 2019 edition of this game, I do not understand how the Jaguars are favored. I know they are at home and Gardner Minshew has been strong, but these are still the Saints. It only took Sean Payton and his staff a week to adapt to losing Drew Brees to a thumb injury, and Teddy Bridgewater is 3-0 in his starts in relief of the future Hall of Famer.
Seriously, if you've ever doubted just how good Sean Payton and his staff are, this season so far has proved it. The guy belongs in Canton, and I hate the fact that I have to say it. Give me the Saints to win in Jacksonville and improve to 5-1.
PHILADELPHIA (+3) @ Minnesota
Last week on the picks, I made a grave mistake. I predicted the Giants to keep it within six points against the Vikings, and in doing so, I forgot the golden rule of betting.
Never pick Kirk Cousins against a good team, but always pick him against a bad one.
These Minnesota picks truly come down to what you think of the opponent. In hindsight, we should have known the Falcons are bad when they lost in Minnesota to open the season. And we know the Bears are still good because of what they did to Cousins. It's the safest bet you can make.
As far as I'm concerned, the Eagles are a good football team. Hell, I picked them to win the Super Bowl this year. They had a rocky start, but they seem to have righted the ship a little bit with back-to-back wins after the 1-2 start. Now back in the stadium where they actually did win a Super Bowl, I like them to keep the momentum rolling and climb to the top of the NFC East standings, at least for a few hours.
It would seem Kirk Cousins is about to drop to *checks notes* 4-28 in his career vs. teams with a winning record. I'm just glad he has four wins, because things could have gotten very awkward with one fewer.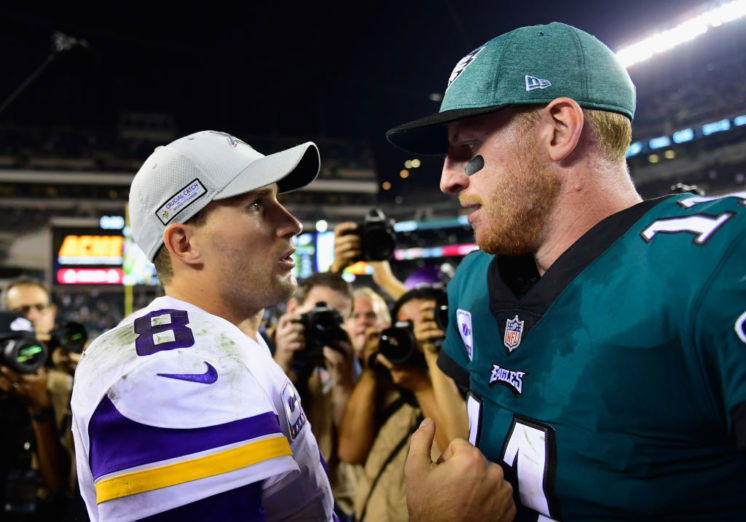 Washington @ MIAMI (+3.5)
Alright, I'm being completely serious when I say this. I am absolutely fascinated by this game. I would go as far as saying it's the most intriguing game of the week.
There have been games between bad teams before. Awful NFL games just not worth watching. You get the odd 3-9 vs. 4-8 game in early December or maybe two teams with 4-10 records playing in a Christmas week game where only the diehards show up to determine who gets the fifth pick in the draft vs. who gets the sixth.
But never anything like this.
Miami, 0-4 and forcefully trying to lose games to get the No. 1 draft pick. Washington, 0-5 and forcefully trying to lose games to get the No. 1 draft pick. We have two football teams whose only goal of the season is to finish 0-16, and they meet in the tank bowl to end all tank bowls. It's the ultimate boxing match.
In the blue corner, we have Miami. They lost 59-10 and 43-0 in consecutive home games to start the season. They are averaging just 6.5 points per game, and are allowing 40.75 on average. Their closest loss of the season was a 20-point defeat against a team with a losing record. They are led by tank commander Josh Rosen, looking to successfully guide his team to the top of the draft board for a second consecutive season after a successful desert operation in Arizona a year ago.
And in the red corner, we have Washington. They turned the ball over five times in a Monday Night Football game early in the season. They were annihilated by Daniel Jones in his second career start, and their own rookie quarterback Dwayne Haskins threw three interceptions. They have already allowed over 2,000 yards of offense this season, and they fired their coach this week to make sure they were really in total disarray before the Miami game.
Forget the Rumble in the Jungle or the Thrilla in Manila. This is Tank for Tua, and both teams will stop at nothing short of total defeat.
During the 2014-15 NHL season, a generational talent in Connor McDavid loomed in the upcoming draft. Teams were tripping all over themselves to lose. It came to a head when a late-season tank battle between the Arizona Coyotes and Buffalo Sabres reached overtime, and fans were openly cheering for the Coyotes to win.
The game was in Buffalo.
The irony of it all was the NHL has a draft lottery where the Edmonton Oilers ended up winning the rights to McDavid, with Buffalo and Arizona picking second and third in the draft respectively. But the point still stands. This is the level of tanking we have reached. I would not be surprised to see Miami fans trade in their orange and green for burgundy jerseys this week. A win would be a disaster for both teams, as their entire plan for the season will go into disarray.
I have no idea what to expect, but I'm excited to find out.
SAN FRANCISCO (+3) @ LA Rams
It's crazy how the NFL works. In one blink, we will transition from two teams with zero combined wins to two teams with just two combined losses.
Whatever you love the NFL for, it will be on display in this game.
Like big rivalries? This is a huge one in the NFC West. Like games with high stakes? This is last season's NFC champions vs. this season's current NFC leaders. Want to see elite talent on the defensive line? Aaron Donald and Nick Bosa are two of the best in football. Amazing playcalling and a chess match between brilliant minds? Kyle Shanahan vs. Sean McVay. It will be a raucous atmosphere with 90,000 people jammed into the LA Coliseum. We get Todd Gurley vs. the triple threat of the 49ers' running back stable.
This game will feature some of the best the NFL has to offer all the way around. In a perfect world, it will be a repeat of what we saw the Chiefs and Rams do 11 months ago in this same stadium. The only shame here is that this game won't be in primetime like last season's comparable contest. (In fact, it won't even be televised in most of America!)
I'm picking the 49ers with the points, but the selection almost doesn't matter here. Just sit back and enjoy the spectacle.
Atlanta @ ARIZONA (+2.5)
I understand how bad the Cardinals are. They are a rebuilding team with a rookie quarterback and a rookie head coach still very much finding themselves. This team will be one of the worst in football again, and I'm not picking them to cover because of anything they do.
I just cannot justify picking the Atlanta Falcons right now at all. This team shouldn't be favored over anyone with a pulse.
They are 1-4 with a lame duck head coach all the players have quit on. That defense is among the worst I've ever seen, and they gave up 592 yards in Houston last week to prove it. In a stat I still can't believe is true two days later, the Falcons had zero sacks in the Houston game. The Texans had allowed 80 sacks in 20 games dating back to the start of last season before Sunday.
I will repeat this because it needs to be repeated. The Falcons couldn't muster up one sack against a team yielding four per game over a sample size lasting 1.25 seasons. It's bad, it's embarrassing, and it's every reason in the world to pick the Cardinals with points at home.
And just to add a stat that really doesn't mean anything but I still find interesting, the home team is 15-0 in the last 15 meetings between Atlanta and Arizona dating back to 1994. It's real, Google it.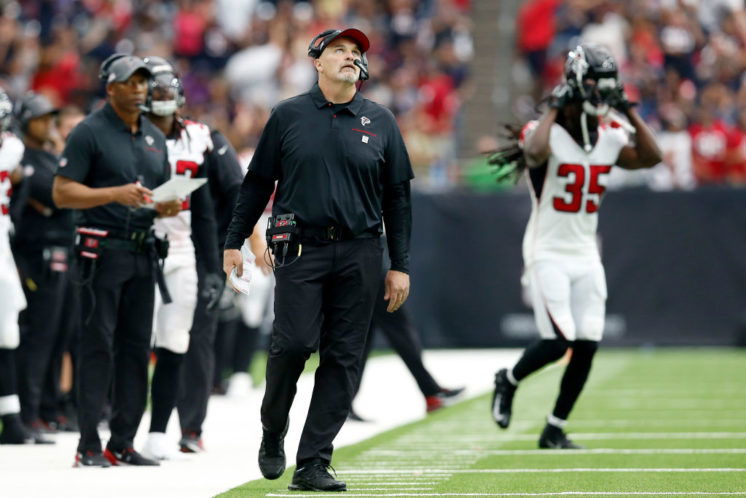 Dallas @ NY JETS (+7.5)
I'm pretty sure this will be wrong, but I'm going to take a shot for one simple reason.
The Jets are getting Sam Darnold back from mono, and the return of Chris Herndon at tight end is sneakily important as well. I know this team is 0-5, but four of those losses came with a third-string quarterback playing.
This is the pick I feel the least confident about, but sometimes you have to risk it to get the biscuit. I don't believe the Jets will win the game outright, but you're giving a team finally getting healthy more than a touchdown at home against one on a two-game losing streak. I'll take a stab here and see what happens.
Tennessee @ DENVER (-2)
Eenie meenie miney mo, who are the Titans, I don't know.
The most confusing team in football was at it again last week with a 14-7 loss to the Bills. But I think I'm finally starting to get a handle on this team after over a month of doubt, and it's not one the people in Nashville will like.
This is just not a very good football team. The two wins are against an overrated Browns team and an awful Falcons squad. The matchups against seemingly decent opposition (although they're confusing in their own right) in Indianapolis, Jacksonville, and Buffalo have resulted in major struggles from Marcus Mariota.
Even if the Broncos are no great shakes themselves, there is one stat that pushes me in the direction of picking them. In 59 seasons of football, 1971 and 1994 were the only two where the Broncos lost their first three home contests. It would happen for a third time with a loss on Sunday, but I don't see it. Denver is tough at home and facing a team coming off a tough loss, and the Broncos finally have a little confidence after breaking the seal on the 2019 win column last week. It's risky, but I'll lay points with Joe Flacco.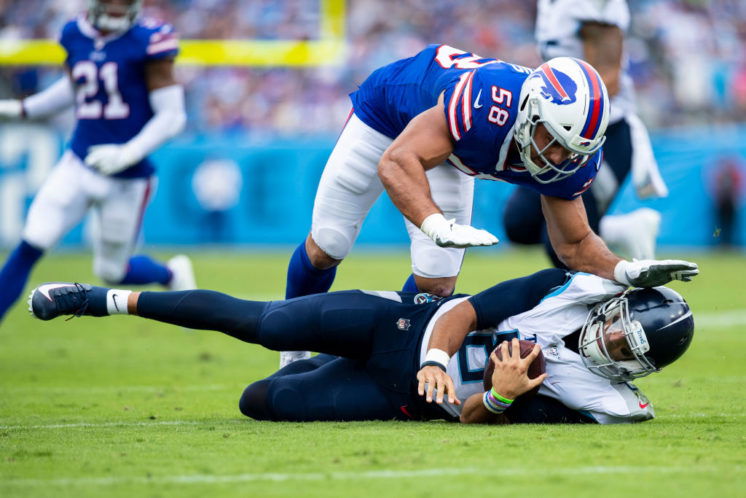 Pittsburgh @ LA CHARGERS (-7)
One team here lost at home to an 0-4 squad last week, and yet they're clearly the better pick here. It helps when the other team's starting quarterback is the guy you saw in year 12 of your Madden franchise when all the active players retired and the computer started generating names.
With all due respect to Devlin Hodges, we're not even sure if he's a real person, let alone one who could beat the Chargers on the road. I've already picked Los Angeles to cover touchdown spreads at home twice this year and lost, but this has to be third time lucky.
Right? It has to be. Surely. No doubt here whatsoever. Confident as can be. Definitely not questioning this pick.
Detroit @ GREEN BAY (-4.5)
It's a compelling game between two members of what looks like the deepest division in football. No, you didn't accidentally scroll back up to the 49ers-Rams section, I really am talking about the Lions and Packers.
This feels like the type of game the Lions will find a way to win if they have really changed. If these are not the 'Same Old Lions' as their fans like to say. I do believe these Lions are better, but the belief still has to translate into wins at some point. They're sitting at 2-1-1, and their four games have been decided by a total of 10 points. You could argue this team should be 4-0, or say they should be 0-4.
One way or another, this is going to be a very clarifying game for Detroit on the road against one of the hottest teams in the league. Full credit to them if they win, this would be a huge one. But I'll believe it when I see it, and I haven't seen it yet. I'll go with the cheese to cover the 4.5.
---