NFL Power Rankings: 2019, Week Five
With more than a quarter of the NFL season in the books, it's starting to become clearer how NFL power rankings should be assembled.
1. New England Patriots last week: 1
That's the first bit.
The rest of the rankings look a little fuzzier (well, from 2 to 31, anyway), as teams trade big wins and ugly losses in various forms and evaluations are further complicated by the most imbalanced early-season schedules I can ever recall seeing.
Who goes where in that environment? Lot of guessing involved. But that's the fun of this. The best and worst teams in the NFL are clearer than ever. The sorting of the other 30 is anything but. Brace yourselves for disagreements, into the fun bit we go!
2. New Orleans Saints last week: 3
Welcome to the best-of-the-rest spot, New Orleans! Even if the wins are coming more in spite of him than because of him, it's genuinely awesome to see Teddy Bridgewater seeing success on an NFL field after his horrific, career-threatening knee injury in Minnesota. Winning at home against the Bucs isn't as impressive as the wins of the previous two weeks, but it wasn't one to take for granted against a team who were as high on confidence as they're ever likely to be.
3. Kansas City Chiefs last week: 2
In unsurprising news, a team that is built entirely around "we've got the best offense, we'll score more than you" takes a hit when the pilot of said offense is operating at less than 100% due to injury (and his top wingman isn't even on the field because of a worse one). This is still a Madden team bought to life and the best team west of Foxboro in the AFC, but someone's tweaked the sliders for a bit.
4. Green Bay Packers last week: 9
Last week, I said the Packers' #9 spot might be the lowest they went all year. Going into Jerryworld and getting a double-digit win that wasn't as close as the scoreboard suggested? That'll get you flying up the board. If they'd kept up their first-half level for 60 minutes, I would seriously have considered putting them as high as #2. Aaron Rodgers plus an elite defense is a scary combo.
5. Philadelphia Eagles last week: 5

Beating up the Jets is a straightforward job for a good team. The Eagles duly beat up the Jets, so they can still be considered a good team.
6. San Francisco 49ers last week: 6

This team is truly riding the wave right now, and their demolition job on the Browns just further illustrated that. What a perfect time for them to be playing the Rams, under the lights of Sunday Night F… wait the primetime game is Steelers-Chargers and it didn't get flexed out? Whoever was responsible for that decision is the broadcasting equivalent of a coach who punts on 4th-and-1 just past midfield.
7. Los Angeles Rams last week: 7
8. Seattle Seahawks last week: 12
The NFC West is brutal, and Thursday night showed it when these two met, a 30-29 thriller featuring the kind of throw and catch that causes "mysterious" disconnections when seen on Madden. It seems like the McVay offense can still get it done, but the Rams need to step up their blocking for that to happen consistently. Next week could be where the Niners' gigantic investment of draft capital on the defensive line finally starts to look like it's produced a worthy return.
9. Dallas Cowboys last week: 4
Is Dak Prescott actually all that? The Cowboys are now 0-2 against real teams, and while one of those was unlucky, the other really wasn't with Prescott only doing anything in extended garbage-time action. Remember, he's in a contract year and the Cowboys seem to have paid everyone but him…
10. Detroit Lions last week: 10
For power ranking security purposes, this was a really nice bit of bye week timing for the Lions. But with 12 games without a bye, things will get brutal as winter comes, especially for that Thanksgiving lunchtime kickoff on less than 96 hours' rest.
11. Buffalo Bills last week: 13
Finally, we get a Bills game against a team from the NFL's confused middle, and they win it on the road almost entirely in spite of their quarterback play. Absurdly, the Bills are now the #3 AFC team in these NFL power rankings, and yet are still outside the top ten overall. Fire up your Nirvana CDs, we're going back to the early 90s!
12. Houston Texans last week: 16
Will Fuller had the mother and father of all "making up for lost time" games – shoutout to Tyler Arthur for calling it in his fantasy preview – and there's a confidence about these Texans now. Note to Bill O'Brien: you've got this running back called Duke Johnson who you gave up a mid-round draft pick for, @ Kansas City might be a good time to use him.
13. Baltimore Ravens last week: 11
Well, the Ravens didn't get torn up by Mason Rudolph. They came all too close to literally tearing up Mason Rudolph in one of the scariest moments we've seen on an NFL field in recent memory. Needing overtime to beat a team that finished the game with "Devlin Hodges" at QB is pretty compelling evidence this team aren't all that.
14. Chicago Bears last week: 8
Yup, the Bears went Spursy as they lost in London. A sputtering offense under Chase Daniel is one thing, but for their defensive arsenal to be silenced this comprehensively by a team nowhere near the NFL's elite was stunning. The post-bye adjustments will be huge for this team – was this just a jetlagged one-off or something bigger?
15. Carolina Panthers last week: 14
The Panthers won a one-possession game at home to Jacksonville, which is exactly what a middling team would be projected to do. As alluded to above, London games can get weird, so we'll see how ready they are for this transatlantic tilt. And by "they" I mostly mean "Christian McCaffrey," a one-man riposte to the idea that RBs don't matter and on track to produce what could be the most valuable fantasy season of all time.
16. Indianapolis Colts last week: 22
Well, erm, that's not how I expected the Colts to go 1-1 over the last two games. Only a middling team could produce both of those results even accounting for weekly variation, so the middle is right where they go. I am extremely confused by this team, as I suspect are their own fans.
17. Minnesota Vikings last week: 20
Death, taxes, and the Vikings responding to a loss to a good team by beating up on a bad team. If you'd spent the Kirk Cousins era to date simply betting against the underdog in every Vikings game, you'd have secured plenty of easy money. A bit like Kirk Cousins.
18. Tennessee Titans last week: 15
The Titans seem to always be the last team I slot into my NFL power rankings, which probably says more about them than I actually could say.
19. Tampa Bay Buccaneers last week: 19
After a creditable in-division road performance ended in a no-shame loss, the Bucs head for another in-division road game at… wait this is a "home" game in London for them. I know it's arguably an advantage to hurt the record of a team that really needs to be in the QB market this year, but having divisional games in London is pretty absurd.

20. Oakland Raiders last week: 23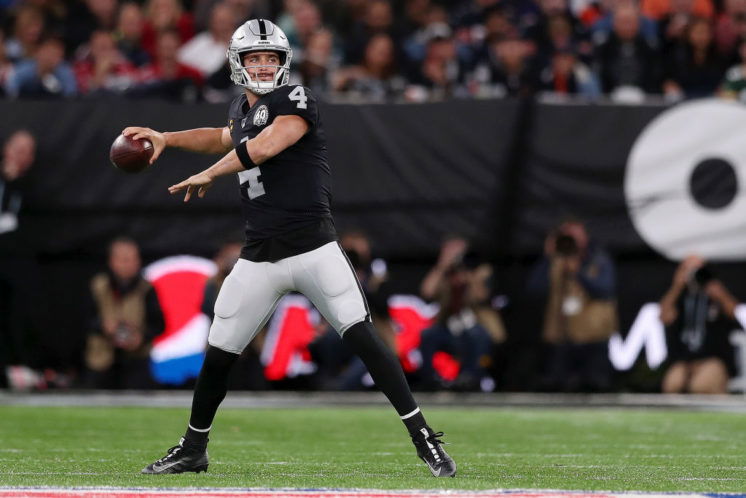 This team go above all the other bad teams on this list because they can do a better impersonation of a good team than those teams can. Especially on their opening scripted plays on offense. Or in London, apparently. Whisper it gently, but this team is 3-2 with an on-paper easier schedule to come, and are now the second-best team in their division…
21. Los Angeles Chargers last week: 18
…because at least they can actually welcome the Broncos to their comically unsuitable home field and come away with the win. Side note: why did Jim Nantz and Tony Romo get assigned to this game, buried against the quasi-primetime Packers-Cowboys game? CBS probably wish Romo got an invitation to this past weekend's PGA TOUR event in Vegas instead of the previous one in California (where he memorably threatened to make the cut and force Boomer Esiason into the booth for a doubleheader game). As a Chargers fan myself, I actually followed the golf more than this game in the second half. Do I have any regrets? (Kevin) Na.
22. Pittsburgh Steelers last week: 24
Welcome to primetime, "Devlin Hodges." No, I still can't get over Steelers-Chargers not being flexed out – we've seen some bad non-calls in the NFL of late from the zebras, but that non-call from the broadcasters might top them all.
23. Jacksonville Jaguars last week: 21

There's really not a lot to be said about this team other than that Gardner Minshew's magic moustache may not be quite as magical as once thought.
24. Cleveland Browns last week: 17
Last week, I asked if the win over Baltimore was the start of something. This week, I know the answer.

25. Atlanta Falcons last week: 25
26. Arizona Cardinals last week: 28
Atlanta sports fans are absolutely fired up and terrified as they brace themselves for their team to face the Cardinals!
…the St. Louis Cardinals, in a do-or-die MLB playoff game on Wednesday. Cardinals-Falcons? Just another game in the Tank Bowl Championship Series, and (as you'll see) not even close to the game of the week in that now Arizona have crashed their desert tank in Cincinnati.
27. Denver Broncos last week: 30
Maybe if they look like a real team again next week they can go higher. For now I'm assuming the Chargers reprised their ability to be a devastating anti-tank missile. Remember the 1-31 Hue Jackson Browns of 2016? The Chargers gave them that 1.
28. Cincinnati Bengals last week: 27
It was tough, they blew a 9-23 lead, but the Bengals got a huge win in the Tank Bowl Championship Series 23-26 over the Cardinals, and are just 11 away from winning the Tagovailoa Trophy. Which will probably get broken within weeks, if this offensive line is protecting it.
29. New York Giants last week: 26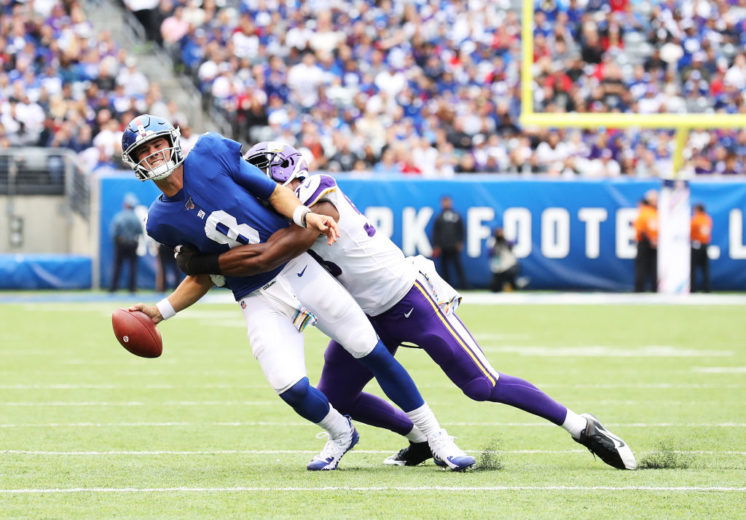 Daniel Jones reverted to Scouting Report Daniel Jones against a Vikings team that serve as a good barometer of where their opponents are at. In this case, the dumpster.
30. New York Jets last week: 30
But probably not as deep in it as the Jets. Sam Darnold will start next week's clash with the Cowboys if he gets medical clearance, even though as recently as last week he wasn't even cleared to lift in the weight room. This move seems inexplicably risky to anyone who hasn't watched Luke Falk play quarterback.
31. Washington last week: 31
In the least surprising development of the season, Jay Gruden was fired and everyone around him did a great job of suggesting he wasn't the problem. GM Bruce Allen comically talked up the team culture as "damn good" and insisted he won't trade away Trent Williams to a real team he might actually play for. Perfect preparation for the biggest game of the season, because they get to play…
32. Miami Dolphins last week: 32
…this lot. The Dolphins have failed in almost every single department to start the season, but they haven't yet failed at failing. That will be put to the ultimate test when they face Washington in an iconic Tank Bowl Championship Series showdown at the Miami Aquarium: Home of the Tank.
---