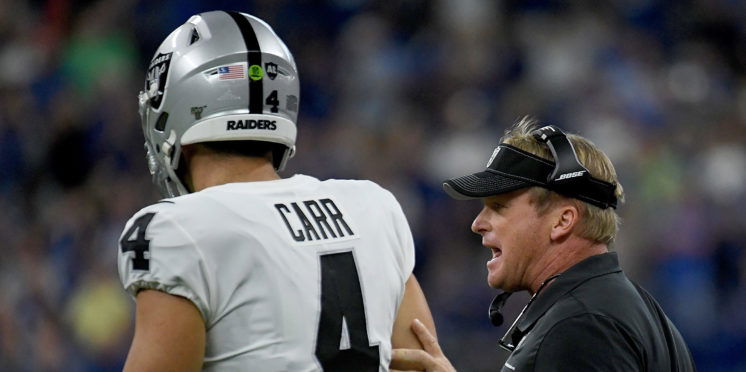 Oakland Raiders Press Conference ahead of London game vs Chicago Bears
The Oakland Raiders came to London last year and it didn't go well. The first person to tell you that is head coach Jon Gruden, who has embraced an opportunity to do things differently this season.
This time, the Raiders travelled out straight from Indianapolis, where they played on Sunday, and have been in the UK since Monday (last year they weren't in until the Thursday before the game). Staying at The Grove hotel, they have a longer stay and have made an effort to replicate a normal week as much as possible. They held their usual practices on Wednesday and Thursday, and press conferences afterwards.
Coaches Jon Gruden, OC Greg Olson and DC Paul Guenther spoke, as well as Derek Carr, Josh Jacobs, Tahir Whitehead, Trent Brown and Hunter Renfrow.
All seemed satisfied with the preparation and the change of plans, Gruden saying:
"[Last year] I learned a valuable lesson; we need a little more time to get acclimated. It was my first time last year coming to London. I'm used to playing home games at home. I made a mistake, so I'm trying to fix that this year and hopefully it shows on the field."
"We played the Colts on Sunday and we got straight on the plane and we tried to have a very consistent work week. Yesterday [Tuesday 1st] was a players' day off and the coaches' day to grind, and get the game plan together. Today is a normal Wednesday, so it's going to be a normal rhythm in terms of the schedule, and the set up we've got here at [The Grove] is phenomenal. We have no excuses not to play well."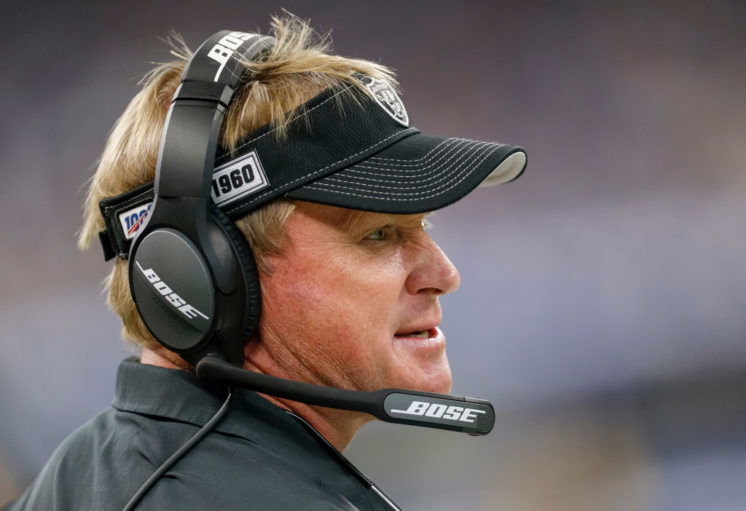 Gruden seemed to take it very much on his own shoulders that the Oakland side didn't perform last time in London, and was glad to seek guidance before this season's trip.
"This year we're doing everything we were advised to do, last year they did what I advised them to do, and it didn't work out," he half-smiled.
Quarterback Derek Carr confirmed that from a players' perspective he felt much better this time out with the longer stay in England, although with the slight caveat of not spending time at home:
"I definitely feel better [this year], that's for sure. My body feels better. Having that day off when you first get here, and then having another day after to rest and get right and eat, and things like that. As a family man I hate it, to be honest, but as a quarterback I love it."
Offensive coordinator Greg Olson echoed what Gruden had said before, hoping that the earlier arrival (three whole days before the Bears even departed) would give them an advantage:
"Last year we came over on a Thursday, and we didn't feel our players were rested enough, so we changed the schedule this year. I feel like our players had a good practice today, they were full of energy… and we're looking forward to Sunday, hopefully we get an advantage."
Having been here since Monday, it also gave the players a chance to make more use of their rest time than previously, and many of the players used the opportunity to go to watch the game in the stadium that they will be playing in on Sunday. The game was a match between Tottenham and Bayern Munich in the Champions League and ended in an impressive scoreline of 7-2 to the visiting German side.
Veteran linebacker Tahir Whitehead, although sad that his hosts lost by 5 goals, was excited to see the stadium in action after visiting in the summer to check out the NFL Academy trials, and enjoyed his first taste of soccer:
"It was electric. Seeing it in that form was amazing. It was my first ever soccer match, and it was a good one to go to," though he expressed his disappointment that Spurs lost. "Seeing the stadium when it was all filled with fans was good to see."
Rookie wide receiver Hunter Renfrow also went to the game, and is on his first visit to London – saying he hasn't really ever left the States until now. He too appreciated the atmosphere: "it was such a fun experience, with everyone cheering the whole game. It was amazing, just the energy of it all."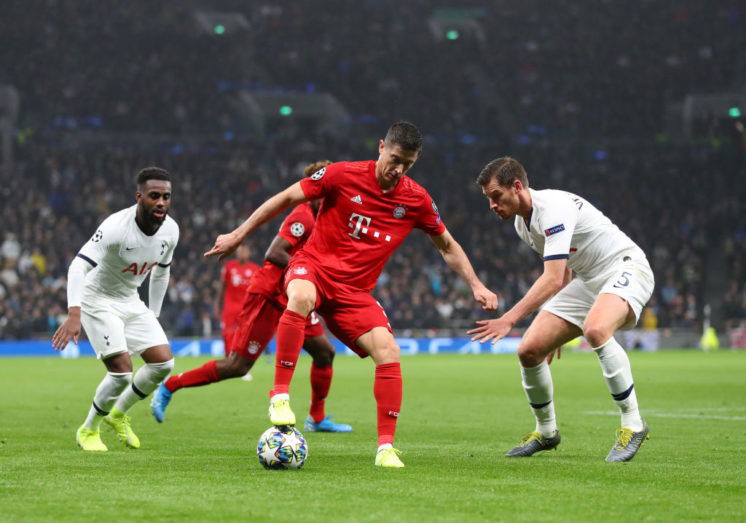 Derek Carr, who was surprised to see that the people in the suites at the stadium would retire to have tea at halftime, also enjoyed the opportunity and the atmosphere:
"That was amazing. I've never been to a stadium where the acoustics are that good – yeah, I know I'm nerding out a little bit. And obviously I'd never been to a [Champions League] match either, the crowd is so into it at all moments, every play, they're singing back and forth and they're jumping in rhythm. It's one of my favourite things I've ever experienced – if the NFL could turn into something like that, it'd be a pretty special game."
Needless to say, Carr is now fully aware of how loud this stadium can get with 60,000 packing it out. He added that having played at Indianapolis' noisy indoor stadium helped to make this week smoother:
"[Communication] was a big factor for us going into last week – going on the road in Indianapolis, it's a loud environment – so, communication was a key point for us, both non-verbal and verbal. To have that week before we come here helps, for sure."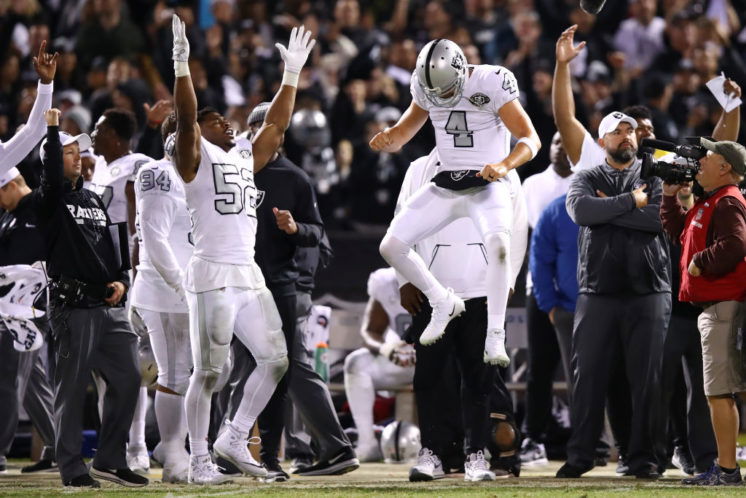 Maybe the most-discussed storylne of the week is how Khalil Mack will be on the other side of the fixture after being traded away last year. Everyone gave glowing reviews of the superstar edge rusher, who was the 2016 Defensive Player of the Year as a Raider, but none more so than Carr:
"I'm absolutely looking forward to it. That's my brother, I absolutely love him to death, everyone knows that. He's one of my best friends, we'll be friends when we're all old and hopefully [Khalil] with kids – I'm trying to nudge him in that direction."
Carr also reminisced to the times where he and Mack were on the same team, having been drafted together in 2014:
"[Khalil and I] were non-stop joking all the time. He's one of my best friends. I'm sure he'd say the same, 'that's my brother.' Sitting in the team meeting room, he was always sitting right across from me, right in the front row. When we go eat, we're sitting together, when we're on the practice field I'm talking trash to him, and he's slapping me when he gets a sack.
"We just had fun, because what we were trying to do, him and I and our [draft] class, we were trying to change the culture. And, we did that, we went back to the playoffs. Doing something like that, when it hasn't been done [since 2002], when you guys are the two captains, and you get drafted together, and do that together – it creates this special bond. And really nothing can take it away. Not even Bears vs Raiders, when we're playing each other, we're still buddies, but we'll still punch each other," he smiles.
Defensive coordinator Paul Guenther spoke about how good Mack is, and did so from experience. He joined the Raiders before the Mack trade, and said the star edge rusher was "one of the selling points of the job," adding: "from what I've heard, although I don't know him that well, he's a really good guy. It would have been a pleasure to coach him but it didn't work out that way."
The offensive players tasked with stopping him also praised him. Left tackle Trent Brown, when asked what makes him so difficult to stop, simply said "everything," adding "the guy is a special talent, for sure. You've definitely got to bring your A-game when you're facing someone of such a calibre."
Both Gruden and Olsen made it clear that he isn't the only difficulty, Gruden noting that "the problem is that you're not just scheming for him" because of the other talent on the defensive front: "[Leonard] Floyd's not just a bag of rocks, he's a great player, and they've got two of the best inside players in the league, and they have a great blitz scheme – so it's easier said than done. 'Let's put two guys on Mack'. They blitz enough that you can't get help."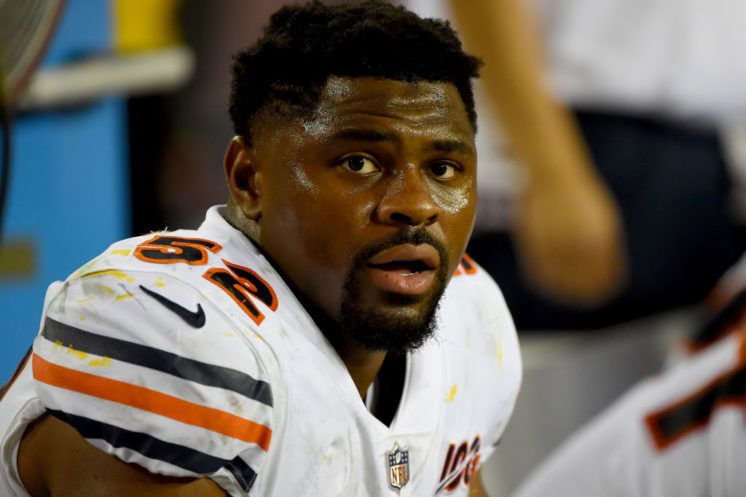 Olsen also noted that "tremendous player" Mack isn't the only man to worry about up front: "their entire front seven has been very impressive this year… you have to plan for all of them."
RB Josh Jacobs will be running the ball into that front seven and holds them in very high regards, calling them "the best defensive front in the league. The best defense in the league. They're fast and aggressive, so we're going to have to match that intensity." But he's not letting that put him off: "it doesn't affect me at all. I'm looking forward to the challenge. To go up against the best defense in the league, as a rookie, it's gonna be fun."
While the Bears defense may be the most feared in the NFL, the Oakland D has looked promising, particularly against the run, and has been holding its own against the pass despite safety Johnathan Abram – the third of the Raiders' three first-round picks this year – suffering an injury on his debut. Guenther said Abram "is a phenomenal player so I was looking forward to watching him… it's sad that we lost him in the first ball game, but I've always told the guys 'you've got to prepare like you're a starter'."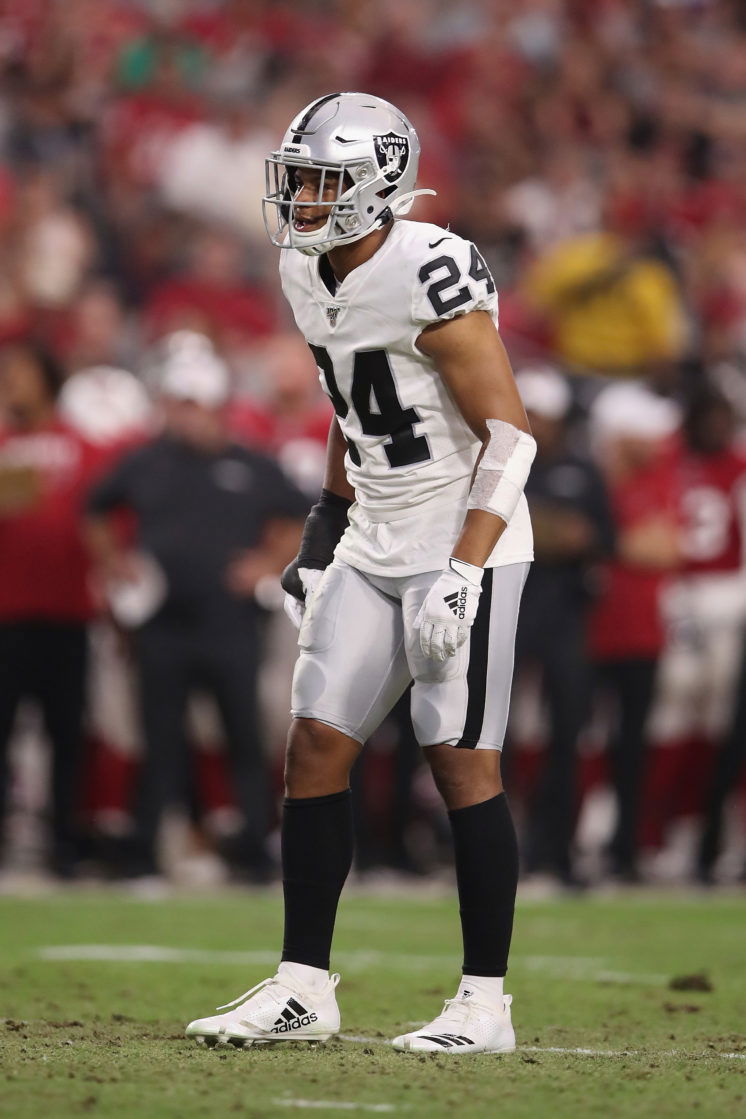 Last week the defense had a great performance against Indianapolis, capped off by a pick-six from Erik Harris that all but sealed the win and got specifically mentioned by Guenther… as did a late touchdown that gave the Colts a glimmer of hope afterwards.
"We talked about that last touchdown [to Eric Ebron]. We had a little blitz called, and we just have to understand situational football, let's not go for the interception in that situation, let's get the guy on the ground and live to play another down. As a young team, we've just got to understand that little situational stuff that only happens in games."
The final major storyline this week is the suspension of Vontaze Burfict, who is set to miss the entire season (although an appeal will be heard next week). Gruden got particularly angry on the subject:
"I've talked to [VP of the Policy and Rules administration Jon] Runyan in the league office – he knows how I feel. It hurts our team real bad. I'm anxious to see what the appeal says, but I'm not happy at all. I don't want to say anything else but I'm obviously upset about it."
Everyone seemed to be on the same page when speaking about the controversial veteran – fellow linebacker Whitehead even wore a hat with Vontaze's squad number on the side to this press conference. Inevitably he spoke out:
"It's extremely disappointing for me. In the short period of time [since Burfict joined the Raiders] we've gotten really close, he'd become really like my brother, and just understanding how hard he works – with the perception that's out there about him [that he's a dirty player] – and how hard he worked to not be that guy. It's frustrating to me, to see the penalty that's been handed down to him. [Now the linebackers] just have to step it up, we gotta chip in and pull it together, and play for him."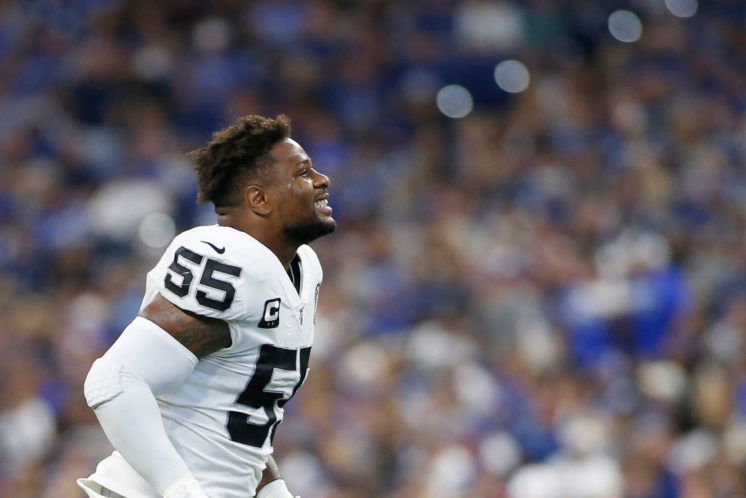 Derek Carr was equally passionate, and shared his perspective in a very extensive and honest answer:
"It's going to affect us that he won't be out there. The hard thing for me to understand is we say we're all about people, but sometimes we don't get to know people. I think that he is one of the most misunderstood people in the NFL. I didn't know anything about him… but when he showed up, he quickly became one of the best teammates I've ever had. He's one of the most genuine and awesome people I've ever been around; he's a great teammate, he works his tail off, and he's a great guy to be honest.
"I know he's had history in other places, but I think that people change. I don't think he meant to hurt that man, that man was going down. You see it all the time, there's flags flying everywhere. Think about football – if he's going to hit a guy and he's already going to hit him and he's going down, obviously you're going to hit him a little higher than expected.
"We see other people choking people out and they're going to play this Sunday, we see other people hitting people in their helmets and they're going to play this Sunday – and Vontaze Burfict isn't going to be playing for the rest of the year? I think that's a little excessive if you ask me, and I don't think it's fair."
"I'm just being as honest as I can, because that's who I am: he's a great person, and his heart is broken because he's not playing football. He just wants to play football. If we're going to be 'fair', we've got to be fair with everyone."
Guenther was at particular pains to mention how multiple other controversial hits have gone unpunished early this season:
"If you look around the league, I saw a quarterback [Josh Allen] get knocked out of a game the other day, helmet to helmet, and the guy doesn't get ejected. I saw on the opening kickoff of the Eagles-Lions game, the right guard – helmet to helmet shot – knocked a guy out and then stands over him. I saw in the Eagles-Packers game, first play of the game, the defensive tackle, helmet to helmet – nothing happens. I know that Vontaze has been warned on some of this stuff, but I just hope that it's not a bunch of cops looking for just this one guy going 38 in a 30 mile-per-hour zone… to be fair to the kid, he's done everything we've asked of him, he's been a great teammate. He was voted unanimously as a captain, and I just hope that the league is fair to him."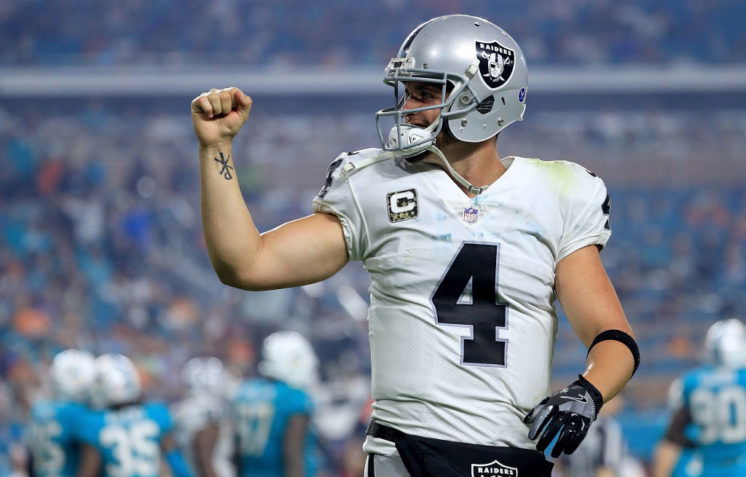 One thing that definitely came out of last week is the offense's ability to start the game strong, Olsen noting that "we've looked back at the success we've had this season, and the games last season, [and found] it's so important to start fast… starting fast is one of the keys to winning a football game." He added the players have particularly responded to the team focusing on the scripted plays the team prepares for the opening of each game. Trent Brown endorsed the importance of starting fast, but he pointed out that it can't stop there – "we've got to put our foot on the gas and leave it on."
The Raiders have started their season 2-2 despite some tough matchups, but things don't get much easier any time soon. The team are coming off back-to-back road games and will face another road doubleheader after their post-London bye, meaning they'll have spent almost two months without a true home game – but Gruden embraced the situation with the humour that made him so popular on TV:
"It's a challenge, we've got a lot of great opponents coming up but they don't get any tougher than the Bears. We're just anxious to see how we stack up… We actually like playing on the road. We played in Canada [in preseason], so we're gonna get a chance to play two 'home' games in foreign countries by October… We're like the Rolling Stones."
---