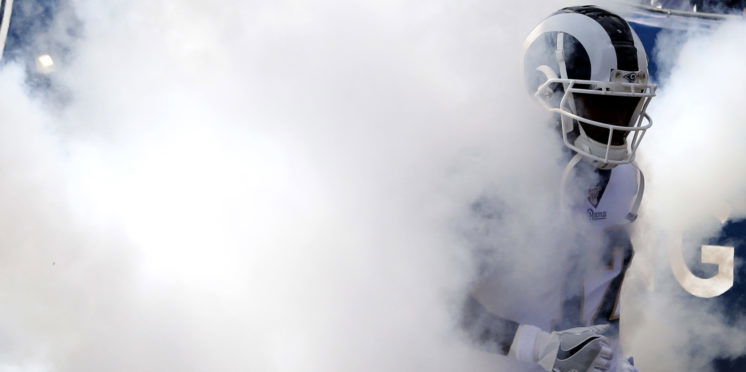 NFL Power Rankings: 2019, Week Four
It was one of the most disruptive Sundays the NFL has seen for a while. In a spectacular reminder of how small the margins are in a league that's built for parity and mostly delivers, three of the top five teams in the last set of our NFL power rankings lost, two of them to teams outside the top 16 in that list. (Coincidentally, both of those games were examples of scorigami.) The other two also had it hard against teams that came in unbeaten but largely unheralded. And that after the #6 team lost at home on Thursday night!
Needless to say, it's all change at the top. Well, almost all change.

1. New England Patriots last week: 1
After their last Super Bowl triumph, one of our writers observed "the Patriots won it all with everything they didn't have last year" (2018, when they lost a historic shootout to the Eagles). In other words, they did it with defense. After winning ugly in Buffalo for what seems like the 50th time in the Brady-Belichick era, that might be happening again, an Elway-esque case of winning multiple rings at the end of a glittering career courtesy of a loaded team around him, except Elway didn't have any rings earlier.

2. Kansas City Chiefs last week: 3

Well, they can't really go anywhere else after surviving the charge of the Lions. But it's safe to say their pride was dented with how tricky that turned out to be, a win only secured on the final play. There is a sizable gap between the best (Pats) and the rest, and this team are the bridge across that gap.
3. New Orleans Saints last week: 7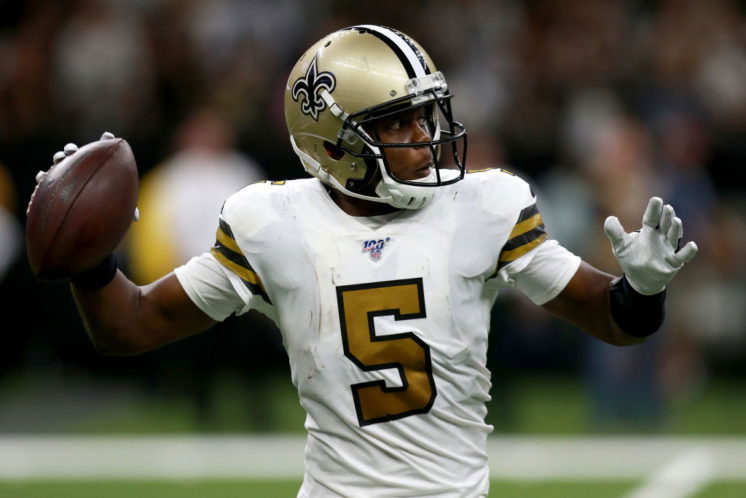 This team has won two games in a row with their backup QB, both against likely playoff teams, and their starter won't be missing for too long. I agonised over who to put in this spot, and then thought to myself "why is this even a decision? It's the Saints, and it's not close." Some bookmakers have installed them as NFC favourites again; the others are wrong. (Side note: check out those white uniforms! The spirit of Color Rush LIVES!)
4. Dallas Cowboys last week: 4
No shame in losing by two in the Superdome, which is more than can be said for the losses suffered by the teams either side of them in last week's rankings. They can keep this lofty position, as this wasn't a loss that disproved they belonged here.
5. Philadelphia Eagles last week: 10
Is it now time to consider this an elite team again? Winning at Lambeau with half your receivers banged up is something non-elite teams only do by fluke, surely. The points are back flowing, and do not rule out some sort of trade acquisition on the other side of the ball given the state of the secondary in particular. Hello, Jalen Ramsey?
6. San Francisco 49ers last week: 9
The Niners have had a brilliant September, but the best week of all might have come here without them even playing. How? When all the teams seen as more "legit" than you end up having bad losses, maybe you're the legit ones after all.  Now it's time for them to hold this up whilst playing 13 weeks in a row – and maybe more if they end up making the playoffs without a bye. If they make it to the NFC Championship Game via that route, they will be the fourth team in as many years to play 16 weeks straight. Watch out for a future article on a detailed suggestion for how to potentially fix that.
7. Los Angeles Rams last week: 3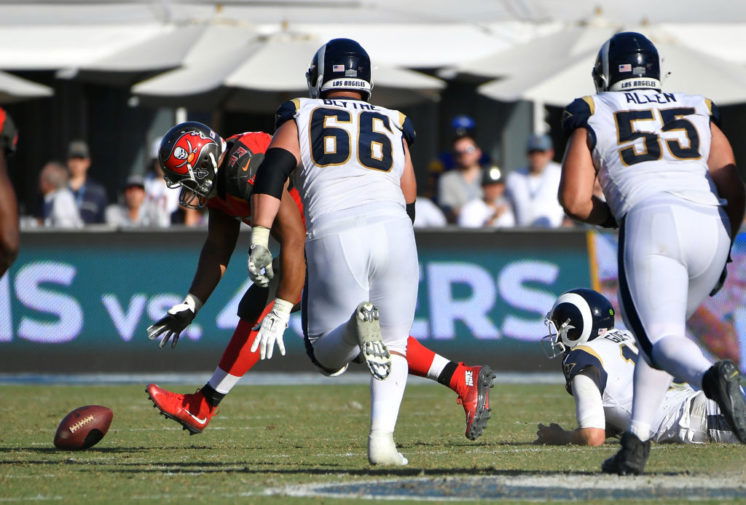 Has Sean McVay, icon of the late-2010s NFL… actually gone down the Chip Kelly route of being utterly found out after two seasons? If this team can be manhandled by the Bucs – it was only at all close courtesy of the legendary Crabsnatcher Bakery, purveyors of tasty turnovers to NFL defenders since 2015 – then this team clearly have real question marks. This might be a one-off. Or we might look at it as a deeply symbolic game in months and even years to come. We shall see.
8. Chicago Bears last week: 8
I probably should have moved them up this week, but moving them up four last week was probably a bit generous. Besides, their performance against the Vikings – an absurdly dominant defense winning a game their offense couldn't quite lose for them – confirmed everything we thought we knew about this team. Even a QB injury doesn't change the narrative on this team. Heck, Mitchell Trubisky – or as he's known in our writers' Slack chat, "Trubatsky" – may actually be worse at football than Chase Daniel. Losing at White Hart Lane 2.0 on Sunday would change the narrative. How "Spursy" are you, Chicago?
9. Green Bay Packers last week: 6
The weird thing about the Packers' Thursday loss is that Aaron Rodgers actually had his best game of the season – the defense just reverted to the mean as well, and then went right through it and into flat-out bad. More questions than answers around this team, but I would not be surprised if this is their low point in these rankings all season.
10. Detroit Lions last week: 16
The Lions looked better in a loss than they did in their two previous wins, and especially the tie that preceded those. I asked if this team were real, and suggested "let's see if they can keep Mahomes and company down to 30 next week before we embrace them." They didn't, but they also gave up zero passing TDs to him – and they put up 30 themselves and very nearly won. This team is for real. This division is for real. My preseason prediction that 9-7 wins the NFC North is looking like one of the worst judgments I've ever written about this sport. I thought this division had three eight-win teams and the Lions. It actually might have three ten-win teams and the Vikings.
11. Baltimore Ravens last week: 5
I thought it'd take a while to find out what the Ravens were, given their schedule. It didn't. Giving up 40 points and 530 yards to the hitherto-moribund Browns in the Art Modell Bowl – at home! – is spectacular evidence this team aren't all that. Getting torn up by Mahomes is one thing. Getting torn up by a previously off-form Mayfield is another. If they get torn up by a short-rested Mason Rudolph this week, it really will be time to hit the panic button.
12. Seattle Seahawks last week: 11
They smashed into the Arizona Air Raid Vehicle and melted it down for scraps. No NFL power rankings credit for beating a college team.
13. Buffalo Bills last week: 13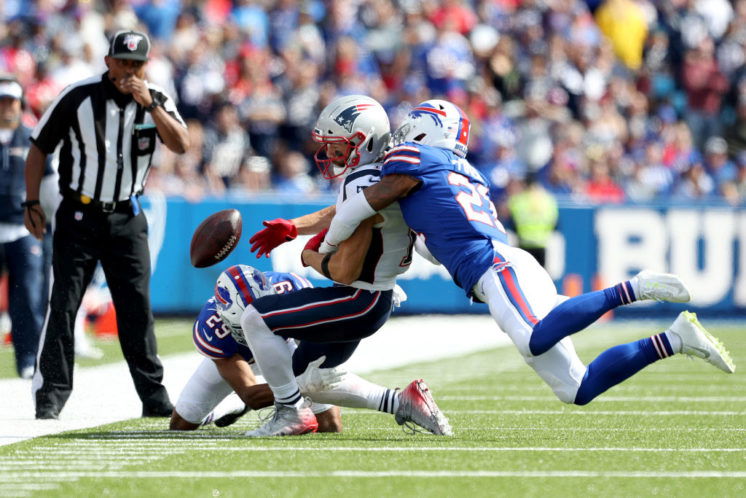 So, now we've seen them against a good NFL team – or in this case a great one – what can we say about these Bills? I'm reaching for an analogy from the roundball game. These Bills are the NFL equivalent of the 2017-18 Burnley side that finished seventh in the Premier League whilst scoring under a goal per game; an imposing team who can consistently snaffle wins against bad teams and force good ones into ugly battles, proudly representing their post-industrial communities with a scrappy physicality.
14. Carolina Panthers last week: 21
Last week, I asked "Is Kyle Allen an actual upgrade over damaged-goods Cam Newton?" Now we know the answer – yes, yes he is. Can he keep it up? If he can, the playoffs beckon. Up next: the Backup Bowl with Gardner Minshew's Jags!
15. Tennessee Titans last week: 20
OK, under the radar Marcus Mariota is actually looking good as well, at least sporadically – at the very least, he's not thrown a pick yet, and that's with his left tackle Taylor Lewan missing due to a suspension that has now ended. The Titans still aren't good – but they're also not flat-out bad, and a lot of NFL teams are currently bad.
16. Houston Texans last week: 14
The more I think about it, the more my problem with the Laremy Tunsil trade is that it happened too late – forcing him to learn a new offense on the fly, having spent months practicing with a team that was built to fail. He's not looked value so far, but that might be why. Fortunately, Deshaun Watson can still do Deshaun Watson things. Unfortunately, those aren't nearly proving reliable enough right now.
17. Cleveland Browns last week: 23
So that's where the Browns of 2019 were hiding. Good to know. Is this the start of something, or a one-off with their backs against the wall in their most emotionally charged game of the year? Forgive me for not knowing.
18. Los Angeles Chargers last week: 18
They dived into the #FishTank and came back out of the water safe and well. No NFL power rankings credit for beating a college team.
19. Tampa Bay Buccaneers last week: 22
Congratulations, Tampa! You put up 55 in the Coliseum in a stunning upset win! Now you might have to pay the proprietor of Crabsnatcher Bakery a whole lot of dough because you're going to think he is the worthy face of your franchise instead of a man who'll only keep you going sideways. Bad luck. At least the fans got one of those days to remember – what a pity that being stuck in QB purgatory make those infrequent and ultimately meaningless.
20. Minnesota Vikings last week: 15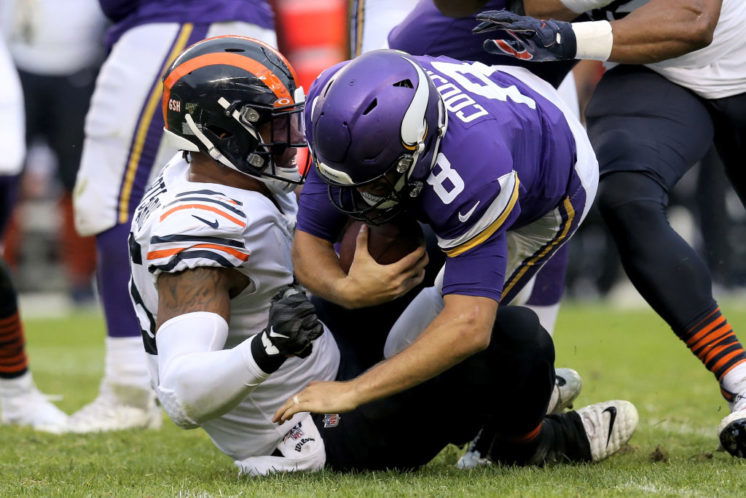 As expected, Kirk Cousins fell on his face against an elite defense, but this team's issues run deeper. Vikings fans, Diggs/Thielen fantasy owners, and anyone with a liking for 21st-century football are united in horror at the state of this offense.
21. Jacksonville Jaguars last week: 19
They nearly found a way to lose in Denver, but they found a way to win. Is it time to bite the bullet and not price Jalen Ramsey out of a move?
22. Indianapolis Colts last week: 12
How do you get blown out of the start of a home game against a team for whom it was 10am in their usual time zone? I thought the Colts' win over the Falcons proved they may actually be good. Now we know it proved that the Falcons were actually bad. As are the Colts. Thanks for destroying my survivor league hopes.
23. Oakland Raiders last week: 26
Maybe it's the Chargers fan in me – no, scrap that, the British Chargers fan in me, watching people on the street in the silver and black who think Derek Carr is a character in a Pixar movie – that's not buying into these Raiders. But they are quietly 2-2 with the supposedly softer part of their schedule to come. They have a potential new star in Darren Waller, who's gone from preseason fantasy hipster pick to legit offensive lynchpin. With Vontaze Burfict mercifully suspended for the season, it's now time for Jon Gruden to actually focus on character as the team prepares to move to Vegas.
24. Pittsburgh Steelers last week: 25
The less said about this team and their inexplicable front office decisions the better, frankly. Still, at least they aren't 0-4!
25. Atlanta Falcons last week: 17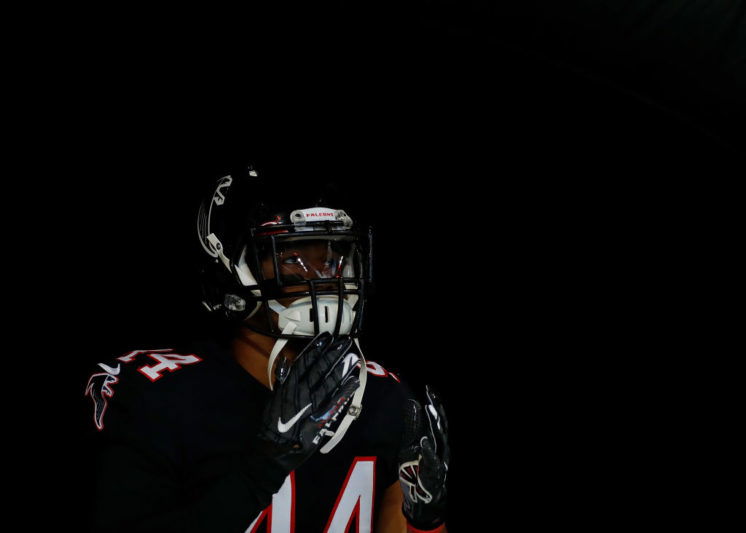 This defense is quite simply yikes. The offense, still with the same core that was one audible away from a ring not that long ago, isn't much better. Twice in a row they've made teams from the mess that is the AFC South look properly good, and they could go for the hat-trick this week in a building that probably still gives them nightmares. We have a serious stealth tank contender here.
26. New York Giants last week: 29
We'll see how they look as the schedule toughens up, but for now Daniel Jones looks like a functional NFL quarterback, which means he's already exceeded the pessimistic draft-season projections. Remember when we laughed at the first mocks that had Jones going earlier than Dwayne Haskins? Ah, good times. Also, is it just Washington gifting big games to anyone, or has Wayne Gallman produced the strongest evidence yet that RBs can be treated as disposable commodities in today's NFL?

27. Cincinnati Bengals last week: 24
The offensive line is a shambles, the defense just made Mason Rudolph look good, A.J. Green is either still injured or he's now holding out for an extension no well-run team would give him with his age and injury history, and the Bengals will still be widely expected to win this week. That's because they're at home against…
28. Arizona Cardinals last week: 27
The much-ballyhooed Kliff Kingsbury offense seems to consist mostly of quick throws into the flat, and it's still the strongest part of this team. And there's still multiple NFL teams worse than this. There's NFL parity for the most part, but there's a handful of teams that really aren't a part of that.
29. New York Jets last week: 31
Maybe this team will look better whenever Darnold's return happens, especially with Chris Herndon back from suspension next week. Mostly they've climbed two places this week because it's hard to argue they're truly one of the three messiest teams in the league.
30. Denver Broncos last week: 30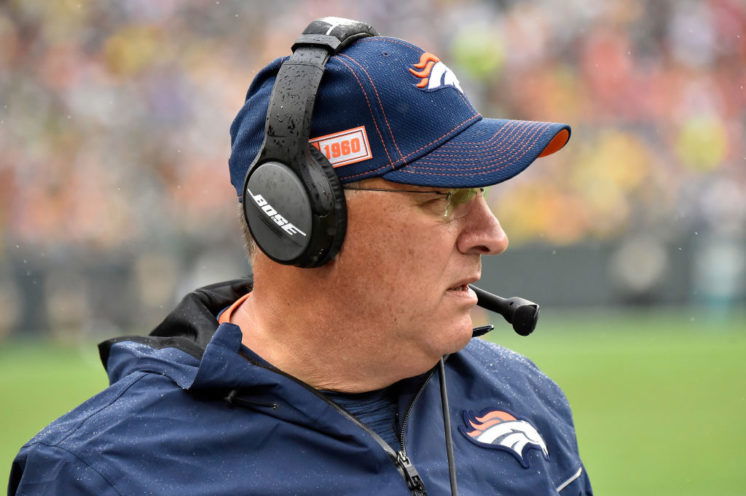 Well, they nearly stole the win, and they finally got a sack. Big whoop. And now they have Bradley Chubb out with a torn ACL. They're 0-4 with a young cornerstone of the team done for the year, they've lost twice at home in September,when their formidable home advantage is usually at its strongest, and they might actually have had the easiest part of their schedule already.

31. Washington last week: 28
When you get blown out by the Giants you are probably bad. Jay Gruden has explicitly not named his starting quarterback for this week's "battle" with the Patriots, which hasn't stopped the oddsmakers from setting a line for this game (Pats -14.5! In Washington!). The choice between the man who got benched last week (Case Keenum), the rookie who threw three picks against a bad team in relief of him (Dwayne Haskins), and the journeyman who isn't fully fit yet (Colt McCoy) is immaterial. Spoiler alert for the next Walking The Lines: by the time Alan gets to pick this game, there will be an even bigger spread, and he will still pick the Patriots to cover.
32. Miami Dolphins last week: 32
Capt. Chris Grier (2nd Miami Armored Vehicle Division) apparently wants to spend big in free agency next year (or possibly "needs" – 2020 marks the end of the four-year calculation period for enforcing the salary floor, one of the forgotten features of the current CBA). Here's a tip: spend the money on five offensive linemen.
The Dolphins have a bye this week. The line opened at Bye -3.5.
---