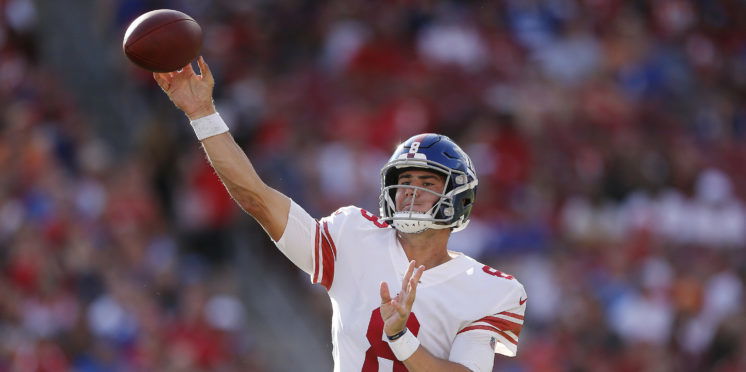 Fantasy Football Primer – Week 4 2019
Week 3 is in the books, and there were lots of players who would be either making their owners very happy or very frustrated. There were some big fantasy performances, and there were some real let downs. There are some new stars emerging, and some fantasy-favourites disappointing, let's see what went down, and look ahead to Week 4.
Week 3 Standouts
Daniel Jones – Danny. Dimes. Did you predict it? Neither did I. Daniel Jones was almost definitely available in your league when this week started, and he might still be available now, but wow. I definitely liked the spot here for Jones, with a good matchup against the Tampa Bay Buccaneers, but I didn't want to start him until I knew what I had. Very few people would have put him in their lineup, but those who did got an injection of 34 fantasy points on 336 passing yards and 2 touchdowns, as well as two rushing TD's. It was very impressive that the 6th overall pick in the NFL draft stepped up and got the Giants their first win, even after Saquon Barkley got injured. Jones was the fantasy QB2 on the week, only behind our next standout.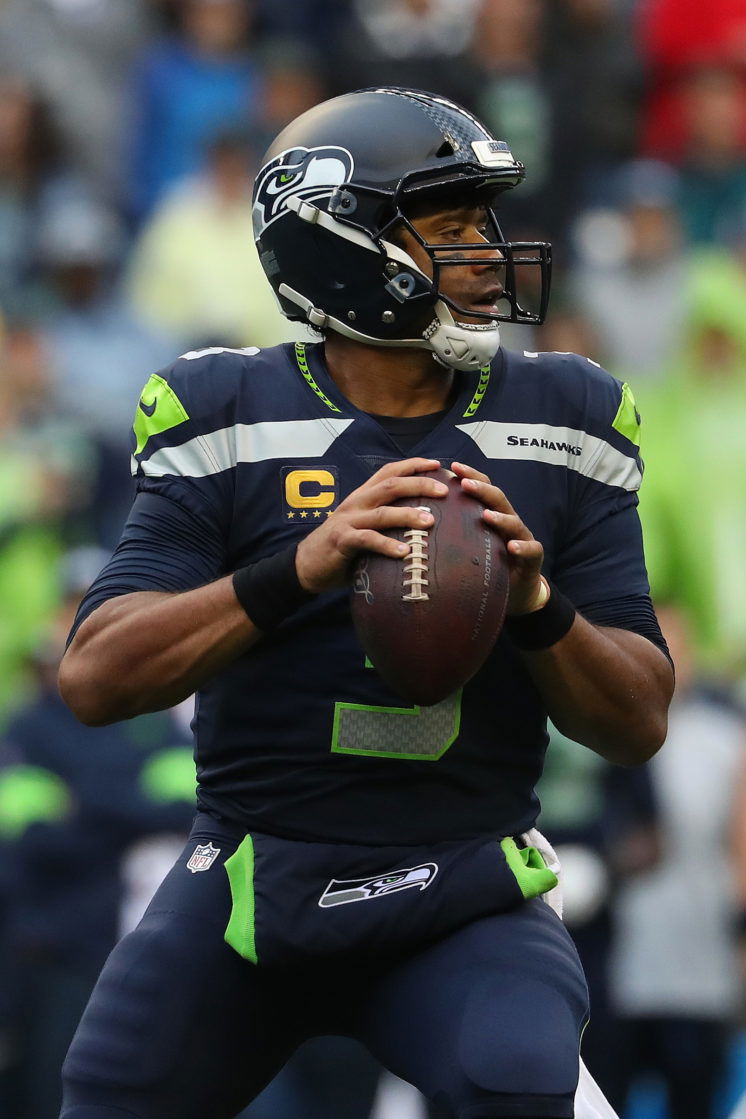 Russell Wilson – How much would fantasy owners pay to see this every week? How much would Seahawks fans beg? I'm not talking about the fantasy points (of which he got 41), I'm not talking about the stats – 406 yards and 2 touchdowns through the air and 51 yards for 2 touchdowns rushing – I'm talking about the passing work. Not production, the attempts. 50 attempts. This was the first time that Russell Wilson has thrown 50 passes in his entire career, and he hadn't thrown more than 40 since 2017. This was an uncharacteristic style of game for the Seahawks, but the kind that would make Wilson one of the best fantasy Quarterbacks in the league. If he threw the ball 40 times a game, he'd be drafted in the first four rounds in fantasy every year. I would love to see this kind of volume more.
Mike Evans – I hope you read this article last week and took my advice. One of my Week 3 starts of the week was Mike Evans, and the reason that I wrote that in wasn't because I expected people to be cutting him or benching him, but because I knew that people would be uncomfortable with him, and I urged people not to be. The matchup against New York was exactly what Evans needed, and he put up a position-high 41 fantasy points (all points are in half PPR), with an impressive 190 yards and 2 touchdowns on 8 receptions. Anyone who benched Evans is mad, and one of RAF's own traded him away only to watch him have this performance in his first positive matchup. Next week I don't suspect he'll be quite so dominant, but he has proven he still has the ability to have massive production when he gets the volume. Keenan Allen and Cooper Kupp deserve shoutouts too but Evans' bounce back was needed for his owners.
Mark Ingram – One of the most difficult players in the entire league to valuate this offseason, the Ravens have made it abundantly clear that they think of Mark Ingram as their primary running back, and it is paying off for those who picked him up. He is currently the RB4 on the season, and this week he put up his first week topping the position in fantasy points. His 103 rushing yards and 3 touchdowns asserted a dominant 33.5-point week, and his usage has been encouraging all year. The committee that we feared is non-existent and the red zone rushing work is firmly contained between Ingram and Lamar Jackson.
Week 3 Let Downs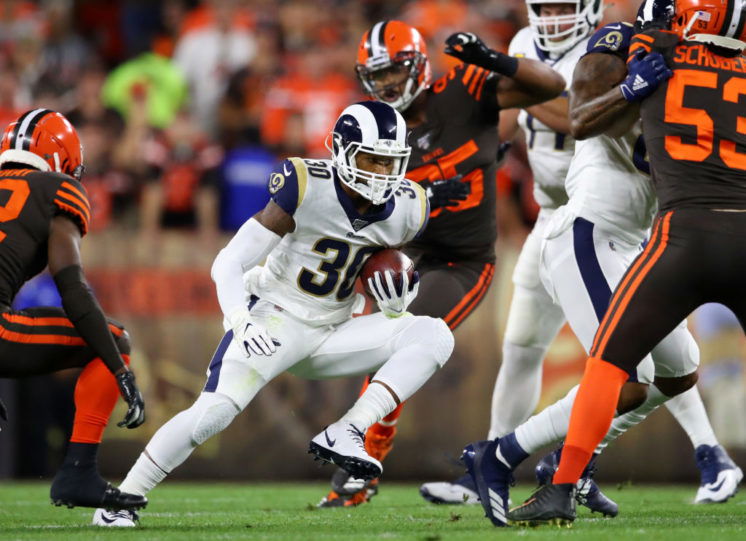 Todd Gurley – Man this one is frustrating. The Rams are doing what is smart, nobody will argue with that. In terms of their NFL season they are playing it smart – winning all of their games without burning out Todd Gurley. But if you own him in fantasy, this is a nightmare. This week it wasn't even like Malcolm Brown stole the show, neither of them did anything. That Sunday Night Football game was just a bit awkward for fantasy as a whole, and Gurley put up just 43 yards on the ground, and got no work through the air whatsoever. For a second-round draft pick, 4.3 fantasy points isn't enough.
Chris Carson – If you spoke to me in the fantasy preseason, while I was doing my preparation, mock drafts and rankings, you would know that I loved Chris Carson this season coming in. I wasn't wrong to like him, because his situation was frankly incredible. But it's going wrong. Carson is averaging a fumble lost per week, and this week his shortcomings were directly instrumental in the stat we previously looked at. Rashaad Penny was inactive this week, and when Carson started to look bad, they just threw it. 50 pass attempts from a run-first team. That isn't good. It's genuinely possible they pivot to Penny in the next week or two, and if his ball-security is as bad as his predecessor then I think Russell Wilson will be throwing the ball a whole lot.
Mark Andrews – This was a tough one for many fantasy players, I imagine. People who had Mark Andrews going into this week could be separated into two categories – you either drafted him as your late TE and were pleasantly surprised, or (the much more frustrating alternative) you picked a higher tight end before, and then moved onto / picked up Andrews after the first week or two. Either way, this week was a surprising disappointment. The Kansas City Chiefs are a great fantasy opponent due to their defense being much weaker than their offense (think Falcons, Buccaneers etc) but this week they locked Andrews up, and Lamar Jackson struggled through the air compared to his first fortnight of slinging it. The Ravens TE pulled in 3 receptions for just 15 yards and let people down in a great matchup.
Week 4 Starts of the Week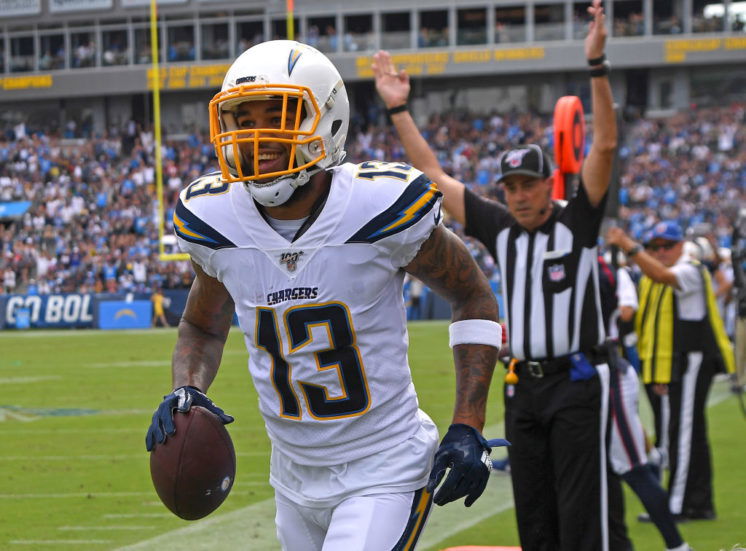 #Dolphinwatch – Big shoutout to the Dolphins for scaring the hell out of some Cowboys fans for at least 15 minutes, but alas – they still proved to leak fantasy points. This week they are facing the Los Angeles Chargers, who [while not actually doing that well in the NFL] are having a really strong fantasy season in the form of Keenan Allen and potential league-winner Austin Ekeler. This week you will be firing those guys up as usual, but that's not news. In Week 4 you have some nice potential for sneaky picks, particularly Justin Jackson, Phillip Rivers and a hard-to-value Mike Williams. Also, Keenan Allen 100% deserves a mention as a Week 3 standout, with his brilliant 37.1 point game, off the back of a ridiculous 17 targets. This week he has a chance to repeat that kind of production in an easier matchup.
Jacoby Brissett – The Falcons defense made things easier than they maybe should have been for the Colts backup-turned-stud quarterback Jacoby Brissett, however he is now hosting the Oakland Raiders. The Colts like to use the run to take the pressure off their signal-caller, but this week they are facing a team who have been solid against the run and bad against the pass. The Raiders are a good enough offense to keep you on your toes, but a bad enough pass defense that you can win, basically. Perfect for fantasy. Brissett may be available on waivers, or he might be your second QB, if you don't feel comfortable just holding one, and this week he has a good situation to try and have another solid week, after putting up a respectable 20.8 points at home to Atlanta. If you play DFS, I love the Brissett and T.Y Hilton stack.
Sterling Shepherd – This is an honorary Week 3 standout, too, because Sterling Shepherd had a brilliant game with Danny Dimes throwing him the ball. The Giants WR1 put up 100 yards and an touchdown through the air and rushed for 21 more, in the matchup against Tampa Bay. We got to see that Daniel Jones is legit, but more importantly we saw what it's like when Saquon Barkley isn't there – and Shepherd (and Evan Engram) stepped up. This week they will be hosting the Washington Redskins, who have a pretty decent defense, but they are susceptible to a good passing offense, as we saw in Week 1 against the Eagles. If Daniel Jones is as good as he looked in his debut, he could definitely maintain the production that Shepherd had in Week 3 again, in the last week before Golden Tate is due to return.
Terry McLaurin – A waiver wire pickup in most leagues, whoever has Terry McLaurin got a free starter for nothing. The value in 'Scary Terry' is absurd, and this week it is even higher due to a favourable matchup with the New York Giants. McLaurin is in a good position as the WR1 on the Redskins, and the hosts just won their first game of the season behind a new QB, who should hopefully do enough to keep the 'Skins passing the ball. The matchup is good, and so I have to make sure that if you've got him on your bench, it's time to bring him in. I'd start McLaurin over the likes of Stefon Diggs, or Jarvis Landry this week, and he's in ideal flex with both floor and ceiling, with the latter being even higher than usual this week.
Week 4 Sits of the Week
Tom Brady – Tom Brady has had an awesome start to the season, he has also had a very easy start to the season. There is finally a tough matchup coming for the GOAT, and while I think the Patriots win, I want to – at least – temper expectations. The Buffalo Bills are an incredibly underrated defense, who are starting to prove themselves and step up, and they will need to do just that again this weekend. If the Bills play to their potential, they will give Brady has worst week of the season. If you have Brady you might not be the type of player to stream a QB for a week, and I don't like having two QB's, so while you don't really have to sit him, I'm looking to see a much less productive week than his 25 odd fantasy point performances when they pass the ball with ease.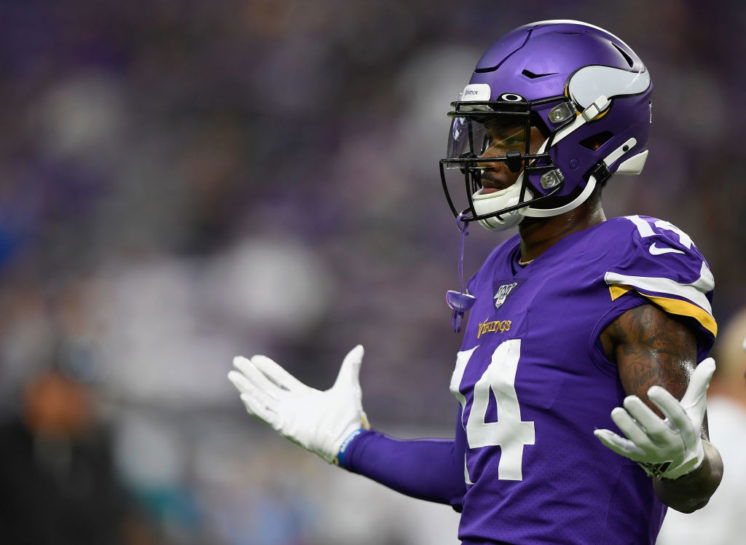 Stefon Diggs – I hate to do this. I love Stefon Diggs. A player I own in two leagues, and one of my favourite wide receivers in the NFL, but this season has been atrocious. The Vikings just don't pass the ball, like not even a little bit. Diggs, the WR2 on the team has been on painfully low receptions thus far. His best week was against Green Bay, and he only had one reception. He did a Tyler Lockett and scored on his only catch, but his floor is literally zero. In half-PPR Diggs – a third or fourth round pick – still hasn't put up double-digit points. Oh, and did I mention he's facing Chicago now? I'm sitting him this week, watching closely, and then I'll run him out against the Giants in the next game for his last chance to prove his value.
David Montgomery – This is a pick that has stressed out the people who made it. David Montgomery was a 3rd or 4th round player who you were expecting to fulfil a role as an RB2 or flex play on a weekly basis as soon as week one. That first week didn't go well. Since his next-to-no usage debut, he has been more reliable in terms of actually getting touches of the ball, but I'm not confident in him yet. My confidence isn't anything to do with his ability, for the record, it's because of the team he's on and the way that they are running their offense – Nagy isn't using DMont as much as I wanted to see, and this matchup against Minnesota adds even more apprehension, and I would sit him for a player with a nicer floor and/or ceiling.
What to watch
Seahawks starting RB – Chris Carson has really struggled with ball security, and the Seahawks are going above and beyond to make it very clear that they still believe in their running back. I wanted to just straight up put Chris Carson in the sits of the week section, but the matchup is too good. The Seattle running back position will be valuable this week, as they travel to Arizona – but we need to know who that is. If Rashaad Penny starts this game, I will be absolutely ecstatic, and he will become a legitimate RB1 candidate on the week, but that's something you have to check on Sunday. Assume Carson is starting until told otherwise, but check. If Chris Carson blows up for 20 fantasy points, I'd trade him next week and get rid of the headache. Also, if Penny is on the waiver wire, he needs to be on your bench before the games start on Sunday.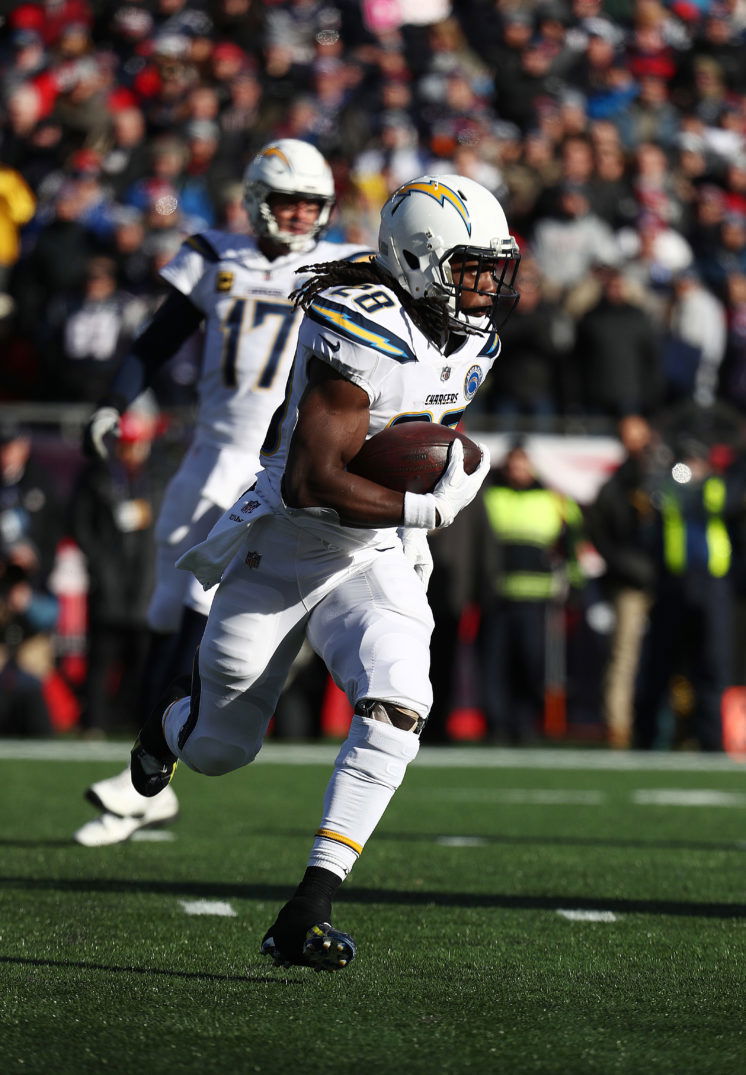 Chargers RB situation – We had a nice run, lads. Austin Ekeler has carried his owners through the first three weeks, and he will continue to do so in Miami in Week 4. Next week, however, that's when it gets messy. If you have Melvin Gordon, you're loving it, if you have Ekeler, it's a bit of a weird spot, because he has had a massive production spike early, and should actually still be a fringe RB2 even when Gordon returns. There is no real concrete date for when the returning RB will actually return to the field on a Sunday, however it has to be on your radar, especially if you own either of the backs.
Steelers TE situation – Do not misunderstand this – you are not going to pick up Nick Vannett. You are however going to keep an eye on whether Vance McDonald can play with his current shoulder injury, and how his snap count and volume changes over the next week or two. The Steelers tight end hasn't exactly been setting the world on fire, anyway, but if he loses even more of his role, suddenly you need a replacement. Go and check if Will Dissly is available, he's a better start than any Steeler this week.
Wayne Gallman's usage [in the game] – This isn't one to watch before the games start, but actually in his game, I'm watching Wayne Gallman in his first time starting on the year. I have picked up the Saquon replacement in one league, and I am going to leave him on my bench this week and watching closely. If he can get involved with a couple of catches and runs 15 times all of a sudden he will be an exciting play. He has a rough matchup in week 5 but it'll be good to see how he does, before you start him.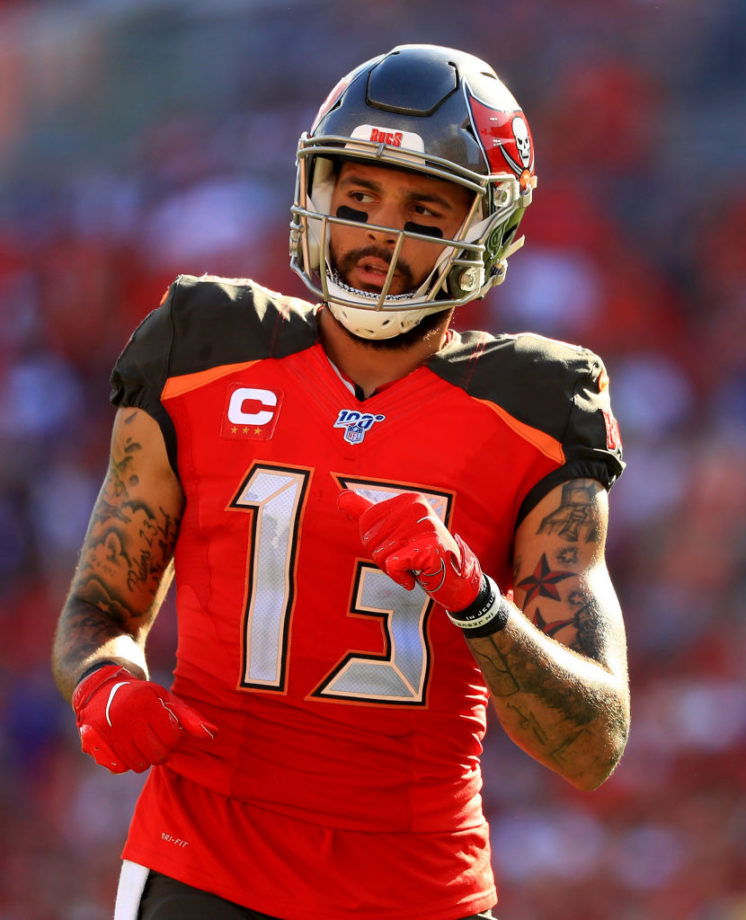 Chris Godwin vs Mike Evans [in the game] – This battle is one that was one-sided for a while, the battle for the fantasy WR1 in Tampa Bay, but in Week 3, Mike Evans categorically sprung himself back to prominence, with an absurd 41 fantasy points. Chris Godwin hasn't gone anywhere though, and this is a week that I'm keeping my eyes firmly on these two receivers. Against the Rams, you should be expecting plenty of passing volume, and with a much better defense than they faced in New York last week, it will take more than just a go route to get open against Los Angeles. Godwin should have an easier time, as he's coming out of the slot on the majority of plays, but Evans owners want to see him start to build some consistency again.
Enjoy Week 4 and good luck!
---