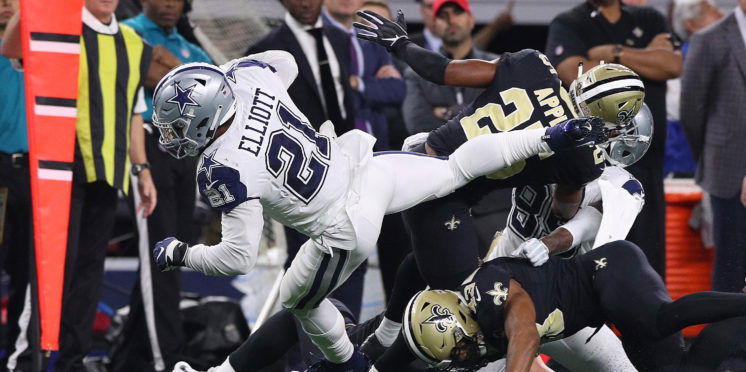 Walking The Lines – Week Four
One way or another, the buck stops here with my 8-8 streak.
Yes, for the third week in a row here on Walking the Lines, I finished the week at 8-8. That puts me at 24-24 on the season for those of you keeping score at home. But with the 49ers and Jets heading into bye weeks, there are only 15 games on the slate this week. I'm not sure if this is a good thing or a bad thing, but I will not have a .500 record when we meet again next week.
While I'm on the subject, is there anything in sports worse than the extremely early bye? The bye week is supposed to be a great equalizer. The one week where your team can breathe, set themselves, get healthy, and attack the rest of the schedule. But it's anything but an equalizer. The bye doesn't do much good when your bye week comes after three weeks and you have to go 13 straight without an off week as the 49ers and Jets will.
Teams can get serious advantages or be dealt big blows to their playoff chances just based on how early or late their bye week is. It's nonsense. Compress the bye weeks in the middle of the season, NFL. Nobody earlier than week six, nobody later than week 11. It's the best way to do things.
Now, with my weekly tangent about how the NFL needs to do better at something out of the way, let's make some picks.
————-
All lines are the consensus lines from The Action Network as of Wednesday night. Picks are in CAPS.
Last week: 8-8
Season: 24-24
PHILADELPHIA (+4) @ Green Bay
Desperation time for Philadelphia. When is this team with Super Bowl talent (and a recent Super Bowl ring) going to actually play like it? Thursday night would be a good start with their backs against the wall at Lambeau Field.
In case you're wondering about the mental state of the fanbase is in Philadelphia right now, I present to you this amazing clip:
Twitter: The most Philly soundbite goes to this guy who helped catch children thrown from a window during a fire. https://t.co/3rH69gU2fL (@SteveLindsayCBS)
Even in the midst of talking about a heroic act he just committed, this Philadelphia fan can't help but take a shot at his team. And can you blame him? These guys are underachieving right now, but I think they bounce back in a big way Thursday.
After all, the Eagles were my Super Bowl pick before the season, and I'm currently on a one-year winning streak after picking New England last year. I'll take this Philly team with a ton of talent and four points to right the ship.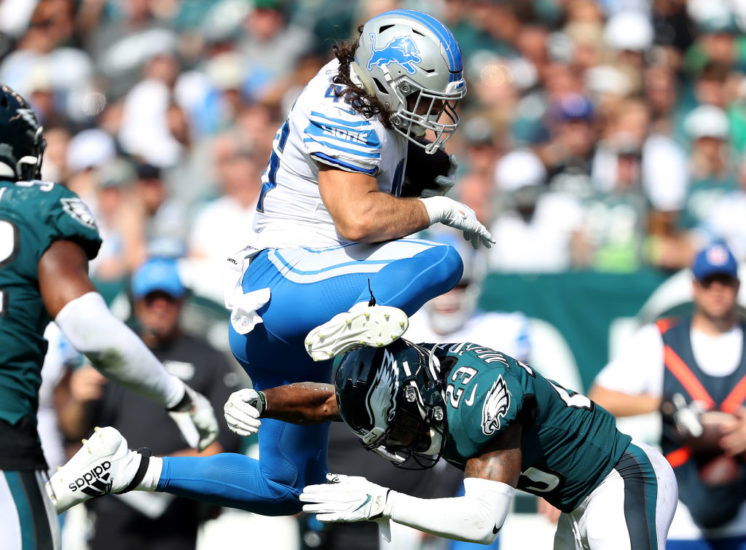 CLEVELAND (+7) @ Baltimore
If the Cleveland Browns win on Sunday, they will be in first place in the month of October.
No, this is not a fever dream. No, you didn't stumble onto a baseball column or an early basketball predictions piece from the LeBron days in Cleveland. This is football, and the Browns have a chance to draw even with the Ravens in the AFC North standings (whilst, of course, owning the head-to-head tiebreaker) if they can pull out a road win on Sunday.
Unfortunately for the Browns, they have looked like the 1999-2018 Browns so far this season. They have a great opportunity to fix that against the 1946-1995 Browns this weekend. I'm not convinced Cleveland can win the game outright, but whatever their best game is, this is it.
It's against a huge rival, in a game that's always emotionally charged for the fanbase, coming off of another home loss, and with Baker Mayfield looking to silence some doubters against a quarterback from his draft class. I think the Ravens win it, but I'll take a touchdown here with the team needing a big performance more than any other this week.
Halloween is coming early in Baltimore as the ghost of Art Modell will be watching this one. Will he haunt one of his old teams? Or will he haunt a certain pickmaker by giving Baltimore a seven-point win, making this a push and giving me a shot at a 7-7-1 week and an eternal .500 record? Nothing is out of the question when these two franchises meet.
Carolina @ HOUSTON (-4.5)
A week ago, I described Arizona +2.5 as "taking candy from a baby" with their game against Carolina. Well, it turns out that baby was Kyle Allen, who grew some fists and punched me in the mouth for stealing his candy. Picture Boss Baby, but as a quarterback in real life, not some horrible animated movie people actually decided would be a good idea.
I will say though, sometimes I wonder if that's what Jon Gruden was like as a baby. I can just picture him drawing up football plays in his crib and loving the hustle from his classmates in preschool. It's hard to imagine him as anything other than a middle-aged man who gets overly hyped up about the Xs and Os of football.
Anyway, the Panthers are getting a lot of credit for last week's win. It was a good win, but it was also the Cardinals showing just how bad they really are. They're getting more credit than they deserve with this line, and I expect the Texans to put them back in their place a little bit.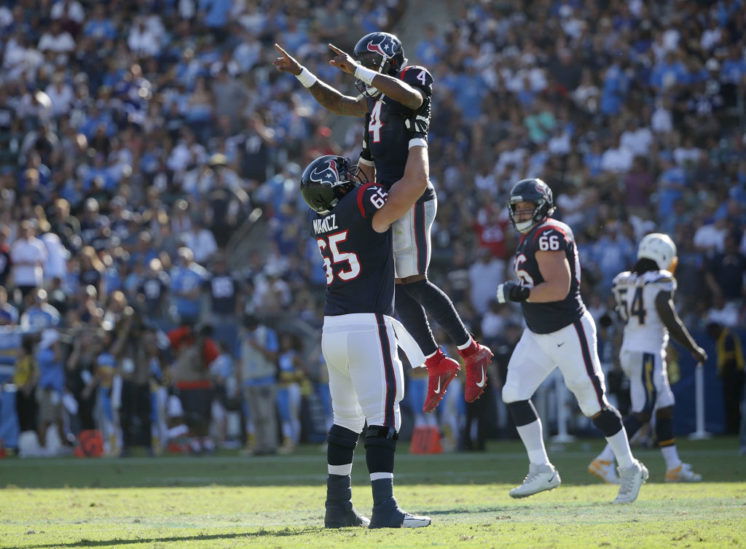 Kansas City @ DETROIT (+6.5)
I hate this number so much. Just hate it. Patrick Mahomes is 13-7-1 against the spread as a full time starter, and 6-2-1 on the road. Overall as a starter, he's 17-5 and 8-3 on the road. All of the numbers support the Chiefs, as they usually do.
I just…can't do it. The number is a little too big. The Lions are playing really well defensively, and the Chiefs are due for a little bit of a letdown. As much as it looks like it, Mahomes is not going to dominate every defense he faces all year.
The Lions are a team built for running the ball and controlling time of possession. It's only compounded by the fact that the Chiefs are 27th in the league in run defense, and all five teams below them are winless. They've allowed 137.7 yards per game on the ground so far this season, highlighted by surrendering three touchdowns to Mark Ingram last week.
I think Kerryon Johnson has a big day, the Lions keep Mahomes off the field enough, and at least keep the margin within a touchdown.
I will not be the least bit surprised when the Chiefs win 38-17 behind a four-touchdown day from Mahomes, but I have to take my shot somewhere this week. This could be the biggest win for a Detroit sports team in at least half a decade, and that's somehow not an exaggeration given the state of sports in the Motor City. Don't let me down, Lions.
NEW ENGLAND (-7) @ Buffalo
You're going to read a lot of think pieces this week about how the Bills are 3-0, this is their big chance to make some real changes to the AFC East hierarchy, and how big Sunday could be for a franchise mired in eternal struggle.
It's a nice thought, but don't buy into it.
The Bills are 3-0 with a 17-16 win over the 0-3 Jets, a 28-14 win over the Giants with Eli Manning under center, and a 21-17 win over the 0-3 Bengals. They haven't played anybody of note yet, and now they're thrown into the deep end against the Patriots.
It's like going from swimming in the lake to swimming in Niagara Falls, although I wouldn't rule out a crazed Bills fan trying it if they managed to beat the Patriots and move to 4-0. If an Eagles fan calling out Nelson Agholor during an interview about an act of heroism isn't sufficiently on-brand enough for you, a Bills fan swimming in Niagara Falls certainly would fit the bill. Pun intended.
True story, I once went to Niagara Falls and didn't wear the poncho they give you before the tour starts. Don't know why. As Baker Mayfield might say, I guess I just woke up feeling dangerous that morning. Still, it was an experience I will never forget, and I'm glad I could relive it here on the picks this week.
But for this week, celebratory swims will have to wait. The Patriots are coming to town to take care of business, and show who is still the big brother in the AFC East. I feel good about Brady coming to town and covering a touchdown spread here.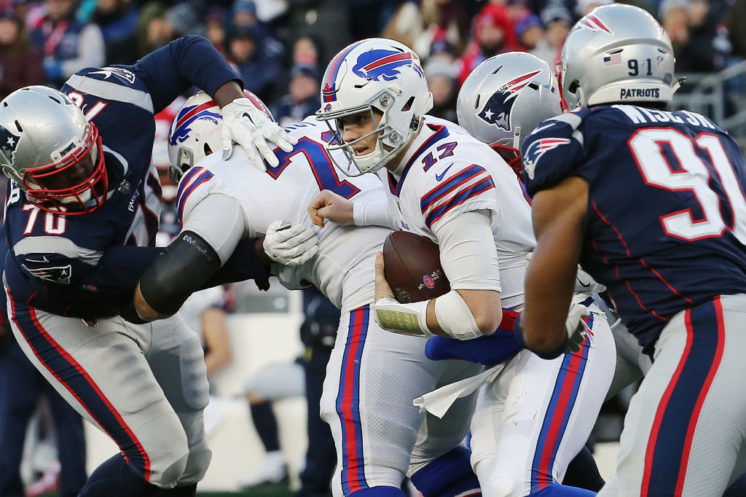 Oakland @ INDIANAPOLIS (-7)
Last week I wrote about how the Raiders have historically struggled in 10 A.M. body clock kickoffs. They went out and proved me 100% right with a beyond lackluster showing in Minnesota – outgained by almost 100 yards, and a good chunk of those Oakland yards came on a garbage-time touchdown drive. The Vikings led 21-0 four minutes into the second quarter, and never let go of that stranglehold on the game.
It's almost like the Raiders weren't ready to play in an early kickoff.
My question is, what is there to suggest the Colts won't do the exact same thing in another early kick? It doesn't exactly get easier with back-to-back road games.
I don't have a good answer to that question. I expect a very similar game and a very similar result with the Colts running their win streak to three. Plus, Indianapolis is 3-0 against the spread so far this season and full of confidence after a solid win over Atlanta a week ago.
LA CHARGERS (-16) @ Miami
I'm not picking the Dolphins, you know exactly why, and we're going to talk about a college game instead here.
This week doesn't have an obvious big game the way last week did, but in the spirit of talking about a Los Angeles team for this pick, I'll entertain No. 21 USC @ No. 17 Washington in a battle of Pac-12 contenders.
USC is already 2-0 in conference play after picking up a huge upset win over No. 10 Utah last week. It seems things are never stable there, but Clay Helton's hot seat is at least a little cooler with that win. Washington on the other hand already dropped a conference heartbreaker to California in a one-point game. I'll take USC +10.5 to keep it close, although Jacob Eason and the Huskies will win the game.
Tennessee @ ATLANTA (-4)
Sometimes, it's the ones closest to you who can hurt you the most. I'm 0-3 picking games for my Falcons this year, having them down to cover in both games where they didn't and to not cover in the win over Philadelphia.
I don't have a clue about this football team. They take a lot of penalties, but they show moments of brilliance. Matt Ryan throws an awful interception in the first quarter, then comes back to go 22-for-23 with three touchdowns in the second half. After doing nothing for two weeks, Devonta Freeman ripped off big chunks on the ground against the Colts. Up is down, left is right, and the sun rises in the west here in this chaotic society.
Welcome to Atlanta where the players play
and things are backwards in every way. 
Big win, bad loss, see Ryan throwing
and seasons end with the playoff choking.
Whatever, you get the gist. I'll leave the rest to Jermaine Dupri and Ludacris. For now I'll pick the Falcons because the Titans were just that awful last week in Jacksonville, but I really don't have any confidence in it.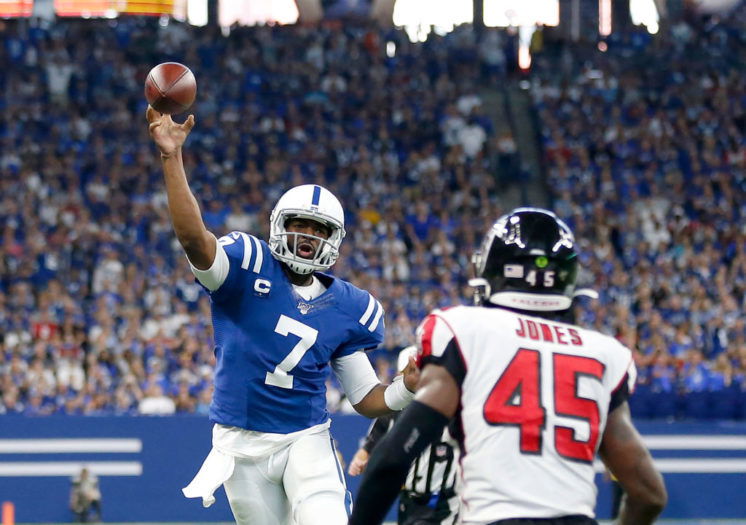 Washington @ NY GIANTS (-3)
Surprising as this may be given their struggles, the Giants are 7-4 against the spread in their last 11 games dating back to the second half of 2018. They've also had Jay Gruden's number during his Washington tenure, with a 6-4 clip that included a huge 40-16 win last season at FedEx Field.
This game actually could have been a lot of fun. There was potential for it to be the first matchup between two quarterbacks from the 2019 draft class if Dwayne Haskins was starting for Washington against Daniel Jones.
Unfortunately, Gruden hates fun and will stick with Case Keenum. What a letdown. Barry Svrluga wrote a column in the Washington Post on Monday after the Bears humiliated Keenum to the tune of five turnovers, simply asking "what are we doing here?" with this season.
Agreed, Barry. What *are* we doing here with this Washington team? Not winning. At least not this week. Give me Jones and the Giants to lay the field goal.
Tampa Bay @ LA RAMS (-10)
Everything I said about the Falcons can be applied here for the Buccaneers. Like the Falcons, I'm 0-3 with their picks this season. What is this team? They coughed up a winnable home game in week one, came back with a dominant defensive effort to steal a road game against a division rival, then completely fell apart at the seams against a rookie quarterback and lost 32-31 to the Giants.
I'm not going to try to make a parody of a famous Tampa rap song. I'm also not going to pick them. The double digits scare me with a team still in a hazy state, but I can't trust Tampa Bay.
Give me the soon to be 4-0 Rams to continue showing how well they are shaking off the Super Bowl hangover. Must be nice.
SEATTLE (-5) @ Arizona
It's a scientific fact that bad things happen when the Seahawks go to Glendale. Richard Sherman's injury. Kam Chancellor's injury. The tie after a shanked field goal late in overtime. Russell Wilson's first career game was a loss in Arizona. And of course, a certain goal-line interception that cost the Seahawks a dynasty happened in Glendale.
This place is a house of horrors for the Seahawks. Luckily for them, the Cardinals are just horrific.
Everyone knew this would be a tough year for them, but I didn't think it would be "giving up 38 points to Kyle Allen" tough, especially not after showing some signs of life in the first two weeks. Honestly, it's hard to feel good about picking Arizona over anyone after letting a backup quarterback do that to them. I certainly can't pick them over Seattle.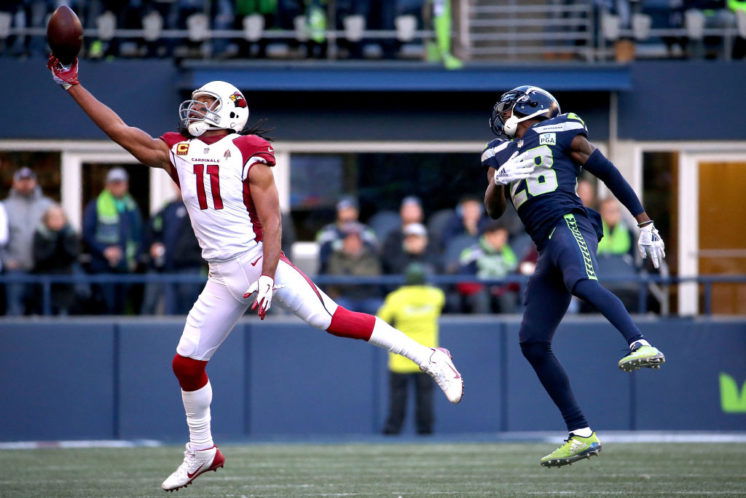 Minnesota @ CHICAGO (-2.5)
I used this term in another piece describing this game, but it's a huge crossroads spot. The winner is 3-1 and in great shape, the loser is 2-2 and 0-2 in division play. This is a big fork in the road for both teams.
This game will have many of the characteristics you normally see out of Chicago games. The quarterbacks will struggle. Field position will be at a premium. The hitting will be brutal. They don't call this the black and blue division for nothing.
But what clinches this pick for me in a game that figures to be pretty even is I still haven't seen Kirk Cousins beat a good defense. In fact, this Chicago defense crumpled the Vikings up twice last year. In the first meeting Cousins threw two picks of which one was returned for six, and Minnesota's leading rusher was Dalvin Cook… with a crisp 12 yards on nine carries. Then in the week 17 playoff decider, the Vikings only mustered 164 yards of total offense against the Bears in a season-ending loss.
In short, Chicago completely smothered Minnesota. Not to mention, Soldier Field has been a long-time house of horrors for the Vikings, who are 3-15 (!) in Chicago since 2001. I like it to continue here with a win by at least a field goal.
Jacksonville @ DENVER (-3)
I don't know what to do with this game. Clearly the bookies don't either, as they've just attached the standard three points to the home team. No result would surprise me in this game. I'm confident I could make any pick here and it would end up wrong.
I guess I just don't think the Broncos are as bad as the numbers. I mean, no sacks in three games for a Vic Fangio defense? That can't last. These awful numbers for Denver on defense have to get back to the mean eventually. I'll take their defense to bounce back against a rookie quarterback playing in a tough road environment, but I don't do it with any confidence.
Can we just get this one over with?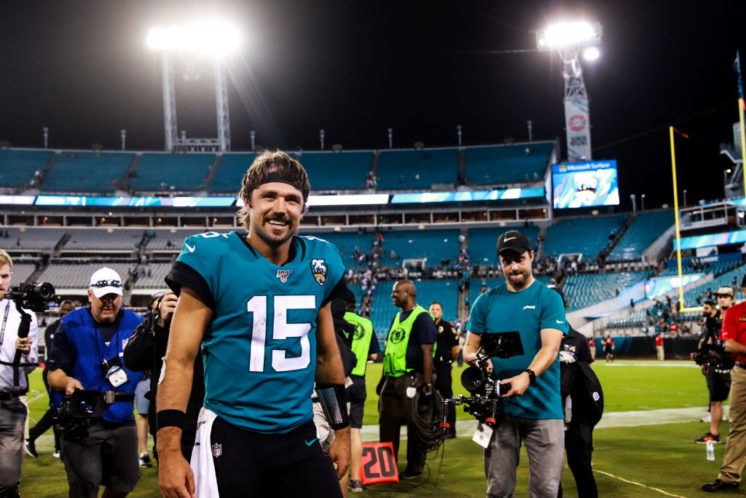 Dallas @ NEW ORLEANS (+2.5)
I know it's Teddy Bridgewater playing not Drew Brees, but you're giving me the Saints with points in the Superdome. I can't pass that up.
The Cowboys are 3-0, but the wins are over Eli Manning, Case Keenum, and Josh Rosen. Even Bridgewater is a massive step-up from those quarterbacks, and will present the biggest test for the Dallas defense so far in 2019. It's also the biggest test for the Dallas offense after facing three soft defenses to open the year.
If the Cowboys can win here, it would set up a showdown against the Packers in what could be absolute bedlam at AT&T Stadium. It's a little bit of a lookahead spot, and I like the Saints to at least keep it within 2.5 at home.
Also, I did not post a video of a bad moment in Saints history in this week's picks! Personal growth!
Cincinnati @ PITTSBURGH (-4)
If you read this far down the column, you're probably a person who really cares about football, or at least you care about me. I appreciate that. You're being kind to me by reading this. In return, I'm going to be kind right back and offer some advice.
On Monday, do literally anything but watch this game. Read a book. Watch a documentary. Walk the dog. Call your parents. Do that load of laundry you put off during all of the good games on Sunday. Go try a new restaurant.
The possibilities for how to spend your evening are endless. Bengals-Steelers should not be on the radar.
---