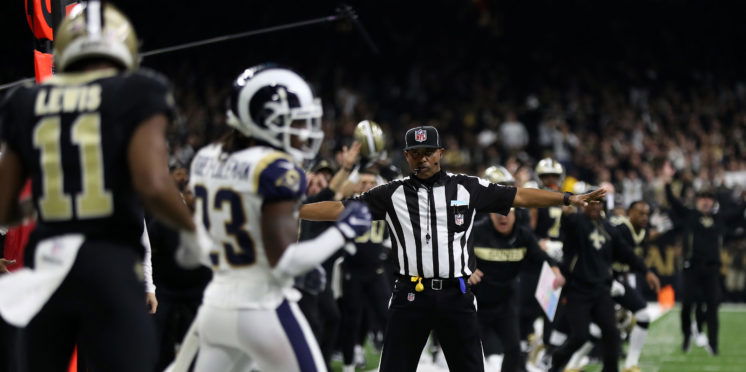 Walking The Lines – Week Two
It's a cruel game, gambling.
Last week was the first edition of Walking The Lines, and I managed to pick up an 8-8 record. That's decent, considering I was expecting to do much, much, worse, as I outlined in week one.
But it could have been so much more.
I had Carolina at +2.5 against the Rams, and they dropped it 30-27. Detroit -2.5 looked about as safe as a bet possibly can when they took a 24-6 lead early in the final frame. Then the Lions Lionsed all over the place in a way only the Lions can, turning the game into a 27-27 tie.
I felt good about Chargers -7 for most of their game against the Colts, until Jacoby Brissett broke my bet with a stone cold drive in the final minute to send the game to overtime. Jets -3? Safe, until they blew a 16-point lead in the second half.
And worst of all, the garbage time touchdown the Eagles gave up against Washington that turned their 32-20 cover into a 32-27 loss for Walking The Lines.
Count it up. Five out of my eight losses looked like surefire wins before turning sour on me at the last minute.
But that's the nature of the beast, and why 60% is considered such a tough bar to reach.
And as Steven Gerrard once said after his horrible mistake, we go again. I'll try to slip some correct picks in here before the second week of the season commences on Thursday night in Charlotte.
---
All lines are the consensus lines from The Action Network as of Wednesday night. Picks are in CAPS.
Last week: 8-8 (season: 8-8)
Tampa Bay @ CAROLINA (-6.5)
I saw nothing out of Tampa Bay in week one to suggest they have really changed.
Most of all, I saw nothing out of Jameis Winston to suggest he changed. Once again he produced more turnovers than a bakery, and his two pick-sixes aided the 49ers to a 31-17 win in Tampa.
Now they go on the road, on a short week, against a team who moved the ball well against a tough Los Angeles defense in week one. The Panthers know they can't afford to go 0-2 in home games to start the year, and I don't think they will. Give me Carolina to cover in a home game they need.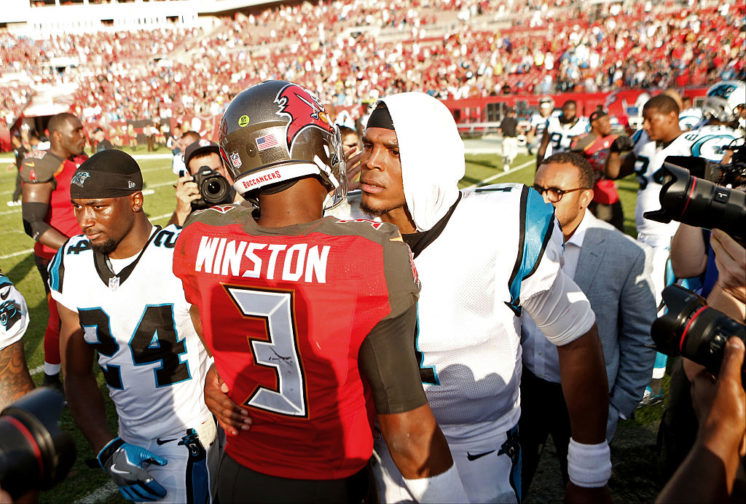 LA CHARGERS (-2.5) @ Detroit
The Chargers seem to be one of the few west coast teams who don't have much trouble with early road games in the Eastern and Central time zones. The Bolts are 4-3 in the Anthony Lynn era in these 1 P.M. kickoffs, and two of the losses were in one-possession games. They are also 6-2 against the NFC under Lynn.
Meanwhile, the Lions are reeling after week one. The score may have been a tie, but anyone who watched it knows it was a loss for Detroit. In true Lions fashion, they'll drop this one to fall to 0-1-1, and it might be time for Detroit fans to start checking in on other sports. For example, can their baseball team avoid 110 losses? Probably not, but finding out that answer would probably be a bit more fun than watching another patented Matt Patricia meltdown in the fourth quarter.
INDIANAPOLIS (+3) @ Tennessee
The first of many lines I don't feel good about this week.
It's one of the most lopsided battles in all of football. Incredibly, the Colts are 18-3 in their last 21 games against Tennessee, including Andrew Luck's 11-0 mark against the squad from Nashville. It's a level of dominance rarely seen at this level. The names, faces, and years change, but the Colts always seem to beat the Titans.
I like it to continue here. It's not that I necessarily think the Titans are overrated, but they're getting a lot of love for their 43-13 beatdown of the Browns. That game was closer than the score. In fact, it was 15-13 deep into the third quarter before Baker Mayfield played the worst quarter of football ever by a Cleveland Browns quarterback.
OK, maybe it wasn't that bad, but he did throw three interceptions in four possessions.
Turnover stats like that don't usually carry from week to week. I'll take Jacoby Brissett and the Colts to win the game in a little bit of a letdown from Tennessee.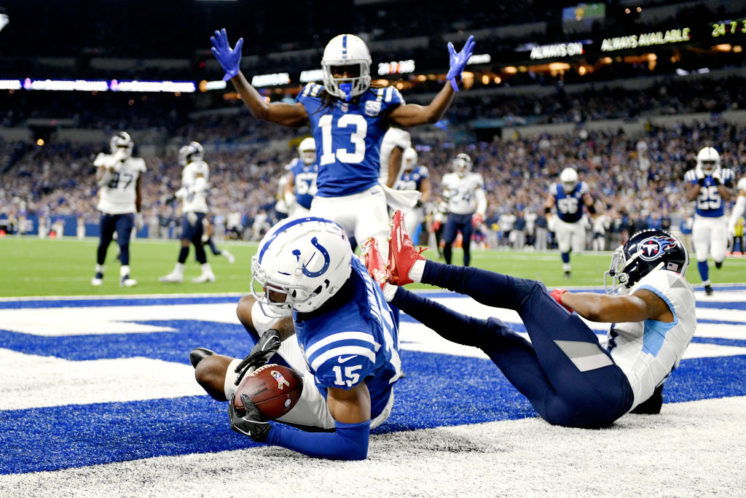 DALLAS (-5) @ Washington
This is one of two lines I have earmarked as too good to be true this week.
After a blistering performance from Dak Prescott in week one, the Cowboys are only laying five points against a defense that leaked 25 unanswered second half points in a week one collapse?
Only five? I was expecting this line to be at least seven, probably pushing towards eight. I know this is exactly how the bookies make their money, because when the line looks too good to be true, it usually is.
But I'll be a sucker and walk into the trap with Dak and the Cowboys. What could possibly go wrong?
Minnesota @ GREEN BAY (-3)
Two teams coming off of very impressive week one wins. Two division rivals who absolutely loathe each other. A chance for both to run their record to 2-0 and make an early statement of intent. The Lambeau debut of Matt LaFleur as head coach.
From a pure football perspective, I'm really looking forward to watching this one. It should be some great football in a week that has a few stinkers on the slate. As for the betting, I'm riding with a rejuvenated Aaron Rodgers at home.
Kirk Cousins only had to complete eight passes last week for the Vikings to win against Atlanta's Swiss-cheese defense. Now in the land of cheese, the Packers are going to make him throw the ball to win in a tough spot. Can he do it? Maybe, but I need to see him prove it before I feel good about picking him.
Seattle @ PITTSBURGH (-4)
I'd feel better about this if it was only a field goal, but I refuse to believe the Steelers can be as bad as they were last week.
That was an embarrassment, and there has to be some type of response. And as toxic as the last four years have been for the Steelers at times, they've still posted a 24-10 clip at Heinz Field. It's a west coast to east coast spot for Seattle, a team coming off an ugly performance of their own.
Can you imagine the reaction in Pittsburgh if they drop to 0-2 with the way they lost in week one coupled with a home loss? Yinz better be ready for a whole lot of people calling for Mike Tomlin's head on Monday if the Seahawks find a win here.
Maybe I'm putting blind faith in a team when I shouldn't be, but I like this as a rebound spot for the Steelers. It almost has to be.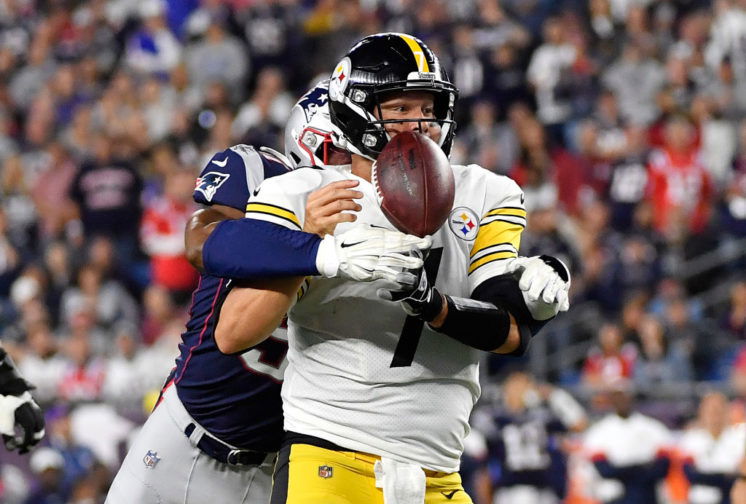 Arizona @ BALTIMORE (-13.5)
I hate everything about this. Literally everything.
13.5 is a ton of points in the NFL. It would almost be an unbelievable number if not for another spread I'll get to soon. I know in my heart that this is prime breeding ground for a backdoor cover.
I just don't have the guts to take it.
Baltimore's defense is lights out, and this is a brutal environment for Kyler Murray to play his first career road game in. The place will be loud, the defense will clamp down on him, and the west coast teams playing on the east coast numbers are in play here.
I will very reluctantly take Baltimore to cover and wait for this to boomerang in a negative way.
JACKSONVILLE (+9) @ Houston
It's not as bad as the last one, but I still don't feel comfortable here.
What's swaying me is the fact that I think people are underestimating the Jaguars a little bit. That defense still has a lot of talent, and a week one matchup with Patrick Mahomes shouldn't deter people from liking them as a rebound candidate this season.
There are two good defenses here, and two division rivals playing means the games are always a little tighter. I'm expecting a low scoring Houston win, but hopefully the Jaguars can keep it within one possession.
Buffalo @ NY GIANTS (+1.5)
This would be so Bills, wouldn't it? To win a big, emotional game in week one over a division rival, then come back one week later to the exact same stadium and give the momentum away with a loss to one of the worst teams in football. Anyone with Buffalo Bills experience knows that this is a classic letdown spot.
I seriously cannot believe I am about to predict Eli Manning to win a football game in the year 2019, but here we go. The Bills were dead and buried last week, so I'm hoping the other New York team can finish them off this time.
I would also like to extend a big early congratulations to Buffalo fans on their first 2-0 start since 2014, because I'm pretty sure I just gave New York the kiss of death.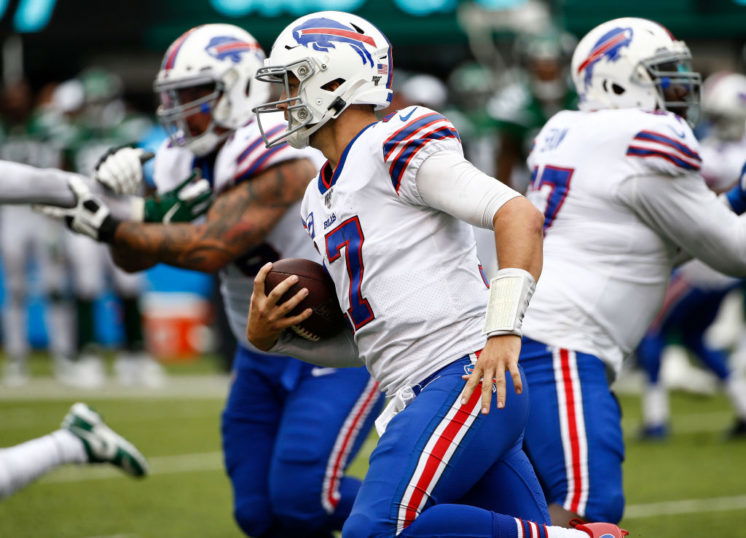 San Francisco @ CINCINNATI (-1.5)
I came away from week one very impressed with the Bengals in defeat. They hung with the Seahawks for 60 minutes in Seattle, and now come home against a San Francisco team dealing with their second eastern road trip in as many weeks.
The spread is at just the right number where I feel confident laying the points. I seriously doubt Cincinnati's ability to blow anybody out, but they won't have to here. I'll take the red-haired quarterback over the team with the red-haired mascot.
NEW ENGLAND (-19) @ Miami
Look at this number. Just stare at it for a minute. I swear you'll never see anything like this ever again. So watch it. Drink it in.
Nineteen points in an NFL game. And for a road team!
I had to do a double take for a second. I know it's Tom Brady and the red-hot Patriots against a team very forcefully attempting to lose games, but nineteen points is still nineteen points.
They're the second-biggest road favorite in NFL history, only losing out to the 1987 49ers, who were giving 23 points to the Atlanta Falcons in old Fulton-County Stadium. Tom Brady was a 10-year-old kid last time an NFL team went into another team's stadium as this much of a favorite. It's really mind-boggling when you break it down.
It made sense, given that those were Joe Montana's 49ers against strike-replacement QB Eric Kramer's Falcons, one of the worst teams in the history of a franchise known for failure. Those 1987 Falcons finished the season 3-12, but they shocked the world on this day by only losing to the 49ers by eight points.
The fact that I cheer for a franchise where not getting blown out in a game is considered a big accomplishment is just incredibly sad, but that's a different can of worms for a different day.
As for Sunday, I'll take the Pats. The bookies are absolutely begging people to take Miami, but I just can't bring myself to do it. I can't pick a team whose entire goal of this season is to lose as much as possible to cover the spread against the New England Patriots. Even if that spread is the type of number we haven't seen in 32 years.
(Since this was written, it has become increasingly likely this game could be affected by weather, as a potential tropical storm is in the early stages of development near Cuba and the southern Bahamas. If it develops into what would be Tropical Storm Humberto, this game and its historic line could be affected in as-yet-unknown ways, but this is utterly trivial compared to the potential impact on areas of the Bahamas devastated by Hurricane Dorian.)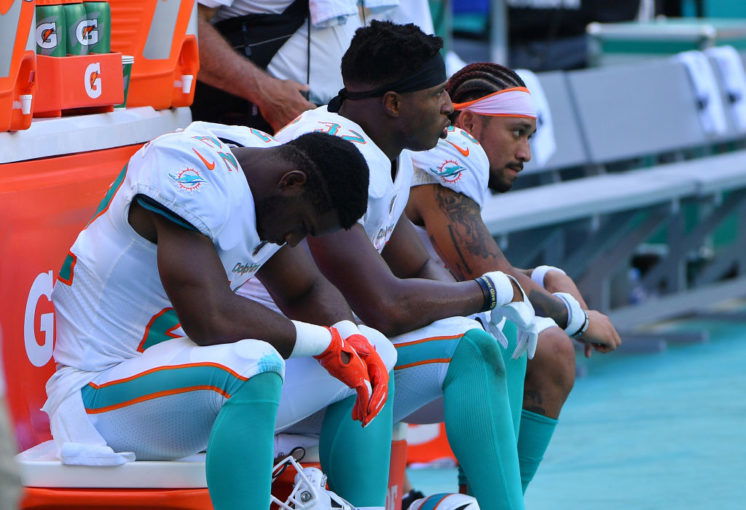 KANSAS CITY (-7.5) @ Oakland
Before I get into the pick, I would like to bring something to the forefront here. This will be the last NFL game ever played with baseball dirt.
The Raiders are the last team to share their stadium with a baseball team, and the silver and black are heading to Las Vegas next season. Their next "home" game will be played in London. Jon Gruden's squad won't play in Oakland again until after baseball season is over.
It used to be an absolute staple of the league, with cookie cutter stadiums dominating the landscape from San Francisco's iconic Candlestick Park to the Miami stadium that seemingly had a dozen names. And they were everywhere in between.
The Mistake by the Lake in Cleveland? A shared venue. Those hard-nosed Eagles sitting up in the nosebleeds at old Veterans Stadium? They doubled as heckling Phillies fans in the summer. And of course, in this 100th anniversary season of the NFL, we can't forget how many football games were played in historic Wrigley Field during the league's early days.
Godspeed, baseball dirt on football fields. You were a nuisance, but you were unmistakably unique.
Now for the pick. I teased it earlier, and here is the second spread of the week that looks too good to be true.
Patrick Mahomes and the Chiefs picked up right where they left off a year ago by dropping 40 points on Jacksonville to open the year. Mahomes threw for 576 yards and six touchdowns in the two games against Oakland last year.
Am I missing something here? Is there some obvious statistic or underlying reason why the Raiders are only going into this game as one-possession underdogs?
I can't put my finger on it, and I won't try to. I'll just go with the Chiefs to take care of business by at least eight points and let Mahomes work it out.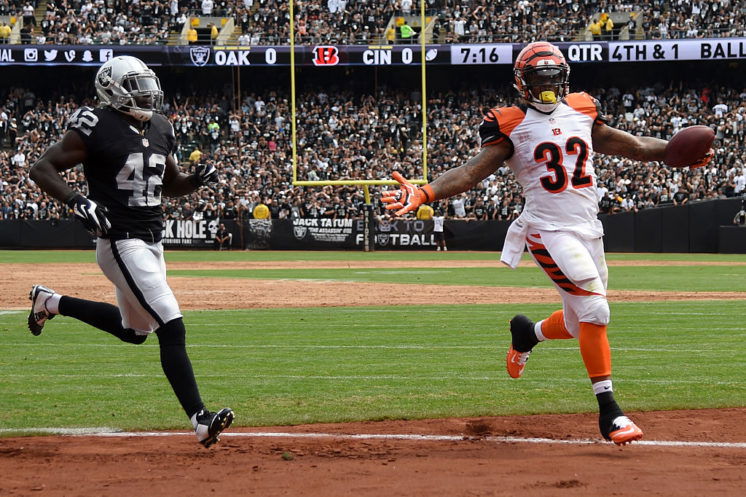 Chicago @ DENVER (+2.5)
Does anybody actually want to watch this game? Mitch Trubisky vs. Joe Flacco is dishwater vs. toothpaste in terms of quarterback matchups. I chose to watch both of these teams play their week one games from start to finish, and I've never felt more inflicted by my football addiction than in those moments.
I'm taking 2.5 points in a game where any scoring will be a bonus. I have no opinion on who will actually win, but I would encourage all of you to bet the under, which is set 40 points too high at 40.5.
I know there's one former college football coach from Youngstown, Ohio who might love this game. But for those of us not looking for Jim Tressel Ball, there's another great option in the late window…
NEW ORLEANS (+2.5) @ Los Angeles
…The game of the week. Drew Brees vs. Jared Goff. Two Super Bowl contenders. A packed Los Angeles Coliseum. A rematch of last season's epic NFC Championship Game. This is going to be hellfire and brimstone, and it's exactly what we're all looking for in NFL games.
Also, it gives me another excuse to watch my favorite play in NFL history.
YouTube: The Controversial Saints No Call || And Everything After
Wait, sorry, *this* is my favorite play in NFL history.
YouTube: Greg Zuerlein Makes Game-Winning Field Goal In Overtime Vs. Saints | 2019 NFC Championship Game
Ahhhhh, I could watch those two plays all day. The slow deterioration of the Saints from a 13-0 lead to the Zuerlein field goal is poetry. Don't worry though, New Orleans fans will take any chance to remind you that the league has a vendetta against them and that Brees throwing an overtime interception had nothing to do with their collapse.
But however you want to slice it, the Saints had a Super Bowl appearance on a silver platter for the second season in a row, and for the second season in a row, they coughed it up. This probably won't be the last reference to that game on Walking The Lines.
Schadenfreude, eh? It's one hell of a drug.
It's also why I think the Saints get their revenge on Sunday. They're coming to Los Angeles with a point to prove, a chip on their shoulder, and a Hall of Famer waiting for another crack at a tough defense.
I expect the Saints to just win this game outright, so I'll take the 2.5 points Vegas is giving me.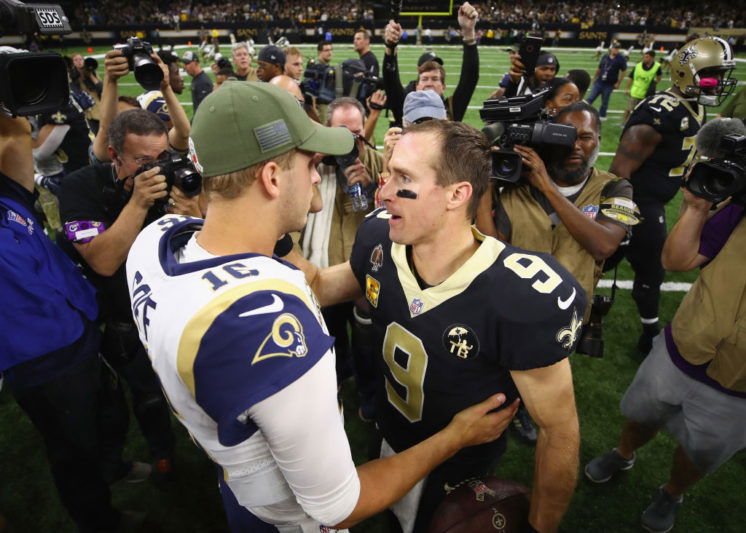 PHILADELPHIA (-1.5) @ Atlanta
I actually get why this spread is so low. Even though the Eagles are a much better team than the Falcons, it's hard to overstate the importance of this one for Atlanta.
Since the NFL expanded to its current playoff format in 2002, only 16 out of 140 teams to start 0-2 (11.5%) made the playoffs. Only 21 out of 140 (15%) even clawed their way back to a winning record.
This is the Falcons playing at home, with their backs already against the wall, against a Philadelphia defense that leaked yards against Case Keenum. Whatever Atlanta's best game looks like, they're probably going to show it here. They need to.
I could totally justify taking my Falcons here, especially since they're getting points at home. But I think the talent of Philadelphia will just be a little too much, and the Eagles will essentially end Atlanta's season before it ever even started with a primetime win.
CLEVELAND (-2.5) @ NY Jets
I'll keep it short and sweet since you stayed with me for this long.
The Browns aren't as bad as they looked in week one, and I think the Jets will be mentally destroyed after blowing a huge lead at home last week. Give me Baker and the Brownies to draw even on the season at 1-1.
---