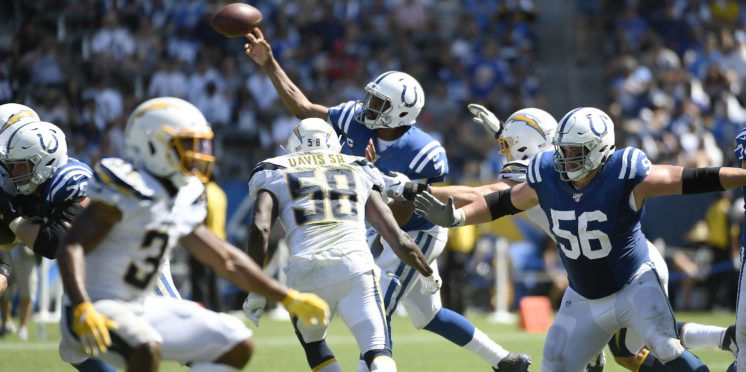 Ranking how every 0-1 team should feel about their week one loss
In theory, there can't be a lot of separation at this stage of the season. Everyone is either 1-0 or 0-1, Lions and Cardinals excluded.
But not all week one losses are just that. Some of them are much worse than others. And while one game is not enough evidence to make any concrete thoughts about the rest of the season, it is a decent time to check in on the teams still looking for their first win.
Many of these teams will face pivotal week two games as they look to avoid falling into the dreaded 0-2 hole. Some of them will fancy their chances to bounce back and to .500 on the young season.
Others might already be planning their 2020 draft boards.
But how should your 0-1 team feel? Here are the rankings of how all 15 week one losers should be feeling heading to week two, from most optimistic to dreading the rest of the campaign…
---
Indianapolis (30-24 OT loss @ Los Angeles Chargers)
As tough as it is to lose in overtime, I think Sunday went as well as anybody could have realistically hoped for.
Jacoby Brissett stepped into Andrew Luck's shoes and looked really comfortable against a tough defense. He led the Colts on a huge 16-play, 80-yard drive to tie the game in the final moments, and never looked out of place under center. Marlon Mack also had a huge day on the ground, rushing for 174 yards against what was a top ten defense against the run a year ago.
The biggest question for the Colts was if they would be stable at quarterback after Luck's retirement. After one game, the position looks like it could still be in decent shape.
2. Carolina  (30-27 loss vs. Los Angeles Rams)
Christian McCaffrey had 209 total yards on 29 touches with two scores. The Panthers were a perfect 3-for-3 in the red zone. They moved the ball well against a tough defense, and it was just three turnovers that were their undoing in a tight loss against last season's NFC champs.
If the Panthers can move the ball the way they did on Sunday every week, they will be fine in the long run.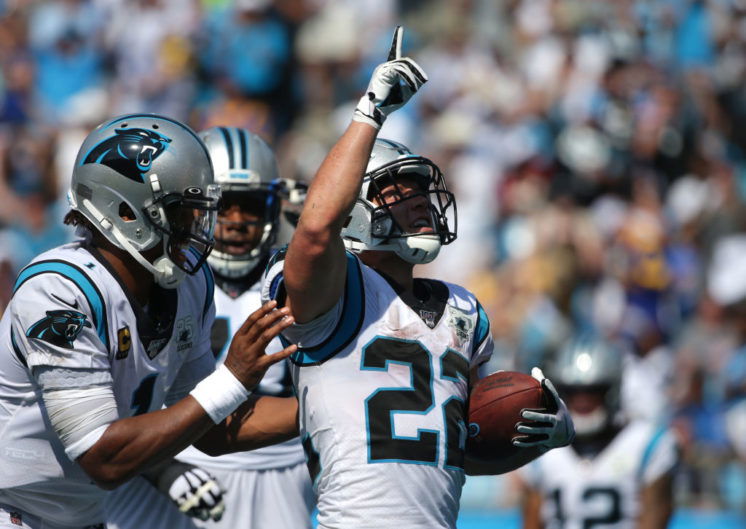 3. Cincinnati (21-20 loss @ Seattle)
For the first time since 2002, the Bengals took the field without Marvin Lewis at the helm. Expectations for Zac Taylor's first year were already pretty low when he took the job, and preseason injuries to A.J. Green and Jonah Williams only lowered them.
But the Bengals went into a tough environment in Seattle and caused some problems for the Seahawks. John Ross III showed off some of why he was so highly regarded in his draft class with two explosive touchdown catches.
It still could be a tough season, but there was at least some proof of concept for Taylor's squad in the season opener. 

4. Washington (32-27 loss @ Philadelphia)
It's all about expectations here. In a year where Washington is expected to be one of the worst teams in football, and there are already questions about when rookie quarterback Dwayne Haskins will get to play, Case Keenum looked sharp on Sunday.
The former Viking tossed three touchdowns while going 30-for-44 with 380 yards. Giving away a 17-0 lead in the manner they did will sting for sure, but compared to many of the other teams who lost in week one and the manner in which they did, things could have been way worse for Washington.
5. Houston (30-28 loss @ New Orleans)
That ending sucked, no doubt. The defensive gameplan from Romeo Crennel on the final drive was an embarrassment, allowing the Saints to march down the field into field goal range without any resistance.
They basically dared Drew Brees to beat them with 37 seconds and a timeout – and to the surprise of absolutely nobody, he did!
Because of the awful manner of the defeat and the fact that they will feel like they let one get away, I can't put them any higher than this on the list.
But in the big picture the Texans shouldn't feel too bad. Deshaun Watson muddled through his bad offensive line again to produce some magic, and they absorbed a lot of punches on the road in one of the toughest environments in the league.
As long as Watson is doing what he did on Monday, they still have a ceiling as high as the offensive line and coaching staff will let it be this season.
Just next time, maybe rush four or five…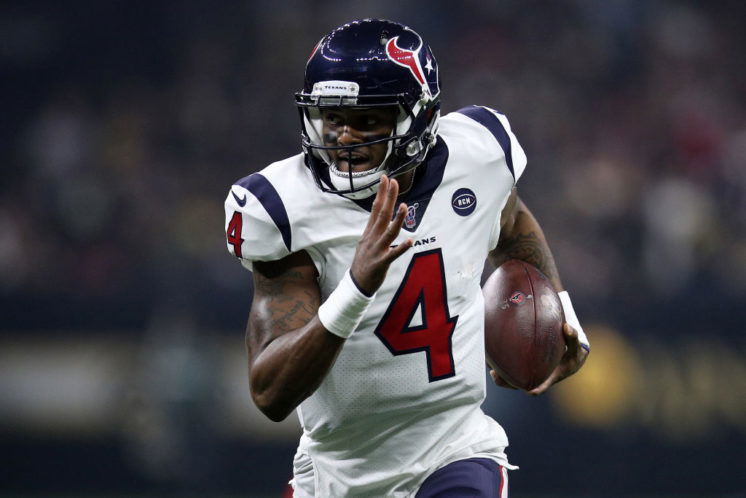 6. New York Giants (35-17 loss @ Dallas)
Most of what I just said about Washington can be applied here. It was bad for the Giants, but it was supposed to be. Saquon Barkley picked up right where he left off last season, and they even got rookie Daniel Jones some snaps late in the game.
It wasn't great, but when you compare it to what happened in Miami or their cross-stadium rivals blowing a 16-point lead, the Giants were about par for the course on Sunday.
In fact, I would argue the Giants are the last team on this list who can look back at week one without feeling too much disappointment in defeat. For everyone else from here on in, things were brutal in week one.
7. Miami (59-10 loss vs. Baltimore)
I know the Dolphins took maybe the worst opening-week loss in NFL history. Maybe the worst loss in team history, in fact.
You don't get beat by seven touchdowns at home. It just doesn't happen.
But wasn't this the goal? Didn't they go scorched-earth on their roster for this exact reason? The entire goal of this season is to tank, land the No. 1 draft pick, and have their pick of what should be a very good quarterback class at the draft next April.
Because of that, they can't be any lower than this. As bad as it was, they have an excuse. They are trying to lose. What happened Sunday was a good thing for them in the long run, as painful as it may have been.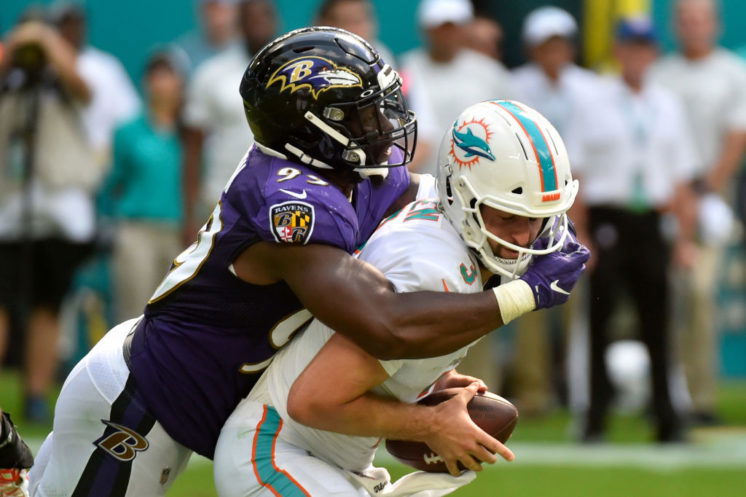 8. Denver (24-16 loss @ Oakland)
The only word I can think of for Denver's opener is dud. It wasn't a disaster, it wasn't a completely untenable situation, it was just…a dud. There was very little to get excited about outside of some nice plays in the passing game from Courtland Sutton.
No big plays, no big emotional swings, no momentum changers in a game close enough for one play to flip the script. It just kind of…happened.
They started flat, stayed flat, and were in pancake form by the time the clock hit triple zeroes.
9. Chicago (10-3 loss vs. Green Bay)
Mitch Trubisky was objectively awful on Thursday night. There is no way to sugarcoat it, work around it, or try to defend it. His performance was beyond terrible. I would say Chicago fans should be very worried about their offense moving forward.
But they avoid the bottom rungs of the list because they were only awful in one phase. Their defense bottled up Aaron Rodgers for most of the night, holding the superstar quarterback to just 203 yards in the air and having pressure on him all night.
There are plenty of issues for the Bears, but at least they know one side of the ball is still very good.
10. Jacksonville (40-26 loss vs. Kansas City)
This is basically an impossible evaluation.
On one hand, Nick Foles broke his clavicle. Any fanbase who loses their starting quarterback has a right to feel bad.
On the other hand, backup Gardner Minshew II lit up the Chiefs to the tune of 22-for-25 with 278 yards and a pair of touchdown passes. The Jaguars also traded for Pittsburgh backup Joshua Dobbs to provide some organizational depth.
This is all about other teams feeling worse. It wasn't a great day at the office for the Jaguars, but they drew a really tough opening assignment against the most explosive offense in the league. I would wait another week (and watch a Minshew start) before fully hitting the panic button in Jacksonville.
11. Tampa Bay  (31-17 loss vs. San Francisco)
We're getting to the point in the list where if you even looked awake, you will avoid the bottom of the list.
The Buccaneers cleared that bar, but not much else.
The biggest concern for the team reared its ugly head again as Jameis Winston threw two pick-sixes, including one late in the fourth quarter when they had the chance to steal the game.
This was always going to be a big year for Winston and the future of the quarterback position in Tampa. And after one game, there's not much to suggest he took great strides in the offseason.
Up next, a crucial crossroads game on Thursday Night Football against the Carolina Panthers.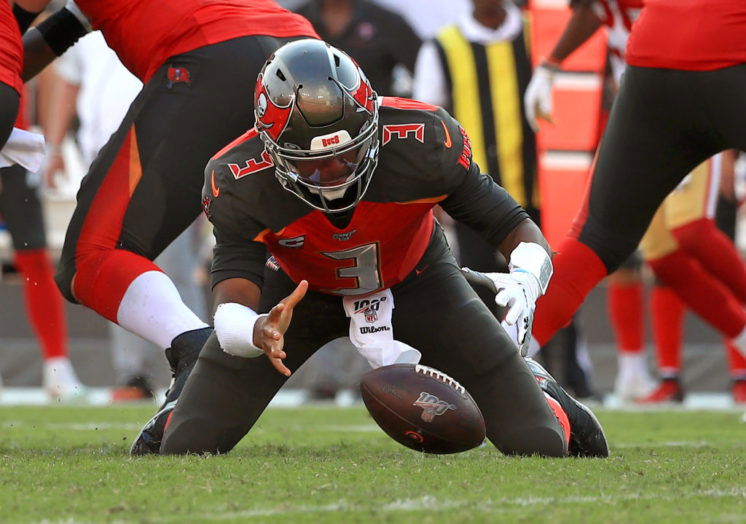 12. New York Jets (17-16 loss vs. Buffalo)
No doubt about it, the Jets let a really bad one get away from them on Sunday.
In a division with the New England Patriots, the games against the other two teams in the division so crucial. The Jets had a home game against a division rival, took a 16-0 lead, then threw it away.
It's similar to what Washington did against Philadelphia, but it's much worse because of the expectations in New York. The Jets are hoping to compete this year with the addition of Le'Veon Bell, the drafting of Quinnen Williams, and Sam Darnold now in his second season.
But whatever they are hoping to accomplish just got that much tougher after they threw away a game they had under total control in week one.
13. Atlanta (28-12 loss @ Minnesota)
What a debacle this was. The Falcons looked ill-prepared right from the start, and fell behind 28-0.
Matt Ryan wasn't great, the new-look offensive line was atrocious, the run defense was a joke, and even the special teams had a punt blocked. Absolutely everything that could have gone wrong for the Falcons did.
They really didn't even show a pulse.
There are a ton of issues in Atlanta, and the schedule stays tough with a clash against the Eagles next week.
14. Cleveland (43-13 loss vs. Tennessee)
It's hard to fall flatter than the Browns did week one. After an entire offseason full of hype coming off of his Rookie of The Year season in 2018, Baker Mayfield flopped. Odell Beckham Jr. was effective, but hardly dominant against a tough Tennessee secondary.
And worst of all, Cleveland fans have to be wondering about the offensive line. Mayfield was sacked five times on Sunday, and was running for his life all afternoon. It's all well and good having great skill position players, but the Browns were sorely lacking in the trenches.
As with all of these teams, there are 15 games left to fix it. But based solely on week one performances, I can only think of one team who should feel worse right now, and you should know who it is by process of elimination.
15. Pittsburgh (33-3 loss @ New England)
I know they were facing the Patriots in Foxboro, but here's the thing about the Steelers.
That's the standard. This is not a rebuilding franchise or a team just looking for progress. They have an established veteran quarterback, a coach who has been there for more than a decade, and were eager to show the world they didn't need Le'Veon Bell or Antonio Brown in a big primetime battle.
Even if they won't admit it, and the eye test certainly doesn't back it up, the goal is to compete with, and beat, New England. Anything else is just one season closer to the retirement of Ben Roethlisberger and an eventual rebuild.
That's the cost of doing business when your quarterback is a two-time Super Bowl champion (and old).
What happened in reality was a disaster that showed just how far away they are from actually catching the Patriots.
Once again, they were steamrolled by the team they want to be. And because of that, the 0-1 in Pittsburgh looks worse than the 0-1s everywhere else.
---