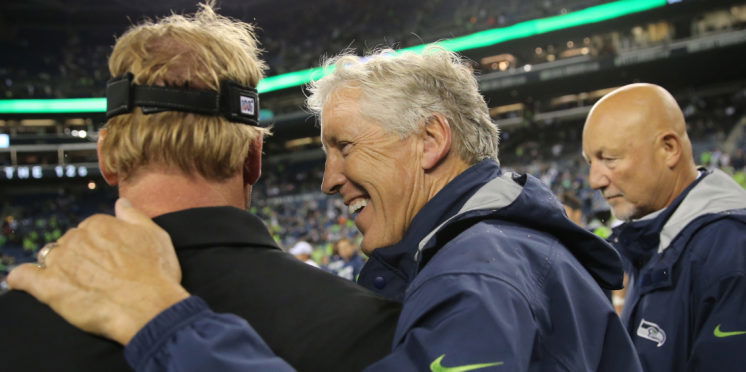 Read American Football Roundtable: 2019 Season Questions
An almost unbearable seven-month wait for football Sundays IS almost over. This Sunday is the last Sunday without football until February, with the Green Bay Packers and Chicago Bears set to kick us off on Thursday.
Heading into the year, many believe there is a good amount of parity in the League. There are very few teams projected to be awful, and this has meant discussing and making predictions is much more fun than usual.
In the first installment of our roundtable series, we asked our writers some more general NFL Questions, notably about teams and players and what they might achieve this year.
---
Which team do you think will perform above expectations this season?
Joe Hulbert- I believe that the Buffalo Bills will achieve more than people expect them to this year, and won't be too far from a playoff berth. Sean McDermott has quietly done an excellent job turning the Bills into a sustainable franchise. His in-game adjustments are superb and he did well getting a defense that was middle of the road in cap spend to the 2nd overall finish in defensive efficiency last year. Last year the Bills offense was bad and this was wholly blamed on Josh Allen. Whilst he was no doubt erratic, he didn't have a single NFL-level receiver and his offensive line was poor. The additions of John Brown and Cole Beasley give him two savvy players who can get open on option routes and give him check-downs when he needs them. They went big on improving their line with the additions of Mitch Morse and Ty Nsekhe via free agency, and Cody Ford in the draft. This gives the underrated offensive coordinator Brian Daboll a chance to actually build something resembling an offense. Their second-ranked defense should get better too as they lost no one and added Ed Oliver, a player who was arguably the best in the draft.

David Howell- It might be the worst thing to happen to them in a long time, but Tampa Bay. The offense is much more consistent year-to-year than defense, and Bruce Arians with that receiving corps should be able to come close to .500 whether it's a good idea or not. (And for a team with this questionable a QB, it almost certainly isn't.)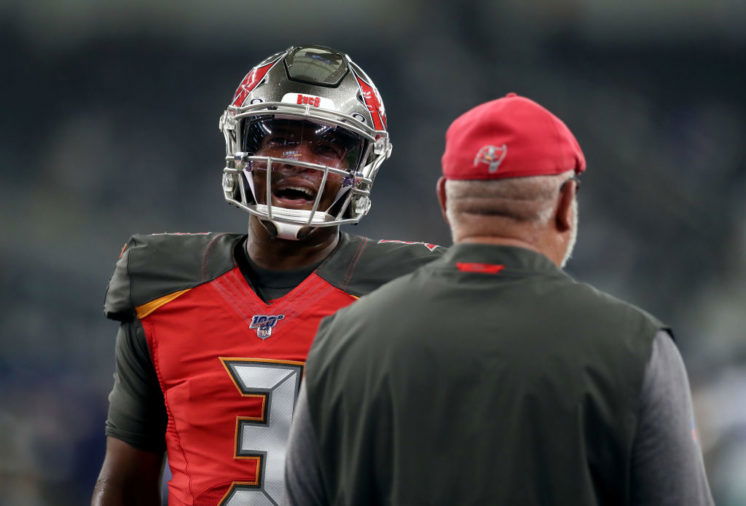 Alan Cole- I think the New York Jets will at least be in the mix for a wild card spot come late December. Sam Darnold flew under the radar among rookie quarterbacks as Baker Mayfield excelled and Lamar Jackson led his team to January, but Darnold may have been the best of the bunch. I could see the Jets getting to seven or eight wins with Adam Gase.
Tyler Arthur- The New York Jets- I think that when you combine the addition of Le'Veon Bell into the run game and a step-up for Darnold at QB, the Jets are in a really exciting position this season. I could see them doing really well.
Tristan Fitzpatrick- The Green Bay Packers- Aaron Rodgers is really good. That's pretty much it. In today's NFL if your QB is unstoppable you're going to win a lot of games. Last year they were bad and I think Rodgers basically just gave up on Mike McCarthy. They're so much better than a six-win team. This year he has a chip on his shoulder and that's a scary thought. The division is tough but I still see them winning it, Rodgers is that good.
Alex Murray- I reckon, shockingly, that the Lions might just shock a few this season. With Darrell Bevell at the helm on the offense, the Lions will hope to fix the bad offensive unit that limited them too many times last season. A healthy Kerryon Johnson will help, along with first-round draft pick TJ Hockenson and the absence of Jim Bob Cooter.
Which team do you think will perform below expectations this season?
Joe Hulbert- I have some concerns about the Houston Texans heading into the year. Their offensive line is absolutely abysmal and they did little to improve it. Matt Kalil has been a turnstile for a long time and Tytus Howard is far from being a reliable player. Deshaun Watson overcame this last year, but I fear that their defense will take a step back as Jadeveon Clowney won't be playing. He moves around a lot in their scheme and is their most important player on the front. They have a lot of other good players and Romeo Crennel is a flexible coordinator, but I don't think the defense sustains a top-ten level without Clowney in there.
David Howell- Chicago were so defense-driven last year, and regression is usually fast in coming. We saw it with the Jags last year, and we will see it again with the Bears, whom I legitimately think could get double-digit losses.
Alan Cole- I'm all the way out on the Houston Texans. The Vegas win total has them at 8.5, and I think even that's way too high. It's no secret games are won and lost upfront, and the Texans are a monstrosity upfront. The loss of Lamar Miller in the preseason just compounds the issues they could have on offense. I'm expecting the Texans to crash to the bottom of the standings.
Tyler Arthur- Dallas Cowboys – Zeke isn't sorting his contract out any time soon, Dak wants to get paid in Monopoly notes, and Amari Cooper is at a high risk of injury / playing through pain. I think that the start of this season could be pretty rough without Zeke, even on a nice start to the schedule. If Cooper goes down or plays below his upside as well as the missing star RB, they will struggle big time to keep up with the standard expected of them.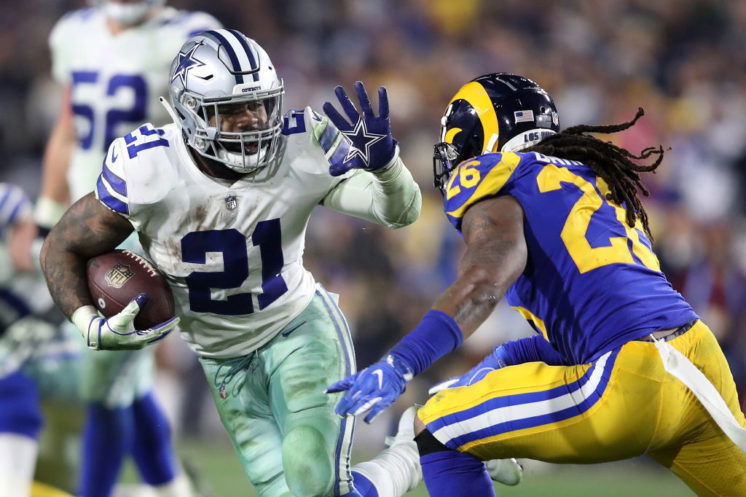 Tristan Fitzpatrick- The Cleveland Browns- They hype is just WAY too high. It seems if they don't make the AFC Championship people will be disappointed. Baker Mayfield is good, but so are 7+ other quarterbacks in the NFL, he's not that special. The AFC is weak this year, but not the AFC North. It really wouldn't be a shock to see them just miss out on a playoff birth with the Ravens and Steelers grinding out 10-6 and 9-7 seasons. The Odell addition is good but it never helped the Giants win much. I like the Browns odds but the hype train has left the station and no one is using the brakes.
Alex Murray- The very overhyped Cleveland Browns. Yes, they're gonna be better than before obviously, but we've had "dream teams" before who have faltered when it gets to business time. A reminder that draft bust Greg Robinson is still their starting left tackle.
Which Head Coach do you think will lose his job first?
Joe Hulbert- I think Jay Gruden will be under early pressure, which is a shame. The Redskins had a heavy free agency as they signed Landon Collins to a monster contract that low key makes their defense one of the best in the NFL. The issue Washington has is that their offense is absolutely putrid. They have missed on every offensive draft pick or free agency signing since they acquired Brandon Scherff. What is more startling is their offensive line. Bill Callahan has an argument as the best line coach of all time for what he has done, but he will struggle with a left side of the line that has Donald Penn and Ereck Flowers. This team just doesn't fit, they have problems everywhere and a QB with a clear ceiling. The free agency moves tell me that Bruce Allen expects this team to compete, but the offense isn't good enough for this. Gruden will get the blame, as Allen is untouchable in the eyes of Dan Snyder.

David Howell- Jay Gruden. Never count out a power struggle and/or kneejerk decision in that franchise.
Alan Cole- I'm going to double down on my last pick and take Bill O'Brien. The Texans have a brutal early schedule that includes three road trips against playoff teams from last year in the Saints, Chargers, and Chiefs in the first six weeks. They even difficult home games against Carolina and Atlanta. I think the Texans will start slow, and O'Brien will pay for it with his job.
Tyler Arthur- Dan Quinn – The Falcons defense is going to be bad this year. Their offense is going to be good, but not as good as it could be, due to a very shaky O-Line, and their kicking antics over the last two months have been laughable. This concoction puts the possible pressure on Dan Quinn even though the things I listed above won't be in his control when the season begins. I don't think he necessarily should be first, but I think he is the coach on a team that should be significantly better than it is, and he could be replaced if they can't steer themselves toward a winning season quickly.
Tristan Fitzpatrick- Jay Gruden- I actually like Jay, as an Eagles fan I've seen quite a bit of Washington, for the most part the talent hasn't been there and when it has been he's had desperately bad luck. It seems like management will either be fired themselves or told to hit the reset button. If he is fired I expect him to be a pretty handy coordinator to a playoff team.
Alex Murray- Doug Marrone. Easy pick. He has Nick Foles at QB and a whole load of problems with his team. I think this is the year the Jags turn to someone else to lead their franchise.
Which offensive player will break out this year?
Joe Hulbert- I have a lot of belief in DJ Chark emerging as the best pass-catcher on the Jaguars roster. He was reportedly their best receiver throughout camp and I don't buy Dede Westbrook and Marqise Lee being serious blocks to playing time for Chark. Their new offensive coordinator John DeFillippo is more pass-happy than their past coordinators, and Chark might thrive in a play-action heavy scheme. He's got speed and I thought his route running was underrated last year.

David Howell- I think Sam Darnold gets the real keys to the Jets offense under Adam Gase, who didn't want Le'Veon Bell to start with (correct decision) and could easily marginalize him as a result. Remember when he made Ryan Tannehill look like something resembling a franchise QB?
Alan Cole- Although I'm not really high on the Lions as a team this year, I think Kerryon Johnson is in for a big year. T.J. Hockenson is coming in at tight end and will help the blocking a ton, and I think new offensive coordinator Darrell Bevell will be looking to run the football. If he stays healthy, he'll rocket past last year's totals.
Tyler Arthur- Chris Godwin – His talent is already there, and now there have been over 100 targets vacated out of a pass-heavy offense, and his head coach has declared that he never wants to take him off the field. This is as close to a locked-in prediction as you can make, I think Godwin will rise to the WR2 role and have a great season under new head coach Bruce Arians.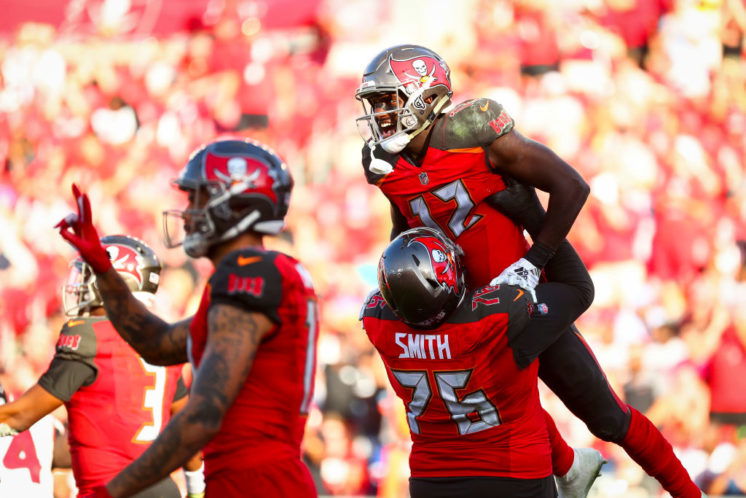 Tristan Fitzpatrick- I don't want to give away my secrets because I haven't drafted my fantasy team yet, but I like the Carolina receivers Curtis Samuel and DJ Moore. DJ is an obvious talent he looks like DeAndre Hopkins in that he can really run any route be anywhere on the field. Samuel has according to almost everyone at camp been phenomenal, some even saying he'll have a better year than Moore. With Christian McCaffrey doing his thing, as long as Newton is healthy he'll have two good options to throw to.
Alex Murray- Christian Kirk of the Cardinals. He had a tough first year, but with Kyler Murray coming in, and a new head coach in Kliff Kingsbury, he could be on track for a great breakout year.
Which defensive player will break out this year?
Joe Hulbert- I've watched a lot of Titans tape to prepare for my assignment covering them this year, and I think Rashaan Evans is on the verge of a breakout. He had a really impressive rookie year in Dean Pees' aggressive scheme that uses a lot of deception. Evans is a versatile player who fits everything Pees wants to do. The Titans were in the bottom three for pressure rate last year, so I feel Pees might want to blitz more. This makes Evans a dark horse to get six or seven sacks, an impressive number for a middle linebacker. After this year, I predict Evans is seen as an elite linebacker.
David Howell- Chase Winovich is going to be an instant NFL star and people for years to come will laugh at how he got drafted so much later than Rashan Gary.
Alan Cole- It's not exactly a surprising pick, but Derek Barnett is in a really good situation and has a ton of talent. Even as a rookie he showed what he can do in Philadelphia's Super Bowl run. I'm expecting him to take it to the next level in 2019.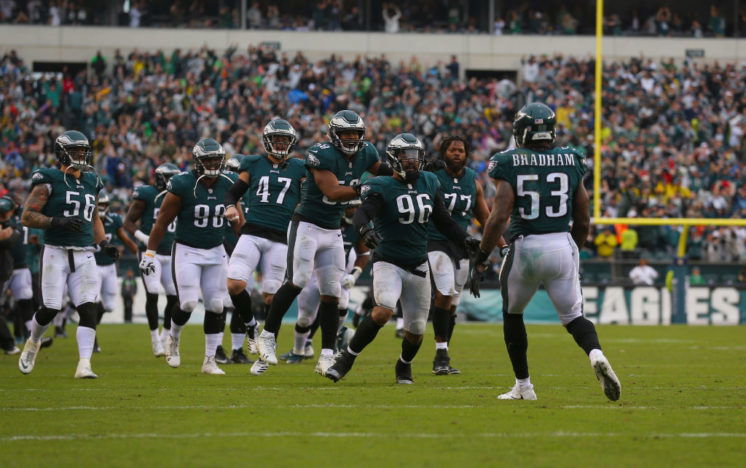 Tyler Arthur- Roquan Smith – The Chicago Bears are a dominant defense, and everybody knows it. The group up front is dominant, and even if it regresses slightly being a linebacker behind that unit will be a blessing. Roquan Smith is entering a year in which he can step up with confidence and earn a central role in the defense that will now be run and called by Chuck Pagano. The sheer athleticism and range of the second-year MLB puts him in a position to thrive when the other team is trying to work quickly, and get outside and behind the notorious D-Line.
Tristan Fitzpatrick- Derek Barnett- Not many know his name but he actually recovered Tom Brady's fumble that won Super Bowl 52. Former 14th overall pick to the Eagles he's been slowly worked into the team and in his third year will be given the full-time defensive end gig on the other side of All-Pro Brandon Graham. Chris Long recently retired because he was basically told Barentt is going to be the starter and Long would have to take a much smaller role. With Graham, Fletcher Cox and Malik Jackson the Eagles D-Line should make some noise, Barnett has every opportunity to be a big part of that.
Alex Murray- If he can stay healthy, it's Malik Hooker of the Colts. He still has a lot of promise, but he really needs to stay healthy to show it. It's still a big if though, as he's missed eleven games over two seasons.
Which team do you see as an underdog to win their division this year?
Joe Hulbert- I think the Jacksonville Jaguars have a serious shot at winning their division this year. Their main issues last year were the demise of their four-man pass rush and their predictable offensive scheme. The pass rush was addressed with the signing of Josh Allen, who has been unplayable during the pre-season. Their offense might have some troubles, but a less predictable scheme from John DeFillippo might allow Jacksonville to keep their opponents off-balance more than they did last season.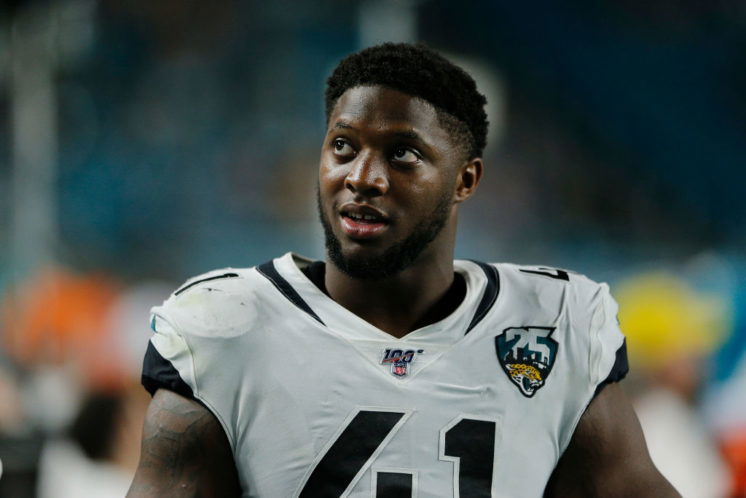 David Howell- Amidst the Browns hype, I think the Steelers might be going under the radar a bit this year. But removing Bell and Brown might be addition by subtraction, and if Devin Bush works out, that D could be competent, which may be all it needs to be. The AFC North could be a serious three-way battle this year and there's no way the Browns should be anything resembling a clear favourite in it.
Alan Cole- I don't like any of the options a lot, but I'll take a shot with Carolina and a healthy Cam Newton. The Saints could be due for a little bit of regression as Brees ages, and the Panthers are still a very tough out at home. A healthy Cam could swing the NFC South back in their favor.
Tyler Arthur- Baltimore Ravens – They have been in the shadows for a few years now after some success, and their college-style offense showed a spark of electricity into their division. The Bengals are a write-off, but the Browns and Steelers are both very good teams who people are excited about – I think that Baltimore and their combination of a high-paced run-heavy offense and a good defensive side of the ball could surprise some people. Also, Lamar Jackson is going to rush for a new QB record and hopefully even throw the ball once or twice.
Tristan Fitzpatrick- I almost wrote the Oakland Raiders based on what we've seen so far but I just can't see it. I'm going to go with the Carolina Panthers. The Panthers keep doing this funny thing were they're only good every other year, last year they were bad, so based on that alone things are looking good. The NFC South is a close division even the Falcons could make some waves. Mostly everyone expects the Saints to just roll over everyone but yeah maybe Carolina sneaks in there if things don't go well in New Orleans.
Alex Murray- It's a weird time when we're calling the Green Bay Packers an underdog, but, yeah. The Packers struggled last season, but will look to turn it around this year with a new head coach. Aaron Rodgers could take anyone to the playoffs, and it could be happening again.
What is your boldest prediction for the season?
Joe Hulbert- I think Jameis Winston plays himself out of the Buccaneers starting job. It might not happen in the season, but I feel this is the year they give up on him. His deep ball has a good reputation but it is actually awful, it often sails towards the end of the throw and this is why I don't buy him as a great fit in what Arians wants to do. He also won't be helped by the absence of a consistent run game and a sub-par offensive line outside of Ali Marpet and Demar Dotson.
David Howell- 9-7 or worse wins the NFC North. I don't trust any team in that division.
Alan Cole- The San Francisco 49ers find their way back into the playoffs. I hate backing anything with Kyle Shanahan as an Atlanta fan, but that offense looks ready to fly. Garoppolo is healthy, Shanahan is reunited with Tevin Coleman, George Kittle will have another huge year, and Nick Bosa will be added to the defensive mix. I hope I'm wrong, but I like the Niners.
Tyler Arthur- Davante Adams will catch more Touchdowns than every other Green Bay Packers wide receiver combined. My prediction is 14 TD's out of Rodgers' 30-35 total.
Tristan Fitzpatrick- I tend not to make too bold a statement, or at least I'm not aware of how bold it is until I get push back. The cliche one that everyone seems to say every off-season is Tom Brady and The Patriots might suck this year, and hey it could happen. Here's one though: Sam Darnold might have a better year than Baker Mayfield, maybe not in wins and losses, but the numbers will be closer than people think.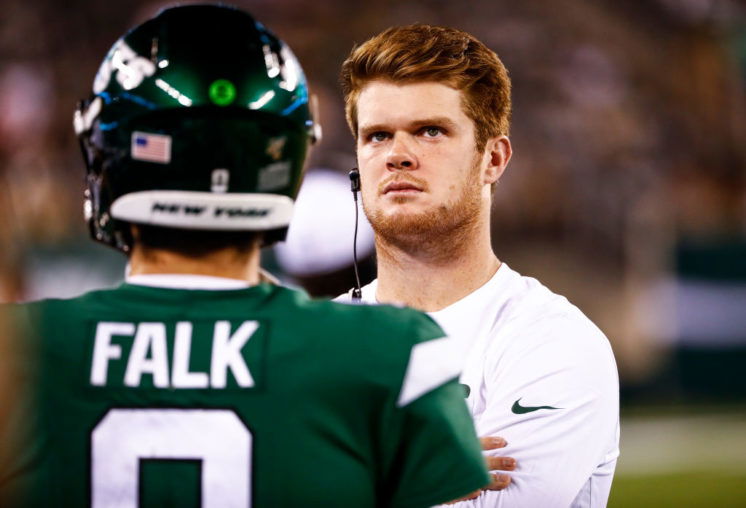 Alex Murray- Kerryon Johnson shows how good he is for the Lions and becomes a top five RB in the NFC.
---