Andrew Luck Retires: What Does It Mean For The NFL?
Andrew Luck's stunning retirement announcement – leaked by Adam Schefter midway through a preseason game, confirmed in a press conference after it – is many things.
It is the biggest bombshell news the NFL has seen in years, for a start. It has major implications for the already-fascinating AFC South race, the numerous fantasy drafts taking place over this penultimate weekend before the regular season, and even for the 2020 NFL Draft, with a hyped QB class and now one more team evidently eyeing it. All of those warrant their own articles.
But let's go back to that previous line: the biggest bombshell news the NFL has seen in years. What other stories spring to mind to rival that? For me, there are two; Colin Kaepernick's (and later Eric Reid's) collusion battle, and Chris Borland's even earlier retirement, after a breakout rookie season.
And what they had in common was they were legitimately damaging to the league itself. Luck retiring before his 30th birthday might top both in that regard as well.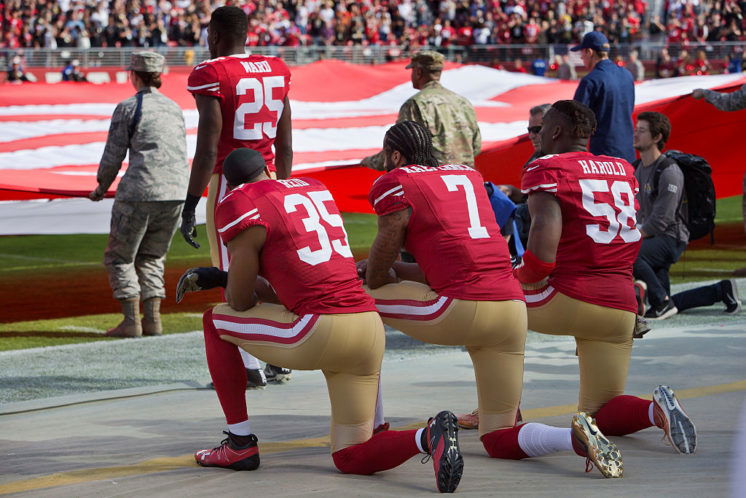 The CK7/Reid affair shuffled the NFL into the American cultural divide it otherwise seemed to have transcended. Despite President Obama warning he wouldn't want his kids to play football due to concussion dangers – we'll come back to that one in a second – the NFL was a unifying force in a dividing America, beloved by millions of all political stripes. But with one sit-down action – it was a sit-down protest at first, before quickly changing to the kneeling that's remembered now – Kaepernick forced the cultural divide into the heart of the league, and it never left.
The uncharacteristically fast TV ratings declines for the NFL in 2017 were widely seen as the result of a Republican boycott, one roared on by the President himself. The repercussions of the NFL's unwanted mixing with partisan politics are still ongoing; you can blame it for everything from tiresome Josh Rosen debate last draft season to Maroon 5 getting the chance to stink out the Super Bowl halftime show, and the league's continuing attempts to handle today's hyper-partisan America were on show as recently as last week with the news Jay-Z's Roc Nation would help produce the Super Bowl halftime show and "amplify the league's social justice efforts."
That came after Jay-Z himself turned down the Super Bowl gig in solidarity with Kaepernick, and characteristically dropping a reference to it into one of his raps – boasting "you need me, I don't need you" to an NFL that apparently came to agree.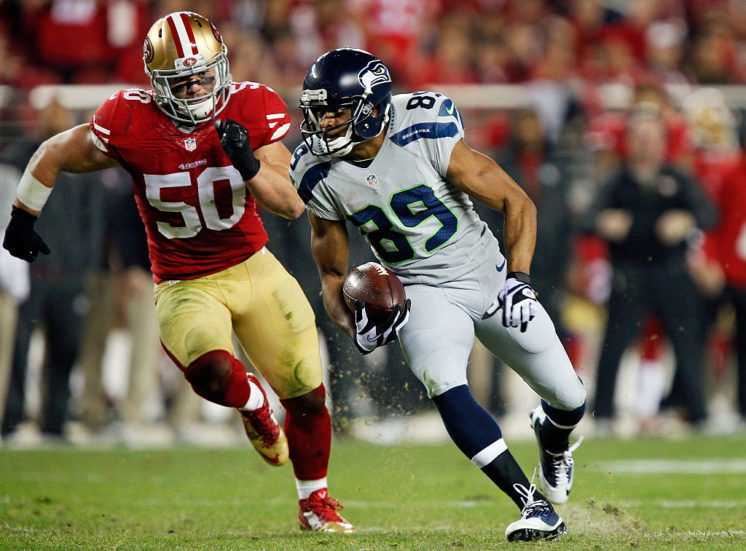 Before then, another Niner dropped his own bombshell on the shield. Borland (above, with the now-also-retired Doug Baldwin) was a third-round rookie linebacker who defied any expectations with an electric – and by some analytics measures historic – rookie season, and then did it again by retiring after one season, explicitly citing concussion concerns. By retiring two years before he was eligible even to get a seven-figure salary, he stunned the league to the point of them going on a PR blitz with the scarcely-disguised intent of harming Borland in the court of popular opinion.
There wasn't a drop in the ratings after that in the way there was in 2017 – in fact, it was a bounceback year for Sunday Night Football based on the audience total in the 18-49 age group, the key measure of primetime ratings on US network TV – but the NFL was clearly scared. Luck might scare them more.
There's two reasons for that. Firstly, it wasn't even concussion issues that caused him to hang up his cleats, but the constant array of other injuries he faced. This shifts the attention away from a singular problem where new helmet technology (whether a certain ex-Steeler likes it or not) and better injury handling can at least make it easy to be seen to be doing something. (And indeed other sports have introduced their own concussion protocols, most recently cricket).
Injuries more broadly, though? Fact of sporting life. This might make it easier to shrug it off, but also draws attention to how collision sports are inherently major injury risks on another level from non-contact sports like basketball, the sport most likely to replace football as America's Game.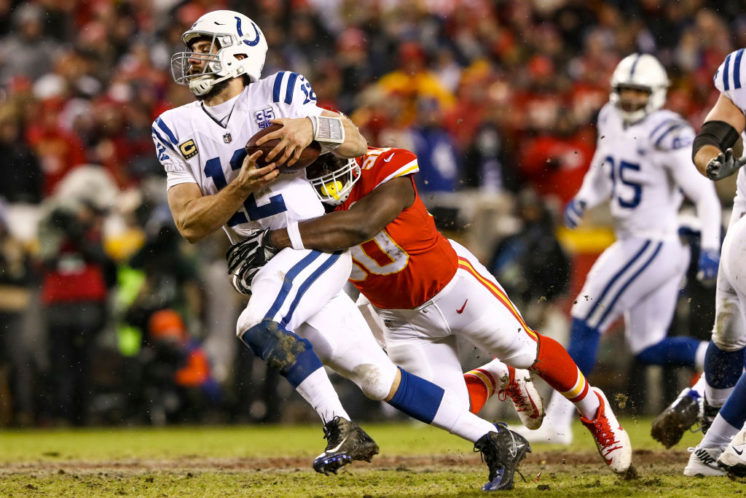 The second and more immediate reason is that Luck is a quarterback, and a big-name one at that. TV ratings bump up and down week-to-week based on the matchup, and the central part of what makes a big matchup is who's at QB. The Colts have a Sunday Night Football matchup with the Chiefs in week 5; do not be surprised if that is flexed out. Week 5 is the first week where that is possible; two games total can be flexed out between then and Week 10, and essentially this "early flex" window exists for exactly these situations, where a matchup built around a star QB suddenly doesn't have one.
Why all this emphasis on TV ratings in this article? Because that is the engine of the NFL. In a world where network TV audiences have been decimated year after year, the NFL is the most valuable property in television with daylight second.
Around 6% of all Americans aged 18-49 watch even a bad Sunday Night Football matchup; no returning scripted show on any network managed even a third of that. The result is a bidding war for TV rights, which is the main source of revenue for the NFL (and other sports associations) and has just kept getting bigger.
The salary cap has consistently risen by about 8% every year for two decades, and you can't explain that without noting that the average audience in the age group advertisers care about has fallen over 75% for scripted broadcast TV in that time and not at all for the NFL.
Put it this way: the biggest hit show on TV just lost one of its biggest stars in a manner that puts the spotlight on how those stars are treated.
Except the business of TV is increasingly the business of sport and vice versa, the biggest hit show on TV is the National Football League, and Andrew Luck just left that show (and around $30m a year to star in it) in the most dramatic fashion, just before the start of the season, the buildup to which will now be full of talk about the welfare of the cast that people tune in to see.
---