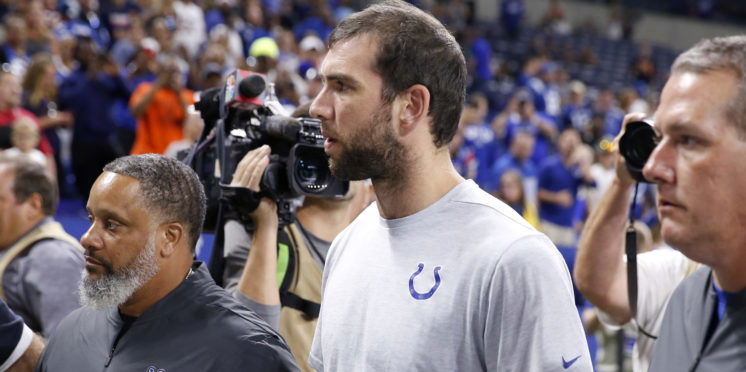 Andrew Luck Doesn't Owe The Colts Anything. They Owe Him
This just sucks.
There's really no way around it or other take to have on it.
A mentally worn down Andrew Luck announced his retirement from the NFL on Saturday night at the age of 29. You can see it in his face. The body language. He's beat. Years of injuries and mental setbacks have taken a toll, and the former Stanford man has decided to move on.
More than anything, it's a deep reminder of how unfair this sport can be. Football doesn't care who you are, what you've accomplished, or what you might have in front of you. It's a merciless collision sport, and eventually it catches up to everybody.
In the case of Luck, it was all of it. A No. 1 overall draft pick, Hall of Fame potential, and a red hot start to his career.
Then football happened. And as it always does eventually, it won. Football beat Luck physically, and mentally.
Luck made a decision for the rest of his life. A decision to give himself a better future. But the reaction from some people has been as if it was impacting theirs.
Whether it's the fans in Indianapolis booing him off the field after Saturday's preseason contest against the Bears or a series of ridiculous self-centered takes on the retirement online, the reaction has been fierce.
Twitter: #Colts QB Andrew Luck is booed as he leaves the field. https://t.co/5Wr38cM7Js (@RichNye13)
But when you look at it, Andrew Luck owes nothing to the Indianapolis Colts. The reverse is true.
He put his future on the line for seven seasons, and brought them to the postseason in four of them. And the thanks he got from his organization was years of incompetence both from his coaches and the upper levels of the organization.
Do you know the name Justin Anderson?
Of course you don't.
He was a seventh-round draft pick in 2012 who was waived in November, and never played a regular season game in the NFL. Three years later, he ended up with the Orlando Predators in the Arena Football League.
He was also the only offensive lineman the Colts drafted with their nine draft picks after selecting Luck in the 2012 draft. They had nine opportunities to draft someone to get Luck some immediate help, and they landed with one guard who never played a game in the league.
In his first season as general manager, Ryan Grigson elected not to protect the face of his franchise.
It's a ridiculous statement to even suggest, let alone exist as a scenario that played out in real life.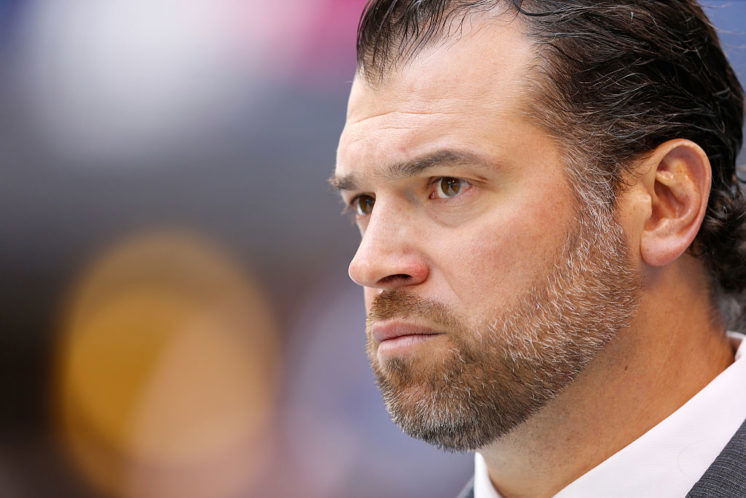 Mitchell Schwartz was drafted by the Cleveland Browns in the second round of the 2012 draft, selected just three picks after Indianapolis took Coby Fleener. Even if Fleener didn't have a bad career with the Colts, Schwartz has never missed a game in seven seasons and would have been immediate help for Luck at tackle. They passed.
Kelechi Osemele was selected later in the same round of the draft. The guard out of Iowa State has been to two Pro Bowls and was part of the offensive line protecting Joe Flacco during Baltimore's Super Bowl run in Osemele's rookie season.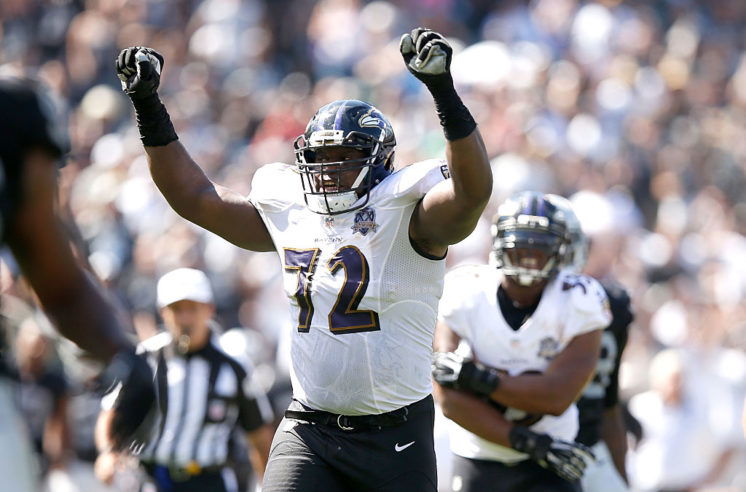 The Colts took a second tight end in as many picks to lead off the third round in Dwayne Allen. Another two-time Pro Bowler and eventual Super Bowl-winning guard was on the board in Brandon Brooks.
The draft is a crapshoot, and the Colts did make a nice pick to give Luck a weapon on day three with TY Hilton at wide receiver. But the seeds were planted for Luck to start taking early punishment.
Nine draft picks after Luck, and the Colts drafted more tight ends than offensive linemen. The one man they did take up front played a grand total of zero games.
The Colts were the worst team in football in 2011, did nothing to improve their offensive line, then marched a rookie quarterback out to make lemonade out of rotten lemons. Unsurprisingly, the Colts struggled to block in 2012, and Luck was sacked 41 times in his rookie season.
One year later, Grigson went to the draft and did it again.
Travis Frederick is the best center in football right now. You could make an argument he's the most important player to any team with what he did for the Cowboys and Ezekiel Elliot.
He was available when the Colts went on the clock in 2013. They knew they had a rookie quarterback who took a ton of punishment and an offensive line in no position to improve. The pick? Defensive end Bjorn Werner.
Grigson finally decided to get Luck a little help with Hugh Thornton and Khaled Holmes in the middle of the draft, but the damage was done. Holmes started nine games in his entire Indianapolis career, and Thornton was waived just three years into his time with the Colts. They were bodies up front, but not difference makers.
The story was the same. Years changed, but the situation never did.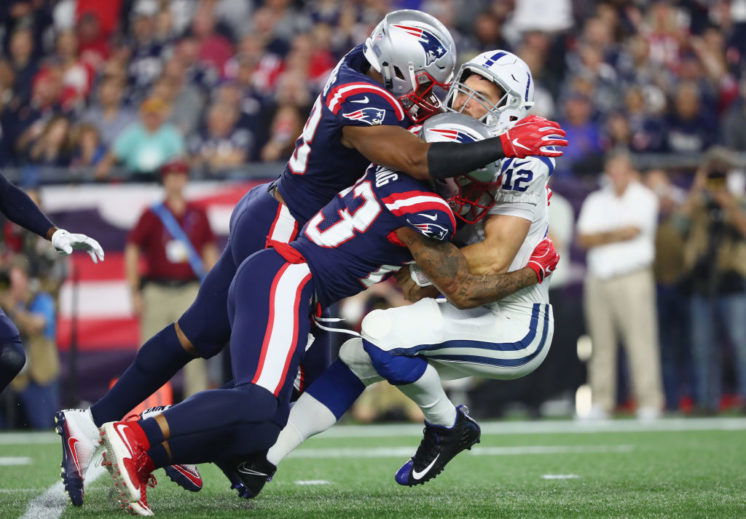 In the only season of his career before 2018 where the offensive line truly kept him upright, Luck dominated. Almost 5,000 yards, 40 touchdowns, an 11-5 season, and a pair of playoff wins took the Colts all the way to the AFC Championship Game.
And really, what came next should have been expected to some degree. Jonotthan Harrison was never as good as he was in 2014 again. Lance Louis didn't return after seven starts. A.Q. Shipley played in 15 games in 2014 season, and walked in free agency.
And once again, the only went into the 2015 draft with eight picks, and only used a seventh-rounder one of them to protect Luck.
The story was written. A shoulder injury was the first blow. A lacerated kidney killed his 2015. A slight reprieve with Ryan Kelly, but too little too late. He took 41 more sacks in 2016, and missed all of 2017.
Chris Ballard was hired as general manager in Indianapolis in 2017, and he understood the severity of the situation. He did what none of his predecessors had the sense to do and invested serious draft capital in protecting Andrew Luck. Ballard selected Quenton Nelson out of Notre Dame with the No. 6 pick in 2018.
The Nelson pick illustrated what should have happened all along. He came in there, bulldozed people, protected Luck, and enabled him to win 2018 Comeback Player Of The Year.
Looking back on it now as a complete circle, all that's left to do is wonder what could have been.
Luck played two years with good line play, and won a playoff game in both of them. Even the slight investment in 2013 led to a boon in 2014, and the big investment in 2018 directly translated to his comeback season.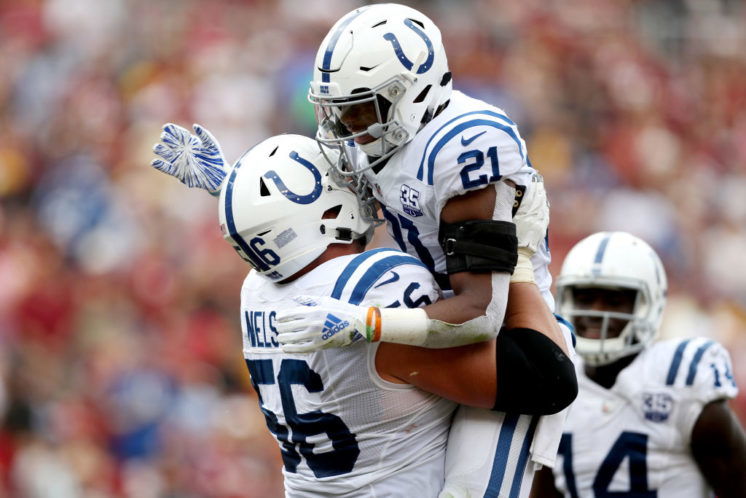 Whenever he had investment up front, he dominated. But the investments were very few and far between.
Everyone knew what had to happen.
There are no guarantees of anything in football, but all signs pointed to Luck having the potential to check all of the boxes of a legend. Everyone knew what Luck's ceiling was with a competent offensive line. He showed it whenever he had it.
The ceiling was a parade through downtown Indianapolis with the Lombardi, a statue right next to Peyton Manning's outside Lucas Oil Stadium, and a gold bust in Canton.
All of it was on the table. None of it happened.
The Colts only have themselves to blame for failing to protect their greatest asset, and squandering a potential future dynasty by doing so.
Don't blame Andrew Luck for retiring. Blame Ryan Grigson and Jim Irsay for creating a circumstance where he felt like it was the best decision.
---