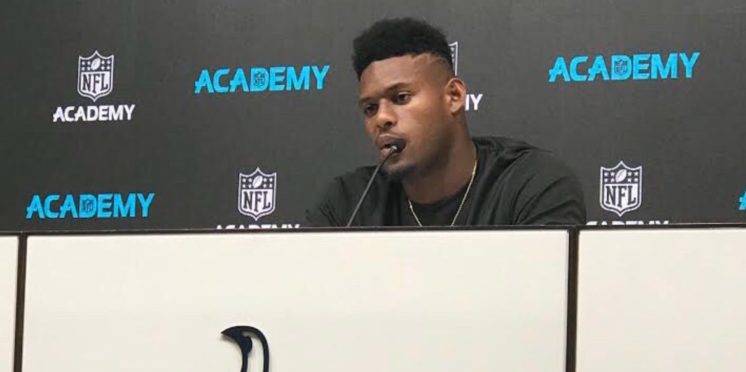 NFL London 2019 Media Day held at Tottenham Stadium
NFL stars were in attendance at the new Tottenham Hotspur Stadium last week, in conjunction with the NFL Academy and National Flag Championship events that took place on the 2nd and 3rd of July respectively.
These events also doubled up as the official NFL London media availability for the players in attendance.
Other than NFL Academy Ambassador JuJu Smith-Schuster, all of the players who were available will be playing in London this season – I have already written an article on all things London and NFL Academy, so check that out here.
---
The Pittsburgh Steelers' young superstar wide receiver held a press conference, in which he addressed his new role in the team, taking over a leadership role as well as that of a number one WR, despite his age:
"It's crazy. I'm in my meeting room, and you've got guys who are like 25, 26, 27 – almost 30-years old – and I'm 22, but I have the most experience playing, on the field. I'm talking to these guys who have little kids running around, they're adults, and I'm just a 22-year-old, being the leader, and being vocal. That's something that's been brought to me and left at my doorstep, and I'm embracing it, I love the role, being that number one guy and having the opportunity.

"But when the time comes, just like with [Antonio Brown], AB got double-teamed, I'm gonna get double-teamed, and other guys are just going to have to step up; James Washington, Donte Moncrief, James Conner, so many guys are there to make plays. Ben loves to throw the ball. We had two receivers [last year] who had 1,000 yards and over 100 catches each, but now that AB's gone, there are more balls out there, more yards for other players to make their plays."
It was clear that Smith-Schuster does not have an ego about his ability on the field, he complimented several top receivers, but humbly disagreed he was up there with them:
"Honestly, looking at those [elite wide receivers]: OBJ, Julio Jones, Davante Adams, [DeAndre] Hopkins, AB, Edelman – those guys are just amazing. I don't see myself in that category, I'm not the best receiver, I will say this though: I'm the best person on the field and off the field. Yes, we all want to be known as the best receiver, but at the end of the day, I would rather be known for what I left behind, my legacy off the field; how much I give back to the community, even over here in London."
Of the stars that JuJu mentioned, he also highlighted his two favourite receivers to watch on film, earlier in the day when talking to participants in the NFL Academy trials:
"I really like Davante Adams, from the Green Bay Packers. He's nice. When you get the chance to watch his film – his releases, his routes, they're so smooth. And, DeAndre Hopkins [of the Houston Texans], man, he's crazy. He has great hands. There are so many good ones but those two I watch a lot."
Akiem Hicks, defensive tackle for the Chicago Bears, attended both days and was not only excited about getting his first look at the new stadium – in which he will play against the Oakland Raiders this season – but also about this next season as a whole.
Hicks discussed the notable change in the Chicago staff, with them losing defensive coordinator Vic Fangio (now head coach for the Denver Broncos), and replacing him with ex-Colts HC Chuck Pagano:
"They always say: 'If you're not getting better, you're getting worse.' Our job is to apply whatever install that [Chuck Pagano] gives us, and put the best product on the field. I think that if there is any person that could take over from Vic [Fangio], it would be Chuck Pagano, because he has a way of holding a room's attention, he has a way of engaging the players, he is a good man that you can respect, and say 'I want to play my best for.'

"There's a transition period. There's a period where you're getting new information and you're being relayed at a very high speed. It's your job to apply it. You have to go over it once, twice, three times, you need to say 'I'm going to get it eventually', and you want to make sure you understand it before you step out on the field."
The Chicago #96 is a playmaker, and he described the feeling of making a big impact play, clear that nothing beats it:
"Well, first of all, you get to feel the offensive player's body crumble beneath you, and then when you stand up and you see everybody start cheering, there's not another feeling like it, it's like Nirvana, man. You can't imitate that."
I heard Hicks make what I believed to be a bold claim (especially having seen his reaction at the time), that he still enjoys a sack more than when he managed to score a rushing touchdown [in week 13 @ the New York Giants, last season], but he didn't think it was so outlandish:
"I've been a defensive tackle for 16-years. I'd never played offense, except for that play. In my mind, and my body, there's nothing more fulfilling than tackling somebody. My own coach told me, 'you're either gonna be the hitter or the hittee, and I've always preferred to be the hitter."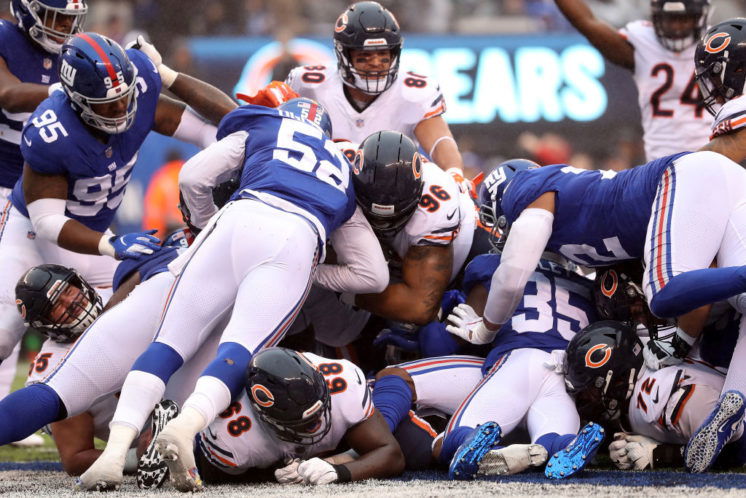 Someone who has experienced his fair share of being the 'hittee' is fresh-off-an-MCL-injury Giovani Bernard, the veteran running back of the Cincinnati Bengals. He is feeling good again, and takes the tough times for what they're worth:
"Injuries are part of the game, it happens. You just have to stay focused on the objective, and that objective is to get back and help your team win. That's what I normally do."
There is only one thing that is clear in his mind, and it doesn't always matter what role he plays in achieving it, which has become an important trait since the addition of Joe Mixon in particular:
"I never really put expectations on a season, I just want to win.

"The only thing I care about is winning. I don't care about the stats; I just want to win. It brings everybody together, too. [When you're sharing a backfield,] it saves your body a little bit, you're not taking the same kind of beating as a guy who's getting 30-40 carries a game. That definitely helps, but whoever's out there we just try and make plays and try to help the team win."
As well as the difficulty of returning from injury, the Cincinnati offense will have a new look this year due to a change of head coach, replacing old-school Marvin Lewis with McVay offspring Zac Taylor:
"It's always nice to have a coach coming from a team that was in the Super Bowl, Coach Taylor is excited to be in Cincinnati and we're excited to have him. It's definitely something that everyone's eager to see, everybody's ready for that first game to happen, but there's still work to be done. We're still getting better every single day, and we know this is a really good team, we have a great division, and it's going to be a good season."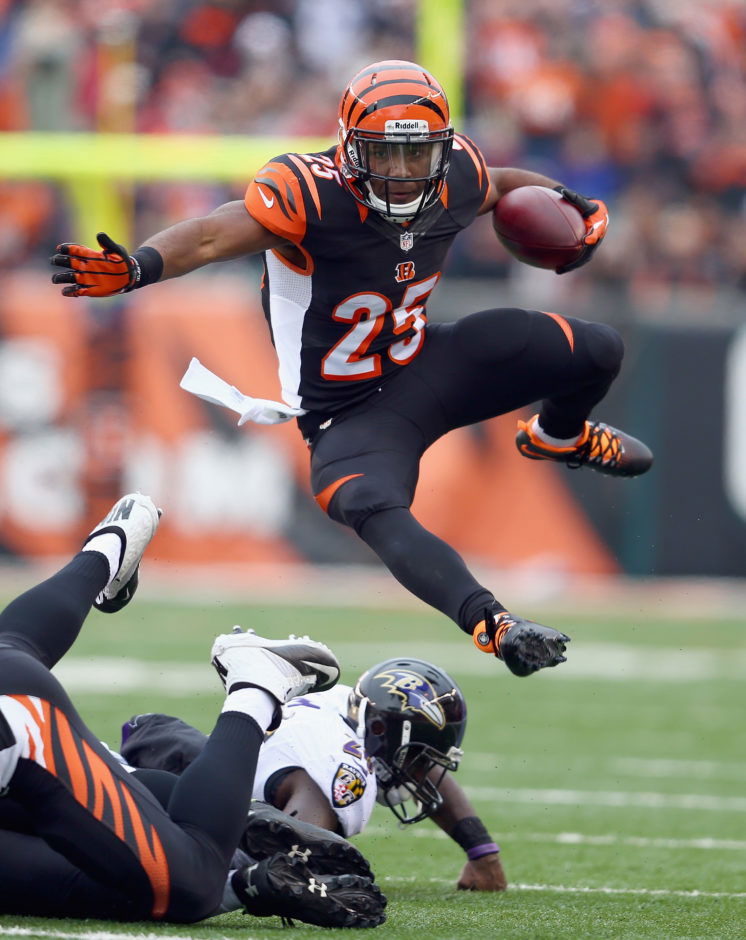 "I think the league has changed in a way where on offense you just have to put up points, and obviously the defense has to try and keep down those points. So, the biggest thing on offense for us is to try and just go out and score as many points as possible, and I know that's Coach Taylor's mindset going into each and every game, and ours as an offense too.

"It's a little different now because our previous coach, [Marvin Lewis] had a very defensive focus, and that's just his mindset – and that's not bad, that was his forte, that was what he knew, but now we have an offensive-minded coach, and I think the NFL is evolving that way, so it should be exciting. I know we're ready and we're excited to see what is going to happen."
Another veteran, but from the other side of the ball, Houston Texans cornerback Johnathan Joseph is looking ahead to maintain his longevity and continue to play at a high level:
"You've just got to continue to work. You've got to take care of your body, because if you're not available for them, that's when they get you outta there. I think I've been able to be productive and look after my body, and be a great teammate – everything else, that's just football.

"There's a bit of give and take as you get older, I remember a time where I wouldn't give up any balls, and then now you have a catch here and there, and you're like 'what's going on?' but that's football, and it's not always going to be perfect, and those guys get paid just like I get paid, to make plays. At the end of the day, you get paid to do a job, and you go out there and I do my job the best I can, and for as long as I win more than I lose in my matchups, there's a place for me."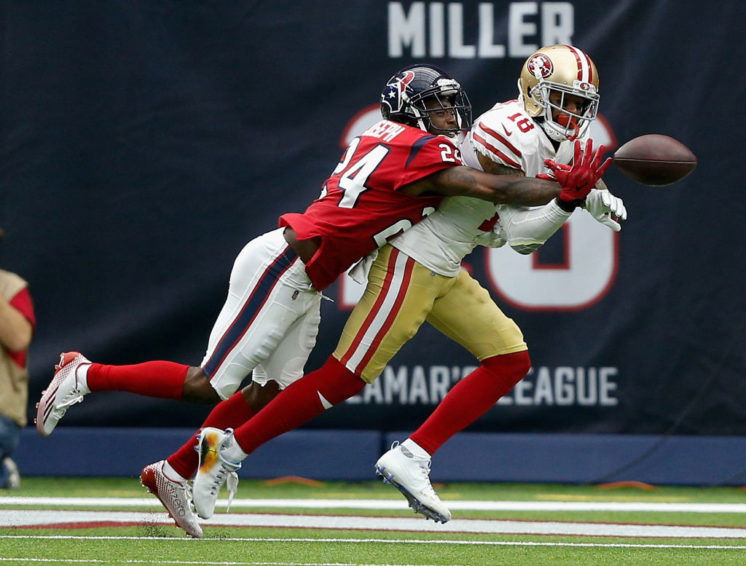 "I take it year to year, it only takes one bad injury to take it to that stage of your career [where you would want to retire], but I've been fortunate over the years, I've had my fair share of surgeries and that sort of thing, but I've only missed about 13 games in 14 years or something like that [actually 22 in 13 years]. I've been blessed to have great training staff, lots of people around me in my supporting cast just to keep getting me out there and continuing to keep me healthy."
As a cornerback, particularly one who's spent 13 seasons in the AFC, including 8 seasons in the AFC South, Joseph has seen his fair share of pretty talented quarterbacks, including his own current signal-caller:
"[Texans QB Deshaun Watson] goes out there, he's a fighter, a lot of times I think he forgets he's a quarterback," he laughs, "I think he definitely understands what the team asks of him, and he protects himself as much as he can, but at the same time he wants to win ball games.

"Any time that you're playing the top [quarterbacks], they're going to always bring it, the QBs in this league are off the charts. If you're playing against a guy like Andrew Luck, it doesn't matter if he's three touchdowns down, that game is not over. If you think you can relax against a guy like that, you're in trouble, you're playing the wrong game, because he will expose you, and for us it's big because you've got to go out there and compete for all four quarters, that's what it's all about, competing."
A much newer defensive player to the league is surprise star Samson Ebukam, who burst onto the scene this season, including an absolutely incredible performance against the Kansas City Chiefs in week 11.
This game came in only his second season, he managed to get three tackles, a sack and two defensive touchdowns. He was the first player in NFL history to get a sack, an interception and score more than one TD in the one game – doing so earned him NFC Defensive Player of the Week.
The mention of this game brought a smile to the Los Angeles Rams' defensive end, and when asked if it's difficult to stay focused when you're having the game of a lifetime, he said:
"Not in that type of game. It was so close I was like 'I just gotta get back to the sideline and get rest', because I know our offense is gonna score fast. We had a feeling that it was going to be a shootout, so we had to stay locked in the home game."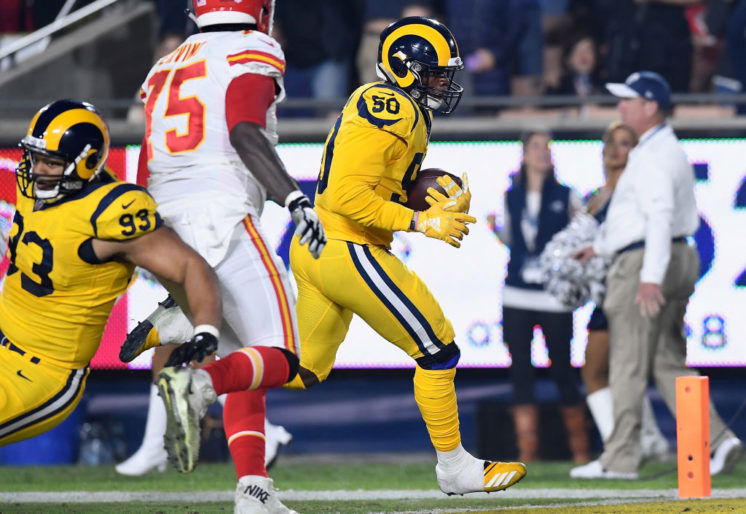 I asked about the notion 'I know our offense is gonna score fast', and whether that effects the defense's preparation:
"We have to [be prepared to get back out on defense quickly], you have to train your lungs to be able to manage it when you have to do so many plays, so we definitely practice at that tempo, and whenever we hit the game, we never have to worry about it very much."
It does help that he plays on a defense that is just as exciting as their offense:
"Any time that you make a play and the crowd volume goes up, your energy goes up. We feed off the crowd, when they're cheering for us and when they're cheering against us. If the crowd is against us, but then we can quiet them, then we must be doing something right."
Finally, I spoke to a focal point of one of the most interesting offenses in the league going into this season – Cameron Brate of the Tampa Bay Buccaneers.
The Bucs have Brate and O.J. Howard, arguably the best tandem of dual tight ends in the league, and I was interested to discuss their unique usage, with both deployed in almost equal measure and often together.
"Really our assignments and roles are dependent on what the coaches want that week, it's usually based on the other team's personnel and their schemes, and I think that's one thing that Coach [Dirk Koetter] in the past couple of years, keeping everyone happy, and moving the ball around, and I think [new HC Bruce Arians] is going to do the same thing. All spring he's done a really good job involving everyone in different roles, and if we win, it doesn't really matter who gets the ball."

"Me and him are always picking each other's brains, and talking about – specifically when we're game-planning our next opponents – like 'hey this is what we're thinking' and the coaches also help us out with that, but me and him always talk about what's the best ways to get open."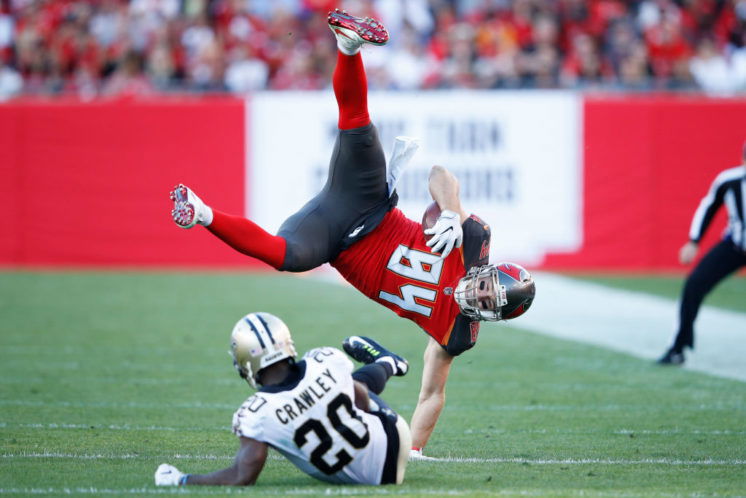 "Having a guy like O.J. helps me, it helps the team. We think when you put me and O.J. on the field at the same time, it really puts the defense in a bind, because they really have to show their hand, in terms of their coverage, and the defensive front, and once we have that information, it makes the quarterback's job easier, so just having the ability to both run the ball and pass the ball, by having two Tight Ends that can help in both the run game and the pass game, it's huge for the offense.

"When there's just one tight end, it makes their job a lot harder, when you look at the Chiefs with Travis Kelce, or the Patriots, this past year with Rob Gronkowski, that puts a tonne of pressure on that one player, and if they get an injury then it really throws everything way out of line, so having two guys that are both able to do it, and who can keep each other fresh, it does wonders for your team."
As well as the switch from Koetter to Bruce Arians' offense, their deep threat has also departed, in the form of DeSean Jackson, who has returned to Philadelphia. Brate thinks that his duties will be divided around the receiving group:
"First and foremost, [don't forget about] Mike Evans going down the field… He doesn't have the same kind of speed as a guy like DeSean [Jackson], but if you put the ball up and give him a chance, he's probably going to come down with it. Chris Godwin does a great job with that as well, and we also got Breshad Perriman, from the Browns, he is fast, man, he's a different type of build to DeSean, a bit bigger, kind of a long strider, but he's a guy who can really take the top off of a defense.
---
The NFL London Games will take place in the four weeks from the 6th of October through the first weekend of November.
The Bears face the Raiders and the Panthers face the Buccaneers, both at the new Tottenham Hotspur Stadium, and then the Bengals will face the Rams and the Texans will take on the Jaguars at Wembley Stadium.
---