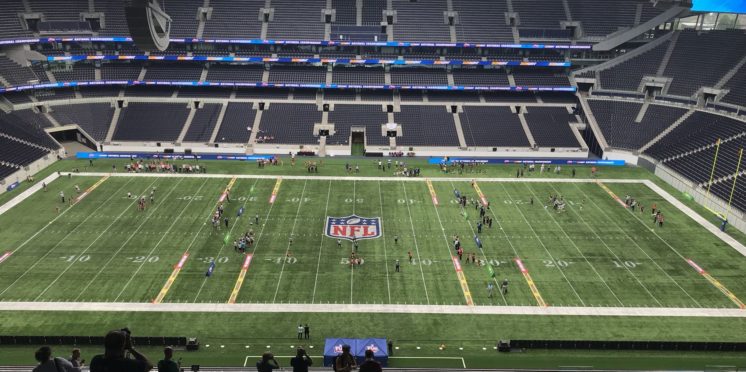 Tottenham Stadium welcomes NFL Stars as they support NFL academy tryouts
On Tuesday June 2nd, the Tottenham Hotspur Stadium was rolled out in its state-of-the-art NFL form to welcome some of the final students who were taking part in the NFL Academy tryouts.
The artificial turf, including its goalposts and NFL-marked pitch, was also host to NFL stars like Ju Ju Smith-Schuster and some of the upcoming NFL players who came from the United Kingdom, such as Efe Odaba of the Carolina Panthers, who is also an NFL Academy Ambassador.
Also taking a look at the new stadium was Tottenham legend, Ledley King.
Two other ambassadors of the NFL Academy,  Osi Umenyiora and Jason Bell, both BBC presenters for British coverage of the NFL, were also in attendance.
The custom-made NFL Locker rooms were available for the first time, and the students were the first players to use them.
Can anyone else not get over how awesome these changing rooms are? @NFLAcademy pic.twitter.com/uyIXryLCqN

— Read Am. Football (@ReadAmFootball) July 3, 2019
The four teams who will battle it out at the new stadium this season were represented in the form of the Oakland Raiders' Linebacker Tahir Whitehead, Tampa Bay Buccaneers Tight End Cameron Brate, Chicago Bears Defensive Tackle Akiem Hicks and Carolina Panthers Defensive End Mario Addison.
All of the players agreed that the stadium looks great, with their choice of adjectives ranging from 'awesome' to 'impressive'.
Hicks said that he didn't know what a cockerel was until today, but now he does, and he thinks the golden statue of one at the top of the stadium is cool.
Of the new stadium, Hicks noted, "from what I see, there's not a bad seat in the house."
Whitehead is as close as you can get to a veteran of playing in London, playing at Wembley with both the Detroit Lions and the Oakland Raiders before. This year he returns, and he's assured his teammates that nothing changes from continent to continent – you need to go out there and 'when the whistle goes, you gotta be ready.'
Whether it's this patch of grass or that patch of grass, this turf or that turf, at the end of the day it's four lines that make up a football field. You go out there and you make it happen, no matter where you are.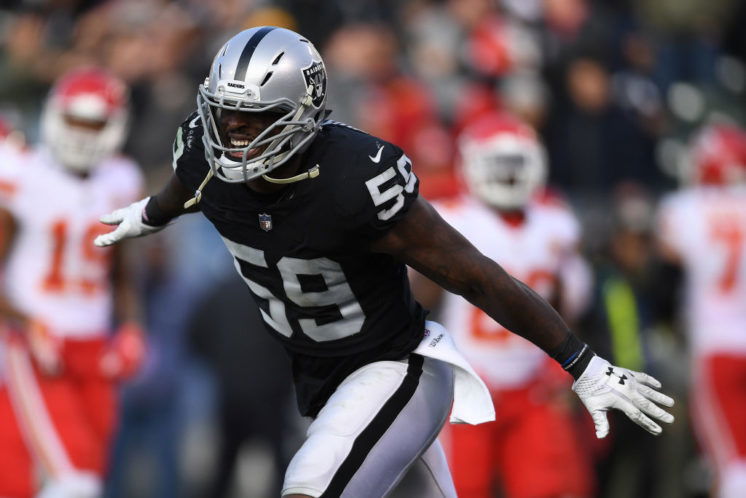 I enjoy [playing abroad] because of what it brings in the sense of growing the game that I love, I want other people to love the game the same.
The Raiders Linebacker said that he loves the UK fans, above all else:
What I've seen is that [London fans] are just as energetic and as lively as the fans in the US. For me, I love to see that, I love that passion for the game that's growing on people, the same way I love the game. There's been nothing but respect and love every time we come over, you're walking 'round town and you see people with the gear on. I saw a guy riding his bike yesterday and he's got his Raiders cap on and I'm just like 'damn, that's dope.' It's a sight to see.
Obada, the rising star of the Carolina Panthers defensive line, who just years ago played for the London Warriors, echoed the dedicated fans, remembering he used to be one of them:
When I played my first game, I got a lot of messages and I was like, 'why aren't these guys asleep?' But I remember, I was in that position when I was staying up until four, watching. Don't lose your job the next day over it, though, get Game Pass or something – but seriously, we really appreciate all the support from over here.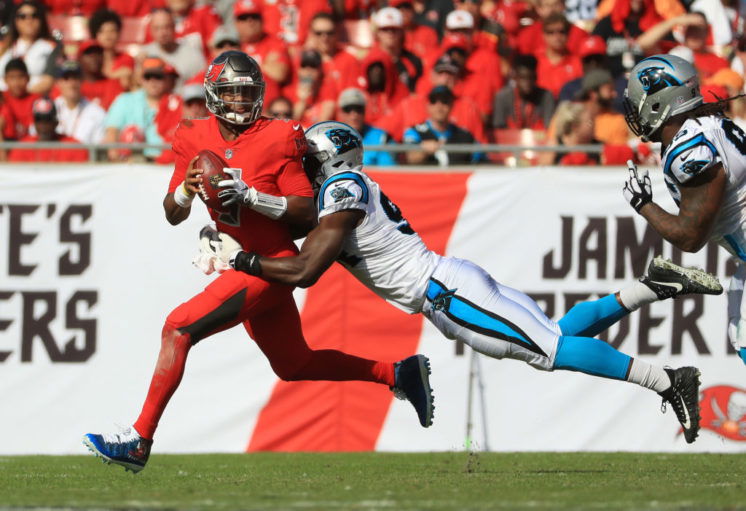 As one of the NFL Academy Ambassadors, Obada seemed truly overwhelmed with how far the sport has come during his journey:
Without sounding cheesy and cliched, it really is a dream come true. I wish you could see it from my eyes, from when I had nothing. Back before the NFL, back when it was just a dream – when it was just me running around in the park, running around with some beat down boots saying 'I want to be an NFL player', now to this. Now, being part of this incredible academy, that's going to educate and teach kids life skills, and to give them that opportunity to go to college and then to the NFL. It's amazing. I can't put into words how much it means to me.
One thing that has been very exciting for the students is getting to meet the players, and it isn't just the UK-born players who support the academy. High-profile ambassadors including Odell Beckham Jr., MVP Patrick Mahomes, and – in attendance this week – JuJu Smith-Schuster.
Obada said:
It's so special. I commend those guys for that. They believe in what this is, and how much demand there is for it.
The Steelers' star receiver, JuJu Smith-Schuster was quick to say how excited he was to be an Academy Ambassador:
I'm super proud. When they first called me, I was like 'dude… London? Like, London London, in the UK?' I was super excited.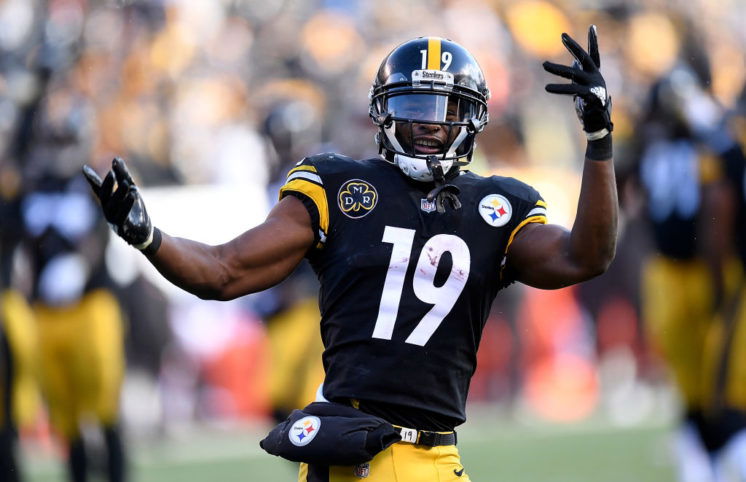 To come over here and give back to the community means a lot. I'm only 22-years old, a lot of the kids can relate to me and I can relate to them, whether its video games, or making YouTube videos, I'm just being myself. It's cool [Having NFL players as ambassadors is] important, for sure. You don't wanna start up an NFL Academy and not have key players here. When you've got guys like OBJ coming, [another fellow ambassador] Pat Mahomes, and all of those types of dudes coming here, to show face – and, during the trial you see actual NFL players coming back and giving back to the Academy, which is cool.
Veteran Running Back of the Cincinnati Bengals, Giovani Bernard, was also excited to see the Academy for himself:
I think it's awesome that we have such a big following over here in the UK. To be able to bring the sport across and have the NFL Academy, it is really cool to see. [The Academy] is definitely important [for the growth of the game] because the biggest thing is targeting kids at a young age – when we're over in the States we start at like 7, 8 or 9 years old.
The Oakland Raiders are one of the four teams who will be seen as a home team in London, Whitehead sees this as more than a slight on their schedule:
Obviously, there's nothing like playing in your home stadium, wherever you're located, but on the other side of it, this is an opportunity to grow the game and show the world the passion that goes into playing this game. You have to embrace it. No matter if it's this field or that field, line it up – let's play – blow the whistle and let's go. Don't ask too many questions, just go out there. Sunday is fun day. That's my mindset – everyone's here to watch the Raiders, everyone's here to watch Tahir Whitehead go out here and get as many tackles and play with energy and get hyped, and fly around the field.
When asked why a UK fan who doesn't have a team yet, Tahir was a good salesman too:
First of all, there's no nation like the Raider Nation. In fact, there's only one nation and that is the Raider Nation. It's a storied franchise, if you just look at the history, the players who have come through the Raiders, it'll blow your mind. And on top of that, the uniform – you see this jersey I'm wearing? Tt might just be black and silver, but it doesn't get scarier than that black and silver, you see that Raiders logo and you see us suited and booted and ready to go to battle. I think you'd be a fool to whoop for any other team.
Every player shared one thing in common, appreciation of the new stadium's facilities, after seeing the Spurs stadium on Tuesday, Whitehead agreed the stadium smelled 'like fresh sneakers outta the box.'
Hicks said that the new Tottenham Stadium would stack up well in the NFL
From just getting a look over the stadium, it feels like there's going to be a great vibe, everyone can be in touch with the game. It feels like nobody is just sitting two miles up, and they can't really see. It looks like there's not a bad seat in the house. I would compare it to the Dolphins, it looks kind of like the Dolphins stadium.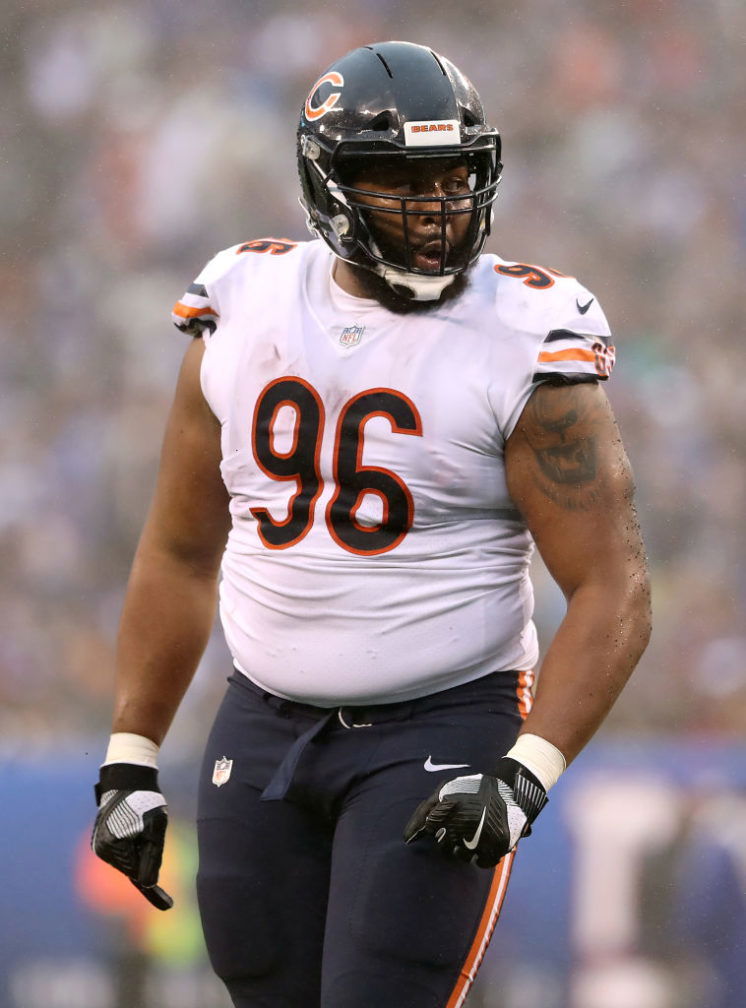 Something that the London games are famous for is the atmosphere, the noise levels don't fluctuate like a home/away split, everyone is excited from start to finish, and that volume is something that the defense benefit more from than the offensive guys.
Veteran Cornerback, Johnathan Joseph of the Houston Texans is going to embrace it:
Any advantage you get in football, you have to use to the best of your ability, for example, if they have to use a silent count, that means they can't get a good jump off the ball, or maybe if the QB can't hear, they have to use signals, and then there can be miscommunications, so whatever you get to use to your advantage, you have to do just that, but at the same time you can't let those same things distract you.
Hicks said:
Noise is always a great thing for the defense. Number one, it gets the Quarterback frazzled for the other team, and two, we feel that energy. For instance, playing in Soldier Field, when we start to make plays, and we start to get rolling – the sound that rolls through that stadium, it invigorates you, and gets you pumped up, and the more pumped up you are, the harder you get to hit. And everyone wants to see hard hits, right?
Brate, a Tight End of the Tampa Bay Buccaneers, has never played a game in London, but always watches them before he plays his game later in the day: "
One thing I do always appreciate is that when they pan to the crowd, you see Ravens, Bengals, Bears, Packers, Lions jerseys at a Texans game, or something, so I think that aspect of it is cool. There's just so much excitement around the game.
One player who enjoyed their experience at Wembley as much as anyone, was Jaguars Kicker Josh Lambo, who played football before he transitioned to American Football:
Playing at Wembley last year really was a dream come true, being a 'proper footballer' growing up, I always dreamt of playing at Wembley, albeit in a different sport – I never thought I'd be wearing pads and a helmet, but I was certainly really fortunate to have that opportunity.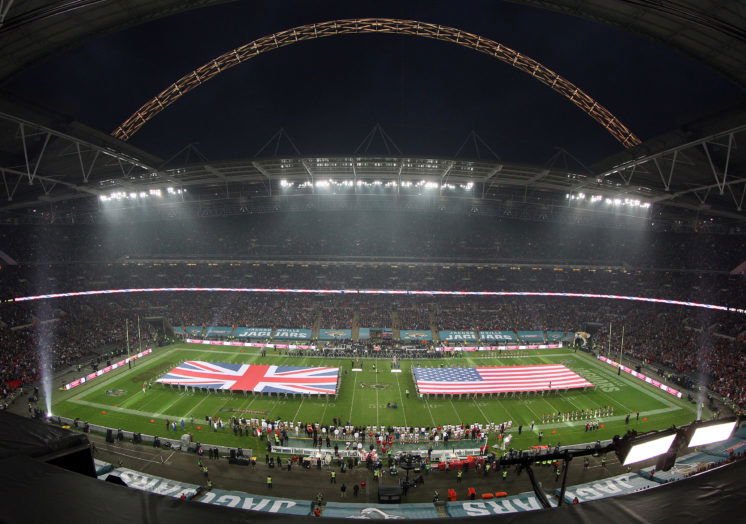 ---
To see more from the NFL's residence in the Tottenham Stadium this past week, go and take a look at our Twitter: @ReadAmFootball – there are some awesome photos and videos.
---