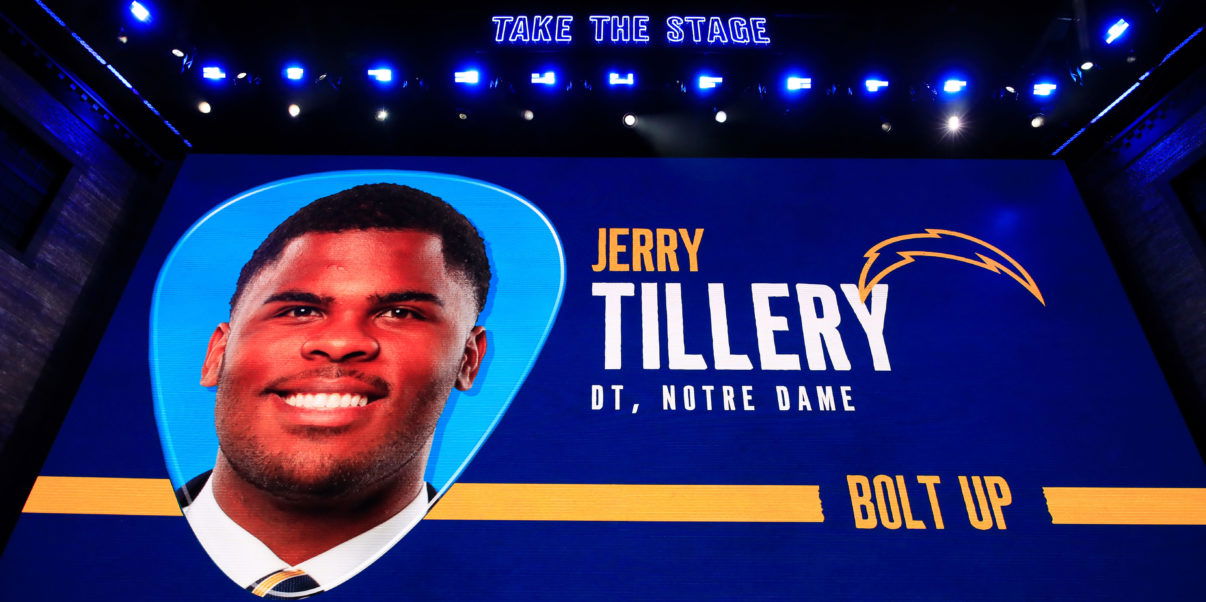 Jerry Tillery: A Complex Evaluation
It is often said that NFL Draft picks cannot be properly evaluated until three years after the fact – and indeed that assumption is baked into the league's Collective Bargaining Agreement, as it is after three years that teams can sign players to their second contract and after three years that decisions must be made on the fifth-year option on first-round rookie contracts.
Some players will be rookie wonders who get wrecked by injury (or retire before they can, like Chris Borland), others will be belated breakouts after bench seasoning and/or initial struggles.
But in the heady days of late spring, when every team has the same number of losses as the 1972 Dolphins and the same number of wins as the 2017 Browns and it's four months before that will change, fans always want to jump to a conclusion. It's instinctive, it's honestly what makes the NFL Draft a television capable of beating the NBA playoffs in a head-to-head ratings battle (!), and it's very often an act of incredible futility.
Exhibit A: Jerry Tillery, 2019 first-rounder for the Los Angeles Chargers. (Yes, that still sounds weird two years on. Source: a pre-2017 Chargers fan.)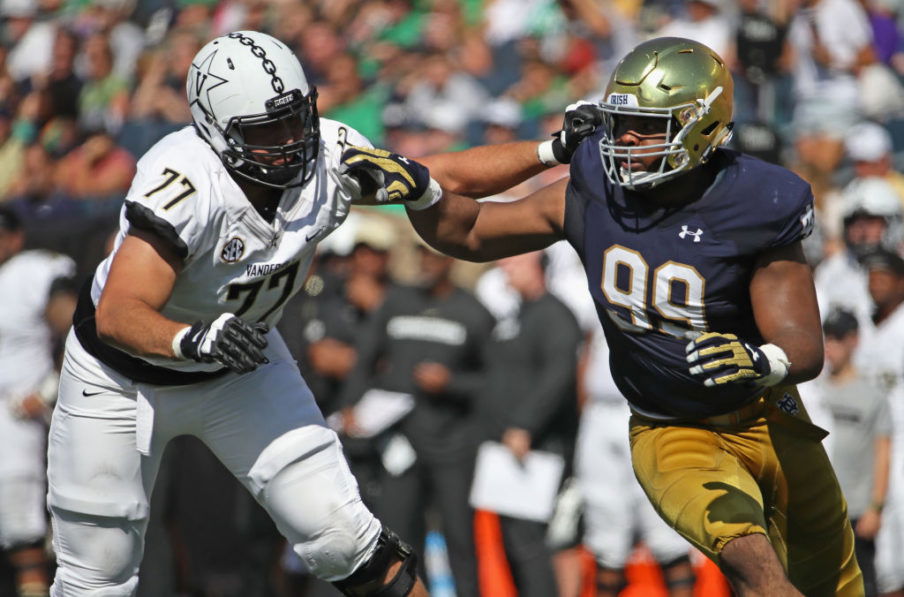 All player evaluations are complex, which is why there's an entire industry of people doing it (both for teams and for the media) and still, colossal misses happen. Jerry Tillery is a complex evaluation even relative to other player evaluations.
Let's begin with those vital statistics. 6'6½" – which some reports round up to 6'7″ – and 295 pounds. Defensive tackle. Wait, defensive tackle? That height and weight fits an NFL prototype alright, but it's either for a slightly undersized left tackle (which is what Tillery was in high school) or a defensive end, specifically a 3-4 defensive end. Mind you, 3-4 defensive ends are basically leaned-out nose tackles anyway, they're expected to two-gap and stop the run… but since JJ Watt started doing JJ Watt things from that spot it became considered a pass-rushing position, and hold up. Why are we talking about 3-4 vs 4-3 again?
It's 2019, the 4-2 nickel is the base defense in the NFL, and in that formation, a 295-pounder of any height is playing inside. So sure, defensive tackle. But hang on, he's a Charger now, so he's in a Gus Bradley defense, and the signature feature of a Gus Bradley defense is a 4-3 that works more like a 3-4 (including regular use of a two-gap defensive end).
The immediate comparison to make is with Michael Bennett, who almost defined that role in Seattle. Before he became a hero of the Seahawks team who came one yard away from back-to-back championships, and he played for the Bucs as essentially an as-needed Gerald McCoy impersonator. In other words, a three-technique defensive tackle, the obvious role for a 300-pound defender in today's NFL. But one-on-one trench battles can come down to "low man wins," and good luck being the low man at Tillery's height.
Anyway, it'll be interesting to see how Tillery wins and loses with that body type. Let's take a look at the tape and…
*rewind*
Wait, you're telling me he played most of his best season through a torn labrum that required post-Combine surgery? How are we going to learn from this tape?
Well, even with the injury, ProFootballFocus loved that tape, to the point he was #7 overall on their draft board. Based purely on that, this is another Derwin James-grade draft robbery for the shoebox superstars. But he didn't play like that early in his career, and he was seen stomping on one man and kicking another in a game against USC, which wasn't the only time his character had been questioned – he got suspended by the team for a bowl game for an unspecified team rule violation.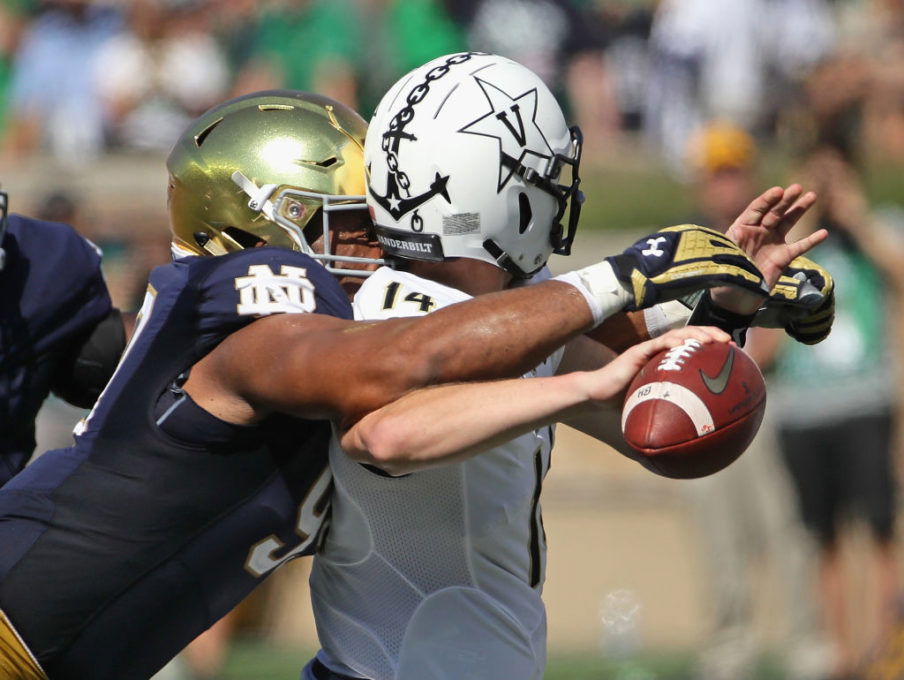 But by most accounts, once he got it together, he really got it together. Hence that PFF grade, which wasn't especially uncharacteristic of evaluations of that season (which, to repeat, he did with a torn labrum). He led the team in sacks with eight, forced three fumbles, and generally wreaked havoc on a regular basis. By general consensus, his best fit – height be damned – is as a penetrating force on the interior, pushing past guards like an over-eager Black Friday shopper.
But when you stand nearer 7′ than 6′, with arms that top the mythical 34-inch left tackle threshold, you have two-gap value. Tillery has potential to be a precious movable piece up front, capable of creating an interior push between Bosa and Ingram but also of kicking outside to let one of those two take some snaps off.
But, again, potential. Tillery has one year of properly good tape and multiple years of underachievement. If the Chargers see 2016 Tillery, he'll be a notorious bust who might not even see out his rookie contract. If 2016 Tillery is well and truly in the rear-view mirror, 2019 Tillery could be the interior pocket-collapsing powerhouse that finishes Tom Brady's career en route to bringing the Bolts their first Lombardi.
And, in all honesty, neither of those scenarios seem especially implausible. It doesn't take too much of a leap of faith to imagine either of them.
So let's go back to that first observation: NFL draft picks cannot be properly evaluated until three years after the fact. In 2022, we could be talking about Tillery in any number of ways, from iconic to infamous. This is true of basically any NFL Draft prospect, but it's more obviously true with Tillery than most.
I'd have preferred an offensive lineman like Cody Ford or Dalton Risner with the way this board fell – and that's ignoring Jawaan Taylor, who nosedived through nebulous injury concerns – but that would have been playing safe. You don't beat the Patriots playing safe.
My overarching reaction to this pick as a Chargers fan is nervous excitement. Maybe that's the only correct reaction to any pick?
Grade: B-
---