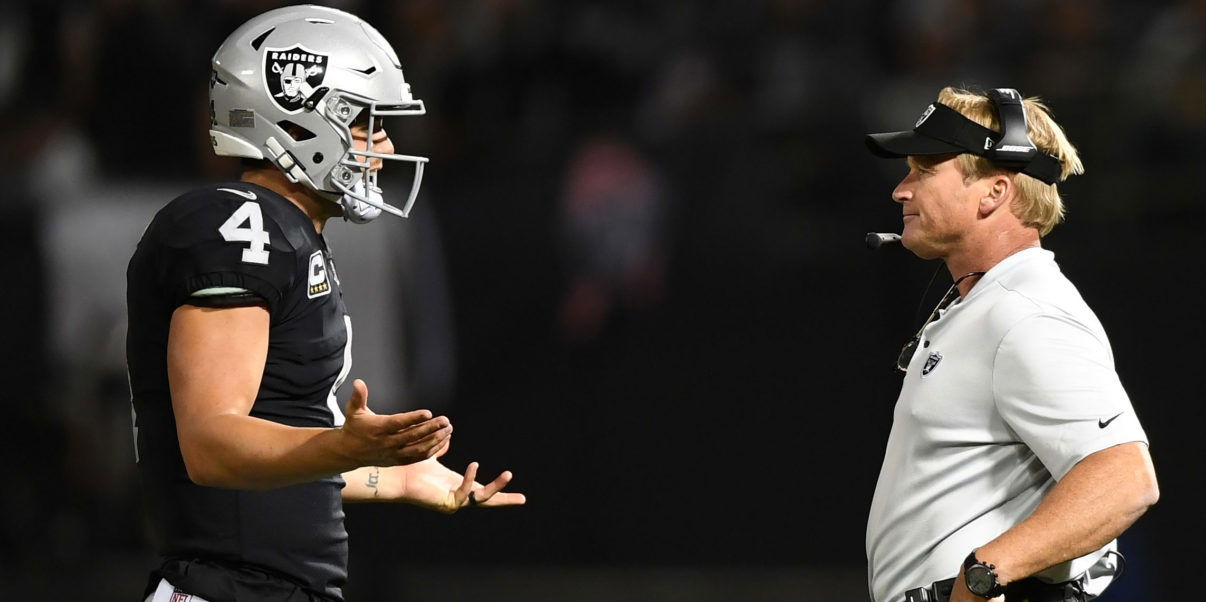 Oakland Raiders 2019 Draft Analysis
This weekend we watched as the 2019 NFL Draft came and went, 254 picks over three days. Whether you checked your phone on Sunday morning or watched every pick for yourself, every fan knows that the draft is essential to a team's sustained success – or ending its lack of success. The Oakland Raiders require the latter.
Last year Jon Gruden received his fair share of criticism for making two trades to build up his draft stock over the next two NFL Drafts, dealing superstar DE Khalil Mack to the Bears and Dak Prescott's new favourite wide receiver Amari Cooper. These trades are the type of commitment that an organisation makes when they want to start over, rebuild through the draft, and create a more consistent team.
Many Raiders fans, including myself to an extent, first thought these decisions were bad for the team. But after a tough season, the draft finally arrived. With newly appointed General Manager and draft guru Mike Mayock now working alongside Gruden, this year's draft, as well as the 2020 picks, will form the foundation for what will become the Las Vegas Raiders.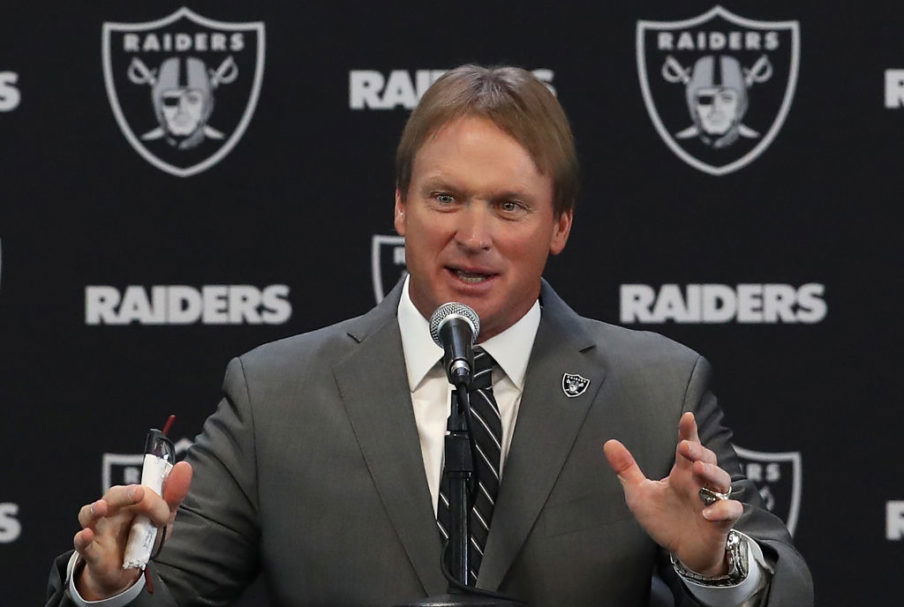 I'm going to look at these picks as part of their long-term rebuild, as well as commenting on them as a pick in the present as both are relevant to the success of this strategy.
The most important quality Mayock and Gruden have been preaching is that they want to draft people who possess great character and leadership. These picks aren't to add a bit more oomph to a star-studded side, this is a legitimate roster overhaul; so bare that in mind if you don't share my optimism.
Day 1
4th Overall Pick, 1st Round – Clelin Ferrell, EDGE, Clemson.
Courtesy of their own performance, the Raiders 'earned' the 4th pick of the draft. I am absolutely certain they attempted to trade down by a few picks to a team desperate to get one of the top players, but they couldn't move, so they made their pick. This pick was the first of many which were deemed as both of two different negative adjectives for a draft selection, 1. A reach in draft position 2. A reach at their playing position.
Clelin Ferrell is widely considered to be in the top-five EDGE rushers in the draft, but he was drafted ahead of all but Nick Bosa. Taking him this high meant choosing him over Josh Allen and Brian Burns who many people suggest are better players in terms of raw talent – and honestly, I strongly agreed at first. But remember, this is the head coach of the team and the general manager of the team deciding on their favourite player. I wanted them to draft an EDGE, and they did. They picked their favourite available player at the position and they drafted him to be a leader of the Raiders' struggling defense.
I won't assume that Ferrell wasn't the best fit for our team just because he was taken a handful of spots too high. The first notes I made on Ferrell were from a game against Alabama which he spent fighting against the first offensive tackle who was taken in this class, Jonah Williams. I noted that he is the leader of their defense, and that he directs and checks the defensive line before focusing on his own game. Mayock clearly saw the same. With a young line, consisting of last year's promising rookies Maurice Hurst and P.J Hall, it is essential that this leadership continues in Oakland.
His ability isn't to be forgotten though. Whether he should have gone 4th overall or not, he's a truly talented edge-setter and pass rusher. He has quick and accurate hands, which he can use for technical moves, but is also powerful enough to bullrush, and he dominated Jonah Williams on one such rush. The leadership and his football IQ are great, but even better when he plays at the standard he does.
24th Overall Pick, 1st Round – Joshua Jacobs, RB, Alabama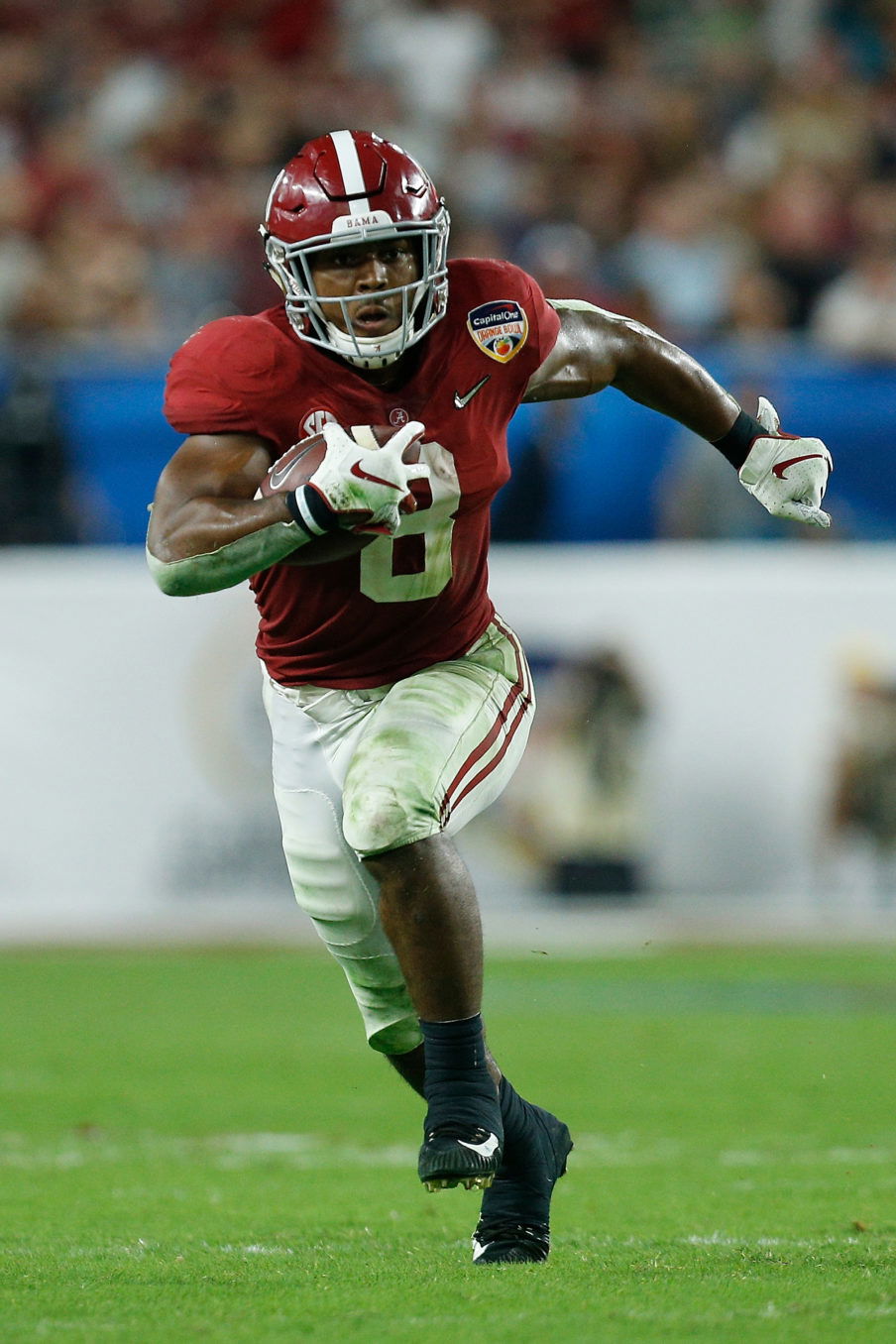 Several hours after seeing Ferrell picked I was starting to try and warm myself to the decision, so I was optimistic enough when the second of three picks arose. I was hoping we would take either a safety or a cornerback with the next pick, because those were two key positions of need for the defense, and there had only been one player drafted from both positions combined.
Every single cornerback was on the board, and every safety except for Darnell Savage Jr. (who I do not think is the best in the class) was available for the taking. And then I saw the pick was Joshua Jacobs.
Jacobs is admittedly the consensus RB1 of the class. Taking him isn't a bad pick for his position. However, it didn't feel like a necessary pick to make with the 24th overall. But I do think that many people underestimate how beneficial this pick can be.
I am confident the Raiders acquired the best running back in the draft, and his underrated quickness and impressive power are somewhat reminiscent of the RB the Raiders just lost to retirement, Marshawn Lynch. I don't actually think Jacobs is the new Beast Mode, but at the same time, he is significantly more versatile than #24 was.
He is capable of catching the ball well out of the backfield, as well as serving as a power-back, which is a rare combination and one which could be very helpful for Derek Carr in their completely overhauled offense (which we will talk about more later). He is also good at pass-blocking when called upon, and even impressed on snaps where he was run-blocking out of a 2-back set.
The biggest criticism he receives is he didn't get as many touches at Alabama as he should have, but to me that means he has more mileage left on him. He has shown in the carries he did get that he can slot straight into the Raiders starting lineup as the first three-down-back they've had in three years. Jalen Richard and Isaiah Crowell are both complementary pieces who can make big plays, but I truly believe Josh Jacobs has the opportunity to develop to be our franchise running back over the next two seasons.
27th Overall Pick, 1st Round – Johnathan Abram, S, Mississippi State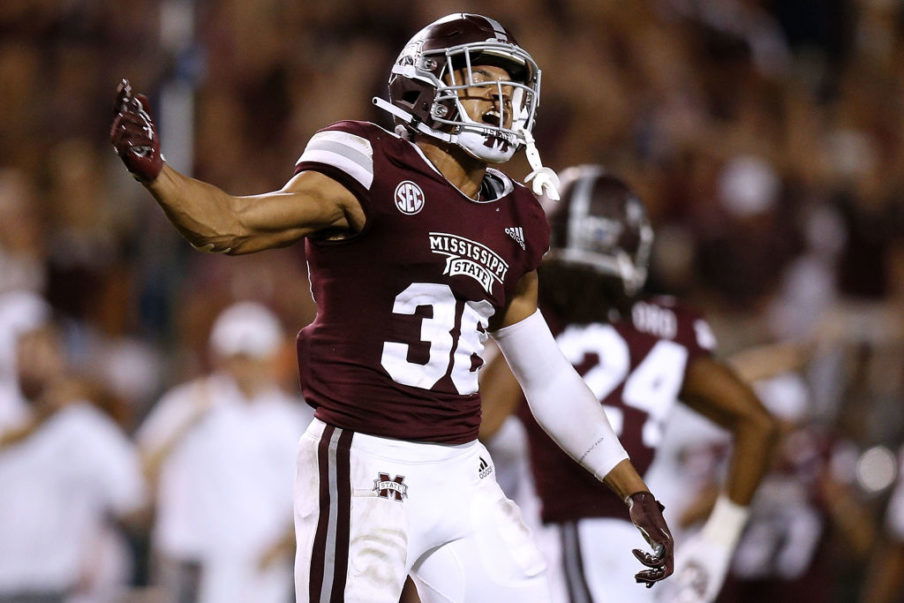 With the pick from Chicago they took a running back, so they found themselves with their final pick of the first round with two main needs to be addressed. Safety and cornerback. Neither of these positions had been picked since the Jacobs selection, so the board remained with every single CB option and all-but-one Safety. I was glad to see Mayock and Gruden opted for a Safety with this pick, but I wasn't expecting us to choose Johnathan Abram. I definitely didn't mind the choice, and Mayock-replacement Daniel Jeremiah had him as his number one overall safety in the class.
The Raiders' safety tandem going into the draft was the shortest safety pairing in the league with Karl Joseph and the newly acquired Lamarcus Joyner, who came from the Rams in the offseason. These two are both able to play a generic safety position, with Joyner originally playing slot-corner before moving back to play free safety in Los Angeles. Neither of them are pure free or strong safeties, which makes them versatile in their ability to play both mirrored and non-mirrored defensive looks and to react to any play call.
Abram is very much a box-safety, meaning he is going to be physical and aggressive while also bringing emotion and energy to the defense. I have heard the comparison to Keanu Neal, and he is a truly dominant safety when he's playing well. His exceptional in-the-box ability, coming downhill against the run, and playing aggressive in coverage allows for the Raiders to utilise Joseph and Joyner in much more varied ways.
They could even have all three on the field at once. This is a great pick, and although I see him being on the field for the first snap of week one, he is also an elite option in the context of adding him to a run-stopping package, at least. I would like to see Joyner and Abram form a very fruitful partnership, with an improved pass-rush hopefully making their job a bit easier, too.
Day 2
40th Overall Pick, 2nd Round – Trayvon Mullen, CB, Clemson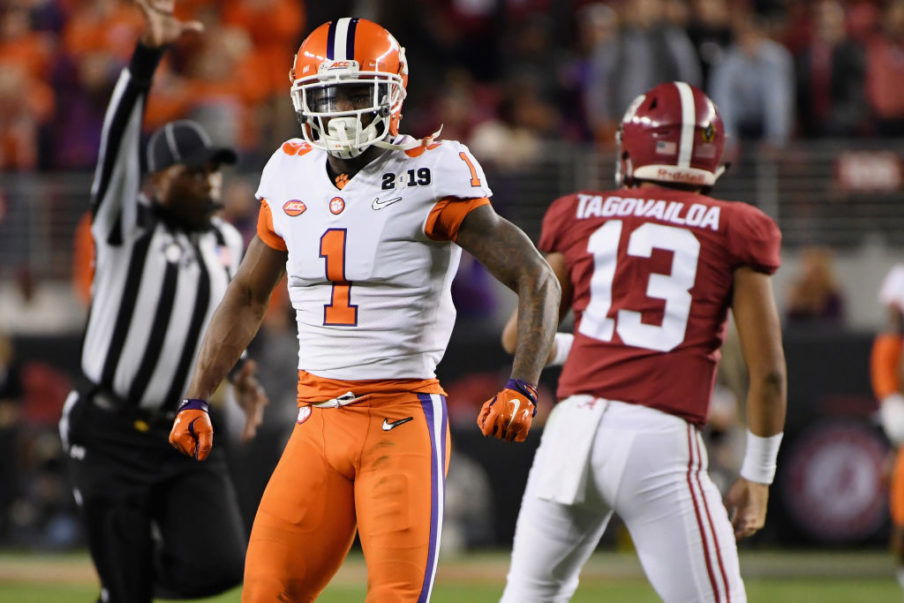 The Raiders entered day two with fans debating how to feel, myself included. I made it very clear in my mind that if we could start day two with one of my three favourite cornerbacks, Byron Murphy, Greedy Williams and Rock Ya-sin in that order, I would be happy.
The first pick on Friday was Byron Murphy, and then Rock Ya-sin followed. The Raiders pick was the third of the round, and the top two Cornerbacks on the Raiders' board disappeared. I know these were the CB's that they wanted because they traded back twice after the Colts took Ya-sin. The Raiders found themselves at the 40th spot, but had also collected some draft capital, which I thought gave them the best outcome they could have after the two picks before them. And now at the 40th overall, Greedy Williams was still on the board. I was excited.
The Raiders surprised me once again, even though I had been accurate in identifying the position we needed when they opted for their second but not last Clemson star of the week in Trayvon Mullen.
This Tigers' cornerback divided the opinions of analysts, although he had a very impressive performance in the national title game, which I need not remind you Mike Mayock attended. This impression was enough for him to be taken above my CB2, Greedy Williams. Once again, if they're drafting the positions I want them to, I don't see that it's my place to complain.
Mullen is a very physical and lengthy corner, and he is aggressive in press-man coverage, excelling at jamming and disrupting receivers early on their route. He is quite athletic for his 6'1 size, large for a CB, and he has some real upside if he continues to improve at his zone responsibilities to pair with his disruptive press techniques. He's aggressive and can make plays, and that's what the Raiders need.
For me, the best thing about day two was the acquisition of extra capital for day three, but Mullen is also another player who could definitely be on the field in week one.
Day 3
106th Overall Pick, 4th Round – Maxx Crosby, EDGE, Eastern Michigan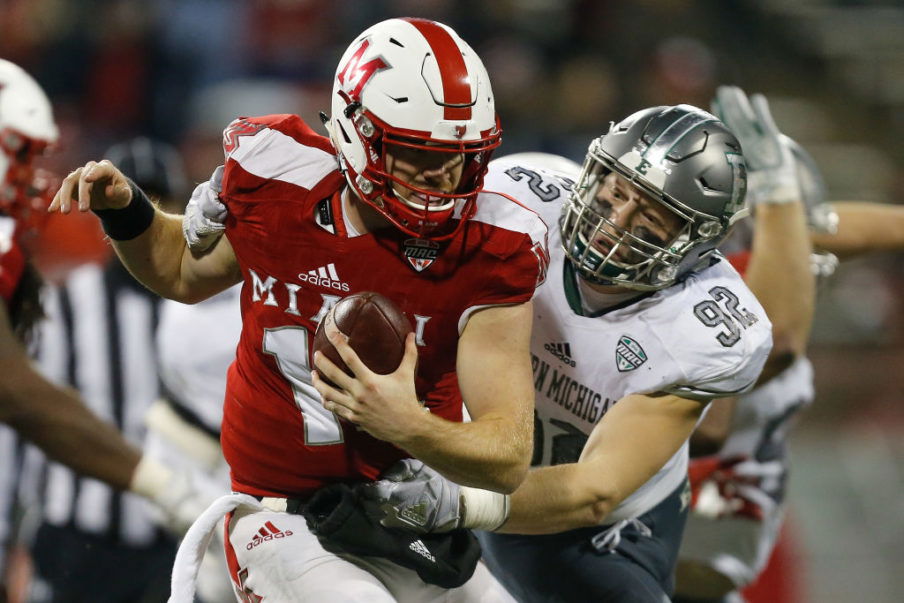 After a long, uneventful second day of the draft, the Raiders returned for the day where they would likely do their best business, and I believe that is what they did. Unfortunately, a major talent who had fallen down the board in the form of Florida Safety Chauncey Gardner-Johnson, was traded-up for one pick before our first selection of the day. But the Raiders still made a really valuable pick-up, going back to the defensive line and choosing their second EDGE of the draft.
Maxx Crosby, whom both Mayock and Gruden were referring to as 'Mad Maxx', is a player with massive upside. He is quick and relentless in his rush, and has amazing fluidity around the edge when rushing. He has all of the technical tools to make him a very useful player in the NFL, and his new general manager was quick to identify to him that if he can fix his one weakness – his weakness ­– he will be causing trouble like a first-round pick at the position.
Gruden made it quite clear in their phone call that they made it a high priority to make life much harder for the likes of Patrick Mahomes and Philip Rivers in the unforgiving AFC West. I think this pick was a great way to kickstart the final day of the draft, a great upside pick at a position which the Raiders needed is a perfect addition. And if Crosby works hard, he could prove himself as one of the steals of this draft class.
129th Overall Pick, 4th Round – Isaiah Johnson, CB, Houston
Courtesy of trading back on day two, the Raiders had three available picks in the fourth-round and made use of one of them to pick yet another high-upside, athletic player. Johnson is one of the most athletic corners in the class, not dissimilar to Trayvon Mullen. He is 6'2, and ran a 4.4 40-yard dash, which makes him a player with undeniable potential, but he needs to clean up his technique and build up his football IQ to maximise that potential.
The Raiders were looking for athletes and they wanted upside. They get both with this pick, at a position they need help at, so nothing wrong here.
135th Overall Pick, 4th Round – Foster Moreau, TE, LSU
With their final pick of the fourth-round, a compensatory selection courtesy of the Atlanta Falcons, another massive positional need was filled. After losing Jared Cook this offseason, it was essential to draft a Tight End replacement, and many analysts expected them to go that way much earlier than this. I suspect Noah Fant would have been on the board with the 24th and 27th picks if the Broncos didn't take him just a few selections sooner.
Foster Moreau was the eventual choice to fill the tight end void. He's a much less accomplished receiving option than Jared Cook – who was undoubtedly the best receiving option on the Raiders team last season' – or, in fact many of the other tight ends in this class, but he can block. He is physical and aggressive, and Jon Gruden will surely appreciate this old-school smashmouth approach to the position. By day three it was important to grab someone that can fill the position, but interestingly they took it in a direction very much away from the player he will be replacing.
The decision to take this block-first tight end can only be good for the Wide Receivers in Oakland.
149th Overall Pick, 5th Round – Hunter Renfrow, WR, Clemson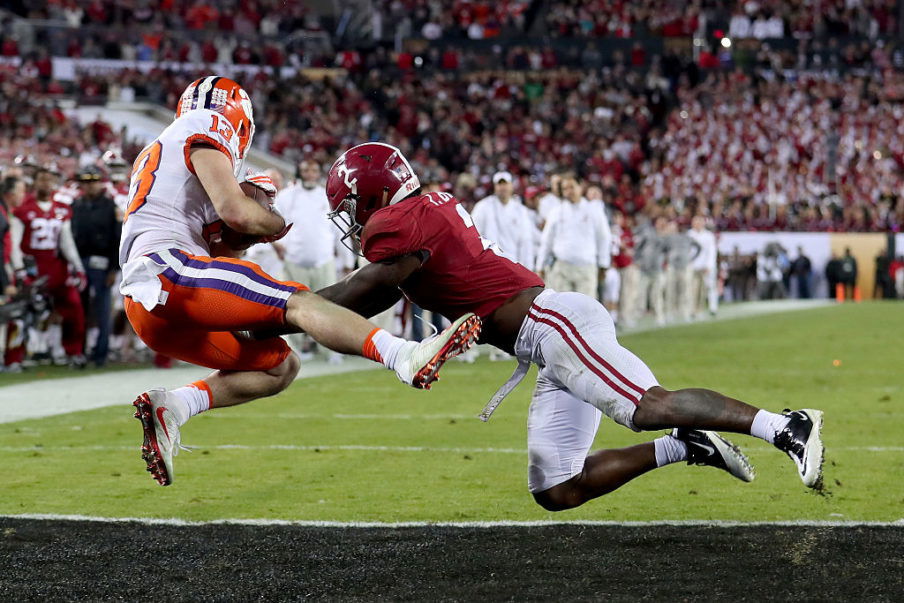 Did someone say wide receivers in Oakland?
For one final time, Gruden and Mayock return to their clearly beloved Clemson program. Admittedly, if they're trying to draft players who will win, it makes sense to pick them from a team that they have seen win. Who more individually so than Hunter Renfrow, who caught the National Championship winning touchdown from now-NFL superstar Deshaun Watson a couple of seasons ago (pictured above)?
The Raiders wanted Renfrow, and they proved it by trading up with Dallas to grab him with the 149th pick. This is a great value in my opinion, not only for his winning credentials and his infamously infinite college career, but also for his exceptional hands and solid route-running.
The 23-year-old Clemson alumnus is quick, consistent and clutch. A great final addition to the completely rebuilt wide-receiver corps in Oakland, which is now manned by Antonio Brown, Tyrell Williams, J.J Nelson, and Hunter Renfrow, all of which were added during this offseason. This offense is completely brand-new and it already looks better than it did last season – although I still miss Michael Crabtree.
230th Overall Pick, 7th Round – Quinton Bell, EDGE, Prairie View A&M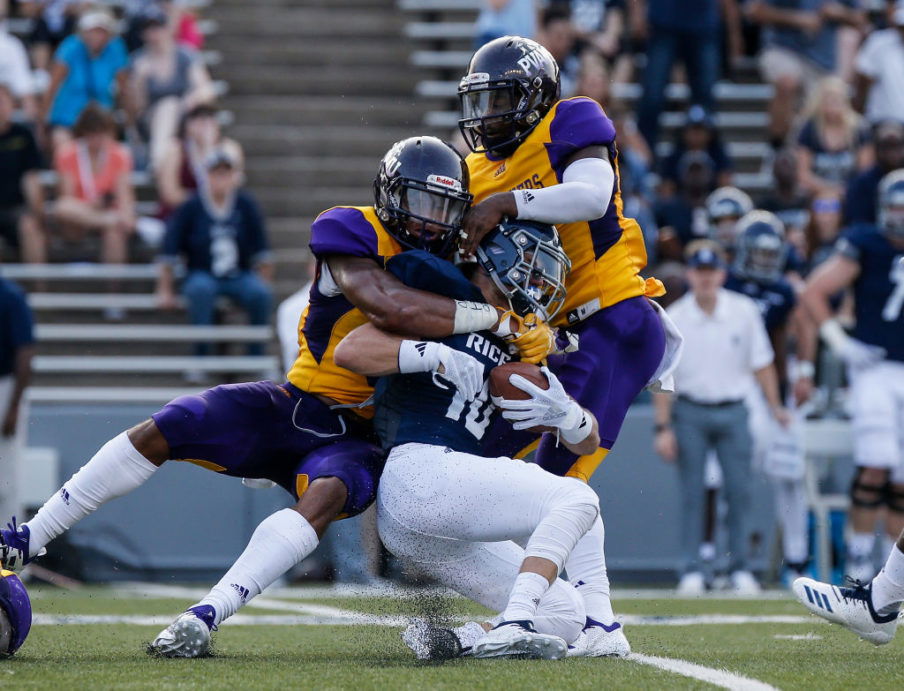 No, I don't recognise this name either, but let me tell you why the Raiders just picked him in one sentence.
He used to play wide receiver.
Quinton Bell is a small-school athletic animal, who is the perfect blueprint for a seventh-round flyer pick. He is insanely athletic, with a 40-yard-dash in the 4.5's and a vertical jump of over 40" at his pro day. This is the most Raiders way to end the draft I could imagine. I have no idea how good his technique is, but with athleticism like that, he's the kind of guy worth teaching that part.
Conclusion
Overall the Raiders addressed their main needs and filled the biggest holes pretty effectively over the course of three days and nine picks.
The first day was about building a culture by drafting talented players that can be built around, who can grow into the leaders and captains that this franchise needs going into a new era.
On the second day, they collected a couple of extra picks and drafted a very disruptive high-upside Cornerback. Finally, on Saturday they rounded out their draft with a couple of really good value-picks with high potential in Maxx Crosby and Isaiah Johnson. They finished it off by filling the holes in their starting offense through a new tight end and wide receiver, then closed the draft with a seventh-round flyer who could be the best or worst player in the roster in a year and it's impossible to tell.
I'm definitely not upset after the draft. I think we made a very clear decision on what we wanted, leaders and athletes, and we collected multiple players who are both.
Bring on the pre-season, and let's see what the 2019 Raiders are going to look like.
---