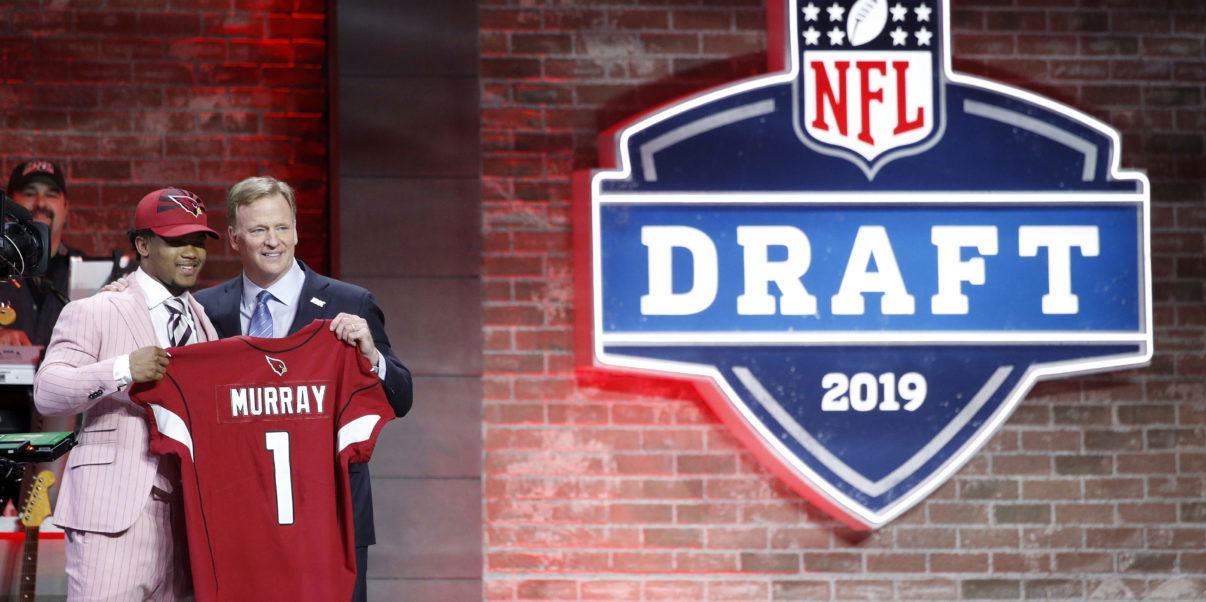 2019 NFL Draft First Round: Live reactions
Watching the NFL Draft together has become an annual tradition for the writers of Read American Football, as we converge on our group chat to laugh at the picks of our teams.
This year we had a packed house with a team of seven of our writers reacting to the picks as they happened with franchises being completely altered and a ton of debate from our team.
Here is a peek behind the curtain at our live reactions as the picks unfolded.
Arizona Cardinals – Kyler Murray (QB, Oklahoma)  
David Howell (Chargers fan): Murray at #1 has been conventional wisdom for long enough for us to forget how utterly unreal it is that the Cards are doing this.
Alan Cole (Falcons fan): I can't believe we're at the point where a team is giving up on a quarterback they traded up for after less than one season because a better one arrived. But this is the move, and it's one of the biggest risks in NFL history.
2. San Francisco 49ers – Nick Bosa (DE, Ohio State)
Tyler Arthur (Raiders fan): I mean he's the best player in the best position in the draft. 

Alan: It makes sense. He might be the best player in the draft, and they got him under the nose of a division rival.
3. New York Jets – Quinnen Williams (DT, Alabama) 
Alan: That's the right pick. It's not flashy, but he might be the best player in the draft. Nice job by the Jets to just stay put and take the best player available.
Joe (Seahawks fan): He's amazing.
Tyler: Quinnen is elite, and the Raiders are about to draft someone that isn't him. I'm a wreck.
David: Four years ago, the Jets took an elite defensive lineman named Williams despite it not being their top need. And here we are again.
4. Oakland Raiders – Clelin Ferrell (DE, Clemson) 
David: I like this, but I like it after a trade. I love the floor, but does he really have the ceiling to justify that? For me, he was the ultimate high-floor low-ceiling pick in this EDGE class.
Joe: I semi like that. If he's your EDGE 1, go for it. I don't agree Ferrell would have been there at 24, his floor was Carolina.
Alan: That would have been a good pick for the Raiders at 24. At four it will be one of the biggest reaches of the draft. There was no need for that with so many players better than him at EDGE on the board.
Tyler: What didn't we trade back? I like him a lot at pick 24. But as someone who is attempting to stay awake with a will to live for three more hours, I will say this… I'm glad we've taken an EDGE prospect. I can live with it.
5. Tampa Bay Buccaneers – Devin White (LB, LSU) 
Alan: I like that a lot. I mocked this in my mock because Tampa desperately needs a linebacker after losing Kwon Alexander. White is a stud.
Alex Murray (Lions fan): This draft has gone all but perfect for the Lions so far.
Joe: What an amazing guy for Todd Bowles to get.
Tyler: I would have rather had Devin White than Clelin, not going to lie.
David: Might have been the wrong position to attack for Tampa, but if he's their guy, he's their guy.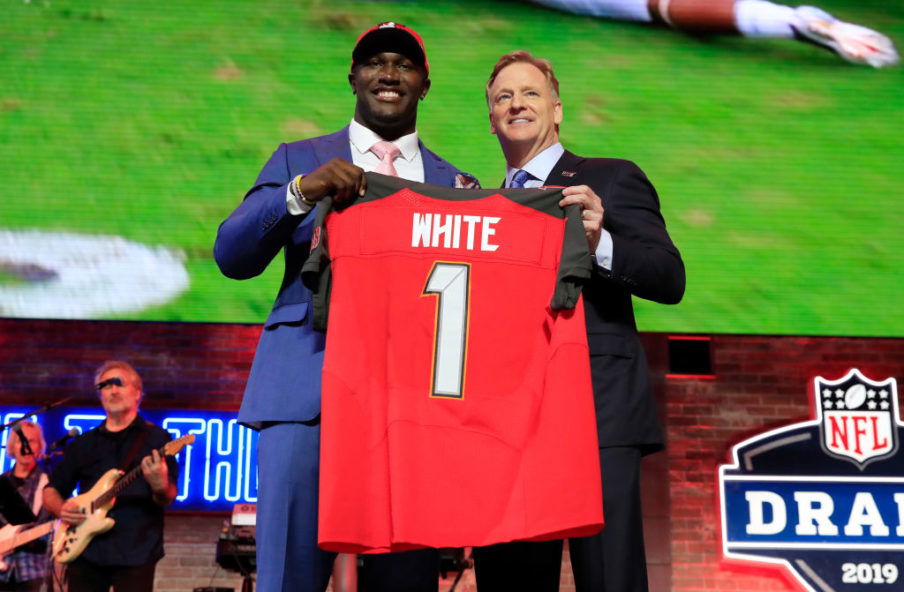 6. New York Giants – Daniel Jones (QB, Duke) 
Joe: Joe Hulbert has responded with 44 crying-laughing emojis laughing at Dave Gettleman's incompetence. Yes, 44.
Alan: Less than two minutes I said that Allen and Burns were both on the board, so Gettleman can't mess this up.
David: I'm looking forward to the Eagles-Cowboys divisional deciders for the next decade. It's almost like he should have gone QB at two last year?
Sam: GETTLEMAN YA BOY! HE DID IT! Sam, I'm assuming, is referring to making a mess out of everything. 
7. Jacksonville Jaguars – Josh Allen (EDGE, Kentucky) 

Alex: Argh, that's annoying. We (Detroit) could go anywhere with this pick now. I want Brian Burns or T.J. Hockenson now.
Joe: That front is filthy. 
Alan: I have no issues with it. The Jaguars just capitalized on the mistakes of Oakland and New York and took a great player.
David: Say what you like about the Jags, you can't accuse them of not having an identity. Honestly, someone else trading to 7 for Allen might have been a win-win deal there. Also, can I just say how surprised I am that we've gone this far without any trades?
8. Detroit Lions – T.J. Hockeson – (TE, Iowa)
Alex: I called it. I'm very, very, very happy.
David: Considering Detroit's obvious flirtation with Gronk last year, this is not in the least bit surprising.
Joe: I don't like that. I would have gone offensive line. They should take Jace Sternberger in round two.
Alan: I think there are ways it could have gone better, but Hockenson is solid. Can block and catch, and it's all about getting Stafford as much help as possible ahead of a crucial year in his contract.
Tyler: It's OK guys, we'll (Oakland) get Fant.
9. Buffalo Bills – Ed Oliver (DT, Houston) 
Alan: Oliver is extremely polarizing, but I like him. He was in a bad system at Houston. If you get him in the right spot, he'll thrive in the NFL.
Tyler: I like the pick. He's a beast.
David: I'm just so glad he's landed with a team who runs a defence he actually fits.
Trade: Pittsburgh Steelers trade the #10 pick to the Denver Broncos for picks #20, #52, and a 2020 third-round pick. 
David: This has to be for Devin Bush.
Tyler: this must be for Bush.
Alan: I'm going to drop a bomb. I think they moved up for Metcalf here.
Joe: This is going to be Metcalf.
Kyle Bennett (Miami Dolphins fan): I hope the Steelers take Haskins.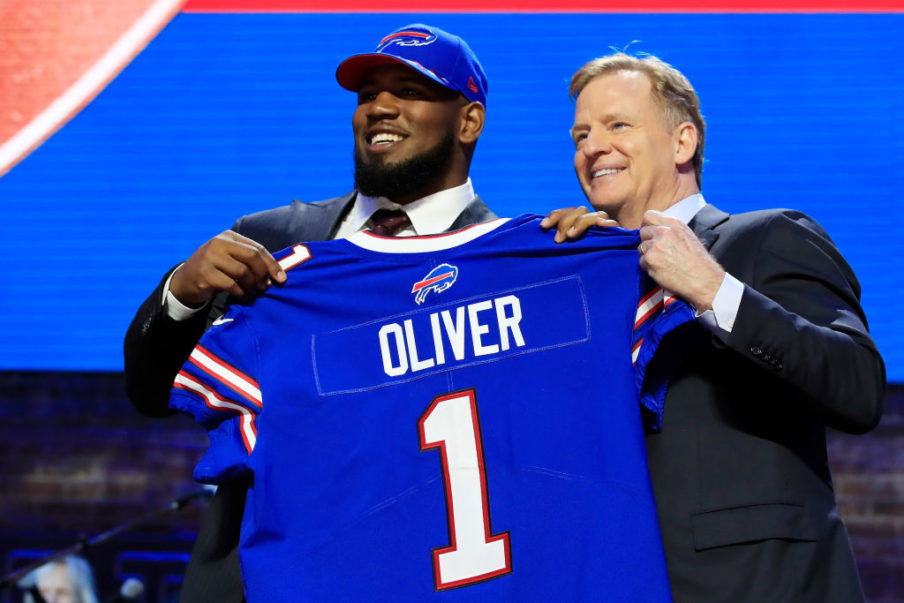 10. Pittsburgh Steelers – Devin Bush (LB, Michigan) 
Joe: He's a bust, because Pittsburgh can't draft defensive players. I hate that from Pittsburgh. 

Kyle: At least they drafted someone that actually has first-round value. First time they've done that in quite a while. That's the result of Ryan Shazier not knowing how to tackle, aside from the whole him-not-being-able-to-walk thing.
Alan: I'm not surprised, but I'm sceptical. Good move for the Broncos to move down and get some draft capital and Pittsburgh moving up like this is a big gamble.
11. Cincinnati Bengals – Jonah Williams (OT, Alabama) 
Alan: Andy Dalton will be able to stand up next year. That makes this pick a good one.
Sam: Solid pick.
Joe: Williams is very good, and has a super high floor.
David: Jonah Williams is someone you draft now and figure out which spot he upgrades later.
12. Green Bay Packers – Rashan Gary (EDGE, Michigan) 
Alan: Reach! Gary didn't produce much in college and things are only going to get tougher. 

Joe: I'm howling here. Ste (the absent Packers fan of the group) will be furious.
Kyle: Miami is so taking Haskins here.
David: Maybe, just maybe, the problem wasn't McCarthy or Rodgers but Gutekunst?
13. Miami Dolphins (Christian Wilkins DT, Clemson) 
Tyler: I don't mind that pick. 

Joe: That's a reach.
Kyle: I mean, we didn't draft a QB, so I'm fine with it. It's not going to matter anyway because we're going to trade him in 5 years and be drafting at 13 again that offseason Because, ya know, ya can't rebuild in Miami
David: I'm just amazed they stuck at 13.
Alan: I need Brian Burns here for my Falcons. Please.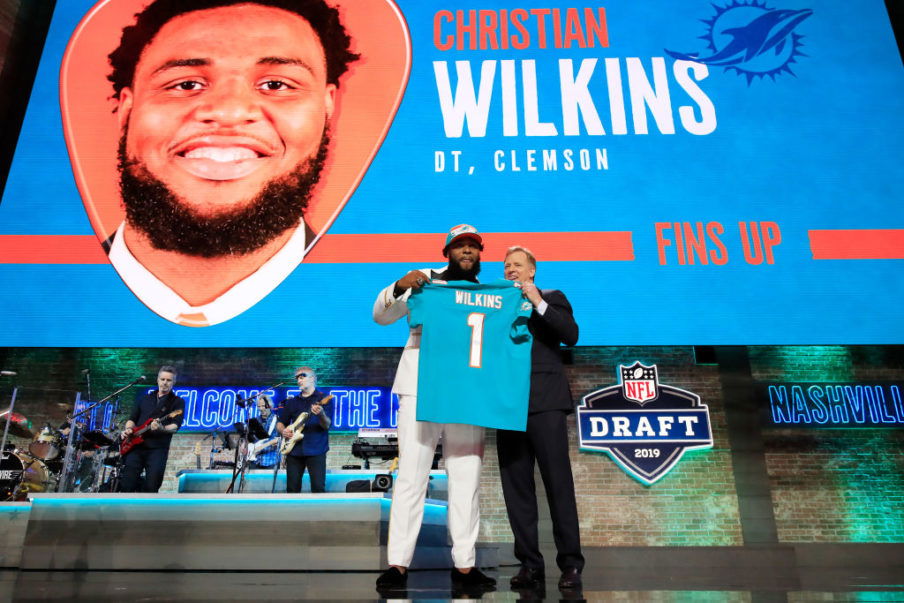 14. Atlanta Falcons – Chris Lindstrom (G, Boston College) 
Alan: Not exactly what I wanted, but I'm more than fine with that. We had issues at both guard spots last year, and Matt Ryan needs to be able to stand up. That's not exciting, but I'll take it. We didn't screw it up, which is a win in Atlanta sports terms.
Joe: Don't mind that. It's a boring pick but a good one.
Tyler: Lindstrom is a great player. I'm a bit sad he didn't go to the Ravens, I loved the fit there
David: More surprising than bad. Super safe pick to protect late-career Matt Ryan.
15. Washington  – Dwayne Haskins (QB, Ohio State) 
Joe: This time we got 15 crying-laughing emojis from Joe. Not as bad as Daniel Jones!
Alan: That felt oddly nailed on for a first-round quarterback pick. Almost felt inevitable in the build-up. I'm not totally sold on Haskins, but they didn't have to give up any assets for him, and that's a win if he's their guy.
David: Well, they exceeded expectations by not trading up, right?
16. Carolina Panthers – Brian Burns (EDGE, Florida State) 
Alan: I have a bad feeling about this. I'm worried the Falcons will be haunted for years by passing on Brian Burns and then seeing him go to a division rival ten minutes later.
Tyler: That one's going to hurt you, Alan.
David: The Giants have to take Jawaan Taylor with this next pick.
Kyle: Watch the Giants take Metcalf here.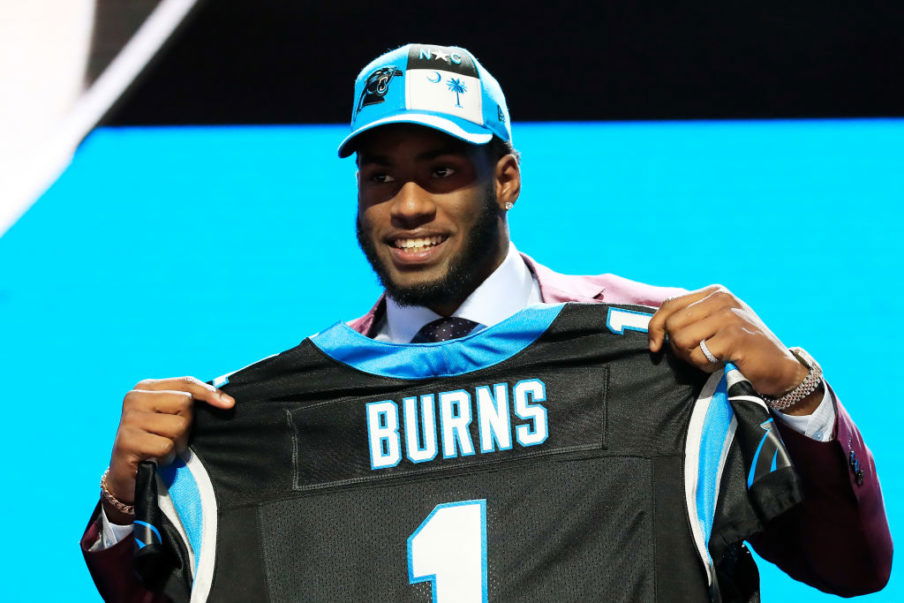 17. New York Giants – Dexter Lawrence (DT, Clemson)  

Joe: Gettleman, man. He's a clown.
David: Let's give our new franchise quarterback help with (erm) a nose tackle.
Kyle: It is pretty laughable when teams draft QBs they think will lead the franchise, then wonder why things go wrong when they protect them with Richie Incognito and Jonathan Martin.
Alan: This needs to be Jawaan Taylor to Minnesota, It's a perfect fit.
18. Minnesota Vikings – Garrett Bradbury (C, North Carolina State) 
Tyler: I don't mind that.
David: Can we just talk about how much of a run on interior trench players we're seeing tonight?
Alan: Nothing against Bradbury, but what is happening to Taylor? It's a fine pick for Minnesota though protecting Cousins.
19. Tennessee Titans – Jeffrey Simmons (DT, Mississippi State) 
Alan: I'm not surprised by the pick. A lot of issues off the field, but he fills a need. Huge upside.
David: That is a fascinating pick. I did wonder if it might happen to be honest.
20. Denver Broncos – Noah Fant (TE, Iowa) 
Alan: Denver scored an extra second-rounder, an extra third-rounder, and didn't bite at one of the shaky quarterbacks available. John Elway, unbelievably, is your winner of night one.
Tyler: That is very good value from his trade.
David: Presumably they think Jake Butt is done? Not an unreasonable assumption with that injury history to be fair.
Trade: Seattle trades pick #21 to the Green Bay Packers in exchange for picks #30, #114, and #118
Tyler: I'm not shocked Seattle traded back. DK Metcalf. I'm calling it.
David: Eight years since the Seahawks kept their first-round pick untouched. 

Joe: That's not bad, getting two extra fourth-rounders for moving down nine spots.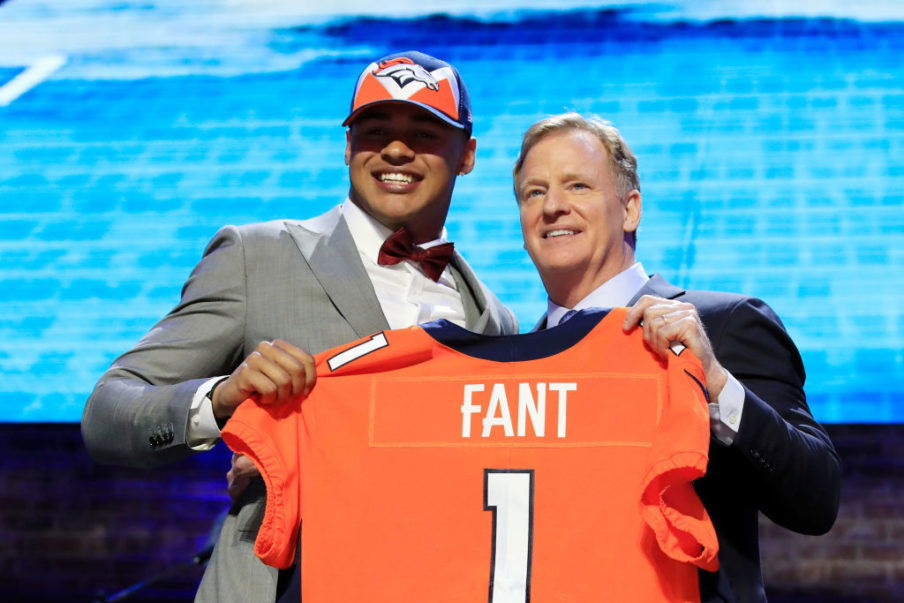 21. Green Bay Packers – Darnell Savage Jr. (S, Maryland) 
David: Packers may low-key have had the worst two-pick first round since Gilbert/Manziel.
Alan: That is probably the fourth or fifth safety on most boards, and he went first. That's a reach.
Trade: Baltimore trades pick #22 to Philadelphia in exchange for picks #25, #127, and #197
Joe: Eagles for Taylor? Jason Peters won't have long left.
Tyler: This will be for Josh Jacobs. Book it.
Alan: Whoever it is, it's somebody Philadelphia wanted to move up in front of Houston for, so I'm thinking it will be on the offensive line.
22. Philadelphia Eagles – Andre Dillard (OT, Washington State) 
David: It's never a surprise to see a Howie Roseman trade up. Dillard would be a great fit for them though based on what Joe has said about him. 

Alan: I'm really surprised at this tumble from Taylor, but Philadelphia clearly pinpointed their man and moved up three spots to get him. That's good drafting.
23. Houston Texans – Tytus Howard  (OT, Alabama State) 
Alan: Did a video of Jawaan Taylor with a gas bong surface? Is he locked in a basement? What is happening here? Also, Dalton Risner and Cody Ford are available too. The Texans just messed that pick up badly.
David: The Texans need urgent offensive line help, so they took a developmental tackle on day one. At this point (we) the Chargers should have moved up for Taylor five picks ago.
Kyle: With the 23rd pick in the 2019 NFL Draft, the Houston Texans select a human being.
Tyler: Should we discuss the potential of the Raiders getting Taylor and Greedy Williams at 24 and 27?
24. Oakland Raiders – Josh Jacobs (RB, Alabama)
Joe: He's a good player, but I'm not sure why they took him at 24. The Colts and Ravens don't need running backs.
David: The one thing I'll say for this is that if he moves the chains he relieves pressure on their collection of guys they call a defence?
Alan: They took a first-round running back. With their horrible defence. And a lot of talent on the board. Gruden strikes again!
Tyler: I really do like Josh Jacobs as a prospect, and I am excited to see how he does for us, but I really don't think taking him at 24 was necessary. I am now very very anxious to see where we go with 27 and 35. I wouldn't mind us trading back from that spot (27) now.
25. Baltimore Ravens – Marquise Brown (WR, Oklahoma) 
Alan: Brown with Lamar Jackson. Let's have some fun.
David: I like Hollywood in Baltimore, just the threat of a deep shot stops defences selling out to Lamarball.
Trade: Indianapolis sends pick #26 to Washington in exchange for picks #46 and a 2020 second-round pick 
Joe: Metcalf? That's bad from the Colts.
Tyler: It has to be Metcalf.

Alan: Probably Metcalf, but I think Parris Campbell might be in play here to give Haskins a receiver he loved in college. The Colts also have an insane amount of draft capital tomorrow, and some for next year.
David: Could this be Jawaan Taylor? The Colts have two second-rounders tomorrow and two for 2020 now.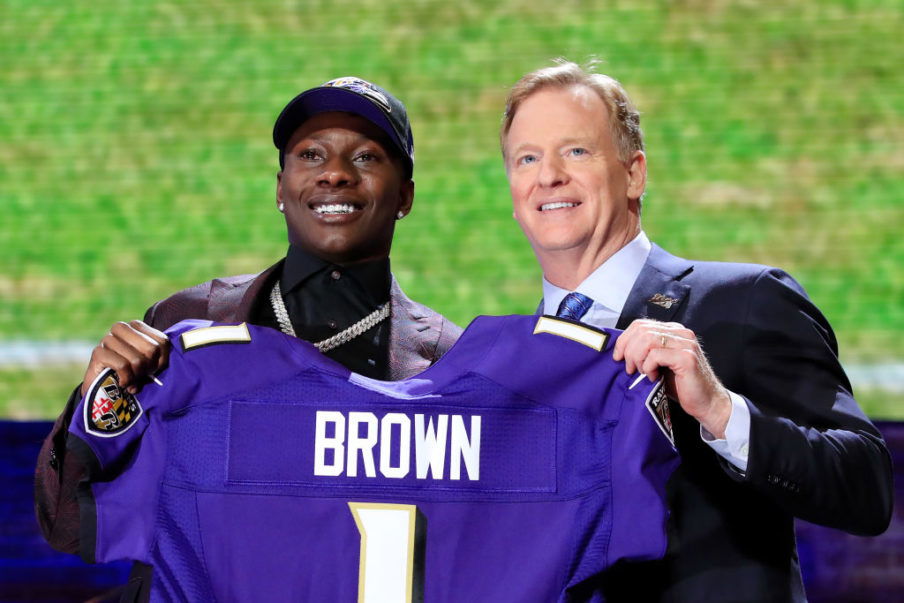 26. Washington – Montez Sweat (EDGE, Mississippi State) 
Joe: Washington's pass rush is nasty now. 

Alan: I figured they'd take a combine stud from Mississippi, but I thought it would be Metcalf. I'm not high on Sweat, but that's decent value this late in the first round.
David: There was always a chance that this was how Sweat's draft would go. Falling down the board, intercepted by a monster trade up.
27. Oakland Raiders – Johnathan Abram (S, Mississippi State)
Tyler: I don't mind it. But we need cornerbacks more and the ceilings on the cornerbacks are much higher.
David: I'm not convinced Abram isn't the missing LB tier 2 between the Devins and the backups.
Joe: Good pick. I like Abram a lot. He's more of a tone-setter than Chauncey Gardner-Johnson.
Alan: It's good, but I'm not entirely convinced he wouldn't have been there at 35. It feels like a little bit of a reach.
28. Los Angeles Chargers – Jerry Tillery (DT, Notre Dame)
Joe: I like that a lot. He's nasty.
Alan: I love that pick. David mocked it himself in our first interactive mock draft, and I can see why.
David: Given that Tom Telesco has a record for not taking bad characters I presume he's done lots of diligence on the weird talk with him. I would have preferred an offensive lineman with this board but they could do far, far worse.
The thing is, you can say Tillery had the academic and character concerns talked up, but name one school in the country where those get exaggerated more than Notre Dame.  Three-tech was probably our single biggest need, too.
29. Seattle Seahawks – L.J. Collier (DT, TCU) 
Joe: In Carroll we trust. I'll trust them with

Trade: Seattle sends pick #30 to the New York Giants in exchange for picks #37, #132, and #142
30. New York Giants – Deandre Baker (CB, Georgia) 
Alan: Not what I was expecting, but Dave Gettleman has made worse picks. Including tonight.
Trade: Los Angeles sends pick #31 to the Atlanta Falcons in exchange for picks #45 and #79
Tyler: Is this finally Taylor?
David: This should be Taylor, but I have no idea what it will be.
Alan: We have needs everywhere. This could be anybody.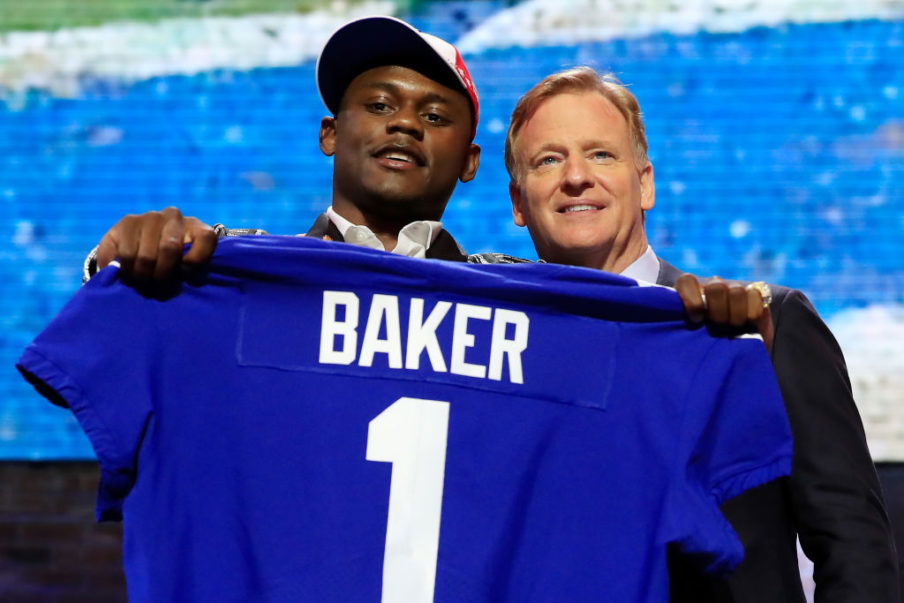 31. Atlanta Falcons – Kaleb McGary (OT, Washington) 
Alan: The Falcons just traded for the 4th best offensive tackle on the board when they already took an offensive lineman tonight. Smooth. Awesome. I feel great. Note, I do not feel great. 

David: If these are the picks in the back end of round 1 no wonder teams are keen on trading their 1s for veterans these days. Enjoy playoff basketball and hockey tomorrow Alan, because you don't have a pick.
32. New England Patriots – N'Keal Harry (WR, Arizona State) 
Alan: Pretty nice pick. Another red zone weapon for Tom Brady.
David: It doesn't matter who they pick, we know it's going to work.
---