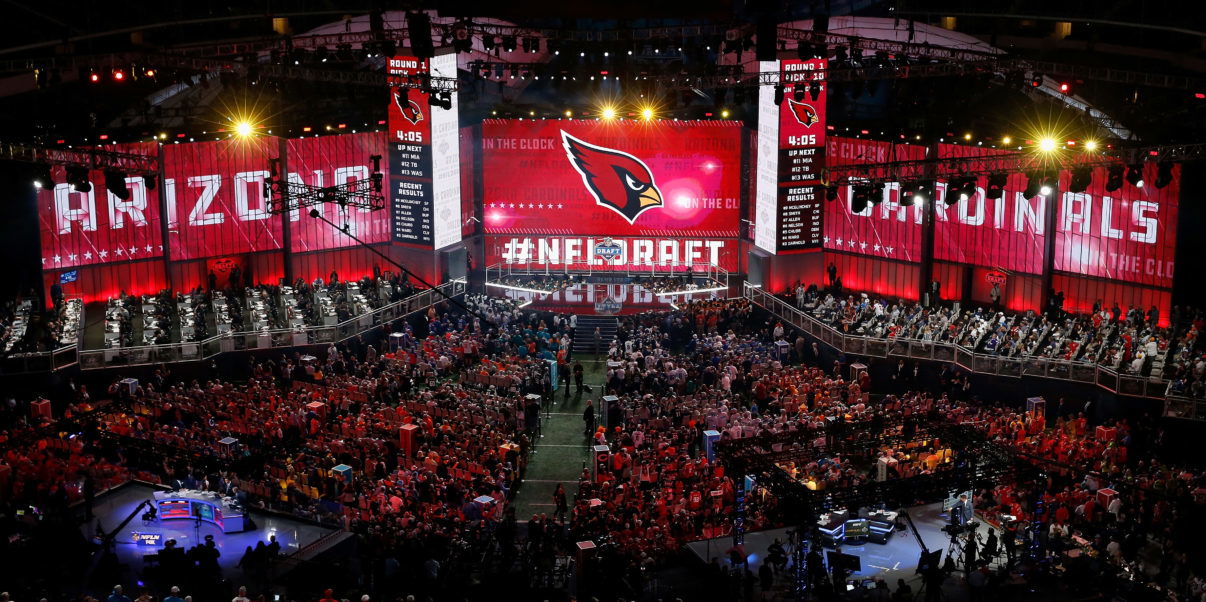 2019 NFL Mock Draft: David Howell, April 25
The moment we've all been waiting for has arrived. Draft Day is here.
If you think the buildup has been a wild ride, just wait until the picks start coming in. There will be picks nobody saw coming. There will be picks that seem destined to happen that don't. Even the more "chalky" and "predictable" picks might seem weird for not being weird. This buildup wasn't even the ride, this was the bumpy journey to the theme park. Now the league has assembled in Nashville, and this is the ride, and it's being built literally as we ride like Gromit laying down track in the train chase scene in The Wrong Trousers.

There's zero point in pretending to predict this draft, so as ever in my mocks, I won't even try. There are untold millions of scenarios to be played out, we've already seen most of this month's "predictions" blown up in smoke on Tuesday with the Frank Clark trade, and he may not be the last current NFL player to be dealt this week.
Instead, the focus is on telling a coherent story, of each team doing one of the multiple things they could do tonight in the scenario they land in with the changing board.
If you're a British fan having an evening nap before you wake up for the 1am start time, consider this a little bedtime story…
---
1) Arizona Cardinals – Kyler Murray (QB, Oklahoma)
As incredible as it is to consider the idea that this whole thing was just the greatest smokescreen in NFL history, this much smoke simply does not come without a fire. Murray has probably been the locked-in pick since before the Combine.
2) San Francisco 49ers – Nick Bosa (EDGE, Ohio State)
This might be a more plausible location for the conventional wisdom wheels to fall off; Bosa mass-deleted numerous tweets espousing right-wing views because "there was a chance I might end up in San Francisco," and certainly this landing spot could be #awkward if it happens, a political flashpoint for a league that just paid a significant sum of money to make one of those go away.
Then again, Jameis Winston was the first pick of the first draft after the Ray Lewis video, so let's not argue this pick won't happen. But while you can write the Murray pick in with a pen, this one should probably stay in pencil.
TRADE: New York Jets trade pick #3 to Washington for pick #15, pick #46, and 2020 first-round pick
3) Washington (from NY Jets) – Dwayne Haskins (QB, Ohio State)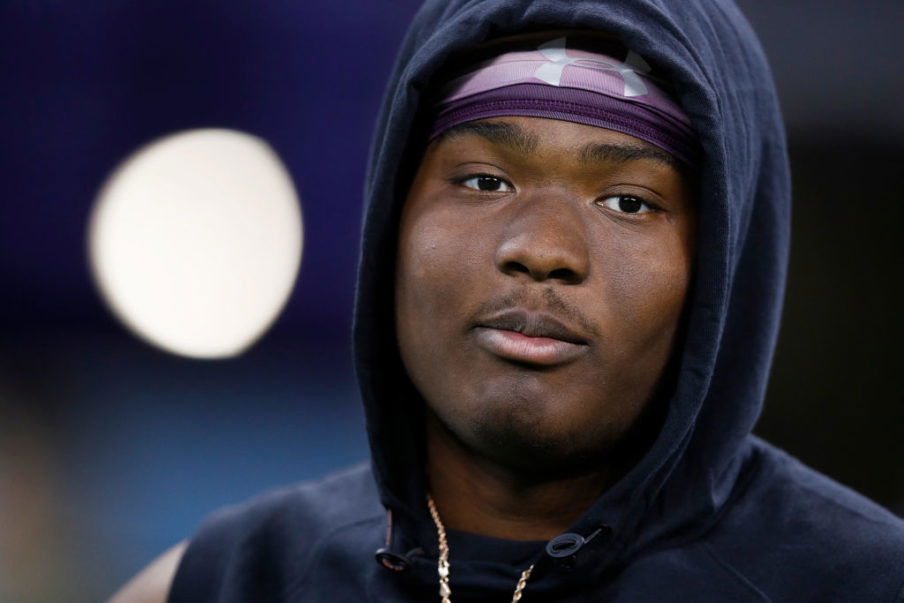 I have no idea, none whatsoever, what happens with the QBs in this draft. They could fall as far as most draftniks seem to think they deserve to, or there could be a stampede for them, and either way nobody is confidently guessing which ones will land where and in what order.
Nor am I. Instead, I'll offer some dots that can be joined to make this story believable, at least: Haskins went to high school in south-west Maryland, 30 miles from FedEx Field; Washington's QB room consists of Case Keenum and two injured men; their front office is very, very high on the list of teams you'd expect to make knee-jerk moves like this, and indeed there are reports of them preparing to make one; and the Jets are down a second-round pick after paying the QB tax themselves last year following their 2017 buttfumbled tank.
4) Oakland Raiders – Drew Lock (QB, Missouri)
Yup, this is the "QB stampede" story. Teams have seen rookie QBs on those discount rookie contracts emerge as big-time contenders out of nowhere in recent years. Having a quality starting quarterback with a seven-figure cap hit is the Konami Code of current NFL roster-building, and nobody knows it more than teams in the AFC West who've just seen Kansas City become arguably the strongest team in the NFL just by hitting up-up-down-down-left-right-left-right-B-A-Start-Select Mahomes.
And, again, the Raiers (who still have no D) are way up there on the list of teams who'd make a move like this in haste to potentially regret at leisure.
5) Tampa Bay Buccaneers – Quinnen Williams (DT, Alabama)
I don't care how much you supposedly love Devin White, you do not stare this gift horse in the mouth.
The Bucs want to get Gerald McCoy's cap hit off the books anyway, so the space for him is there.
6) New York Giants – Daniel Jones (QB, Duke)
"Four QBs in the top six!" I hear you cry. "That didn't even happen last year, and last year's QB class was actually good!"
I'm not saying I expect it to happen either. But if I've told the story this far… let's just say in this scenario, the Giants are literally choosing between this or going all-in on Eli. And while they've hinted at the latter, there are multiple reports that Daniel Jones is their guy anyway.
TRADE: Jacksonville Jaguars trade pick #7 to New York Jets for pick #15 and pick #46
7) New York Jets (from Jacksonville) – Josh Allen (EDGE, Kentucky)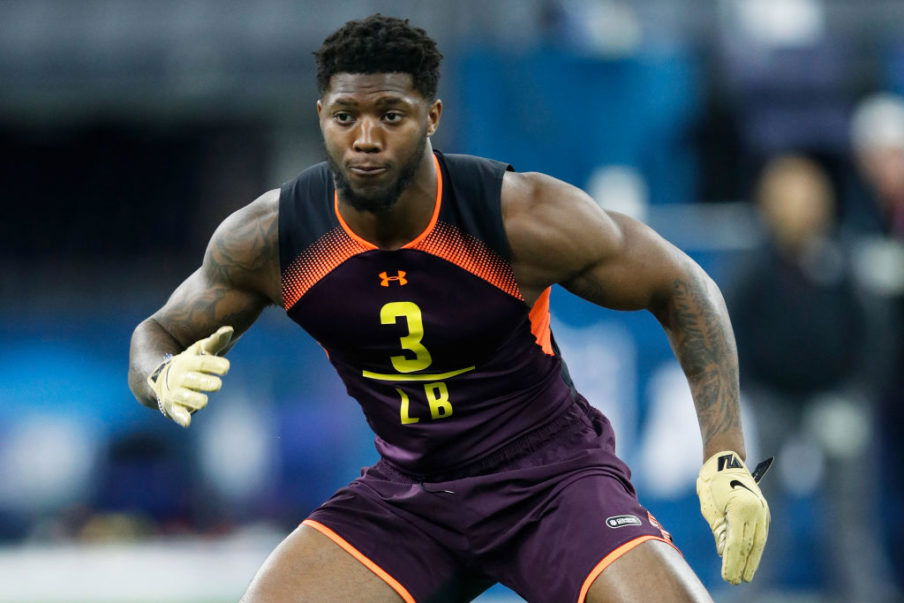 When the Titans sold the #1 pick to the Rams pre-draft three years ago, their GM made a point of saying their newfound draft capital gave them "the ammo to work the draft." They promptly traded back up into the top 10 on draft night.
And they didn't get half as much of a tempting target as Allen, who might be the player the Jets would take at 3 anyway. Which would mean they'd basically gained a future first-round pick (from a team plenty capable of collapsing enough to make that a top-ten selection) for free.
Not even Jets fans could boo that.
8) Detroit Lions – Brian Burns (EDGE, Florida State)
The Lions would now be choosing between one of the top five on their board or the deal someone else made to get one of the top five on theirs. It could absolutely go either way, but I'll keep the trade train on a red signal for now and hand them Trey Flowers' perfect foil. Depending on what your details are on Montez Sweat's literal heart and Jachai Polite's metaphorical one, Burns might be the last top-tier EDGE on the board (Clelin Ferrell is the definition of a solid second-tier prospect).
9) Buffalo Bills – Ed Oliver (DT, Houston)
I was sorely tempted to mock a slide-and-trade for Oliver as one of this draft's most enigmatic top prospects (brain-bending athleticism, size question marks, obvious elite potential tied to a specific role, comically miscast in college making his tape semi-meaningless).
However, I've already done that at least once before. Sean McDermott's scheme absolutely has a place for this man, and this pick would potentially be robbery value for him.
10) Denver Broncos – Devin White (LB, LSU)
John Elway, you are a very lucky man indeed to get this board and not be tempted into a QB reach.
11) Cincinnati Bengals – Devin Bush Jr. (LB, Michigan)
Mike Brown, so are you.
12) Green Bay Packers – T.J. Hockenson (TE, Iowa)
It probably wouldn't be unreasonable to figure the Packers should just do whatever they can in this draft to keep Aaron Rodgers happy. It definitely wouldn't be unreasonable to assume a true combo TE like Hockenson would keep Aaron Rodgers happy.
TRADE: Miami Dolphins trade pick #13 and pick #78 to Houston Texans for pick #23, pick #55, and 2020 second-round pick

13) Houston Texans (from Miami) – Andre Dillard (OT, Washington State)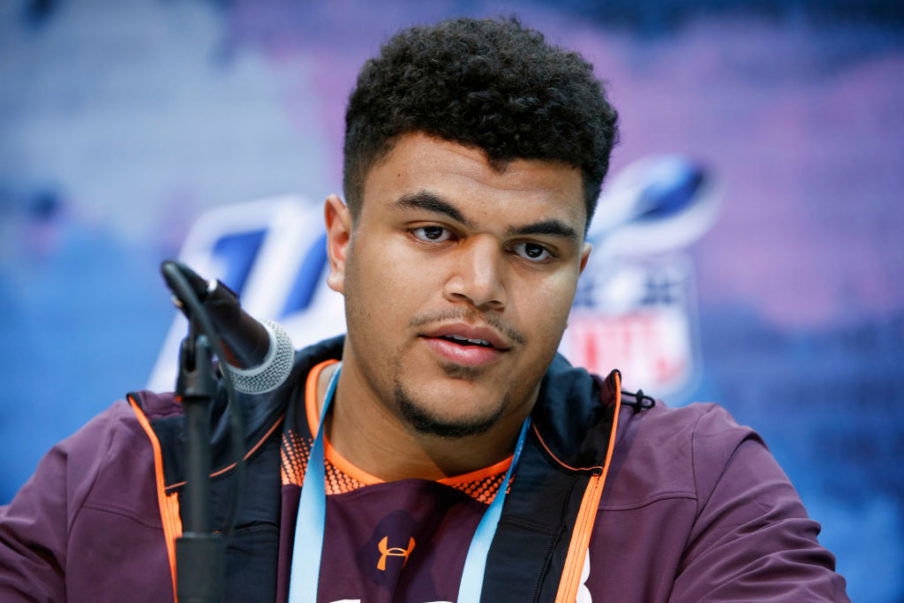 This pick basically becomes an auction for the top offensive lineman on the board. Going once… going twice… SOLD to the team who watched one of the fastest QBs in football take more sacks last year than any NFL QB this decade! Dillard's athleticism and pass-pro credentials make him what the league in general, and likely the Texans in particular, value highly. Yes, he hasn't had nearly enough experience in the ground game, but that's very much not the top priority in today's game. Not many are mocking him to be the first offensive lineman off the board, but in my book it's possible and perhaps even likely.
Normally this trade would just go down by flipping one of Houston's back-to-back second-rounders. In this case, Miami tosses in a pick this year to get one a round up next year because they very much aren't interested in winning now and the Texans, in Deshaun Watson's cheap years, presumably are. Essentially this is two trades in one.
14) Atlanta Falcons – Jawaan Taylor (OT, Florida)
There's a general consensus that the Falcons really, really need a defensive tackle. Given that they have a pocket passer on the back nine of his career, the need on the other side of the trenches is almost as strong a contender to be filled here, especially on this board. Taylor looks to have all the tools needed to be a nice instant starter opposite Jake Matthews.
15) Jacksonville Jaguars (from Washington via NY Jets) – Jonah Williams (OT/G, Oklahoma)
The Jags' first pick – whether at 7 or not – really ought to be a helping hand for Nick Foles. That could mean a TE – Noah Fant, in this scenario – or it could mean an offensive lineman. It's a deep TE class in many eyes, and if the Jags agree then Williams should be the slam-dunk pick here. He's someone you draft now and find out which spot on the line he upgrades later. (Helpfully, we'll get a clue on that front whenever and wherever he's drafted – because the card, and therefore Roger's announcement, will declare him as either a tackle or a guard. Remember the not-dissimilar Isaiah Wynn being announced as a tackle last year?)
TRADE: Carolina Panthers trade pick #16, pick #77, and pick #115 to Oakland Raiders for pick #24 and pick #35
16) Oakland Raiders (from Carolina) – D.K. Metcalf (WR, Mississippi)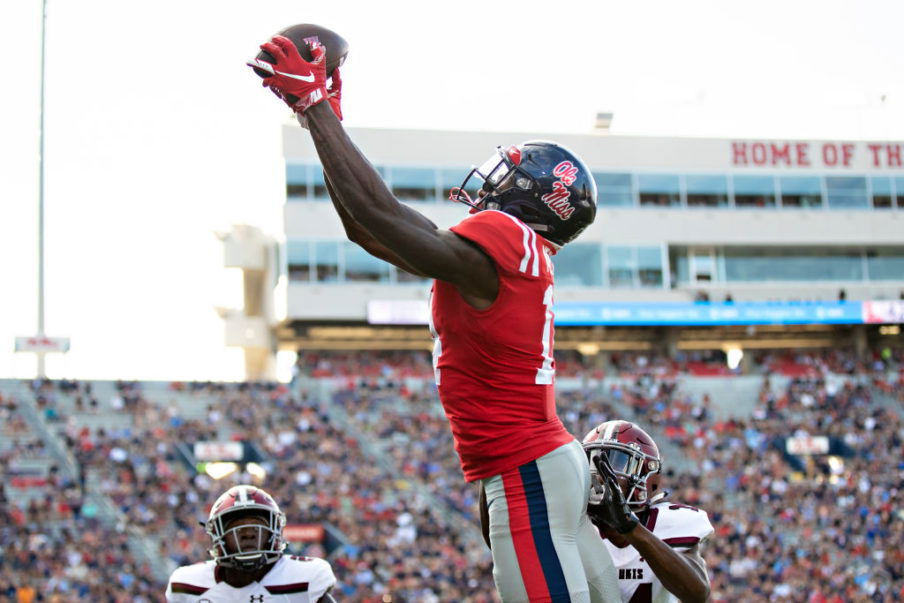 Remember, in this mock, the Raiders just took Drew Lock at 4. Teams who take QBs that high usually use their next pick on offensive help, and you won't get much better help for a raw gunslinger like Lock than a big deep threat like Metcalf, who is basically Ed Oliver on the other side of the ball; obvious deadly athletic trait, uncertainty about how much a weaker point of his physical profile matters, painfully hard to draw tape study conclusions given his collegiate scheming. Like Oliver, he could be a very high pick or he could nosedive – and also like Oliver, I think any nosedive would be ended by a trade up.
17) New York Giants – Cody Ford (OT/G, Oklahoma)
Same logic with the Giants having overdrafted Daniel Jones at 6 here. Not that David Gettleman needs any further incentive to get one of those #HogMollies.
18) Minnesota Vikings – Garrett Bradbury (C, NC State)
The tackles have flown off the board, but the interior linemen haven't. Just as well, because Pat Elflein was a giga-liability last year and is somehow still the projected starter at the pivot at this point. Kirk Cousins presumably does not like that.
TRADE: Tennessee Titans trade pick #19 and pick #82 to Philadelphia Eagles for pick #25 and pick #57
19) Philadelphia Eagles (from Tennessee) – Christian Wilkins (DT, Clemson)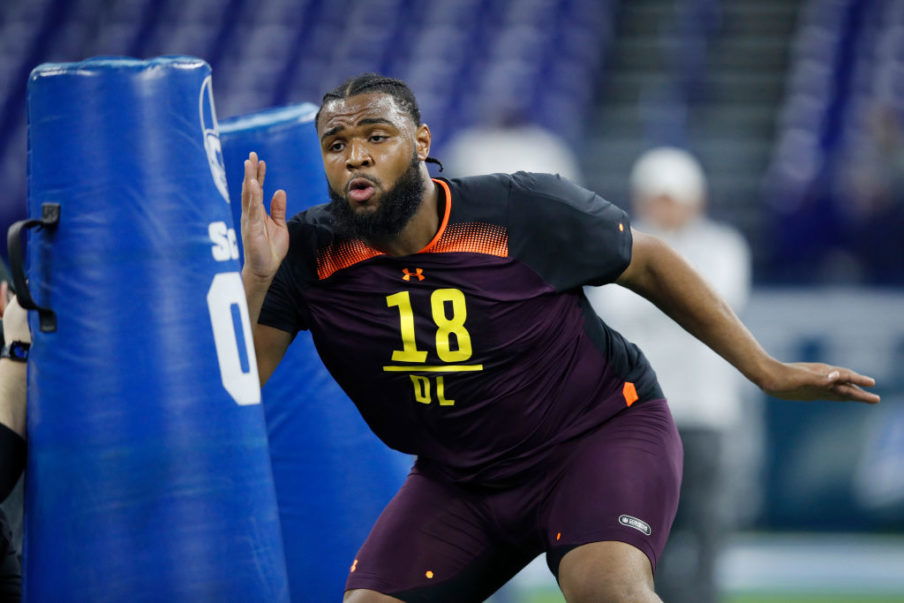 Howie Roseman is always more than ready to work the phones and move up for top prospects, especially at premium positions. Christian Wilkins fits that combo nicely, and the specific premium position – one where depth is a massive bonus because fatigue is an issue there like maybe no other position in the NFL – is an especially good fit for Roseman's roster-building modus operandi.
Greedy Williams would also be firmly in play here. In all honesty, I expect a 6'2″ corner who runs a 4.37 40 to be long gone, but this mock goes in a different direction that pays deference to what seems to be the conventional wisdom that everyone hates this DB class.
20) Pittsburgh Steelers – Greedy Williams (CB, LSU)
And because Greedy to the Steelers would be one of the most #OnBrand picks in NFL Draft history, and a connection I couldn't resist making at least once.
21) Seattle Seahawks – Clelin Ferrell (EDGE, Clemson)

This pick is made possible by the Frank Clark trade in every possible sense. Firstly, picking at 21 at all is made possible by this – the Seahawks haven't kept their first-rounder untouched since 2011 (!), but it's easier to not trade down from your first-round pick when you've got another one eight picks later. And secondly, trading Frank Clark leaves a gaping hole on the edge, and who's left to fill this? It's either Ferrell or someone with either a medical (Gary, Sweat) or character/athleticism (Polite) red flag. Ferrell is the highest-floor player left here at this position with daylight second.
22) Baltimore Ravens – Chase Winovich (EDGE, Michigan)
And Winovich third. One of the weird unconscious biases NFL watchers tend to have is to assume that white players at positions that don't have many of them these days – RB, WR, EDGE – win with technique and smarts over athleticism. It's a bizarre mashup of racist tropes, and in the case of Winovich it had no right to survive his Combine testing, where his 4.11 short-shuttle time paced the entire EDGE class and his 6.94 three-cone wasn't far off. You want bend off the edge? This man's got bend off the edge. Baltimore correctly let Za'Darius Smith get overpaid elsewhere, and Winovich could be a nice replacement.
23) Miami Dolphins (from Houston) – Rashan Gary (EDGE/DT, Michigan)
I am personally all aboard the "Gary's going to be a bust" train, but there's no denying his athletic gifts at a position where those really, really matter. Shockingly underdeveloped for someone out of Michigan and their NFL-grade coaching staff, but maybe the Dolphins can get through to him? It's not like he needs to make an impact right away. In fact, on this team, it might be better if he doesn't. It's a moonshot pick, which is fine for a team who have made a very public point of calling in the removal vans from their long-time home in Fisherville.
24) Carolina Panthers (from Chicago via Oakland) – Noah Fant (TE, Iowa)

The Panthers will be a significantly better team with an upgrade to their protection, so OL would be a very viable direction here. But remember, in this mock they've acquired Oakland's #35 pick, and there should be some sort of OL help there at 35. Noah Fant will not be there at 35. The Panthers did get a Greg Olsen succession plan last year with Ian Thomas, but they only spent a fourth-round pick on him. And, in case you hadn't noticed, Fant has been quite effective in double-TE sets in college.
25) Tennessee Titans (from Philadelphia) – Montez Sweat (EDGE, Mississippi State)
At some point, you have to figure someone takes the risk on Sweat in the first round. The Titans have Harold Landry and the temporary solution of Cameron Wake at EDGE, so they have the right combination of "do have a need" and "can afford to miss on this pick," especially in this scenario where they happened to trade down and turn their third-rounder into an extra second.
26) Indianapolis Colts – Byron Murphy (CB, Washington)
The consensus here is that corner or DT are the two needs most likely to be filled here, though another direction is entirely possible because Chris Ballard is too smart to be a slavishly draft-for-need GM. In this case, however, the most polished corner in the class is there at 26, and the only temptation would be to move up earlier. (Like the Eagles, the choice of targets here would be Wilkins vs Greedy.)
27) Oakland Raiders (from Dallas) – Josh Jacobs (RB, Alabama)
Leave it up to Jon Gruden to turn three first-round picks for the Raiers into zero defensive players. Jacobs is the best RB in the class by what might be a large margin, and Oakland are meant to be very high on him, so this could happen. It would be hilarious.
TRADE: Los Angeles Chargers trade pick #28 and pick #91 to Arizona Cardinals for pick #33 and QB Josh Rosen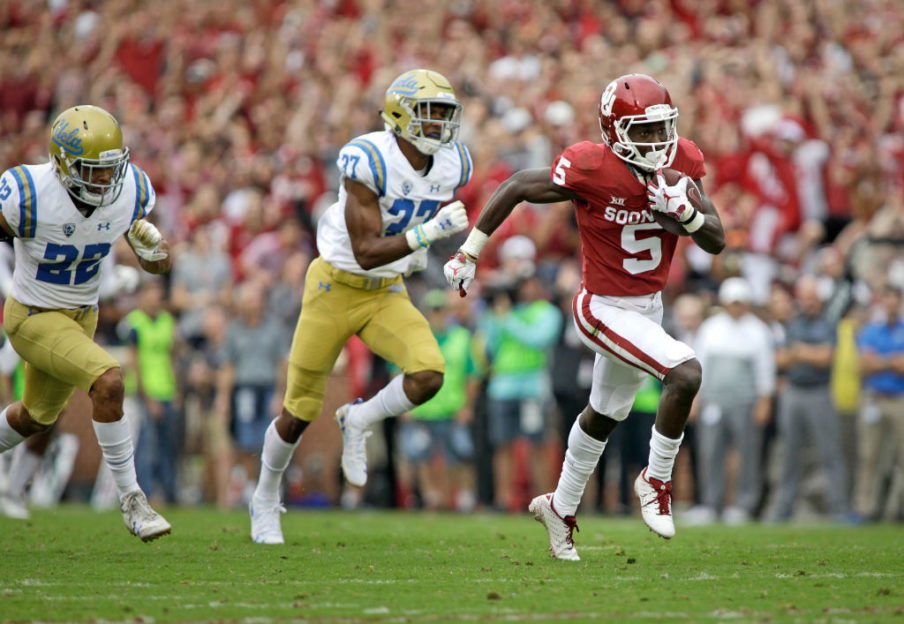 28) Arizona Cardinals (from LA Chargers) – Marquise Brown (WR, Oklahoma)
With the board picked clean of the top tackles on both sides of the trenches, the Chargers could definitely be in the trade-down business even though that's not how Tom Telesco has previously operated. A small move like this should still leave them one of the obvious options for this pick given their needs. (Dalton Risner? Dexter Lawrence? Jerry Tillery? A deep safety?) The Chargers have also been seen as one of the likeliest teams to buy low on Rosen, and that's incorporated into this trade, which values last year's top-ten pick somewhere in the 70s. Buying low on devalued players has long been where Telesco has done his best business in free agency, and maybe he can extend that to the trade block.
The Cardinals' incentive to move up is to entrench this team as Kyler Murray's team by giving him his top collegiate target to throw to; the big-play threat of "Hollywood" would also space out the defense, setting up some of Murray's trademark scrambles (and if you're building an offense around Murray it would be a dereliction of duty to not incorporate those).
TRADE: Seattle Seahawks trade pick #29 to Cleveland Browns for pick #49 and 2020 second-round pick
29) Cleveland Browns (from Kansas City via Seattle) – Jeffery Simmons (DT, Mississippi State)
John Dorsey has a reputation for shoving his cards to the middle of the table, and in the post-Marvin Lewis era may lead the NFL in decision-makers ready to risk his reputation on studs with character flags. Simmons is this year's Exhibit A there, and the sort of mega-talent the Browns would want to get if they're moving back into the first round as they're reportedly eyeing. Yes, he's coming off a torn ACL, but he could be ready for a playoff push and would certainly be ready to tear things up next year. The Mayfield-OBJ-Garrett axis isn't going away any time soon (and Mayfield and Garrett will still be cheap next year, as their option years are 2022 and 2021 respectively).
Incidentally, this trade leaves the Seahawks with three 2020 second-round picks. (The third is from the Frank Clark trade, and is the lower of the Chiefs' own second-rounder and the one they received from the Niners for Dee Ford.) One of those could be flipped for a third-rounder this year if they see someone high enough on their board who's still there.
30) Green Bay Packers (from New Orleans) – A.J. Brown (WR, Mississippi)

Continuing the theme of "make Aaron happy," Brown is a player the Packers have clearly considered – he reportedly got one of their 30 pre-draft visits – and has a far more well-rounded athletic profile (and more collegiate production) than the more-ballyhooed Metcalf. A safety would be strongly in play, but there's enough plausible choices there that someone they like should be on the board at 44.
31) Los Angeles Rams – Chris Lindstrom (G, Boston College)
Lindstrom is about as clean a projection as you can get, especially into the McVay offense with its diverse rushing attack and heavy use of play action. This team lives and dies by how well Jared Goff can execute the McVay gameplan, and Lindstrom would be of assistance in that mission.
TRADE: New England Patriots trade pick #32 and pick #134 to San Francisco 49ers for pick #36 and pick #104
32) San Francisco 49ers (from New England) – Nasir Adderley (S, Delaware)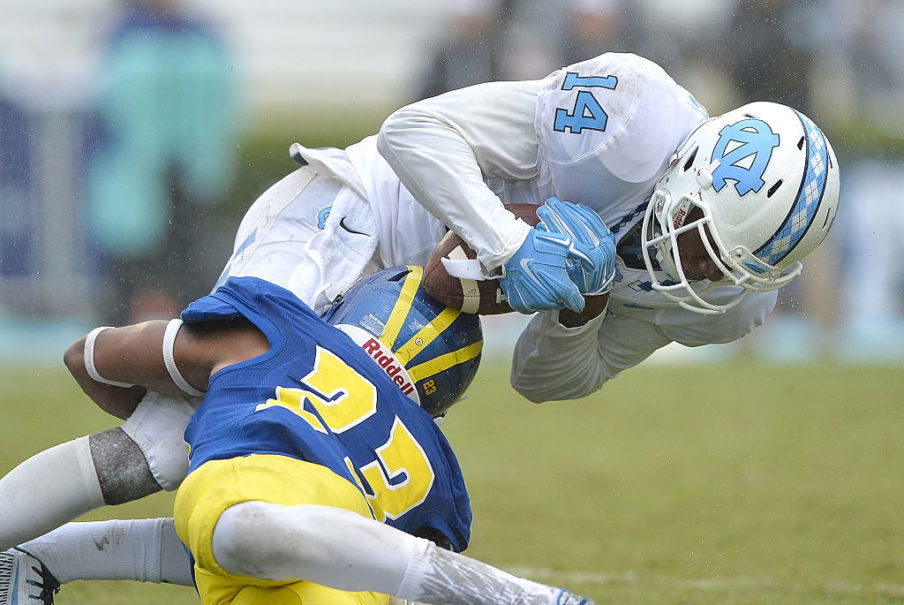 Would someone move here to get the QB5 on a five-year rookie deal? Would the Patriots stick here to get the QB5 on a five-year rookie deal?!?
In this instance, the Niners lock in on the small-school standout safety and jump ahead of the Chargers to make sure they get him.
---