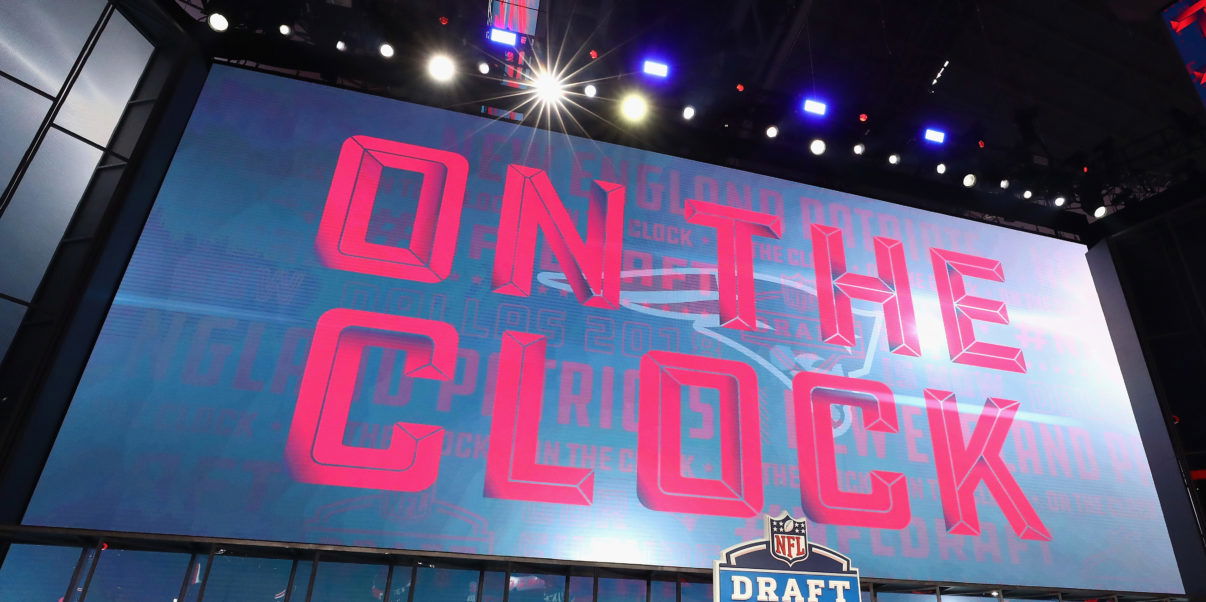 2019 NFL Mock Draft: Interactive Mock III
Draft week has arrived, and amid all the furious speculation, the claims and counter-claims and counter-counter-claims around certain prospects in particular, one thing remains forever true: the NFL Draft is all about how different people react to the board, and how those differences interact.
This is the dynamic that our Interactive Mock Drafts aim to capture. Each team is split across a number of our writers, who are actively encouraged to trade with each other, while another acts as GM. This particular mock took place on Sunday night (meaning it predated Tuesday's Frank Clark trade), I took the GM reins, and the 31 teams with top-64 picks were divided as follows:
Alan Cole: Atlanta, Baltimore, Cleveland, Denver, LA Chargers, San Francisco, Tampa Bay
Alex Murray: Cincinnati, Detroit, Kansas City, NY Jets, Philadelphia, Tennessee
Joe Hulbert: Carolina, Dallas, Green Bay, Indianapolis, Jacksonville, Seattle
Sam Brown: Arizona, Houston, LA Rams, Miami, NY Giants, Pittsburgh
Tyler Arthur: Buffalo, Minnesota, New England, New Orleans, Oakland, Washington
Of note: if you've seen our previous interactive mocks, you'll know that our writers always picked for the teams they supported. Past tense, because Sam explicitly requested not to pick for his Indianapolis Colts this time,as he wanted to see how someone else ran the show for that team.
The answer to that question and many, many more can be found below…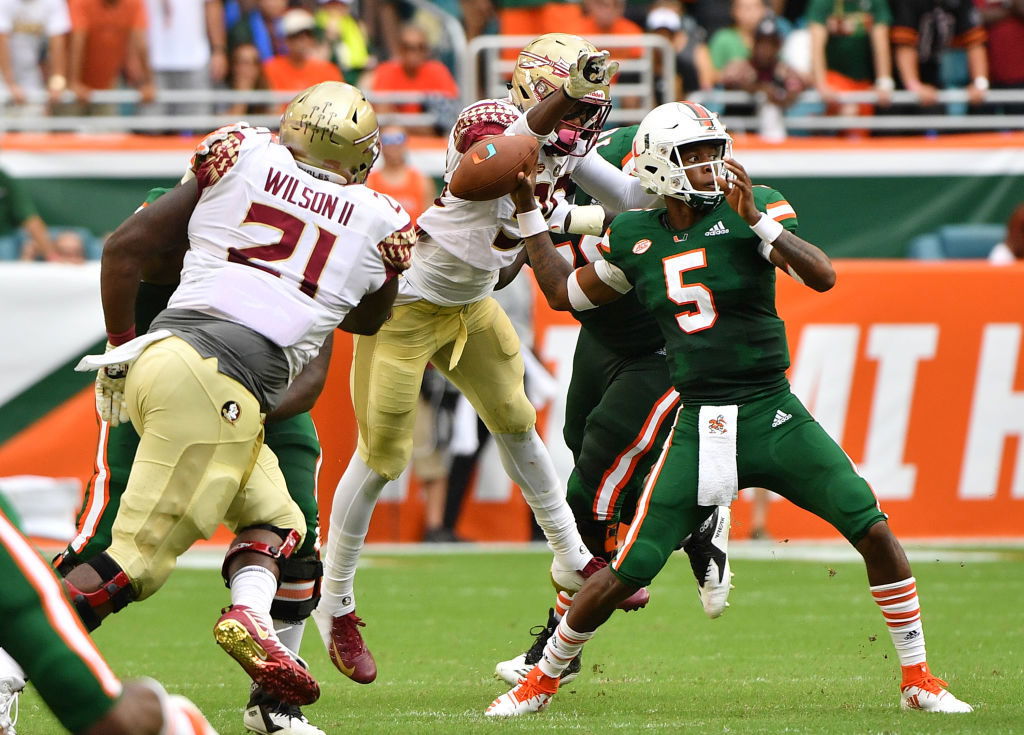 Picks 1-11: The EDGE of Convention
1) Arizona Cardinals – Kyler Murray (QB, Oklahoma)
2) San Francisco 49ers – Nick Bosa (EDGE, Ohio State)

The conventional wisdom opening, which is not a given, but both picks were in instantly in this case.
3) New York Jets – Quinnen Williams (DT, Alabama)

"Wish he went the other way," lamented Tyler. He obviously wanted Quinnen, but now felt he had an "EDGE2" decision…
4) Oakland Raiders – Brian Burns (EDGE, Florida State, pictured)
…and took perhaps the less-obvious choice over Josh Allen, but that doesn't make it bad at all. Tyler said it was a "safer pick than Allen for a team that needs to avoid whiffing on picks." Is it the safer pick? Fascinating debate anyway. Alan said he was "warming to the idea of Burns at 4."
5) Tampa Bay Buccaneers – Josh Allen (EDGE, Kentucky)
Third pick in a row to be on the edge (no pun intended) of conventional wisdom. Allen top-5 makes all kind of sense, but the fit with the Bucs may or may not. And, of course, there's been no trades yet.
6) New York Giants – Jawaan Taylor (OT, Florida)
Taylor is as close to a consensus top lineman as this class has. Few if any mocks put him here, but it's not like the Giants couldn't justify this. Once again, an understandable-yet-edgy pick.
Jags on the clock, Joe puts the pick on the block…
TRADE: Jacksonville Jaguars trade pick #7 to Atlanta Falcons for pick #14 and pick #45

7) Atlanta Falcons (from Jacksonville) – Ed Oliver (DT, Houston)
Alan gets his man. And then (Manchester City fan) Joe reported that (Liverpool fan) Sam was outbid for the pick, which inevitably sparked an exchange in the DMs. Remember, Joe is picking for Sam's Colts here. His response at this point was to say he'd cut Devin Funchess.
Meanwhile, Tyler said "Oliver was the only person really worth trading up for that isn't a QB" and Alex was waiting for a trade offer he liked.
8) Detroit Lions – T.J. Hockenson (TE, Iowa)
He did not get one. "I look forward to him making the Pro Bowl with Indy in about five years," joked Sam. Everyone else praised the pick.
9) Buffalo Bills – D.K. Metcalf (WR, Mississippi)

"HELLO" was the Alan reaction – he mocked that connection (which has also come up in two separate David mocks, but never at 9). "You've drafted a drag racer," snarked Sam.
10) Denver Broncos – Devin White (LB, LSU)

"For realism I maybe should've taken Luck, but White at 10 is good value." Alan locked into the "do what you would do as GM" model of mock drafting and gets pick praise for it.
11) Cincinnati Bengals – Drew Lock (QB, Missouri)
Cue universal shock. "Andy Dalton is bad," insisted Alex in justifying this bombshell pick. Sam wondered what had happened here, David wondering if it was a reversal in the space-time continuum with the White/Lock flip-flop. And yet both teams have been connected to both positions. This draft continues its most glorious dance with convention.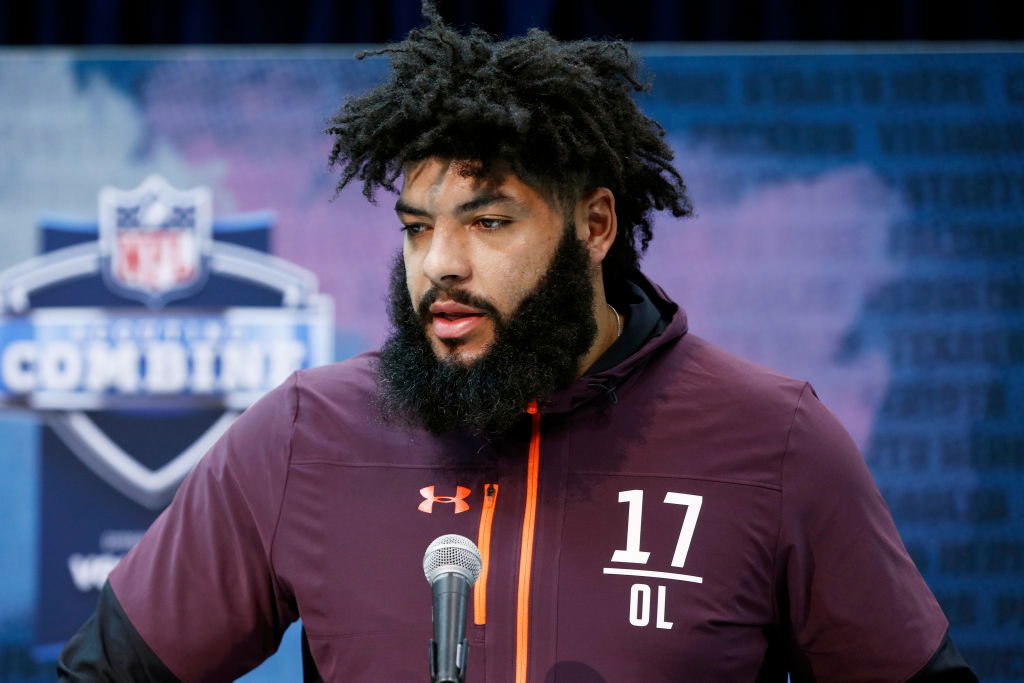 Picks 12-21: Trench Warfare
12) Green Bay Packers – Devin Bush Jr. (LB, Michigan)
And there goes the other Devin. A thought: does anyone move up for one of them with this three-team combo landing spot?
13) Miami Dolphins – Dwayne Haskins (QB, Ohio State)
Three QBs gone! "Disgraceful. Absolutely disgraceful." That's how Joe put it. "I think Joe overestimates all draft rooms," Alex replied, and Alan noted "teams will draft bad QBs." For his part, Sam felt he "had to, absolutely had to" draft one of the top three QBs in the draft without trading up if at all possible.
Meanwhile, Joe wasn't complaining because he had his top target at 7 still there.
14) Jacksonville Jaguars (from Atlanta) – Cody Ford (OT/G, Oklahoma, pictured)
And no wonder! That would've been an S Club at 7 (no pun intended), but at this range the only question is why Jonah Williams, to quote Alan, "is in full Tom Petty mode." "Are his arms long enough to reach all the strings on his guitar?" joked David. "That's why he's free fallin'," Alan replied. Anyway, Joe likes Ford's nasty streak and high ceiling, hence that pick.
15) Washington – Jonah Williams (OT/G, Alabama)
There goes Jonah.
16) Carolina Panthers – Dalton Risner (G/OT, Kansas State)
Announced specifically as a guard, with the idea of playing left guard on a Moton-Risner-Paradis-Turner-Williams line. Joe then immediately dangled the Seahawks' pick 21, and Alan mused that "one of us has to take that pick. Mock loses credibility if the Seahawks don't trade down." (Again, this mock was before they gained the 29th pick in the Frank Clark trade. Joe would actually put Clark on the block later: read on to see if he found a buyer.)
17) New York Giants (from Cleveland) – Rashan Gary (EDGE, Michigan)
Either this pick works really well or it helps fuel the tank. Win-win, right?
18) Minnesota Vikings – Garrett Bradbury (C, NC State)
Maybe, just maybe, Houston might have wanted to trade up with the way this went? Sam calls Bradbury "the most boring pick this year," and he didn't mean it as an insult, just an observation of his high floor and the limitations on his impact from positional value.
19) Tennessee Titans – Clelin Ferrell (EDGE, Clemson)
Alex noted he could've taken almost anyone with this team, but Joe liked the move.
Speaking of moves?
TRADE: Seattle Seahawks trade pick #21 to Arizona Cardinals for pick #33 and pick #65
INTRA-DIVISIONAL TRADE!! Sam felt like he was in full Costner Mode at this point. "Steve Keim is on the sauce."
TRADE: Denver Broncos trade pick #41 to Arizona Cardinals for QB Josh Rosen
"OH HELLO" was Joe's reaction, followed by noting "Rosen to Denver isn't something I've considered." Alan loved getting Devin White and a QB not from this draft class.
20) Pittsburgh Steelers – Byron Murphy (CB, Washington)
Tyler liked the pick, but was "not a fan as the Raiders GM" for this mock.
21) Arizona Cardinals (from Seattle) – Andre Dillard (OT, Washington State)
Kyler Murray, meet your new blindside protector! Houston Texans, meet your new Exhibit A on why to trade up. Five offensive linemen in eight picks!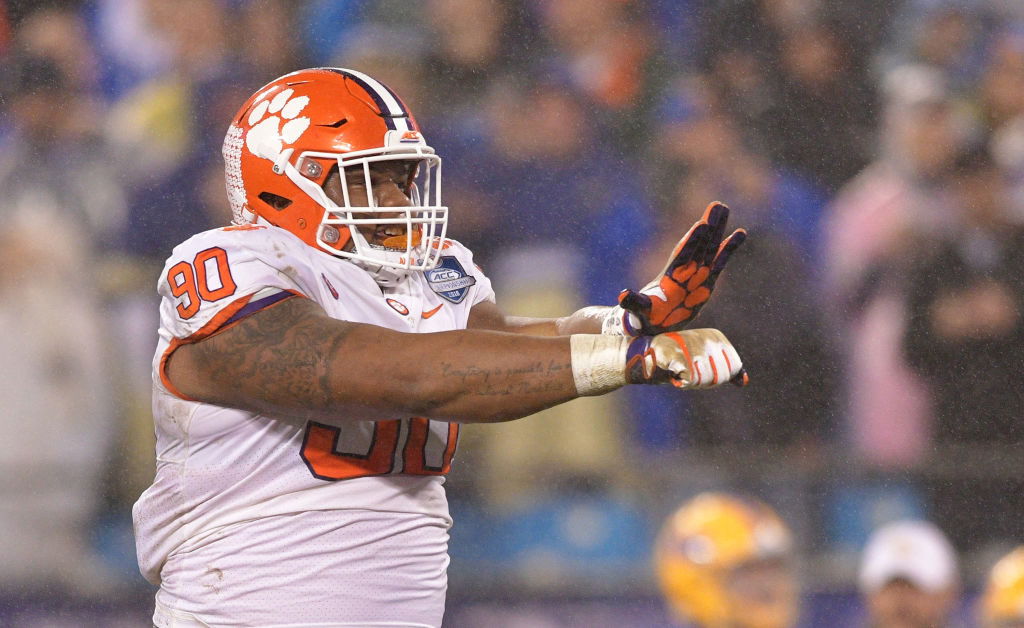 Picks 22-32: Big Men and Big Names
22) Baltimore Ravens – Montez Sweat (EDGE, Mississippi State)
Did the Ravens need to pump up their pass rush? Great value potential here though, let's hope his heart is in it.
23) Houston Texans – Chris Lindstrom (G, Boston College)
Tyler wants Lindstrom in Baltimore. In this mock, he goes to the OL-desperate Texans.
24) Oakland Raiders (from Chicago) – Greedy Williams (CB, LSU)
Alan saw that coming. Tyler said it was an "on-brand pick." Sam mentioned he was low on him.
25) Philadelphia Eagles – Josh Jacobs (RB, Alabama)
Jacobs a 1 here, and to a team that traded for Jordan Howard as well! Now, Joe's pick for Sam's Colts…
26) Indianapolis Colts – Jeffery Simmons (DT, Mississippi State)
"I love that pick," Sam said. "I was really hoping you'd do that." Alan said it was "the type of risky pick you're allowed to make when you crush a draft like the Colts did last year."
27) Oakland Raiders (from Dallas) – Nasir Adderley (S, Delaware)
One EDGE, two DBs, and three picks designed to ensure the Raiers may no longer be missing a D.
28) Los Angeles Chargers – Chauncey Gardner-Johnson (S/CB, Florida)

Derwin James gets a partner in crime.
29) Kansas City Chiefs – Dexter Lawrence (DT, Clemson, pictured)
Well, this is interesting, because most would say he's not even the best Clemson DT left on the board!
30) Green Bay Packers (from New Orleans) – Noah Fant (TE, Iowa)
Far harder to argue with the value on that.
31) Los Angeles Rams – Dre'Mont Jones (DT, Ohio State)
32) New England Patriots – Christian Wilkins (DT, Clemson)
Two defensive picks for the teams that just played out a 13-3 SB. Glorious. Hard to argue with the Wilkins value though, Tyler gleefully reporting "a theft has occurred."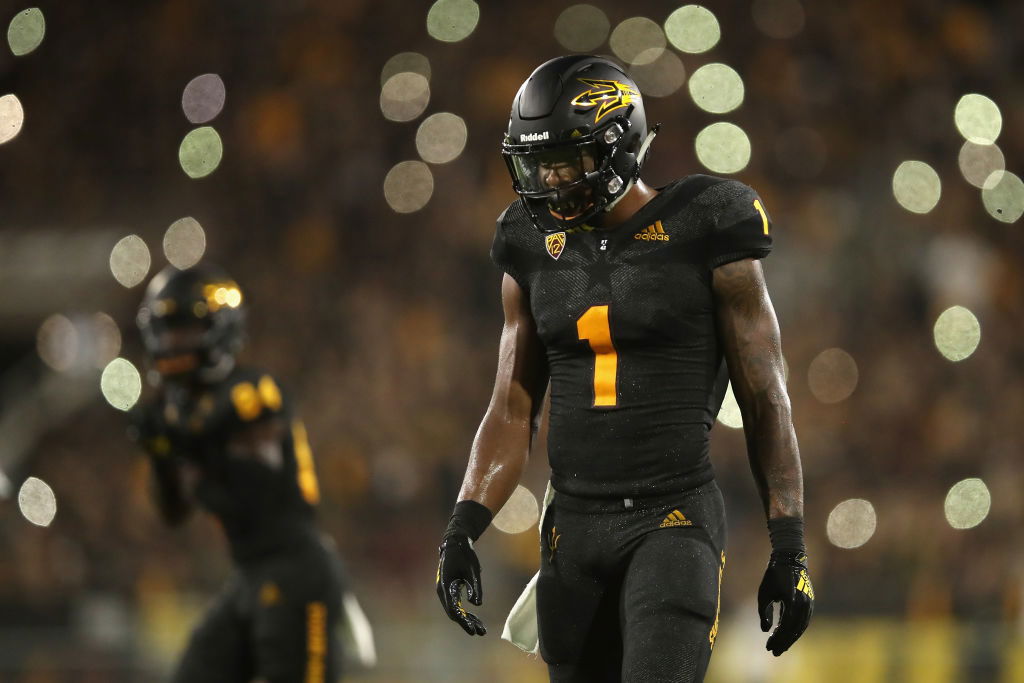 Picks 33-48: Catch a Load of These Picks
33) Seattle Seahawks (from Arizona) – Deionte Thompson (S, Alabama)
Joe boasted before the announcement that this pick was "the steal of this draft" and both Alan and Tyler were shaken by who it was. Tyler also announced that Washington had made a waiver claim for Funchess after that alleged cut made by Joe with the Colts. Who were now on the clock.
34) Indianapolis Colts (from NY Jets) – DeAndre Baker (CB, Georgia)
"Now this is why I wanted to hand over the reigns," Sam said. "I wouldn't have done that, but I do like it."
35) Oakland Raiders – Erik McCoy (G/C, Texas A&M)
Announced as a guard, can play anywhere on the interior and do it well. Tyler felt able to go to the other side of the ball after the defensive trio in round 1.
36) San Francisco 49ers – Kelvin Harmon (WR, NC State)
37) New York Giants – N'Keal Harry (WR, Arizona State, pictured)
"This is the year of the second-round wide receiver. Like half a dozen I could see going," Alan observed after this double-dip.
38) Jacksonville Jaguars – Jachai Polite (EDGE, Florida)
Tanked the Combine, but do you trust the tape? Joe does. Tyler likes the fit, and added that he was eyeing him up if he made it into the late 40s. (New England moving up from 56, perhaps?)
39) Tampa Bay Buccaneers – Johnathan Abram (S, Mississippi State)
Three top-40 picks from that school!
40) Buffalo Bills – Jerry Tillery (DT, Notre Dame)
Joe liked that pick. "If his attitude stays on the way up I think that would be awesome value," Tyler noted.
Cards were now back on the clock with the pick they got for Rosen, and there was a discussion about their defensive quality, the general consensus being that the back end was fine but they lacked interior linemen.
41) Arizona Cardinals (from Denver) – Hakeem Butler (WR, Iowa State)
No help there with this pick though, it's more direct help for Kyler Murray in the form of a jump-ball monster. "I've hit reset on the Cards offense," said Sam. "New QB, LT, WR." Tyler was surprised this pick wasn't collegiate partner-in-crime Marquise Brown, but Sam rated Butler too highly.
42) Cincinnati Bengals – Mack Wilson (LB, Alabama)
"Still no O-line," Tyler observed. "Bold strategy Cotton."
43) Detroit Lions – Justin Layne (CB, Michigan State)
"Detroit's pass rush," snarked Joe. "It's the second round Joe," was Alex's reply. He added he'd rather solve the "trash" secondary than add pass-rush help on top of marquee March signing Trey Flowers.
44) Green Bay Packers – Chase Winovich (EDGE, Michigan)
This pick from Joe surprised Tyler for its position, but he still liked it.
45) Jacksonville Jaguars (from Atlanta) – Deebo Samuel (WR, South Carolina)
Tyler wanted him for Washington at 46. David misquoted Beyonce: "if you liked it then you should've made a trade for it."
46) Washington – Michael Deiter (G, Wisconsin)
Not that Deiter is a bad pick either, experienced multi-positional OL starters for the Badgers tend to be pretty solid.
47) Carolina Panthers – Juan Thornhill (S, Virginia)
Sam warned that he was taking "a man," which has been code amongst this team for "an obscure pick" ever since he declared after the 49ers traded for Joshua Garnett that "with the 28th pick, the San Francisco 49ers select… A MAN." And here we were. "Strap in."
48) Miami Dolphins – Oshane Ximines (EDGE, Old Dominion)
A MAN. Tyler pointed to a big board that had Ximines as the 130th overall prospect behind eight edge rushers who were still on the board. "Well, how am I going to follow that?" asked Alan with his Cleveland pick.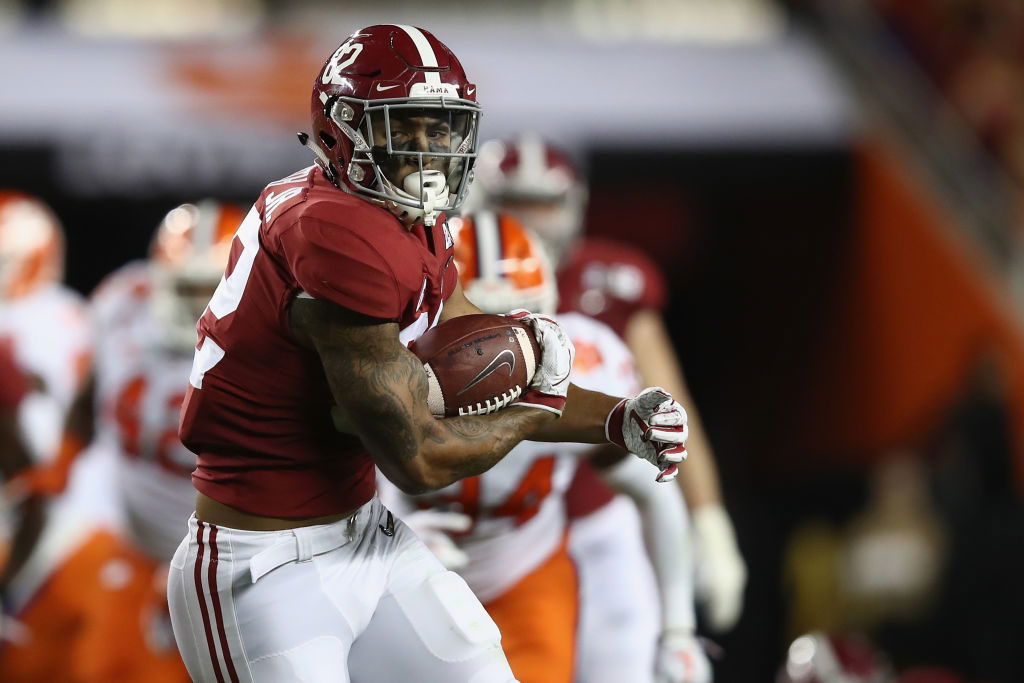 Picks 49-64: More Men
49) Cleveland Browns – Rock Ya-Sin (CB, Temple)
With a fellow All-Namer, that's how Alan would follow that Ximines pick.
50) Minnesota Vikings – Yodny Cajuste (OT, West Virginia)
Another one. (DJ KHALED!)
51) Tennessee Titans – Sean Bunting (CB, Central Michigan)
Sam liked Alex's business for the Titans, and was now up for the Steelers. "Right. Strap in again boys."
52) Pittsburgh Steelers – Daniel Jones (QB, Duke)
"That is not at all where I'd have gone," Alan gulped. "Did you by any chance think you were drafting Zion (Williamson) and typed in the wrong Duke athlete?" David wondered if Mason Rudolph had died.
53) Philadelphia Eagles (from Baltimore) – Greg Little (OT, Mississippi)
54) Houston Texans (from Seattle) – A.J. Brown (WR, Mississippi)
A double pick from the Rebels leads into the second half of a double pick for the Texans.
TRADE: Houston Texans trade pick #55 and pick #220 to New Orleans Saints for pick #62 and pick #177
Or not.
55) New Orleans Saints (from Houston) – Irv Smith Jr. (TE, Alabama, pictured)
"Nice pick that, worth the trade up," asserted Sam.
56) New England Patriots (from Chicago) – Amani Oruwariye (CB, Penn State)
"RIP Cris Collinsworth when he has to pronounce that," Sam observed. "What about the guy (Ximines) you picked," Alan replied. Sam had the perfect riposte: "thankfully the Dolphins won't get near SNF."
57) Philadelphia Eagles – Jaylon Ferguson (EDGE, Louisiana Tech)
58) Dallas Cowboys – Riley Ridley (WR, Georgia)
Remember Alan saying six WRs could go in the second round? That's the sixth.
59) Indianapolis Colts – Amani Hooker (S, Iowa)
Cue Sam making a Bill Clinton joke about "a pair of Hookers on the back end." Of course, Ha Ha Clinton-Dix is a safety too…
60) Los Angeles Chargers – Gerald Willis III (DT, Miami)
Sam likes him for "punch you in the mouth instant IDL pressure."
61) Kansas City Chiefs – Ben Banogu (EDGE, TCU)
62) Houston Texans (from New Orleans) – Zach Allen (EDGE, Boston College)
Is that pick tacitly implying Jadeveon Clowney might hit the market? Interesting. Speaking of which, nobody traded for Frank Clark in this mock.
63) Kansas City Chiefs (from Los Angeles Rams) – Damien Harris (RB, Alabama)
"A backfield of multiple Damiens," observed Sam. Devilish?
64) New England Patriots – Miles Boykin (WR, Notre Dame)
Seven second-round WRs!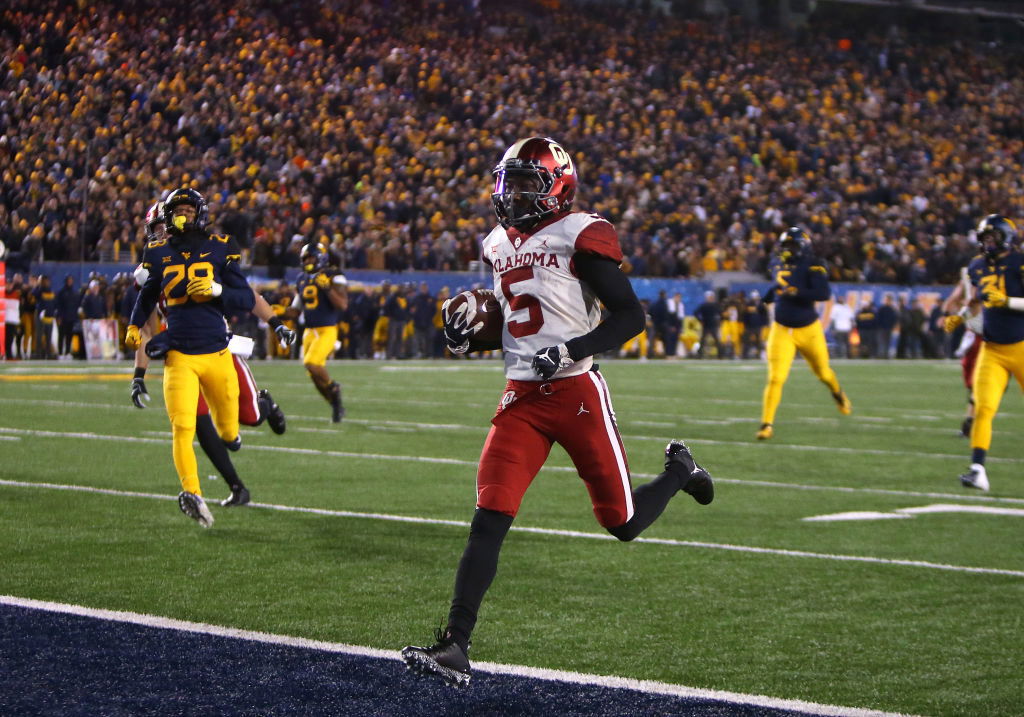 Takeaways
The second-round WR run is real. And the fact Marquise Brown (pictured) isn't in it at all? Fascinating. Some think he's a first-rounder, but a 166-pounder with injury concerns is ripe for the sliding.
The QB market remains the massive mystery of this class, and this mock's placement of them (Lock at 11, Haskins at 13, Jones at 52) is a fascinating possibility. Do teams wait that long for the QB4? We'll find out soon enough.
Above all, the way players are evaluated varies so, so much even and especially between people who know what they're looking for. We saw someone lay into other draftees for some of their unorthodox calls whilst preparing to make one of his own by taking Cody Ford at 7. Nobody knows anything at this point, and that is what makes the NFL Draft so much fun.
And it's almost here.
---