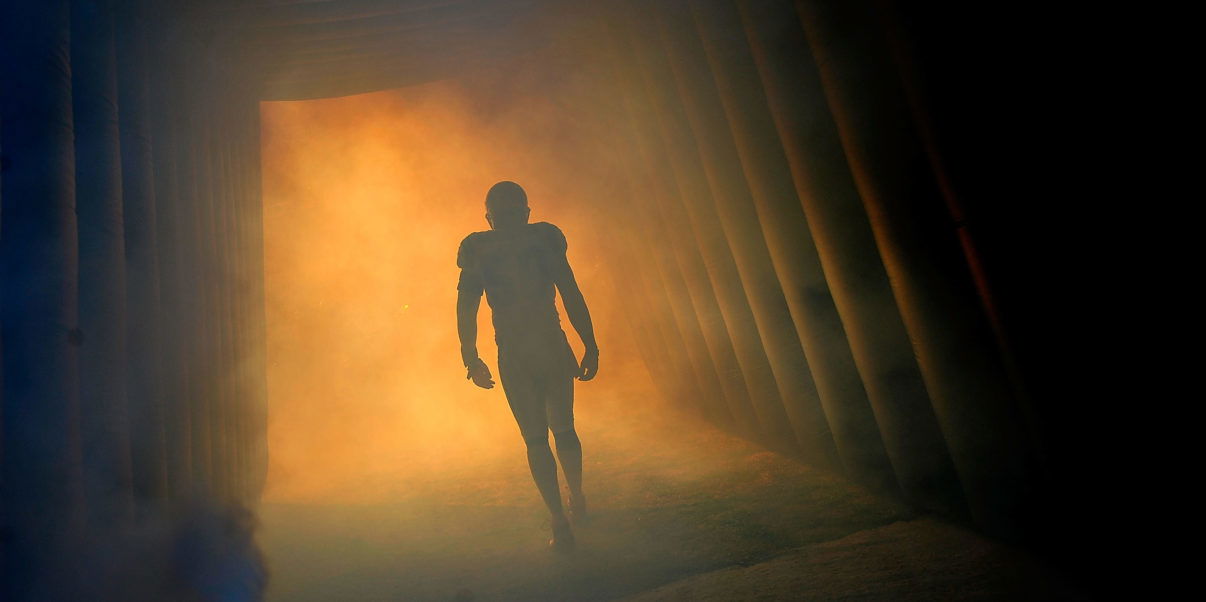 The Game of Thrones NFL team that could defeat the White Walkers
Winter is here.
After undergoing a rebuild for many years, patiently improving their roster, the White Walkers have assembled a truly terrifying team. They have a frankly brilliant Quarterback, and the depth on their roster seems to be unmatched, with an ability to attract free agents like no other team.
As Game of Thrones' eighth and final season has begun, we take a look at what lineup Westeros must assemble to defeat them this winter.
WARNING: Subtle spoilers for seasons 1-7 and very minor spoilers for season 8 episode 1.
---
Offense
Quarterback
Arya Stark
People say she's undersized at the position, but Stark is an incredibly versatile young prospect, capable of fitting in any scheme. She can put on a brave face and stand in the pocket, or she can keep her feet moving and thread the needle when she needs to. Fresh out of the draft, this young change of pace is a breath of fresh air to replace her predecessor Stannis Baratheon, who was much more traditional. Her older brothers are both very much leaders, and this will surely rub off on her as she grows into the role. She doesn't always need to carry the load, but she can make big plays when it comes down to it. Evasive and very disciplined, with great footwork, after some very effective coaching – under respected college coaches Syrio Forel and Jaqen H'ghar – in recent years, she will be difficult to take down, and a pain in the neck for anyone who underestimates her. She loves the dagger route. Not a huge fan of playing from the saddle, but is a willing team player, and is happy to learn new things. She is the new face of the franchise, and it will be exciting to see her grow as a player.
Back up: Stannis Baratheon
---
Running Backs
Theon Greyjoy
A running back who divides opinions, Theon Greyjoy is an inconsistent player, but with big upside. Many fans suggest that he doesn't have the b*lls to start, and would prefer if he took a back seat to other options in the depth chart, but that doesn't bother him. Greyjoy was cut a couple of years ago, and had a rough couple of seasons, but in a resurgent form he returns to this committee and is looking dangerous again. He isn't so good with his hands, but he can get his head down and be aggressive now that he has a chip on his shoulder. He doesn't always deal well with pressure, but he is on a team with two other backs who do, giving him a bit more freedom in the role. The team doesn't rely on him, but he can make big plays when you're not expecting them.
Jon Snow
The fan favourite, Jon Snow is legendary in fantasy. His diverse skill-set and consistency make him even more dangerous once he goes beyond the line of scrimmage, and he is incredibly difficult to tackle. There are very few players in the league who command this kind of following, and respect from other players as well as fans, and people trust him when the game is on the line. If someone needs to clutch it for the team, it's very likely that you're either giving the ball to Snow, or pretending to. He isn't selfish, though – no matter how good he is – and he is always happy for someone else to lead when they step up. There was a recent contract dispute, but he is now dialled in to take on the White Walkers. Good hands, and comfortable in any type of weather, Snow is the ultimate third-down back.
Bronn (Fullback)
If you need something done, Bronn is your guy. Fourth and one, give him the ball. Third and short, get him out in front and he'll escort your halfback to a first-down like he isn't even trying. Everything looks effortless to Bronn, whether he's protecting his own, or being aggressive, he never breaks a sweat. He's just landed a big new contract and now fans are just interested to see what he can do with the new weapons that the team have acquired.
Depth-option: Gendry
---
Wide Receivers
Daario Naharis and Oberyn Martell (Wideouts)
These two are true artists. They are technical and accurate in their route running, and can do damage on any play. They aren't as physical, but they find a way to make truly beautiful things happen down field, they kill opposition defenses with what looks to be little effort. They are both interesting personalities, and we all know that they can sometimes be a bit overconfident, but their sheer talent makes them a great duo to occupy the wide-out spots with their new, young QB. The absolute swagger from these two is tangible, and they are one of the most exciting duos out there – and they know about it. Oberyn's ego inflates even more when he takes a few reps on defense when one of the cornerbacks get ejected.
Yara Greyjoy (Slot)
Much more physical, Yara Greyjoy is a slot receiver who is less concerned on doing things smoothly than she is about getting things done. If you need to find someone who's open in space she might not be your first-read, but sometimes you can trust her to beat the odds and do something you weren't expecting. Good at blocking due to her physical nature, but has been known to lead with her head.
Depth-option: Loras Tyrell
---
Tight End
Brienne of Tarth
One of the offensive stars of the side, Brienne is brilliant in protection, and will do whatever it takes to protect her quarterback. She is big and strong; however, she isn't slow, and can surprise her opposition if she takes a break from her usual protection and gets used in the passing game. The rapport she has with Stark at QB is unmatched by any of the other receiving threats, and so she is always a read that Arya will come back to if she needs to make a play.
Offensive Line
Left Tackle: Sandor Clegane
Left Guard: Jorah Mormont
Centre: Samwell Tarly
Right Guard: Hodor
Right Tackle: Wun Weg Wun Dar Wun
One of the strongest positional groups in the team, some of the best protectors in the league will be looking after their new Quarterback this year. Arya Stark's ability to move out of the pocket when needed may be required less than she is used to, with such a dominant unit in front of her – however against the White Walkers pass-rush it will be essential that they can form a wall for as long as possible. The Hound is a dominant Left Tackle, and he works in tandem with Jorah Mormont on the left, who – although not as big as his fellow linemen – has arguably the strongest passion to protect out of everyone in the side. Tarly is an intelligent player, who holds down the middle, and the right side of the offensive line is absolutely dominant. Hodor and Wun Wun The Giant are a formidable duo, and it will take some all-out blitzes before you can get pressure off the right edge.
Depth-options: Lord Varys, Mance Rayder, Hot Pie and Yohn Royce
---
Defense
Safeties
Bran Stark
The vision from this young star is unfathomable. He isn't as athletic as he used to be, before an injury during college, but he reads plays so well that it doesn't matter. He's always there. You're running a route, you think you're open, but he's there. You throw the ball, you think it's a Touchdown, he's there. He's always there, waiting. He's not just a ballhawk, though, he has the ability to predict plays and recognise what the other team is doing better than anyone in the game. His ability to coordinate his partner at Safety, and run the defense, even though he's not got the same mobility as his teammates is truly impressive.
Jaime Lannister
When this new player arrived this season, it wasn't clear how he would do working alongside previous rival Stark, but his work ethic and talent on the field proved him a worthy acquisition, at the strong safety position. His range and ability to cover distance makes him a perfect match for Bran at FS, and he can make plays against even the most dominant of opponents over the top. He isn't only good against the passing game though, as he is aggressive and can make plays coming downfield. The one negative that has to be said is that Lannister isn't very good at intercepting the ball, as he is one of only two players in the NFL with only one hand. He does, admittedly, have a very impressive stiff-arm though, when he does manage to get the ball in his hands.
Depth-option: Beric Dondarrion
---
Cornerback
Ramsey Bolton
This team is mean at Cornerback, and there is no better example than Ramsey Bolton. Even after just a few seasons his trash-talking and mind-games have become notorious, and when combined with his ability to lock someone up, he becomes one of the most threatening man-cornerbacks in the league. He isn't scared to hit hard, either, and he's always looking to take the ball from you. Unnecessary roughness calls are going to happen, so just accept the flag and move onto the next play.
Cersei Lannister
Did somebody say 'mean'? Cersei will stop at nothing to win, and she isn't scared to tread the lines of the rule-book to try and achieve that. She is ejected even more often than Bolton, and has become been shamed publicly before after some truly awful hits – however, when she keeps it legal, she is dominant. She knows how to coordinate her teammates and can work with other players to get the most out of the team. She has been known to be quite selfish, though, and she won't hesitate to take the glory if the team wins.
Depth-option: Oberyn Martell
---
Linebackers
Drogon and Rhaegal
In the 4-3 defense of the Westeros side, there is no position more terrifying than the Linebackers. Even more dominant than the impressive offensive line, the LB position is stacked, with Drogon and Rhaegal dominating when the ball is put in the air. They have impressive range, and they can pick a ball out of the air like nobody else in the league. They are aggressive at the point of attack too, though, and they can scare opposition running backs if they're not feeling brave. They're very well coached, and are always hungry to win, a recurring theme in this defense.
Khal Drogo
The final member of the starting Linebacker corps is the absolute giant that is the only man scary enough to play LB alongside two literal dragons… Khal Drogo. This 6'5 specimen is surprisingly fast, and therefore serves perfectly for an outside linebacker in this 4-3, big enough when getting off the edge to do damage rushing, whilst trusting Drogon and Rhaegal to cover the ground on their own, when they need to. Drogo benefits from the focus sometimes being put too much on the two other linebackers, though, as opposition can focus too much on them, and if you ignore him he'll pour it on and make plays. A true leader of this dangerous defense.
Depth-option: Euron Greyjoy
---
Defensive Line
Left End: Ghost
Defensive Tackle: Robert Baratheon
Defensive Tackle: Gregor Clegane
Right End: Tormund Giantsbane
Another scary positional group, the defensive line consists of some of the biggest baddest people in the seven kingdoms. Robert Baratheon leads the line, and is incredibly difficult to block, and when he's on the hunt, he can do damage. Alongside him is The Mountain, a man whose nickname is earned more than anyone else in the team, and who never stays down. These two inside threats will dominate, and draw double teams, leaving the outside rushers to get one-on-ones. On one side, Ghost is fast, and agile, and benefits from his relationship with Bran Stark, who commands from over the top. Finally, at the right end position is Tormund Giantsbane, an unpredictable man who is fearless and very difficult to block. Has been said that he sometimes gets distracted in training when the tight end blocks him, however when it comes to crunch-time he is an absolute warrior.
Depth-option: Euron Greyjoy
---
Coaching Staff
All good teams need good coaches, here's who will be patrolling the sideline for this Game of Thrones NFL side.
Head Coach
Tywin Lannister
Who else? Tywin Lannister is a man who used to get it done himself, but now finds himself leading the team from the sideline. He takes shots sometimes from his other coaches, but he's the top dog, and calls all the plays. When there's offense to be led, he'll want to be the one leading it. He is a veteran of the sport and provides confident leadership, that's for sure.
General Manager
Petyr Baelish
One of the most infamous GM's in the league. Petyr 'Littlefinger' Baelish is a man who seems to get deals done, no matter what. He pulls of simply unbelievable trades, and the only team who can acquire free agents more effectively than him are the White Walkers. He seems to know everyone and can orchestrate deals which you simply didn't think were possible. It has to be said, that he can turn his back on a player at any moment, which makes him a polarising character, but he gets things done, and he always seems to end up with what he wants – almost always.
Offensive Coordinator
Randyll Tarly
A man built for directing and organising the troops. The play-calling burden rarely falls on the OC for this team, which allows him to focus on establishing the discipline of the offense. He has been working with the various units with effective communication and has the trust of Tywin that he can lay all of the framework, then Lannister will come in on game day and call the plays and take the glory. Tarly was billed as a potential HC for the team, but rumours suggest he can't handle some of the hot-headedness of some of the defensive stars.
Defensive Coordinator
Tyrion Lannister
A defensive coordinator with an impressive track record. He is smart, confident, and respected – and deservedly so. He has pulled out some remarkable defensive play-calls in the past and isn't afraid to be creative. There is no doubt that he can outsmart opposition, make unpredictable calls, and do whatever it takes to win. He's had clashes with the Head Coach, and he has also butted heads with a couple of the players on defense, however, he is a strong personality and even those who don't like him know that he is worthy of this role.
Linebacker Coach
Daenerys Targaryen
The final member of the coaching crew is potentially the most important member. Over the last two years this side has drafted some linebackers who have simply split the opinion of scouts more than any other players. It became a simple fact that if they couldn't be tamed, these picks would blow up in the GM's face. That's where Coach Targaryen comes in – she is the only person in the league believed to have the ability to coach this linebacker corps, and she has a tough job on her hands, to say the least – it's working though, as they're the most dominant unit in the whole team; even after losing one of their star linebackers in free agency last season.
---
This article was written with the help of Ruairi O'Connor, who had this amazing idea after we watched the Season 8 Premiere.
---