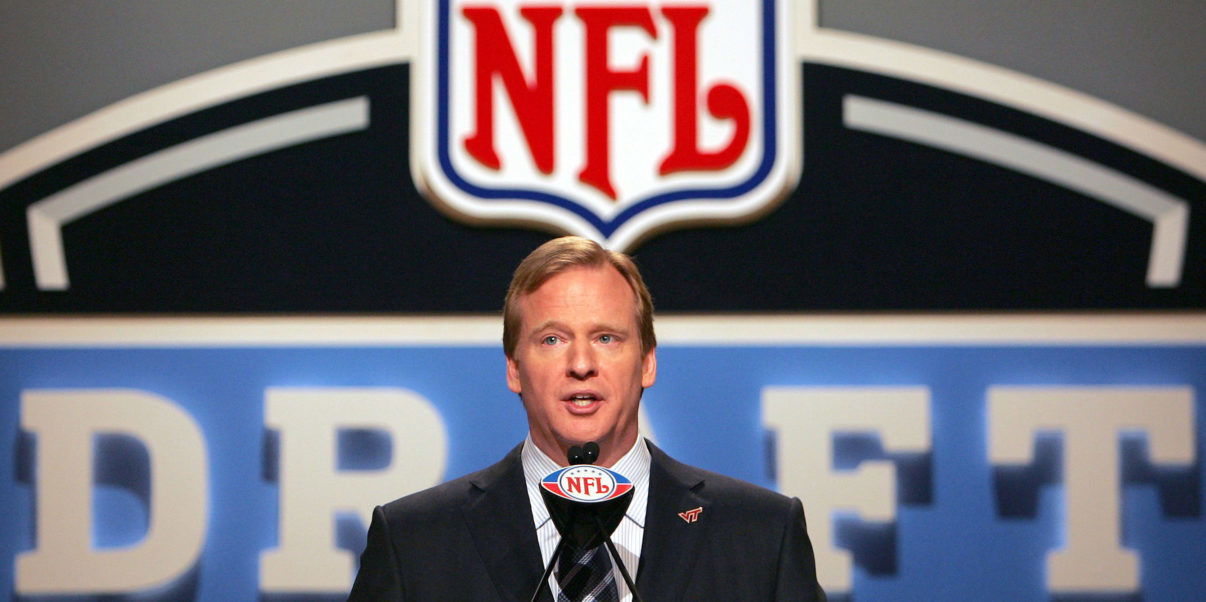 Tyler Arthur NFL Mock Draft 1.0 – Please don't mock this Mock.
2019 NFL Mock Draft – Please don't mock this Mock: Tyler Arthur, April 10th
I was pretty certain that I wouldn't be doing a mock draft because I didn't think I knew enough about the prospects, however, having prepared for and then taken part in the Read American Football Interactive Mock II, I was starting to embrace the buzz you get in April. It's the month of the NFL draft. Let's just see where it goes, and if you disagree with any of my picks, let me know why and we can all get into draft season debate.
Let's get it started.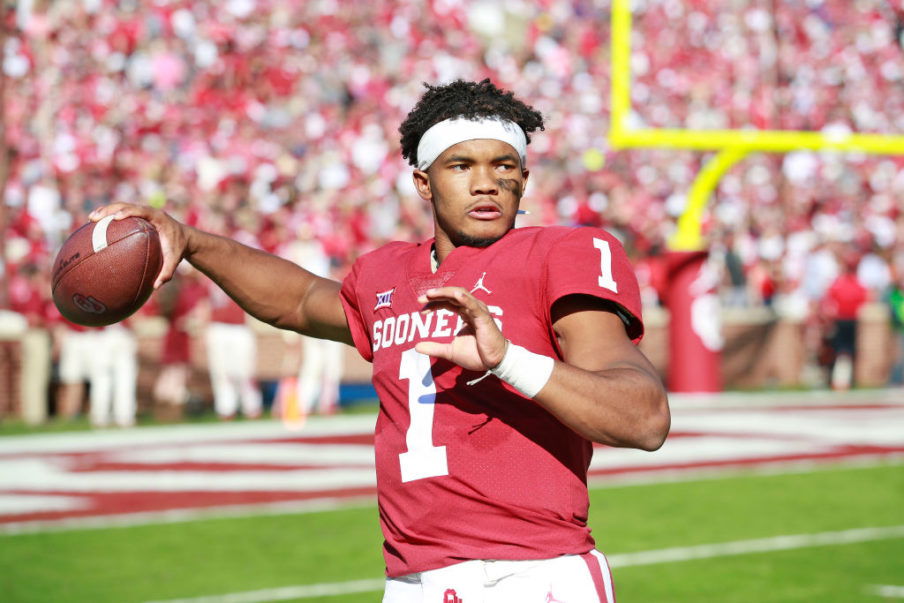 1. Arizona Cardinals – Kyler Murray (QB, Oklahoma)

As much as people try to make it seem controversial, I don't mind this. Everyone saw how David Johnson was pretty tame last year, and Josh Rosen didn't set the world on fire, so if they can get a second-round pick for their sorrows, I don't hate the decision. New HC Kliff Kingsbury loves this guy, and he wasn't there when Rosen got drafted so I understand the change of course.
Think of it as the Cardinals trading the 10th pick in 2018 in return for the 2nd round pick this year whilst also being able to 'upgrade' from Rosen to Murray.
I prefer the guy going at #2 but that isn't where I think the Cardinals go, and this mock draft is a prediction.
2. San Francisco 49ers – Nick Bosa (EDGE, Ohio State)
This pick is one which will come back to bite the Cardinals, I think. It's very likely that if the draft goes this way, Nick Bosa will sack Kyler Murray more times than any other player in the league – a constant reminder of how these two picks fell.
Bosa is the best player in the draft, and the 49ers already have a good defensive line as it is, this division doesn't have these two picks by coincidence, both teams struggled last year, but with Garoppolo returning and Bosa being let loose, the Niners could become a really fun team to watch.
3. New York Jets – Quinnen Williams (DT, Alabama)
Quinnen Williams is a beast. If you can get someone that big, and that fast, but without suffering on the technique, he won't fall far. I don't think that Williams makes it past this pick, but on the off chance that the Jets decide to go with a different defensive star (more than likely their favourite EDGE option), he will be snapped up with the next pick anyway.
With the Crimson Tide's best export, the Jets should be over the moon – able to pick up an elite anchor for their D-Line with this pick, they can hope to improve on the field this year more than they improved their wardrobe.
4. Oakland Raiders – Josh Allen (EDGE, Kentucky)
It's important not to overthink this one. I am a Raiders fan so this pick (and a couple more we'll get too later) are on my mind right now, but as I said, overthinking this is exactly how to mess this up. Gruden and Mayock have had a long time to work this one out, and I think it will be agreed whether they use the 4th pick or trade back for a team who's panicking over a QB, they take an EDGE prospect here.
It's just about a consensus that Josh Allen is the candidate for this pick, and if they stay at four, I'm pretty confident that they will be drafting this versatile prospect.
On the end of a four-man defensive line, he has the ability to rush, hold ground, and drop into coverage when needed. The sheer variety of ways to use him justify taking him to Oakland, where they need to fill as many holes in their defense with as few picks as possible.
TRADE: Tampa Bay Buccaneers trade pick #5 to Miami Dolphins for picks #13, #151 and a 2020 first-round pick.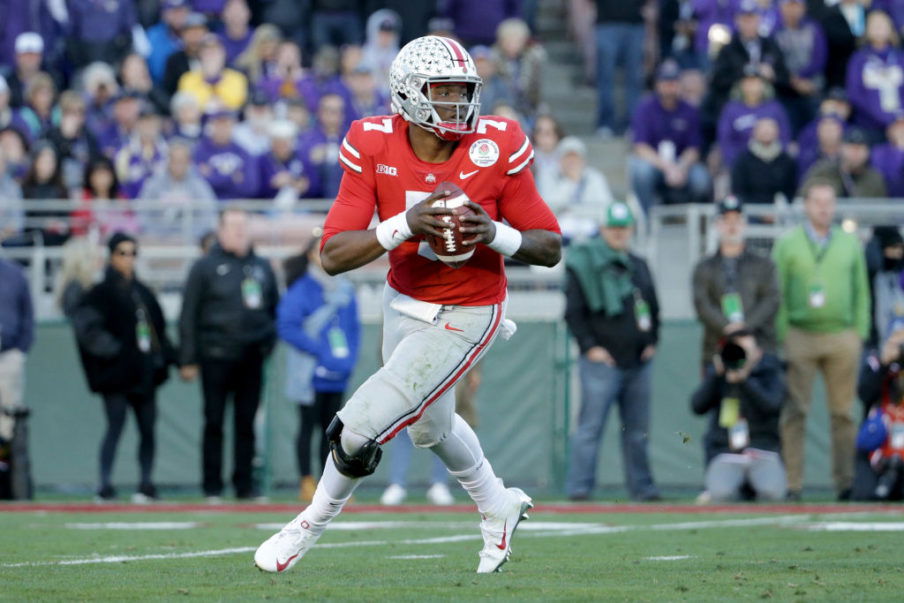 5. Miami Dolphins (from Tampa Bay Buccaneers) – Dwayne Haskins (QB, Ohio State)
If you're a Giants fan, I'm sorry. If you're the Tampa Bay Buccaneers, you're welcome. The player that I would draft as the Bucs isn't on many people's boards at five, and the QB tax has been paid once again. A couple of teams were working the phones, and the Dolphins even threw in a fifth-rounder from this year to get it done. As much as they paid up, though, they will still feel like winners in leapfrogging the Giants to pick up potential sixth-pick Dwayne Haskins.
The Ohio State QB would hopefully be set to go at the sixth spot, even though it might require Gettleman to suddenly retire before the final week of April, and so this pick is now or never for those with draft capital that they're willing to spend.
The fear that Denver will be taking a QB was enough to encourage them to say to themselves that if they're going to trade up, it might as well be for their QB2, not the QB3 – if, of course, they prefer a different QB they could take him here instead. This trade up is one I'd love to see in real life.
6. New York Giants – Brian Burns (EDGE, Florida State)
This pick, nobody will love – but if Haskins is off the board here, (or even if he's there, with their current GM) the simple assessment is probably going to end up as best-player available on the defensive line.
Brian Burns is a very good player, and most teams who aren't in crisis would be happy to take him at 6. That fits the bill perfectly for a team who doesn't realise they're in crisis, then.
For the 2nd draft in a row, we see Giants fans experience the rollercoaster of emotions that is drafting a very talented player, but who still isn't a Quarterback.
7. Jacksonville Jaguars – Jawaan Taylor (OT, Florida)
This is a great pick for the Jaguars, in my opinion. They've penned in a starting Quarterback and now they can build on what is inarguably a promising roster, which underachieved last season. Nobody wants their new signing to get hurt, so let's pick up a dominant Offensive Tackle to protect him.
Taylor is more than capable in both the run game and when in pass-protection, so Fournette and Foles can skip off into the sunset together after this pick and hope to return to playoff form.
8. Detroit Lions – Rashan Gary (EDGE, Michigan)
This isn't a team-changing roster grenade where everything is fixed. But this is the Detroit Lions, they just need a pick who's solid. They'll take someone who's good and hope they don't stop being good when they get to Mich—oh wait. This is the key. Draft a guy who's already in Michigan and he won't disappoint upon arrival, hopefully.
Seriously though, Gary is a really solid pick for any team in need of EDGE help, and he should be a good fit here. He might not be in everyone's top-10 for talent, but he has a lot of potential, and will do well to end up at a team who don't have any win-now expectations.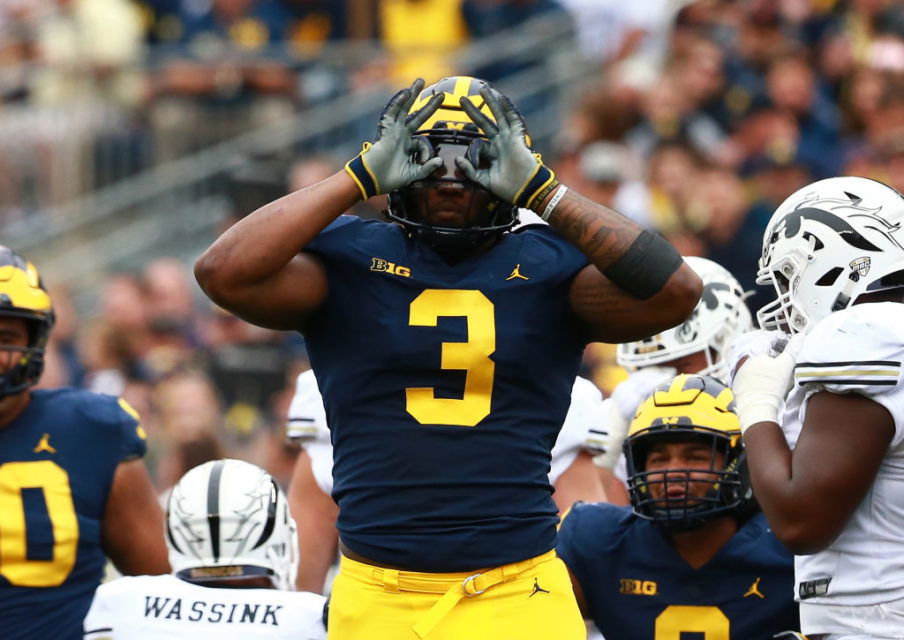 9. Buffalo Bills – Ed Oliver (DT, Houston)
Another team who have enough needs to improve wherever it can, once again takes a talented player, and then will see who's there in the next round to rinse and repeat. Best player available within reason, basically. There is a very real chance that we see our first receiving threat go to Buffalo, but if I was the GM, I'd take someone who will make our underrated defense better. I would embrace the 'development' of the other side of the ball late with our inconsistent offense and overpaid LeSean McCoy.
It's a shame that Doug McDermott can't operate with a squad which is more rounded on offense, but I personally think it's too early in the draft for them to lump all their chips on a WR or TE when they have other holes, including the one left by 13-year veteran Kyle Williams, which I just plugged with the Houston prospect.
10. Denver Broncos – Drew Lock (QB, Missouri)
*Insert surprise*
This pick isn't fun for anyone, including Drew Lock, but John Elway is going to be sending this pick to the stage before the Cardinals are even on the clock… It's just written in the stars.
I hope I'm proven wrong, but at the same time – I'm a Raiders fan, I can't wait to see Josh Allen sack him for the first time.
11. Cincinnati Bengals – Jonah Williams (OT, Alabama)
This is one of the picks in this mock draft I'm quietly confident in. The Bengals need to make some changes, and the most unavoidable one is the offensive line. Everything starts in the trenches. Some mocks see them trying to find Andy Dalton's successor, but I am more focused on locating his pocket.
Jonah Williams is a brilliant option to start from day one in the process of improving the offense, through the air and on the ground, with ability to make a difference in both, and a combination of strength and technique which will be essential for this struggling Bengals side. If you look across at the defensive players of another team in Ohio, you might understand why this pick is even more urgent.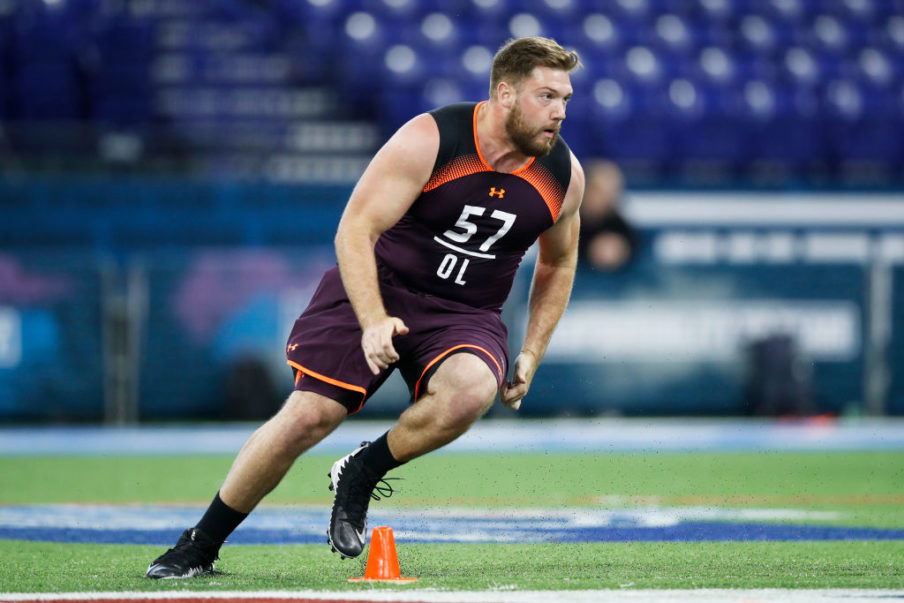 12. Green Bay Packers – T.J. Hockenson (TE, Iowa)
Taking a Tight End high up in the draft is scary. Taking T.J. Hockenson is less scary. Taking T.J. Hockenson when you have Aaron Rodgers at Quarterback and a couple of young running backs with huge upside – then it's not scary at all. The first of the two Iowa TE's enters from stage left, and is now handed a task. Be the type of player that Jimmy Graham isn't.
Hockenson has been everybody's favourite prospect recently because of his versatility and ability to dominate in both phases of offense. He has good hands, can run routes well, but is also an extremely resourceful blocker in both run and sometimes pass blocking schemes. I love this fit, and I think that the unofficial GM of the Packers, the one with a beard and a metal collar bone, will love it too.
13. Tampa Bay Buccaneers (from Miami Dolphins) – Devin White (LB, LSU)
Just as I said, the player I wanted for the Bucs at their original pick didn't need to go there, and here he is sat on the board at their newly acquired 13 spot. Devin White finds his way, eventually, to Tampa and a defense which needs to entrench itself enough to sport an inconsistent offense.
The simple fact is that the talent of White is worthy of the top-10, and all that they need to do on Draft Day is find a worthy deal on the phones, and then snag him in the middle of the round, with an extra pick or two for good measure. Good business for a good player.
14. Atlanta Falcons – Jeffery Simmons (DT, Mississippi State)
Ideally, the Falcons would love for Ed Oliver to make it down to this spot, but they won't be lacking choice if they decide to stay at the position for this pick if he's gone (which isn't a certainty, based on the teams ahead of them).
I think Jeffery Simmons would be a good fit, but Oliver, Simmons and a couple more are all relatively interchangeable depending on what the Falcons see on film.
I think the pick definitely goes towards their D-Line, as the units behind them are already solid enough if they stop getting injured. Here, the Falcons aim high, and if the upside doesn't get reached, it isn't the end of the world. This isn't a roster that has any gaping holes, they just need to catch a break, for once.
TRADE: Washington Redskins trade pick #15 to Arizona Cardinals for picks #33, #139 and QB Josh Rosen.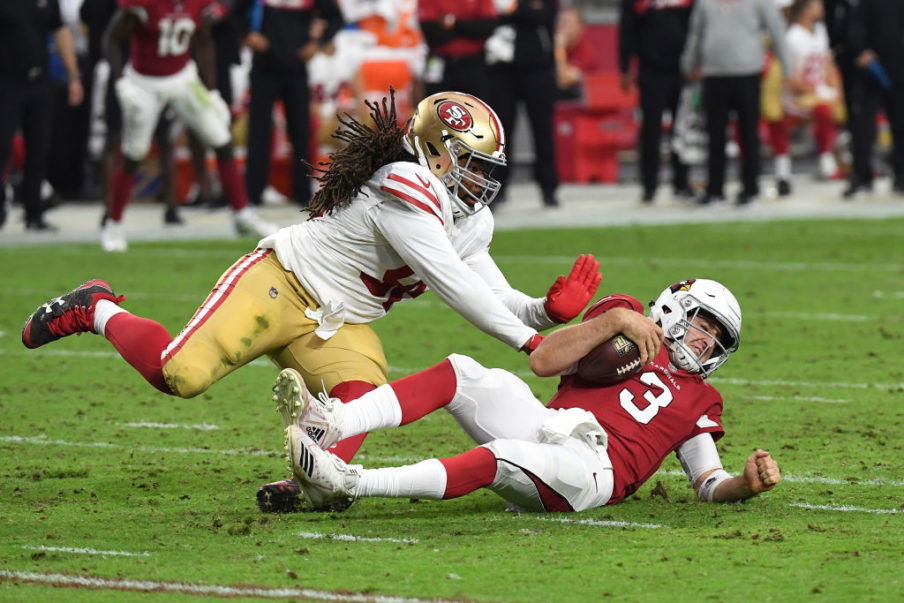 15. Arizona Cardinals (from Washington) – D.K. Metcalf (WR, Mississippi)
Mic-drop.
The Washington Redskins essentially draft Josh Rosen at 15 and get the first pick of the second and the first pick of the fifth as a cherry on top. This is a brilliant trade for the Redskins to make, but that isn't the part that I'm excited for.
The Arizona Cardinals are back into the first round and they're back for D.K. Metcalf. They drafted Kyler Murray, and now they're here to pick him up a new weapon, to grow with, and to fill the pending need at Wide Receiver once Larry retires. I would absolutely love to see this happen on draft night. The Redskins think they win the trade, the Cardinals feel they're winners too – the real victors are the NFL fans who get to watch two electric future stars build their careers together in Arizona.
16. Carolina Panthers – Montez Sweat (EDGE, Mississippi State)
Back to regularly scheduled programming. I think this pick is locked in as a lineman, and I would personally opt for the athletic cheat code that is Montez Sweat. I don't have much more to say other than the fact that he has insane upside, at a position which the Panthers need.
And at this type of range, he's already started to slide further down the board than many people expect. If the Raiders had ended up going somewhere other than EDGE for their 4th overall pick, I would undoubtedly have them sending some picks to Carolina, coming back up here to grab Sweat if he dropped this far.
The Mississippi State defensive end ran a 4.41 40-yard dash and a 4.29-second 20-yard shuttle, at 260lbs. He was an immediate standout after the combine, and I think he has the potential to be a standout in the NFL if he ends up on a team with some good pieces around him, such as the Panthers.
If he can seal the edge, Luke Kuechly will have an easy time sweeping up whatever is left behind, and when it's a pass, roles will be reversed – as Luke terrorises the QB and his reads and Sweat comes in to get the sack.
17. New York Giants – Andre Dillard (OT, Washington State)
Still pretending they're not angry that they didn't get a QB with their first pick, now they pick up someone who would have been a perfect person to put in front of him if they had. Here they pick up Andre Dillard, a somewhat underrated Offensive Tackle out of Washington State.
Dillard doesn't get the same hype as the likes of Jonah Williams, but he is a very competent pass-protector, and has the tools to develop as a run-blocker within the run-heavy offense which the Giants are desperately trying to get away from. He will be asked to be much more aggressive in the Giants blocking scheme than he was during college, and so will become a more two-dimensional player after the first year or two in the league.
Barkley will continue to be the workhorse, and they will spend yet another year with Eli Manning as their quarterback – but at least they will pick up a promising, raw prospect at tackle who can improve over this season ahead of them maybe taking a QB… eventually.
18. Minnesota Vikings – Cody Ford (OG/T, Oklahoma)
This is another really good landing spot I hope to see on draft day. The Vikings could do with improving their O-Line both on the interior and at tackle, so why not draft someone who could play either position?
The Vikings are another team who don't have any positions which can simply be fixed to solve everything, and so addressing the O-Line is a great way to start, and Ford is a perfect way to do that without going all-in on either a guard or tackle.
19. Tennessee Titans – Clelin Ferrell (EDGE, Clemson)
I think that the Titans are definitely looking for an edge rusher here, and if that is the case, Ferrell is good value at 19. He is quick with his feet, and the technique he uses when fighting with his hands genuinely appears to be NFL-level already. If he can work on getting around the bend more smoothly, he will be a very dangerous player.
This pick returns us to the EDGE class of 2019 which may well be spoken about for a very long time, and Ferrell is one who could potentially go much higher if he was in a class which wasn't so stacked at the position. He has more room to improve, but is already a startable asset straight into their defensive line.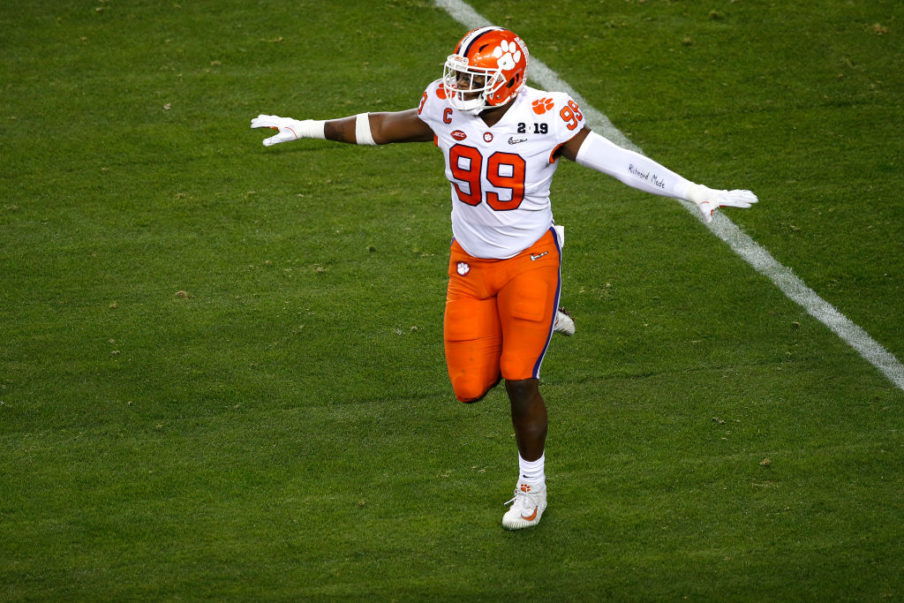 20. Pittsburgh Steelers – Devin Bush Jr. (LB, Michigan)
This is another pick that I think is all-but set in stone. Once Metcalf leaves the board, their need for a WR can move on over to the second pick they have, and they can instead pick up the second-best linebacker in the class. The demand for linebackers seems to be at an all-time low, and therefore the Buccaneers and Steelers will near-enough be able to take them wherever they pick from.
The argument of 'which Devin would you rather draft?' isn't one I struggle to answer personally, but the fact that Bush Jr. is even in the conversation with top-10 talent Devin White shows that the value here at 20 is perfect for the Steelers.
TRADE: Seattle Seahawks trade pick #21 to Indianapolis Colts for picks #26 and #89.
21. Indianapolis Colts (from Seattle Seahawks) – Christian Wilkins (DT, Clemson)
The Colts have a lot to work with, and not that many holes to fill, so it's very much a case of taking opportunities when they arise. This is an opportunity which may well fall to them, as the lack of picks for the Seahawks encourage them to trade back at a spot where there are still some really talented players on the board.
They could go anywhere really. If there's a player that they like – they can come and get him, but in this mock I am seeing Christian Wilkins sliding his way down to the 21st pick looking like a tier-break at the position. He can slot right into the Indianapolis defense, who we have seen recently is a great place for a young player to get straight to work.
22. Baltimore Ravens – Chris Lindstrom (OG, Boston College)
I love this pick. If I could pick a single person in this entire draft that I could take at this 22-spot, it would be Chris Lindstrom. The fit is literally perfect.
A straight transition from Boston College's run-heavy offense to this Lamar Jackson-led Ravens side is all that this dynamic Guard needs to hit the ground running (every single play). People try and get fancy and mock wide receivers and linebackers at this pick, but I'll take the interior lineman who's already been playing in this scheme for even longer than the Ravens have.
23. Houston Texans – Garrett Bradbury (C, NC State)
The Houston Texans need to fix their O-Line more than anything else and it isn't close. They literally just need to draft the best lineman available with this pick and then the next one or two after that until something sticks. On this board, Garrett Bradbury is a good option the Texans can use him at either centre or guard to try and sure up their horrific line.
He is a balanced prospect who can work in the passing attack as well as getting to his blocks quickly and aggressively in the run game. His technique and ability to deliver both when they're running or passing is essential to helping to rebuild this line from the ground up. Deshaun Watson will appreciate this pick, that's for sure.
24. Oakland Raiders (previously from Chicago Bears) – Greedy Williams (CB, LSU)
This pick is a perfect Oakland Raiders pick. A position of need, and a player with ridiculous upside due to his physical traits. It is very possible that this LSU cornerback gets picked up in the first half of the round, but if he does slide down the board, the Raiders should snap him up.
Greedy Williams is more than just the perfect name for a cornerback, he is also a super-athletic and incredibly competent in man-coverage.
He has faced the likes of D.K. Metcalf and Riley Ridley and he can handle them one-on-one. If he delivers on his potential, he could be a much-needed answer to some of the star-receivers who flock the AFC West and allow for the Raiders defense to play with a bit more freedom against teams with an elite WR1.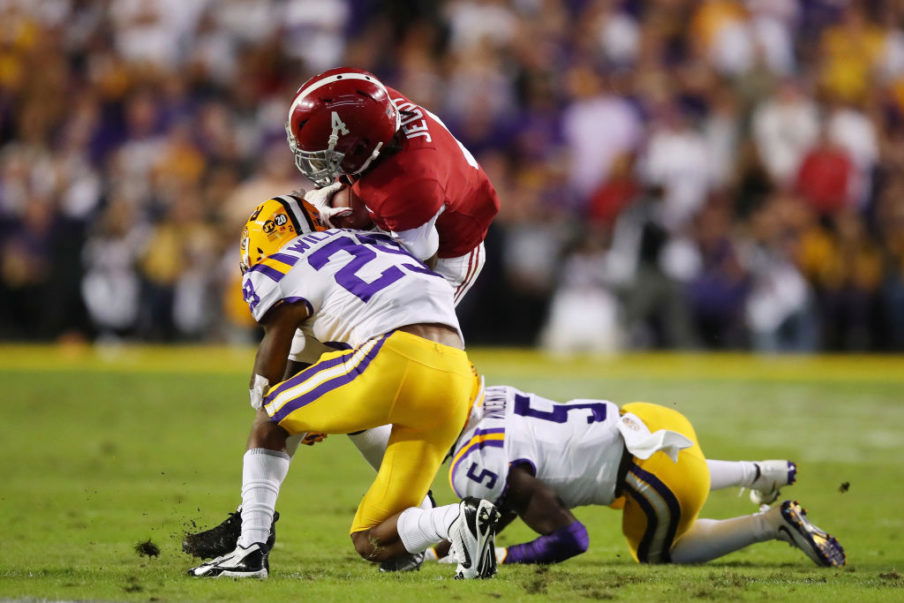 25. Philadelphia Eagles – Chauncey Gardner-Johnson (S, Florida)
The Eagles have sat patiently watching the draft, noting the distinct lack of a safety on the stage through the first 24 picks. They have their pick of the bunch to acquire whoever takes their fancy and they decide on the versatile prospect out of Florida, Chauncey Gardner-Johnson.
This pick is much needed for the Philadelphia secondary who would be more-than-happy with at least one of the other safeties who are still available here if on draft day one of them gets taken before they're on the clock. Gardner-Johnson is capable in all aspects of his role and has good range to make plays over the top. If he can find a bit more consistency in the NFL, he will be a brilliant acquisition for the Eagles here.
TRADE: Seattle Seahawks send pick #26 to Kansas City Chiefs for picks #61, #63, and #214.
26. Kansas City Chiefs (from Seattle Seahawks via Indianapolis Colts) – Jerry Tillery (DT, Notre Dame)
The Seahawks still aren't satisfied. They are looking for a way back out of the round, and they want more draft capital. The Chiefs are the opposite. They have a star-studded offense, an MVP who's on a rookie contract, and they need to draft some defensive help.
This trade packages two late second rounders and sends them (with a little cherry on top to seem friendly) into the first-round again, just three picks before their own. They go from having two second-round picks and one first-rounder to having two first's and no seconds. That's a deal they can live with in their win-now mentality.
The first of these picks goes towards Jerry Tillery, a defensive tackle who possesses burst and uses leverage to beat his blocker well. He isn't the most consistent player in the draft, but his quickness and combination of key block-shedding moves allow him to have real range, and he can shut down plays which aren't in the gaps he's assigned to.
As long as he stays disciplined, and doesn't leave a cutback lane behind him, this adds to his stellar pass-rushing ability. He's a very worthy candidate for trading up, especially to a team who can now take yet another defensive player in just three picks time. I would describe this addition to the Chiefs D as 'not good on every play, but sometimes incredible'.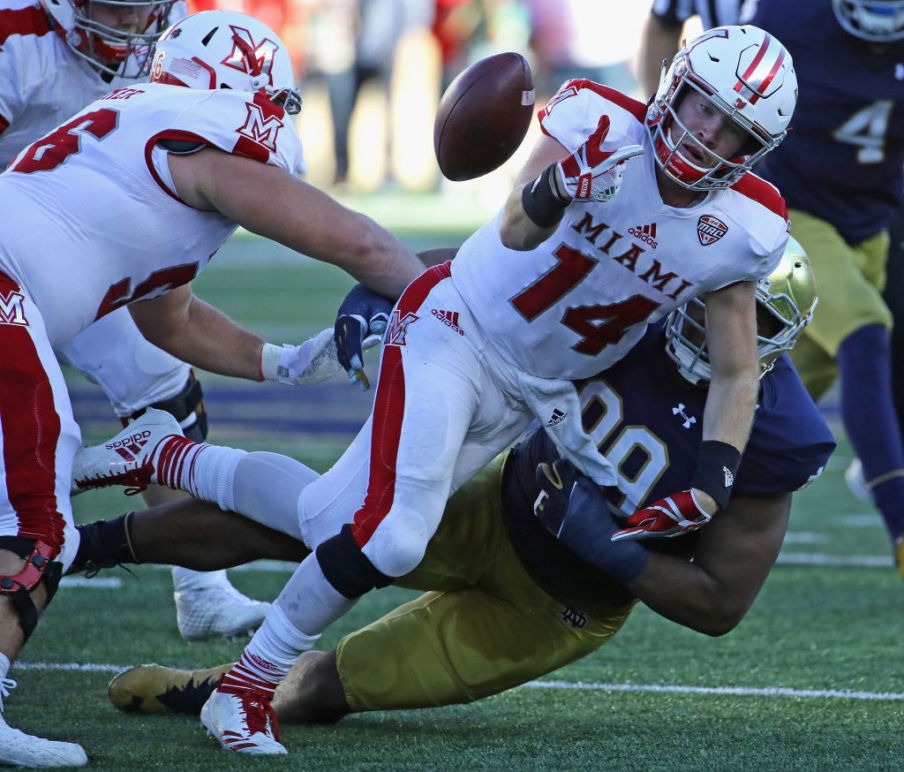 27. Oakland Raiders – Nasir Adderley (S, Deleware)
My favourite safety in the draft. Adderley is a physical, athletic, rangey player who can patrol the deep third of the field like nobody else in this class. His ability to play zone and react would be quintessential to upgrading this Raiders defense and picking him here at 27 is an absolute steal.
Whether he falls this far is not to be assumed though, as he may very well be the first Safety of the board. Similarly to Greedy Williams, I would be ecstatic to see it happen in real life, but it's far from a given.
The Raiders defense has now added at EDGE, CB and S in it's three first-round picks, and now they would have much more freedom to go for the best player available throughout the second and third days of the draft. They could even target the likes of Alabama Running Back Joshua Jacobs or an offensive lineman at #35 now, having done major work towards the defense in the first.
28. Los Angeles Chargers – Dalton Risner (OT, Kansas State)
This isn't a glamorous pick, but it's an opportunity to take a talented tackle prospect who can truly dominate defenders in the run and will be aggressive at the point of attack. Dalton Risner is also reliable and comfortable when setting up for pass protection.
You'll need superior technique to beat him, as he deals really well with a basic bull-rush nine times out of ten. The patience and technique are favoured over sheer brute-strength here, and Risner can nullify the less subtle attacks of an edge rusher with ease.
If this pick isn't glamorous it's at least functional, and the Chargers need to be functional if they're going to try and sustain their current success and try to build on it for when they find themselves on the other side of Christmas.
29. Kansas City Chiefs – Byron Murphy (CB, Washington)
As they had hoped when moving up into the first round, the Chiefs are able to address two defensive needs as early as possible. They are able to take the most versatile cornerback in the entire draft class with the 29th pick, having already taken a DT a few picks ago.
This trade has now enabled Kansas City to look for more opportunities to move up on day two, and/or see how the board falls between now and their next pick, which is now in the third round.
Murphy's ability in both man and zone coverage enable him to slot straight into any defensive scheme, and he can mix up his assignments while just generally dominating the passing game. He isn't a top-tier run-stopping corner, but he is competent enough and is so complete in coverage that he's worth it. This is especially true when you've already picked up a great pass-rushing DT in Tillery. Great value this late in the round.
30. Green Bay Packers (previously from New Orleans Saints) – N'Keal Harry (WR, Arizona State)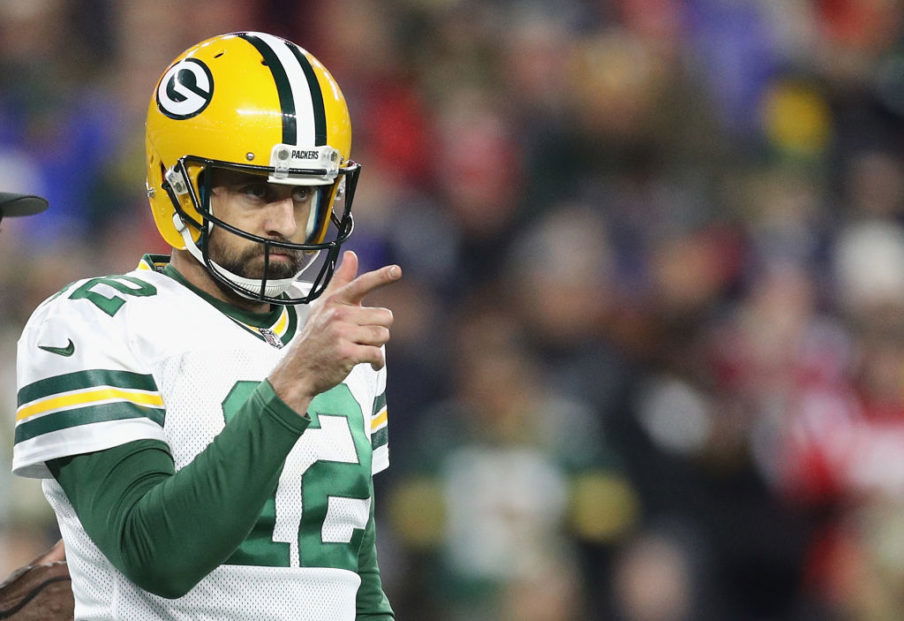 Yet another person for Aaron Rodgers to throw it at, please. The one bonus of being the GM in Green Bay is the simple fact that you can always default to a wide receiver when you've got number 12 stood back there in the shotgun.
N'Keal Harry is a brilliant prospect, physical but with impressive athleticism for a 6'3 receiver. His ability to catch the ball in traffic, contested, and away from his body makes him a versatile and reliable option for the spread offense the Packers operate.
In the absence of Randall Cobb, Harry could comfortably find himself in the slot for a lot of his reps. He is comfortable when a defender tries to be physical but will be even more difficult to cover when given a free release, allowing him to utilise his surprising acceleration.
His ability after the catch is deceptively good, and he can work inside and outside the numbers before and after the ball reaches his trustworthy hands. Rodgers will have a great weapon here and will bring the best out of this well-rounded X-receiver. Also, if T.J. Hockenson is even close to as good as he could be, he will draw a lot of attention.
31. Los Angeles Rams – Amani Oruwariye (CB, Penn State)
The Rams are near-enough the most complete roster in the league. There is no position of 'weakness' to address necessarily, so there's a real opportunity to keep an eye out for anyone who has fallen in the draft.
Saying that, I do also like the fit here of Amani Oruwariye out of Penn State. This disciplined Cornerback is comfortable in man and zone coverage, excelling in the latter. He is physical when the ball is in the air, but patient enough to cope against double-moves and adept route running. His athleticism is impressive, and if he can improve his fundamentals as a slightly inconsistent tackler, he legitimately has elite upside.
Los Angeles already have a good secondary, and a couple of very good cornerbacks who can support the new recruit in his first couple of years. Aqib Talib would be a great mentor for Oruwariye, and when the Rams need to give the older defensive veterans a break, this young star is capable of doing work in all types of coverage. The rich get richer.
32. New England Patriots – Noah Fant (TE, Iowa)
I hope this doesn't happen, but I couldn't find the second tight end out of Iowa a home in the first round anywhere else. In the wake of retirement from the legendary Rob Gronkowski, Noah Fant will now be filling some pretty big shoes. To fill those shoes, you need someone who can block like a lineman and release like a slot receiver.
Fant isn't TJ Hockenson, and his skills are definitely biased, but he's a great receiving tight end. He has good hands, smooth route-running and confidence in a fairly varied route-tree, which will set him up well in Foxboro. He can attack a ball at the height of his jump, and he can dominate in the passing game.
His run-blocking isn't comparable to Gronk, but he is at least competent enough for this to be something he improves over time. If Fant makes it all the way to the final pick of the round, the Patriots should be over the moon. But you obviously won't know whether they are or not by looking at Bill Belichick's face.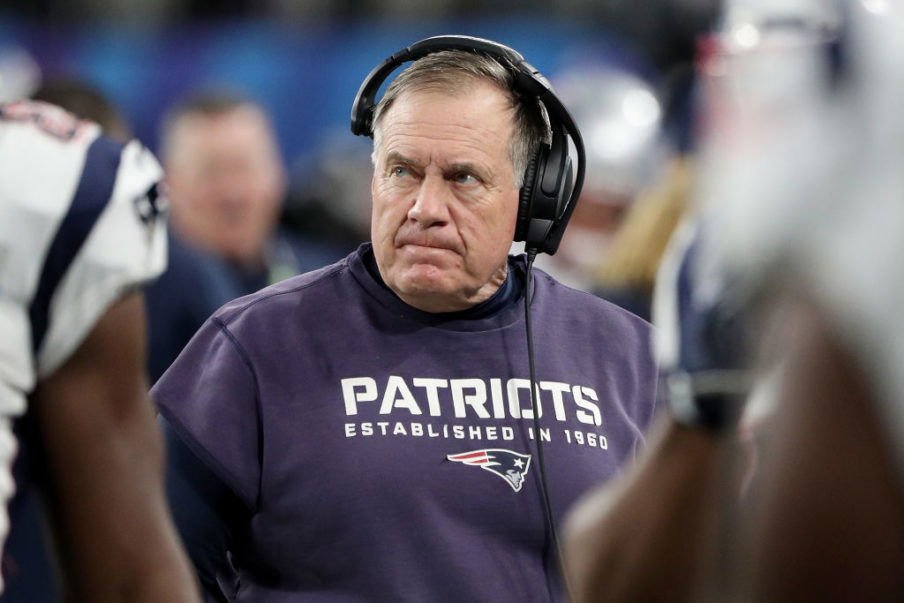 ---