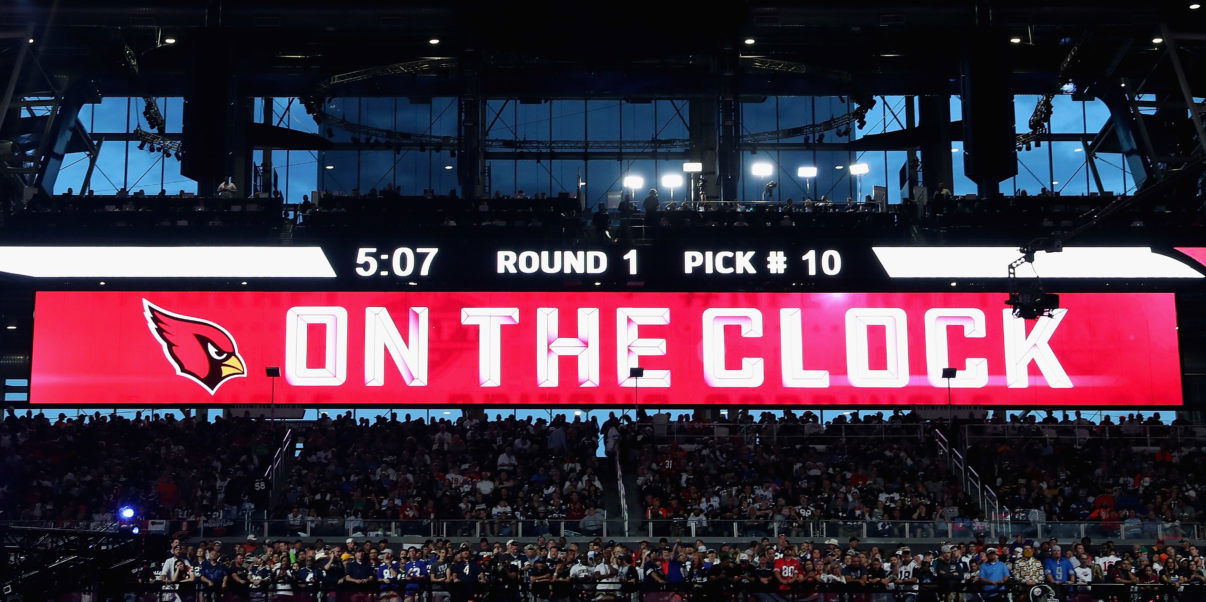 2019 NFL Mock Draft: Interactive Mock II
The second of this year's Read American Football interactive mock drafts took place on April 6th, two weeks after the first. Once again, the mock ran for two rounds, and teams were divided between the writers participating. In this instance, five writers were making picks:

Alex Murray: Detroit, Houston, LA Rams, New Orleans, NY Giants, Washington
David Howell: Atlanta, Buffalo, Kansas City, LA Chargers, Minnesota, NY Jets
Joe Hulbert: Arizona, Miami, New England, Philadelphia, Seattle, Tampa Bay
Sam Brown: Cincinnati, Green Bay, Indianapolis, Jacksonville, San Francisco, Tennessee
Tyler Arthur: Baltimore, Carolina, Cleveland, Dallas, Denver, Oakland, Pittsburgh
Alan Cole, a staple of these interactive mocks, made his commissioner debut in this one.
A reminder that the emphasis for these interactive mock drafts isn't predicting what will happen on a pick-by-pick basis, but capturing the dynamic of the draft – the drama, the dilemmas, and the deals. (Trades are very much on in these mocks, though they cannot be made between two teams run by the same person.) This mock definitely doesn't produce a textbook outcome…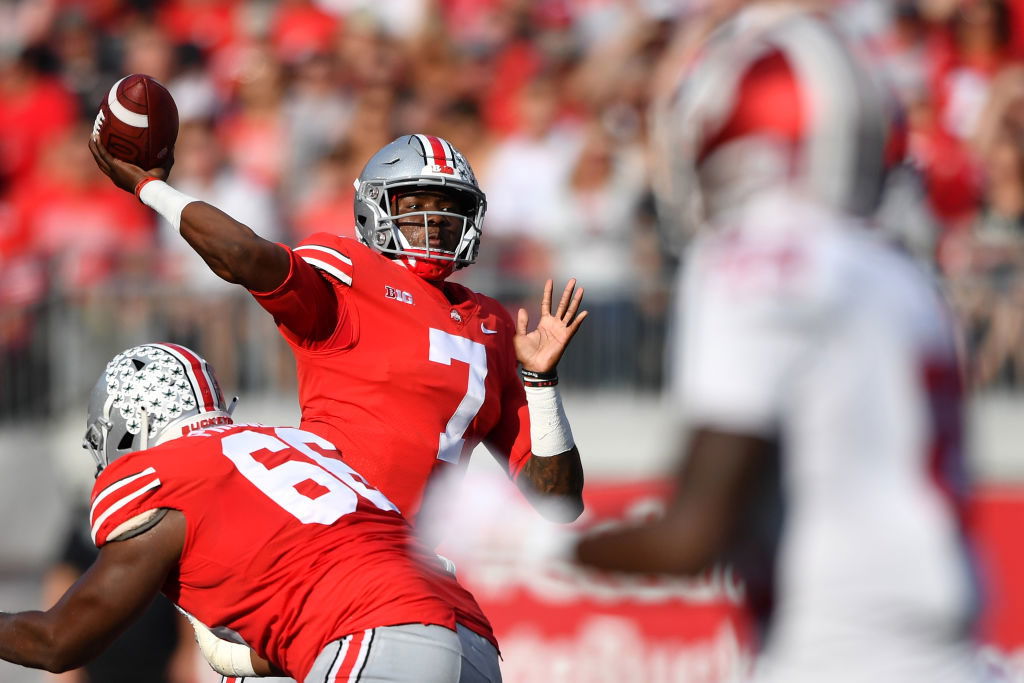 Picks 1-8: The Opening Lines
1) Arizona Cardinals – Kyler Murray (QB, Oklahoma)
Standard opening.
2) San Francisco 49ers – Nick Bosa (EDGE, Ohio State)
This pick was run in.
TRADE: New York Jets trade pick #3 to New York Giants for pick #6 and pick #37
3) New York Giants (from New York Jets) – Dwayne Haskins (QB, Ohio State, pictured)
Alex kinda slid out of "what I would do" mode and into "it's very Giants" mode here by his own admission, but would Gettleman really move up for a QB? Then again, as David (Howell, not Gettleman) pointed out, "if you can watch Eli and think you're set at QB, you're a bat."
4) Oakland Raiders – Josh Allen (EDGE, Kentucky)
Alex joked that "Gruden thought he'd traded for Josh Allen the QB." This Allen is significantly more polished and pro-ready than the Wyoming gunslinger. Meanwhile, Tyler said "Joe loves this." Probably because Joe was now on the clock with the Bucs…
5) Tampa Bay Buccaneers – Quinnen Williams (DT, Alabama)
…and could do that. "Personally I see no way Quinnen gets to 5," Alan mused. "That's a heist."
6) New York Jets (from New York Giants) – Jawaan Taylor (OT, Florida)
The Jets have their franchise QB, or they think they do at least. Giving him a franchise tackle would probably help.

7) Jacksonville Jaguars – Ed Oliver (DT, Houston)
Welcome back to the top of the draft, Ed Oliver! "BOW TO ME," roared Sam, as both Joe and Alan approved of the pick. "Gotta replace Malik (Jackson), why not do it with a blue chip prospect?" Alex tried to trade down from this pick with the Lions, but nobody bit…
8) Detroit Lions – Brian Burns (EDGE, Florida State)
Maybe they should have done. Joe admitted he thought about taking Burns at 5, and Sam and Tyler also praised the pick. Six linemen of some kind in the first eight picks!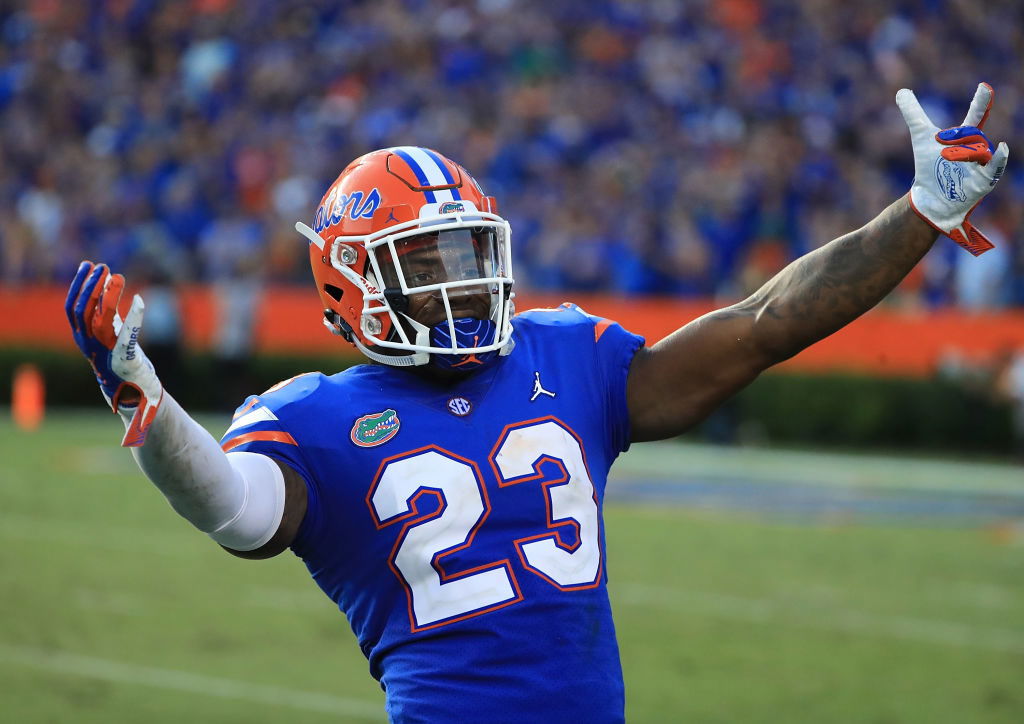 Picks 9-16: Where Things Get Weird
9) Buffalo Bills – T.J. Hockenson (TE, Iowa)
Not a pick Sam liked. "I don't care how good he is, I couldn't draft a TE ninth overall." Alex noted his Lions took Eric Ebron tenth overall with Odell Beckham and Aaron Donald on the board. "We made him a Pro Bowler lmao," pointed out Colts fan Sam.

10) Denver Broncos – Drew Lock (QB, Missouri)
"Didn't enjoy that one," Tyler said. "I didn't want to do it, but I think it's going to." He probably wasn't sure what he wanted, so went with the Elway man crush.
Bengals on the clock. "If Sam doesn't go OL here he's cancelled."
11) Cincinnati Bengals – Garrett Bradbury (C, NC State)
Not cancelled, but… Bradbury with Jonah Williams on the board?!? That's probably the first S Club moment of this draft.
12) Green Bay Packers – Chauncey Gardner-Johnson (S/CB, Florida, pictured)

Quickly followed by the second! Surely CGJ would have at worst been in range to be a trade-up target from 30?
TRADE: Miami trade pick #13 to Minnesota for pick #18 and 2020 second-round pick
13) Minnesota Vikings (from Miami) – Jonah Williams (OT/G, Alabama)
Joe praised the pick. Sam snarked about "when you're willing to pay a QB tax for a tackle – Vikings things" – to which David replied with "when you're able to do that because you got your QB for 0 picks in the first place." Giving that QB a man who could plausibly upgrade literally any spot on the Vikings line? He'll like that.
14) Atlanta Falcons – Montez Sweat (EDGE, Mississippi State)

"A guy with a fragile heart in Atlanta," snarked Tyler. "The Falcons pass rush did need a pulse," David replied in defending a pick (that had the Alan seal of approval)."They had no hope of beating anyone without him," Tyler deadpanned.
15) Washington – Devin Bush (LB, Michigan)

Dead right to take a LB named Devin at that point, at least in the context of…
TRADE: Washington trades pick #46 to Arizona for QB Josh Rosen
…but THAT Devin?!

16) Carolina Panthers – Rashan Gary (DE, Michigan)
And another Michigan defender off the board.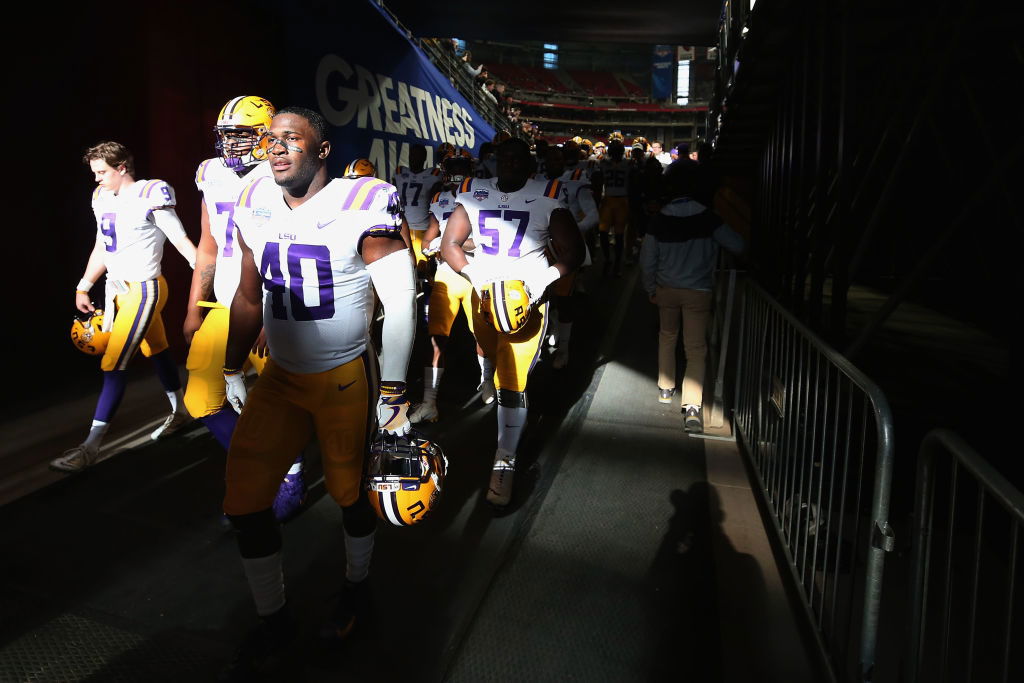 Picks 17-32: Catch A Falling Star
17) New York Giants (from Cleveland) – Jeffery Simmons (DT, Mississippi State)

Turning the OBJ pick into a flag-laden defensive lineman would… be contentious.
18) Miami Dolphins (from Minnesota) – Cody Ford (G/OT, Oklahaoma)
And still Devin White falls. So does D.K. Metcalf for that matter.
19) Tennessee Titans – Clelin Ferrell (EDGE, Clemson)
20) Pittsburgh Steelers – Devin White (LB, LSU, pictured)

That Steelers pick was a run-the-card-in moment if ever there was one. "Moonwalking across the stage with this one," Tyler noted.
Seattle wanted to move down. Devin White going off the board might have made that harder…

TRADE: Seattle trade pick #21 to Jacksonville for pick #38 and pick #69
21) Jacksonville Jaguars (from Seattle) – Noah Fant (TE, Iowa)
…or not.
22) Baltimore Ravens – Chris Lindstrom (G, Boston College)

David liked the fit in Baltimore "seeing as the Ravens basically run the BC offense" – and Tyler said he'd eyed that fit for the same reason.
23) Houston Texans – Andre Dillard (OT, Washington State)

This is the exact opposite of a hot take, even with every DB other than (erm) Chauncey Gardner-Johnson still on the board.
24) Oakland Raiders (from Chicago) – Greedy Williams (CB, LSU)

Not anymore. Amusingly, Alan called this "a ridiculous steal" and Joe got the S Club out, possibly ironically but there absolutely are some who see a bust in this man.
25) Philadelphia Eagles – Byron Murphy (CB, Washington)
26) Indianapolis Colts – Christian Wilkins (DT, Clemson)

Two nice defensive need picks there.
27) Oakland Raiders (from Dallas) – Nasir Adderley (S, Delaware)
28) Los Angeles Chargers – Dalton Risner (OT, Kansas State)
Two teams who could've taken Metcalf, but went with bigger need picks instead. Slight surprise here might have been there being no trades. (Arizona from 33 with an extra second and a rookie QB to help?)
Tyler admitted he considered Risner for the Raiders but felt "defense should be the priority wherever possible."
29) Kansas City Chiefs – D.K. Metcalf (WR, Ole Miss)

Alan announced this pick as "a David Howell bomb." In practice he would be catching Patrick Mahomes bombs. Tyler said he "would love to see that" in reality, adding "he needs a good QB and to not be the only good WR, and he could be brilliant – sounds like KC to me."
30) Green Bay Packers (from New Orleans) – Irv Smith Jr. (TE, Alabama)
No Gronk replacement for you @Patriots
31) Los Angeles Rams – Dexter Lawrence (DT, Clemson)
32) New England Patriots – Jerry Tillery (DT, Notre Dame)

Two defensive tackles for the defending conference champions. Solid picks for win-now teams on the #BigGuysGetTired principle.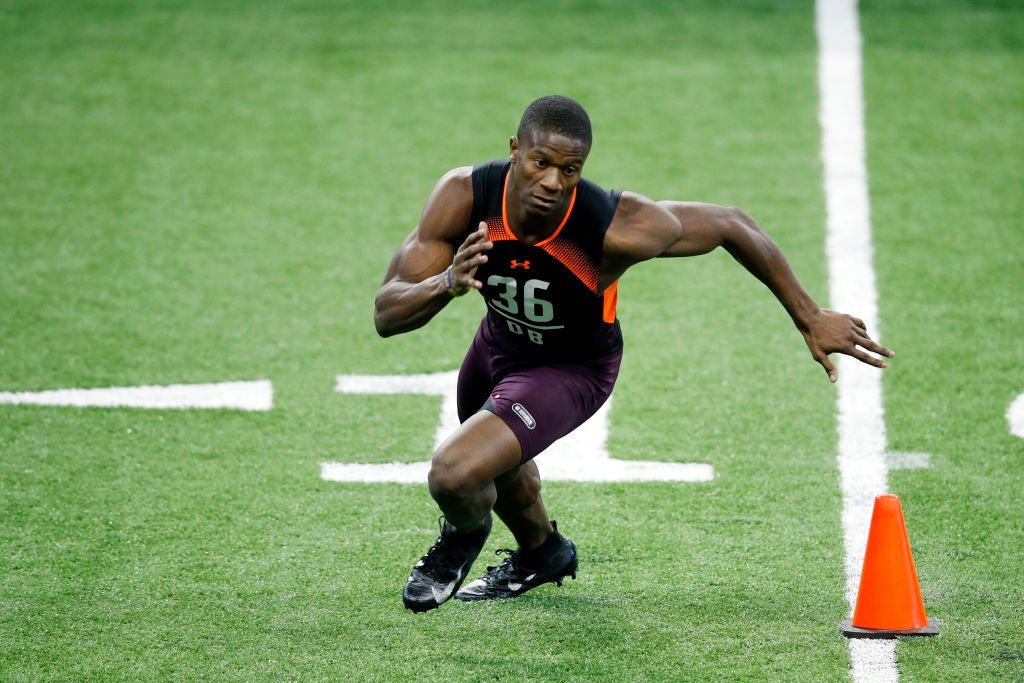 Picks 33-48: A Big Run On Smaller Men
33) Arizona Cardinals – Kelvin Harmon (WR, NC State)

Joe said it could just as easily have been Deebo Samuel or Hakeem Butler, whom he grades very similarly. Alex noted that Christian Kirk was their second-rounder last year. "Who killed him?" Sam asked.
34) Indianapolis Colts (from New York Jets) – Hakeem Butler (WR, Iowa State)

"The butler did it," he added.
35) Oakland Raiders – Josh Jacobs (RB, Alabama)
OFFENSE!
36) San Francisco 49ers – N'Keal Harry (WR, Arizona State)

"Quite a skill position run here." Alan observed. Tyler loved breaking up the WR flow with Jacobs.
37) New York Jets (from New York Giants) – Chase Winovich (EDGE, Michigan)
38) Seattle Seahawks (from Jacksonville) – Deionte Thompson (S, Alabama)
Two defensive need picks, there. Joe fancied Pete Carroll to address Thompson's excessive willingness to gamble on plays.
39) Tampa Bay Buccaneers – DeAndre Baker (CB, Georgia)
40) Buffalo Bills – Rock Ya-Sin (CB, Temple, pictured)
And we have a DB run! "Bills already risked the franchise on a high-ceiling raw QB, why not get the same at CB?"
41) Denver Broncos – Charles Omenihu (DT/DE, Texas)
42) Cincinnati Bengals – Michael Deiter (OT, Wisconsin)

Sam noted that he double-dipped on OL help for the Bengals. "I think you have to," Alan opined. "Andy Dalton might die if they don't."
43) Detroit Lions – Kahale Warring (TE, San Diego State)

S CLUB! Alex's justification was "some Lions fansite drafted him in the second." He thought about taking a corner before seeing "speed" listed as a weakness on his scouting report and getting bad memories of Teez Tabor.
44) Green Bay Packers – Zach Allen (DE, Boston College)
45) Atlanta Falcons – Dre'Mont Jones (DT, Ohio State)
46) Arizona Cardinals (from Washington) – Daniel Wise (DT, Kansas)
We had a run of WRs and DBs, but – to quote Scooter – we're back to the heavyweight jam.

47) Carolina Panthers – Yodny Cajuste (OT, West Virginia)
48) Miami Dolphins – Erik McCoy (C, Texas A&M)
Three DL, then two OL. Alan called the McCoy pick "really nice value, especially if the plan for Miami is to go QB next year." Which, considering they traded down for a 2020 pick, would seem a safe assumption in this scenario.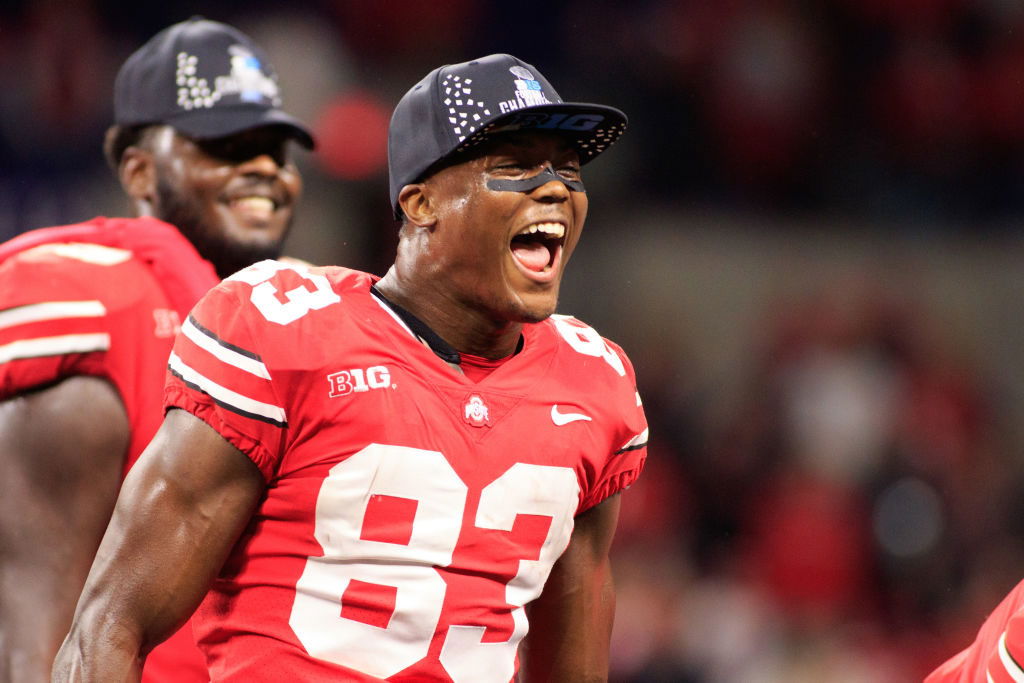 Picks 49-64: Snark Reigns
49) Cleveland Browns – Amari Oruwariye (CB, Penn State)
David called that a value pick, but Joe argued "he's a guy I see busting" as he "struggles with his back to the ball."
50) Minnesota Vikings – Tytus Howard (OT, Alabama State)

Another OL double-dipper!
51) Tennessee Titans – Juan Thornhill (S, Virginia)

52) Pittsburgh Steelers – Deebo Samuel (WR, South Carolina)

Tyler said he'd pencilled in the Samuel pick "before we even started."
53) Philadelphia Eagles (from Baltimore) – Riley Ridley (WR, Georgia)
TRADE: Houston trades pick #54 to Los Angeles Chargers for pick #60 and pick #130
Welcome back to trading, folks!
54) Los Angeles Chargers (from Seattle via Houston) – Terry McLaurin (WR, Ohio State, pictured)
David liked his combination of route-running skill, athletic testing, and widely-praised character.
55) Houston Texans – Darnell Savage (S, Maryland)
Worth noting at this point that Joe was complaining about the batting on MLB The Show, which he was playing on and off during slow periods in the draft for him. "Might bunt," he said after another well-timed hit turned into an underwhelming line drive.
56) New England Patriots (from Chicago) – Sean Bunting (CB, Central Michigan)

This combination of comment and pick did not go unnoticed by (fellow MLB The Show player) Tyler. Alan, meanwhile, noted it "wouldn't be a draft without the Pats going small school."
57) Philadelphia Eagles – Rodney Anderson (RB, Oklahoma)

Joe calls Anderson his "favourite prospect" which is some statement.
58) Dallas Cowboys – Jachai Polite (EDGE, Florida)

Polite's fall ends. David called this a "very Cowboys pick."
59) Indianapolis Colts – Christian Miller (LB, Alabama
60) Houston Texans (from Los Angeles Chargers) – Lonnie Johnson (CB, Kentucky)
61) Kansas City Chiefs – Jaylon Ferguson (EDGE, Louisiana Tech)
Alan liked that pick of the small-school sack machine.
62) New Orleans Saints – Daniel Jones (QB, Duke)
Tyler was stunned. Alan was laughing at the idea that "the successor to Brees is going to be a Sean Mannion 2.0" – evidently not a fan. Sam, for his part, said he'd have done the same.
63) Kansas City Chiefs (from Los Angeles Rams) – Johnathan Abram (S, Mississippi State)
64) New England Patriots – Jace Sternberger (TE, Texas A&M)

Joe took that pick as a chance to laugh at the Kahale Warring one again. And with that, we're done!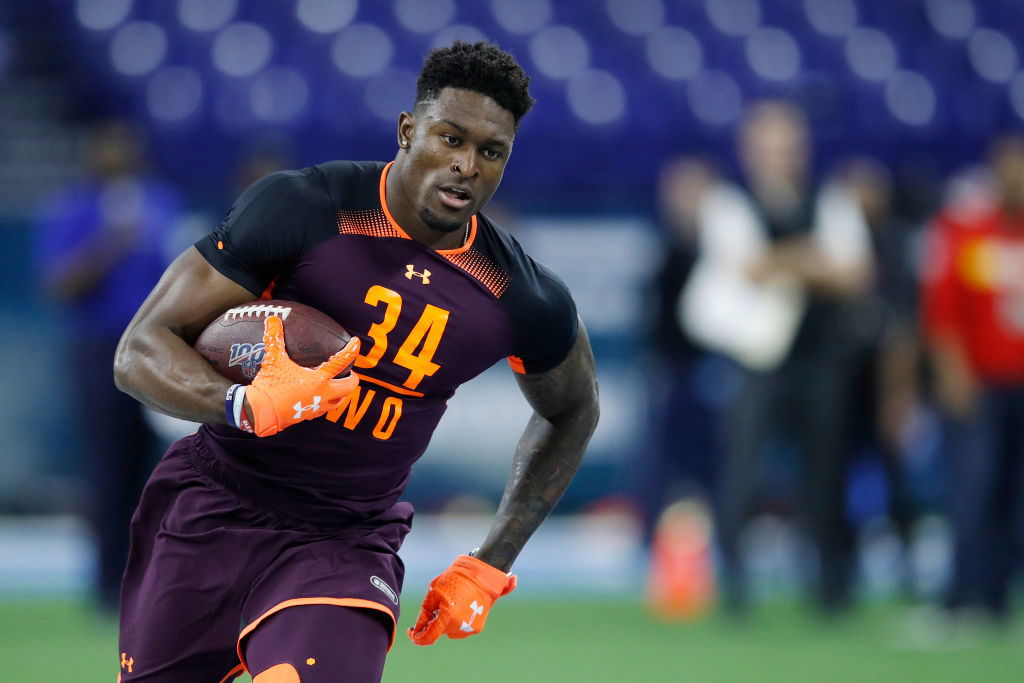 Takeaways
Well, the fall of D.K. Metcalf (pictured) is certainly one. Ditto Devin White. Sometimes players just fall when you least expect them to, and that's now happened in both 2019 interactive mocks, meaning this can genuinely be established as A Trend.
Positional runs were a notable trend in this one – not just the obvious EDGE one out of the gate, but several periods of picks being streaky in the second round – and that's a significant takeaway.
Above all, a reminder that it only takes one team to fall in love with a guy for him to go off the board earlier than you think. That's how we're now expecting the Murray opening to the draft, but there'll be more where that came from, there always is. That might be the single biggest takeaway from a mock where the first round in particular was one of the least chalky you're likely to see all year.
---