2019 NFL Mock Draft: Alan Cole, April 5, Two Rounds
It's April, which only means one thing in the NFL. It's drafting season.
The build-up to this draft has been unlike any other one in recent memory, with questions swirling about what the domino effect of the Cardinals really drafting Kyler Murray would be. Where does Josh Rosen end up? How does that impact the rest of the quarterback class?
Fear not. I'm here to answer those questions, and plenty more, with this two-round mock draft.
1. Arizona Cardinals – Kyler Murray (QB, Oklahoma)
I have doubts on if this will actually work, but there's no point mocking anybody else here at this point.
For better or worse, the Kliff Kingsbury came to Arizona to break the mold on how to rebuild a franchise. The Cardinals are going to take a quarterback with their first pick for the second year in a row. The only question left is what becomes of last year's selection.
2. San Francisco 49ers – Nick Bosa (EDGE, Ohio State)
One of the many ripple effects of the Cardinals taking a chance on Murray will be letting the best player in the draft fall to a division rival. Bosa would be a no-brainer pick for the 49ers.
3. New York Jets – Quinnen Williams (DT, Alabama)
I have Williams as the second player on my board. The tape speaks for itself, and his performance at the combine backs it up if you somehow weren't sold already. Williams has freakish athleticism for his size and will eat interior offensive linemen for breakfast at the next level.
4. Oakland Raiders – Josh Allen (EDGE, Kentucky)
After trading Khalil Mack, the Raiders crashed to the bottom of the league in sacks last season. Imagine that. Trading the best pass rusher in the league might lead to less pressure on the quarterback.
Oakland finished last season with 13 sacks last season. No other team in the league even had less than 30. If this pick is anything other than best edge rusher available, there will be pitchforks out in Oakland. Allen is that player.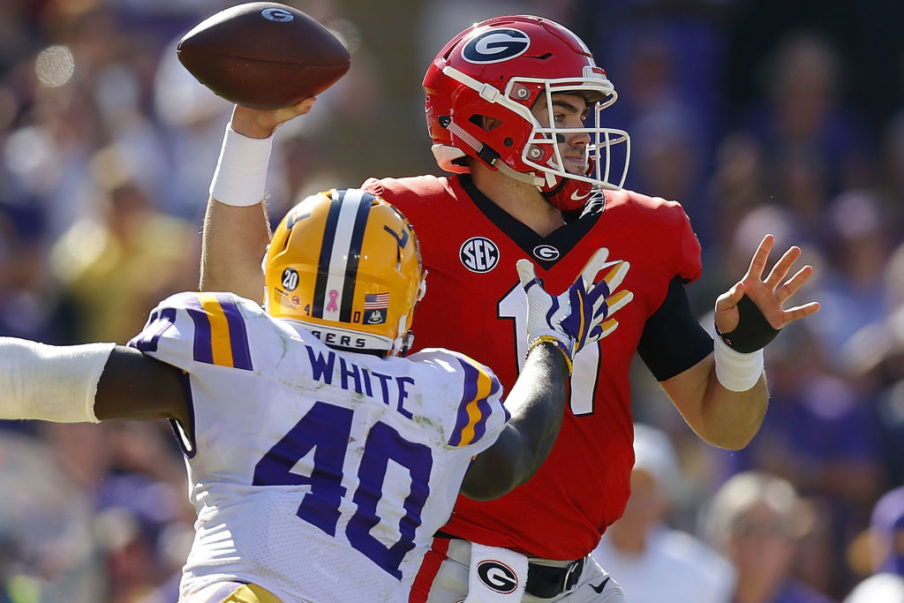 5. Tampa Bay Buccaneers – Devin White (LB, LSU)
Is this a reach? Perhaps. But the Buccaneers have been known to do that in the past, from Roberto Aguayo to Vita Vea.
I actually think Tampa made the right decision not handing Kwon Alexander the megadeal he ended up getting from San Francisco, but they still have a gaping hole at linebacker because of it. White can slide right in to plug the hole as a week one starter.
6. New York Giants – Brian Burns (EDGE, Florida State)
This will be controversial.
Nothing against Burns as a player, but Dwayne Haskins would be the right choice here. I don't trust the Giants to make said choice, so they'll add to their depressing defense instead.
7. Jacksonville Jaguars – Jonah Williams (OT, Alabama)
The big question now is where does Dwayne Haskins end up. This would have been a great spot a month ago, but now that the Jaguars have signed Nick Foles, Haskins is off the table.
Instead, they take a guy to protect Foles after last season's debacle on the offensive line.
8. Detroit Lions – Rashan Gary (EDGE, Michigan)
This is the year of the edge rusher, with Gary becoming the fourth one to be selected in the top eight picks.
Everyone is talking about Montez Sweat as the combine stud out of the defensive ends this year, but Gary was almost as good in Indianapolis. There's a solid skillset to work with here, and it will lead to Matt Patricia taking a player from his own backyard in Ann Arbor.
Trade: Buffalo sends pick #9 to Washington in exchange for picks #15, #46, and a 2020 second-round pick
9. Washington (from Buffalo) – Dwayne Haskins (QB, Ohio State)
Once Haskins fell past New York, the war room in Washington became frantic while trying to move up to finally get their quarterback of the future. There was no need to trade up with the quarterback-stable Jaguars or Lions, but a pair of threats loomed in Denver and Cincinnati.
Washington gives up three picks, including one in next year's draft to make sure they can get their man in Haskins. Regardless of how his career goes, the Giants passing on a quarterback and letting him go to a division rival will be discussed for years to come.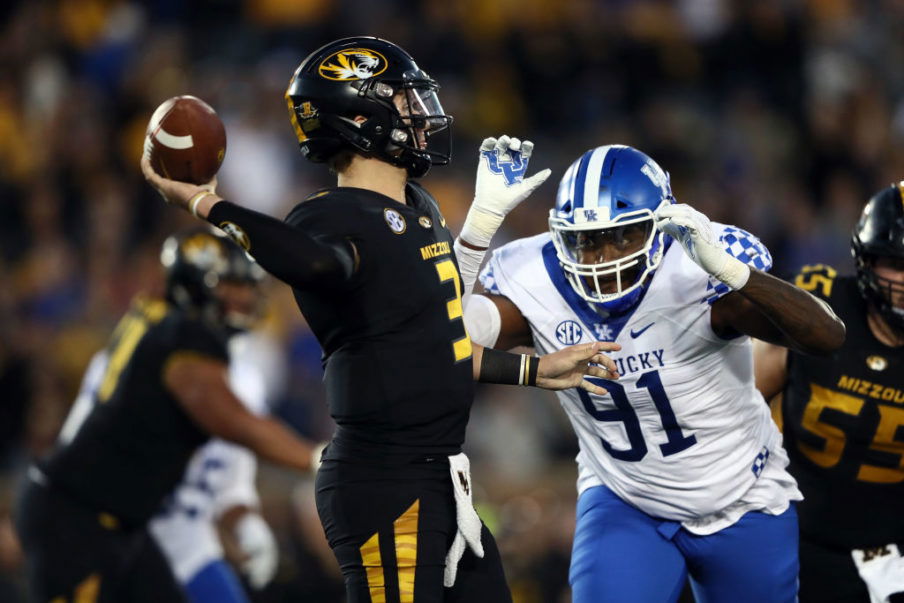 10. Denver Broncos – Drew Lock (QB, Missouri)
Well, here we go again.
The John Elway quarterback merry-go-round continues to spin in Denver, and I don't have much faith that this one will work out better than any of Denver's recent attempts. But the Broncos will want to try again at under center, and Lock is really the only first-round caliber option left at this point.
Trade: Cincinnati sends pick #11 to Houston in exchange for picks #23, #54, and a 2020 second-round pick
11. Houston Texans (from Cincinnati) – Jawaan Taylor (OT, Florida)
The Texans have picks to burn with a pair of second-round selections, and a desperate need to protect Deshaun Watson after allowing an incomprehensible 62 sacks in 16 games last season.
Taylor will be a plug-and-play starter on a unit desperately lacking them, and with the three main quarterback prospects now off the board, Cincinnati can afford to trade down without missing one of its big targets.
12. Green Bay Packers – Joe Hockenson (TE, Iowa)
A lot of people have mocked this pick, and I'll join in with the crowd. Hockenson is great at both key aspects of being a tight end at the next level, and might be the most talented skill-position player in this draft.
13. Miami Dolphins – Montez Sweat (EDGE, Mississippi State)
The defensive standout of the combine will be an excellent building block for Brian Flores to start constructing his defense with.
The Dolphins are in play for a quarterback, but that might have to wait for next year's quarterback-rich draft after Lock fell off the board.
14. Atlanta Falcons – Ed Oliver (DT, Houston)
Dan Quinn catches a falling star here in Oliver. The Houston man was a projected top-five pick for most of the season, but has been passed by other rivals on the defensive line throughout the draft cycle.
Quinn can put Oliver with Grady Jarrett and Takkarist McKinley to be the core of the defensive line for years to come.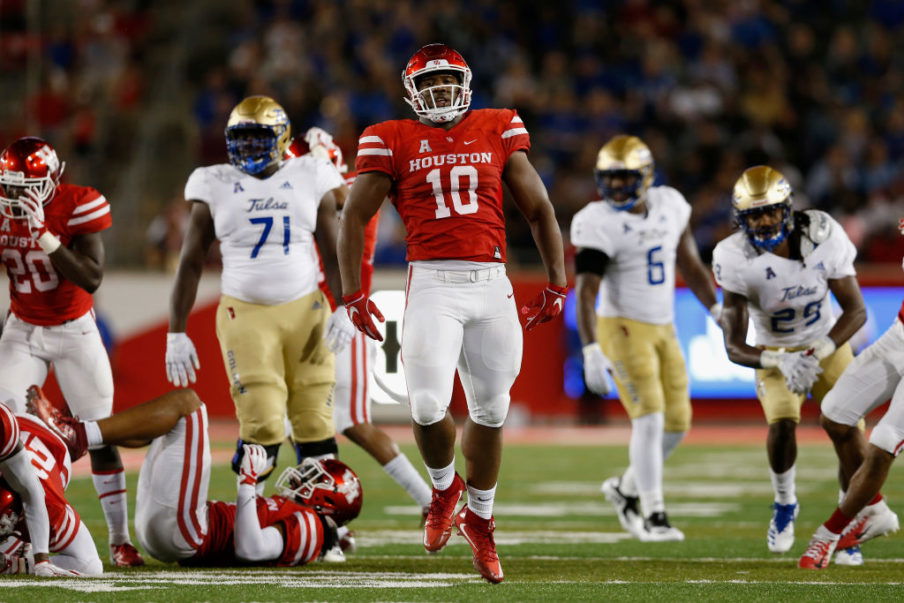 15. Buffalo Bills (from Washington) – D.K. Metcalf (WR, Ole Miss)
Two picks after the best defensive player at the combine goes off the board, Buffalo takes the best offensive star from Indianapolis.
The Bills took a run at Antonio Brown and nearly landed the former Pittsburgh receiver, and they have a young quarterback with a cannon for an arm that needs a receiver to run under his deep balls.
Metcalf has had all kinds of issues with his agility and changing directions, but when it comes to getting a straight-line speed demon to catch up to deep balls, he's about as good as they come.
16. Carolina Panthers – Cody Ford (OT/G, Oklahoma)
It just makes sense. With Taylor and Williams off the board, the Panthers need to take the next best offensive lineman available to help keep Cam Newton upright after an injury-plagued 2018 season.
17. New York Giants (from Cleveland) – Greedy Williams (CB, LSU)
One of the fixtures of recent drafts has been secondary stars falling into the teens. The Chargers found Derwin James at this same spot last season, in 2017 the Colts managed to snatch Malik Hooker at No. 15, and in 2016 the Falcons grabbed future Pro Bowl safety Keanu Neal in this No. 17 spot.
This year that man will be Greedy Williams, the LSU cornerback who many have as a top 10 prospect. He adds some life to what might be one of the least exciting units in the league, and will be one of the steals of the draft here.
18. Minnesota Vikings – Andre Dillard (OT, Washington State)
This unit was a disaster last season, and it might get worse in 2019 if the Vikings don't do something with Nick Easton and Mike Remmers gone. Dillard will slot in at right tackle opposite Riley Reiff in an effort to give Kirk Cousins a chance in the pocket.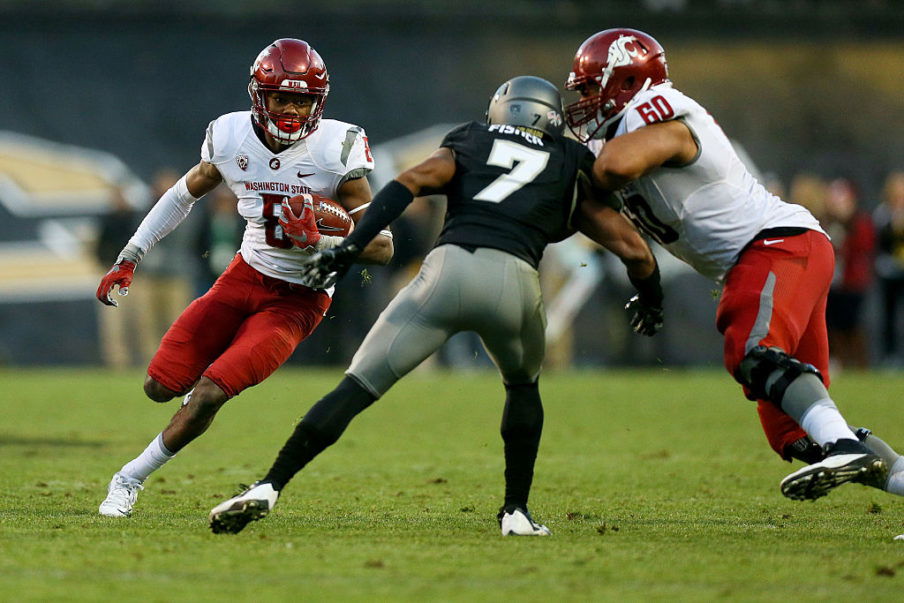 19. Tennessee Titans – Clelin Ferrell (EDGE, Clemson)
The first member of Clemson's National Championship defensive line is off the board, and he's heading to Nashville. Tennessee did a good job surrounding Marcus Mariota with more talent in free agency, but the defensive line still has question marks. Cameron Wake can help mentor Ferrell and at least provide a foundation up front.
20. Pittsburgh Steelers – A.J. Brown (WR, Ole Miss)
I'm not sure if this is the right selection for Pittsburgh, but they will absolutely be in the market to replace a wide receiver after trading Antonio Brown to Oakland.
Brown flourished in a WR2 role at Ole Miss with Metcalf, and there will be an opportunity to create the same type of situation in Pittsburgh with JuJu Smith-Schuster.
Trade: Seattle sends pick #21 to Kansas City in exchange for picks #29, #61, and #167
21. Kansas City Chiefs (from Seattle) – Jeffrey Simmons (DT, Mississippi State)
This would be maybe the least surprising trade in NFL Draft history, but it makes sense.
The Seahawks only have four picks and need to acquire more draft capital by any means necessary. The Chiefs need to throw caution to the wind and get some help on defense while Patrick Mahomes is still on his rookie deal.
Simmons has off-the field issues that have sent him down draft boards, but he has the high-end talent to put Kansas City over the edge in the hunt for the franchise's first Lombardi Trophy in almost half a century.
22. Baltimore Ravens – Erik McCoy (C, Texas A&M)
If the Ravens are going to commit to what it looks like they are going to after the first year of the Lamar Jackson experiment, building a strong unit up front is going to be crucial. The first draft pick of the new regime in Baltimore will fit in well for what they're trying to build.
23. Cincinnati Bengals (From Houston) – Devin Bush (LB, Michigan)
This is a pick the Bengals could have made with their original selection at No. 11 and it would have made sense. A run of offensive linemen with a pair of receivers mixed in contributed to Bush's slide, and the cutting of Vontaze Burfict leaves a gap at linebacker.
The Bengals would run this card in if they get the chance, especially at this value.
24. Oakland Raiders (from Chicago) – Christian Wilkins (DT, Clemson)
Bush would have been great here, but in this scenario the Raiders will have to "settle" for the second member of that elite Clemson defensive line. Wilkins will go with Josh Allen for the first pieces of a total overhaul of the defense.
25. Philadelphia Eagles – Dexter Lawrence (DT, Clemson)
Back-to-back Clemson defensive tackles, and this pick is all about value for a team without a lot of holes. The Eagles can afford to take a shot on a falling star like Lawrence, and add can start him out as a depth piece on an already strong defensive front.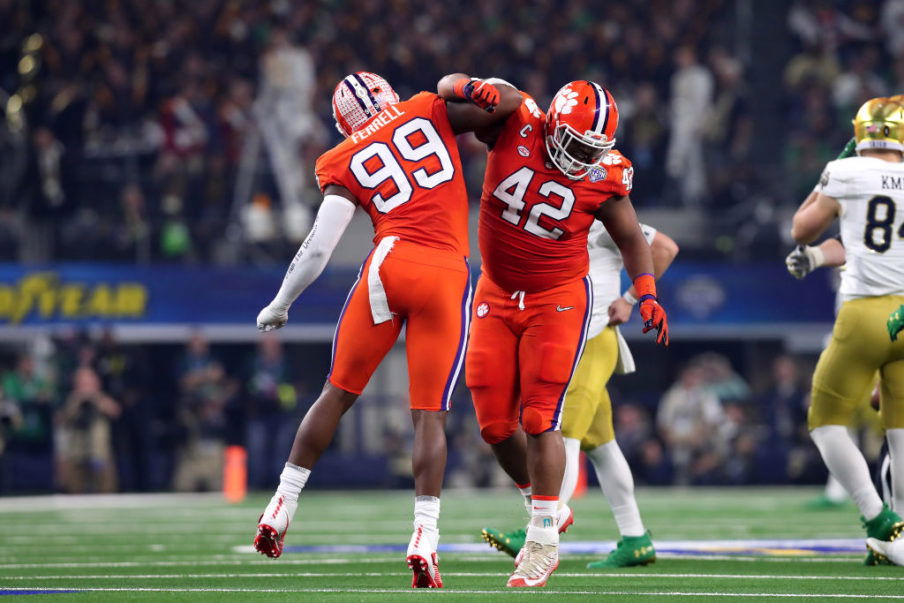 26. Indianapolis Colts – Jerry Tillery (DT, Notre Dame)
A defensive tackle party broke out at the draft, with the third consecutive one flying off the board. The Colts stay in-state for a combination of a need pick and a risk pick on a player who has shot up boards recently.
27. Oakland Raiders (from Dallas) – Bryon Murphy (CB, Washington)
I mocked this one for myself when I was controlling the Raiders in our recent interactive mock, and I'm sticking with it here. I like the fit, and any defensive pick for the Raiders at this point is a good one. This time they strengthen the secondary after two picks on the defensive line.
28. Los Angeles Chargers – Chauncey Gardner-Johnson (S, Florida)
Derwin James is locked in at one safety spot after a fantastic rookie season, and Gardner-Johnson can slide right into the other one to give the Chargers one of the best safety tandems in the league.
Trade: Seattle sends pick #29 to Jacksonville in exchange for picks #38 and #69
29. Jacksonville Jaguars (from Kansas City via Seattle) – Noah Fant (TE, Iowa)
Fant would be a steal at this point in the draft, and the Jaguars need to do everything they can to surround Nick Foles with more talent on a hapless Jacksonville offense. For Seattle, a second trade down of the first round is just about replenishing as many picks as possible.
30. Green Bay Packers (from New Orleans) – Parris Campbell (WR, Ohio State)
This will be the second weapon the Packers have added for Aaron Rodgers in the first round, and it's never idea to do that. Campbell has an enormous catch radius to make up for being a little bit undersized and slides into my first round with that skillset.
Trade: Los Angeles Rams sends pick #31 to Buffalo in exchange for picks #40 and #74
31. Buffalo Bills (via Los Angeles Rams) – Josh Jacobs (RB, Alabama)
A team in desperate need of some playmakers? Yep. A team trying to win quickly while their quarterback is still on a rookie contract? Also yes. And a team with some picks to burn after trading down? Buffalo fits all three bills. It makes sense for them to take a chance on a guy like Jacobs for the extra year of control at the end of the first round in a weak running back class.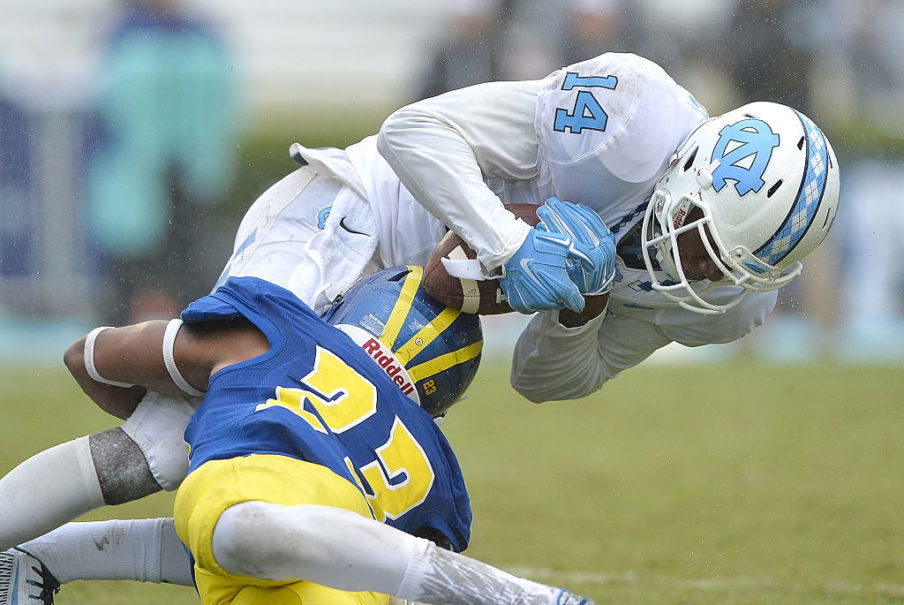 32. New England Patriots – Nasir Adderley (S, Delaware)
Mocking for the Patriots is almost impossible, but I took a stab at it anyway. Adderley is good value, the exact type of small-school guy Bill Belichick usually goes for, and would provide some cover for aging safeties Patrick Chung and Devin McCourty.
33. Arizona Cardinals – Marquise Brown (WR, Oklahoma)
The Cardinals got their quarterback. What now? Basically everything to help said quarterback be successful immediately. Reuniting Murray with a receiver he loved going to in college is a good start.
34. Indianapolis Colts (from New York Jets) – N'Keal Harry (WR, Arizona State)
Devin Funchess probably isn't going to fix the receiving corps on his own. Harry adds huge size and strength to Andrew Luck's receiving corps.
35. Oakland Raiders – Deionte Thompson (S, Alabama)
Raiders. Defense. You know the drill at this point.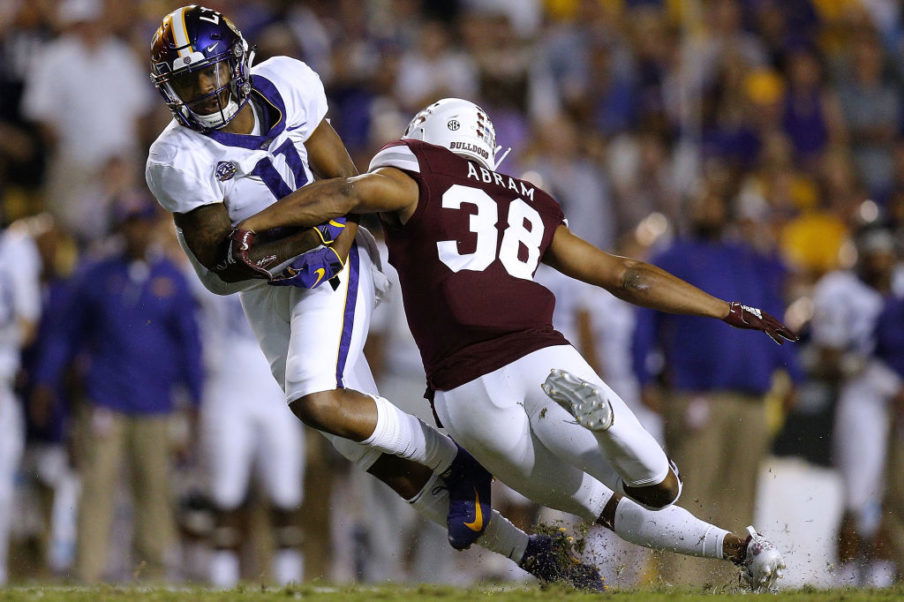 36. San Francisco 49ers – Johnathan Abram (S, Mississippi State)
This might be the reach, but the 49ers need a safety and Thompson going off the board forces them into taking another SEC safety.
Trade: New York Giants send pick #37 to Arizona for Josh Rosen
37. Arizona Cardinals (from New York Giants) – Dalton Risner (OT, Kansas State)
Yep, here we are. The Giants passed on Rosen last year, and 12 months later it all comes full circle with the former UCLA man ending up in the Big Apple. The Giants get to add a quarterback on a rookie deal while they still have Saquon Barkley on one, and the Cardinals are officially all in on Murray.
With the pick, they get a little bit of protection for Murray.
38. Seattle Seahawks (from Jacksonville) – Chris Lindstrom (G, Boston College)
The Seahawks will continue to establish the run up front with some more beef in the middle of the offensive line.
39. Tampa Bay Buccaneers – Juan Thornhill (S, Virginia)
Welcome to the safety run portion of our program. The Bucs took two corners in the second round last year, but you can never have too much help back there in the pass-happy NFC South.
Trade: Los Angeles Rams sends pick #40 to Kansas City in exchange for 2020 second-round pick and 2020 third-round pick
40. Kansas City Chiefs (via Los Angeles Rams) – Garrett Bradbury (C, North Carolina State)
For the second time this draft, I have the Chiefs moving up with an NFC West team for a player at a position of need in a fit of desperation. I also have the Rams moving down for a second time because they have one pick in the top 90 and need to add some picks.
The Chiefs get a direct replacement for Mitch Morse who will still be on a rookie contract for two years even after Mahomes gets paid.
41. Denver Broncos – Mack Wilson (LB, Alabama)
A big need for the Broncos had to be bumped down a round after Elway took Lock, but they still get a nice piece for their defense on day two.
42. Cincinnati Bengals – Greg Little (OT, Ole Miss)
The Bengals go offensive line early for the second consecutive season, and it's not hard to see why when you look at the unit currently "protecting" Andy Dalton.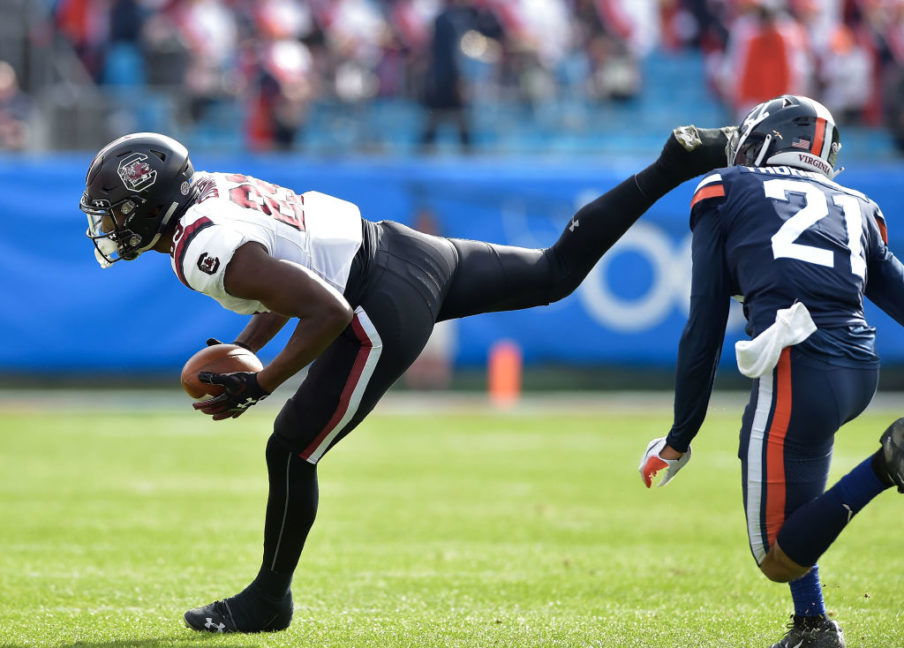 43. Detroit Lions – Deebo Samuel (WR, South Carolina)
Tight end is a bigger need here, but the value isn't there at the top of the second round with the two Iowa tight ends off the board. Samuel fills one need, and there will still be tight ends available in the third round.
44. Green Bay Packers – Dre'Mont Jones (DT, Ohio State)
The Packers make their first defensive selection of the draft and find some really nice value here from a guy with first-round potential.
45. Atlanta Falcons – Amani Oruwariye (CB, Penn State)
The Falcons are extremely thin at corner now without Robert Alford and Brian Poole. Oruwariye has a nice combination of size and speed for his position.
46. Buffalo Bills (from Washington) – Jaylon Ferguson (EDGE, Louisiana Tech)
After two exciting picks involving trades and skill position players, the Bills go a little bit more with the grain and take a pass rusher with their third selection.
47. Carolina Panthers – Zach Allen (EDGE, Boston College)
Another guy in the mix to chase after Drew Brees, Matt Ryan, and Jameis Winston in the divisional contests.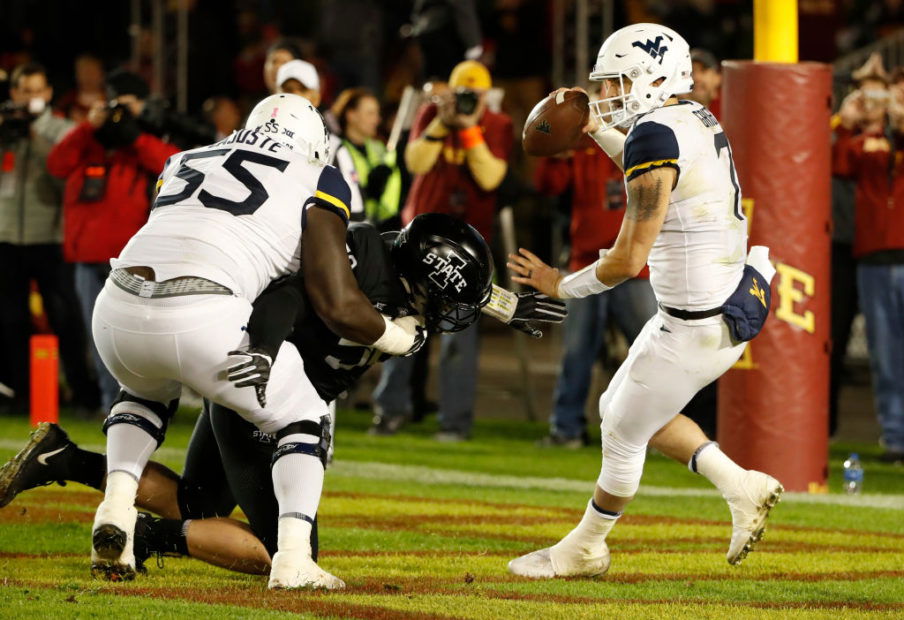 48. Miami Dolphins – Yodny Cajuste (OT, West Virginia)
With a little bit of an eye towards the future for a possible quarterback selection in 2020, the Dolphins take a tackle to protect him.
49. Cleveland Browns – Darnell Savage Jr. (S, Maryland)
Savage Jr. had one of the more underrated combines with a 4.36 40 time, and he is a direct replacement for Jabrill Peppers.
50. Minnesota Vikings – David Edwards (OT, Wisconsin)
A team picking the same position twice in a row for their first two picks is rare, but the Vikings are just that desperate up front.
51. Tennessee Titans – Gerald Willis III (DT, Miami)
Two defensive linemen in as many picks will revamp the defensive line for the draft-hosting Titans.
52. Pittsburgh Steelers – Taylor Rapp (S, Washington)
The Steelers fill a position of need here by taking a player with fringe first-round potential.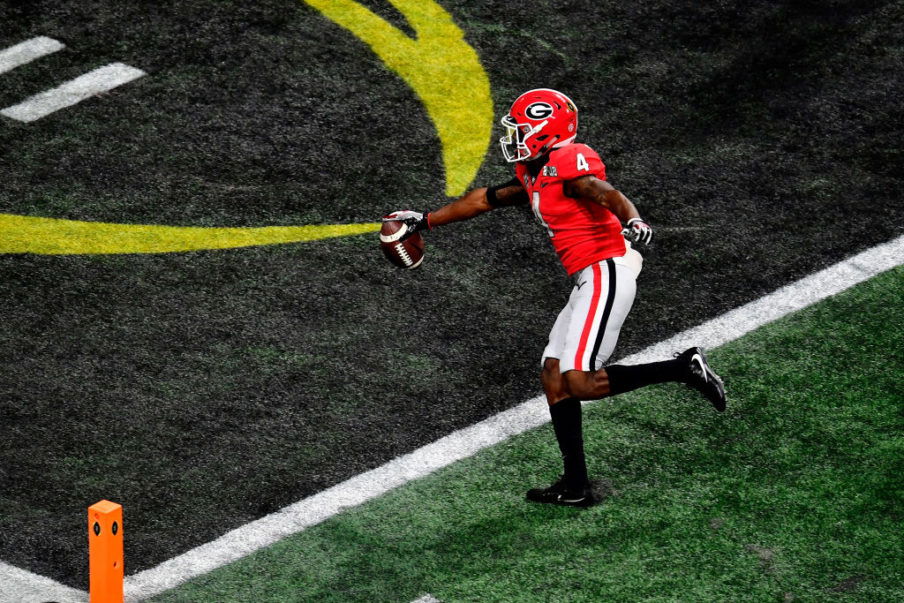 53. Philadelphia Eagles (from Baltimore) – Mecole Hardman (RB, Georgia)
This is the point in the draft where you get to more complete teams who can afford to take some risks. All of the running backs in this draft have questions, but Hardman has enough upside to make this pick look like a heist in a few years.
54. Cincinnati Bengals (from Houston via Seattle) – Irv Smith. Jr (TE, Alabama)
Tyler Eifert's health has been as stable as Andy Dalton's play in recent years. Not very. The Bengals can work on both issues by taking the Alabama tight end here.
55. Houston Texans – Kaleb McGary (OT, Washington)
I mentioned it earlier, but the statistic is so ridiculous it needs to be repeated. 62 sacks in 16 games. The Texans need as much help on the offensive line as they can possibly get.
56. New England Patriots (from Chicago) – Chase Winovich (EDGE, Michigan)
The agile defender becomes the third Wolverine off the board. He'll have something in common with Tom Brady as soon as he gets to Foxboro.
57. Philadelphia Eagles – Tytus Howard (OT, Alabama)
It's not nearly as eye-popping of a pick as the last one, but a necessary one for the quest to keep Carson Wentz healthy for a full season.
Trade: Dallas trades pick #58 to Arizona in exchange for pick #65 and 2020 third-round pick
58. Arizona Cardinals (from Dallas) – Deandre Baker (CB, Georgia)
This works out perfectly for Dallas. Their first pick of the draft doesn't come until the end of the second round, a portion of the draft littered with wide receivers this year. They can trade back with Arizona to the top of the third round and get a pick for next year without jeopardizing their chance to fill the need at wide receiver.
The Cardinals get a cornerback with a lot of upside to add to their thin defense, as Kliff Kingsbury takes a risk on a guy who has strong tape but didn't have the best showing at the combine.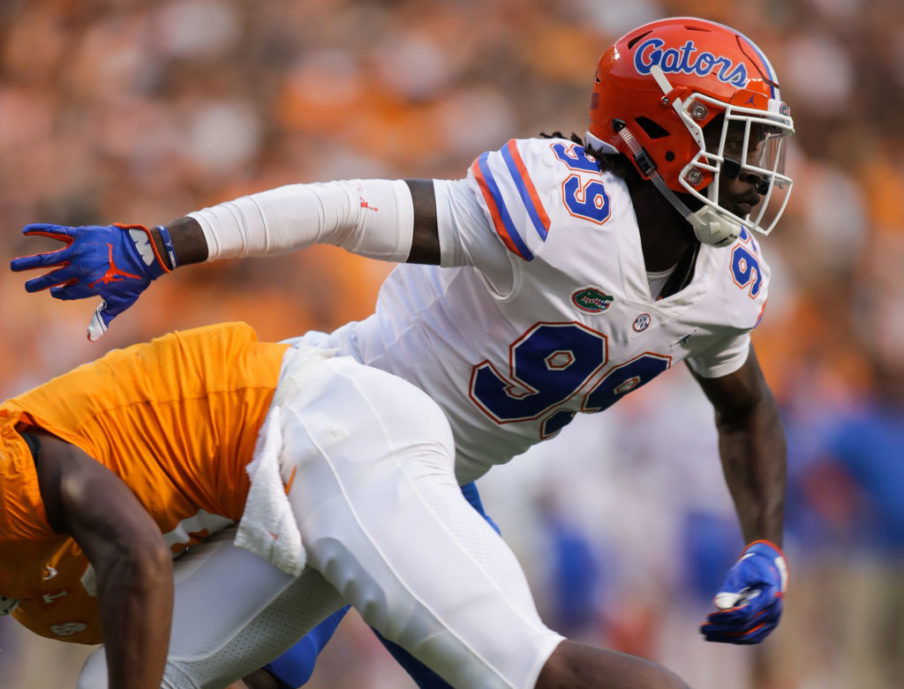 59. Indianapolis Colts – Jachai Polite (EDGE/OLB, Florida)
This is the definition of a team who had a great season last year and can afford to take a risk. Polite was a projected first-round pick by many before he fell apart at the combine, and some have him as low as the third round now. I'll split the difference here and have the Colts select him.
60. Los Angeles Chargers – L.J. Collier (DT, TCU)
As my colleague and Chargers fan David Howell likes to say, #BigGuysGetTired. He's right, and the Chargers need more of them.
61. Seattle Seahawks (from Kansas City) – Amani Hooker (S, Iowa)
Without Earl Thomas, it's next safety up for Pete Carroll's squad.
62. New Orleans Saints – Elgton Jenkins (G, Mississippi State)
The Saints don't have many needs, but when in doubt go with the offensive line.
63. Kansas City Chiefs (from Los Angeles Rams) – Rock Ya-Sin (CB, Temple)
All about getting as much defense as possible to give Mahomes a chance to win shootouts in December and January.
64. New England Patriots – Justin Layne (CB, Michigan State)
Same logic, but for Brady.
---