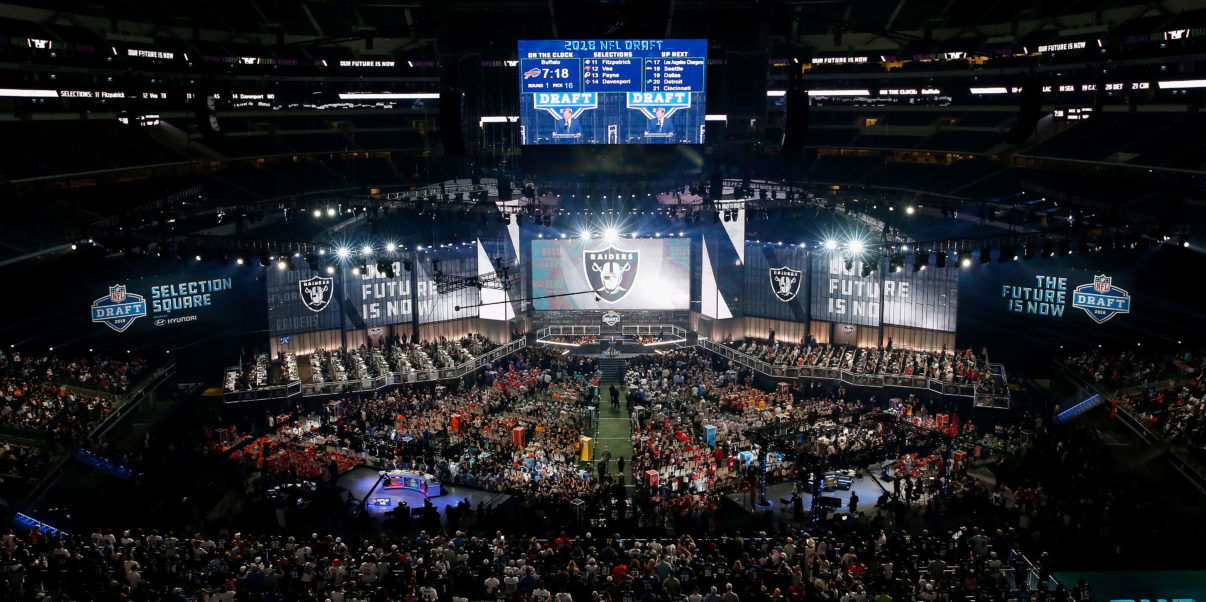 2019 NFL Mock Draft: Interactive Mock I
For the Read American Football team, one of the highlights of draft season – if not the year – is our interactive mock drafts. These involve dividing picks between various writers, each acting on what they would do as general managers of the teams they have been allocated – including trading picks with each other (though not between their own teams).
This year's first interactive mock took place on March 23, ran for two rounds, and involved seven of our writers making picks:
Alan Cole: Atlanta, Dallas, Minnesota, Oakland
Alex Murray: Arizona, Baltimore, Cleveland, Detroit, Pittsburgh
David Howell: Denver, Houston, LA Chargers, NY Giants
Joe Hulbert: Cincinnati, Kansas City, New Orleans, Seattle, San Francisco
Kyle Bennett: Miami, New England, Tampa Bay, Tennessee
Sam Brown: Buffalo, Indianapolis, LA Rams, NY Jets, Washington
Ste Hoare: Carolina, Green Bay, Jacksonville, Philadelphia
This allocation meant everyone picked for their own team, and had either four or five picks in each round.

For those of you unfamiliar with our interactive mock drafts, they hold a very specific purpose: they aren't aimed at predicting who goes where, but at capturing the dynamic of the draft. After all, the actual draft involves multiple individuals reading and reacting to what's happening in front of them. The heart of the draft is arguably the drama, dilemmas, and deals – and this particular mock had no shortage of any of those. Here's how it went down…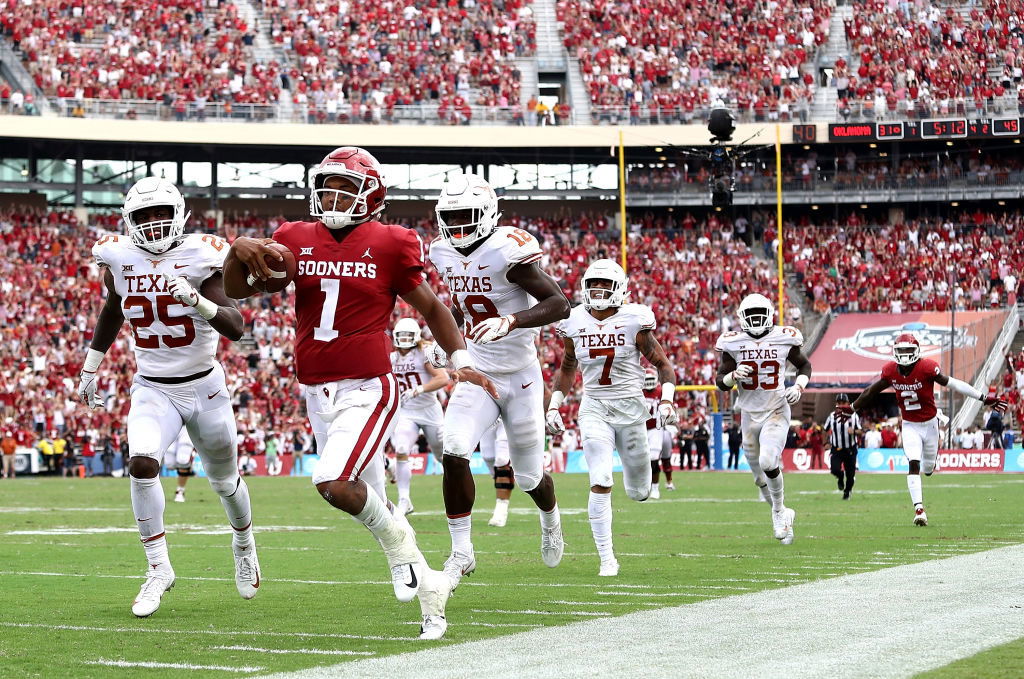 Picks 1-6: QBs and Edge-iness
1) Arizona Cardinals – Kyler Murray (QB, Oklahoma, pictured)
So Mr. Murray takes Mr. Murray. It'll be interesting to see if the next interactive mock with different team allocations will also have the Murray Opening.
2) San Francisco 49ers – Quinnen Williams (DT, Alabama)

Joe hilariously announced this pick over the Slack chat rather than sending it in to commissioner Tyler Arthur. He then added further hilarity with his Seahawk-fan bitterness: "Imagine that in the actual draft. John Schneider on the mic 'yeah we're taking this 340 pound OL who can't pass protect'"
3) New York Jets – Nick Bosa (EDGE, Ohio State)

4) Oakland Raiders – Josh Allen (EDGE, Kentucky)

Two teams who need edge rushers like ski resorts need snow are fortunate enough to get a free run. Alan called the Jets' selection here the "easiest pick of the draft" given Bosa's availability.
5) Tampa Bay Buccaneers – Rashan Gary (EDGE, Michigan)

That EDGE pick was a bit more… edgy. As was this: during this time, Sam was apparently negotiating a trade with Alex? Neither had picks until 8 (Alex's own Lions) so what could this be?
6) New York Giants – Dwayne Haskins (QB, Ohio State)

Nobody leapfrogged this spot for a QB. There was a QB trade in the works, though…
TRADE: Washington trade pick #46 to Arizona Cardinals for QB Josh Rosen
To which Alan's response was simply eight exclamation marks. With Ste having been delayed in his arrival and now being on the clock at 7 with the Jags, there was plenty of time for more discussion of that bombshell move, David and Joe pointing out the Washington offensive line is much better (and much better coached) than Arizona's.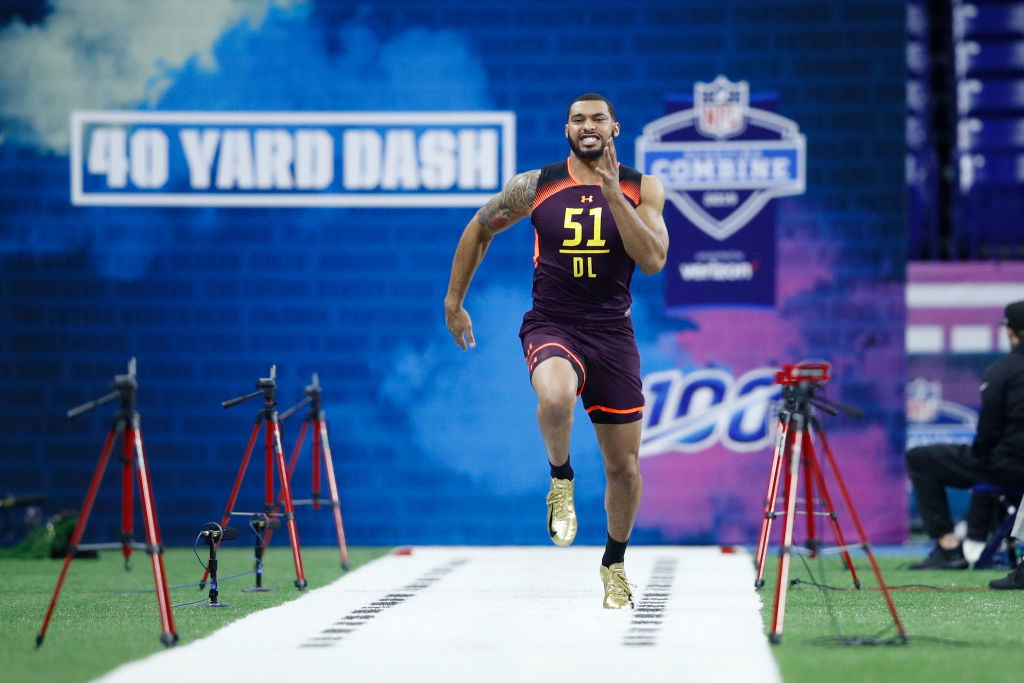 Picks 7-16: Will the Trench Warfare End?
7) Jacksonville Jaguars – Jawaan Taylor (OT, Florida)
"Running team, new QB, had to take him." Nick Foles certainly needs protection.
8) Detroit Lions – Montez Sweat (EDGE, Mississippi State, pictured)

Ste, being a Packers fan, wasted no opportunity to mock this pick – "heart attack city," he said. (Sweat was flagged at the Combine for a heart condition, but was cleared to participate in testing. Where he promptly ran a 4.41 40 at 6'6″ and 260 pounds to surge into this draft range.) Alex, knowing Ste is also a Liverpool fan, had the perfect response: "if he dies we go again." But Ste fought back: "You've drafted the Lion off the Wizard of Oz to play for the Lions."
9) Buffalo Bills – Jonah Williams (OT/G, Alabama)
Meanwhile, the Bills give Josh Allan protection. Joe wondered whether he'd move inside in this situation, and Sam said he imagined that yes, he'd use Williams as a pulilng guard whilst hoping he could bulk up from his 302-pound Combine weight.
TRADE: Denver Broncos trade pick #10 to Atlanta Falcons for pick #14 and pick #79
Sam: "Ey up. What's Al up to?"
10) Atlanta Falcons (from Denver Broncos) – Ed Oliver (DT, Houston)
That. "I think he's a stud," Alan said, adding that he moved up to get ahead of the Packers at 12 knowing Ste is high on the former Cougar. David actually offered the trade to Alan expecting the move to be for someone else.
11) Cincinnati Bengals – Brian Burns (EDGE, Florida State)
That someone else has now gone. Burns as the fifth EDGE off the board is, no name-related pun intended, a hot take.
12) Green Bay Packers – T.J. Hockenson (TE, Iowa)
With Oliver gone, Ste takes the man he claimed was his favourite offensive player in the whole class. And, in fact, the first player in the whole class who is neither a QB nor a lineman – though Hockenson's blocking means he might be mistaken for one at times.
13) Miami Dolphins – D.K. Metcalf (WR, Ole Miss)
"Well done," Sam said sarcastically. "You've drafted a high speed train." Joe, meanwhile, said "people are overthinking Metcalf. He's a winner." For what it's worth, Kyle literally declared this pick as "Tua's WR1". Welcome to the #FishTank!
14) Denver Broncos (from Atlanta Falcons) – Devin White (LB, LSU)
There is immense speculation about Denver and Drew Lock in the real draft. But in this mock, John Elway is not involved and David Howell turns the #10 pick into an arguable top-five talent and a bonus third-rounder.
Speaking of trades, Joe was lamenting his inability to swap his own picks at this point, anticipating the board would fall for a Chiefs trade up to the Seahawks' 21st pick.
15) Washington – Greedy Williams (CB, LSU)
So that team's first two picks get turned into a still-super-young reclamation QB project and a 6'2″ corner who runs a 4.37 40. #upside
16) Carolina Panthers – Clelin Ferrell (EDGE, Clemson)
Six edge rushers in the top half of the first round!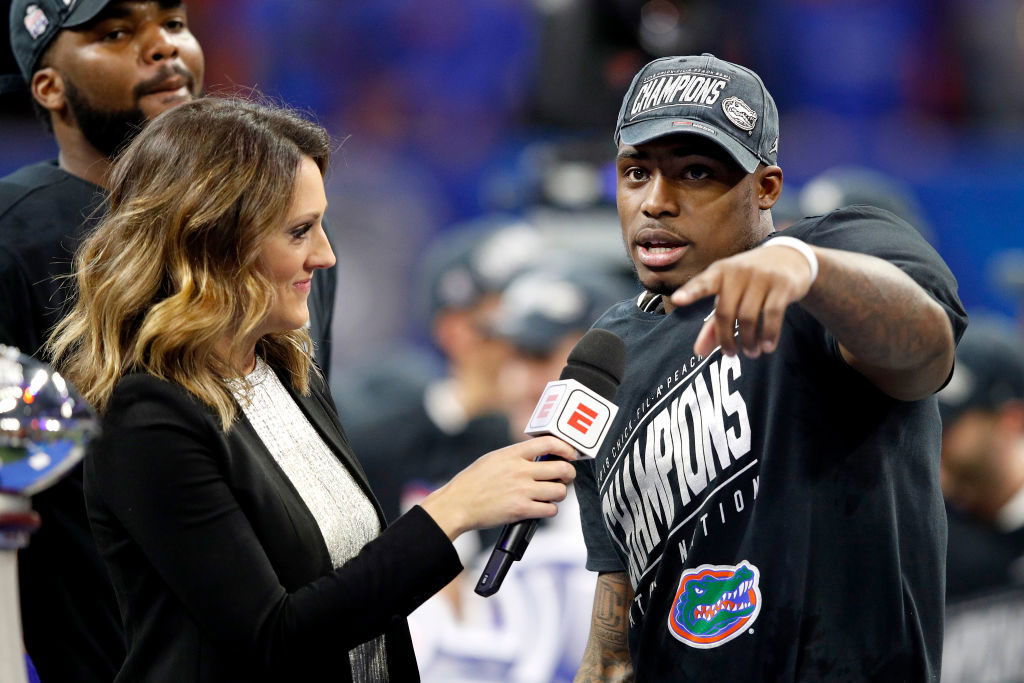 Picks 17-32: Joe Works Those Phones
17) New York Giants (from Cleveland Browns) – Cody Ford (G/OT, Oklahoma)
David had him announced as a guard and then figured the Giants would play him at tackle. Amusingly, this is the exact opposite of what happened with Jonah Williams.
TRADE: Minnesota Vikings trade pick #18 to Kansas City Chiefs for pick #29 and pick #63
18) Kansas City Chiefs (from Minnesota Vikings) – Garrett Bradbury (C, NC State)
Joe pointed out the Chiefs were armed with bonus second-round picks both this year (from the Marcus Peters trade) and next (the Dee Ford trade). The former got used to move up for a Mitch Morse replacement: "having a center on a rookie contract is so big for win now mode." Ste praised Alan for the trade down, which he said he was always prepared to accept.
19) Tennessee Titans – Jachai Polite (EDGE, Florida)
And that drew the first "S Club" reaction of the draft.
20) Pittsburgh Steelers – Marquise Brown (WR, Oklahoma)
"The Steelers are that petty they would," Alex said in justifying that pick. Joe was on the clock with a pick he wanted to trade out of, except he said he had three targets in mind he thought would've gone and none of them had.
TRADE: Seattle Seahawks trade pick #21 and 2020 second-round pick to Houston Texans for pick #23 and pick #54

21) Houston Texans (from Seattle Seahawks) – Andre Dillard (T, Washington State)

"I'm the Texans right tackle next year, I beat out Martinas Rankin," joked Joe. He knew the pick had to be a tackle.
22) Baltimore Ravens – Parris Campbell (WR, Ohio State)
Another S Club pick. Joe was stunned. Ste told Alex "you've given a receiver to a team who don't throw the ball."
23) Seattle Seahawks – Christian Wilkins (DT, Clemson)
That might be a robbery.
24) Oakland Raiders (from Chicago Bears) – Jeffrey Simmons (DT, Mississippi State)
Top-10 talent with off-field and injury flags? Sure, not like this team doesn't have other picks to use!
25) Philadelphia Eagles – Dexter Lawrence (DT, Clemson)
Three defensive tackles in a row. Arguably the two Clemson ones should have been long gone, but in this class someone's gotta slide on the defensive line…
26) Indianapolis Colts – Devin Bush (LB, Michigan)
27) Oakland Raiders (from Dallas Cowboys) – Byron Murphy (CB, Washington)
The Raiers got their D back! All it took was having three first-round picks and not using any of them on offense!
While David stalled and tried to trade, Joe delivered the bombshell of the draft.
TRADE: Minnesota Vikings trade pick #29 and 2020 fourth-round pick to Seattle Seahawks for pick #54, pick #84, and 2020 first-round pick
Alan had a lineman in mind, but was blown away by this move. Joe, meanwhile, was confused and thought he was on the clock, but it was still David…
28) Los Angeles Chargers – Nasir Adderley (S, Delaware)
29) Seattle Seahawks (from Kansas City Chiefs via Minnesota Vikings) – Chauncey Gardner-Johnson (S/CB, Florida, pictured)
Erm, wow. And also imagine if the Chargers had taken CGJ with those crossed wires. Though Joe said "they're both great" so presumably would've taken Adderley.
30) Green Bay Packers (from New Orleans Saints) – Riley Ridley (WR, Georgia)
David called this "a nuclear take" before adding that he understood it anyway because of his route-running skills, Joe adding that "the speedsters have failed in recent years."
31) Los Angeles Rams – Zach Allen (DE, Boston)
Probably a movable piece on that front, Sam wondering if he might be an Ndamukong Suh replacement.
32) New England Patriots – Dre'Mont Jones (DT, Ohio State)
This mock happened before Gronk's retirement announcement and still there was shock at this being anyone other than Noah Fant.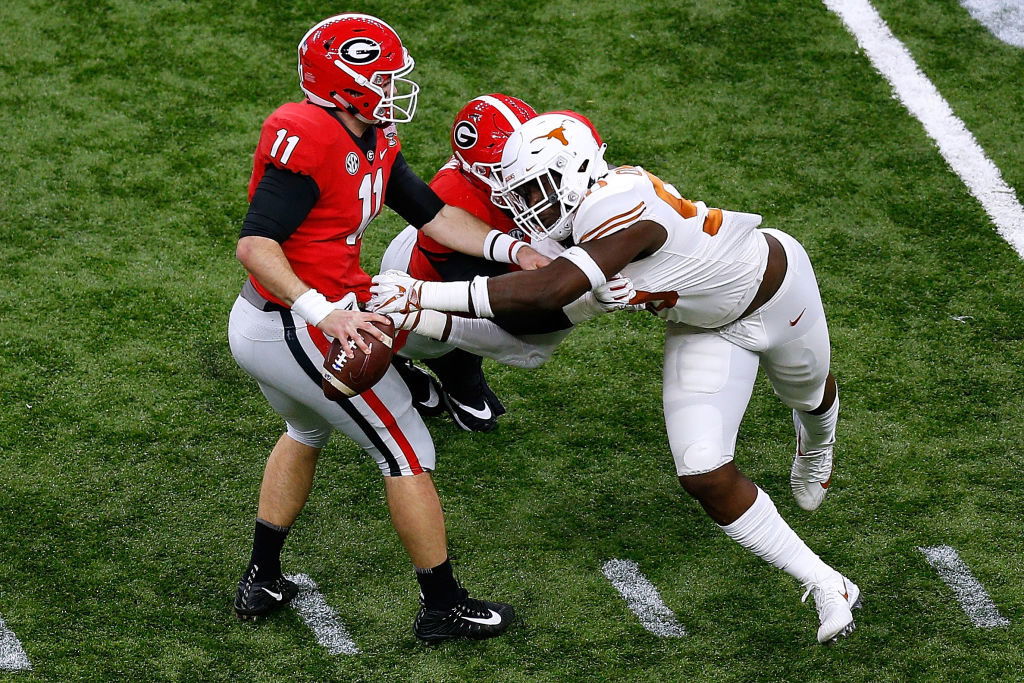 Picks 33-48: Looking For a Lock Picker
33) Arizona Cardinals – Noah Fant (TE, Iowa)
Inevitable. Kyler Murray gets some serious help here.
34) Indianapolis Colts (from New York Jets) – A.J. Brown (WR, Ole MIss)
Sam would've taken him even with Fant available, as he has him as his WR2 in this class and thinks he's been dragged down by his team's broader incompetence of late.
35) Oakland Raiders – Chris Lindstrom (G, Boston College)
36) San Francisco 49ers – Deionte Thompson (S, Alabama)
Pair of interesting picks for the Bay Area teams.
37) New York Giants – Charles Omenihu (DE, Texas, pictured)
Cue a debate on his position for the Giants, who recently switched to a 3-4 "base" – except, as Ste and David pointed out, the real "base" of the late-2010s NFL is the 4-2 nickel front. Omenihu can play end in either odd or even fronts anyway.
38) Jacksonville Jaguars – Erik McCoy (C, Texas A&M)
More O-line assistance for Foles!
39) Tampa Bay Buccaneers – Damien Harris (RB, Alabama)
40) Buffalo Bills – Josh Jacobs (RB, Alabama)
The Bucs taking a running back here is basically giving up on Ronald Jones and is as such already fascinating, but that Alabama back? That's a hot take. The other one was gleefully seized by Sam right afterwards, like Jim Bowen telling a defeated Bullseye contestant "let's have a look at what you could have won!"

Now, is this Lock?
41) Denver Broncos – Amani Oruwariye (CB, Penn State)
Nope, it's a size-speed corner to learn behind the aging Chris Harris!
42) Cincinnati Bengals – Dalton Risner (OT, Kansas State)
This was a run-to-the-podium pick, but Joe said Andy Dalton "will still die" behind the line even with his quasi-namesake added.
43) Detroit Lions – Irv Smith Jr. (TE, Alabama)
"We need a tight end," shrugged Alex.
44) Green Bay Packers – Johnathan Abram (S, Mississippi State)
A pick Ste suggested could allow Adrian Amos to play some slot corner in some packages.
45) Atlanta Falcons – DeAndre Baker (CB, Georgia)
Value pick for a man with first-round tape but questionable timed speed at a position where that really counts. Now, what will Arizona do with the Rosen pick?
46) Arizona Cardinals (from Washington) – Hakeem Butler (WR, Iowa State)
Aptly and amusingly, a target for his replacement.
47) Carolina Panthers – Deebo Samuel (WR, South Carolina)
TRADE: Miami Dolphins trade pick #48 to Los Angeles Chargers for pick #60, pick #130, and 2020 third-round pick
Joe: "Drew Lock eh." Sam: "That's definitely Lock." Remember, David is a Chargers fan, and he is also a queer Chargers fan, which in the context of Philip Rivers' views on "traditional marriage" might explain why David has been dropping hypothetical trades for Chargers quarterbacks into interactive mocks since the first one in 2015. It's gotta be, hasn't it?
48) Los Angeles Chargers (from Miami Dolphins) – Jerry Tillery (DT, Notre Dame)
Sam: "Dave Howell knows something I don't." He pointed to Tillery having a first-round grade on many boards and the need for contenders to have depth on the defensive line as "big guys get tired."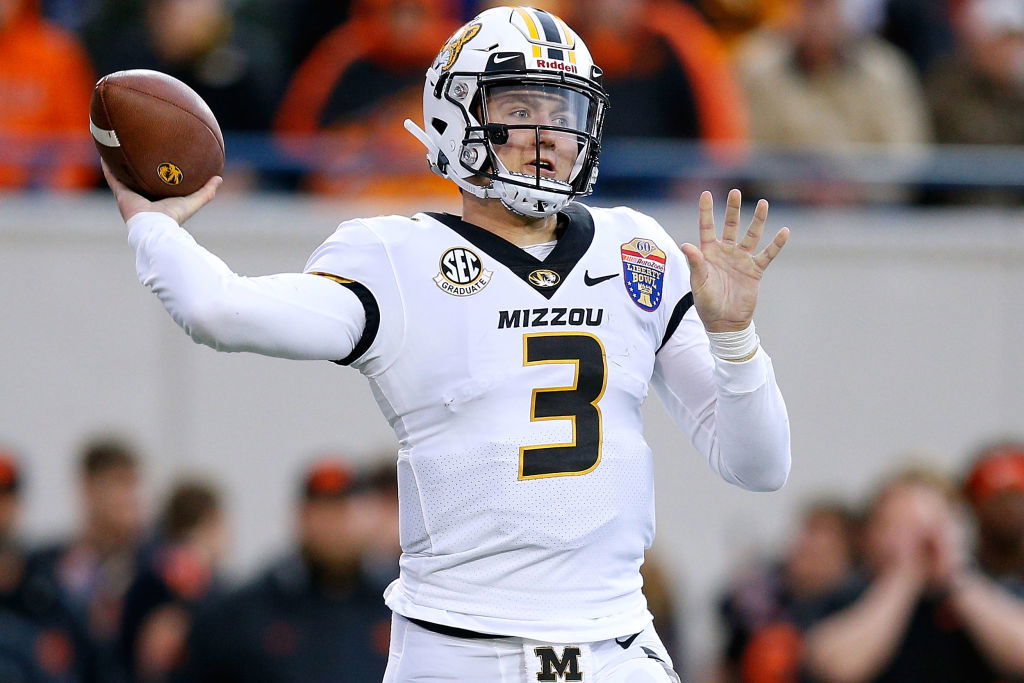 Picks 49-64: Still Looking for a Lock Picker
49) Cleveland Browns – Rock Ya-Sin (CB, Michigan State)
Announced by Tyler as "a man who sounds like the Raiders 2021 run-out music." He loved his name, while Sam loves his game.
50) Minnesota Vikings – David Edwards (OT, Wisconsin)
That's the first Vikings pick of the draft. They have two more in this round after Alan's wheeler-dealing.
51) Tennessee Titans – N'Keal Harry (WR, Arizona State)
A definite value pick. He's been mocked to the Titans before – at 19!
52) Pittsburgh Steelers – Germaine Pratt (LB, NC State)
53) Philadelphia Eagles (from Baltimore Ravens) – Tytus Howard (OT, Alabama State)
54) Minnesota Vikings (from Seattle Seahawks via Houston Texans and Seattle Seahawks) – Mack Wilson (LB, Alabama)
To explain that last one – this was the Seahawks' second-round pick they traded away to get Duane Brown from the Texans, which in this mock the Texans traded back to Seattle in exchange for next year's second-rounder and a two-spot move up, and which then became the launchpad for the CGJ stunner.
55) Houston Texans – Yodny Cajuste (OT, West Virginia)
And then the Texans take a second offensive lineman because they literally need multiple offensive linemen. Possibly five of them, to be honest.
56) New England Patriots (from Chicago Bears) – Will Grier (QB, West Virginia)
Remember Alan Cole reacting with eight exclamation marks to the Rosen trade earlier in the draft? He went up to 11 here. Joe's reaction was simply "Wow."
Will Grier QB3, in the late second, to New England. Where do you even begin?
57) Philadelphia Eagles – Justin Layne (CB, Michigan State)
58) Dallas Cowboys – Kelvin Harmon (WR, NC State)
59) Indianapolis Colts – Gerald Willis III (DT, Miami)
60) Miami Dolphins (from Los Angeles Chargers) – D'Andre Walker (EDGE, Georgia)
That would have been the most ironic landing spot for Lock, and a plausible one at that. Still there.
61) Kansas City Chiefs – Julian Love (CB, Notre Dame)
62) New Orleans Saints – Dru Samia (G, Oklahoma)
Two sharp picks at this stage from Joe.
63) Minnesota Vikings (from Los Angeles Rams via Kansas City Chiefs) – Elgton Jenkins (C, Mississippi State)
64) New England Patriots – Chase Winovich (EDGE, Michigan)
So Drew Lock (pictured) falls all the way to the third round. WOW.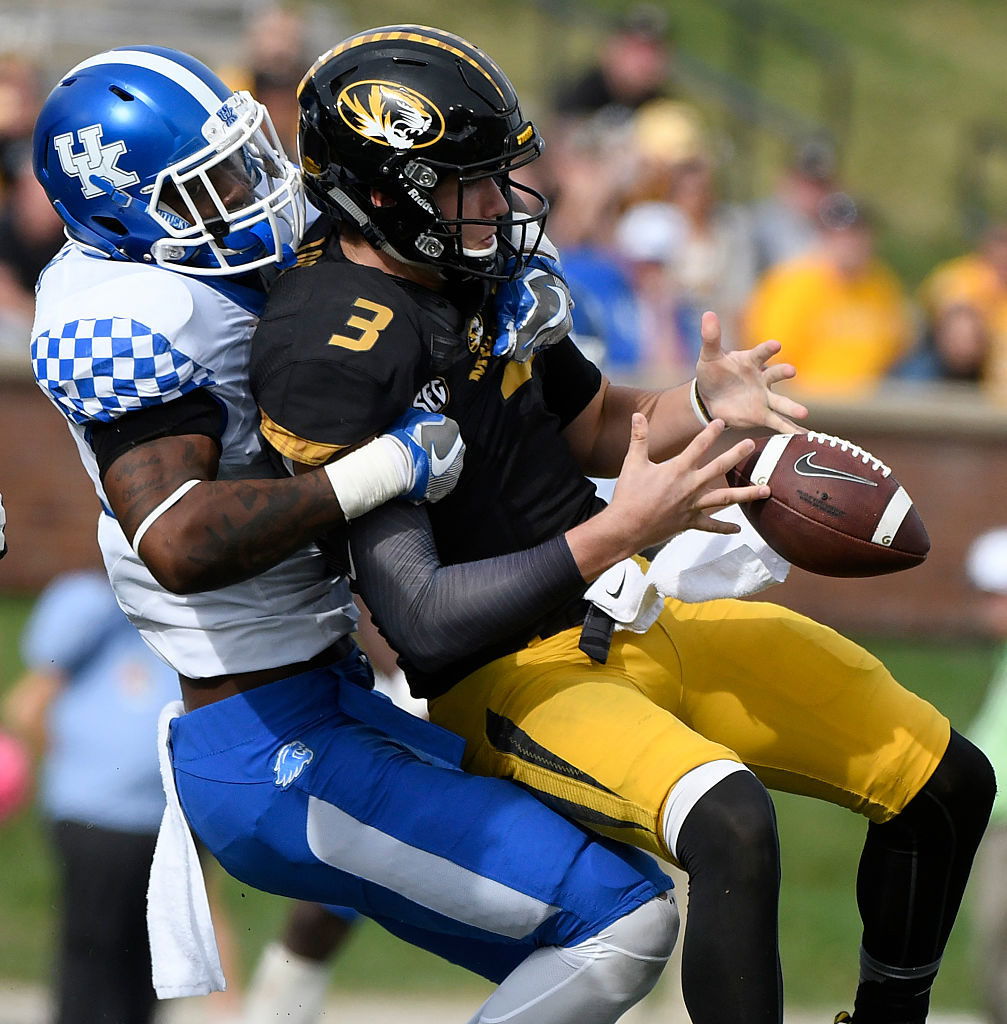 Takeaways
Well, the fall of Drew Lock is clearly one. Obviously this group not as keen on his erratic big arm as, say, John Elway. Here's a picture of him being strip-sacked by Josh Allen (the Kentucky EDGE, not the Buffalo QB).
Another is this draft being strongest up front, on defense, and especially up front on defense. Seven of the top 11 in the draft were defensive linemen and you could still argue the last two were value picks, while the Wilkins/Lawrence Clemson duo fell out of the top 20. Just 12 offensive players went in the first 32 picks, and just five of those were skill position players. (Yes, Noah Fant should have gone in the first, but Parris Campbell shouldn't, so that cancels out.) This may not be a year where rookies have much of a fantasy impact.
And finally? The reaction when players take a prominent slide can be all over the place. Sometimes, a team might jump up to catch a falling star (as happened with Ed Oliver here). Other times, a team might just wait for one to drop into their arms. And then there are the times when the fall just keeps coming, and coming, and coming…
---