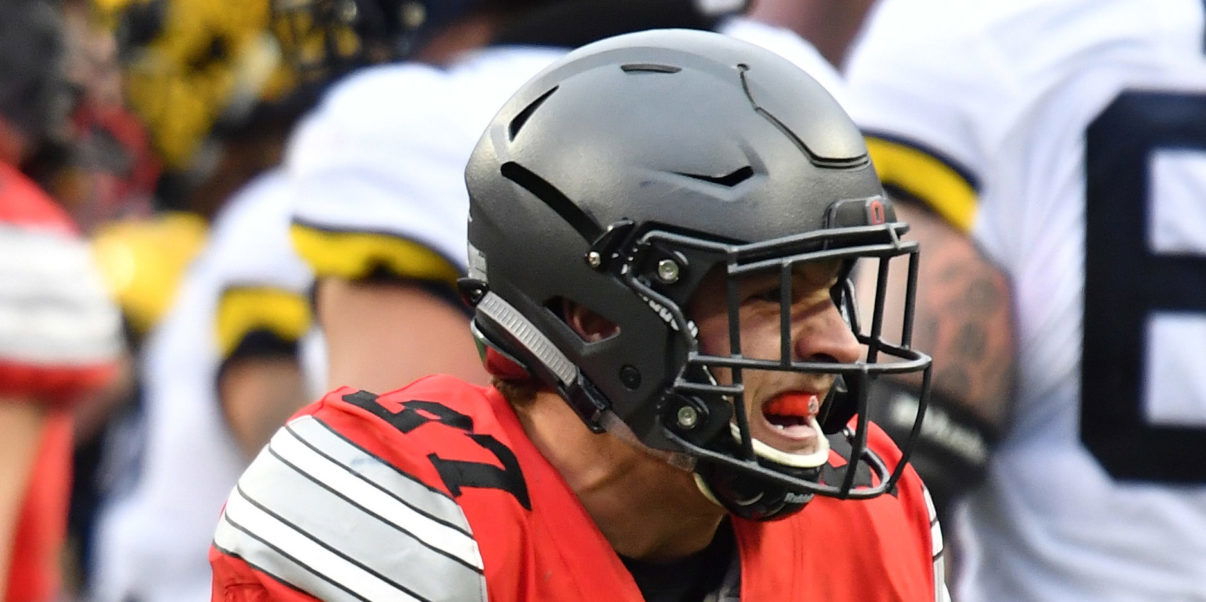 2019 NFL Mock Draft: David Howell, March 22nd
NFL mock drafts are like chess games. The same pieces are set up in the same way to begin every time, but then the first move is made, the second move is made based on the first move, the third move is made based on those first two, and pretty soon you're into a world of dizzying permutations and uncertainties.
In chess, these scenarios get named based on their opening move and the branches thereof. In my first mock last week, I opted for the Murray opening, which went from unfathomable to wildly popular in no time at all. (Chess openings go in and out of style, too!) I promised then that there would be a different opening to the second mock, unless Josh Rosen got traded first. Josh Rosen is still a Cardinal, so here we go…

---
1) Arizona Cardinals – Nick Bosa (EDGE, Ohio State)
Back to the "traditional" Bosa opening. Which is probably the best one unless they think Bosa isn't a fit for their scheme. Maybe this entire Murray dalliance is because they're wavering on Bosa and want out of this pick. Don't rule out the Flipped Murray opening, where Kyler Murray goes at 1 to the Not Cardinals. (Raiders, presumably?)

2) San Francisco 49ers – Josh Allen (EDGE, Kentucky)
This pick is really difficult to make with a Bosa opening. It might even be difficult with a Murray opening – do the Niners really need another EDGE with Dee Ford in the fold? The 4-3 Under base only has one obvious specialist pass-rusher, after all – the "Leo," a split-out weak-side DE. On the opposite side, there's a big defensive end – notably played by Michael Bennett in that formation in Seattle, and arguably the obvious spot for Solomon Thomas in San Francisco – and a strong-side linebacker who's expected to chip in with sacks, a role played in Seattle by Bruce Irvin. Allen is the pick of this EDGE class in coverage, so maybe he's the pick here with that role in mind if the Niners can't trade out of this spot.

3) New York Jets – Quinnen Williams (DT, Alabama)
Williams may be the best player in this draft, a three-technique terror who can also line up at other spots on the interior. The Jets' defense is currently built around one defensive lineman named Williams who wasn't seen as necessarily a need pick at the time, but was hard to resist as a BPA option. As went 2015 with Leonard, so goes 2019 with Quinnen?

4) Oakland Raiders – Kyler Murray (QB, Oklahoma)
The Cardinals desperately, desperately want someone to bite on their QB bluff, assuming of course it is a bluff. An awful lot of people in and around the NFL seem to think it's not a bluff.
In this scenario, of course, it is a bluff, and Gruden and Mayock are rewarded for calling that bluff. Murray, the shortest NFL QB since Doug Flutie, may not be the best fit for a straight NFL passing playbook – but he is terrifyingly elusive when flushed out of the pocket, and his escapology act could ensure the relocating franchise can regularly secure a full house in Vegas. Does anyone really believe this front office is all-in on Derek Carr?

5) Tampa Bay Buccaneers – Devin White (LB, LSU)
This would be a moderately egregious reach for a coverage linebacker and also fit what has been widely expected of them. No reason to believe a bad team like the Bucs wouldn't do that.
6) New York Giants – Jawaan Taylor (OT, Florida)
David Gettleman believes that if you just give him a functional O-line and pray really, really hard, Eli Manning can be a functional quarterback in 2019.
Don't get too angry with this pick, Giants fans. Taylor has the potential to be a really good foundation piece to help out Tua Tagovailoa or Justin Herbert in 2020 when David Gettleman is proven wrong.

TRADE: Jacksonville Jaguars trade pick #7 and pick #69 to Cincinnati Bengals for pick #11, pick #42, and pick #149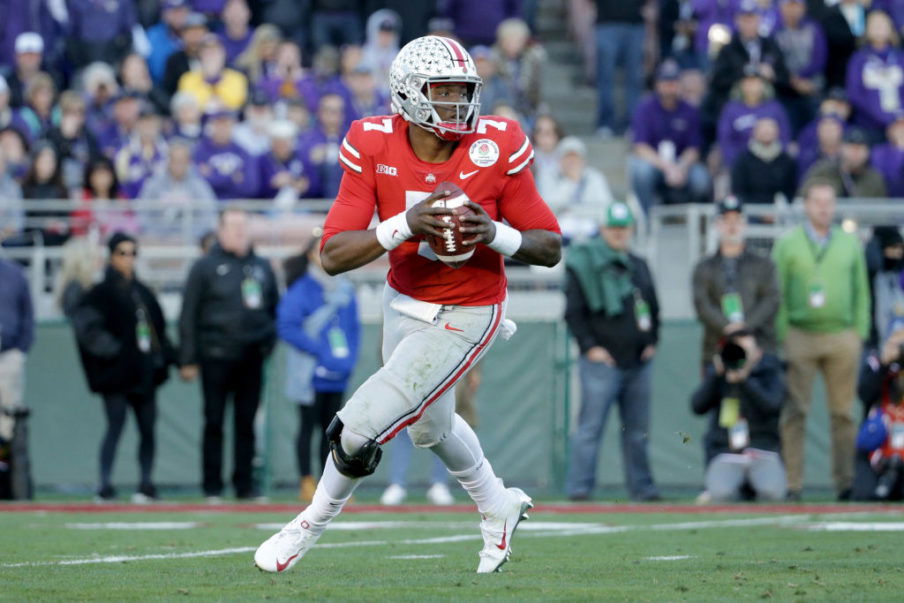 7) Cincinnati Bengals (from Jacksonville Jaguars) – Dwayne Haskins (QB, Ohio State)
Everyone's talking about the idea that the Cards might start over at QB because they have a new offensive brain at the coaching controls. Why aren't they saying the same thing about the Bengals, who have a far more obvious situation for doing so with Andy Dalton being the epitome of mediocrity and Marvin Lewis having been belatedly replaced for one of the discount store Sean McVay knockoffs?
With the Giants making it clear they're sticking with Eli, the Bengals have the ability to wait until the "QB tax" is relatively modest before making their big move. This particular trade also balances out the draft capital of each team, as the Jaguars have an extra third-round pick (Dante Fowler trade) but no fifth, while the Bengals have an astonishing five sixth-round picks (including a cluster of three compensatory picks – which can be traded these days, remember – for the perennial free agency sellers) and could chain a couple of them to move back into the fifth if they think the board invites them to.

8) Detroit Lions – Greedy Williams (CB, LSU)
6'2″ corners who run a 4.37 40 do not fall in the draft. Maybe not even this far.

9) Buffalo Bills – Montez Sweat (EDGE, Mississippi State)
And speaking of size-speed specimens, 6'6″ edge rushers who run a 4.41 (!) 40 also do not fall in the draft, or at least we don't think they do because the sample size on prospects with that combination is literally zero.
There are some concerns about a heart condition for Sweat, but being cleared to participate in Combine testing (and then promptly tear up said testing) is one up on Maurice Hurst, who fell all the way to being a Saturday pick last year. And I already mocked a fall for Sweat last week.

10) Denver Broncos – Drew Lock (QB, Missouri)
Like Murray-Kingsbury, Lock-Elway has been a pairing so widely predicted across the NFL media that there almost certainly needs to be at least one mock draft where rumour turns to reality. The Joe Flacco of 2019 has "bridge quarterback" written all over his Elway-approved large frame. Drew Lock has "needs a bridge quarterback" written all over his.

11) Jacksonville Jaguars (from Cincinnati Bengals) – Brian Burns (EDGE, Florida State)
So many edge rushers went nuclear at the Combine that it's a near-certainty one of them is going to be available here. In this scenario, it's Burns, and he's the Dante Fowler replacement to pair with Yannick Ngakoue.

12) Green Bay Packers – Devin Bush (LB, Michigan)
The Packers have a ton of flexibility thanks to the Saints using their 2019 first-rounder in a win-now move for (erm) a project defender last year. With that flexibility, the Packers have the ability to take the last remaining good player at a position of need at maybe a slight premium, knowing they still have plenty of draft capital for a more BPA approach afterwards.

TRADE: Miami Dolphins trade pick #13 to Houston Texans for pick #23, pick #55, and 2020 second-round pick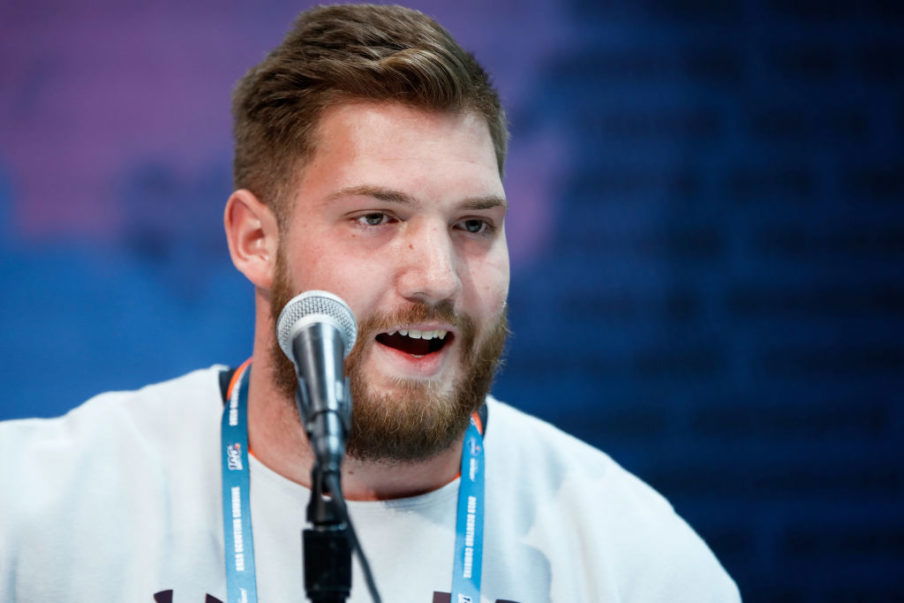 13) Houston Texans (from Miami Dolphins) – Jonah Williams (OT/G, Oklahoma)
Three things I mentioned in my last mock; Deshaun Watson took even more sacks in 2018 than Ryan Tannehill behind the #Bullygate line in 2013, Jonah Williams is the new Zack Martin (a man I loudly and repeatedly suggested the Dolphins should have as a trade-up target in 2014), and the Dolphins have done everything possible to signal their intention to not win now except renaming their stadium "The Miami Aquarium: Home of the Tank." (Or is that name reserved for the Marlins ballpark?) This trade is where those three things collide.
I also mentioned what Williams said at the Combine media interviews. It needs sharing again.
Twitter: Williams to a reporter: "If your arms were a little longer, you'd be able to reach the keyboard better. But you don… https://t.co/0IXS92gX0l (@dpbrugler)
14) Atlanta Falcons – Rashan Gary (DE, Michigan)
High-end athlete on the defensive line who has a nice fit (as the big end) in a 4-3 Under front? That sounds like a Dan Quinn Falcons pick to me!
Wait, Ed Oliver's on the board and they take Not Ed Oliver? As well as it being standard for the Falcons to break fan hearts (ask our own Alan Cole), I genuinely think it's possible that Oliver could fall even further than anticipated as teams pass on him for size concerns due to the depth of alternative options up front this year. Might not happen, but deserves playing out in at least one mock. Gary fits into that same "tweener" box as Oliver weight-wise, to be fair, but he's long enough to play outside.

TRADE: Washington trade pick #15 to Pittsburgh Steelers for pick #20 and pick #83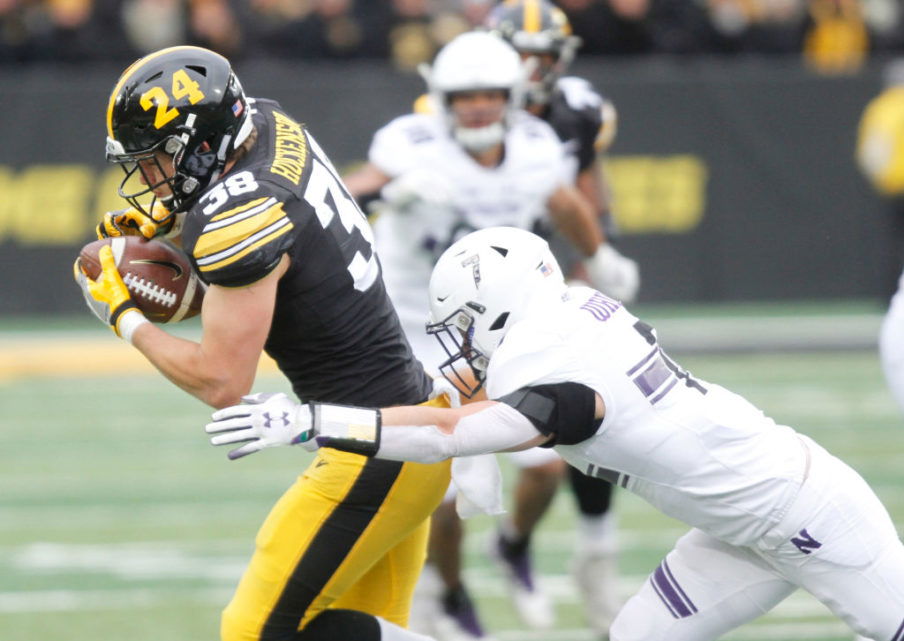 15) Pittsburgh Steelers (from Washington) – T.J. Hockenson (TE, Iowa)

Hockenson belongs in the top ten of this draft without question. If he falls this far, the Steelers are a definite contender to jump on the chance to pick him up – Vance McDonald is a non-elite option who split reps with the more blocking-oriented (and now-departed) Jesse James, and Hockenson's elite in-line blocking ability at the position will help out the offense well after Ben Roethlisberger stops running it.
16) Carolina Panthers – Andre Dillard (OT, Washington State)
Dillard was a first-round snub in my first mock, and in retrospect that was an error – he tore up the Combine, breaking the five-second mark for the 40 at 315 pounds and then exploding for a 9'10" broad jump. The only offensive tackle ever to top that latter mark? Kolton Miller, who went on to be a shock top-16 pick. The only other tackles to get close this decade? Eric Fisher, Lane Johnson, Taylor Lewan. Top-ten picks, every one.
Don't sleep on Dillard like I did in my first mock; based on his athletic comps, even 16 is too low.

17) New York Giants (from Cleveland Browns) – Clelin Ferrell (EDGE, Clemson)

If the Giants really are going to use two first-rounders on not-QB it seems difficult to imagine David Gettleman not using one on a defensive lineman.

18) Minnesota Vikings – Cody Ford (OT/G, Oklahoma)
Whether he pushed Riley Reiff inside to guard or started on the interior himself, Ford would be a day-one starter on a team that absolutely has to put Kirk Cousins in position to succeed if they aren't to do the once-unthinkable and make Washington's much-mocked refusal to commit to their quarterback look like a stroke of brilliance.

19) Tennessee Titans – Dexter Lawrence (DT, Clemson)
The Titans' free agency moves allow them to draft for talent more than need, but it's almost impossible to turn the defensive interior into a total non-need; depth is critical there, because those big guys get tired! Lawrence has been praised for his fiery character, so that's a nice added bonus for a team whose QB isn't that.

20) Washington (from Pittsburgh Steelers) – D.K. Metcalf (WR, Mississippi)
Metcalf remains one of the great enigmas of this or any other draft class. A Washington team now armed with three third-round picks in this scenario (their own, Pittsburgh's via trade, and a compensatory pick for Kirk Cousins) are high on the list of teams who'd bet on the upside.

TRADE: Seattle Seahawks trade pick #21 to Oakland Raiders for pick #24 and pick #106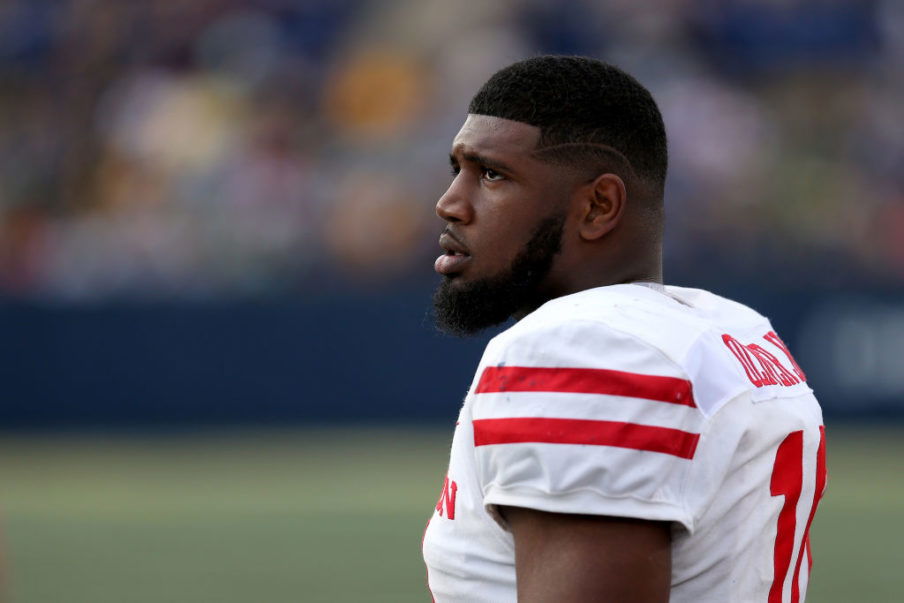 21) Oakland Raiders (from Seattle Seahawks) – Ed Oliver (DT, Houston)
The Raiers (no typo, they have no D) should basically just draft defensive talent first and ask questions about putting it together later at this point. Ed Oliver is a defensive cornerstone who falls in this mock because he's a scheme-specific defensive cornerstone – and because he played his college football on a team that didn't run that scheme. Put him as a one-gapping three-technique and single-handedly validate any scheme change you might need to make to fit him in. Name one other player on that roster who's a defensive cornerstone.
22) Baltimore Ravens – Byron Murphy (CB, Washington)
The Ravens considered cutting Jimmy Smith off a down 2018 before deciding they couldn't. You'd have to assume that they'd be up for an injection of talent at the cornerback position, and Murphy is certainly talented even if he's not got the deep speed you want there. Give him safety help over the top and he can be hugely valuable. Last I checked, Earl Thomas was still pretty good at providing that.

23) Miami Dolphins (from Houston Texans) – Garrett Bradbury (C, NC State)
Trading down and then getting Bradbury to learn on the job snapping to/blocking for a bad quarterback whilst waiting for the draft position to get a good one in a year or two? Still feels like an awfully good plan for the second most obviously rebuilding pro sports team in Miami.

24) Seattle Seahawks (from Oakland Raiders) – Chris Lindstrom (G/OT, Boston College)
You could make a case for DeAndre Baker here, as every scouting report on him makes him sound "Seahawky" – a zone/press corner who wins by jamming receivers and mostly loses on deep speed – but John Schneider trusts his ability to hit on later picks at DB to the point that he simply won't bother taking one early. Instead, here's an athletic run blocker to help get a return on investment on Rashaad Penny.

25) Philadelphia Eagles – Dalton Risner (OT, Kansas State)
The Eagles have spent the last few years redlining against the cap… and that's before Carson Wentz gets his inevitable eyeball-popping second contract. The most important thing this team can do right now is get young talent in on rookie contracts to replace high-paid veterans. Nowhere is that more true than tackle, where Jason Peters will retire sooner or later, and where Risner offers instant starter traits. A ding on him is that he will be a 24-year-old rookie, but the Eagles didn't let that stop them from making Dallas Goedert their first pick in 2018.
(Side note: taking Goedert meant that incredible "last time Dallas made the Super Bowl, these draft picks weren't born!" build-up from Davis Akers was partly ruined by the fact that it built up to one of the very few possible draft picks who actually was.)

26) Indianapolis Colts – DeAndre Baker (CB, Georgia)
With the Colts now firmly re-established as a legit contender, it's time for them to give them aerial assistance on defense, because legit contenders can't get enough of that when playing with a lead. Doubly so in today's NFL. Remember, this team needs to get past Patrick Mahomes and his bomb squad to win the AFC.

27) Oakland Raiders (from Dallas Cowboys) – Charles Omenihu (DE, Texas)

Part of me wanted to put Josh Jacobs here on the grounds that a team who use a top-5 pick on a QB tend to follow it up with offensive help later in the draft, and Jacobs is an obvious RB1 for a team who don't have an obvious RB1.
Then I remembered this team kiiiiiiinda sorted the "offensive help" bit in free agency.
So here's another defensive addition to help give Kyler Murray more than 20 minutes per game in possession. Omenihu is an upside pick who could be a defensive end in odd and even fronts alike, but fits best as a 4-3 end – a hard position to fill (and remember the last Raiders pick was Ed Oliver, a man who has been proven to be wasted in an odd front).
28) Los Angeles Chargers – Christian Wilkins (DT, Clemson)
Wilkins still available this late? Yes please. With Darius Philon hitting the market and now being locked up by the Cardinals, this isn't even a complete non-need pick (and, again, I don't believe it's possible to turn defensive line into a complete non-need).
29) Kansas City Chiefs – Marquise Brown (WR, Oklahoma)
Yes, they have an elite deep threat already. But at the time of writing it seems like he's facing a spin on Roger Goodell's wheel of discipline at best. Sammy Watkins is there, except with his durability he very often isn't.
That's the knock on Marquise Brown too, given his lack of size, but at worst you have to figure Patrick Mahomes would have one speedy deep threat to hit in stride. If he ever winds up with three, plus Travis Kelce as well? You're going to have to score a touchdown almost every time you get the ball. Because they will.

30) Green Bay Packers (from New Orleans Saints): Chauncey Gardner-Johnson (S/CB, Florida)
He'll be announced as a "defensive back" and that lack of specificity is going to be entirely appropriate. He's a utility option who ought to thrive somewhere in a Packers secondary that could still use the help.

TRADE: Los Angeles Rams trade pick #31 to Indianapolis Colts for pick #34 and pick #129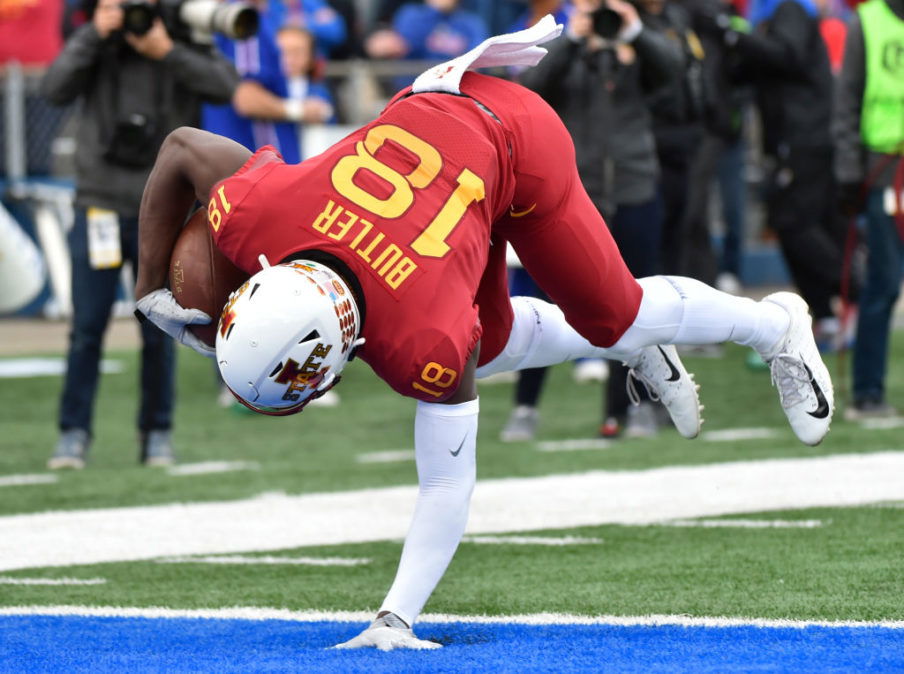 31) Indianapolis Colts (from Los Angeles Rams): Hakeem Butler (WR, Iowa State)

Just imagine the mismatch potential from the Colts lining up in an empty set with Butler (6'6″), newly-acquired Donte Moncrief (6'4″), Eric Ebron (6'4″), Jack Doyle (6'6″), and T.Y. Hilton (doesn't matter, you won't see him until he's doing the touchdown dance).
Again: this team needs to get past Patrick Mahomes and his bomb squad to win the AFC. I believe the phrase here is "if you can't beat 'em, join 'em."

32) New England Patriots – Noah Fant (TE, Iowa)
The master Gronkowski gets an apprentice in Fant. Assuming Gronk teaches him more about blocking than how to star in terrible action movies, Fant would be yet another Patriots draft robbery this late.
---