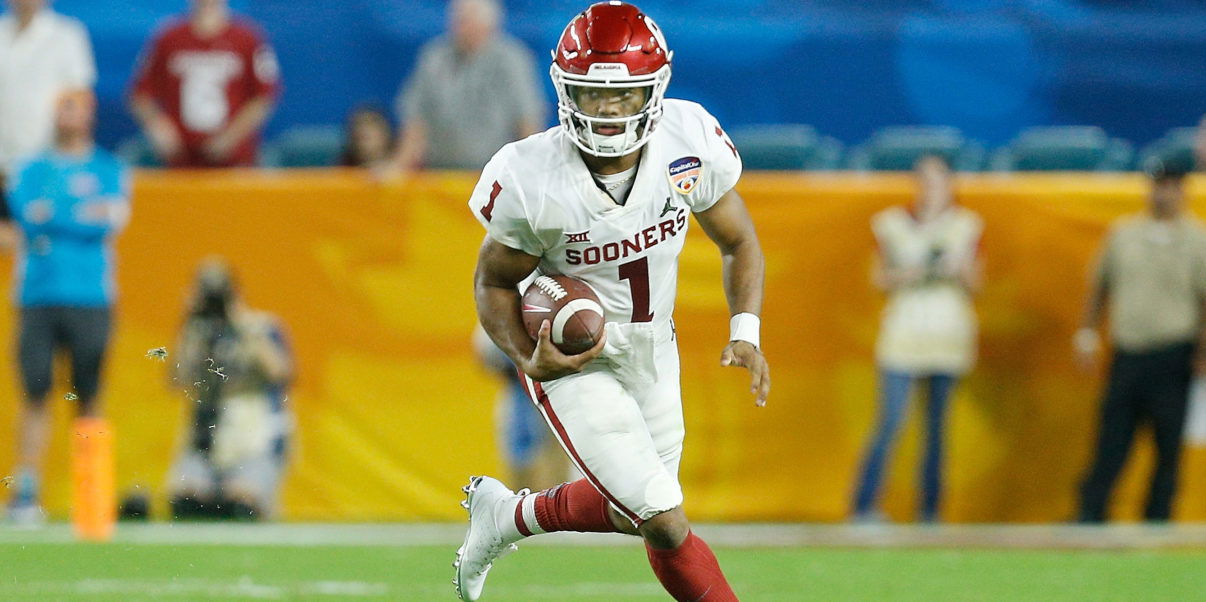 2019 NFL Mock Draft: David Howell, March 15
The 2019 league year has officially begun, a series of dubious contracts and OMG trades have now been activated, and we now have a much better idea of what teams will actually do when they assemble in Nashville for the NFL Draft.
But we're a long, long way from the speculation endgame. Between now and then, there are always mock drafts – the most reliable source of springtime enjoyment for the curious NFL fan. Seemingly everyone does mock drafts, and everyone has their own approach to them. Here's mine:
Real drafts have trades, therefore my mock drafts have trades.

And most often it will be for a QB. In the last three years alone, there have been ten teams who have traded up for a first-round QB. That's almost a third of the league!

Nobody can predict who'll actually go where, therefore my mock drafts don't pretend to try. Instead…
…I figure that if mock drafts can't be about saying what will happen, they should instead be about telling a coherent story of what might.
With that in mind, here is the first David Howell mock draft of 2019.
---
1) Arizona Cardinals – Kyler Murray (QB, Oklahoma)
This has gone from being unimaginable to being utterly expected within about two weeks. I still have no idea whether to believe in it or not, but in retrospect, why else would you hire Kliff Kingsbury as head coach if not to get his guy in? I suppose it could be an astounding bluff to induce a trade (remember, there's been ten of those for first-round QBs in three years), but would anyone really bite? I have to at least seriously consider this is for real, and make it the basis of at least one mock. Assuming the Cardinals don't trade Josh Rosen for pennies on the dollar this weekend, I will have a different scenario in my next mock.
2) San Francisco 49ers – Nick Bosa (EDGE, Ohio State)
The one commonality in the "they're actually taking Murray!" and "they're totally bluffing and want a deal!" scenarios; both involve the Cardinals being happy to let Bosa, the once and maybe future presumptive top pick, fall to a division rival. The Niners haven't done anything in free agency to suggest they won't use this pick on Bosa if available.
3) New York Jets – Josh Allen (EDGE, Kentucky)
The Jets are clearly locked in on creating a championship window around Sam Darnold's rookie contract, making multiple splash signings. None of them filled their big need at edge rusher, but they actually had a deal done with Anthony Barr that then fell apart. There are only two things I can see happening with this pick: either the Jets use it on an edge rusher, as here, or they flip it to someone moving up for a QB.
4) Oakland Raiders – Brian Burns (EDGE, Florida State)
Here's another team that made some splashy moves in free agency (just months after selling everyone seemingly for purely financial reasons!) and didn't make any of them for an edge rusher despite that being the most glaring need of any team at any position. How glaring? If every single Raiders sack last year had been credited solely to one man, that man would have been joint third in sacks in the division.
Fortunately, the Raiders' TV pundit front office have multiple good options – and absurdly athletic ones, too. Considering that Jon Gruden lit a first-round pick on fire to take Kolton Miller because he ran a 4.91 40 at 6'9″ and over 300 pounds, you'd have to presume he'd be OK taking the actually competent Burns because he ran a 4.53 40 at 6'5″ and almost 250 pounds. Rashan Gary is another elite underwear Olympian with the production to warrant going here.
TRADE: Tampa Bay Buccaneers trade pick #5 to Denver Broncos for pick #10 and pick #41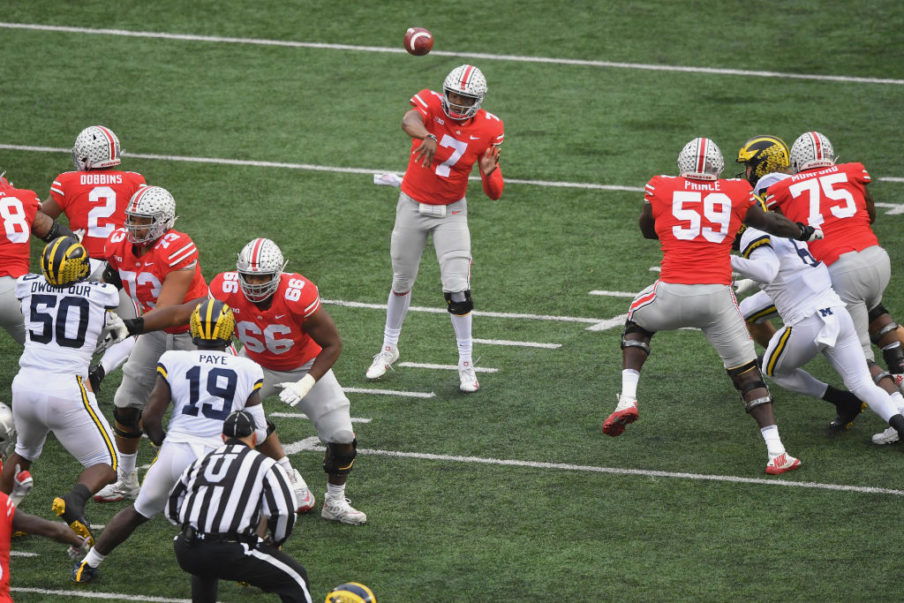 5) Denver Broncos (from Tampa Bay Buccaneers) – Dwayne Haskins (QB, Ohio State)

The Bucs' front office have proven their willingness to do business with a team moving up for a QB – it was with their pick that the Bills took Josh Allen – and the Broncos, even with Joe Flacco in tow, could legitimately trade up and let the "elite" ex-Raven eat starts while their rookie gets bench seasoning. To get Haskins, they'll probably need to go into the top five, and for all the Drew Luck smoke that's blown around them, Haskins is the best pure pocket passer in this draft and you have to imagine Elway loving that. He's also the only remotely safe pick in this shrug-emoji of a QB class.
6) New York Giants – Quinnen Williams (DT, Alabama)

David Gettleman does not need an incentive to draft a 300-pound defensive lineman even when there are more pressing needs on the roster. When the best player on the board and maybe in the draft class is a 300-pound defensive lineman, he has one anyway.
7) Jacksonville Jaguars – Rashan Gary (DE, Michigan)
Last year, the Jaguars pre-empted their incoming cap crisis by drafting a super-athletic, high-upside defensive lineman that could allow one of their veterans (Malik Jackson, as it turned out) to be painlessly cut. Gary is cut from exactly the same cloth, and while his best NFL position isn't entirely clear, he's a reasonable facsimile of – and by implication future replacement for – Calais Campbell.
8) Detroit Lions – Greedy Williams (CB, LSU)
When you're a corner with a 40 time in the 4.3s and your tape doesn't suck, chances are you won't have a long wait to hear your name on draft day. When you're near enough 6'2″ as well as having 4.3 speed and non-sucky tape? Whew. I'm genuinely not sure what the Lions are looking for right now but I'm not remotely unsure about Williams going high.
9) Buffalo Bills – Jawaan Taylor (OT, Florida)

Year 1 of the Josh Allen Experience was raucous fun at times, but you couldn't exactly call it a success. If he's going to throw bombs at the slightest provocation – and the additions of John Brown and Cole Beasley give him viable targets at last – he could probably use better protection from would-be defensive defusers. Enter Taylor, the consensus best pass-blocker in this draft class.
10) Tampa Bay Buccaneers (from Denver Broncos) – Devin White (LB, LSU)

You'd have to assume the Bucs would have a plan for what to do with a trade down, especially as they've got experience with it. Vita Vea was the eventual pick last year, reflecting a front-to-back defensive rebuilding plan that could be stepped up further with a do-it-all off-ball linebacker like White.
11) Cincinnati Bengals – T.J. Hockenson (TE, Iowa)
Tight end may not be considered a premium position, but it can be a huge part of any offense if you've got the right one. Hockenson is very definitely the right one – a true combination tight end in an era of pumped-up slot receivers, he offers quality whether he's running routes or making blocks. Andy Dalton's career has basically been marked by him going as far as his supporting cast will take him (up to a maximum of losing in the first round of the playoffs), and Hockenson is an almighty supporting cast upgrade. You could make the case that he's this year's Quenton Nelson in terms of being an undervalued elite prospect.
12) Green Bay Packers – Noah Fant (TE, Iowa)

After the end of the era of a GM in Ted Thompson who was allergic to spending in March, successor Brian Gutekunst overpaid for Jimmy Graham last year and has now paid big bucks for two average pass-rushers (Smiths Za'Darius and Preston) in a year of historic draft quality at the position. Be careful what you wish for.
Anyway, this likely means the Packers will go in another direction with this pick. Noah Fant is basically Jimmy Graham Jr. with a slightly thicker veneer of "I block, honest," and with Graham's contract expiring, this pick would set him up nicely to be a big part of the push to get Aaron Rodgers another ring before the future Hall of Fame QB joins Peyton Manning as a full-time insurance salesman.
(Yes, Iowa really do have two TEs that good in the same class. And before them, they had George Kittle!)
TRADE: Miami Dolphins trade pick #13 to Minnesota Vikings for pick #18, pick #190, and 2020 second-round pick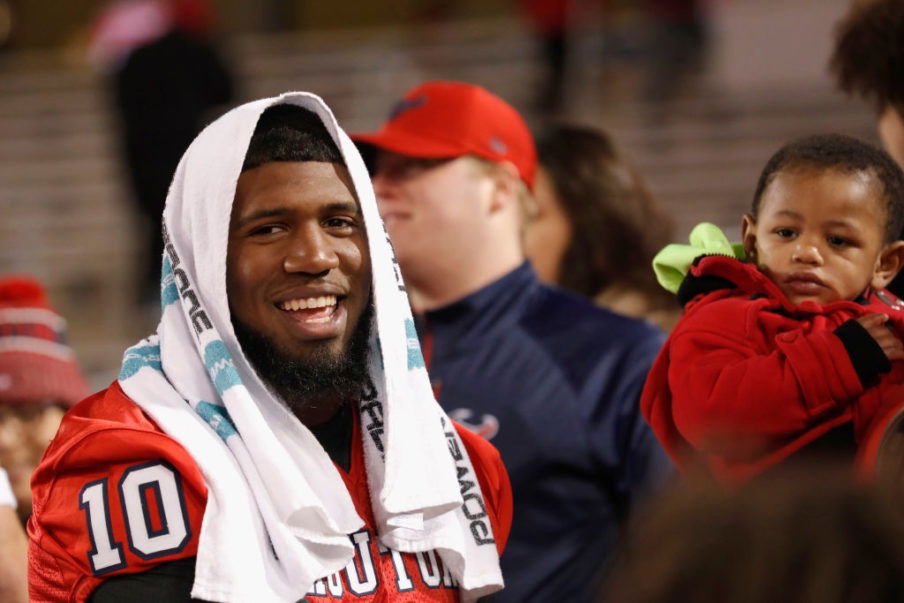 13) Minnesota Vikings (from Miami Dolphins) – Ed Oliver (DT, Houston)
After years of redlining against the cap signing overpaid veterans with increasingly dismal returns, the Dolphins have finally learned how to stop worrying and love the tank. To the point that Miami Herald veteran beat reporter Armando Salguero reported that "multiple sources have confirmed that the words "tank," or "tanking" were used during Miami's recent round of head coach interviews" and anticipated the Dolphins could trade down multiple times to stockpile picks.
They are helped out here by the fall of a player who was talked of as this year's grand tank prize recently enough to spark this late-October tweet from Football Outsiders' Aaron Schatz. Concerns over size and durability – and a draft class where seemingly the top ten players on the board are defensive linemen – have dinged his stock, but his upside as a 4-3 three-technique has earned him Aaron Donald comps. If he comes anywhere near that level, he will be more than worth this price to a Vikings team who are in win-now mode and have a big hole at that position. With the DT-needy Falcons at 14, this is a prime trade landing spot for Oliver.
14) Atlanta Falcons – Montez Sweat (EDGE, Mississippi State)

All you need to know about this draft class: in this mock, six defensive linemen (counting EDGE) have gone off the board already, and yet the Falcons could take another one at 14 and it could still count as a BPA pick as well as a need pick. That's how evenly spread the talent in this class is. Or isn't.
Sweat's 4.41 40 would be a quality time at WR or DB, let alone his actual position. Not everyone loves his tape, but teams take a chance on traits like that. As indeed the Falcons did with Vic Beasley, which certainly worked in their Super Bowl run (of course, the fact that it only worked that one year is why this is a need pick).
15) Washington – Jonah Williams (OT/G, Alabama)
Like performers in TV talent show competitions, draft prospects tend to get painted into clichéd boxes. Ed Oliver fits one of the late-2010s staples, The Discount Aaron Donald. Jonah Williams fits another, The Short-Armed Stud College Tackle – he produced the quote of this and maybe any Combine talking about that. This, oddly enough, is a cliché that doesn't tend to get the name-checked reference to the 2014 first-rounder who defined that box (Zack Martin). A man that Washington have to face twice a year, of course, so it'd make sense for them to covet a replica for their OL to protect Alex Sm… oh, too late.
TRADE: Carolina Panthers trade pick #16 to Pittsburgh Steelers for pick #20 and pick #83
16) Pittsburgh Steelers (from Carolina Panthers) – D.K. Metcalf (WR, Mississippi)
Maybe the most incomprehensible draft prospect of any other draft class except the Kyler Murray one he's actually in, Metcalf's combination of Megatron-esque straight-line athleticism and Brady-esque agility testing is beyond unorthodox. He's got Madden create-a-player athleticism alright… Breaking Madden create-a-player athleticism.
I have no idea what his NFL potential is. What I do know is that the Pittsburgh Steelers have a sudden need at his position (signing Donte Moncrief does not change this) and a long history of taking unproven giga-athletes in the first round. And that I can't wait to see his Madden 20 attributes.
17) New York Giants (from Cleveland Browns) – Clelin Ferrell (EDGE, Clemson)

As I wrote this mock, the Giants acquired Golden Tate just as it looked like they were going to finally embrace the tank and at this point I've given up on the Giants having a coherent plan. Let's just give them another defensive lineman and move on.
18) Miami Dolphins (from Minnesota Vikings) – Garrett Bradbury (C, NC State)
If the Dolphins are truly ready to #TankForTua next season, this is an absolutely perfect pick. Bradbury is a high-floor, high-ceiling player at a position that will be hugely valuable for the next franchise quarterback, but isn't one that wins you games alone – which, of course, is a feature rather than a bug if your priority is draft position to get your next franchise quarterback.
19) Tennessee Titans – Kelvin Harmon (WR, NC State)
Considering the Titans were reported to be in the Antonio Brown market, they're obviously open to making a splash at WR, where they're likely a bit overdependent right now on Corey Davis making the classic third-year leap. Kelvin Harmon is far from a speedster (4.60 40), but he's a big-bodied receiver who's been praised for his route-running skills, so the Titans could see some Michael Thomas in him.
20) Carolina Panthers (from Pittsburgh Steelers) – Cody Ford (OT/G, Oklahoma)
The Panthers offense relies on two things: keeping Cam Newton off the injury report, and freeing up Christian McCaffrey to do Christian McCaffrey things. Both of these things heavily rely on good offensive line play, the Panthers are not getting enough of that right now, and Ford offers tantalising upside at multiple spots on the line.
TRADE: Seattle Seahawks trade pick #21 to Indianapolis Colts for pick #26, pick #129, and pick #135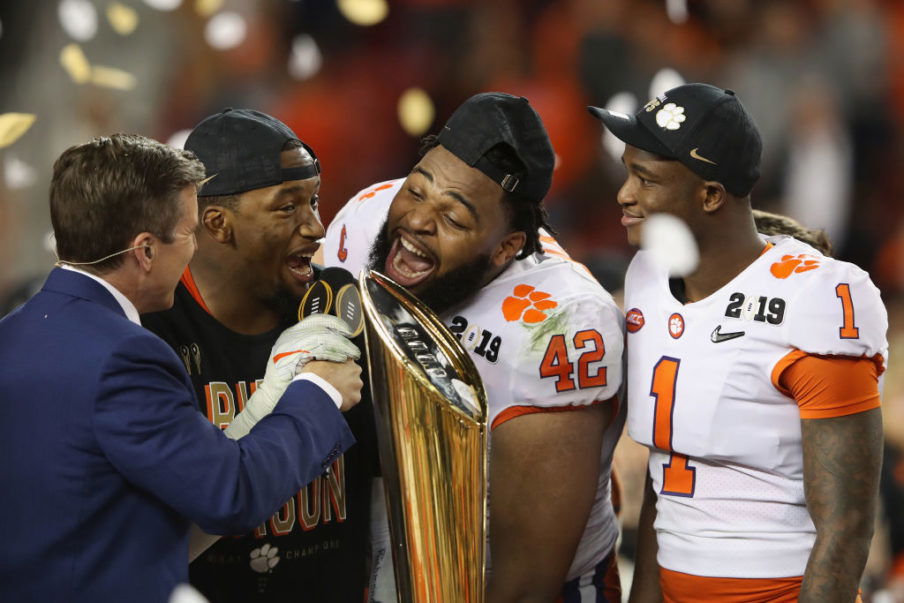 21) Indianapolis Colts (from Seattle Seahawks) – Christian Wilkins (DT, Clemson)
The Colts are loaded with picks, and things are opening up for Chris Ballard to build a Super Bowl contender out in Indianapolis. Moving up to catch a falling star seems a logical move, especially at a position of need – but it takes two to tango in a trade, and with the Seahawks somehow entering this draft with only four picks total, they make an obvious dance partner.
22) Baltimore Ravens – Devin Bush (LB, Michigan)
The Ravens replaced Ray Lewis with C.J. Mosley to great effect, and now in this scenario they can replace Mosley with Bush, a new-age coverage linebacker with 4.4 speed who could go earlier than this given how he fits today's prototype for the position. Might fall because of size, but for the 2019 Ravens the more important thing is going to be Bush's ability to make third-down stops that send opposing defenses back on the field for another exhausting round of Lamarball.
23) Houston Texans – Dalton Risner (OT, Kansas State)
At this point, the Texans can do two things with this pick; they can use it on the best offensive lineman available, or they can make a mistake by doing literally anything else.
Think I'm exaggerating? Deshaun Watson absorbed 62 sacks last season, the most any QB has taken in one year since 2006. Even the Dolphins' infamous 2013 "Bullygate" group that put the "offensive" in "offensive line" only allowed Ryan Tannehill to take 58.
24) Oakland Raiders (from Chicago Bears) – Byron Murphy (CB, Washington)
It's one thing to say the Raiders got nowhere near enough sacks because they didn't have any good pass-rushers. But sometimes it's not just instant penetration that leads to sacks; sometimes it's the QB having time but running out of options. An edge threat like Burns will be even more effective if he also gets a shot at coverage sacks, and while Murphy lacks long speed he doesn't lack much else. Not hard to imagine him being a "trust the tape" Mayock pick.
25) Philadelphia Eagles – Dexter Lawrence (DT, Clemson)
Lawrence has seen his star wane a bit with a suspension for Clemson's playoff games (and how easily they won them without him) and there are questions about whether he's more than just a great run-stuffer. At this price, for a team that carried deep defensive line rotation to a ring and now don't have the depth to do that anymore, I think "just a great run-stuffer" might well be enough. Especially when the path to their division runs through Dallas – if this pick stops Zeke in divisional games it's already returned value.
26) Seattle Seahawks (from Indianapolis Colts) – Jeffery Simmons (DT, Mississippi State)

This would be an exceptionally on-brand pick for Seattle GM John Schneider. Simmons tore his ACL in January, wouldn't have been invited to the Combine anyway because he hit a woman in 2016, and would have been yet another part of the "how many defensive linemen belong in the top 10 this year?!?" debate if neither of these were true. This "take a flag-laden stud on the D-line" approach has produced a clear hit (Frank Clark) and a clear miss (Malik McDowell), but one imagines the latter won't put off Schneider too much. The other option is an offensive lineman, but the talent there isn't comparable to that of Simmons.
27) Oakland Raiders (from Dallas Cowboys) – Drew Lock (QB, Missouri)

For a team who reportedly just cut backup QB AJ McCarron because of cash flow issues – not cap, cash flow, Mark Davis is that heavily leveraged in stadium debt – it makes all the sense in the world to take a developmental QB at the back end of the first round for that valuable fifth-year option, seeing as they have two such picks to be going on with.
28) Los Angeles Chargers – Nasir Adderley (S, Delaware)

The Chargers cut Jahleel Addae after he was a predictable failure at free safety while Derwin James wrecked havoc as Gus Bradley's new Kam Chancellor, and they didn't add any of the many top-tier safeties to hit the market. Probably a wise decision given how cheap they weren't, but it does mean there's a hole to be filled, and Tom Telesco has tended to be a draft-for-need GM. Adderley is a legit single-high safety, which isn't as easy to find as some think, and could be the piece that makes this defense win a championship.
29) Kansas City Chiefs – DeAndre Baker (CB, Georgia)

If you've got Patrick Mahomes and his receiving bomb squad, you're going to put up a ton of points and force a ton of throws from teams trying to keep up. Too often, the 2018 Chiefs allowed teams to do to them what they did to others, which reached its logical conclusion when they became the first team in NFL history to score 50 points in a loss. Ballhawk Baker would help prevent that kind of thing from happening again.
30) Green Bay Packers (from New Orleans Saints) – Chauncey Gardner-Johnson (S/CB, Florida)

Similar logic to the last pick – if you've got an elite QB and think you can win a ring with him, you'd better load up on players who can stop opposing aerial attacks, because either you're going to get a ton of teams throwing on you or (like the Packers of the last two seasons) you were a pretender rather than a contender in the first place. With his versatility and upside, this former Gator has the chance to be a big name in more ways than one.
31) Los Angeles Rams – Chris Lindstrom (G/OT, Boston College)

Scouting reports peg Lindstrom as a mobile guard with plenty of experience blocking in a collegiate offense that ran on a diverse run game and play-action shots faciliated by that run game. Hmm, which pro offense lit up the league that way in 2018?
TRADE: New England Patriots trade pick #32 to Tampa Bay Buccaneers for pick #39 and pick #107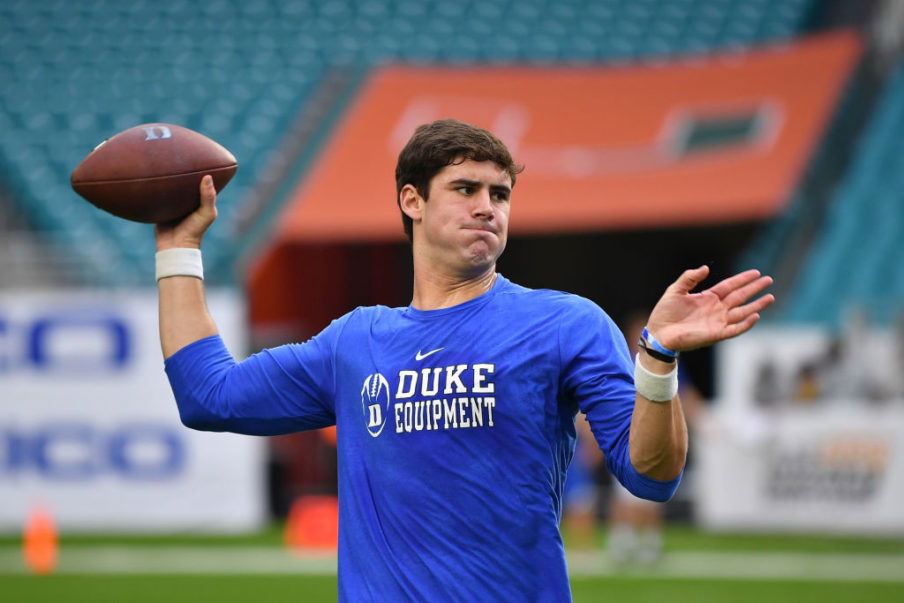 32) Tampa Bay Buccaneers (from New England Patriots) – Daniel Jones (QB, Duke)

As of right now, the Bucs do not have a backup on the roster for their crab-snatching starter, a man who spent last season in a full-fledged rotation with Ryan Freaking Fitzpatrick and is playing out the fifth-year option on his rookie contract with no guarantee he gets another deal after that.
Hey, about that fifth-year option… it's specific to first-rounders. In two of the last five drafts, the defending Super Bowl champions flipped the #32 pick to a team moving up to get a QB with that contract. Does Daniel Jones deserve to be a first-round pick? No. Would a badly-run team with no long-term plan at the most important position in team sports let that deter them? Also no. And the Buccaneers are unquestionably such a team.
---