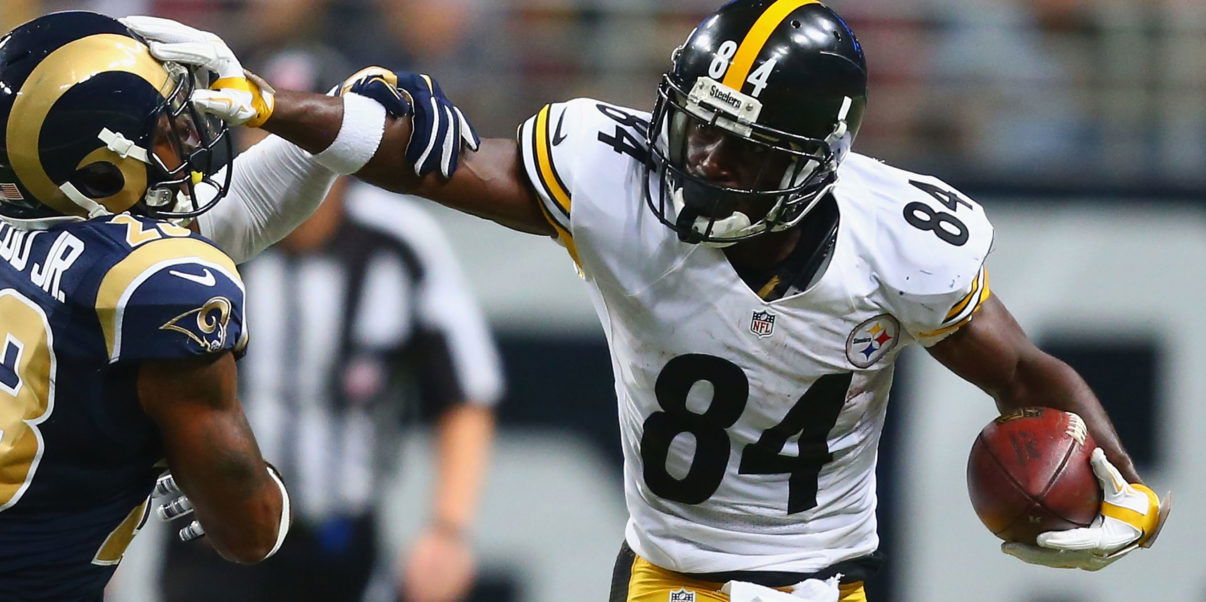 Trade Analysis: Antonio Brown traded to the Oakland Raiders
Woah, that's woken me up!
The news that the Pittsburgh Steelers have agreed to trade Antonio Brown to the Oakland Raiders for a third-round and fifth-round pick not only made me sit up like the Undertaker in bed when I read it, but it had me scrambling to my keyboard to write this article.
The trade isn't just interesting, it's genuinely exciting. I have two nicknames for my beloved Oakland Raiders (for the purpose of my numerous fantasy teams) the Oaklan Raiers, and the Oakland Rebuilds. Whilst both served me well, I might not be able to stick with these names next year, because of the implications of this trade. Implications which I think have covered all of below.
The Objective of the Oakland Raiders
As in any trade, free agent acquisition or coaching hire you need to question if the current goal is evident in what they did. The first thing that causes you to raise an eyebrow is the simple fact that the Oakland side appeared to be in full rebuild mode. The last 12 months have consisted of two primary headlines, both of which involve trading away our most talented players for draft capital, this is a big, bright, blinking sign saying "we are rebuilding our team" if ever I've seen one. Bringing on Antonio Brown, however, seems more optimistic than that. I hope that this signing, potentially spurred on by how good an opportunity it was, will make Gruden and new GM Mike Mayock look at the 2019 draft a little differently. My hope is that this trade shifts them out of the rebuild mentality and encourages them to be more aggressive in this year's selections, and try to fix that defense quicker than they might have hoped.
As if by magic… Within the two days it took me to research and write this article, the Raiders have also added Trent Brown, Offensive Tackle from the Patriots and Lamarcus Joyner, athletic Free Safety from the LA Rams, proving that the acquisition of Antonio Brown signified more than just one good player. The rebuild is starting to come together.
Lots of people immediately jumped to suggest that this is too short-sighted of a deal for the Raiders and that they shouldn't be targeting a 30+year-old receiver who has a massive contract when they're trying to restructure the team.
For what it's worth I completely understand that opinion, and I might even have agreed with it if I didn't believe two things about this trade: 1. Antonio Brown is in his prime. 2. They got him dirt cheap.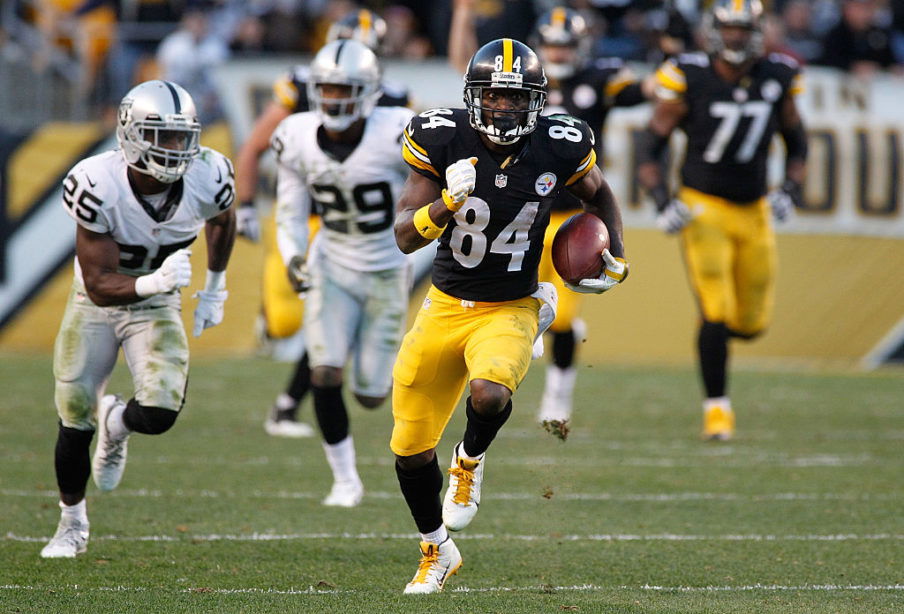 Trade Valuation
The reason that the Oakland Raiders gave up a third and fifth-round pick for Antonio Brown is simple; it's a third and fifth-round pick for ANTONIO BROWN. The value in this trade is what would cause any team to show interest, and that isn't because the Steelers don't think that AB is worth anything anymore, it's because he took his trade value and he wiped his backside with it. There were lots of teams that showed interest in the elite wide receiver, but it became increasingly clear over time that it was more a case of him choosing where he ended up. Brown being in control of his landing spot, by essentially refusing to go and sign in a place he didn't want to play, immediately reduced his price tag. The reason that the Raiders eventually managed to get him at such an affordable price is, in essence, because if the Steelers can't trade him to somewhere he wants to go, he will end up like Le'Veon Bell, and we all saw how that worked out.
This price has now been confirmed is two picks, both in 2019, one third-round pick and one in the fifth.
Let's first look at what that spend represents. Last year, the Raiders did a decent job of at least trying to tend to their defensive line, so their picks in the middle rounds were respectable, but let's try and put some value on what these picks represent. In the third-round last year, the Raiders picked up Brandon Parker, the Offensive Tackle from North Carolina, and Arden Key, a defensive end from LSU. Brandon Parker admittedly was used, and so the value in terms of having a body on the field is there. However, he had a tough time, and the Oakland offensive line was significantly worse last year than it had been previously – so although they got a Tackle who was on the field for 75% of the team's offensive snaps. He wasn't exactly an irreplaceably talented player – he only saw as much of the field as he did due to injuries and a reshuffle of lineman overall, and rumours suggest that he isn't in the long-term plans for the team. Arden Key is another good prospect, and although he isn't a permanent fixture yet, he did command a respectable 63% snap percentage on the Raiders defense. Once again, not a bad pick, but nothing to write home about.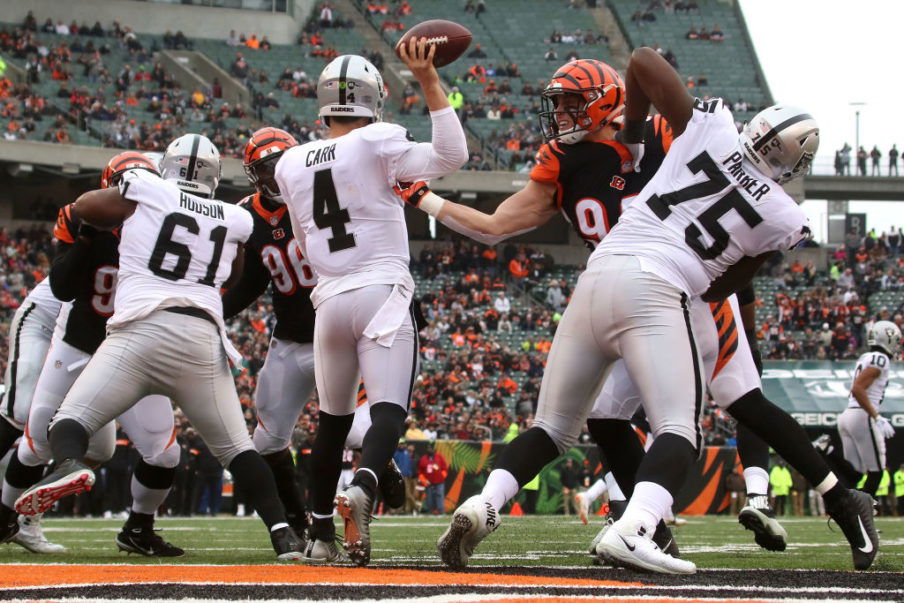 The fifth-round last year actually, in my opinion, was host to the best pick in the Raiders' entire draft. With the 140th pick, they selected Maurice Hurst, a promising Defensive Tackle out of Michigan. But even though he showed real flashes, and I think he was a good pick, he was only on the field for 46% of snaps this year, even though Khalil Mack was traded. The other pick in the fifth-round from Oakland was a punter, so I don't need to go into too much detail on that one – but my point stands. A third-round and fifth-round pick is a cheap price to pay for arguably the best receiver in the entire league.
We've looked at what the Raiders paid, but it is even more important to look at what they have left, and that is what makes me think the Raiders have really won with this trade.
Raiders 2019 Draft Picks
As I mentioned earlier, one thing that anybody will say if they don't like this trade is 'but they're in rebuild mode, why did they get Antonio Brown?' Obviously, every draft pick is valuable, and to give any of them up is a commitment to whatever you're getting in the deal, but this is what I find myself reminding people. The Raiders still have five picks in the first five rounds.
So now let me make it clear what I'm saying here. This is what the Oakland Raiders are taking out of the 2019 draft.
1st Round – Three picks (including the 4th overall pick) 2nd Round – One pick Antonio Brown 4th Round – One pick Antonio Brown 6th Round – Two picks 7th Round – Two picks
If you got the chance to draft three years of Antonio Brown in the middle of your draft, wouldn't you take him?
What I am illustrating here is that giving up two picks doesn't derail the rebuild all of a sudden. In just two years, they get five first-round picks. If you don't hit on at least two of those picks with good, startable players, that's on Mike Mayock, and I trust him to assess talent.
Oakland Raiders Needs
A week ago, I'd have told you that a Wide Receiver was one of the things that the Raiders need. Admittedly, that position won't be at the top of the list for a year or two anymore, (that doesn't mean that they won't get DK Metcalf and drive me to insanity). Above anything else, the key is to improve the defense, both at the front-end and in the secondary, with a couple of offensive needs that can be attended to by taking later-round prospects, to see what they can find.
Primary Positional Needs:
Pass Rusher
Cornerback
Linebacker
Running Back
Offensive Line (Even after signing Trent Brown)
Safety
Tight End
I have ranked these needs are listed in what I believe to be the order of urgency.
The main focus of our drafting has to be defensive, I would be more than happy to see three selections out of our first five going on the defensive side of the ball. The running back position is one which is obviously very important, but if the Raiders force the issue and take a second-round running back or throw away one of their first-rounders for one that is sliding a bit, they could miss out on some truly talented defensive players.
Last year I was absolutely gutted when they traded back and took Kolton Miller, my personal wishlist consisted of Minkah Fitzpatrick (went one pick after our original 10th), Tremaine Edmunds (went one pick after our eventual 15th), Derwin James (went one pick later than that), and finally Jaire Alexander (one pick later again). If the Raiders had committed to their need to improve on the defensive side of the ball, they wouldn't have less of a mountain to climb this year. I am really hoping that this year they do the exact opposite. I want them to keep the fourth-overall pick and use it on a defensive superstar (preferably a pass rusher), or at an absolute maximum, trade back just a few spots and target the same thing, then use those late first-rounders to pick up a couple of Mayock's favourites in the secondary, or maybe a linebacker.
Impacts of adding Antonio Brown
We'll start off the field. The downside to him is theoretically that his personality could have a negative impact on the changing room, and of course, his contract is incredibly expensive. One of those is already set in stone, the other will tell with time. The positives, however, can be real – even off the field.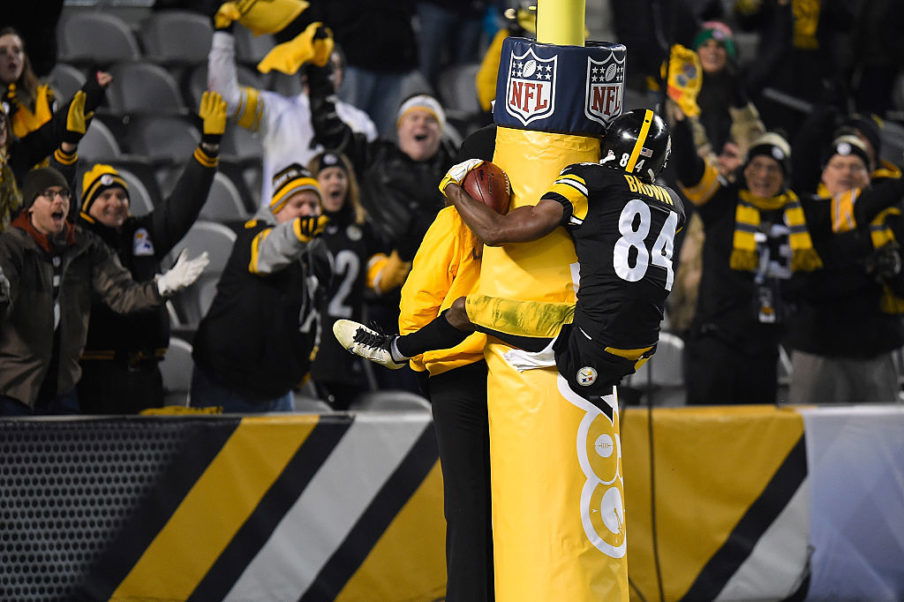 My favourite thing that Brown will bring to the team, when he has his pads off, at least – free agents. Obviously, he hasn't yet, but I believe that players will now have a little bit more to be excited about when going to the Raiders. I'm sure there are plenty of people in the NFL, including great defenders (please Jon, please…), who wouldn't mind playing for a team that has players like AB, that is located alongside the sun and fun of Las Vegas.
On the field, oh boy, I probably don't even need to do this, but I'm going to do it for fun. Antonio Brown is an absolute animal. You can argue that he is in the conversation for one of the best to ever do it, and the best in the league right now. Even if you chill out on the hyperbole, nobody is arguing that he isn't a brilliant player who will immediately elevate the offense, but how will he change it?
The main thing that I'm excited about works in two ways – that thing is his ability when running vertically. Firstly, of course, his ability to create separation, run medium and deep routes, and get open for big plays and important key first-down conversions is incredible. The other side of that, though, is that everyone else will be more open with him on the field. Antonio Brown commands man coverage and/or double coverage more than anyone, and this will give everybody else a chance to exploit the space which Brown leaves behind. This is huge for the likes of Jalen Richard and Seth Roberts, they can move into these spaces and get one-on-one with anybody. No matter what a defense does to stop Antonio Brown, his mere presence on the field immediately creates opportunities.
Derek Carr – Brown's new Quarterback
By far the most common on-field complaint that I've seen since this announcement is targeted at Derek Carr: in terms of both the NFL and fantasy football, everyone seems to think that DC4 is insufficiently talented to be worth adding AB84 to the roster. I disagree.
First things first, I think that people are forgetting that he was once in the MVP race. Only two seasons have passed since then, but people think he's rubbish. I will admit he's not the best QB in the league, and the Raiders pass less than the Steelers do (or at least, they did), but the actual ability of Carr isn't an issue in my opinion. Brown is so good that he will raise the standard of the guy throwing the ball automatically. Big Ben owes plenty of his success to Antonio Brown, it's not mutually the other way around. It is obvious that the rapport between the new pairing will take a while to build, and you can't expect instant chemistry, but both players have been very public in displaying their excitement to play together.
To take more of an actually analytical view at this, I believe I've identified that the primary thing people criticised Carr for this year is being overly conservative and for want of a better word boring. I watched every snap of every Raiders game, including one live, and I whole-heartedly agree that he was way too conservative. The Oakland signal-caller, in fact, was tied last in qualified Quarterbacks in average intended air yards (IAY), with 6.7, per NFL's Next Gen Stats, tied with Cody Kessler and R.P.O king Nick Foles. If you aren't familiar with the IAY stat [it is very similar to average depth of target], it essentially measures how deep or short the average throw is – I was not even a little bit surprised when I saw that DC was at the bottom of the pile on this one. What is weird is that Carr actually had his best season ever in: completions, completion percentage, yards (his first ever 4,000-yard season), and average yards per completion. This doesn't really make sense. Yes, you can point out that he threw his career low TD's last season, or of course circle back to being boring, but instead, I am questioning how it is possible that his quietest season in both throwing Touchdowns and throwing the ball deep also lead to his most productive year in multiple key statistics. I believe that Derek Carr is continuing to improve as a player, as you would expect him to over time, but I believe that the team around him is letting him down. The evident rebuild mentality, and severely downgraded offensive and defensive lines, as well as the gaping hole left by cutting his favourite target Michael Crabtree, have caused for a potentially improved QB (in accuracy and technical ability) to look worse, and boring.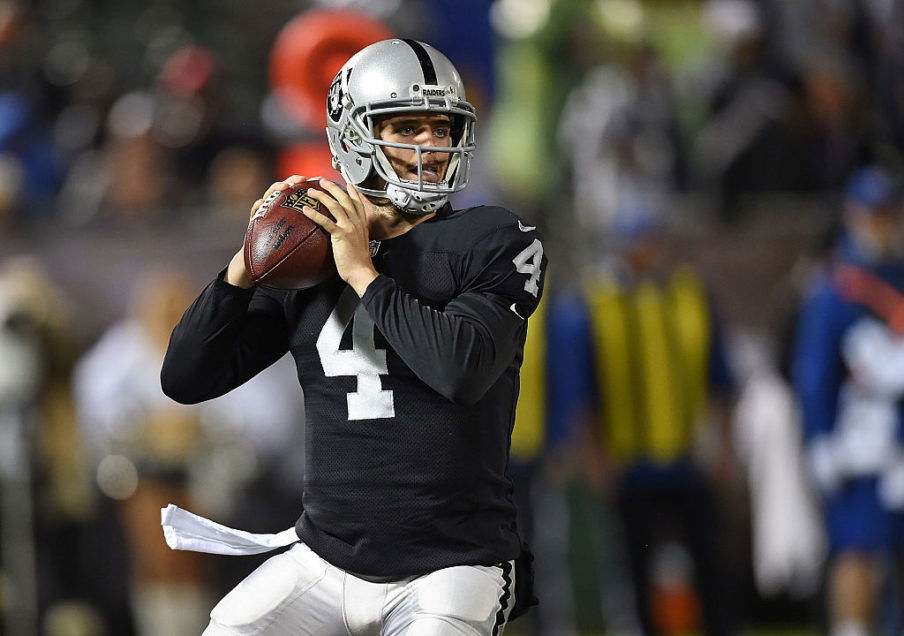 The most telling stats, before I stray away from the numerical research, both coincide well, the first being the number of sacks he took. In his MVP-level year, 2016, Carr was sacked just 16 times all season, the next year – just 20. This season he was sacked 51 times. Yes, 51 sacks. And here's where it all comes full circle to me. The other stat that puts DC4 at the absolute #1 spot in the league (or #39, depending on how you look at it) of qualifying players is linked directly to that sack count – his average time to throw (TT). Again, per Next Gen Stats, Derek Carr had the quickest average TT at just 2.55 seconds. That isn't because he's being boring, that's because that is how much time he was being given.
There are only two ways to make Derek Carr play better: you can give him better targets to throw to, or you can give him more time to throw it.
The Raiders intend to do both, and if they are successful in the latter, as well as adding the two Browns (Trent to block, Antonio to make it happen downfield), I think that #4 will be able to have another great season in terms of accuracy, but bring back up that TD total, and air it out a little bit more.
To summarise this section, the impact of adding Antonio Brown is that when Derek Carr throws the ball, the person catching it will now be the best that it has ever been, by far. If they can give their QB a bit more time, people will soon realise that he is more than talented enough to facilitate the newly-crowned highest-paid receiver in the NFL.
Scheme Implications
Now onto the fun part. I'm not going to go all X's and O's at the end here, but it is important to consider what changes you must make to an offensive scheme that is adding Antonio Brown to its arsenal. It's easy enough to say they can use him like they did when they had Amari Cooper – that's what everyone I see on fantasy football twitter saying – but I think that, on top of those iso route-running opportunities which work for both of these technical wideouts, Brown opens up for more creativity. When you are game planning to play against a team who have the best receiver in the league in it, you're going to put a lot of focus on him – and the Raiders know that, just like the Steelers did. In the same way that I expect JuJu Smith-Schuster to have a tougher time this year than he did last year, I predict that the Raiders receivers will have a better time in 2019. Antonio Brown, as I said earlier, does one of two things – he gets open, or he gets someone else open – or sometimes both.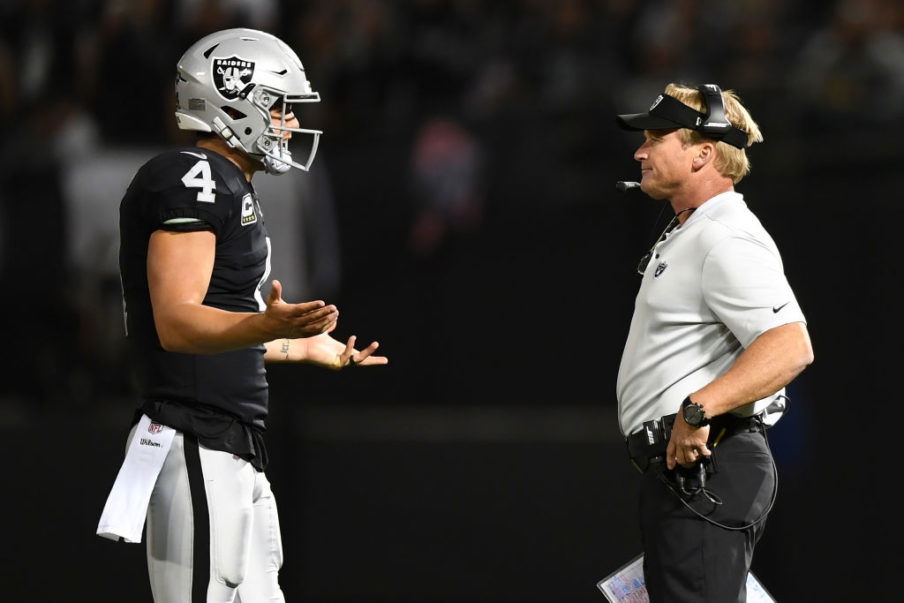 If I was Gruden, I would start to slowly put the ball in Derek Carr's hands more, and lean on plays that focus on releasing the running back to the side that Brown is vacating from, as well as running flood concepts at whoever is defending him. If Antonio Brown is split out wide to the right side of the formation, send Jalen Richard on a flat route, Seth Roberts on an out route, and AB on a go down the sideline, and there's no team in football who won't find themselves selling out to stop #84, and Carr has an easy high-medium-low half-field read to make. Play design like this is going to be very effective when you have someone who can command so much attention. Antonio Brown could also be used for RPO's (read-pass option plays) if Gruden leant that way, but the running back situation isn't currently ideal for that. Screens might be more suited, with Richard proving to be an impressive receiving option, especially when he gets a bit of space.
Obviously, you don't need to write up a whole new script for one added character, but Brown is worthy of tweaking things for. He can run any route in the tree, and more, with terrifying speed, precision and consistency, so the Raiders need to let him loose and let Derek Carr see what he can do with his shiny new toy.
It's not often that the best receiver in the league is traded during his prime, I'm looking forward to seeing if it works out as well as it could.
Long story short: It was a good trade, landing Antonio Brown's truly elite talent for an incredibly low price, and it could be enough to kick-start the Raiders out of rebuild mode, as has been demonstrated by the subsequent activity this week, and force them to work a little faster on fixing the issues on both sides of the ball.
TRADE GRADE: A-

Do you like this trade?
Yes, good deal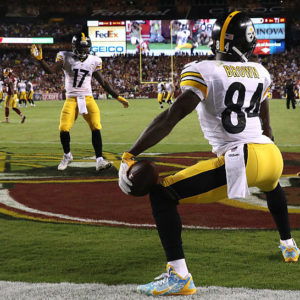 Not the right trade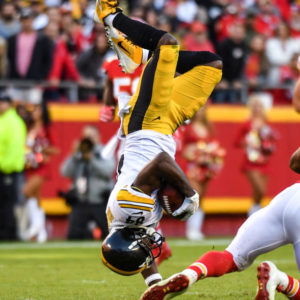 ---