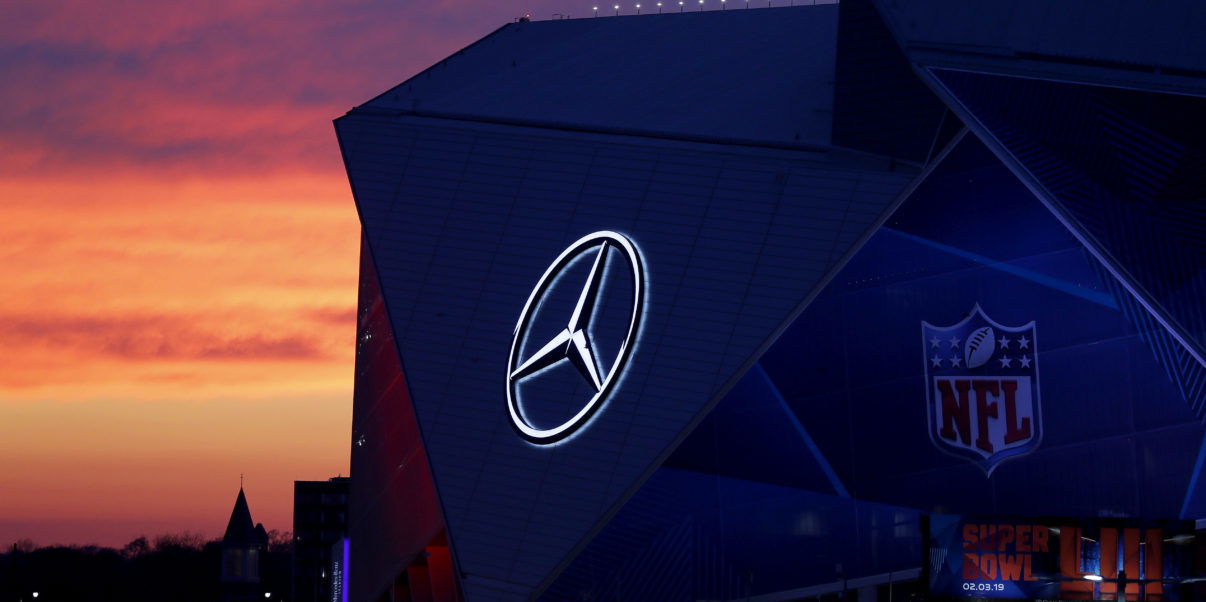 Super Bowl LIII: The RAF Roundtable
The two-week buildup has ended, speculation is about to turn to reality, and the Lombardi Trophy is soon to be hoisted into the cavernous surroundings of Mercedes-Benz Stadium in Atlanta; Super Bowl LIII has arrived.
Generations collide; a young Rams team whose relocation is so recent they're still playing in their temporary college stadium home face off against the ultimate veterans in the Patriots. The gap is astonishing; Sean McVay is eight years, 174 days younger than Tom Brady, yet it'll be Brady wearing a helmet on one sideline and McVay wearing a cap and headset on the other. That, plus the Patriots beginning their dynasty in an NFC South stadium against the then-St Louis Rams at Super Bowl XXXVI 17 years ago, is the foundation for a great story.
It's never that simple in the NFL though. Brady's blind side will be protected by 25-year-old Trent Brown; Jared Goff's by 37-year-old Andrew Whitworth. Both feature running backs out of the University of Georgia who are nearer 20 than 30. And any time Aaron Donald takes the field, he can become the story. So could any of the other 91 players who will be active on Super Bowl Sunday.
What will the story be? David Howell asked the questions; Alan Cole, Tyler Arthur, and Sam Brown tried to answer them.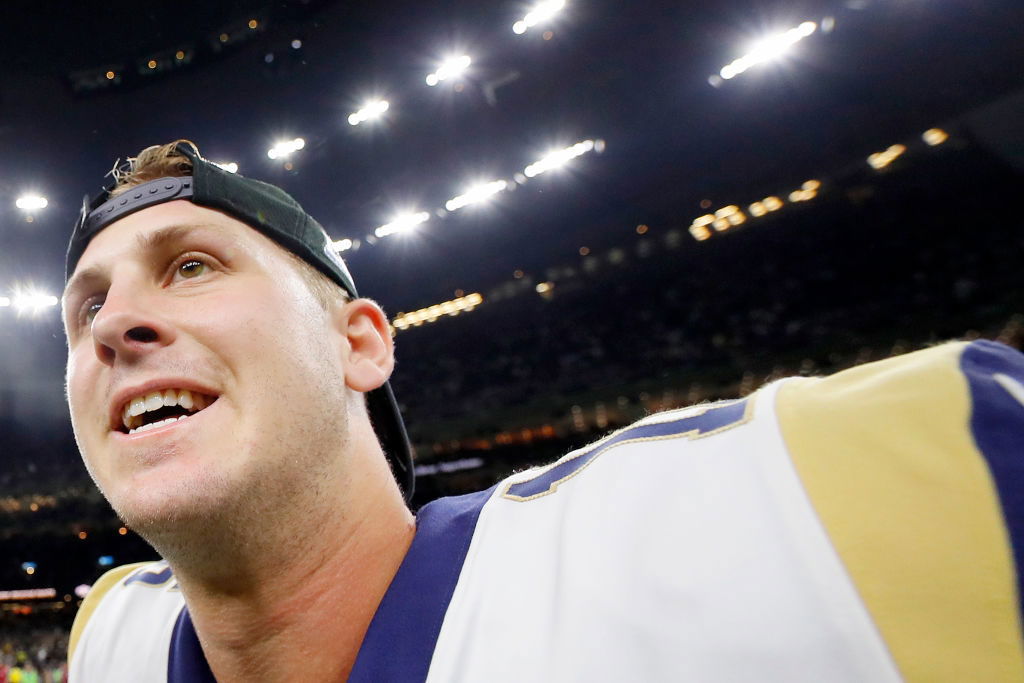 Only one Rams starter on each side of the ball has ever played in the Super Bowl. How much will that inexperience matter against a team loaded with experience of February football?
David: It's hard to say. Obviously you'd rather have that experience than not, but for the most part it's just another game of football. With a couple of huge exceptions: the media obligations in the week before the game (in this instance with the undercurrent of "you shouldn't even be here, the Saints should"), and the half-time concert. Both of those throw you out of normal-game rhythm, and a big part of Sean McVay's challenge is preparing the many, many players on this roster who've never experienced this before. Of course, neither has he…
Alan: It will matter early in the game the same way it did in New Orleans (in the NFC Championship Game). It's clear the Rams were a little timid in the Superdome atmosphere, and it got them in a 13-0 hole quickly. I could see a very similar scenario playing out in this game, but as long as the Rams weather the storm the way they did in New Orleans, the game shouldn't get away from them.

Tyler: Let's be honest. No team is as experienced as the Patriots in Super Bowls, so this question could be asked no matter which of the 30 teams you switch in there. Last year this question was asked too, and the fresh faces made it happen. I would argue that this LA Rams team is better than the Eagles team which went into this game last year, except last year there was magic involved (shoutout BDN). This year, the Pats aren't in the mood for surprises – so much so that they're even pretending that they are underdogs. I think that the Rams are the second most equipped team in the entire league to defeat the Pats in this game (sorry Saints fans).
Sam: Bill Belichick has a history of not allowing his opponents to get a good start in the Super Bowl, and this won't be any different. I fear Jared Goff will be blinded by the bright lights, and will need time to settle. Those long, time-consuming Patriots drives won't help either…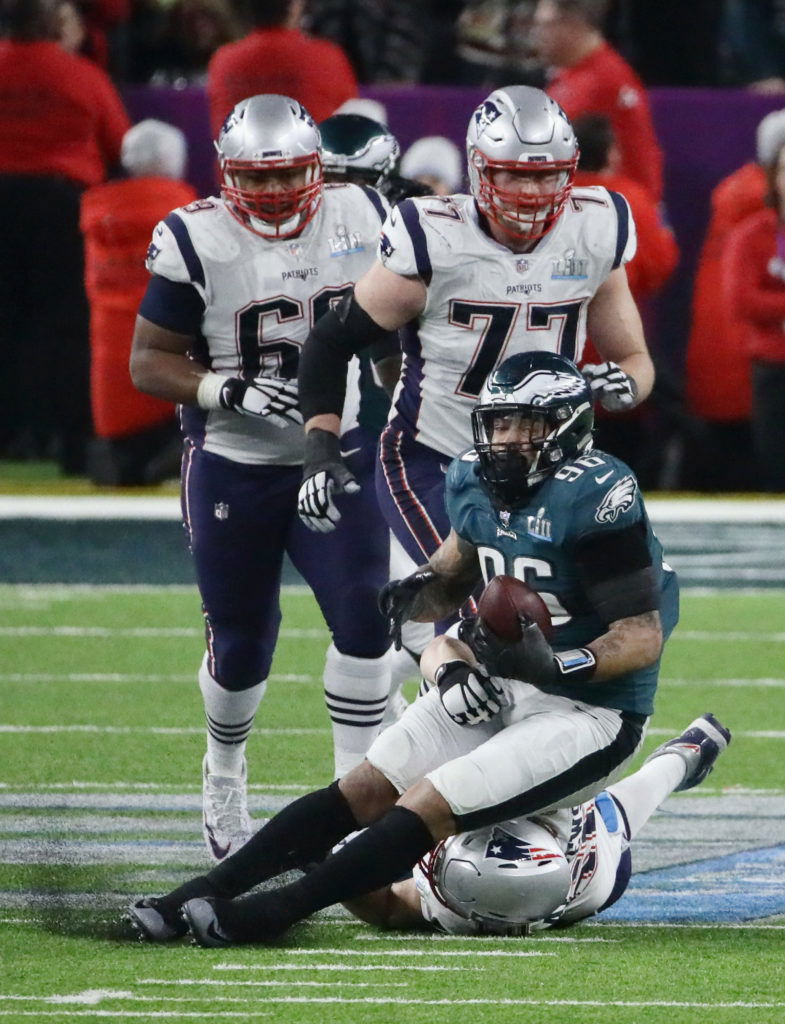 The template for beating Tom Brady in the big game has been to pressure him without blitzing, but he's only taken 21 sacks all season, none of them in January. Can the Rams commit to the four-man rush and make it work?
David: Any team with Aaron Donald and Ndamukong Suh have a chance to do that, especially as Suh has stepped up against the run – which makes the Rams D much more balanced than the run-funnel unit they were for much of 2018. I don't think they'll necessarily get many sacks, but just forcing hurried throws (which interior pressure does particularly well against pure pocket passers like Brady) could be enough to stop this offense from functioning properly. If Brady can't hold on to the ball for long – and at this stage of his career he's a quick-strike machine anyway – defensive backs don't have to be as worried about the deep ball.
Alan: I have my doubts. Bill Belichick's strength has always been taking away the biggest strength of the other team, as we saw in the AFC Championship Game when the Pats did a better job than anyone all year of shutting Tyreek Hill out of the game. I think that staff will be ready to go with a plan for Aaron Donald and Ndamukong Suh and keep Brady upright most of the night.
Tyler: This is by far, in my opinion, the biggest key to this game. The Patriots O-line are the most underrated players in the NFL right now, and that is obviously a huge benefit for Tom Brady, who is an absolute surgeon from the pocket. But, what will happen if the pressure gets through this week? What will happen when the pressure gets through this week? I think that the key to stopping Brady isn't getting pressure, it's getting unpredictable pressure. If I was McVay I'd rush four people for the majority of the game, but I'd have about six or seven people who are able to provide it. If I need to drop Aaron Donald into a hook zone to win the Super Bowl, I'll do it. You need to keep Brady guessing.

Sam: Well, if anyone can bring pressure with four, it's the Los Angeles Rams. Aaron Donald has made a mockery of double teams all year long, but don't forget his mate Suh either. The Patriots offensive line has been excellent, and has benefited from Brady's ability to get the ball out quickly. Forcing third and 7+ – meaning Brady has to sit in the pocket for a bit longer – is going to be the key for the Rams if they are to get a result in Atlanta.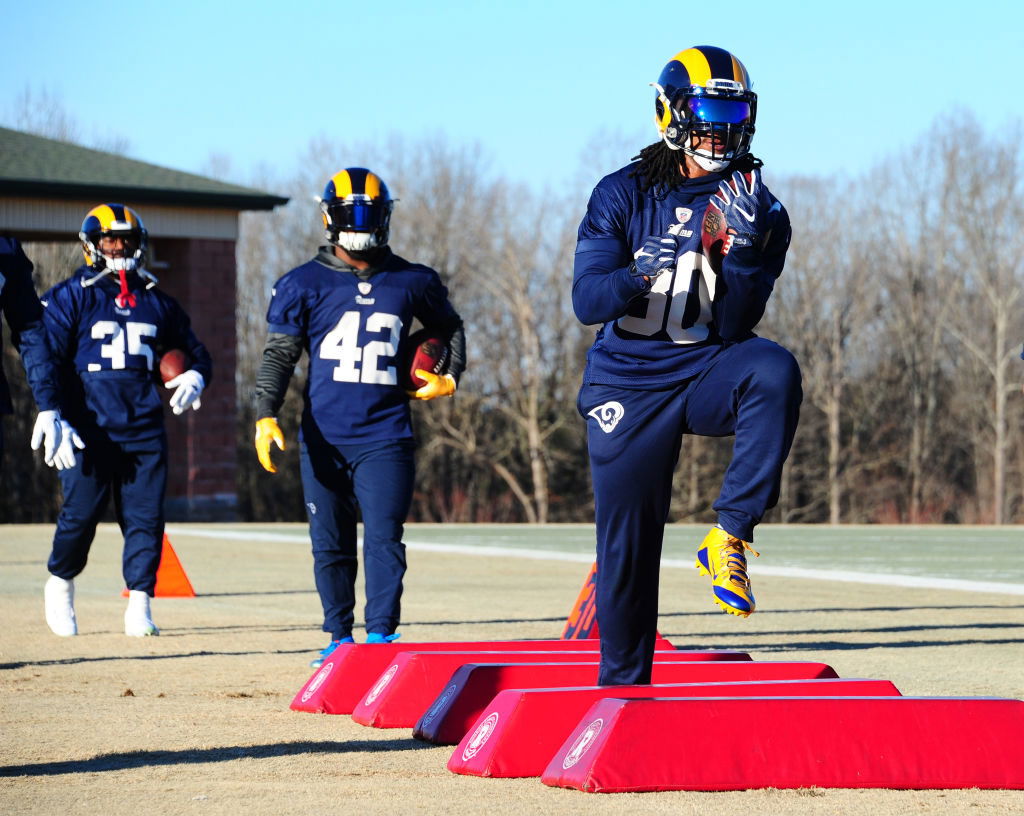 Todd Gurley's had a postseason to forget so far, while CJ Anderson has been the inadvertent poster child for the idea that running backs are disposable. How much do the Rams need the Gurley of the last two regular seasons to show up in Atlanta?
David: I don't know how much I truly subscribe to the idea that RBs are disposable – though I probably subscribe to the idea that GMs should act as though they are – but they might be in the Rams offense, because the success of the run game is so heavily predicated on scheming and blocking. With that said, play action is such a huge part of their aerial attack that they can't afford to be inept on the ground. McVay's call to de facto bench Gurley and ride the hot hand is a huge part of why they're here, and if the same situation arises, he'll need to do it again. The Rams need good running, but it doesn't matter who gives it to them.
Alan: I'm not convinced they do as long as Jared Goff steps up and delivers. Gurley had 13 total yards from scrimmage against the Saints, but that was negated by how brilliant Goff was down the stretch. Even Anderson only had 49 total yards against the Saints, so it's not like he was dominating either. If Goff is on point, the Rams can get by without a lot from Gurley as they did in New Orleans.
Tyler: Todd Gurley is a very good running back, but he looks like a great running back when he's behind that offensive line sometimes. There is definitely a reason for Gurley being less productive than he maybe could be, though, and I think it's because teams are trying to force Jared Goff to win the game. When CJ Anderson comes in, I actually think the Rams have a better chance of running the ball, because the defense seems to worry less about him. I don't think that Gurley needs to win the game for the Rams, but he needs to threaten the Pats enough that they can't stop focusing on him to put more pressure on Goff.

Sam: The sensible answer here seems to be "they need him a lot", but do they? CJ Anderson has taken the Rams to this point, and his "down your throat" style of running has made Sean McVay's team difficult to stop. Sometimes in the playoffs, you just need a bruiser to grind out four tough yards.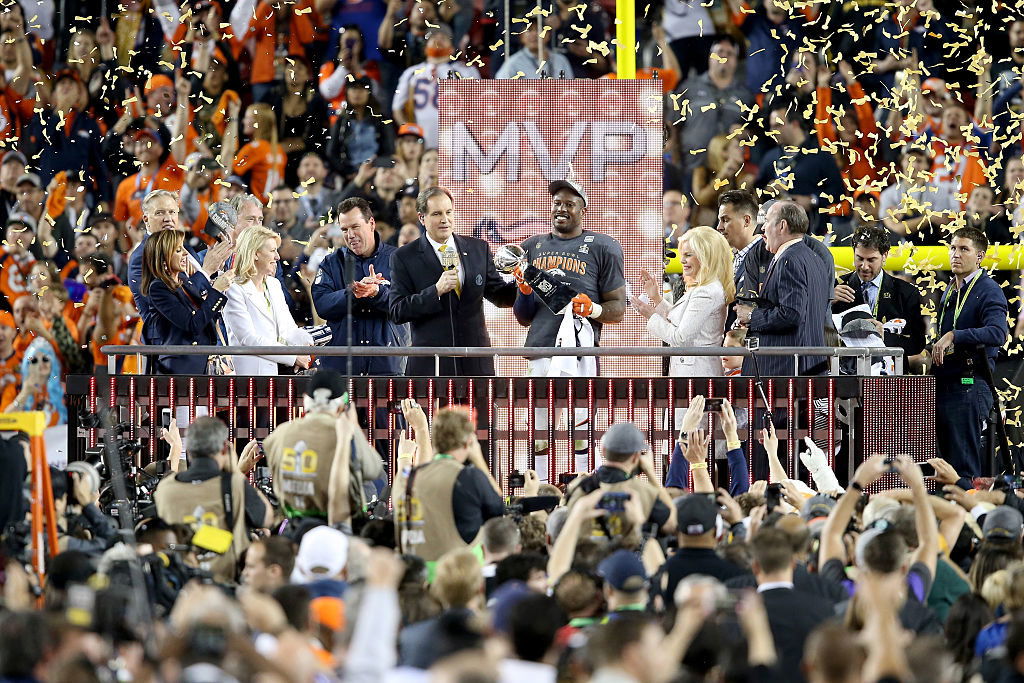 Seven of the last nine Super Bowl MVPs have been quarterbacks. Is it possible for a non-QB to be the MVP this year?
David: It's possible, but it'd require a couple of game-changing defensive plays. That's how the last two non-QBs got their MVP awards, and it's not hard to see one man in particular on the Rams defense pulling it off, but I wouldn't bet on it.
Alan: I think this is actually one of the years where it's more likely the MVP won't be a quarterback. The Patriots have a plethora of skill position players capable of taking over the game from Sony Michel to Julian Edelman, and if the Rams win it is likely to be off the back of their defense stopping Tom Brady in the fourth quarter. No disrespect to Brady or Goff, but I like the odds of the MVP being a non-QB this year.
Tyler: I'm not sure if this is a really hot take or not. If the LA Rams win the Super Bowl, the MVP won't be a QB.
Sam: Yes! Aaron Donald could be that man. If he can get to Brady, this game could be there for the taking. Three or four sacks ought to do it…
One of those two non-QBs to be an MVP this decade was Malcolm Smith, who wasn't exactly a big name beforehand. Which under-the-radar player do you think could become a household name in this game?
David: The Patriots' defensive style under Belichick is all about taking away your biggest strength and forcing you to use your secondary and tertiary options. Say hello to Josh Reynolds, deputy slot receiver in the absence of injured Cooper Kupp. He will not be high on the list of defensive priorities, which could free him up for a big opportunity or two to make a name for himself.
Alan: I'll give one pick for each team. Malcolm Smith won his award for a pick six on Peyton Manning in Super Bowl XLVIII, and the other one was Von Miller who had a strip sack that led to a touchdown. So if the criteria for an out-of-nowhere pick is a defensive player to score a touchdown, I'll take John Johnson III for the Rams and a possible pick-six on Tom Brady, and the Patriots' Adrian Clayborn back in Atlanta (he played three seasons for the Falcons) for a potential strip sack on Goff.
Tyler: If James White repeats his Super Bowl LI antics again, he will be more than a household name, but a name which goes down in all-time Super Bowl history. CJ Anderson and Sony Michel are names that not everyone who watches will know – but for a proper under-the-radar offensive pick I love Josh Reynolds. Also, for a bit of fun, I'd love to say 'I told you so' if (Rams outside linebacker) Samson Ebukam features in a few headlines on Monday morning.

Sam: I'm looking at Josh Reynolds, wide receiver for the Rams. He caught seven passes in the NFC Championship Game, and could see even more volume here. If there's one thing Belichick does to you on defense, it's shutting down your biggest weapons in the passing game. In the AFC Championship, the Chiefs' tandem of Tyreek Hill and Travis Kelce were limited to four receptions, so don't be surprised to see former Patriot Brandin Cooks go quiet here. Robert Woods could also find himself frustrated, so I'm looking at #83 Josh Reynolds to make some big grabs on Sunday night.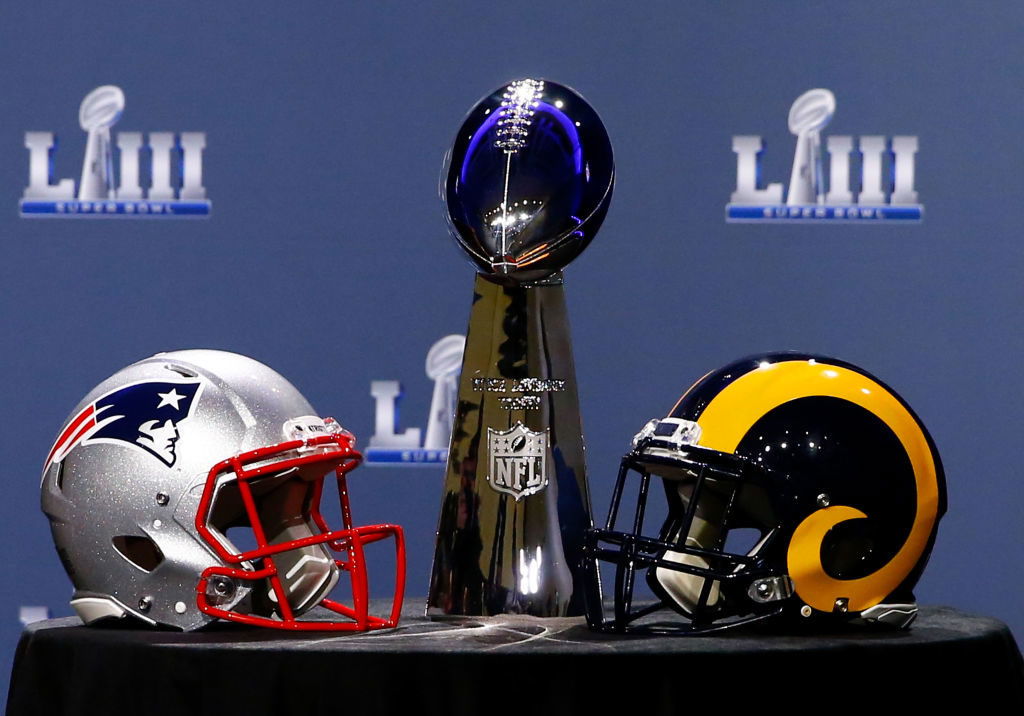 And finally, the ultimate question... what's the score?
David:The Patriots are way overdue a Super Bowl that's done and dusted (in either direction!) at the two-minute warning. But I've said that before on this site and been left with excruciatingly off-base predictions to show for it. If you're not sure how far the absurd narrative of this dynasty can go, think further. Patriots 34-28.
Alan: I'll take Patriots 30-27, winning on a last-second field goal from Gostkowski in an eerily similar repeat of Super Bowl XXXVI.
Tyler: I notice that my under-the-radar picks are both Rams players, but I do think the Patriots take it, with a typical Patriots ending. Patriots 38-34.
Sam: I don't think Belichick can keep McVay out for the whole game, but you have to back Josh McDaniels' offense to exploit those weak spots in the Rams D. Brady's sixth ring. Patriots 31-24.
---