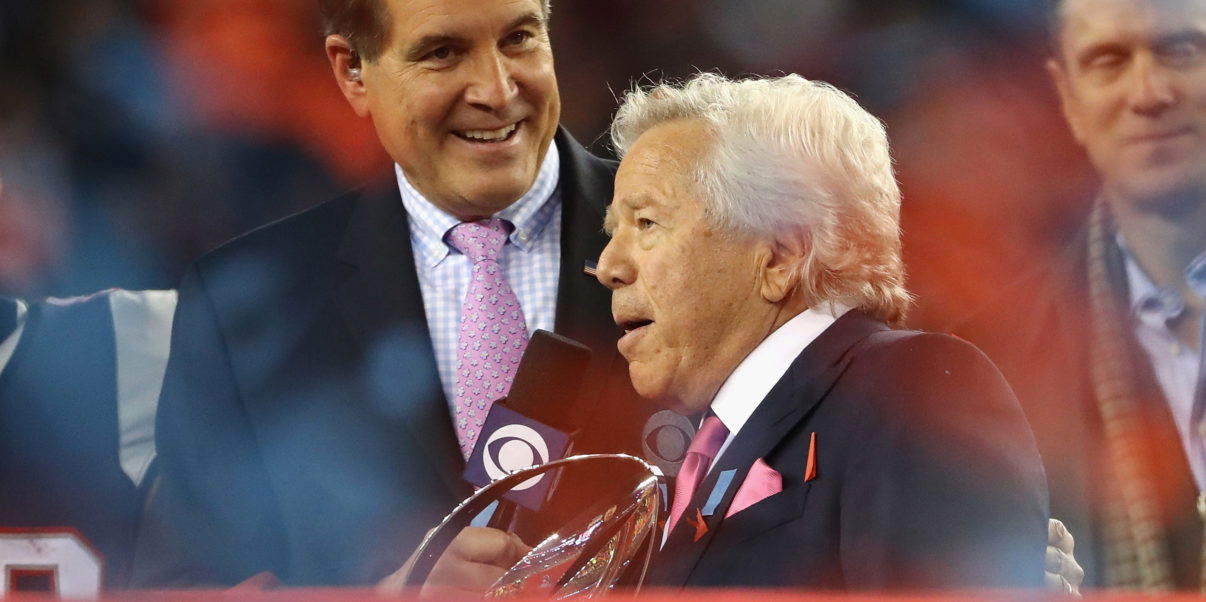 2019 Championship Sunday: Roundtable
Maybe the most exciting single day of the NFL season has arrived, and that day is Championship Sunday.
Yes, these are but the two games that decide the Super Bowl protagonists. But this day offers everything Super Bowl Sunday doesn't: the games don't have half-hour breaks for a concert (featuring performers whose fans are telling them not to do it!); games plural, rather than a game singular; familiar foes facing each other, in this case from 2018 regular-season clashes with an unfathomable 163 (!) combined points; above all, the crowd noise from actual home fans, something more obvious than ever this year with Kansas City and New Orleans hosting the games.
As those scores from the regular season (Rams 35-45 Saints, Chiefs 40-43 Patriots) suggest, these teams feature high-flying offensive stars aplenty with their only question marks being on the defensive side of the ball. If you like action, you're in for a treat today. But what else can you expect other than points? David Howell asked the questions: Alan Cole, Ste Hoare, Tyler Arthur, and Tristan Fitzpatrick joined him in offering their answers.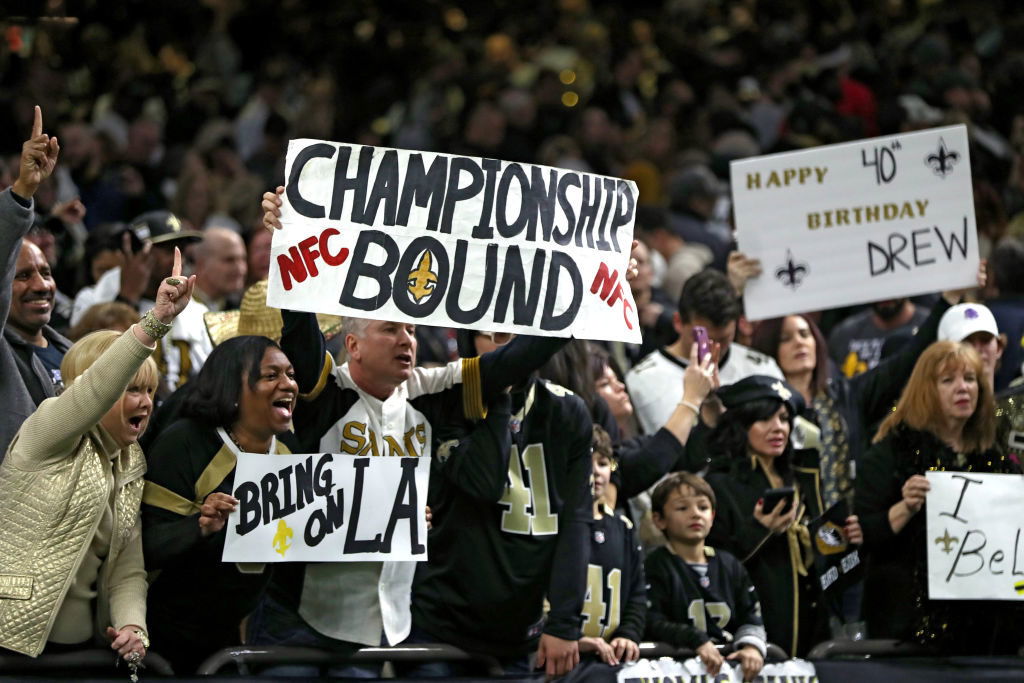 The Saints' "dome field advantage" is well-documented, and the crowd could be even more intense on Championship Sunday. Is that enough of an advantage for the Saints D to cancel out the most influential offense in the NFL?
David: It can't hurt, especially against an inexperienced and out-of-form QB like Goff. But the absence of Sheldon Rankins will definitely hurt the Saints. The biggest Saints advantage from the crowd will be on third down, so the Rams need to move the ball effectively on early downs – probably with the misdirection runs McVay runs so well, because that'll exploit how the Saints D presumably will struggle to communicate with the noise as well. (Spoiler alert; sound waves do not discriminate based on what you're wearing.)
Alan: I don't think it will cancel it out completely, but I could see a quarterback who has never played in a road playoff game like Jared Goff having difficulties with his cadence and rhythm early in the game. This Rams team isn't equipped to play from behind either with how reliant they are on running the ball and using it to set up play action, so Goff will have to be ready right from the jump.
Ste: I think it will be a huge factor. Sean McVay likes to communicate with Jared Goff at the line of scrimmage but if the noise is as loud as it has been in the past in the Superdome, then that won't be possible. I don't think it would allow the Saints to "cancel out" the Rams offense but it certainly gives them a big advantage.

Tyler: There are only four offenses in the NFL who I could see even possibly doing even a respectable job in the Superdome during the playoffs (and that includes the Saints.) The other three also happen to be playing this weekend, but it would be a tough job for anyone. The primary advantage which the Rams have is sheer creativity, McVay is one of the very few coaches who can call plays and make decisions in an aggressive and creative enough manner to match (or at least keep up) with Payton's coaching. I still back the Saints but it'll be a cracking game.

Tristan: McVay calls the plays and Goff rarely changes at the line, so communication on offense will largely be unaffected by noise. Also last Sunday it got awfully quiet with the Eagles up 14-0.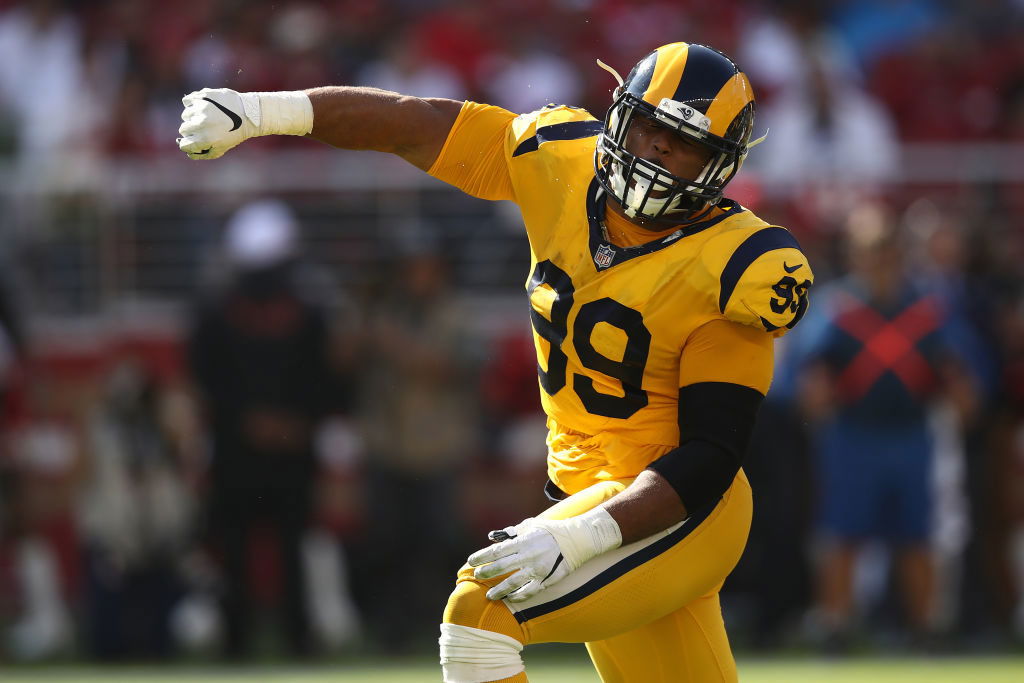 When the Saints have the ball, what should they do against Donald and Suh?
David: Never call a play that leaves Donald single-blocked. Suh isn't nearly as fearsome at this point, and I think the Saints can afford to zero in on the presumptive Defensive Player of the Year. The Rams don't have great quality at linebacker, so I think the Saints' interior O-line need to be told to not focus too hard on getting to the second level and concentrate on securing their initial blocks. Stop the negative plays as far as possible, because those are the ones that will fire up the crowd.
Alan: Those two players, and especially Donald, will always get their share of the action. You're not going to completely shut them out. The key is to make sure they can't completely wreck the game with one or two game-changing plays, and the key to that is just staying out of long second and third down situations. The obvious passing downs are where Donald and Suh will be able to get after Brees and possibly change the contest and steal a possession for Goff and the offense.
Ste: Keep away from them! Drew Brees will get the ball out quickly and I guess that we'll see a lot of horizontal passes, reverses, sweeps etc. I also think the Saints will run the ball a lot with Mark Ingram as the Rams don't tend to defend the run too well.

Tyler: Run away. As well as keeping Kamara involved in the conventional role he has, and utilising the quick passing game (similarly to how the Patriots nullified Joey Bosa and co.), I also think that there should be lots of screens early on – screen passes to Kamara, to Ingram, to Mike Thomas. Do whatever you can to put some doubt in Suh and Donald's mind when they're constantly trying to put the pain on Drew Brees.
Tristan: Slam block Donald and take your chances with Suh. Run to Suh's side, run to the outside with Kamara. Screen pass away from Donald. Lots of play action to slow down the bulldozer that is Aaron Donald. Basically avoid him at all costs, don't get cocky or he will prove you wrong.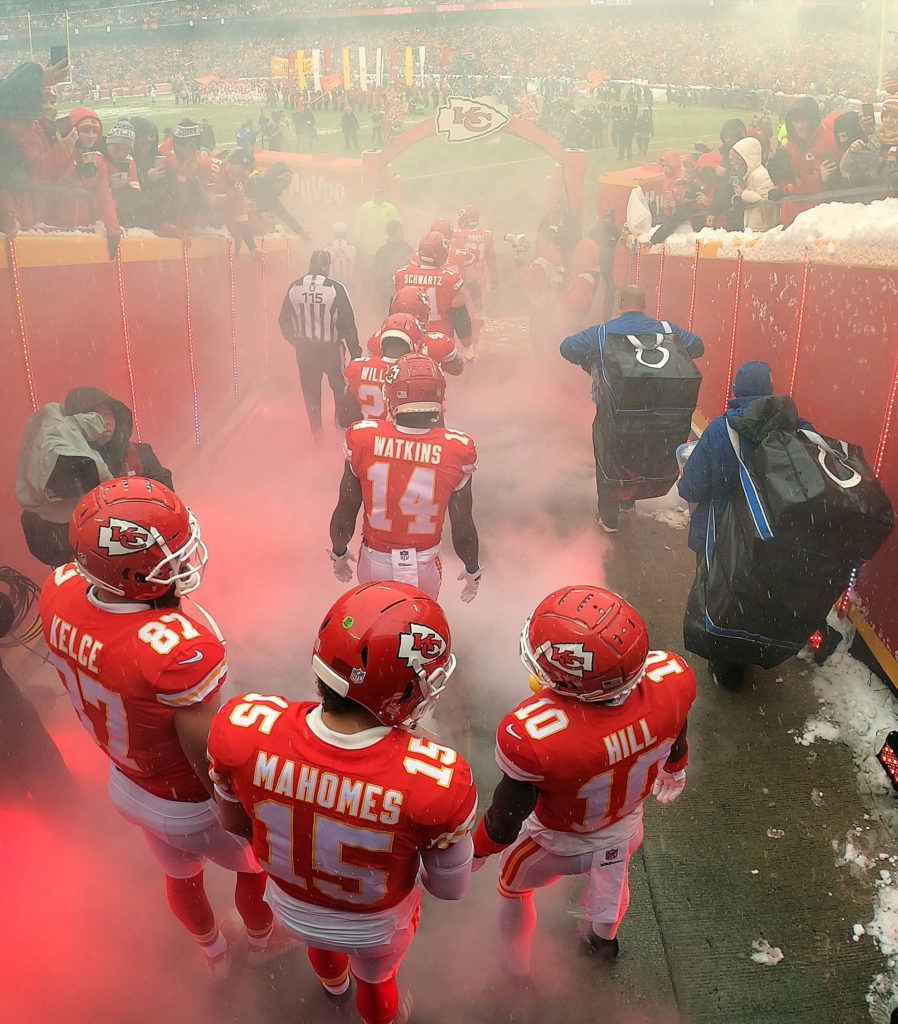 The Patriots' defensive approach under Belichick has usually been to take away the biggest part of the opposition game plan. Can they get away with that against Kansas City's multi-dimensional offense?
David: I'm not sure they can, although it will be a bit easier now that Kansas City are running with a replacement RB. There's just too much vertical speed on the field to stop without going into an easily picked-off shell. With that said, if Stephon Gilmore's press-man coverage can take a WR out of the game, the rest of the defense can focus more on stopping Kelce. Then all you need to do is hope a fit-again Sammy Watkins doesn't show up…
Alan: I'm more interested to see what they identify as the biggest part of the game plan. Tyreek Hill torched them in the regular season meeting and is the most difficult player in the NFL to contain, so I'm curious to see what kind of adjustment, if any, Belichick figured out for him. I don't know if he'll be able to slow down one specific part of the gameplan, and I think Andy Reid will mix up the offense well to keep the Pats guessing.

Ste: I think every team in the league tries to take away Tyreek Hill and nobody has really found a way to do it yet! I think the plan will be to keep Patrick Mahomes in the pocket and make him win from there, but it's impossible to take away all of the weapons that Kansas City have.
Tyler: If I was gameplanning to take out one part of the offense, it has to be Mahomes. You can't take away Hill and Kelce and Watkins… You have to stop MVPat before he can get the ball out. Easier said than done, but they gave Rivers no time whatsoever, and if you're going to beat the Chiefs, I think it will require for you to finally make the second-year QB experience real playoff pressure.
Tristan: Yes, it's Travis Kelce. Everyone gets torched by Hill from deep. If it were me I would make Mahomes take deep shots, don't let him get those back-breaking 3rd and 10 completions to Kelce. Deep shots are more likely to get picked, and long third-down completions tire out defenses which makes deep shots easier to complete. Take away the safety blanket.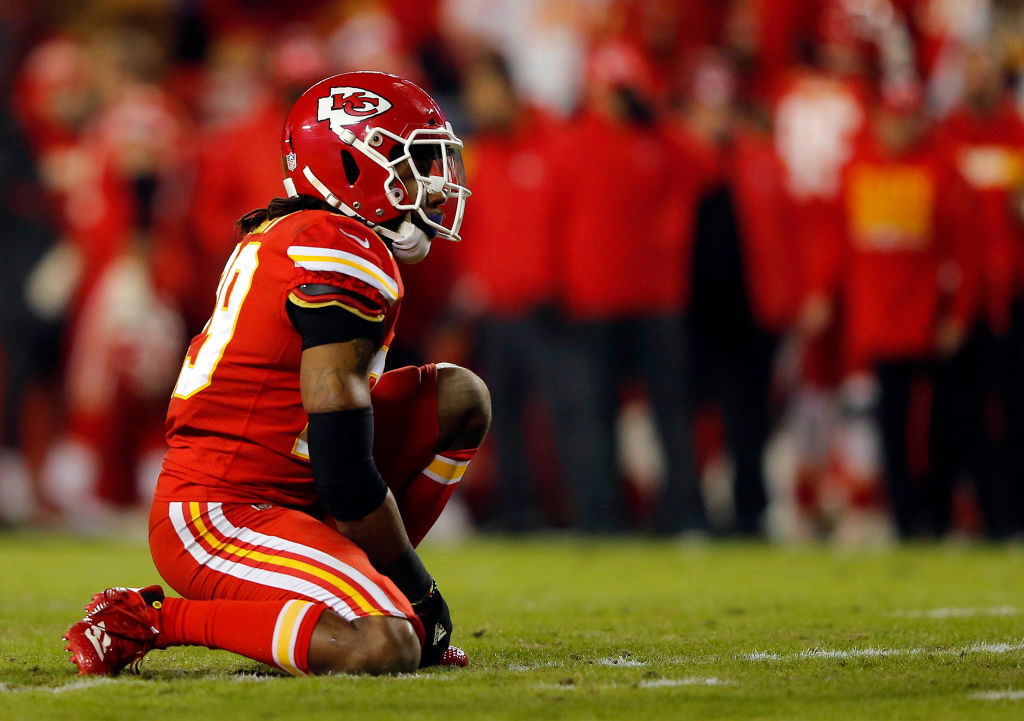 Eric Berry is set to finally return for the Chiefs against the team he faced when suffering his career-altering Achilles tear. How important is his ability to play 60 minutes and play them well?
David: Not as important as his ability to lead the other ten men in the huddle with him. This defense needs that more than it needs whatever play Berry can provide at this stage in his career where we really aren't sure what he's got left to give. Helpfully, it won't need peak Berry to shut down Gronk as happened in that 2017 curtain-raiser, as Gronk is damaged goods himself and doing most of his good work as essentially a sixth lineman. Unhelpfully from a KC perspective, that is a really good role for Gronk in this matchup against a defense that wins up front or not at all.
Alan: It's huge for exactly what you said. The 60 minutes. Kansas City's secondary crumbled in the fourth quarter of their three biggest games this year, including the one against the Patriots where they let Brady drive down for the game-winning field goal as time expired. Berry has to be out there and playing well in the fourth quarter for the Chiefs to survive against what will almost certainly be a charging Tom Brady.

Ste: Tom Brady loves to throw between the numbers, so Berry will be a huge positive for the Chiefs if he's good to go.
Tyler: I dispute the wording of this question. Eric Berry doesn't play against the team, Berry was playing against Rob Gronkowski. And that is exactly what I expect to repeat again. Man coverage, double coverage, whatever it takes. Force Brady to make his reads and find holes, without having the 6'6″ cheat code down the seam on top of everything else. The more you make Brady do on every individual play, and the harder you make him work, the better.
Tristan: If you have a weakness, Bill Belichick will exploit it. The Patriots are the best at this, even if they adjust at halftime. So I don't know if Berry is the weakness – but let's hope not, for his sake.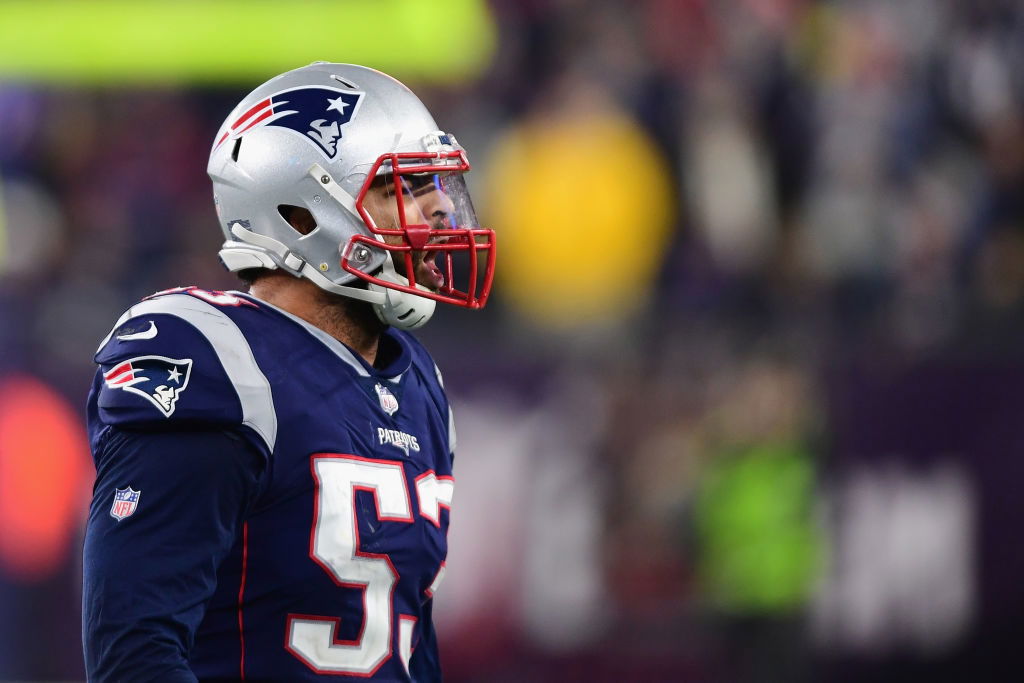 Who are you watching out for to make a name for themselves in one of these games?
David: It seems like every January brings a new improbable Patriots hero, so I can only look to that team for my pick here. I'll go for Kyle Van Noy, as the linebacker could really gain attention if he does a number on Travis Kelce; he is coming off an excellent, impact-making performance against the Chargers.
Alan: I don't know if it's fair to say he'll "make a name" for himself because he was a first-round pick, but Sony Michel broke 100 yards and scored two touchdowns on the Chiefs in the first meeting this season, and I think he'll do it again at Arrowhead Stadium.

Ste: Keep an eye on Saints defensive tackle David Onyemata. He'll play in place of Sheldon Rankins and whilst he's a downgrade as a pass rusher, I actually think he's better than Rankins as a run stopper. The Rams ran all over Dallas with CJ Anderson and Todd Gurley, but I think the presence of Onyemata will slow them down more than some expect.

Tyler: CJ ANDE— no, he's already made it pretty clear that it doesn't matter who starts at running back for the Rams, when their O-Line is getting it done. I am personally watching Damien Williams this weekend. Like I said earlier, I think Mahomes is the threat which Belichick will be determined to stop – and if he overcommits to that, the young Chiefs RB could make a real name for himself running the ball, as well as showing off his underrated contributions to the passing game. If the Pats focus too much on Kelce and Hill, Williams can thrive through the air, just like a certain running back did when he kicked off his rookie season at Foxboro with the post route that was seen around the world. (Yes, the pun was intentional.)

Tristan: Patrick Lavon Mahomes the 2nd. Sorry to be obvious but you're taking on Tom Brady in the AFC Championship. In the NFC though look for Brandin Cooks: former Saint, forced a trade out, then was knocked out (literally) of Super Bowl 52. He's chasing a ring.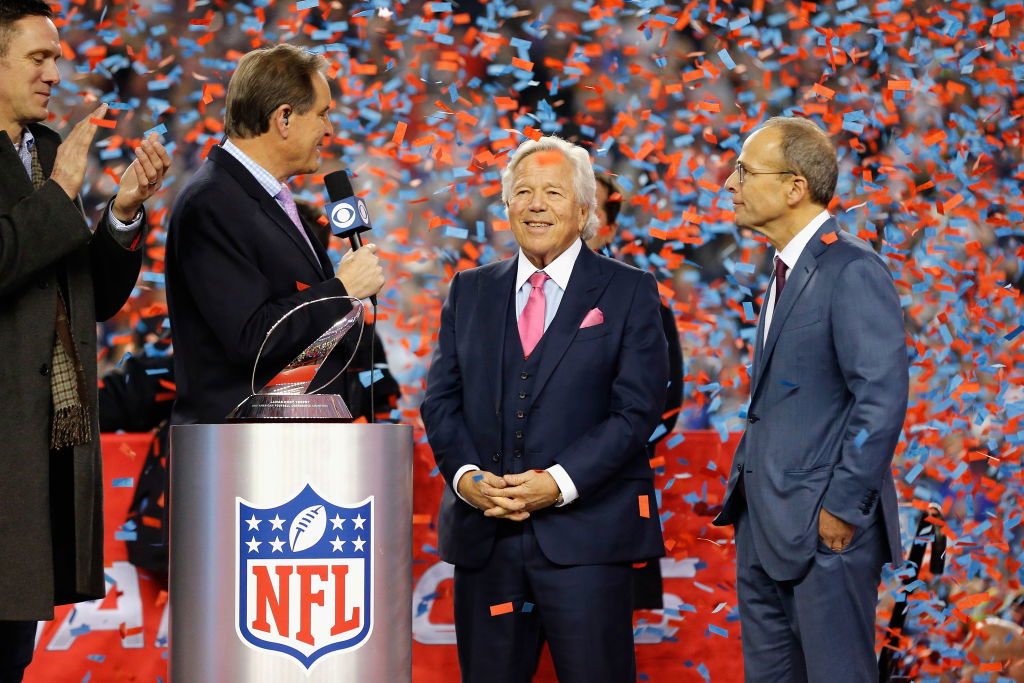 And finally, predict the winners and scores...
David: Rams 17-34 Saints, Goff suffering from a case of recurring Fisheritis… Patriots 38-31 Chiefs, another legendary fourth-quarter comeback for Belichick and another legendary story of Andy Reid failure in January.

Alan: Saints win the early game 42-27, Patriots take the nightcap 35-31.
Ste: I think the Chiefs and the Saints win, both in fairly high-scoring games.

Tyler: Chiefs 34-31 Patriots and Saints 30-24 Rams
Tristan: Rams 42-41 Saints. I picked the Rams to win it all way back in training camp, so I've got to stick with them. The score will be this close though, honestly a missed PAT or a two-point conversion could be the difference… Patriots 34-31 Chiefs. I'm not counting out the Patriots. There are weaknesses in this Chiefs team, some would say more glaring than the Chargers, and look how that went.
---