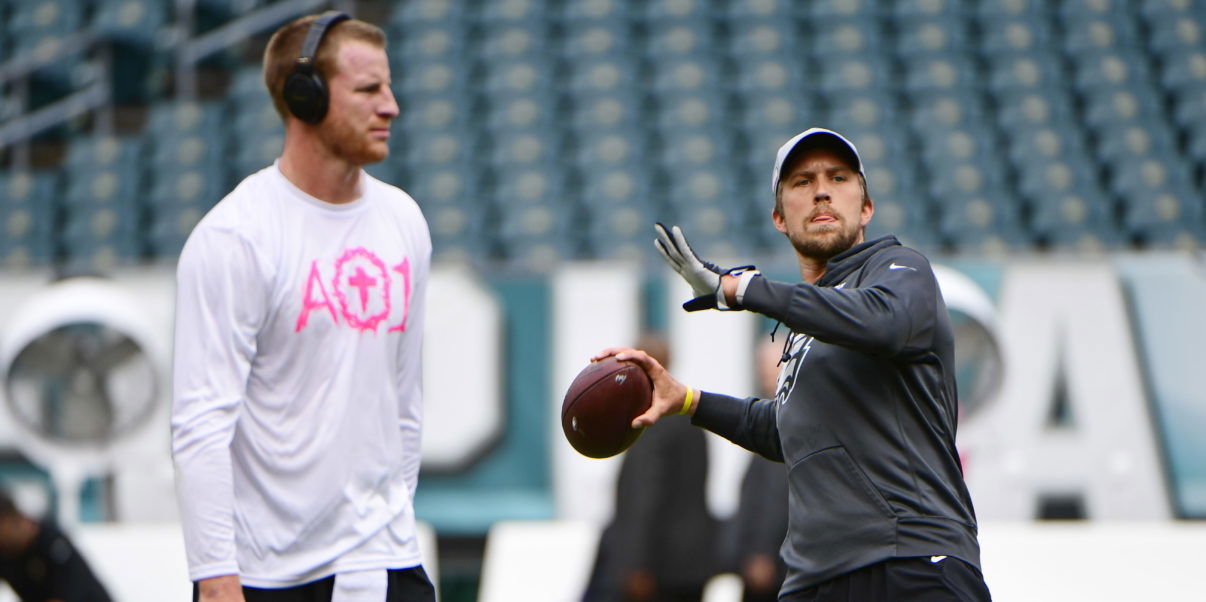 Trade, Eagles, Trade?: What Happens Next With Nick Foles
The Philadelphia Eagles have a problem several other NFL teams would love to have – they have two quarterbacks who could legitimately start for them, and there might be legitimate discussion as to which one should.
That shouldn't have been the case. It certainly didn't look to be the case in 2017 as Carson Wentz – following a classic snakes-and-ladders rookie season – tore up the NFL as a sophomore, becoming hotly tipped for MVP as he carried the Eagles to a season of dominance. Until, all of a sudden, he couldn't, sustaining a brutal multi-ligament knee injury that not only ended his season but threatened his ability to start the next one. In stepped backup Nick Foles, with everyone writing the Eagles off even with home advantage (they were the first #1 seed in history to be an underdog in the divisional round), and… they beat the Falcons, annihilated the Vikings, and beat the Patriots in the Super Bowl in a shootout of historic proportions.
Foles renegotiated his contract after that, a process that took a strange deal and made it stranger. He nominally signed a "five-year" contract when he joined the Eagles in 2017, but the last three of those years were voidable, and existed for one reason and one reason only; dumping 60% of the $3m signing bonus into a future dead money hit in 2019, so that the Eagles could sneak in under the 2017 cap. (The signing bonus of an NFL contract is "prorated" evenly across the life of the contract.) The 2018 revision to that contract gave Foles a $2m bump to his $7m salary for that year in the form of a new signing bonus (that oddly enough isn't prorated across the voidable years), added conditional raises based on playing time, and turned 2019 into a baseball-style two-way option year; the Eagles have a $20m team option, Foles can buy himself out of it by repaying the $2m signing bonus. This whole process was likely aimed at preventing Foles from kicking up a fuss while Wentz did his job in 2018.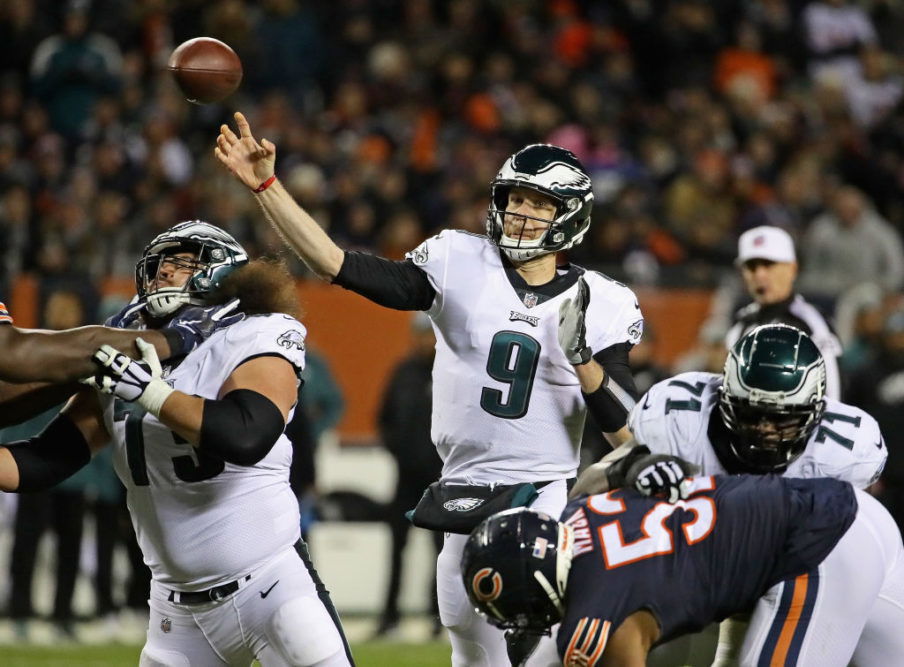 You know what happened next. Wentz wasn't ready to start the season, Foles started the season, Wentz returned early but couldn't repeat his 2017 heroics and then suffered another season-ending injury, Foles stepped in and did repeat his 2017 heroics. He came in with the Eagles' season dead – 6-7 with games against the white-hot Rams and Texans on deck next. He finished the season with wins over both those teams and a decimated Washington team as the Eagles made the playoffs by the back door, beat the 12-4 Bears in Chicago, then turned the obvious one-sided game of the divisional round into the only game that weekend that wasn't one-sided. Had Alshon Jeffrey not forgotten how to catch a football, the Eagles would have had a legitimate shot of a repeat of a road game with the Rams that was the start of Foles' second magical run.
So here we are. Wentz is a QB who has played for three seasons in the NFL. Two of them ended early to injury; in the other, the Eagles averaged fewer yards per passing attempt than the 1-15 Browns. How can you not make Foles the face of the franchise when the alternative is that?
Very easily. That's a really skewed way of talking about Wentz, for a start. He was a raw rookie despite his relatively advanced age – he played his college ball at North Dakota State, a noted QB factory but still an FCS school who spend most of their season in the real-world equivalent of turning the Madden difficulty level to Rookie – and when he got it figured out in 2017, he got it spectacularly figured out with what looked to be an MVP season. And by most statistical measures, his 2018 was hardly a regression from 2017 – it just looked it a bit because there were more Eagles losses and more prolific NFL offenses. Cherry-picking facts to suit a narrative cannot be allowed to trump the broad evidence.
Meanwhile, Foles' career track record is essentially two spells of catching fire under Doug Pederson and one spell of catching fire under Chip Kelly. In between, he disappointed enough to be traded to the Rams where he lost his job to Case Keenum. Yeah, the same Case Keenum who just fell apart in Denver after getting overpaid off the back of one season of good play in Minnesota last year. Foles hasn't even had that long a streak of quality football in his weird NFL career, but because he's had multiple well-timed hot streaks, he's set to get paid the GDP of a small island nation.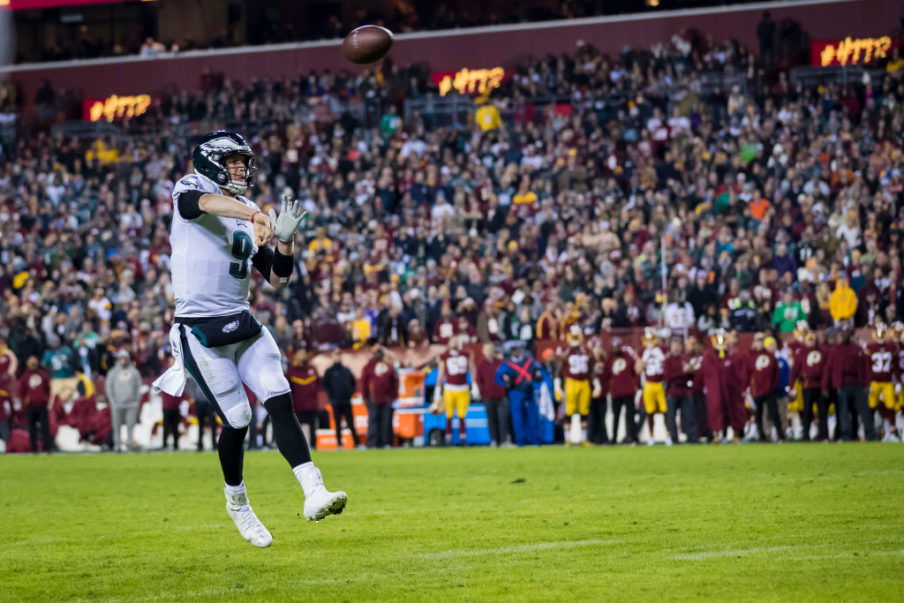 So let's rewind back to that contract. $20m team option, Foles can buy himself out for $2m. The team option must be exercised no later than the week after the Super Bowl; Foles then has five days to decide on his buyout option. That Keenum contract was $36m for two years with $25m guaranteed; that seems like the absolute floor for Foles, and it's possible he gets a full-blown long-term contract given the state of the draft class (the only remotely sure thing in the first round is Dwayne Haskins, and then most likely only with bench seasoning). So it seems like a given that both options get taken up and Foles hits free agency, right?
Sort of. The Eagles can use the franchise tag on him. The option business will be completed by the time the tag window opens on February 19, let alone when it ends on March 5. The franchise tag value for a QB is likely to be around $25m based on the rate of increase in recent seasons. This would put the Eagles significantly over the cap right now, but so would exercising his team option, and the cap situation could easily resolve itself through cancelling Nelson Agholor's $9.4m fifth-year option and the possible retirements of any or all of Jason Kelce ($6.5m savings), Jason Peters ($8m), and Chris Long ($5.3m). However, it's a risky move because a $25m cap hit for a backup would be untenable – it could easily end with the tag being rescinded, as happened with Josh Norman in 2016, and teams would likely call the Eagles' bluff and not make a trade offer for Foles.
As such, the likeliest outcome is that – one way or another – he becomes one of the most heavily-pursued free agents of all time, just as Kirk Cousins did last year. (The Eagles wouldn't go without compensation, either. They'd be eligible to receive a third-round compensatory pick in 2020.) The potential destinations are numerous, but all are some level of awkward: the Jaguars might go for a rookie QB, the Broncos certainly feel likelier to take that approach and use Keenum as a bridge, the Dolphins' interventionist owner has all but openly committed to tanking, the Giants might comically keep the faith in Eli, Alex Smith's career-threatening injury puts Washington in position to get Foles but also makes it hard to work the cap to get him.
One thing is for sure. Carson Wentz is still the face of the Eagles franchise, as coach Pederson has made it very clear he's still QB1 in Philly. What isn't remotely clear is where his backup is heading next, or how grateful or otherwise his new employer will be for his services in a couple of years.
Would you have kept Foles over Wentz?
Yes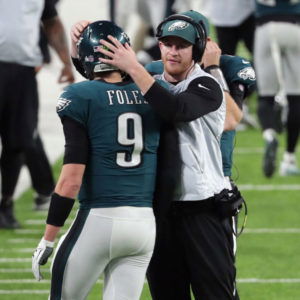 No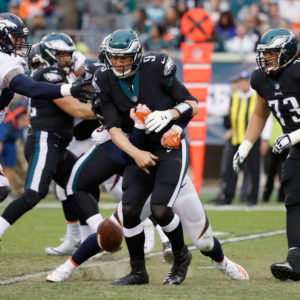 ---