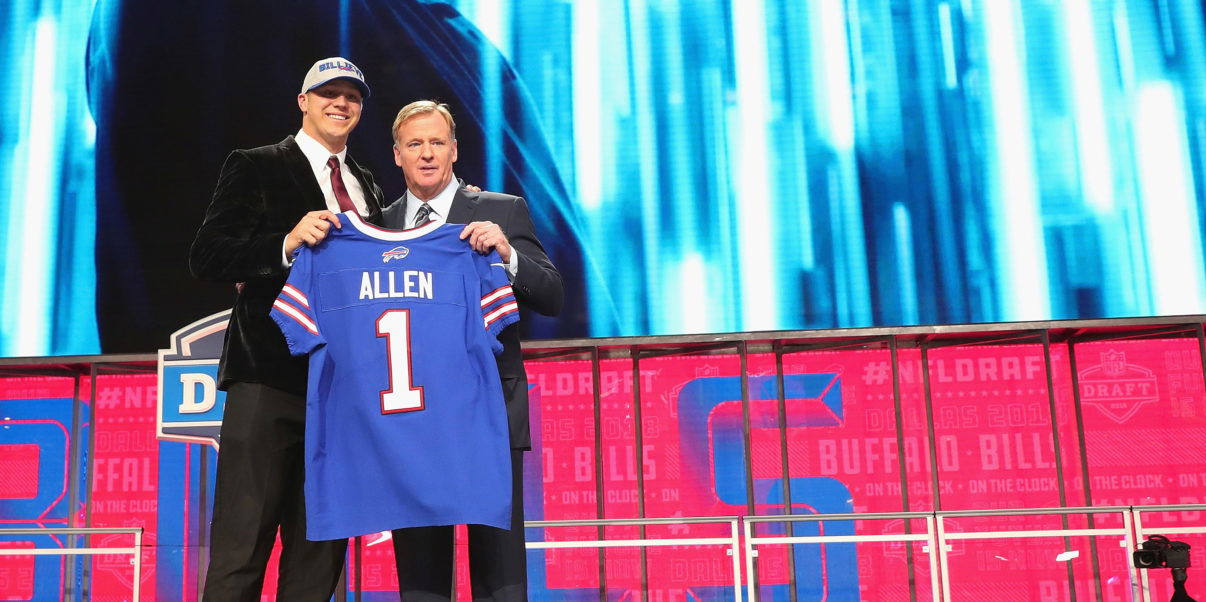 A Look at 2018 QB Class With Soul and Science's Trent Dilfer & John Brenkus
Ben & Jerry's is soon going to have some new flavors of ice cream.
Ready Set Rosen and Safe Man Sam may be the newest flavors coming to the Phoenix and New York areas, respectively.
That is, if Trent Dilfer has anything to say about it.
Dilfer, in addition to John Brenkus, joined me for an interview on April 26, nearly four hours prior to the event that forever changed the lives of five quarterbacks — the 2018 NFL Draft.
Brenkus, who many of you may know from being the creator and host of Sport Science, has teamed up with Dilfer, a 13-year NFL veteran that won a Super Bowl with the Ravens in 2000 as their starting quarterback, to create Soul and Science, a six-episode series that put this rookie quarterback class through tests to analyze their tangible and intangible skills.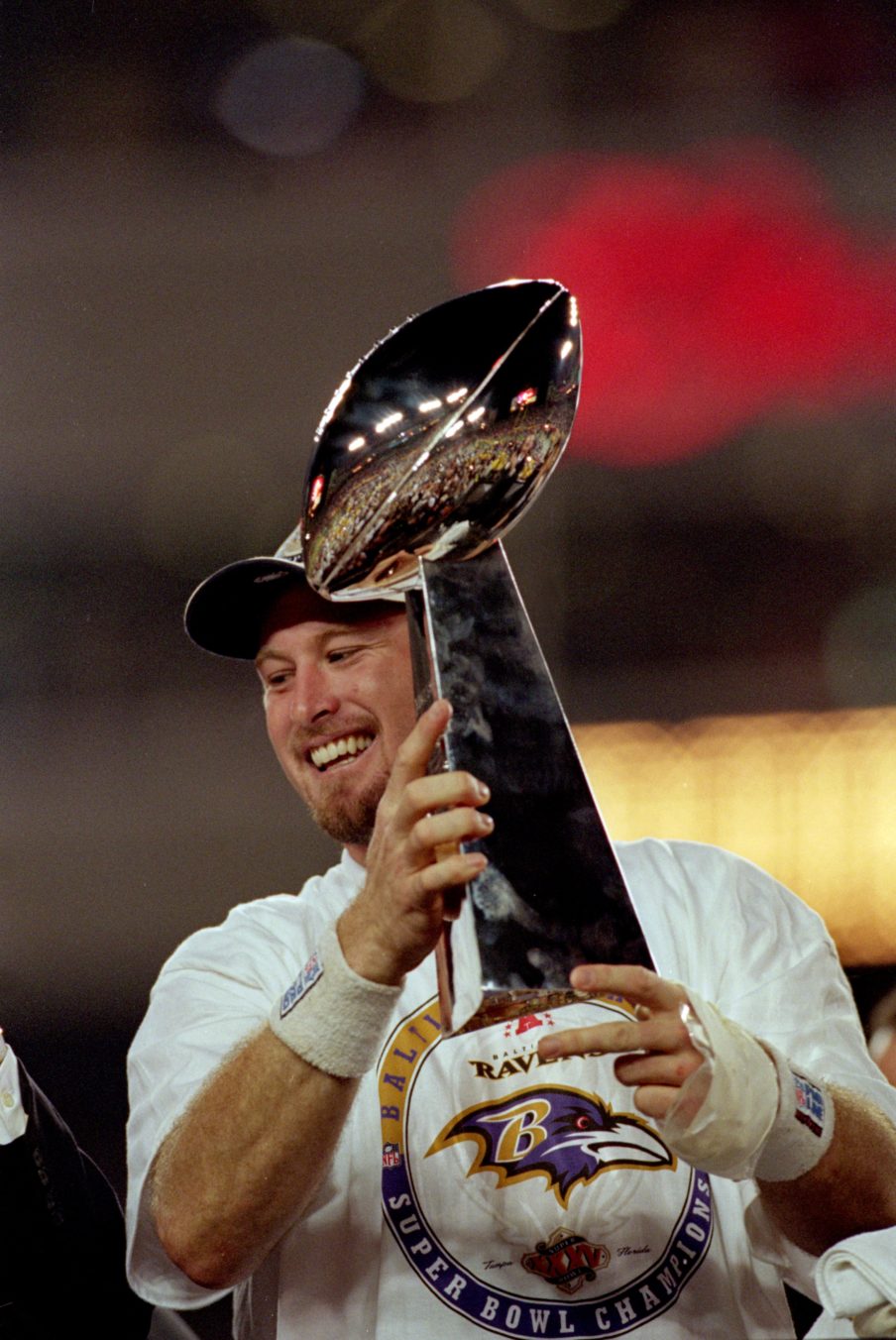 The two met during their early days at ESPN, developing a strong relationship during that time since the late 2000s.
"We just talked about doing something together," said Brenkus. "We're both analyzing the same things, but coming at it from different angles."
Brenkus has the science background, and Dilfer has been doing plenty of analytical work and coaching in the quarterback field since his retirement, from his nearly decade-long time at ESPN to being the head coach at Elite 11 to, now, his work with Brenkus on Soul and Science.
"We felt passionately that taking a more holistic approach at examining elite athletes doesn't currently exist in the market," said Brenkus. "So we take the 'soul,' that are the intangibles, examine the 'science,' which are the tangibles, and put it together and you get Soul & Science."
"I think, obviously, watching John and Sport Science and the success that it had, and his production group behind it — they're crushing it," Dilfer added. "It's absolutely killing it in television and digital pop forums. I'm like 'I want to do that. I want to do longer form segments and do a deeper dive celebrating and examining athletes.'
"It was just a match made in heaven because it got me off the desk doing 45-second soundbites about players where you really can't explain anything. It's been the most fun project I've ever been involved in. I've learned a ton from his team and I think we've come up with something pretty cool."
"I think the most important thing is we've created something that doesn't exist," added Brenkus. "We want to sort of take the analysis to the next level. There's nobody better in the world than Trent Dilfer at getting into the mind and dissecting elite athletes. Trent is unrivaled in terms of his ability to analyze not only the position of quarterback, but really elite athletes. Trent has unique access. He's been able to develop relationships with many of these top players through Elite 11.
"I've had the great fortune of being able to work for 10-plus years scientifically examining athletes. We both have a tremendous reach in terms of personal relationships; but when you put the two skill sets together, there's really nobody better than Trent to partner up with in terms of creating something that doesn't exist in a market that gives a more rounded look at elite athletes."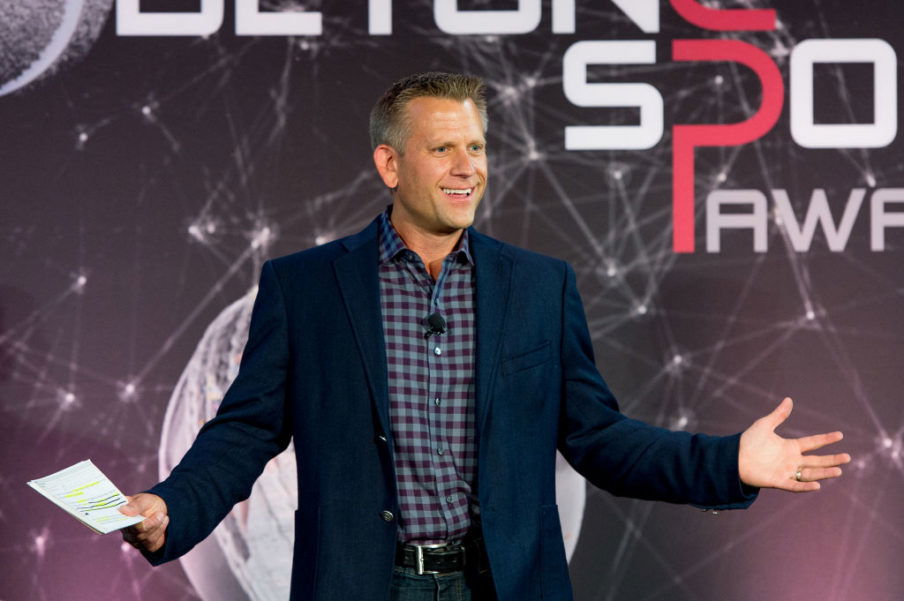 Soul and Science did six episodes on the incoming class of NFL rookie quarterbacks, where they performed tests on Sam Darnold, Josh Rosen, Josh Allen, Lamar Jackson, Baker Mayfield, Luke Falk, Kyle Allen and Mason Rudolph.
The players were fitted with wristbands and sensors in their shoes for Brenkus and Dilfer to be able to accurately measure and analyze the test results.
The quarterbacks performed tests such as Firm With Arc, where they measure things like the apex of a pass and height of a release point.
Dilfer and Brenkus didn't just pull these tests out of their rear, either. Brenkus had plenty of people in his labs for testing, and Dilfer did beta testing and has used some of the drills at Elite 11.
"LTA (Load to Arrival), for example, is something I created years ago just getting frustrated hearing (about) arm strength and release time," said Dilfer. "You really have to test both and find a way to create a metric around your release time as well as your arm strength — so the actual practical time it takes for a secondary player to break on a ball. There's nothing special on pocket mobility or pocket movement, but trying to create realistic game-like situations and testing it has always been the goal.
"I grew up as a quarterback doing all the traditional drills. They're good drills. They do help you in one area of your profession in the craft. But to create a test around a realistic game-like situation has always been my methodology with the younger kids, so I floated the idea to John about creating tests around them and it fit with what their testing models had been in the past. It kind of just became a no-brainer to create game-like situations or game-applicable tests to create metrics on these kids."
Elite 11, by the way, is the United States' most prestigeous competition for high school quarterbacks, where high school play-callers are selected through an extensive process to be coached by current and former NFL quarterbacks. Notable alumni of the show are Andrew Luck, Matthew Stafford, Jameis Winston and Tua Tagovailoa, who led Alabama to a come-from-behind win over Georgia in the College Football Playoff National Championship game earlier this year.
The alumni, of course, also includes some of the quarterbacks in this class, such as Rosen, Darnold and Mayfield.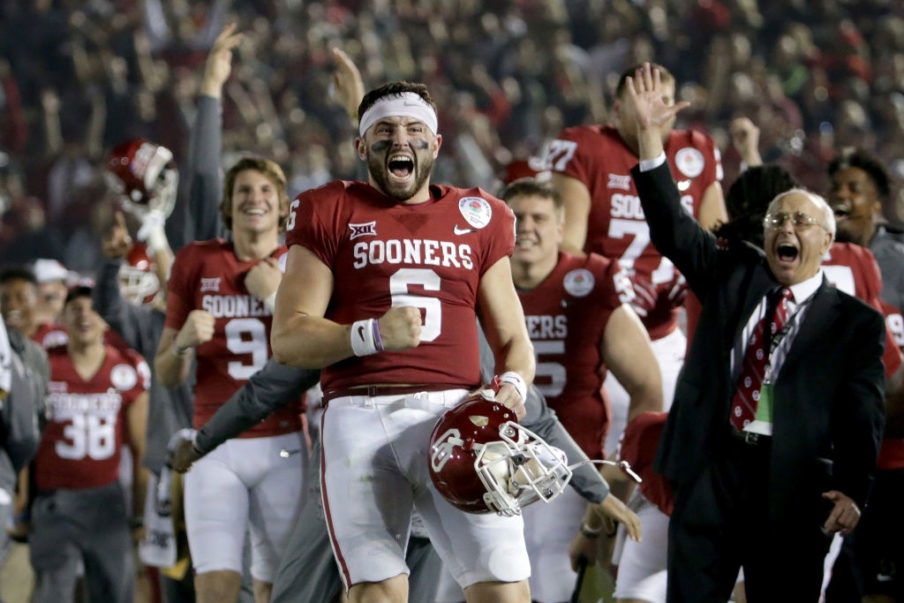 "This group (of quarterbacks) is ice cream," said Dilfer. "In general, most of us would agree worldwide that ice cream is awesome. Most people love ice cream. But we don't all like the same flavor. I like mint chip, don't like Rocky Road. I would pass on Rocky Road, but I would never pass on mint chip. So I have my particular flavor. Now I agree that ice cream, in general, is awesome, but I'm very specific on the flavors that I like. Most people are that way. That's this quarterback group. They're ice cream. They're all, in general, very awesome. Tons of stuff to like about them — and even love about them — but they're not everybody's flavor.
"Lamar Jackson is not everybody's flavor. Baker Mayfield is not everybody's flavor. Josh Rosen and his temperament, his personality, I like — but many others don't. And that's OK. But let's understand that doesn't mean they're not good. It doesn't mean they're not worthy. They may just not be your flavor and don't fit in your personal ice cream collection in your freezer. I think as long as we look at them as ice cream, we don't de-value how good all of them are. But, that's why these (general managers) make the big bucks, and that's why there's a lot riding on it, because you better pick the right flavor.
"What's happened for years is we've had a bunch of GM's who only think about strawberry ice cream. Everything is strawberry ice cream. They forget that a guy might be mint chip, and they draft them in the wrong place because they forgot what they were ordering. I think one of the things we're trying to do (with Soul and Science) is explain the flavor — this is who this guy is athletically. This is who he is as a passer. This is what his temperament is. This is his DNA. This is the essence of what has made him excellent in college; and if you like this flavor, then draft him and you'll have something special."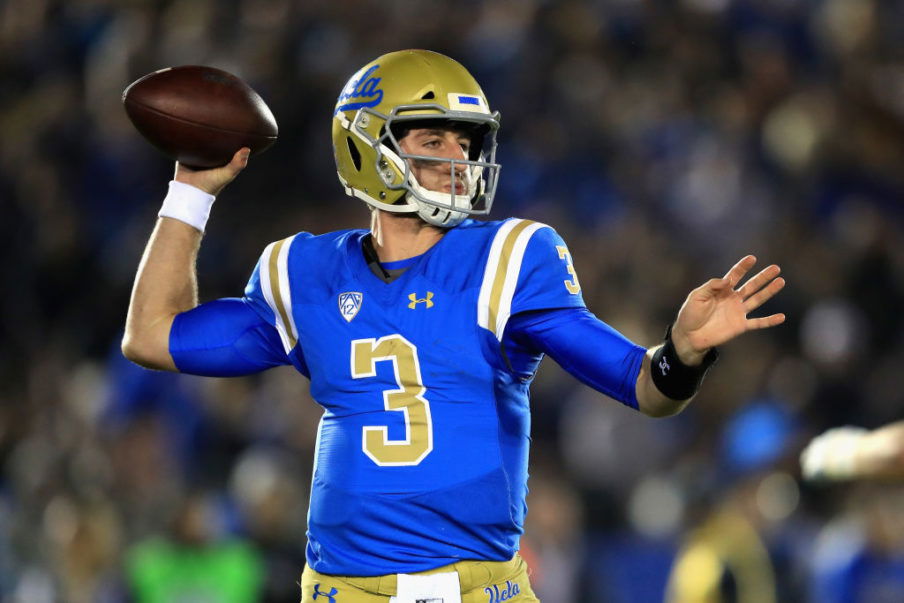 It was a perfect analogy for this crop of quarterbacks, which analysts and anonymous scouts were all over the board on. It showed when, leading up to the draft, no one still really had a strong understanding on who the Browns would take with the first overall pick outside of Cleveland's organization. There was no clear-cut No. 1 quarterback and all of them had at least one major fault.
Some criticized Darnold for his release time, which Brenkus and Dilfer debunked on the show. Then there's Mayfield's height issue and inability to get the ball over the top, which was also proven wrong on the show.
"I think that there are certain metrics that you need to measure and to qualify above in terms of being an NFL quarterback," said Brenkus. "With release time, you have to be able to get rid of the ball around .4 seconds, otherwise it's simply too slow of a release. I think in the case of Sam Darnold, people were trying to criticize him for having a slow release. But when we put him under the microscope, we certainly revealed that his release time is just as fast as Derek Carr or Jameis Winston. That's not anything to be concerned about. That's certainly an important factor to be able to look at and say 'well, I need to put that aside in my evaluations, trying to make an excuse as to why he won't make it, because it's simply not true.'
"With that said, metrics aren't everything. You need to look at a player, the complete picture, in terms of those intangibles. And that's where Sam Darnold, especially, thrives."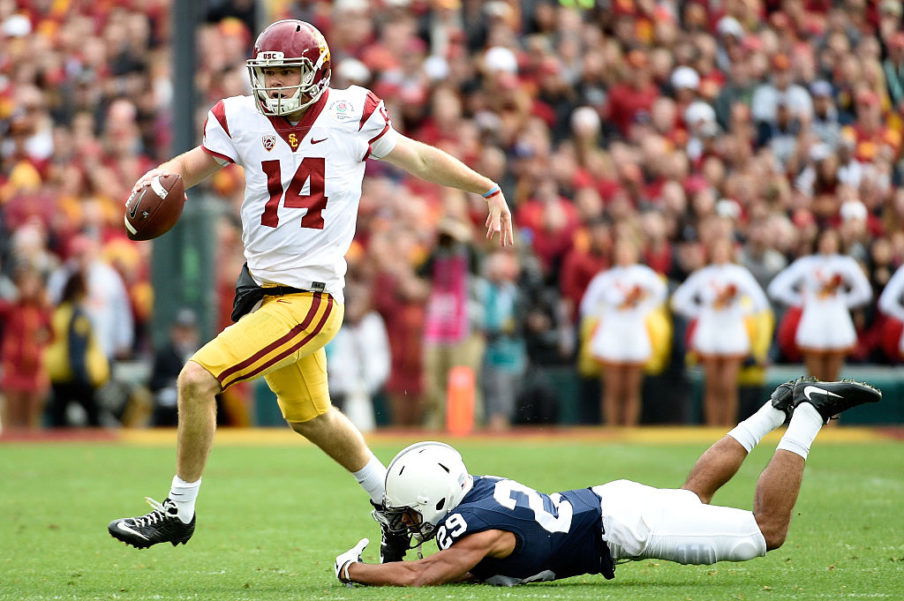 "I'll even go one step further," said Dilfer. "Let's go away from quarterbacks and look at NBA point guards. When you look at (Kyle) Lowry from the Raptors, he obviously has some gaps with his height, or maybe he wasn't a pure shooter coming in. What's going to fill those gaps? What other traits does he have, both physically and tangibly, that are going to be able to fill those gaps and make him an elite point guard. Because if you just said 'every point guard needs to be 6-foot-3 or above, have X handles, be this type of shooter, scored X amount of points in college, yada yada yada,' you would've missed on Lowry, you probably would've missed on Kyrie (Irving), you probably would've missed on Steph Curry — you would've missed on some pretty elite point guards.
"Quarterback is the exact same thing. It all matters. Where one guy might excel with arm talent, another guy may not have as much — Luke Falk — but he excels with his preparation and his professionalism and his mentality. It's up for every talent evaluator, GM, decision-maker to decide what they value the most. But it's unfair of any evaluation of any athlete to simply take one player and put them in a bucket. There's multiple buckets.
"When people talk about Soul & Science in 10 years, hopefully they see that we looked at every bucket and gave them information about every bucket. Yeah, will that change how some evaluators look at it? I'm sure it will because it'll challenge their thought process on how to look at a quarterback and how it fits within their organization."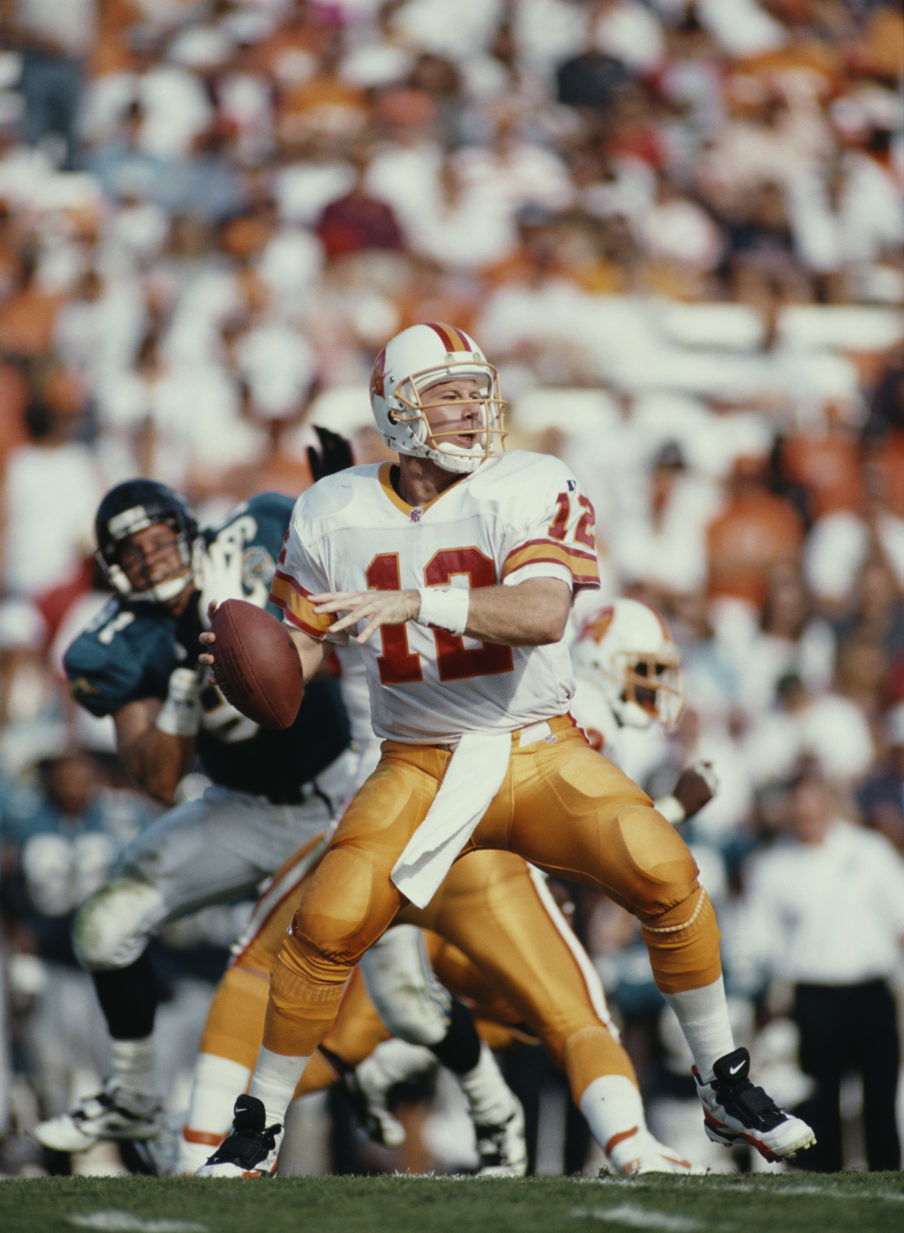 The guy that surprised Dilfer the most throughout the series? The Buffalo Bills' newest addition under center: Josh Allen.
"I didn't like his tape. I'm like everybody else — you see shrapnel. But then you see the sizzle too. There are times where you spill your coffee when you watch him play because you jump up and you bang your coffee and it spills all over your pants. But getting to know him throughout this process — and really getting to know him through Sam Darnold and Kyle Allen, who he's training with, and Jordan Palmer, who's a dear friend forever and one of the coaches at Elite 11 — he (Allen) has a great capacity to learn, change and evolve.
"Phil Simms was a fastball thrower when he came in to the NFL. He had one speed. He was Josh Allen. He evolved into a passer. You can evolve into a passer if you are coachable, have great learning capacity, humble, all those things. He is all those things. I have no doubt that Josh Allen can turn into an absolute rock star if given time, given patience, given discernment. If I were to just do a tape analysis of him, I never would have known that. No matter how hard I studied, no matter how deep I went into the tape, I never would've figured that out."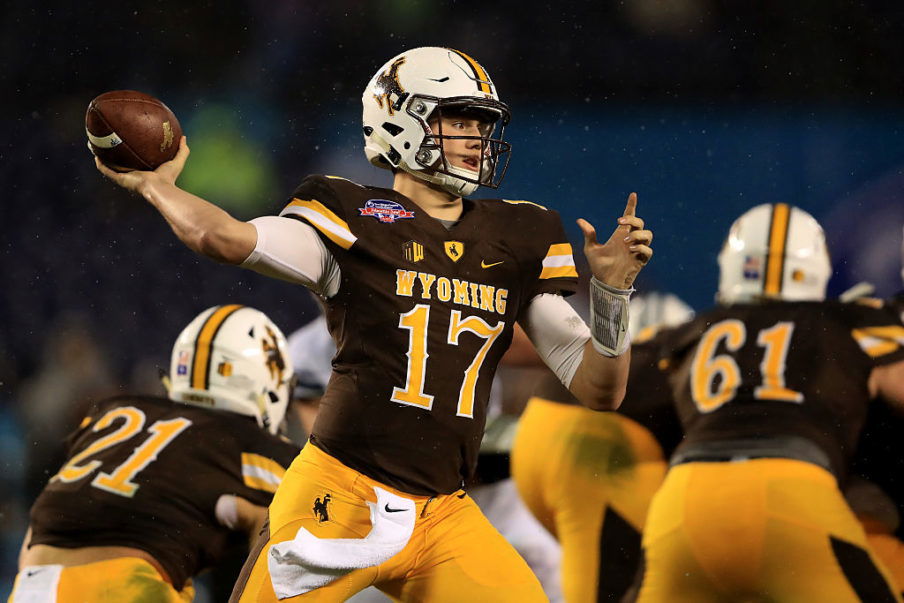 Brenkus interjected, saying "I would add that in our interactions with these quarterbacks, what's interesting is Trent opened my eyes. Prior to coming in, I had not met Sam Darnold. Trent has known Sam for many years and said 'this kid, his leadership, his character is really special.' When were able to work with him and put him through all of our tests, I was amazed at not just how physically gifted he was, but even more impressed with his composure and leadership style.
"On the flip side of that, you have Josh Allen who, physically, is safe to say he has the strongest arm ever to be in the NFL. That's stronger than even the great John Elway. His arm is just off the charts. Now with that being said, he's probably not somebody that could start day one, or should start day one. He needs more time to develop just in terms of that intangible side of the game.
"Josh Rosen sits right in the middle. He has all those physical skills and all those mental, intangible skills, and can start day one.
"Really, who's going to thrive is going to depend on which team, system and offensive coordinator is going to play to their strengths as opposed to them just adapting to do something that they aren't physically capable of doing."
Coincidentally, Allen is also the quarterback that reminds Dilfer of himself.
Before the interview, I hoped to find a scouting report on Dilfer just to see which quarterback(s) in this year's class I thought matched up with his prospects prior to being selected No. 6 overall by the Tampa Bay Buccaneers in the 1994 draft.
I was able to find a New York Times article dated Feb. 12, 1994, titled FOOTBALL; Fresno State Passer Has the Right Stuff. In it was a small tidbit that said "He's a big, strong kid who throws the ball well. His strength is the intangibles. He's a leader who will do anything it takes to win and learn the game. He spends hours in the film room. At the beginning of the year, he was up to 1 A.M. Mondays, Tuesdays and Wednesdays watching film. He worked so hard that he didn't get enough sleep." Turns out, Dilfer himself was the author of that scouting report.
Sounds like a lot of what you'd want in a quarterback, right?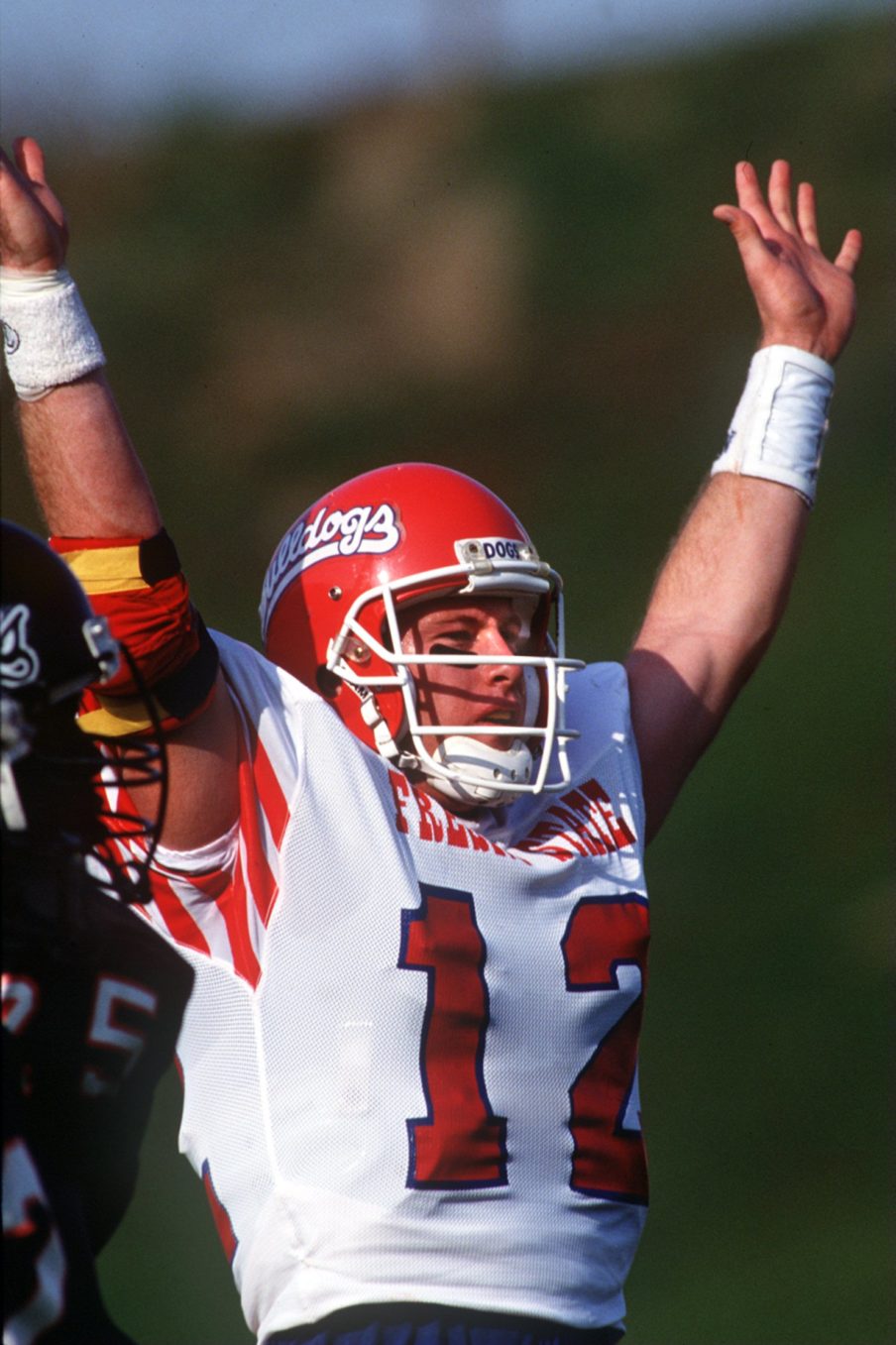 "I got asked the other day who Josh Allen is," said Dilfer. "I go 'you want an honest answer? He's me.' He's a little more talented than I was. His arm is probably a little more electric than mine. I was probably a little better athlete overall. But we're very similar. He needs time. I needed time. He needs a mentor.
"If I could go back and change anything about anything, I would find the current Josh McCown back then, and go to him and say 'please mentor me. Teach me everything you know. Teach me how to be a good human. Teach me how to be a good quarterback. Teach me how to be a good husband, father, member of society. Teach me how to work. Tell me the truth.'
"You need a mentor. You need somebody like that. I pray to God that Josh Allen gets a Josh McCown, or Case Keenum, or somebody like that who's not only a good player, but somebody that can help mold him — shape him — into something he could be, instead of something that he might be, like me."
Keep in mind this interview took place literally four hours prior to the draft. As it turns out, Allen has Nathan Peterman and AJ McCarron in the quarterback room with him in Buffalo. I have a feeling he'll have some apologizing to do to McCarron following some of Allen's old tweets getting leaked leading up to the draft, including two about McCarron's mother and, at the time, girlfriend.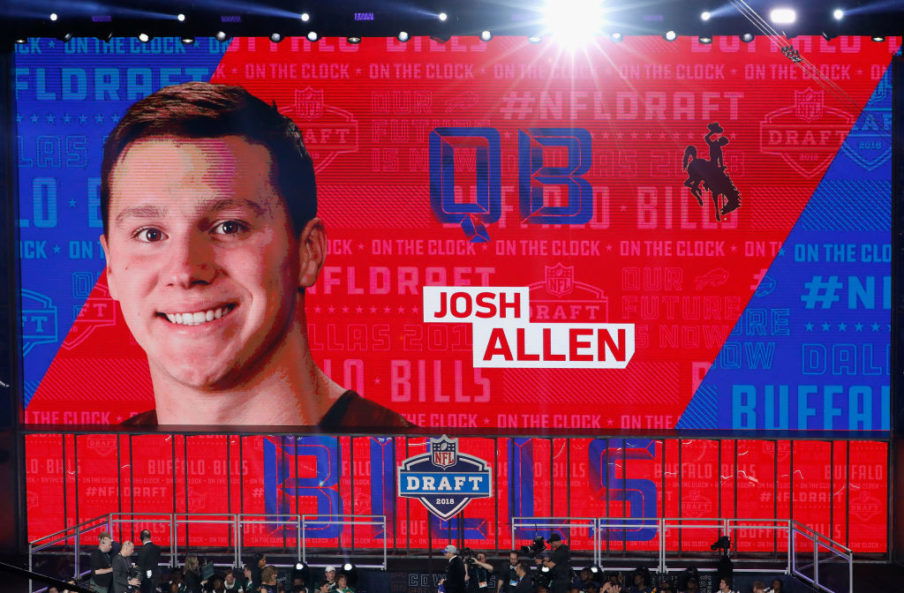 Of course, with Allen's old tweets surfacing right before the draft, it begged the — perhaps loaded — question: what's the biggest challenge facing quarterbacks nowadays as opposed to Dilfer's time during the 90s and early 2000s?
"You're labeled as something before you fully evolve," Dilfer said. "You're projected to be what you are right now, instead of understanding that you are a work in progress. When we deal with Elite 11 kids, we need to realize they're works in progress. When they're in college, they're works in progress. Early in their NFL career, they're a work in progress.
"Yet, we're in a society that says 'this is who you're going to be because this is who you are now.' If I parented that way, my kids would be a wreck. I think if any of us parented that way, our kids would be a wreck. So why would we coach and nurture differently than we parent? You've got to understand: little kids, little problems; big kids, big problems. It's the same thing with quarterbacks. It's like, OK, when they're little — high school and college — let's address the issue now so it doesn't become a big problem later. If we do address it now, then they won't have big problems later. Instead, it's 'oh gosh, he's got a little problem right now. Let's make it a big problem because … this problem is only going to escalate with time.' It's just a very unfair evaluation world that these kids grow up in.
"I'd say the second part of that is there's a lot of fool's gold in quarterbacking right now — meaning spread systems, RPO's, sideline to sideline line of scrimmage throws create massive stats and massive production and massive success for kids at a young age. It's really not quarterbacking, it's catch. So, although they're really good at playing catch, they get called a good quarterback. In their brain, they think 'oh this is quarterbacking. I'll just do what my coach says, I'll throw it out to the right at the line of scrimmage, the guy will make nine people miss, he'll go for a touchdown and I got a 70-yard touchdown pass. Well, I'm good.' No, you're not good. You're good at catch. In their minds, they think they're good quarterbacks, but really all they are is guys that play catch, so it becomes fool's good."
A perfect example of this? Robert Griffin III.
"You have to re-convince these players that their journey is a lot longer to becoming quarterbacks," added Dilfer. "Some of them just can't grasp that. RG3 couldn't grasp that. He thought exactly what he did at Baylor, and what he did during his rookie year, was going to work for 12 years. The Shanahan's tried to teach him that it wasn't going to work and he had to evolve, but he wouldn't evolve. We have a lot of that in the quarterback world, where kids think playing catch is actually playing quarterback."
The quarterback in this class trying to shake those RG3-esque stereotypes, or the "we want to transform this quarterback into a wide receiver" mentality, is Louisville product and Heisman Trophy winner, Lamar Jackson.
"I think what's interesting is people say Lamar Jackson is a run-first quarterback," said Brenkus, "but in all of the rushing yards that he accumulated at the NCAA level, only 25 percent of them were on scrambles; which means if he had the option to throw, 3 out of 4 times he was throwing. So, we can sort of put that aside for sure."
"His arm is electric," Dilfer said of Jackson, who, along with Darnold, has a tendency to "turn a stinky sandwich into an ice cream cone," a phrase Dilfer has coined during his analytical career. "He (Jackson) has a great release time. He's a flicker of the ball, which is valuable. He doesn't use his arm as much as he uses his wrist to generate power and speed and rotation, which is important as he grows and his base gets stronger. As he grows in the nuance of quarterbacking, that will serve him well for accuracy and consistency. He's definitely an early pick prospect, but he's not an early pick player right now. He's in the (Josh) Allen bucket of 'it's going to take time.' He's got to learn the nuance of quarterbacking."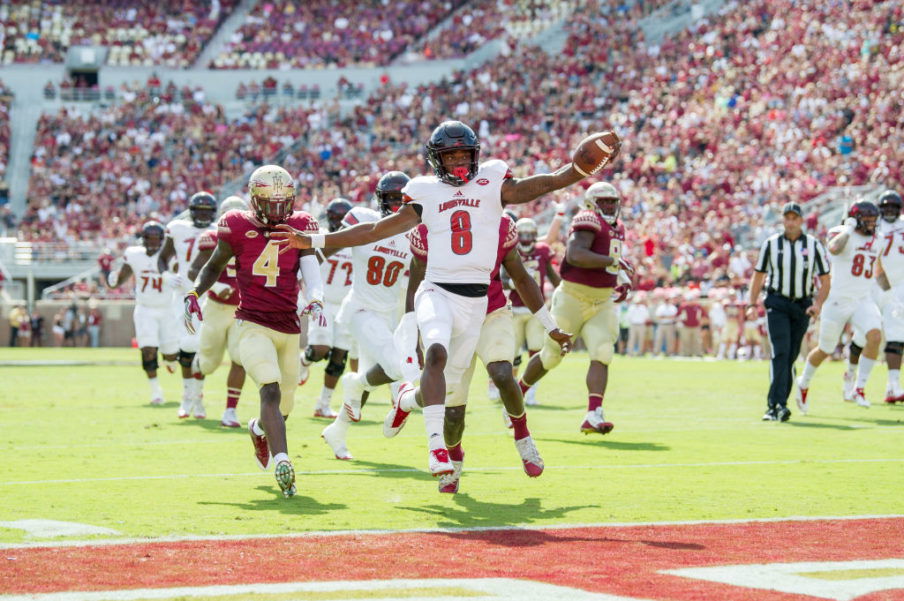 Leading up to the draft, all the quarterback talk consisted of the big five — Mayfield, Darnold, Josh Allen, Rosen and Jackson — all of whom were selected in the first round. But there's value to be found with the next tier, with Soul and Science subjects Rudolph, Falk and Kyle Allen.
Dilfer knows a thing or two about quarterbacks going late or even undrafted, with Kurt Warner, Jeff Garcia and Jay Fiedler falling into the latter category of Dilfer's 1994 draft class.
Dilfer tabbed Falk as a guy who, although wasn't talked about much, could be a name heard on a national scale in a few years. "Falk, to me, is a professional. He's a professional in every sense of the term. Professional football and the quarterback space has as much to do with being a professional as anything else."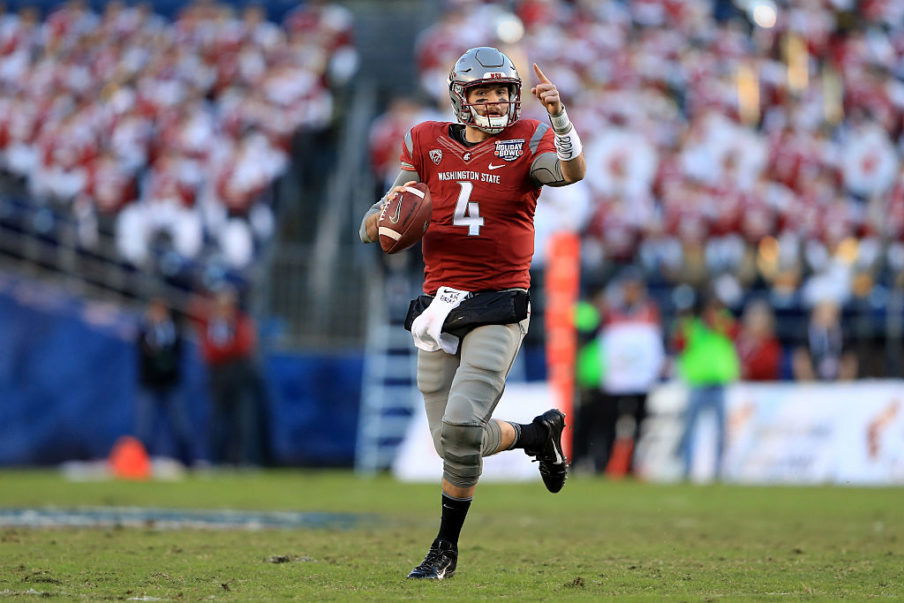 Brenkus agreed, saying "coming into examining all of the quarterbacks that we were able to work with, if you did not have a name assigned to the results, Luke Falk is in that category of somebody who has that NFL skill set right out of the box. I think that in terms of where he fits in this draft, clearly he's not the No. 1 pick. But when it's all said and done, is he going to be somebody that goes later in this draft that turns out to be the superstar? I think that absolutely could be the case.
"If you look at the draft that had Russell Wilson and Nick Foles in it, neither one of them were the No. 1 quarterback. They were taken a little bit later, but both of them have won Super Bowls. So when it's all said and done, it might be the guys who were taken later and given that time without the expectation of being 'the man' who ultimately end up having the best careers."
We, of course, have the luxury of now knowing that Falk was drafted by the Titans, Rudolph appears to be the heir apparent to Ben Roethlisberger in Pittsburgh and Kyle Allen signed as an undrafted free agent with the Panthers.
The only thing to do now is to wait and see if flavors like Boisterous Baker or Lusty Lamar will make their way to the freezer section of a convenience store near you.
---
All six episodes of Soul and Science are out now and can be watched for free at soulandscience.com. Brenkus and Dilfer don't plan on this being a one-off, either — or just a football thing, for that matter. Brenkus said they will be doing other sports in the future.
"It's off to a great start, for sure. We were fortunate enough to have a partner like NFL Network and Ford as being the title sponsor."
To stay up to date with all things Soul and Science, follow Trent on Twitter @DilfersDimes and John on Twitter @johnbrenkus_.
---