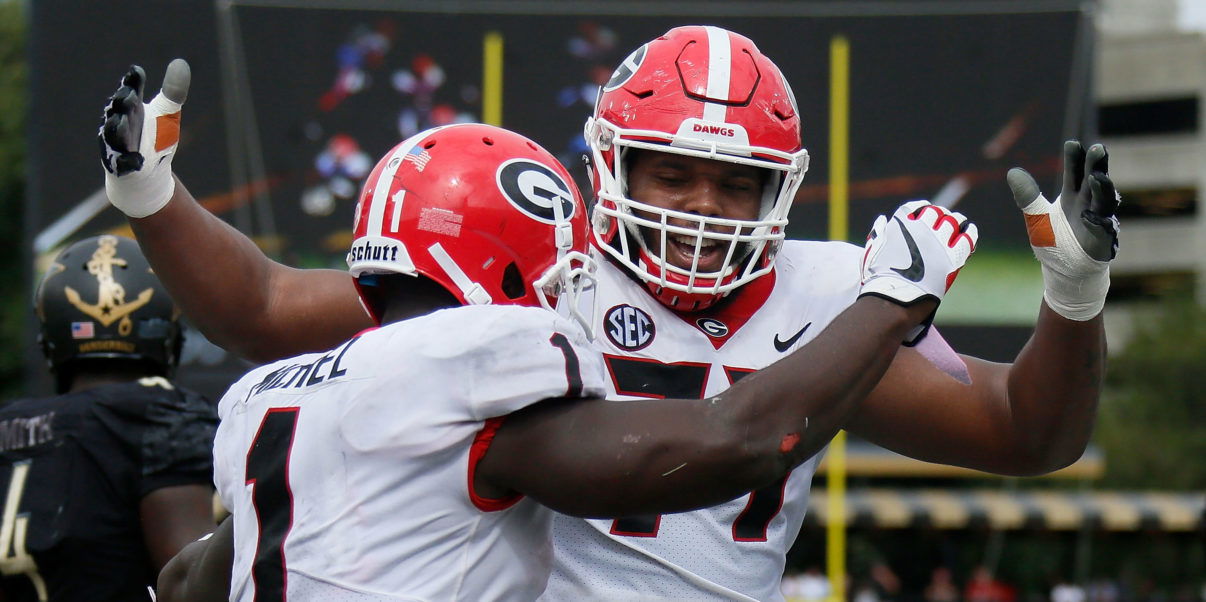 Isaiah Wynn and Sony Michel: Pats Have Georgia On Their Mind
The New England Patriots, armed with two first-round picks after trading away Brandin Cooks for roughly the same price they paid for him last year, were as interesting a team to watch as any in the pre-draft process, many anticipating a blockbuster trade for a quarterback. Instead, they took Isaiah Wynn with the 23rd pick and fellow Georgia Bulldog Sony Michel eight picks later, and in doing so sent an unavoidable message: Bill Belichick is all-in for yet another attempt to win a ring with Tom Brady.
It makes sense, in a way. As long as Brady's arm doesn't fall off, the Patriots are the strongest team in the AFC with daylight second and (in the absence of Ryan Shazier) the Jaguars third. When the toughest challenge you face to get to a Super Bowl is beating Blake Bortles, you have a championship window.
The problem is that half the NFC seems to think they have a championship window as well. The Eagles added Michael Bennett to a team that already won the championship with a backup quarterback. The Saints traded next year's first-round pick to secure a player at a position of need. Above all, the Rams – similarly aided by a rookie-contract QB – have shoved all their cards to the middle of the table in trading for Cooks having already moved to acquire multiple high-skill, short-fused corners in Aqib Talib and Marcus Peters. Perhaps Belichick sees that team (with a coach younger than some of the players!) and is reminded of the infamously underwhelming "Dream Team" Eagles of a decade ago, hence his willingness to snatch a first-rounder off them.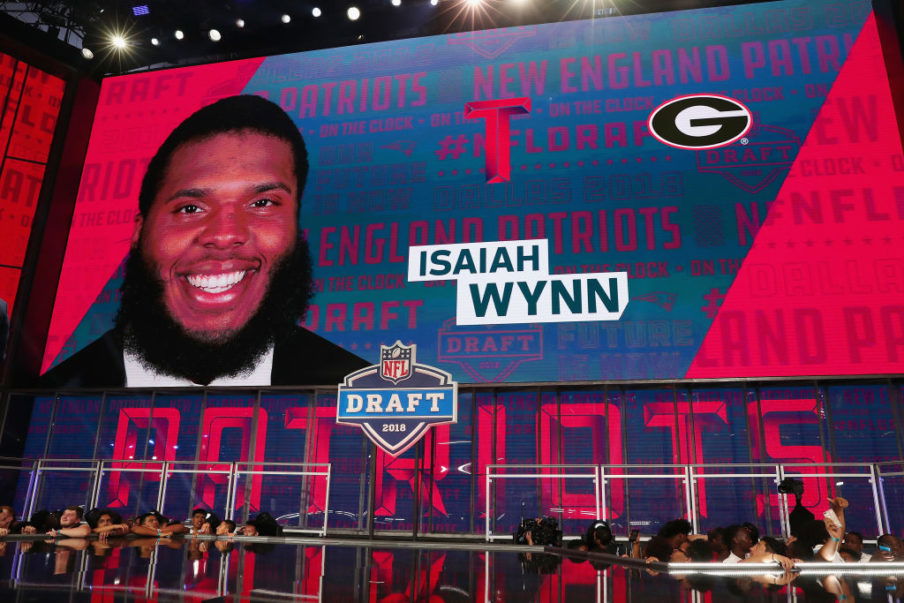 That pick turned into Wynn, and he can help them win, because he can fill their biggest immediate need – the left tackle spot vacated by Nate Solder. Yes, he's got short arms and pundit after pundit suggested that made him a guard, but short-armed tackles have succeeded in the NFL. Arm length does help in terms of getting a hand on pass-rushers a little earlier and pushing them away a little further – but if you don't get your feet in position, that advantage is either wasted or it's not used in the first place. Wynn's arms – 33⅜" long – are under the 34″ threshold widely considered the mark of a good left tackle… and they're almost an inch longer than those of Joe Thomas. Arm length is overrated.
Besides, if you make it to the top level of college football as a left tackle with non-ideal measurements for the position – Wynn is also just 6′ 2¾" tall, making him short even by guard standards – you're probably pretty darned good at blocking. Which indeed Wynn is. To be fair, he only played left tackle for his final year with the Bulldogs, but at least he's familiar with that position, and he's also accustomed to playing inside and even as a blocking tight end. Bill Belichick loves positional versatility, so no wonder Wynn was on his radar.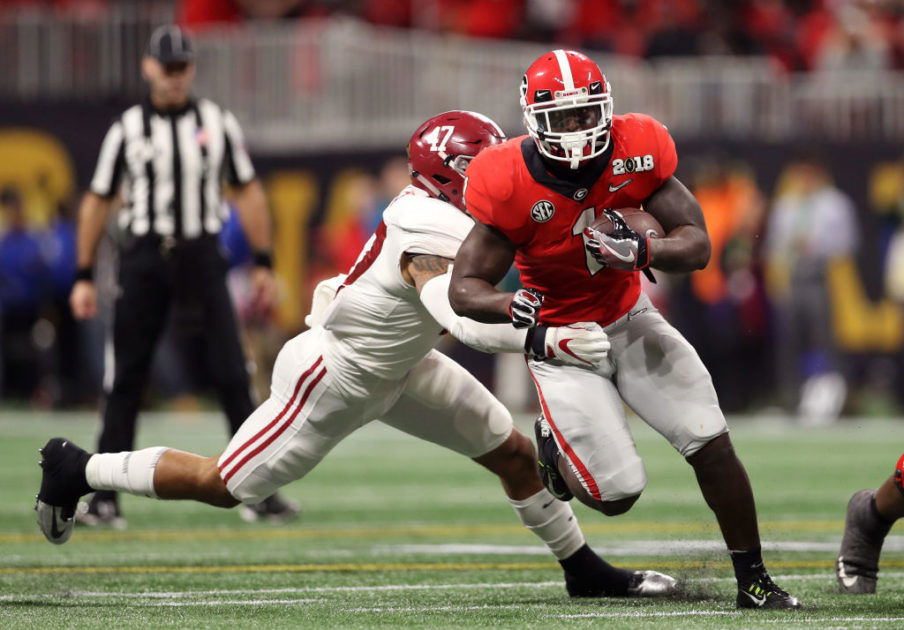 While he was at it, he took someone Wynn was run-blocking for. Sony Michel was part of a devastating backfield tandem with Nick Chubb (who went to the Browns just four picks later), and while Chubb was considered the starter throughout, Michel (credited with two starts) also played every game and turned his 156 carries into 1,227 yards at almost eight yards a carry. Throw in praise for his pass-protection skills – so often the attribute top college backs don't develop, which in turn is so often the reason these backs don't always jump out of the gate as quality NFL rookies – and you have a superb addition for a win-now team.
Dion Lewis spent most of 2017 as possibly the closest thing to a proper featured back Belichick has ever had, and now he's in Tennessee, Michel must have been ticketed for that role as well. Throw in James White as a backfield receiver and Rex Burkhead as a change-up, and you have a very promising RB group, and that's a really good thing to have when you play with a lead more often than not.
So far, so good, right? Two quality players from the same college, of whom one can play a position of huge need (remember, he was announced as a tackle, so that's how they had him on the card they handed in) and another is perfectly suited to offering rookie-year impact.  Plus, they are more than familiar with the Mercedes-Benz Stadium that will host Super Bowl LIII, the sort of detail you can just imagine Belichick noting as he picked out players to help improve a team locked in on winning that Super Bowl. (This is the same head coach who kept his team in Colorado after a road game with the Broncos because their next game was in Mexico City at even higher altitude. They promptly won said game in a blowout against a Raiders team who'd played there before.)
The problem with these picks isn't who they were. It's who they weren't.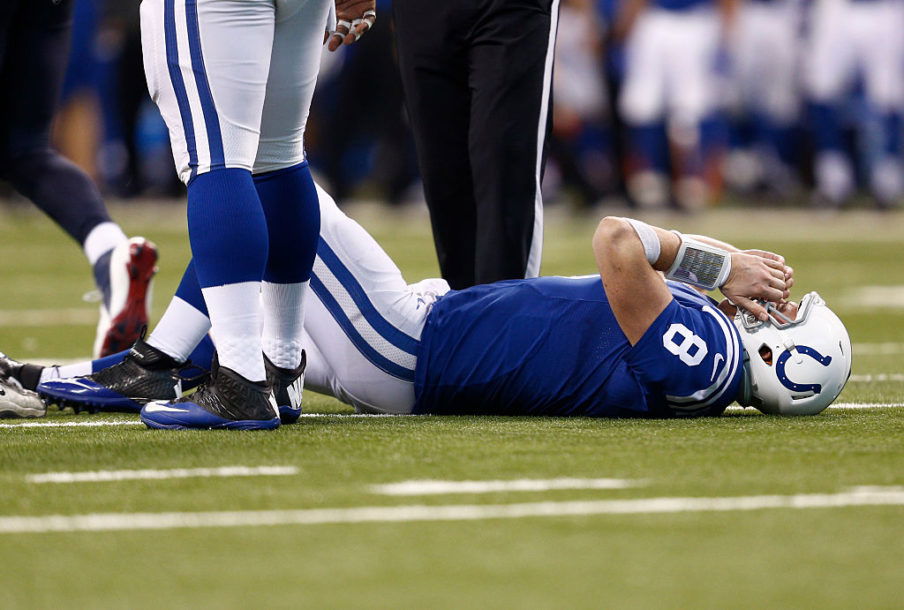 That's Matt Hasselbeck pictured above after one of the numerous injuries he sustained in relief of Andrew Luck two seasons ago. Brady's older now than Hasselbeck was then. He's also older than Peyton Manning was when he got benched for Brock Osweiler. On the day of the Pats' Week 6 SNF clash with Kansas City, he will become older than Brett Favre was on the day of his last NFL game, and (assuming he starts that or a subsequent game) become the seventh-oldest starting quarterback in NFL history.
The Pats' backup plan for his injury or decline, in a year where they're laser-focused on wrestling the Lombardi Trophy away from a team who beat them in a historic Super Bowl shootout with a backup quarterback? Brian "I Got Cut By An 0-8 Team" Hoyer. That's a questionable plan.
Except, in all likelihood, it wasn't even the plan in the first place. Reports flew around that the Patriots prepared a potential blockbuster trade for Baker Mayfield – obviously denied by the small matter of him going #1 to the Browns – and even that they had a deal agreed with the Bears to acquire their #8 pick for Josh Rosen that Chicago declined when Roquan Smith was still on the board. Meanwhile, they had two bites at Lamar Jackson and turned him down, despite a long pre-draft look and the small matter of his college offense being built around the same "Erhardt-Perkins" playcalling language as New England's.
Questioning Belichick is between three and 28 times more dangerous than questioning anyone else in the NFL. But when a man who wrote a letter of support to Donald Trump reportedly plans to bet the farm on one of two white quarterbacks, and then passes on two no-trade opportunities to take a black one who has an easier transition into the offense? You don't even have to question him. You just have to state the facts, and leave the most tantalising of conclusions dangling in the air.
Grade for the Wynn pick in isolation: A-
Grade for the Michel pick in isolation: B
Grade for choosing two non-quarterbacks: F
Should the Patriots have drafted Lamar Jackson?
Yes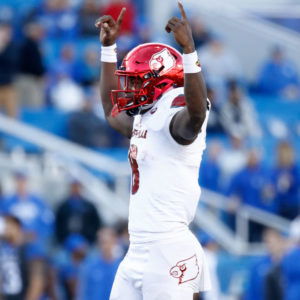 No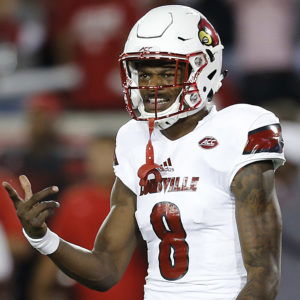 ---