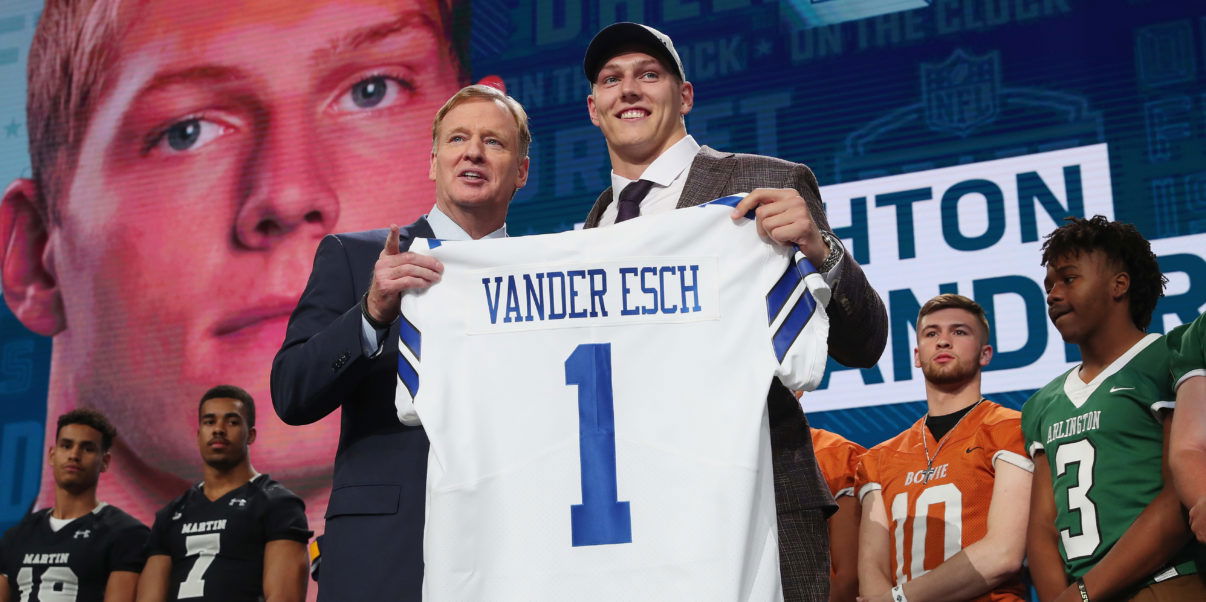 Leighton Vander Esch: Stabilizing A Broken Unit
I'm not usually that guy, but this time I'm going to be. Here's what I said about Boise State linebacker Leighton Vander Esch at the end of my full draft profile on him two weeks before the draft.
"Draft prediction: He's a first round talent, but probably towards the back end of it. He might be an interesting candidate to go to the draft-hosting Cowboys at #19."
The Cowboys went against the popular prediction of them taking a wide receiver to help fill the immediate void Dez Bryant left, instead opting for a linebacker with freakish athleticism and playmaking ability in spades.
It would have been very easy for them to make something of an impulse pick. A home crowd gathered expecting big things with the NFL Draft in Dallas for the first time ever, and the need to get Dak Prescott another target had been covered in every way imaginable in the days building up to the draft. The fact that zero pass catchers were drafted in the 18 selections ahead of them didn't help matters.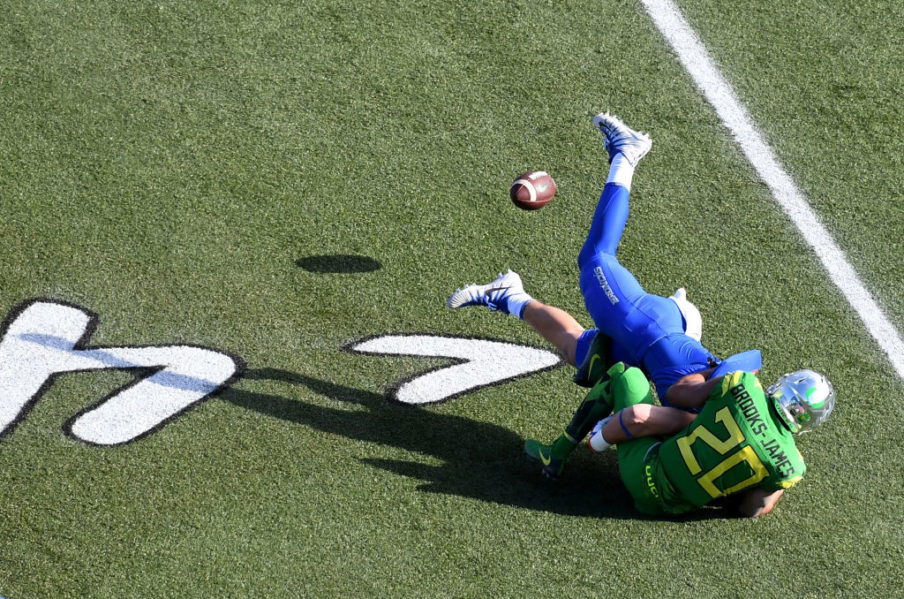 The scenario was set up for them to take the 2018 National Champion Calvin Ridley or the hometown guy Courtland Sutton out of SMU. But the organization took it back a step and made the move to get some immediate help at a much more valuable position, and they deserve a lot of credit for it.
The biggest downside is that this probably isn't great news for Jaylon Smith's potential to be the linebacking leader in Dallas for the future. The former Notre Dame star played in 2017 for his belated rookie season after he was drafted in 2016, but missed all season recovering from the devastating knee injury he suffered in the 2016 Fiesta Bowl. The Cowboys spending a precious first round pick on a linebacker just 16 games into Smith's career bodes poorly well for his long term health.
The only thing the Cowboys have been able to rely on with any regularity at the linebacker position this decade has been the play of Sean Lee. The Penn State product entering his ninth season with the Cowboys missed five games due to injury in 2017, and is on the wrong side of 30 now. There's still football left in him, but drafting a guy who can learn from him now and be a potential long-term successor for him is what they're hoping can bring some stability to the unit.
The linebacking corps has been a revolving door outside of Lee in recent years. Anthony Hitchens was the team's second leading tackler in 2017, only trailing Lee, but he took his talents to Kansas City in free agency. While the Cowboys were probably smart not to shell out the 45 million dollars over five seasons the Chiefs did for him, it still left them in pressing need of more bodies in the middle of the defense.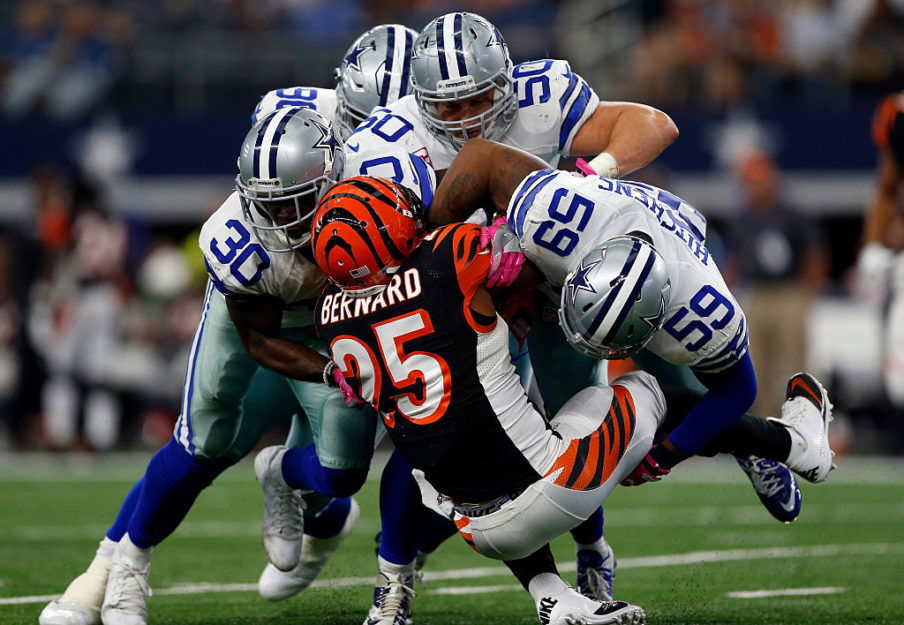 And that's where my concerns with the Vander Esch pick lie. The biggest knock on him going into the draft was the potential durability issues he could have at the NFL level. Like many of the current Cowboys, he fought injures in his career, missing time in both his freshman and sophomore seasons at Boise State. His junior season with the Broncos was the only full season of football he has played in since high school, and even that is shorter than and NFL season.
The Cowboys need healthy bodies who can make plays at linebacker, but I'm not completely convinced Vander Esch can accomplish the former, and it could render his ability to do the latter irrelevant.
But popping in his college tape makes it blatantly clear why the Cowboys spent a first round pick on him. He has an uncanny nose for the football, and he combines that with his quick get off to blow up plays in the backfield before they even get started. He's a heat-seeking missile wearing a helmet and shoulder pads. His average of 10.1 tackles a game last season in Boise speaks for itself. People who are 6'4" and weigh 256 pounds shouldn't be able to run 4.65 40-yard dashes with broad jumps of 124 inches. You can't teach that. He'll change the dynamic of the Cowboys' defense just by showing up.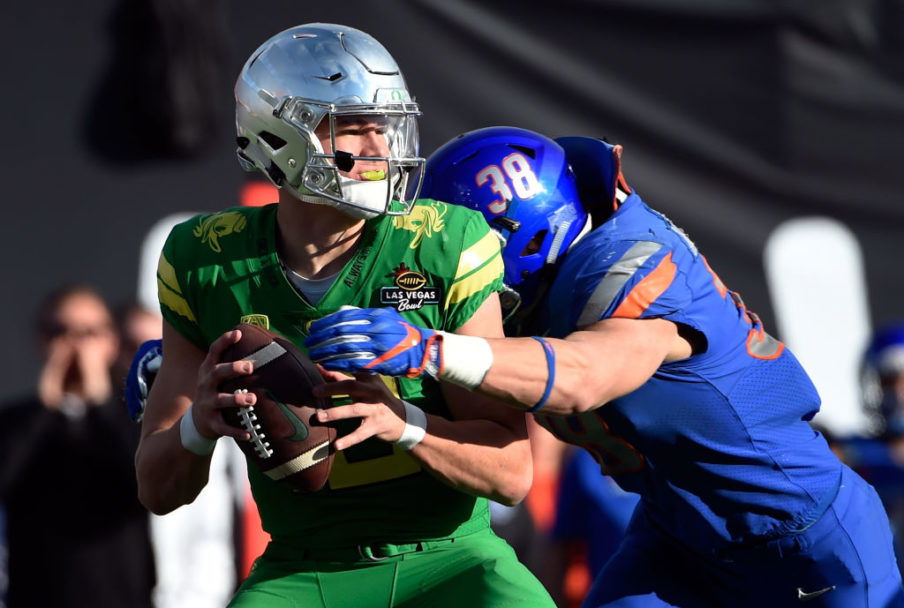 Kudos to the Dallas war room for drafting a small school player at a position that was a need, but not their most obvious one. Leighton Vander Esch is going to slot perfectly into this defense, and as long as he can adjust to the length and grind of an NFL season, the playmaking ability will take care of itself.
Grade: B+
---