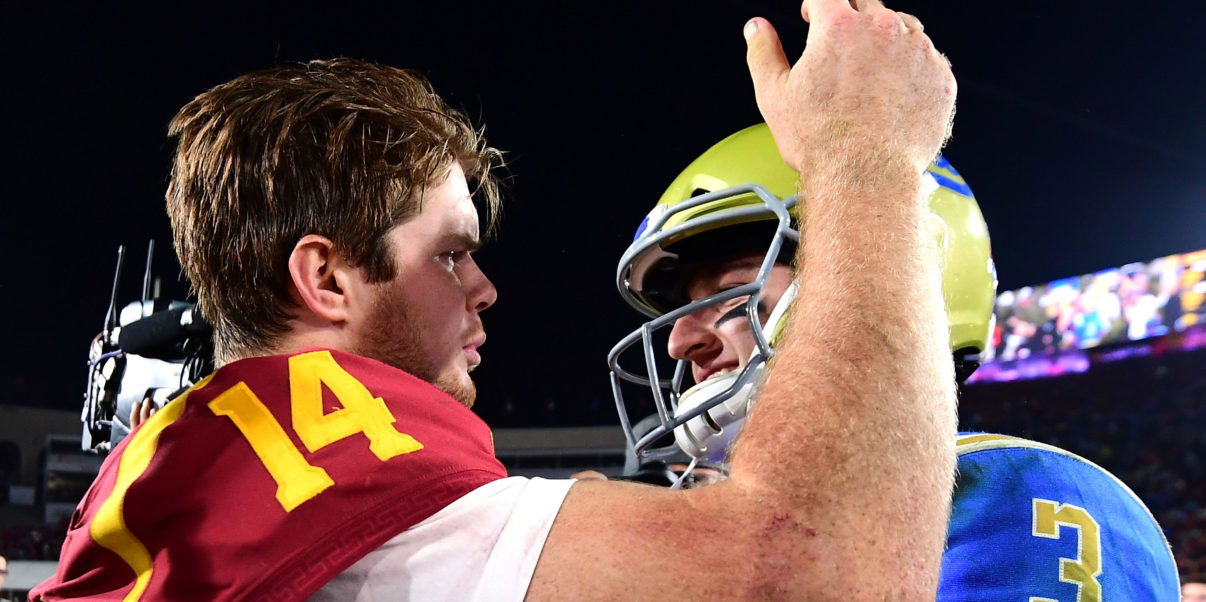 2018 Three Round NFL Mock Draft: Alan Cole
Draft week is upon us and soon enough, the college football stars of recent seasons will have new homes as the next generation of NFL talent.
There will be trades. There will be chaos. There will be steals, reaches, and busts (looking at you for that last one, Cleveland).
Closing in on the big day, it's time for my only mock draft of this draft cycle. These picks are what I think will happen come draft night, not what I think a team should do or what I would do.
Let's have some fun.
1. Cleveland Browns – Sam Darnold (QB, USC)
When it comes to the quarterback position in Cleveland, the Browns just have to keep throwing as many darts at the wall as possible, and hope one of them sticks as a franchise quarterback. I think the latest man who will attempt to resurrect the franchise is Sam Darnold. It's a loaded quarterback class, but I think Darnold has the best upside, and the flaws in his games are one that proper coaching and development can chip away at.
After years of failing to get the right man under center, nothing would surprise me with this pick. Josh Allen's name has been tossed into the rumor mill in recent weeks, as has Darnold's Los Angeles counterpart Josh Rosen. But with all the possibilities, I think the Browns will end up making the safe pick, identifying Darnold as the man for the future.
2. New York Giants – Josh Allen (QB, Wyoming)
Darnold is gone, but the Giants are still going to be looking quarterback. They turn to the man with a cannon of an arm to try to solve their blues. His arm strength will serve the Giants well in their cold weather division, and if they still think they have something left in the tank for Eli Manning, Allen's a good choice for a guy to sit and learn behind the two time Super Bowl champion.
3. New York Jets – Baker Mayfield (QB, Oklahoma)
The Jets gave up the #6 pick, #37 pick, #49 pick, and next season's second round pick to move up three spots in the draft with one purpose in mind. To get their long-term answer at quarterback. The quarterback tax bit them badly after managing to go 5-11 last season, but it's going to net them a fresh start. With Darnold and Allen off the board, it pretty much narrows down to Josh Rosen, Baker Mayfield, and maybe Lamar Jackson in with a chance.
I think they'll pick out the 2017 Heisman Trophy winner as the right man for the job based on a combination of Mayfield's unique playmaking ability and concerns about Rosen's durability.
Trade: Cleveland Browns trade the #4 pick to the Buffalo Bills in exchange for the #12, #22, and #56 picks.
4. Buffalo Bills (From Cleveland) – Josh Rosen (QB, UCLA)
If the first three picks of the draft play out in this manner, John Dorsey will be getting phone calls from all over the country in his ten minutes on the clock with Cleveland's second first round pick. At this point there will be a handful of teams looking to get a quarterback, and only two first round talents left on the board.
But of all of these QB hunting teams, the Bills have the most draft capital thanks to their trade with Kansas City in the 2017 Draft. They give up their two firsts this year as well as a second to draft Rosen, and complete the quarterback sweep in the top four picks.
Rosen has had an injury history in college and isn't as good outside the pocket as the other first round prospects, but this is the NFL. If you're a college quarterback with a pro upside, you're getting drafted early.
Unless your name is Lamar Jackson.
5. Denver Broncos – Saquon Barkley (RB, Penn State)
John Elway is always looking for quarterbacks, but spending a top five pick on Lamar Jackson might be too rich for his blood. With the departure of C.J. Anderson from the Mile High City last week, the Broncos are back on the market for a running back.
Barkley will make it four straight seasons with a running back being drafted in the top ten after none were drafted in the top 50 in 2014. Saquon is that kind of prospect, though. A running back of his caliber can help mask a lot of the quarterback flaws the Broncos have right now.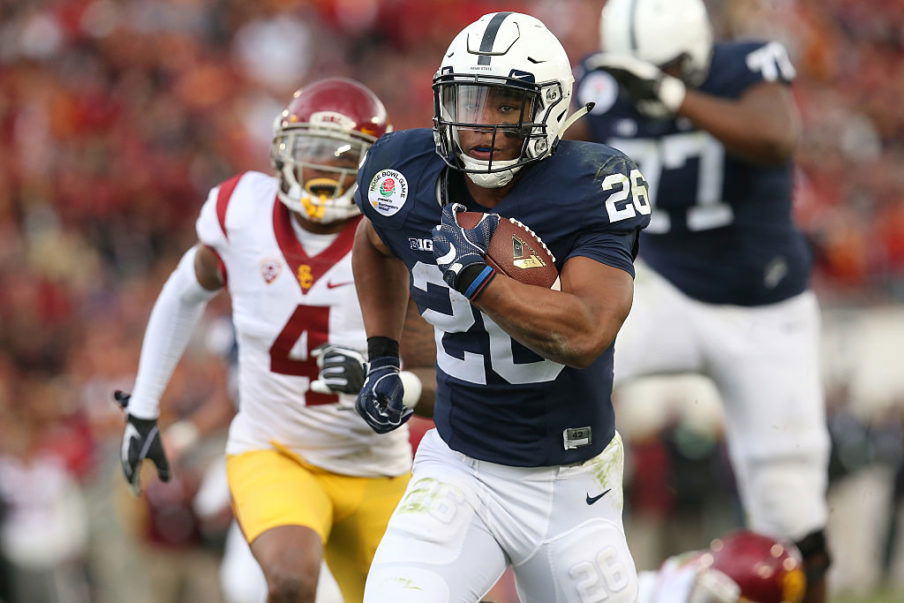 6. Indianapolis Colts – Quenton Nelson (G, Notre Dame)
Andrew Luck has missed 26 out of 48 Indianapolis games in the last three seasons, including every game in the 2017 campaign as the Colts crashed to a 4-12 record. The fatal error the organization made right from the start of the Andrew Luck era was not properly protecting him. Luck, and the team as a whole have paid the price for it ever since.
Read American Football draft expert Joe Hulbert ranked Nelson as the #1 overall player in the draft on his big board. Nelson is a bruising guard who eats defensive linemen for breakfast. If he's available here, the Colts will keep him in the state of Indiana to help protect Luck.
7. Tampa Bay Buccaneers – Bradley Chubb (DE, NC State)
The best pass rusher in the draft falling into the lap of the team who finished dead last in the NFL in sacks last season? Some folks down in Tampa might think it's too good to be true. The holes this team has all over the defense could lead this pick towards a cornerback or a safety, but I think Chubb's dive will render this pick for Tampa a rather easy one.
Trade: Chicago Bears trade #8 pick to the Arizona Cardinals in exchange for picks #15, #79, and 2019 Third Round Pick
8. Arizona Cardinals – Lamar Jackson (QB, Louisville)
It looks crazy, but there's a method to my madness.
At this point I see one quarterback with first round talent left on the board, and two teams who are in the hunt for one for sure, Miami and Arizona. With the Dolphins picking at #11 and the Cardinals down at #15, the pressure was on the latter to make a move. They need to get into one of the three remaining positions ahead of Miami's pick at #11.
A trade with #9 San Francisco is pretty much out of the question. The Cardinals wouldn't be able to bait a divisional rival into trading a pick that would be used on a quarterback. Oakland at #10 is a team in dire need of some defensive help, and with the likes of Minkah Fitzpatrick, Derwin James, and Roquon Smith still on the board, the Raiders might have held on to that pick to assure themselves of an elite defensive talent.
That leaves Chicago at #8 as the trading partner for the Cardinals. The Bears would only be moving down seven spots, and this would be replenishing some of the draft capital they lost when they traded up to take Mitch Trubisky a year ago. The Cardinals pip the Dolphins to the post and draft Lamar Jackson.
9. San Francisco 49ers – Minkah Fitzpatrick (CB, Alabama)
Minkah at nine is a solid value pick for a franchise firmly trending in the right direction. He's an athletic guy who can do a little bit of everything on defense. The Crimson Tide man should slot into the week one starting lineup for the 49ers.
10. Oakland Raiders – Roquon Smith (LB, Georgia)
Once Minkah falls off the board, the pick for Jon Gruden's squad should be pretty easy. This team needs help at linebacker in the worst way. Roquon making it down here is a product of the run of five quarterbacks in the first eight picks, not his talent. This draft card will be sprinted into Goodell.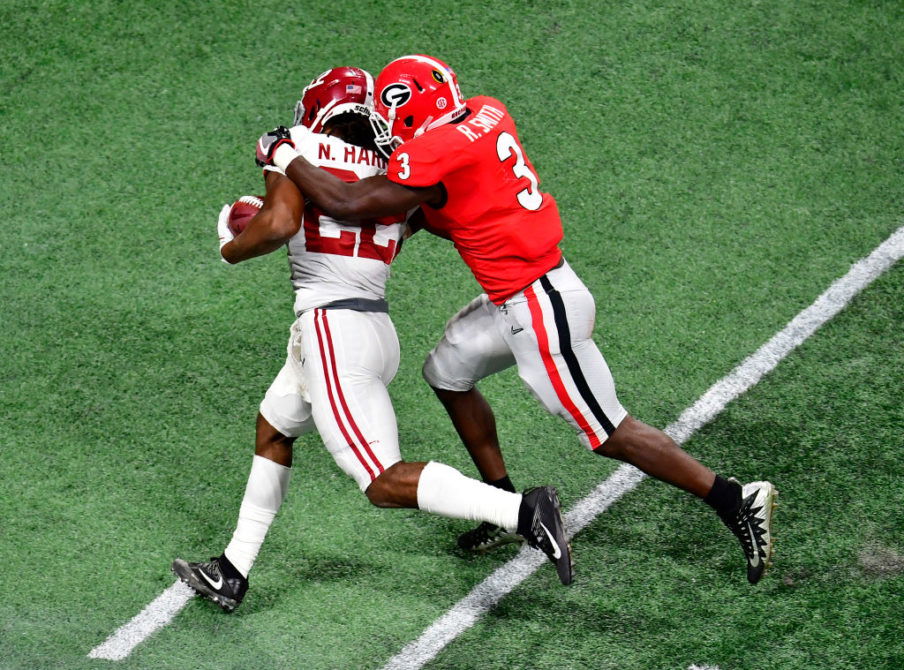 11. Miami Dolphins – Denzel Ward (CB, Ohio State)
After being the odd team out in the great quarterback drafting party of 2018, Miami has to turn the page and look to fix a glaring weakness on the other side of the ball. The cornerback pool in Miami is extremely shallow even after using their third-round draft pick on Cordrea Tankersley. Ward is a little bit undersized, but would still be a game changer for the Dolphins.
12. Cleveland Browns (From Buffalo) – Derwin James (S, Florida State)
After an 0-16 season, it's all about plugging as many holes as possible for the Browns on their long road to recovery. They already filled the most important one at quarterback with Darnold, and now they make the first big move on defense by snagging James. The Browns can't pass up a player of Derwin's quality at the value of #12.
13. Washington Redskins – Maurice Hurst (DT, Michigan)
It's a good year to need a defensive tackle, and it's an especially good one if you're the first team up with a glaring need in that department. I could see the concerns about Hurst's heart condition forcing him to fall a little bit, but there is no doubt about how good he is between the lines. His heart problem has been cleared up for now, and Washington will use their pick to get the best defensive tackle in the draft.
14. Green Bay Packers – Harold Landry (DE, Boston College)
Maybe this is a reach, but I really like what Landry can bring to a team in desperate need of a pass rusher. Landry is a freak of nature athletically speaking, scoring in at least the 90th percentile in the 20-yard shuttle, 60-yard shuttle, and three-cone drill. He'll be a guy Green Bay can rely on to get after the pocket passers they'll be facing in the NFC North.
15. Chicago Bears (From Arizona) – Mike McGlinchey (OT, Notre Dame)
Ryan Pace decides to do what Ryan Grigson never could down the road with the Colts and protects his young quarterback. McGlinchey may be a little bit overshadowed by his Fighting Irish offensive line teammate, but he's still a force to be reckoned with. He becomes the first offensive tackle drafted in the Mitch Trubisky era.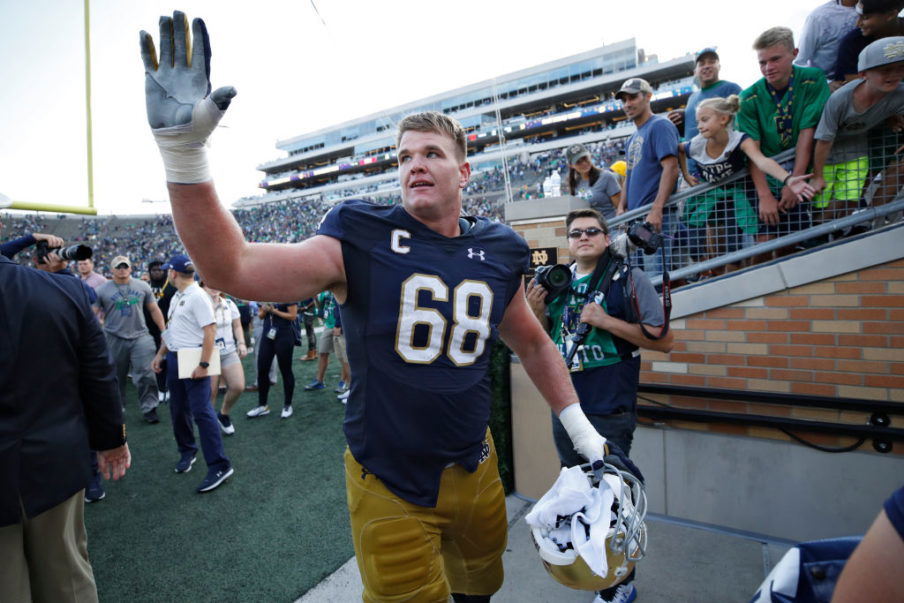 16. Baltimore Ravens – Calvin Ridley (WR, Alabama)
This was the easiest pick of the entire draft. Ozzie Newsome with an athletic Alabama player at a position of need staring him right in the face? This is a formality.
17. Los Angeles Chargers – Tremaine Edmunds (LB, Virginia Tech)
If Edmunds makes it here, Tom Telesco will sprint the draft card in. A linebacker of his caliber going into an already emerging defense at this point in the trade would be highway robbery.
Trade: Seattle Seahawks trade the #18 pick to the Indianapolis Colts in exchange for picks #36, #67, and a 2019 Third Rounder
18. Indianapolis Colts – Leighton Vander Esch (LB, Boise State)
The question for Seattle isn't if they're going to try to trade down, it's with who and for how much. The answers would be Indianapolis and three picks in the second and third rounds. The Seahawks only have two picks in the top 140, so they'll be absolutely desperate to do anything they can to get some more bodies through the doors at CenturyLink Field.
From the Indianapolis perspective, they have second round draft picks coming out of their ears after the trade they made with the Jets earlier in the offseason. They drafted a gem in Quenton Nelson, but they passed over some very highly rated defensive players to do so. They'll get the linebacking help they've been craving out of Boise State.
19. Dallas Cowboys – Courtland Sutton (WR, SMU)
It's pretty clear what the biggest need is for the draft-hosting Cowboys after the release of Dez Bryant. They'll dip into their own backyard and get a guy who played his college football in Dallas to fix their severely thin wide receiving corps.
20. Detroit Lions – Derrius Guice (RB, LSU)
For the record, I don't agree with this.
Last season Alvin Kamara and Kareem Hunt both went in the third round and became instant game breakers. The Bears got Jordan Howard in the fifth-round in 2016. Atlanta might have the best running back duo in the NFL in Tevin Coleman and Devonta Freeman, and they went in the third and fourth rounds respectively. We've seen year after year that you can get very good running backs in the draft without having to spend high picks on them.
Regardless, this is Detroit we're talking about, and they've finished bottom five in the NFL in team rushing yards for four consecutive seasons, with two last place finishes sprinkled in. They're desperate for some backfield help. And if you're going to spend a first-round pick on a running back, Guice isn't a bad one to have.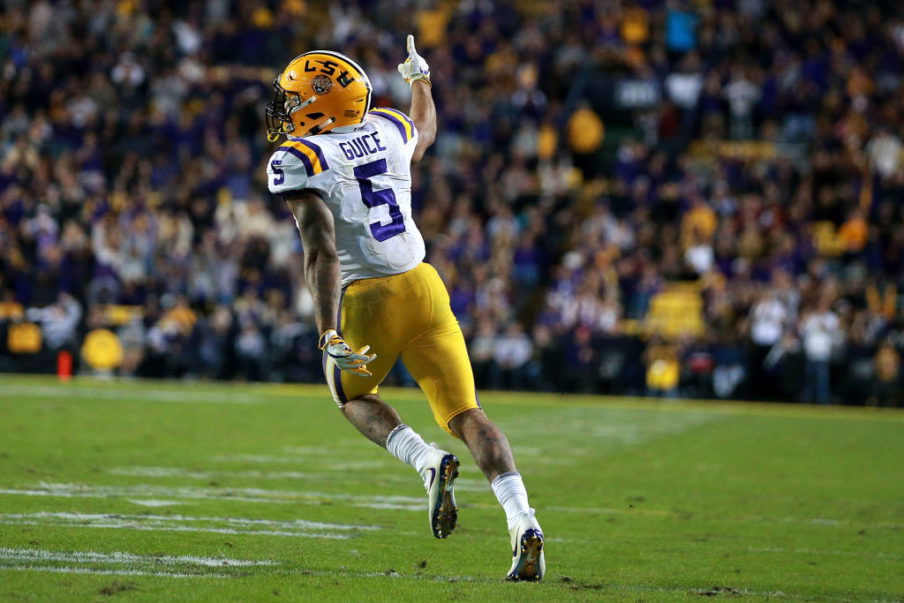 21. Cincinnati Bengals – James Daniels (C, Iowa)
The Bengals are on the much easier end of the spectrum in terms of mock drafting this season. An atrocious offensive line last season can start to be fixed by taking the best center in the draft, and Daniels can also play a little bit of guard if Cincinnati needs him to.
22. Cleveland Browns (From Buffalo) – Billy Price (C, Ohio State)
After getting the quarterback, the attention should now be turned towards helping Sam Darnold. If the war room in Cincinnati prefers Price as a prospect compared to Daniels, I expect the picks I have for the Ohio teams to be swapped, and the Browns to take Daniels. Regardless, Cleveland will do what all teams with young quarterbacks should and protect them.
23. New England Patriots – Jaire Alexander (CB, Louisville)
The Patriots find themselves in a position they've rarely been in during the Bill Belichick era. Thanks to trades with the Rams and 49ers, they find themselves with four picks in the first two rounds. They'll use the first one of those picks on a cornerback with a very good value this far into the draft.
24. Carolina Panthers – Will Hernandez (G, UTEP)
It's not a sexy pick, but the loss of Andrew Norwell leaves the Panthers in need of offensive line help. Hernandez can go right into the lineup and will bruise opponents in the process.
Trade: Tennessee Titans trade the #25 pick to the Miami Dolphins in exchange for picks #42 and #73.
25. Miami Dolphins (From Tennessee) – Da'Ron Payne (DT, Alabama)
This is all about moving in front of Atlanta. The Falcons taking a defensive tackle is up there with the top three teams looking for quarterbacks and Cowboys going wide receiver as the most nailed on positional picks of the first round. Miami also needs a defensive tackle, but they might not like the selection as much down at their next pick, 17 slots from now. Tennessee is tied for the fewest picks of any team this year with just six, so they get some help in that department.
The Dolphins get Alabama's mountain in the middle of the defensive line to replace Ndamukong Suh.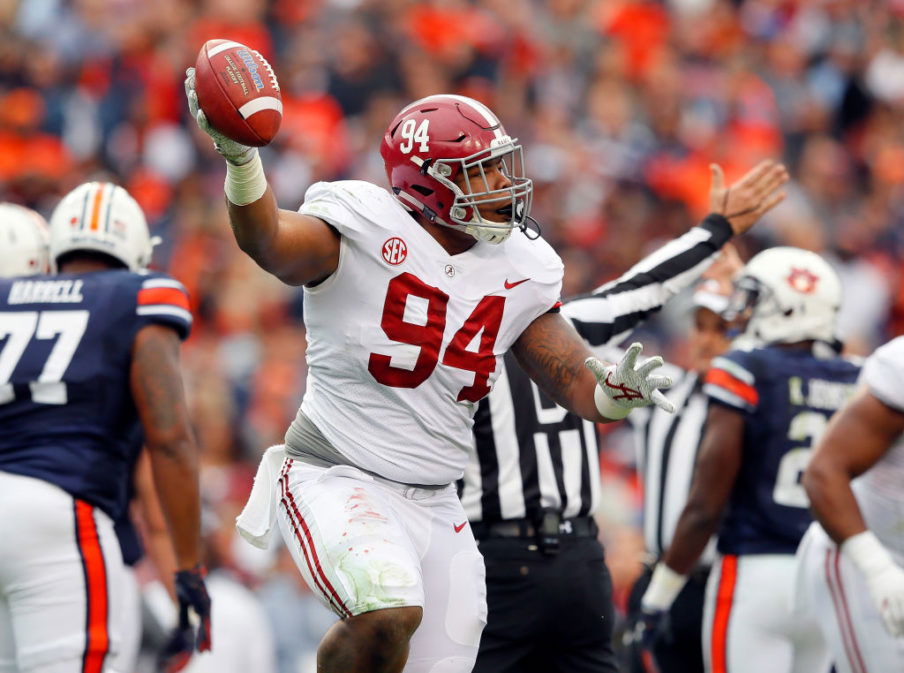 26. Atlanta Falcons – Taven Bryan (DT, Florida)
Thomas Dimitroff might feel like his hands have been tied a little with Miami trading right in front of him to get a defensive tackle, but his Falcons still need one regardless. They tap into the wealth of defensive tackles in this draft and take the Florida Gator. He's raw, but there's plenty of talent for Dan Quinn to work with.
27. New Orleans Saints — Mike Gesicki (TE, Penn State) 
When my colleague David Howell first planted this thought into my mind in his mock draft just under a fortnight ago, it terrified me as a Falcons fan. The thought of a 6'5" 247 pound tight end with the speed of a receiver joining forces with Drew Brees and all of the weapons in that already potent offense sends shivers down my spine. 
Gesicki playing in Sean Payton's offense is enough to give the other 31 defensive coordinators grey hairs.
28. Pittsburgh Steelers – Rashaan Evans (LB, Alabama)
Make it four Alabama players off the board in the first round, as the Steelers fill probably their biggest need with the rangy Nick Saban product.
29. Jacksonville Jaguars – Isaiah Wynn (OG, Georgia)
The idea in Jacksonville right now is to make Blake Bortles throw the ball as little as possible. Drafting another guard to help the rushing attack gels right into that plan. Wynn will be another guy to help lead the Leonard Fournette charge.
30. Minnesota Vikings – Kolton Miller (OT, UCLA)
After landing the big fish quarterback in free agency, Minnesota will protect him from the exterior of the offensive line.
31. New England Patriots – Connor Williams (OT, Texas)
If Bill Belichick had it his way, he'd have taken Miller to replace Nate Solder protecting Tom Brady's blindside. But the Vikings taking him forces his hand here. Williams isn't the worst backup option to have.
32. Philadelphia Eagles – Jamarco Jones (OT, Ohio State)
Four straight offensive linemen to close out the first round. Jones had a disastrous combine, but as reigning Super Bowl champions, Philadelphia has the luxury of taking a risk on him to protect Carson Wentz after his ACL tear.
Now that the first round is gone, it's time to speed things up a little bit.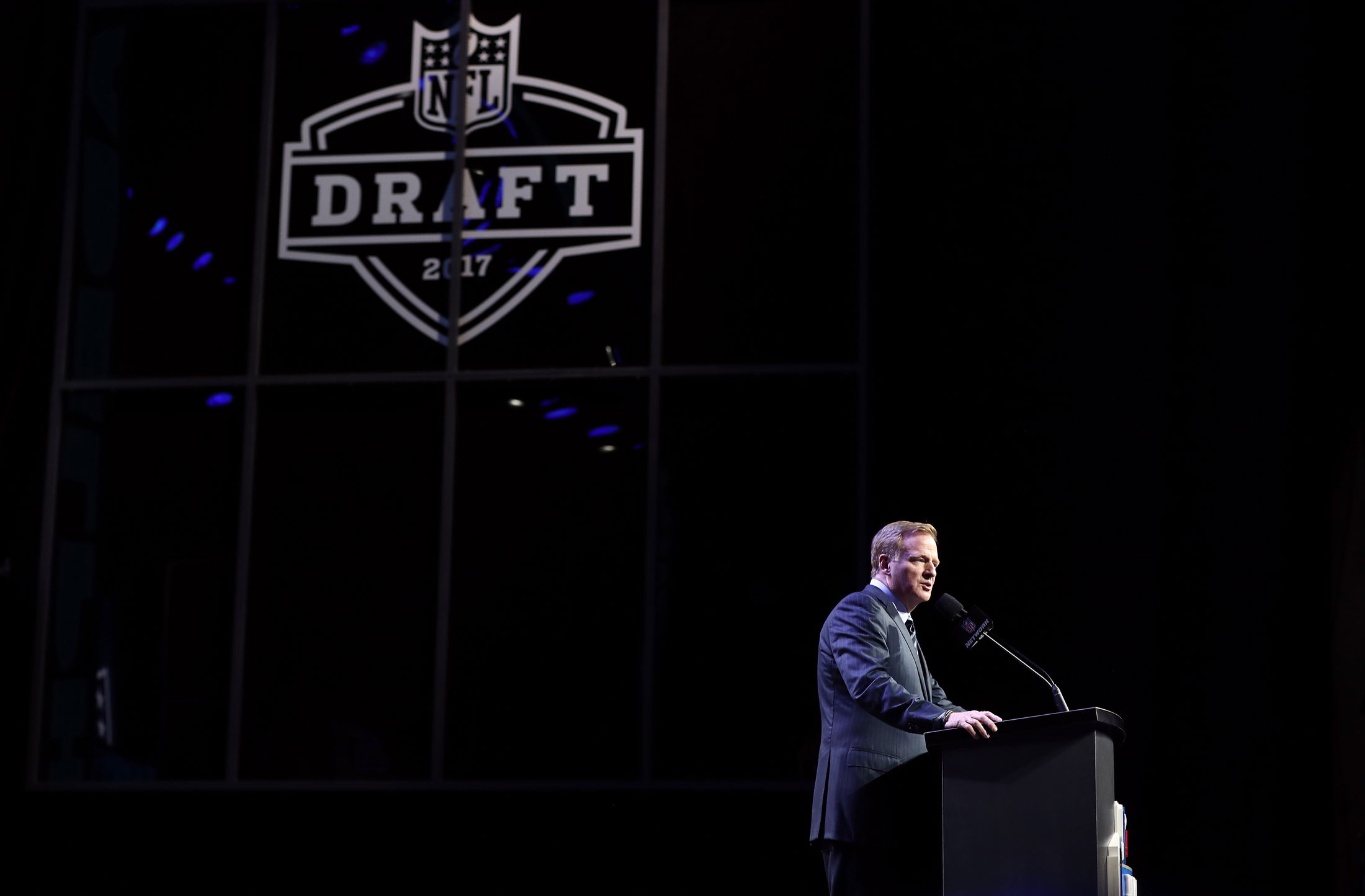 33. Cleveland Browns – D.J. Moore (WR, Maryland)
34. New York Giants – Sony Michel (RB, Georgia)
35. Cleveland Browns – Quenton Meeks (CB, Stanford)
Trade: Seattle Seahawks trade the #36 pick to the Kansas City Chiefs in exchange for the #54 and #86 picks
36. Kansas City Chiefs (From Seattle) – Mike Hughes (CB, UCF)
37. Indianapolis Colts – Marcus Davenport (DE, UTSA)
38. Tampa Bay Buccaneers – Josh Jackson (CB, Iowa)
39. Chicago Bears – Christian Kirk (WR, Texas A&M)
40. Denver Broncos – Lorenzo Carter (EDGE, Georgia)
Friday night kicks off with the Browns giving Sam Darnold more help in the form of the Maryland wide receiver. David Gettleman gets Josh Allen some help with Sony Michel, and the Seahawks continued their quest to restore some balance to their draft picks by trading down again. Kansas City takes the opportunity to move up and fill their biggest need with a first round talent who slipped out of Thursday's picks.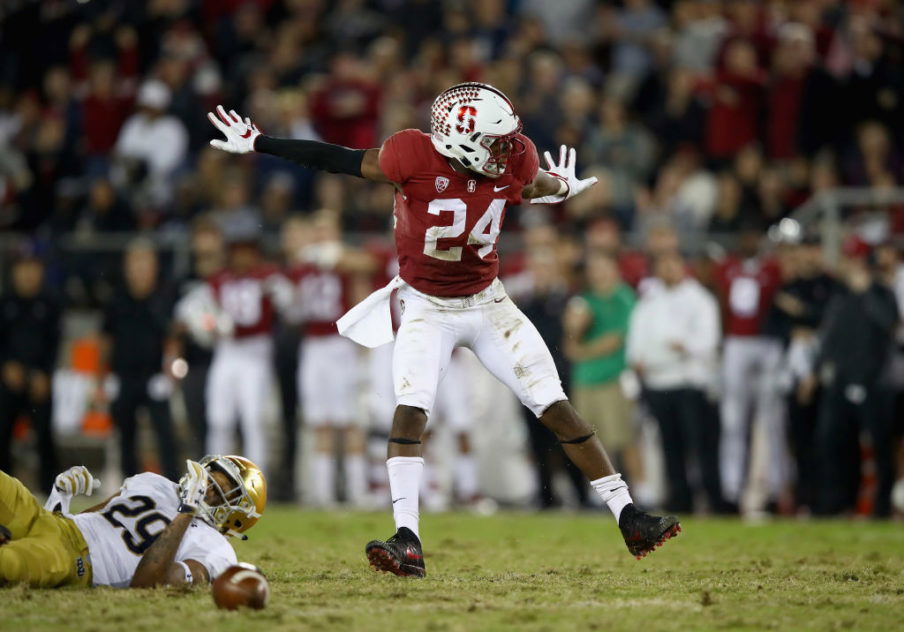 41. Oakland Raiders – Carlton Davis (CB, Auburn)
42. Tennessee Titans (From Miami) – Malik Jefferson (LB, Texas)
43. New England Patriots – Ronnie Harrison (S, Alabama)
44. Washington Redskins – Ronald Jones III (RB, USC)
45. Green Bay Packers – Donte Jackson (CB, LSU)
46. Cincinnati Bengals – Shaun-Dion Hamilton (LB, Alabama)
47. Arizona Cardinals – Martinas Rankin (OL, Mississippi State)
48. Los Angeles Chargers – Vita Vea (DT, Washington)
It's a defensive run here in the second quarter of the second round, as six out of the eight picks go on that side of the ball. Ronald Jones III has a home in Washington with Alex Smith, and Vita Vea's nightmare finally ends as the Chargers scoop him up.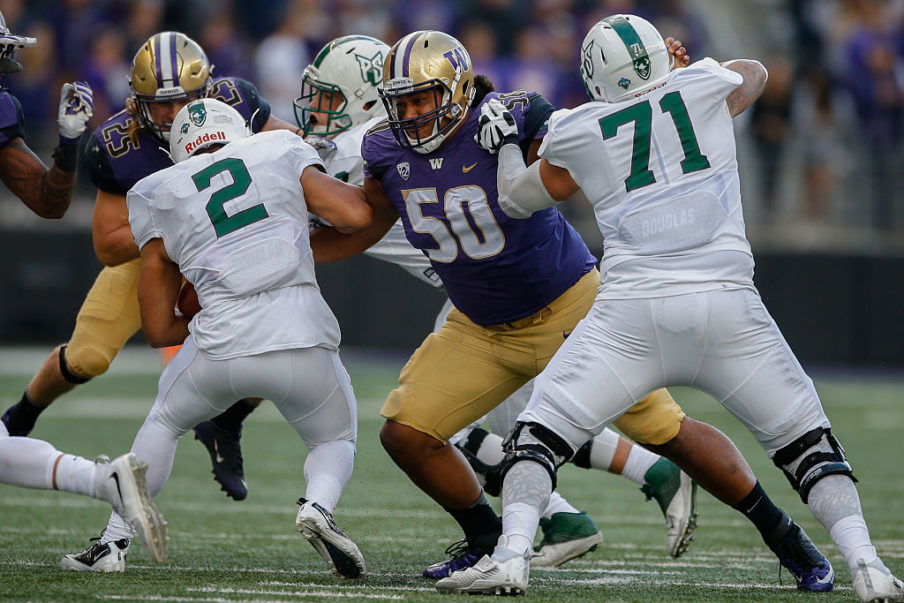 49. Indianapolis Colts – Isaiah Oliver (CB, Colorado)
50. Dallas Cowboys – Harrison Phillips (DT, Stanford)
51. Detroit Lions – Frank Ragnow (C, Arkansas)
52. Baltimore Ravens – Fred Warner (LB, BYU)
53. Buffalo Bills – Anthony Miller (WR, Memphis)
54. Seattle Seahawks (From Kansas City) – Arden Key (EDGE, LSU)
55. Carolina Panthers – Duke Ejiofor (DE, Wake Forest)
56. Cleveland Browns (From Buffalo) – Orlando Brown (OT, Oklahoma)
The headliner here is the Seattle Seahawks finally making a pick. They make their first pick in the post Legion of Boom era, and it's a controversial one in Arden Key. His off the field issues are lingering, but of all the teams to take a risk on a guy like him, the Seahawks could be the ones. Buffalo also gets some help for Josh Rosen by giving him a target to throw at.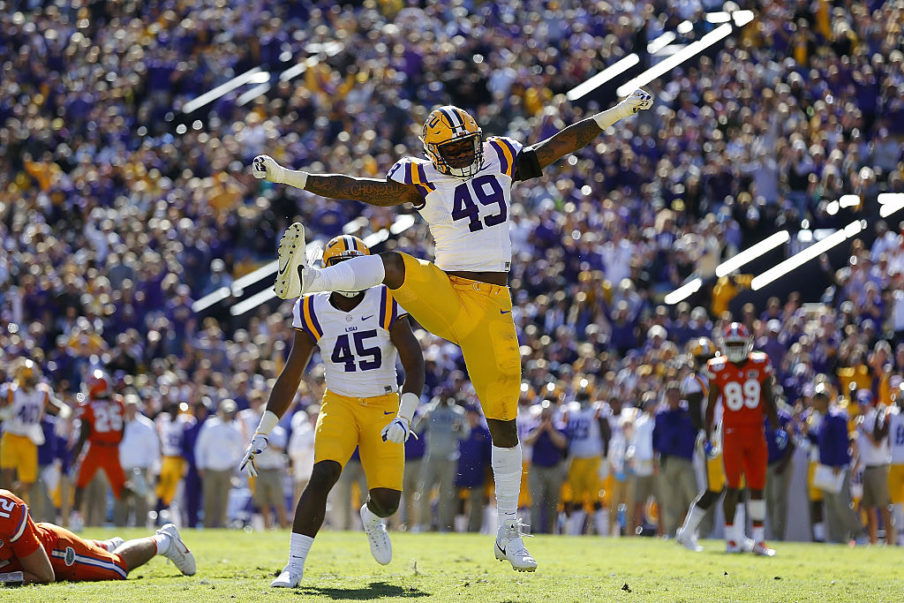 57. Tennessee Titans — Josh Sweat (DE, Florida State)
58. Atlanta Falcons – Sam Hubbard (DE, Ohio State)
59. San Francisco 49ers – Obonnia Okoronkwo (EDGE, Oklahoma)
60. Pittsburgh Steelers – Jordan Whitehead (S, Pittsburgh)
61. Jacksonville Jaguars – M.J. Stewart (CB, North Carolina)
62. Minnesota Vikings – Nathan Shepherd (DT, Fort Hays State)
63. New England Patriots – Darius Leonard (LB, South Carolina State)
64. Cleveland Browns – Rashaad Penny (San Diego State)
The second round closes up shop with a bit of a surge from the small school guys. Bill Belichick does what he's always done and takes one, while the Vikings managed to snatch a division II product for their already talented defensive line.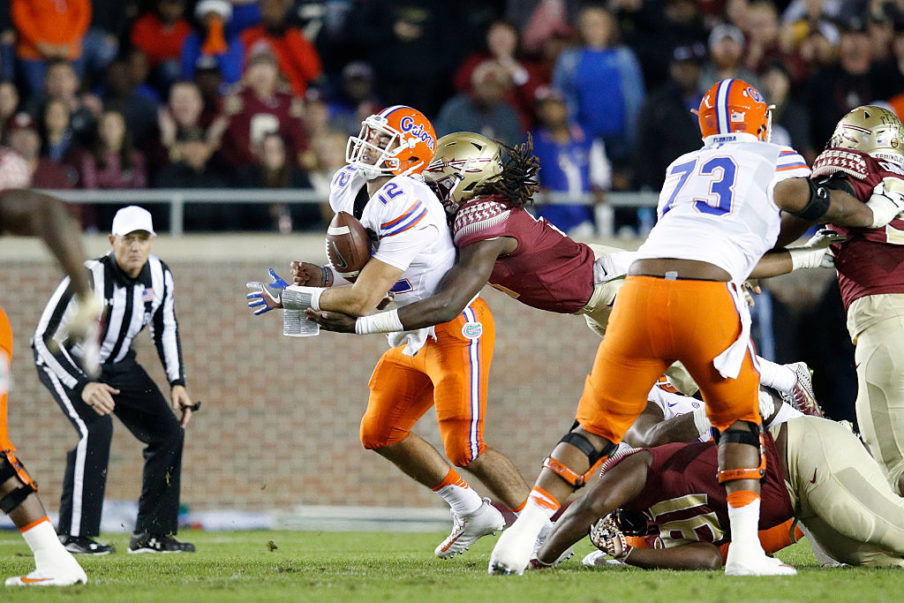 65. Buffalo Bills – Braden Smith (OG, Auburn)
66. New York Giants – Brian O'neill (OT, Pittsburgh)
67. Seattle Seahawks (From Indianapolis) – Jessie Bates III (S, Wake Forest)
68. Houston Texans – Dallas Goedert (TE, South Dakota State)
69. New York Giants – D.J. Chark (WR, LSU)
70. San Francisco 49ers – Dante Pettis (WR, Washington)
71. Denver Broncos – Mason Rudolph (QB, Oklahoma State)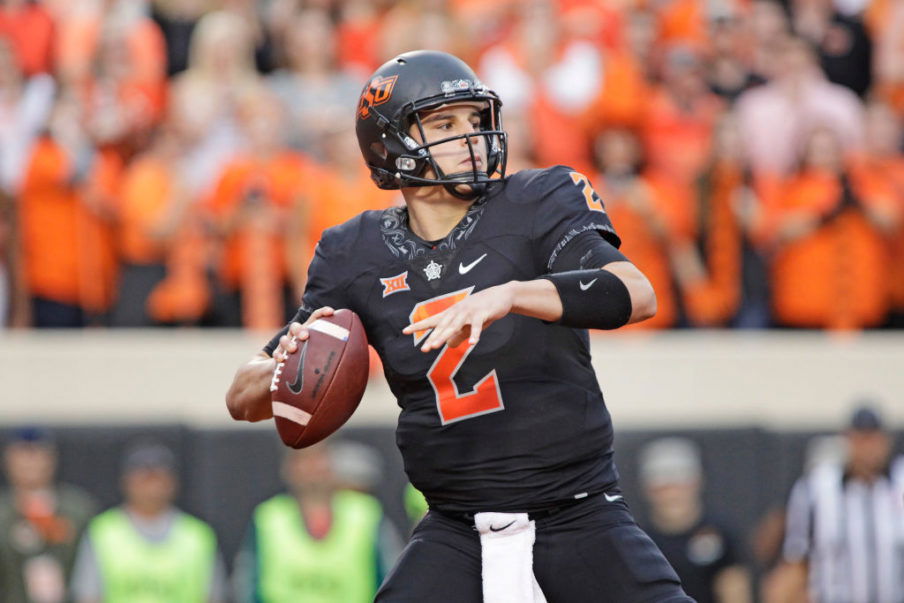 72. New York Jets – Tyrell Crosby (OT, Oregon)
73. Tennessee Titans (From Miami) – Austin Corbett (OG, Nevada)
74. San Francisco 49ers – Rasheem Green (DE, USC)
75. Oakland Raiders – Justin Reid (S, Stanford)
76. Green Bay Packers – Chukwuma Okorafor (OT, Western Michigan)
77. Cincinnati Bengals – Tony Adams (G, NC State)
78. Kansas City Chiefs – B.J. Hill (DT, NC State)
79. Chicago Bears (From Arizona) – Anthony Averett (CB, Alabama)
80. Houston Texans – Kyzir White (S, West Virginia)
81. Dallas Cowboys – Jerome Baker (LB, Ohio State)
82. Detroit Lions – Kemoko Turay (EDGE, Rutgers)
83. Baltimore ravens – Hayden Hurst (TE, South Carolina)
84. Los Angeles Chargers – Luke Falk (QB, Washington State)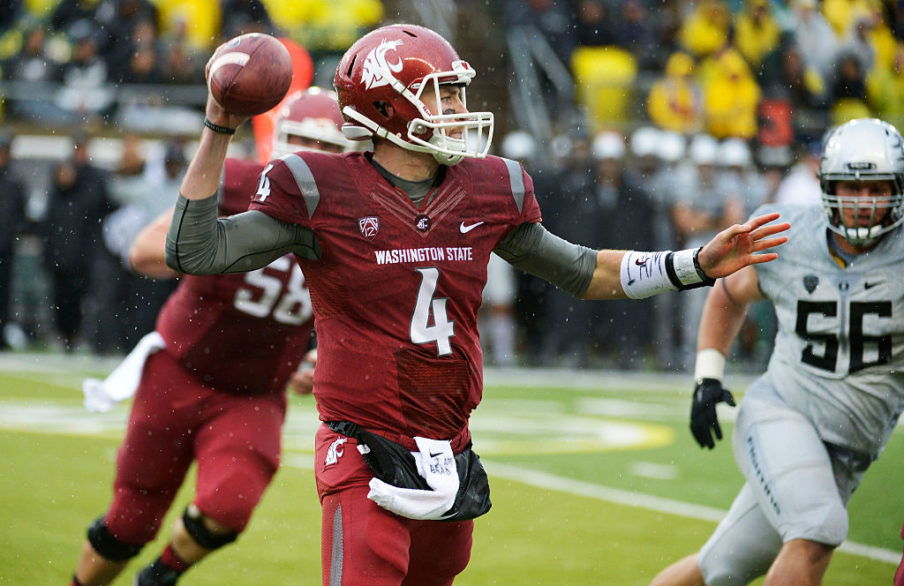 85. Carolina Panthers – Duke Dawson (CB, Florida)
86. Seattle Seahawks (From Kansas City) – Will Richardson (OT, NC State)
87. Los Angeles Rams – Tegray Scales (LB, Indiana)
88. Carolina Panthers – Deon Cain (WR, Clemson)
89. Tennessee Titans – Armani Watts (S, Texas A&M)
90. Atlanta Falcons – Ian Thomas (TE, Indiana)
91. New Orleans Saints – Mike White (QB, Western Kentucky)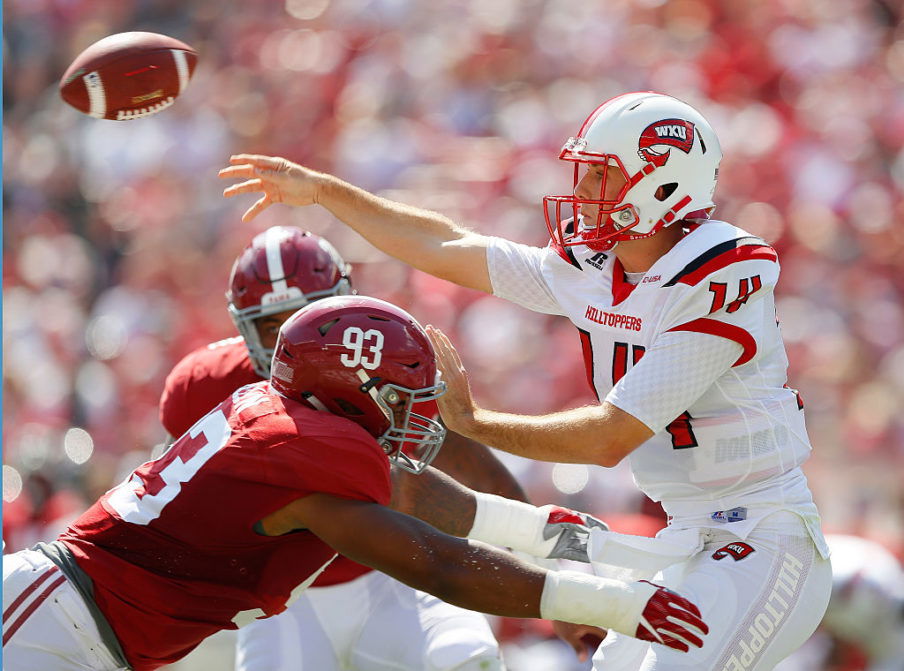 92. Pittsburgh Steelers – Equanimeous St. Brown (WR, Notre Dame)
93. Jacksonville Jaguars – Shaquem Griffin (LB, UCF)
94. Minnesota Vikings – Parry Nickerson (CB, Tulane)
95. New England Patriots – Kyle Lauletta (QB, Richmond)
96. Buffalo Bills – Josey Jewell (LB, Iowa)
97.* Arizona Cardinals – Nick Chubb (RB, Georgia)
98.* Houston Texans – Tim Settle (DT, Virginia Tech)
99.* Denver Broncos – Michael Gallup (WR, Colorado State)
100.* Cincinnati Bengals – Tony Brown (CB, Alabama)
*Compensatory selections
---