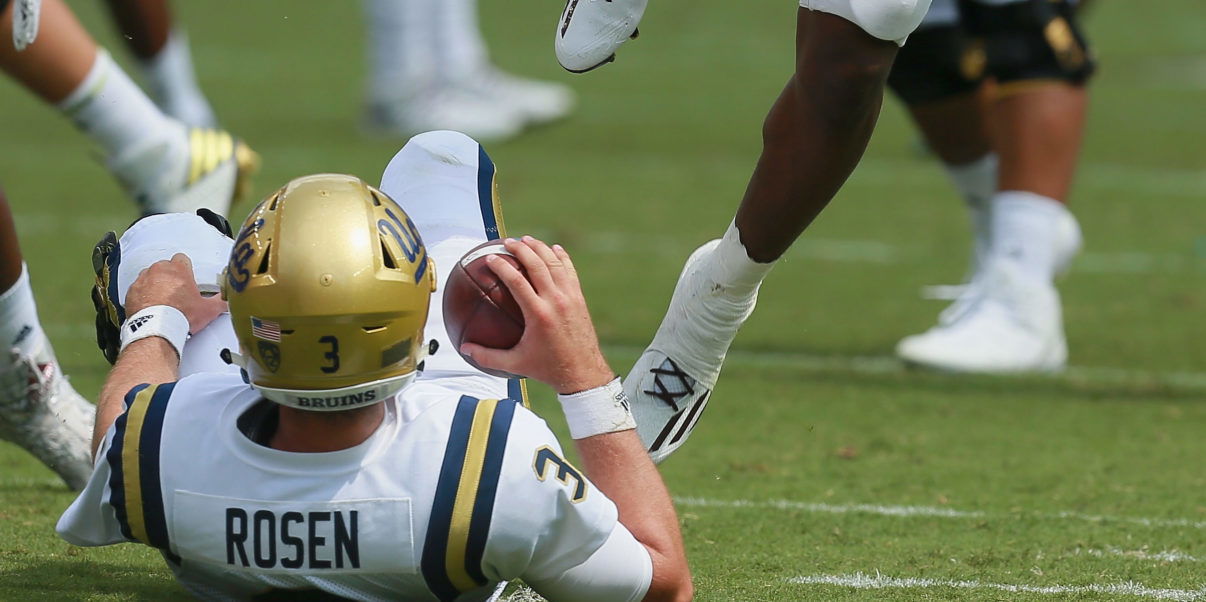 2018 NFL Mock Draft: David Howell, April 12
You know the drill with 2018 NFL mock draft openings by now. The Browns take one of the top four white QBs – wording different because Lamar Jackson might belong in the top QB tier but isn't being mocked accordingly – at 1. Another one goes at 2, either to the Giants or to someone making a desperation trade with them. The Jets, who've already made their desperation trade, take another QB at 3. The Browns take the pick they got in last year's QB trade with Houston and flog it to someone else, most likely the Bills, in another.
Both of my previous mocks have followed that pattern, because I think it has a very good chance of happening. This mock does not follow that pattern, because it explores a different scenario.
Specifically, one where the awkward chatter about Josh Rosen – most recently taking a bizarre turn when his own former college head coach suggested the Browns should take the QB from Rosen's fierce college rivals at #1 instead, then attempted to justify it with a bizarre comment about Rosen being a Millennial (as is literally every other prospect in this class) – actually means something.
Maybe front offices are scared that Rosen – a man with two 2017 concussions and zero financial insecurity – will pull a Chris Borland and retire before his NFL career has properly begun, and need to be as subtle as they can in publicly talking him down?
Every mock I make has two guiding principles: it must have trades, because real drafts have trades, and its aim is not predictive accuracy but scenario exploration. "What if Rosen falls?" is the hook for this scenario; as you'll see, there are a couple of other narratives running through it.
---
1. Cleveland Browns – Josh Allen (QB, Wyoming)
Make no mistake, this isn't based on how I value the prospects. In my mind, Josh Allen at #1 would be peak Browns, the ultimate epitome of a team whose 19-year post-reboot history contains more untimed down losses (three) than .500 seasons (two), a player destined to be the next former Browns quarterback.
But a team who play in a cold-weather outdoor stadium with three divisional rivals who do the same thing are liable to value arm strength, and a team knee-deep in a multi-year rebuild (and in possession of a bridge quarterback in Tyrod Taylor) are liable to take a chance on upside. Allen's athletic gifts will be mouthwatering to someone.
2. New York Giants – Sam Darnold (QB, USC)
The most common narrative from Giants beat writers right now is that new GM David Gettleman will take Darnold if available, but pass on QB otherwise. Here, of course, he is available. Trade down? Gettleman never did that in four years in Carolina. Not in the first round, not in any round.
3. New York Jets – Baker Mayfield (QB, Oklahoma)
The best QB on the RAF Big Board is the third off the board in this mock. That's what happens when one of the two preceding picks is held by the Browns. And when Mayfield is 6'1″ with a reputedly cocky character (cue the Manziel comparison from his haters!), to be fair. The video game numbers he put up in Oklahoma might be seen as exaggerated given the Big 12's infamous lack of defensive talent, but he was productive even by those standards, with the two most productive seasons in college football history per the NCAA's 'passing efficiency' stat. You want a better omen than Manziel for a shorter QB? The previous record passing efficiency season belonged to a certain Russell Wilson.
4. Cleveland Browns (from Texans) – Saquon Barkley (RB, Penn State)
So, in this scenario, the chatter about Rosen is negative, the Browns aren't given any tempting trade offers for non-QBs, and they decide to take their BPA. Would it be Barkley? It could well be – there was talk of him going at #1 before the Jets trade took the "get cute and take a QB at 4" plan out of the picture, and the Browns could easily think to themselves that opponents would either get scared enough of Rosen's nuclear missile arm to gift Barkley with the sort of space that he could mercilessly exploit, or sell out to stop Barkley and leave Allen with ample opportunity to throw a bomb over the top.
TRADE: Denver Broncos trade pick #5 to San Francisco 49ers for pick #9 and pick #59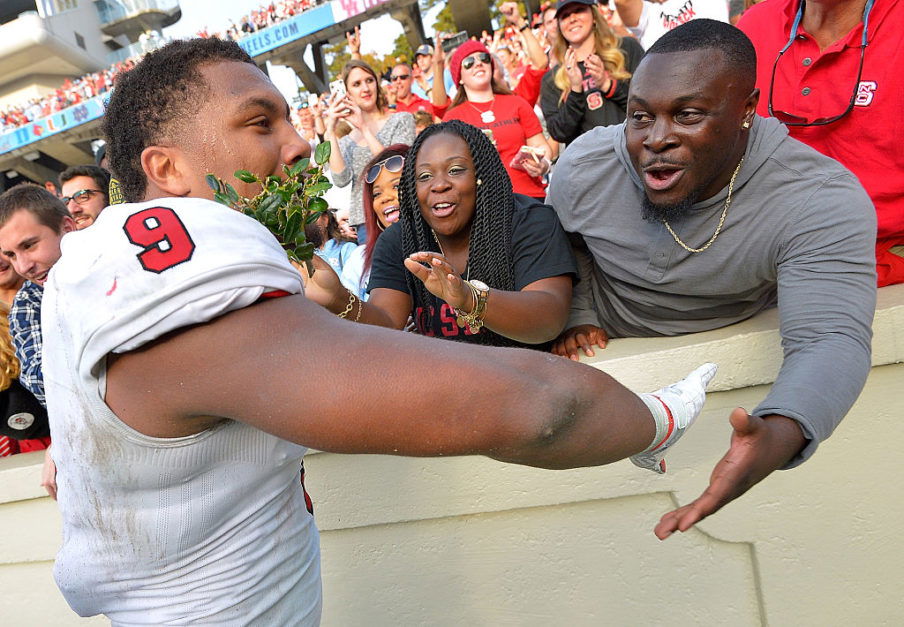 5. San Francisco 49ers (from Broncos) – Bradley Chubb (EDGE, NC State)
The 49ers have engineered a position where they have suddenly emerged as legitimate contenders if Jimmy Garoppolo turns out to be more than a small-sample fluke. Armed with the disarming combination of a (presumed) franchise QB and a ton of cap room, they are creating a championship window at a speed nobody saw coming.
They can afford to burn a second-round pick to get a stud at their biggest position of need (and maybe the highest-value non-QB position in this era of football), and it's telling that they didn't make a big move there in free agency despite all that cap room.
Denver, for their part, can reasonably figure they will still get an elite player at 9. Maybe they want Rosen and think he will still be there?
6. Indianapolis Colts – Denzel Ward (CB, Ohio State)
Everyone assumes Chubb will be the pick here if available, and everyone is probably right. But Chubb isn't available here. Meanwhile, the Colts' current CB depth chart is 'led' by Quincy Wilson, a second-round 2017 pick who was a regular healthy scratch to start his rookie year. Corner might even be a bigger need than edge rusher for this team, which is saying something. Never mind Andrew Luck's broken shoulder, this secondary is a burns unit. To the emergency Ward! There's no time to lose, so pounce on him with the speed of his 4.32 40!
7. Tampa Bay Buccaneers – Quenton Nelson (G, Notre Dame)
Let's not overthink this. The #1 player on our Big Board, the #1 remaining player on basically anyone's big board in this scenario, and this is a team that has been horribly dependent on an aggressive young quarterback for three years now. Combine Nelson's ferocious run-blocking with a second-round RB and you have the makings of a faintly balanced Bucs offense.
8. Chicago Bears – Roquan Smith (LB, Georgia)
This is a banner year for hyper-athletic off-ball linebackers, and Smith is the leader of the pack. A heat-seeking missile who can shut down sideline runs or be assigned to coverage on a WR (a position he used to play himself) without it being the height of recklessness, he will improve any defense.
9. Denver Broncos (from 49ers) – Vita Vea (DT, Washington)
The Broncos trade down, Rosen is still on the board, and they take… a nose tackle? Hear me out here.
That spot is currently occupied by 33-year-old Domata Peko, with no obvious replacement… and the defensive end spots, which Vea has the movement skills to potentially fill in the same way Haloti Ngata used to do, are currently occupied by a man dealing with chronic neck issues (Derek Wolfe) and a man dealing with major legal issues (Adam Gotsis, arrested on rape charges last month).
Vea has some top-10 hype around him, and while this landing spot would spark a 'few' shocked tweets, the Broncos D looks a lot weaker today than it did even four months ago.
10. Oakland Raiders – Tremaine Edmunds (LB, Virginia Tech)
The back-to-the-future Jon Gruden Raiders might be accused of going back to the old Al Davis drafting ways by taking Edmunds. But while he is a height-weight-speed monster – in fact, he's in the top 10% of all linebackers in each of those categories with his 4.54 40 at 6′ 4 1/2″ and 254 pounds according to MockDraftable – he's also a legitimate playmaker, and he doesn't even turn 20 until after the draft. As for team need? Pick a defensive position, and it's a team need. This man's a linebacker? Yup, that's a team need.
11. Miami Dolphins – Minkah Fitzpatrick (DB, Alabama)
Still not a quarterback? Still not a quarterback. The Dolphins restructured Ryan Tannehill's perfectly reasonable contract so that a huge chunk of his 2018 salary cap hit got dumped into the future in a futile attempt to get out of cap hell, and now they're effectively lumbered with him for multiple seasons. It's another laughable financial decision from a team who make so many of them it's tempting to call them the Lolphins.
To be fair, the versatile Fitzpatrick is a real value pick at this spot. In Miami, he'd make most sense as a deep safety, as the Dolphins' two starting safeties – Reshad Jones and T.J. McDonald – are both in-the-box thumpers at heart, and one of them could be moved to fill the void at linebacker, meaning this pick would upgrade two positions. Or maybe they can just cut Jones next year, seeing as that would give them cap… wait, they restructured his contract for temporary cap relief as well and now he carries a 2019 cap hit of over $17m of which almost $12m would be dead money if cut. Lolphins.
12. Buffalo Bills – Josh Rosen (QB, UCLA)
The story of the 2018 draft season has been that the Bills are so certain to move up that people who normally write no-trade mocks have been relenting in order to add trades involving Buffalo. Well, in this scenario they don't, and they get their QB anyway courtesy of some good old-fashioned prospect paranoia. And they still have their other first-round pick and two second-round picks to give him help. He'll need it.
13. Washington Redskins – Da'Ron Payne (DT, Alabama)
The biggest team need in Washington; run-stoppers up front. Da'Ron Payne will fill that need as well as anyone in this class.
TRADE: Green Bay Packers trade pick #14, pick #76, and pick #138 to Los Angeles Chargers for pick #17, pick #48, and pick #119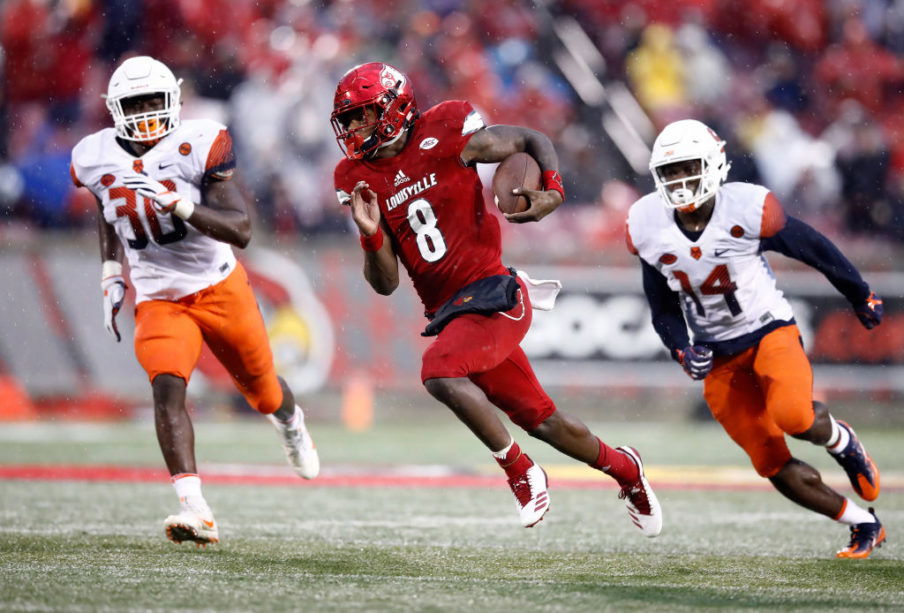 14. Los Angeles Chargers – Lamar Jackson (QB, Louisville)
Once the Rosen domino topples, the question will be when the Jackson one falls. One has to presume that if a team loves him, they will jump up to get him, and this is the obvious spot to do so with QB-seeking Arizona and Baltimore on deck. Who would pull the trigger is harder to guess, but there are multiple reasons to put the Chargers in the frame:
Anthony Lynn likes his dual-threat QBs (and if Jackson is falling because of racism, who better to pound the table for him than a black head coach?); Philip Rivers can eat up 2018 starts and teach Jackson the virtues of getting a consistent throwing motion even if it looks like nobody else's; having a QB on a rookie contract is going to be really useful in a couple of years once Joey Bosa is off his rookie contract; and the Chargers, let's be honest – need to do something, anything, to be relevant in Los Angeles.
And from Green Bay's perspective, they don't have to take too much of a risk, as they're only moving three spots down the board. They turn their third-rounder into an extra second, and they have more than enough late-round picks to move back into the third if someone they really like is tumbling on Friday night.
15. Arizona Cardinals – Derwin James (S, Florida State)
Well, if you're going to get leapfrogged for the last good QB (again), the least you can do is take advantage of the QB run to get a bargain, and Derwin James at 15 is most certainly a bargain. Some might argue that Budda Baker is already the Tyrann Mathieu replacement on the roster, but James has more deep coverage skills, and having both on the field at once could cause havoc with disguised coverages.
16. Baltimore Ravens – Calvin Ridley (WR, Alabama)
Yes, this is the laziest mock draft pick you'll ever see. But since when did Ozzie Newsome turn down Crimson Tide prospects at positions of need? And yes, WR is still a crushing need; Michael Crabtree has only ever done the business as a WR2, and if John Brown is your answer at WR1, that's an incorrect answer and you'll need to try again.
17. Green Bay Packers (from Chargers) – Harold Landry (EDGE, Boston College)
Landry seems to be climbing up boards and is even getting top-10 talk, but I always thought he made most sense in the late first, as an early rotational piece for an immediate contender. Well, here's one way to split the difference; the Packers are an immediate contender, but they pick in the middle of the first because they couldn't handle life without Aaron Rodgers last year. Adding a fast and furious edge rusher would certainly help put them back in the championship mix, especially because Clay Matthews is well past his prime and there's not much help behind him and Nick Perry.
TRADE: Seattle Seahawks trade pick #18 to Cincinnati Bengals for pick #21 and pick #100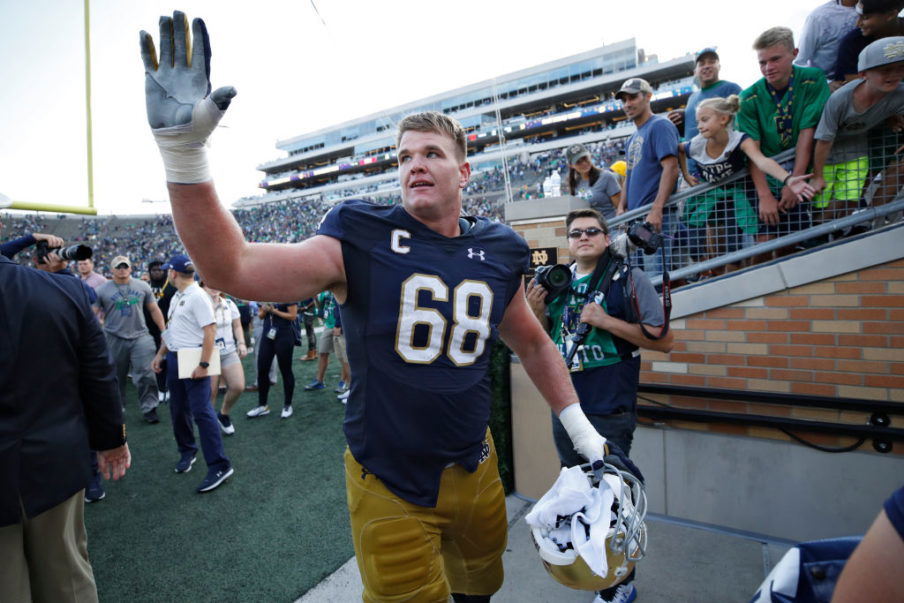 18. Cincinnati Bengals (from Seahawks) – Mike McGlinchey (OT, Notre Dame)
The Bengals may have added Cordy Glenn, but the entire offensive line needs a makeover. If Glenn's durability issues show up again, McGlinchey can be a non-embarrassing option on the blind side; if they don't, he can play right tackle and be a drastic upgrade there.
19. Dallas Cowboys – Leighton Vander Esch (LB, Boise State)
The third of this year's trio of hyper-athletic off-ball linebackers, Vander Esch will make it a lot more difficult for opponents to bump their way up the field a few yards at a time via either the run or the pass if he can play to his potential. He's also been given a pre-draft visit by the Cowboys, as have 11 of the team's last 12 first-round picks.
20. Detroit Lions – Marcus Davenport (EDGE, UTSA)
The smoke signal for this pick; the Lions hired UTSA's Bo Davis as their defensive line coach. Why in the world would you pick up a small-school coach as an NFL team? Well, to be fair, Davis was rebuilding his career after an NCAA investigation from his time at Alabama… but there's also the little matter of a first-round defensive line talent coming out of that small school. With Ezekiel Ansah in a contract showdown and nobody else stepping up, there is definitely room to justify this pick.
21. Seattle Seahawks (from Bengals) – Derrius Guice (RB, LSU)
The Seahawks have gone through a mini-teardown as the Legion of Boom becomes the Legion of Backups, but a huge part of their success at the height of their defensive powers was Marshawn Lynch being out there to rumble past the sticks and keep those star defenders fresh. Guice has gained more than a few Lynch comparisons with his no-nonsense style and ability to break tackles with both power and balance.
22. Buffalo Bills (from Chiefs) – James Daniels (C, Iowa)
With Richie Incognito and Eric Wood both retiring, the Bills have a big hole on the inside of their offensive line that they must fill to help their new quarterback. Especially if it's Rosen, as it is in this scenario. The Bills have theoretically replaced Wood with Russell Bodine, but Bodine is bad enough to have been considered disposable by the Bengals. Daniels is a colossal upgrade at what became a massively important position for this team ten picks earlier.
23. New England Patriots (from Rams) – Kolton Miller (OT, UCLA)
Miller was the first offensive lineman ever to manage a 10-foot broad jump at the Combine. Not bad for a 310-pound human being, and a relevant drill for the position given its emphasis on leg and hip drive. Bill Belichick loves athletic linemen, and he needs a tackle in the worst way with Nate Solder off to the Giants. The current starting left tackle competition is between a 2017 third-rounder who missed his entire rookie season due to blood clots in his lungs – and lost 40 pounds in the process – and a man who couldn't even hold down the right tackle job last year. You can't allow either of those men to protect the blind side of a QB who's older than the President of France.
24. Carolina Panthers – Jaire Alexander (CB, Louisville)
One of the stories of this mock draft scenario is that the corners slid after Ward went. If that happens for real, it might be because so many of them put up underwhelming 40 times in the 4.5s, and deep speed matters at corner more than any other position. Jaire Alexander did not put up an underwhelming 40 time – he ran a 4.38 – and that definitely helps his chances of being the second corner off the board (third, if one counts Fitzpatrick). He also offers playmaking skills and experience as a returner.
TRADE: Tennessee Titans trade pick #25 to Minnesota Vikings for pick #30 and pick #94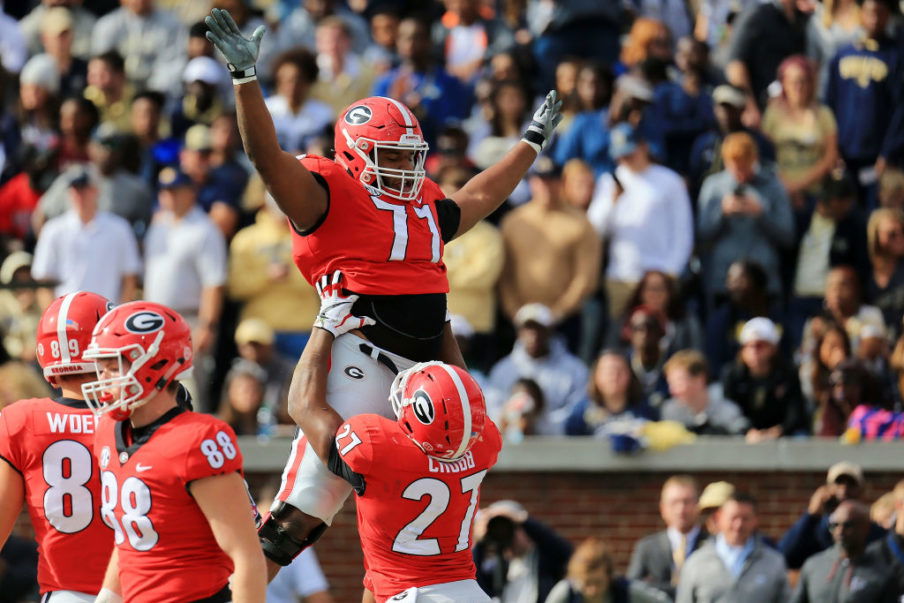 25. Minnesota Vikings (from Titans) – Isaiah Wynn (OL, Georgia)
The Vikings have to improve their blocking to get a return on their record-breaking financial investment in Kirk Cousins. Wynn can play tackle or guard – it's expected he'll do the latter in the NFL due to his arm length or lack thereof – and the only question mark over him in Minnesota wouldn't be whether he'd be an improvement, but which position he'd improve. Trading up would be a must to make sure of getting him, as the Falcons have to know all about him after playing his college career in their backyard (and two of his last three college games in their stadium).
26. Atlanta Falcons – Taven Bryan (DT, Florida)
With this no-Wynn situation, it's another SEC lineman, this time on the other side of the trenches, who makes sense here. The Falcons have a big need for a big man, and Bryan is seen as a high-upside pick who hasn't figured everything out yet on the field. Good teams with good coaching – and, on the defensive side at least, the Falcons most certainly have good coaching – can use picks in this range on prospects like that.
27. New Orleans Saints – Mike Gesicki (TE, Penn State)
Sean Payton perfected the formula for how to exploit a hyper-athletic, blocking-deficient "move" tight end with his use of Jimmy Graham. He did it so well that Graham filed a grievance to get treated as a wide receiver for franchise tag purposes! Give him Gesicki and his Madden create-a-player athleticism – he ran a 4.54 40 at 247 pounds, and he put up agility drill times that would be above par for a wide receiver – and watch as he does the same thing again. With Alvin Kamara and Michael Thomas on the field at the same time. That's not fair. That's simply not fair.
28. Pittsburgh Steelers – Mason Rudolph (QB, Oklahoma State)
This is a scenario in which the Patriots might be tempted to take Rudolph at 31, seeing as they passed on him at 23. The Steelers have to get a Big Ben succession plan, and if they think they're shafting the team who've had their number for year after year in the AFC, so much the better!
And the fifth-year option is a legitimate big deal at QB so there's that as well.
29. Jacksonville Jaguars – Maurice Hurst (DT, Michigan)
What are the Jaguars' team needs right now? "Ways out of impending cap hell" might be top of the list, to be honest, as right now their 2019 cap commitments will put them over the cap even before adding their 2018 rookies. Much of that is attributable to that elite defensive line, and they can make big-time savings cutting any of Calais Campbell, Marcell Dareus, and Malik Jackson next year based on necessity and/or 2018 performance. In the meantime, add Hurst in as a rotational interior rusher to stop any of that trio from playing a zillion snaps, making all of them even more effective – what a horrible thought that is for Luck, Watson, and Mariota – and make it easier to cope with losing at least one of them next year.
30. Tennessee Titans (from Vikings) – Connor Williams (OT, Texas)

The Titans have got two excellent tackles already, so why take a tackle here? Well, Jack Conklin is in a race against time to rehab his torn ACL before the start of the season, and Taylor Lewan is on the option year of his rookie deal with no guarantee his second contract is with the team that drafted him. Williams could be a fill-in for Conklin early and not embarrass himself if he bounces back from his own injury-ridden 2017, and that's what might make him most appealing here.
However, his combination of marginal arm length, tackle-honed agility, and run-blocking technique means his real upside in Tennessee is probably as a very nice guard on a team that has had a run-heavy ethos by 2010s NFL standards, but is moving to a zone-blocking scheme this year. And if one of the tackles goes down, he can always kick back outside.
TRADE: New England Patriots trade pick #31 and 2019 fifth-round pick to Tampa Bay Buccaneers for pick #38 and pick #102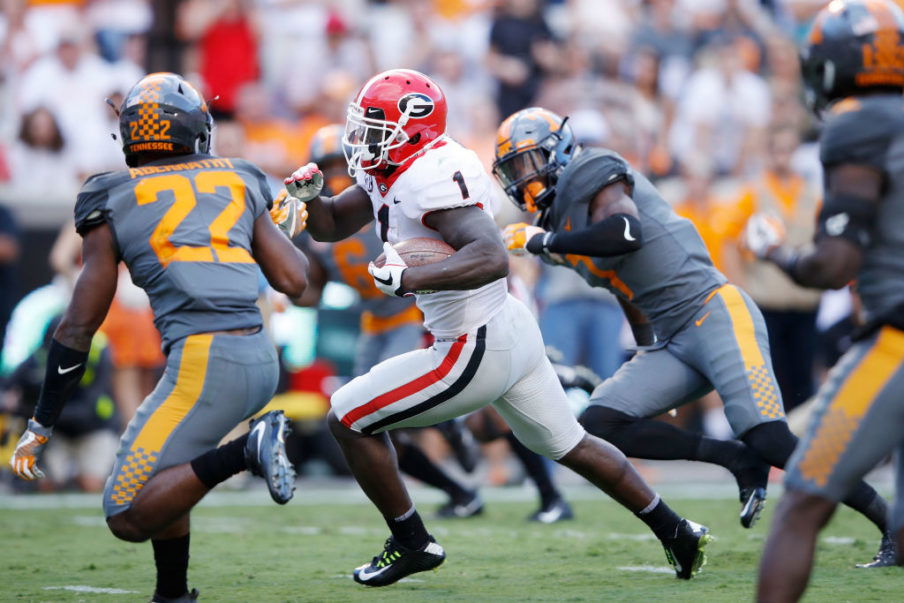 31. Tampa Bay Buccaneers (from Patriots) – Sony Michel (RB, Georgia)

First things first; the terms of this trade might look weird, but they're intentional. Picks 38 and 102 add up to just slightly more than number 31 on the traditional trade chart, so it seems sensible to imagine Tampa offer those two picks and ask the Pats for a little sweetener to do the deal. In turn, Belichick would probably offer next year's fifth, because he seems to hate fifth-round picks even more than he hates fantasy; he's made only one of them in the last seven years, and he used it on a long snapper with pending military commitments. Yes, he's already traded away his 2018 fifth-round pick (and then got another one, and then traded that away).
As for the target of a move back into the late first, it's a no-nonsense north-south runner with the pass-protecting skills that most highly-touted rookie RBs lack. The motivation? Almost every pick they'd leapfrog in this scenario belong to other RB-needy teams.
32. Philadelphia Eagles – D.J. Moore (WR, Maryland)

Moore seems to be another pre-draft riser. For the Eagles, he'd be a luxury pick in many ways, but for a defending champion looking to maximise the window they have before Carson Wentz's second contract, that's more than OK. Besides, you can't count on getting 16 games out of Alshon Jeffrey. Just ask anyone who's ever had him on a fantasy team.
---